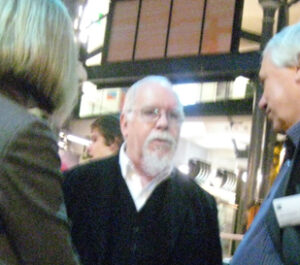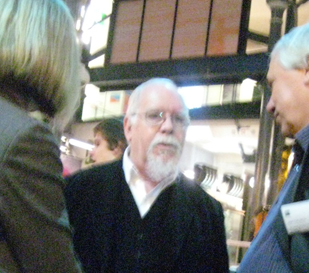 Peter Blake (1932-) is an English artist and one of the founders of British Pop art and the Pop art movement.
One of his most famous works is On the Balcony (1955-1957). What makes the work unique is that it looks like a collage, but on further inspection the viewer can see it was painted by hand. This is considered a major early work in the Pop art movement.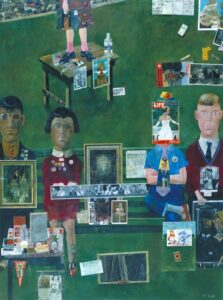 Peter Blake is also known for designing important album covers such as the Sgt. Pepper's Lonely Hearts Club Band (1967). Peter Blake's art dealer Fraser was friends with several musicians in the Swinging London scene, and consequently introduced the Pop artist to Paul McCartney. This led to his work on the album cover of Sgt. Pepper's Lonely Hearts Club Band.
The vast collage artwork shows The Beatles posing with the images of 70 famous people from popular culture. This is Blake's best-known work. It appealed not only to art lovers, but those who loved Pop music by the Beatles.
Although this work is now Peter Blake's most recognizable, he was paid a minimal wage of 200 British pounds sterling for the vinyl record cover. He would however go on to create numerous album sleeves for other bands.
Peter Blake Education and Early Art
After working as a graphic designer, Peter Blake enrolled in The School of Painting at the Royal College of Art, in London, in the early 1950s. There he met instructor Ruskin Spear, who was well known for his Dada-inspired art, using everyday objects. This gave Peter Blake the nudge to incorporate popular culture in his work, including images of wrestlers and strippers. For his dissertation he researched music hall nudity. Adding naked women to the stage was the new way of attracting audiences.
Winning a scholarship that enabled him to travel around Europe, Peter Blake spent his time absorbing popular culture at bullfights, wrestling matches and the circus.
A Brief Look at Pop Art
The Pop art movement began in England, during the mid-twentieth century and provided a radical shift in how art had been viewed throughout art history. Blending fine art with popular culture, pop artists incorporated images from everyday life, including advertising, images from comic books, newspapers, television, film, and consumer goods.
Peter Blake and Pop Art Style
Peter Blake's most recognizable works contain pictures within pictures. Main themes are the idealism of American culture, and depictions of nostalgia. Pop culture, especially pop music are themes prevalent within his works. Incorporation of images and themes from his contemporaries in the art world, as well as art from history, the British Pop art artist also incorporates literature.
The Victorian past is also present in Peter Blake's work. This includes symbols such as fairies, childhood stories, and even letters from Victorian word games, are added into his works.
His art education gave him a solid understanding of art from the past, while his work in graphic art enabled him to understand advertising and popular culture.
Blake has said, "You simply can't make art without having that history of art behind you and I think if you asked any artist, they would always say they had learned from previous art. Perhaps I show that more than most in that I often appropriate art and quote from it."
To see how Peter Blake's Pop Art style compares to other Pop Art styles, see our article on the Characteristics of Pop Art.
Peter Blake Art Teacher
Upon return from his travels, Peter Blake taught art, as a way of still being able to practice his art skills and develop Pop art artworks, while paying his bills.
Peter Blake and The Independent Group
The Independent Group, a group of artists, architects, and art critics, formed with an art centric agenda, in London, England. Talks were lively and included discussions on where fine art and popular culture met.
Peter Blake was invited to a dinner, in 1959, held by Lawrence Alloway, and art critic and Independent Group Founder, and member of the Institute of Contemporary Art. Blake shared his creative visions with the group, who were all part of the emerging British Pop art community.
Peter Blake and Early Exhibitions
In 1961, Peter Blake took part in the Young Cotemporary's Exhibition at London's Whitechapel Gallery. Later that same year, the artist took part in a group art exhibition called Blake, Boty, Porter, Reeve at A.I.A Gallery, also in London.
Peter Blake and Art on Film
In 1962, Peter Blake was chosen to be part of Ken Russell's film entitle Pop Goes the Easel, made for BBC. Blake was one of four emerging British Pop art artists featured, along with Pauline Boty, Peter Phillips, and Derek Boshier.
Peter Blake and Dealer Representation
Art dealer Robert Fraser signed on to represent Peter Blake, in 1963. By 1965, Peter Blake had his first solo exhibition at the Robert Fraser Gallery. His final exhibition occurred in 1969, with the gallery's closure. Later, in the same year, he exhibited with Leslie Waddington, who continues to represent the British Pop art artist today.
Peter Blake and the Ruralists
Peter Blake left London, for a small town, just outside of Bath, in the United Kingdom. It was the end of the 1960s and he and his artist wife Jann longed for a quieter life to raise their daughter Wellow. The couple founded the Brotherhood of Ruralists art group, in 1975.
Blake commented on the group by saying " Simply, our aims are the continuation of a certain king of English painting. We admire Samuel Palmer, Stanley Spencer, Thomas Hardy, Elgar, cricket, English Landscape, the Pre-Rahalites, etc. Our aims are to paint about love, beauty, joy, sentiment, and magic. We still believe in painting with oil on canvas."
His works during this time were filled with literary references including William Shakespeare and Lewis Carol's Alice's Adventure in Wonderland.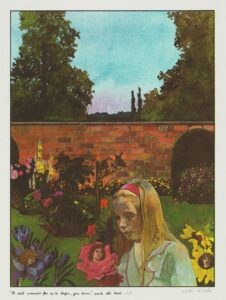 Girlie Door (1959)
Peter Blake's Pop art artwork Girlie Door, from 1959, is a door painted red, with images of women and movie stars, such as Marilyn Monroe and Sophia Loren. All are staring directly at the viewer. The work of collage and assemblage on hardboard recalls a bedroom of a teenaged boy.
Self Portrait with Badges (1961)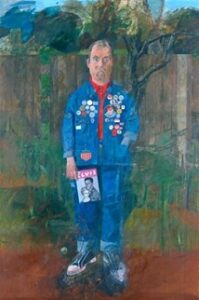 As the title suggests, this is a self portrait by the artist. As a young man, growing up in the aftermath of World War II, and the country's struggle to regain its former glory, Peter Blake became obsessed with American culture. His badges represent the American lifestyle, including Elvis's music, food and beverages through Pepsi, and American politics. Today, the oil and board work is housed in the Collection of the Tate, in the United Kingdom.
Many think The Blue Boy (1770) a painting by English artist Thomas Gainsborough, was another inspiration for Peter Blake's Self Portrait with Badges (1961). If so, it shows a juxtaposition between the male subject in the two works. The "Blue Boy", dressed in dark blue velvet, and clearly from wealth, is set against a romantic natural landscape. Conversely, Peter Blake in his self portrait is set against a dingy suburban background, wearing blue denim.
It is interesting to note that while denim was popular in North America at the time, it wasn't being worn in the United Kingdom. Also, the running shoes in the self portrait are Converse, and American brand. Additionally, critics have pointed out that although the subject is trying to align himself with popular American culture, the images he introduces as evidence of his pre-occupation have already started to fall out of favour by the youth in the United States.
The First Real Target (1961)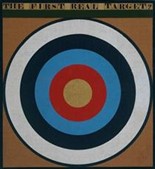 Peter Blake admired the work of American artist Jasper John's "Target Paintings." In The First Real Target (1961), Blake creates his own target, by using a real archery target. While Johns chose to paint his targets on canvas, with visual brushstrokes, Blake had fun in this British Pop art artwork, by first purchasing a real archery target.
Blake decided to show as few brush strokes as possible, when painting the target, starting with red, electric blue, black and white. Above the target is text in capital block letters which reads, THE FIRST REAL TARGET? Peter Blake used letters from Victorian word games, consisting if squares of wood with paper attached. This helps reference that his work incorporates a real game for target practice and keeps it fun.
Peter Blake's "The First Real Target" was created with enamel on canvas and paper on board. It is part of the collection of the Tate, in London, in the United Kingdom.
For Comparison, let's look at Target by artist Jasper Johns (1955) Museum of Modern Art, New York.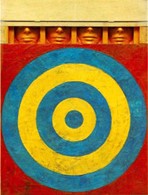 The Beach Boys (1964)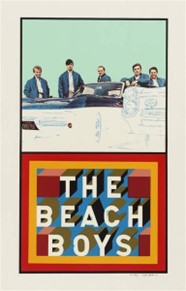 Against a robin's egg blue background, Peter Blake paints the popular boy band, The Beach Boys, known for their mellow, harmonized California tunes. Leaning against their cars, representing their success and the good life, Blake leaves the lower part of the cars in representational lines, with the California license plate prominently filled in.
Below the band are the words THE BEACH BOYS in graphic design in blue, orange, red, white, and brown.
Peter Blake's The Beach Boys (1964) represents not only his love for pop music, but the yearning to be part of American culture and lifestyle. Collection of the Tate, in London, United Kingdom.
Doktor K. Tortur (1965)
In 1961, Blake started working on wrestling series, which he achieved by first finding photographs of wrestlers in magazines to work from as a starting point.
One of a series of wrestling scenes, Peter Blake's Doktor K. Tortur (1965) was influenced by his childhood filled with attending wrestling matches. The Pop art artist said, "I loved it immediately. I loved the theatre, the fantasy, and the idea of good versus evil."
In this work Pop artists Peter Blake displays the bald head and naked upper torso of the real-life wrestler, Doktor K. Tortur . The man is highlighted with a colorful archway frame, in red, orange, and yellow. This work in cryla and collage on hardboard, also uses found objects. Private collection.
The Meeting, or Have a Nice Day Mr. Hockney (1979)
In this oil on canvas work, Peter Blake paints the meeting he had with two artist friends, in Los Angeles. Peter Blake is in the middle. Howard Hodgkin is on the left and David Hockney is on the right. The background is a California boardwalk scene, with people roller skating, a popular sport in the 1970s. Collection of the Tate, in London, United Kingdom.
Peter Blake Today
Peter Blake continues to create art today. There have been major retrospectives of his work. One was held at the Tate, in London, in 1983. Another was held at Tate Liverpool, in 2008.
In 2002, Prince Charles officially knighted Sir Peter Thomas Blake at a ceremony at Buckingham Palace. Later, in 2005, the Sir Peter Blake Music Art Gallery was opened at the University of Leeds, inside the School of Music. The space holds 20 examples of the album sleeve art created by the famous Pop art artist.