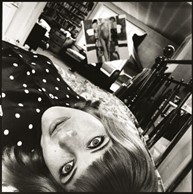 Pauline Boty (1938-1966) was a British Pop art artist and the only female painter in the British Pop art movement. She was considered an "It Girl" in Swinging London, who also found work as a model, dancer, and actor on television, film, and in the theatre. Pauline Boty adored music and became part of the BBC radio's weekly arts review, interviewing musicians, such as the Beatles.
Art Education and Practice
Pauline Boty always knew that she wanted to be an artist, and by the age of 16, she won a scholarship and enrolled at Wimbledon Art College. Her first love was painting, but after being advised that acceptance rates into the School of Painting at the Royal College of Art, in London, was rare for women, she studied at the School of Stained Glass, also at the college. Enrollment of women in this program was also low. Between 1958-1961, there were still only eight females in the class of 36 stained glass art students.
Pauline Boty's educational restrictions due to sexism at Royal College of Art was perfect fodder for some of her future British Pop Art like It's A Man's World I and II. Meanwhile, Boty continued to paint at home, while exploring her style. One of her teachers at the school, her tutor Charles Carey, encouraged her to explore the art of collage. Then, she combined the two, defining her unique Pop art style.
A Brief Look at Pop Art
Pop art emerged in England, during the mid-twentieth century, yet it has roots in American consumerism. With a blend of fine art and popular culture, this new art movement provided a radical shift in what was considered art, and how it was viewed. Advertising, television, consumer products, innovative technology in household appliances, newspaper, magazine, and comic book clippings, as well as celebrities, were all subjects in Pop art.
Pop art artists used bright colors, appropriation, repetition, and humor, while providing a criticism on consumerism, and a look at youth culture.
Pauline Boty and the Pop Art Movement
Pauline Boty had a short, but prolific art career, due to her early and tragic death, at the age of 28. Decades after her death new works were found in an old barn. This caused a re-evaluation of her contribution to the British Pop art movement, and Pop art in general. Today, she is considered one of the founding members of the British Pop art movement, and one of the leading Female Pop Art Artists worldwide.
Boty used Pop art colors, shape, and collage in her works that included popular culture, music and literature, themes of feminism, as well as female sexuality, and the role of women in the 1950s and 1960s. Yet, her works have a sense of fun and humor.
About her work Pauline Boty said, "It's to do with everything…[it] can be as varied as being alive is varied…one of the most terrifying things about the puritanism that still exists in England today is that people are guilty about sex."
Pauline Boty and Early Exhibitions
In 1959, Pauline Boty was invited to display three of her works at the Young Contemporaries art show, held in London. There she became friends with other emerging Pop artists including Peter Blake, David Hockney, Peter Phillips, and Derek Boshier.
In 1960, the Arts Council included one of her beautiful stained glass works in a travelling exhibition called Modern Stained Glass.
In 1961, Pauline Boty was part of a group show entitled Blake, Boty, Porter, Reeve at A.I.A Gallery, in London, exhibiting twenty of her collages, representing popular culture. Is it a Bird, is it a Plane was influenced by the 1950s television show Adventures of Superman, starring actor George Reeves. Boty's Pop art collage, A Rose is a Rose is a Rose, references a sentence written by writer Gertrude Stein, in Sacred Emily, her 1913 poem. It appeared in the book Geography and Plays, from 1922.
In 1963, Pauline Boty held her first solo show at Grabowsky gallery.
Pauline Boty and Art on Film
In 1962, Pauline Boty was chosen as one of four emerging British Pop art artists, along with Peter Blake, Peter Phillips, and Derek Boshier, for a Ken Russell film, entitled Pop Goes the Easel, made for BBC. In it, the four are filmed having fun at an amusement park, and even sketching what they see. Each artist's art is also examined.
Pauline Boty told the interviewer that some of the inspiration from her work was her vivid dreams, and that in her art she liked to portray a moment before it happens. This left an element of surprise, as to whether the event is bad or funny. Additionally, she mentioned she loved to create works, where something extraordinary was happening and no one noticed, such as in her work, A Big Hand (1961), which is shown in the film.
Pauline Boty and Gershwin (1961)
Gershwin (1961) is an early example of Pauline Boty's British Pop art artwork, completed in the same year she graduated from School of Stained Glass at Royal College of Art. In this collage painting, the canvas is split into sections, liken to historical stained-glass work.
Geometric panels hold abstract shapes, in bold colors. The name of the work links art to music or popular culture, as does the bold color palette of orange, yellow and blue. The work is currently part of a private collection.
Pauline Boty and A Big Hand (1961)
In her collage with gold gilt paint entitled A Big Hand (1961), Boty evokes a sense of humor, portraying a woman's giant hand. It reaches down from the sky to hold sculptures from the Trevi Fountain, in Rome. Here the Pop artist shows it isn't a man's world. A woman is in charge.
Pauline Boty and Colour Her Gone (1962)
Boty's Colour Her Gone, was painted as a tribute to the life of Marilyn Monroe, who had died the same year. The central image was taken from a photograph of the movie star, which had appeared on the cover Town magazine, in 1962.
Looking relaxed, with her head tilted up and smiling, the image of Monroe sits in the centre of the work, in a strip. Above her head are blooming roses. For Pauline Boty, the red rose was symbolic of female sexuality. The backdrop of the canvas is grey, with abstract images, in salmon pink, dark green and red. From the Wolverhampton Art Gallery, Wolverhampton, United Kingdom.
Pauline Boty and With Love to Jean-Paul Belmondo (1962)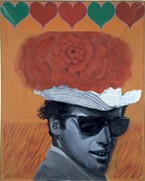 Pauline Boty captured female lust with her oil on canvas work, With Love to Jean Paul Belmondo. Boty was a major fan of French New Wave film for which Jean-Paul Belmondo was a star. Boty described Belmondo as saying he was, "a masculine, and potent extension of the kind of myth that Brigit Bardot engendered. He lives carelessly, like young people of today, and according to his own morality. He is lawless, he creates about himself a feeling of anarchy, you feel he is completely free. He has no guilt, his freedom makes him full of a marvelous wild energy, and he belongs to here, and now."
Belmondo is painted in black and white, as he appeared in film. Large black movie star glasses cover his eyes, and he wears a hat, as he turns to look over his shoulder, directly at the viewer. His lips are parted and teeth visual, as if he is about to smile. A gigantic red rose expands, with a multitude of petals, sitting upon and crushing his hat. The background is a vivid orange, and brush strokes in orange and red surround his face.
The top of the canvas is dominated with red and green hearts, outlined in pink. It symbolizes an outcry of emotion from the female fans. Additionally, Pauline Boty turns the male gaze away from the female form. Now the French male film star is the subject of sexuality and desire.
Pauline Boty and The Only Blonde in The World (1963)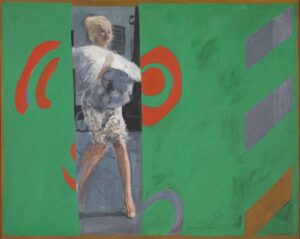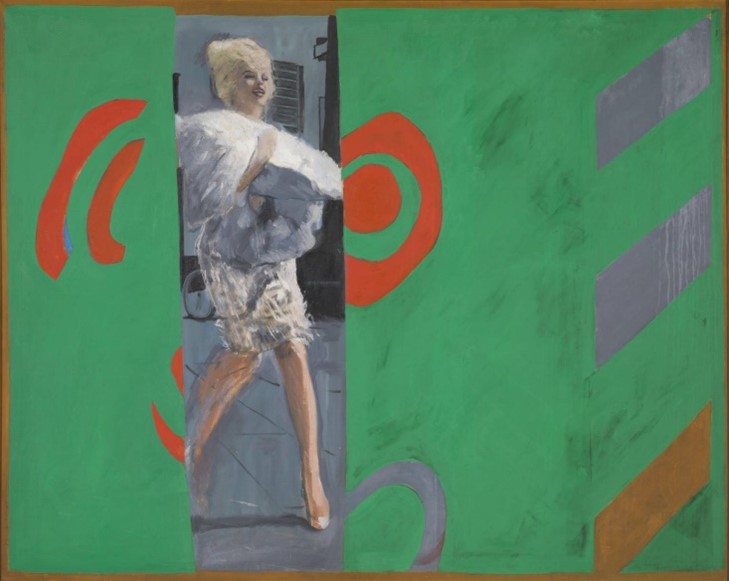 In The Only Blonde in the World (1963) Boty combines celebrity and female sexuality, in the form of a very glamorous Marilyn Monroe. The movie star, as she appeared dressed for the movie premiere The Seven Year Itch, is in a cocktail dress, and high heels, while wrapped in fur. Marilyn only takes up a slim segment of the painting, created using oil on board. With a green background, abstract images in orange and purple suggest movement, or enclosure of the actress's image, while providing a frame.
Pauline Boty and My Colouring Book (1963)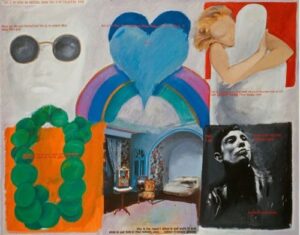 In My Colouring Book (1963) pop artists Pauline Boty once again combines music and art. The work's title refers to a popular song sung by Barbara Streisand, in 1963 and Dusty Springfield, in 1964. This is the song of heartbreak, from a young female perspective. The oil on canvas Pop art artwork hangs at the Muzeum Sztuki, in Poland.
Split into sections, the artwork illustrates a line of lyrics from the song. For the words, " This is the heart that thought he would always be true. Color it blue.", Pauline Boty paints a simple blue heart. A faceless blond, dressed in white hugs the air, for the words, " These are the arms that held him, and touched him, then lost him, somehow, color them empty now."
Pauline Boty and Scandal (1963)
The painting Scandal (1963), by Pop artist Pauline Boty disappeared the year it was shown and has never been recovered. Only a few photographs of the painting remain. The mystery of where this oil on board painting is, combined with its female sexuality politically explosive subject matter has elevated this work to lost masterpiece level.
Christine Keeler is the subject of the painting, copied from a photograph taken by photographer Lewis Morley the same year. Here, she is represented naked against a bright red background. Straddling a chair, the back of which covers her torso, her hands are crossed over her breasts. Flowers swirl in the background. Across the top, in a segment of light blue, are the faces of four men.
Keeler was involved in a British sex scandal, known as the Profumo scandal, in the United Kingdom, during the early 1960s. Keller, then a 19-year-old model, had an affair with John Profumo, the Secretary of the State for War. Meanwhile, Keeler was also sleeping with a Soviet Naval Captain of high rank. The story goes deeper, when it was revealed that Keeler and her friend Mandy Rice Davies, were being set up for sexual purposes, by a socialite friend. The secret lives of several upper-class male figures were revealed, causing both political and social scandal.
Pauline Boty and It's A Man's World I and II (1965)
It's A Man's World I and II is a British Pop art artwork by Pauline Boty, created using paint, collage, and photography on board. The work is divided into two sections, with a thick black line. On the left are a series of naked females, collaged against the blue background of water, nature, and sky. The central figure is cut off at the head and knees. Between her legs appears a smaller image of a naked woman, sitting with her legs in a fetal position, looking out at the camera.
Other cropped images of women appear, all leading the viewer to wonder if the artist wanted to showcase the beauty of the female form or the deduction of the male gaze. From the title, It's A Man's World I and II one would assume it was the later, especially when the images were taken from soft porn magazines.
On the other side of It's A Man's World, are the men, in their trappings of luxury. Here, Boty includes her favourite men, including Elvis, all who appear in clothing. The artist shows her admiration for men, well acknowledging the differences between the sexes, which place restrictive roles upon females. This work is part of Whitford Fine Art, in London.