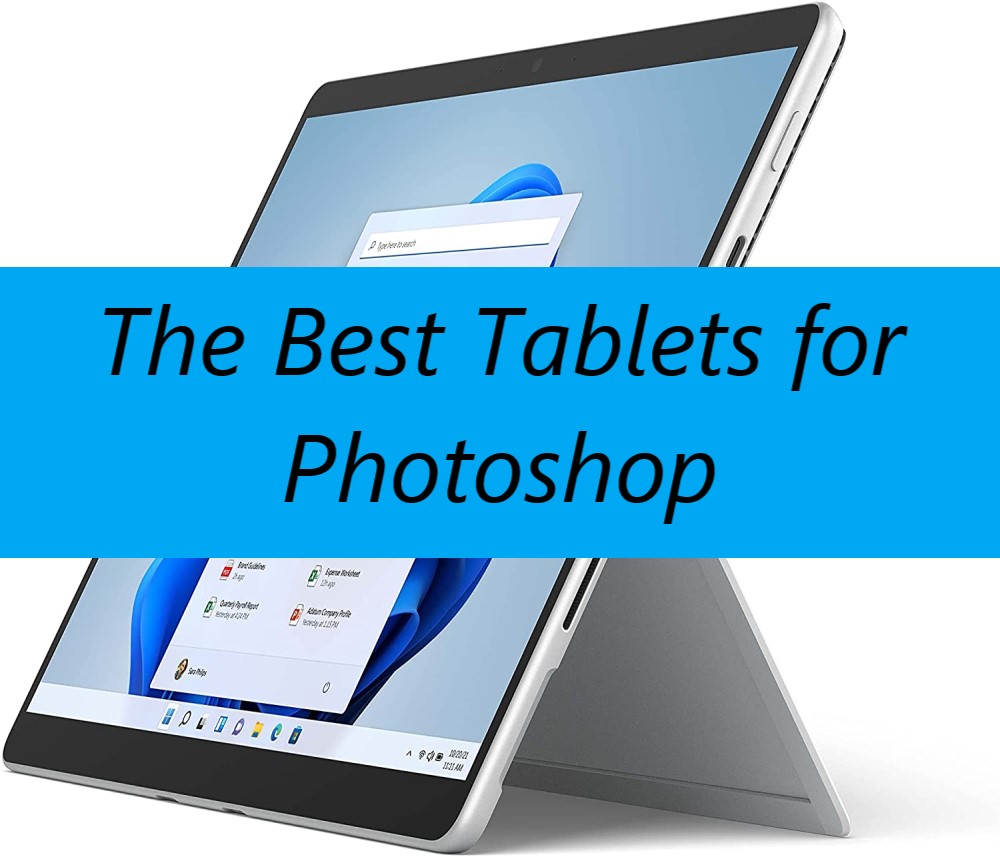 For many years, Photoshop has been considered the industry standard for photo editing, drawing, painting, and even animation.
A mouse and a keyboard are the best friends of many editors. Drawing tablets and PCs were the main tool of illustrators, digital painters, and animators for years.
Photoshop being the most popular software between professionals didn't have to worry about much, however, with the arrival of new software that is either cheaper, easier to use, more organic, and also adapted for portable devices like smartphones and tablets, Photoshop had to step up the game and optimize its software for tablets.
So now those who look for portability and simplicity can find a limited version of Photoshop for Android iOS devices, and if you prefer to work on a PC with a drawing tablet or pen display then there are multiple options as well. The question is, which one should we pick?
How to Choose the Best Tablet for Photoshop
Before jumping to our selected tablet list, let's check what we should look for when buying a new tablet for Photoshop.
Software Compatibility
Photoshop is compatible with most Operative Systems, however, that level of compatibility comes with a price. Portable versions of Photoshop come with reduced and limited functions, so take a moment to think about what you are going to use Photoshop for. If it's for quick photo editing and casual drawing or painting, going for an Android or iOS device with pressure sensitivity will do, nevertheless, if you need the software in all of its extension, then you'll have to settle either for a Microsoft Surface or a graphic tablet with a laptop.
Size
Whether you're using a portable tablet or a graphic tablet with a laptop, the size will always depend on the work you want to do. Photoshop can be used in any screen size, however, if you're looking for portability sizes from 10″ to 13″ will be the best. If you're looking for a professional drawing tablet to multitask, manage several works at the same time, and have a big drawing area, then going for 16″ to 24″ will be the best.
Display
Having the right display is very important for artists, designers, and creatives in general. Nothing better than to be able to see our work at its highest quality. Not many displays fit within this description since high-quality displays cost quite a bit, however even if our display is not 4K OLED or something like that, what we should always look for is +90% of Adobe RGBs color compatibility.
Pen pressure sensitivity
Another item to add to the list. Pressure sensitivity might not be a big deal for photo editing, but for digital painting and illustrations is a very important matter. Most of the mobile devices like Android and iOS tablets that have this feature, only present 4096 levels of pressure in their styluses. And it's not bad, however for a more professional audience, the ideal would be what any graphic tablet or pen display offers and that is 8192 levels of pressure sensitivity along with tilt support.
CPU and GPU
This category is valid only for tablets, though most of the tablets used for Photoshop have a good processor and graphic unit, if you're planning on using this device for heavier tasks like 3D modeling or animation, then I'd recommend going for a tablet either with an M1 apple chip or an Intel Core i7 CPU.
Storage and RAM
Another tablet-only category, storage, and RAM are very important since PSD and PSB files are heavy for both temporary (RAM) and long-term (SSD) computer memory. I'd recommend looking for more than 6 GB of RAM and 128GB of storage in any tablet.
Price and budget
Yes, price because with prices that go from  $60 to $2199 the most useful and popular devices will always be on the expensive side. So take a look at your budget and don't go running to get the latest trendy tablet if you're on a budget and you're only planning to give it a mild use. On the other side, if you're already a working professional, then make sure you invest your budget wisely on a device that fits the needs of the software you're going to use as well as your career.
The Best Tablets for Photoshop on the Market Today
After a deep analysis and research, we've found and gathered the best tablets for Photoshop, keep reading to find which one is the best for you!
Best Tablet for Photoshop Overall – Microsoft Surface Pro 8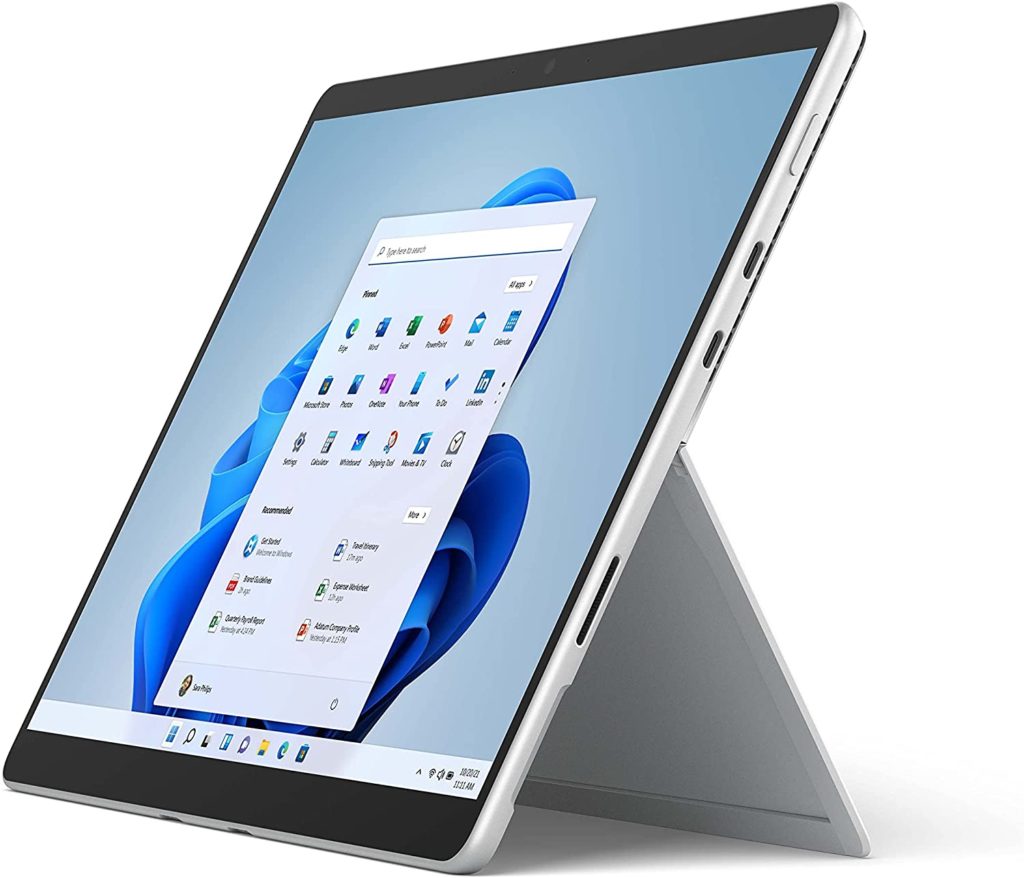 Selection Criteria:
Software compatibility: Capable of full version Photoshop.
Size: Portable 13"
Display: 2880x1920px 100% sRGB coverage
Pen pressure sensitivity: Sold apart, 4096 Levels of pressure
CPU & GPU: Intel Core i7 1185G7 3GHz, Intel Iris Xe
Storage and RAM: 1TB SSD 16GB of RAM
Price: $2199
About the Microsoft Surface Pro 8
This beautiful device is the best of both worlds, you have the portability and versatility of a tablet along with the characteristics of any high-performing laptop. This device got the win in our list because it is the only tablet that can run the full version of Photoshop as it's basically a windows environment-made tablet. Though there's a lack of app optimization (as expected of any Windows device) you can fully run any software that is desktop-only here. With the addition of the keyboard and Surface Pen 2, this device fully turns into a creative workstation that will run Photoshop and any other heavy software with ease. And to go further, with an adapter and an external GPU card, this tablet turns into a working station for 3D modeling and Rendering.
 Pros
Can run most professional software
Has a great processor
Hass full sRGB coverage
Cons
It's quite expensive
The pen is sold separately
Best Apple Tablet for Photoshop – iPad Pro 12.9 M1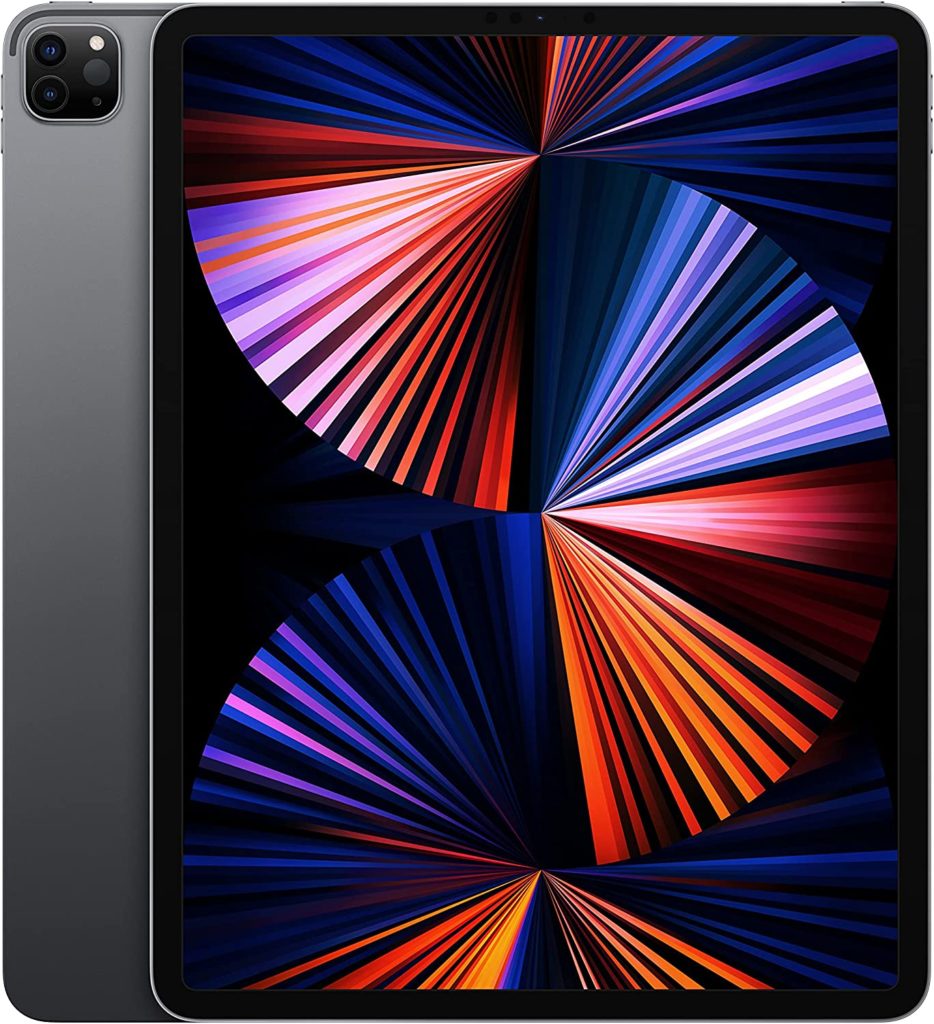 Selection Criteria
Software compatibility: Limited version of photoshop.
Size: Portable 12.9"
Display: 2048 x 2732 Liquid Retina XDR 100% sRGB coverage
Pen pressure sensitivity: Sold apart, 4096 Levels of pressure
CPU & GPU: Apple M1 Chip, Apple M1 Integrated Graphics
Storage and RAM: 1TB SSD 16GB of RAM
Price: $1799
About the Apple iPad Pro M1
The iPad Pro has been out for a while now, improving its design and specs every year. This year Apple has brought us the M1 chip, the same as the Macbook Pro, a powerful processor with great integrated graphics that will run smoothly on any major task.
Into drawing as well as Photoshop? The Apple iPad Pro M1 also makes our top list of our Best iPads for Drawing!
The integration of a less limited version of photoshop for iPad (not the usual Photoshop Express) makes this device great not only for photo editing but for digital painting on the go.
The battery lasts 10 to 12 hours of constant use and even though we can't use Photoshop at its fullest, the iPad Pro has lots of other features that we can use for content creation as a complement for photoshop.
 Pros
Less limited version than Android and Smartphone version
Great display and processor
Hass full sRGB coverage
Cons
It's a bit expensive
The pen is sold separately
Best Price-Value Pen Display for Photoshop – HUION Kamvas Pro 16 Plus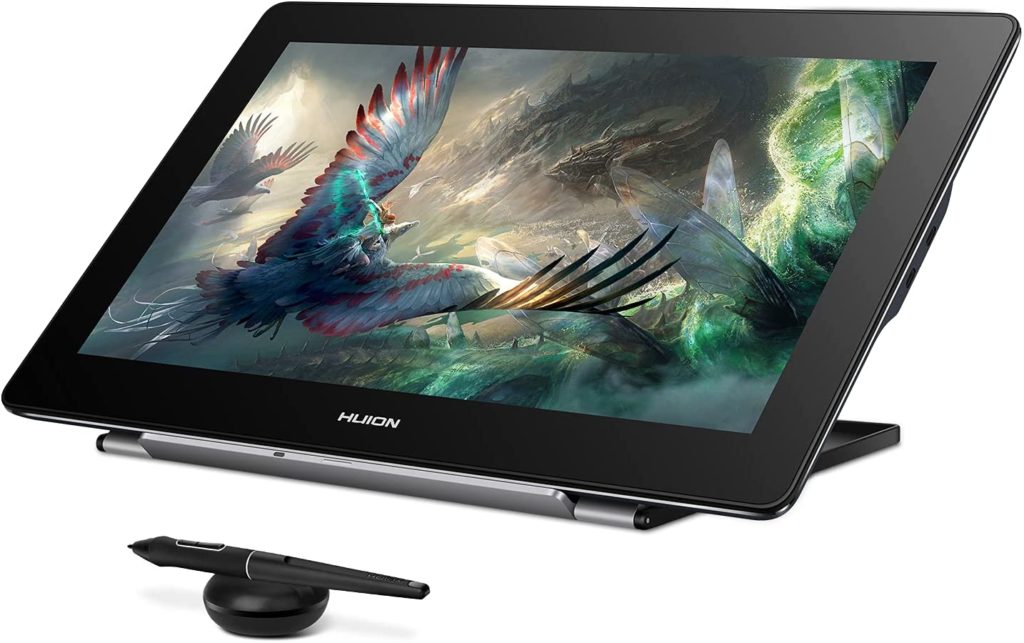 Selection Criteria
Software compatibility: Fully compatible, need a PC or an Android devicePC to work.
Size: Medium 16"
Display: 4K UHD 145% sRGB coverage
Pen pressure sensitivity: Included 8192 Levels of pressure
Price: $899
About the Huion Kamvas Pro 16 plus
This pen display is not only beautiful but it's the perfect price value for pen displays. Besides its 4K display, it's quantum dot technology allows a 145% of the sRGB gamut, with vivid and precise colors, plus 178° of angle view. Compatible with every software and with an improved pen with also 8192 levels of pressure, the Huion Kamvas Pro 16 plus is also Compatible with Android, making the experience of digital illustration and painting in Photoshop much more accessible and enjoyable. It's size is also perfect for carrying around but at the same time not limiting for work.
 Pros
Amazing Display
Android Compatibility
Cons
The Android cable adapter is sold separately
Best Android Tablet for Photo Editing – Samsung Galaxy S7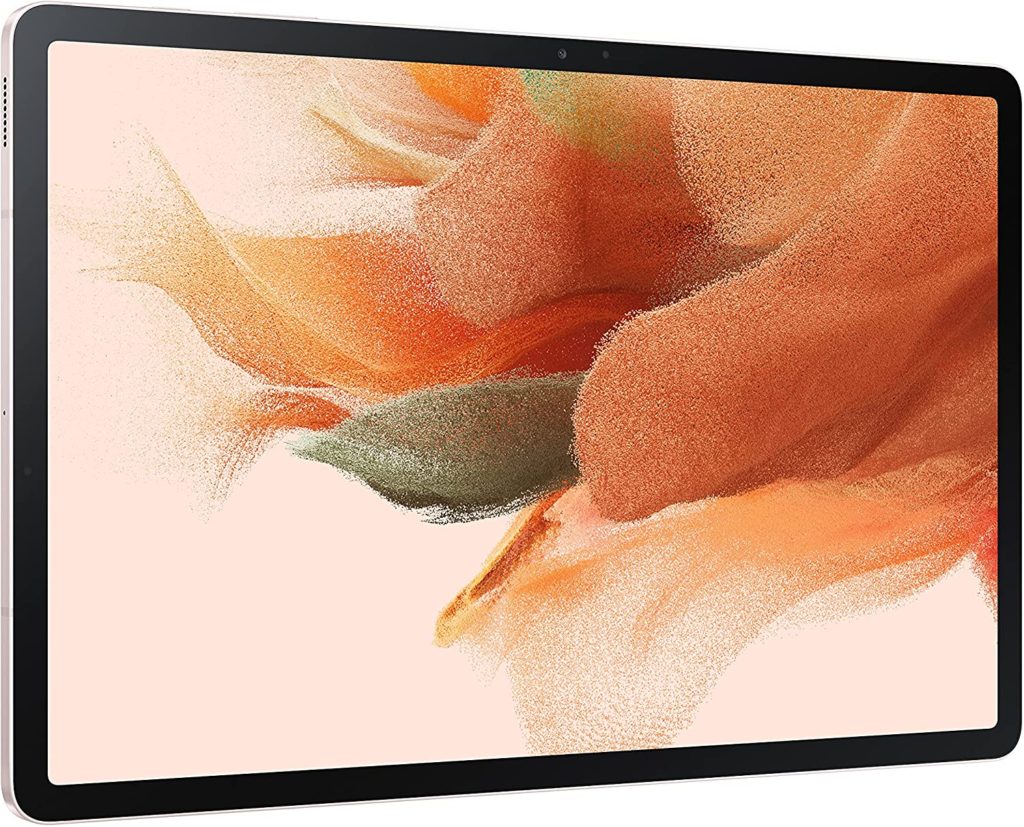 Selection Criteria
Software compatibility: Very limited version of photoshop.
Size: Portable 11"
Display: 1600 x 2560px HDR 150% sRGB coverage
Pen pressure sensitivity: Included, 4096 Levels of pressure
CPU & GPU: Qualcomm SDM865 & Adreno 650
Storage and RAM: 256GB SSD 8GB of RAM
Price: $529
About the Samsung Galaxy S7
The Samsung Galaxy S7 tab is one of the top performing android tablets. Very portable yet very powerful, this Snapdragon based tablet has the power of any laptop. And it's not a simple comparison because the Dex mode of Samsung allowed you to not just use it as a tablet but to change the tablet mode to a desktop one. The Photoshop version for any android device is very limited though, so this tablet will be good for photo editing but no more until Photoshop decides to update the app version for Android, but with the portable screen size it is perfect to edit photos on the go and also a great companion for everyday use.
 Pros
Not expensive
Great display and processor
Hass full sRGB coverage
Desktop mode
Cons
Photoshop version is very limited
Best Budget-Friendly Graphic Tablet for Photoshop – Huion HS611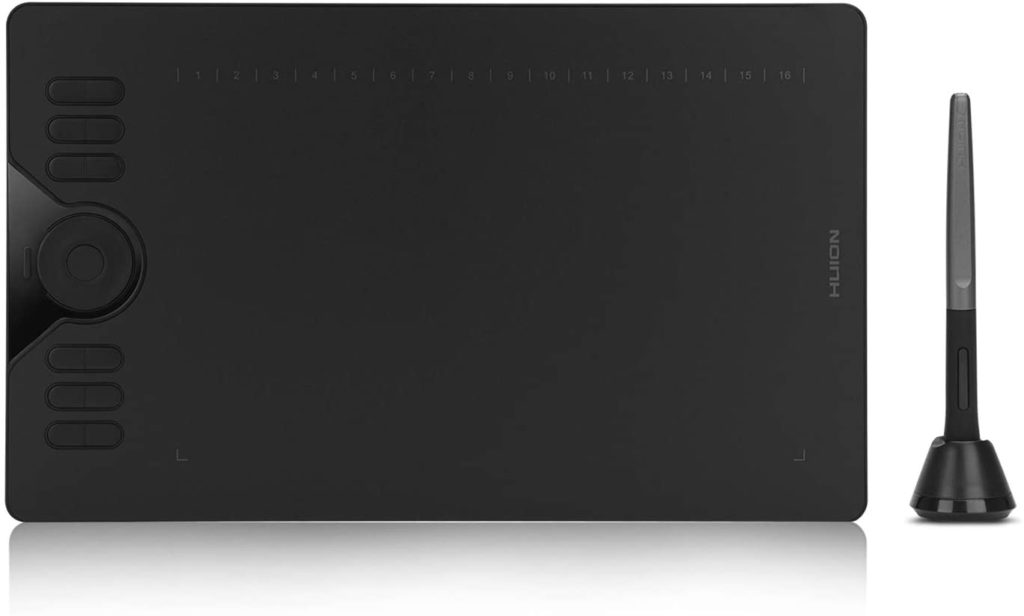 Selection Criteria:
Software compatibility: Compatible with all versions, need a PC or Android device to work
Size: Potable 10" Drawing area
Pen pressure sensitivity: Included, 8192 Levels of pressure
Price: $69
About the Huion HS610
This very useful device, with that small price, is one of the best graphic tablets out there. For years popular brands charged not so small prices for basic functions and tablets without a screen, but this device has proved that price wasn't the matter and with a small budget anyone can own a graphic tablet.
Besides the active drawing area, it comes with 10+ customizable shortcut keys and a slide wheel that can be used to zoom in and out or to change the brush size. Since Photoshop needs a well equipped PC to work, sometimes it can be quite expensive to get a screen tablet or an iPad. This not so small Huion has not only the perfect drawing area to edit, draw or paint in Photoshop for Windows or Mac but it's compatibility with Android makes it even more useful as we can also use it in our smartphones.
 Pros
It's very budget-friendly
10+ shortcut keys
Full pressure sensitivity pen and tilt support
Cons
It doesn't work without a PC or smartphone
Conclusions
There are multiple options for tablets, graphic tablets and pen displays, however just because of that it gets harder and harder to choose the best option for us. In this article we've learned what to look for before buying a tablet, what version of Photoshop is the best for us and which version is available for which devices.
Besides that, we now know the best options for Photoshop available in the market.
I hope after reading this you feel more sure about what device is the best for you.
Until next time!