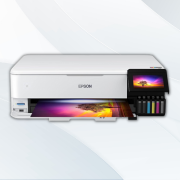 Professional quality with low ongoing ink costs.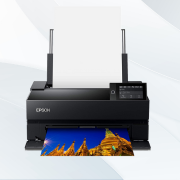 Superior color fidelity with ten different inks.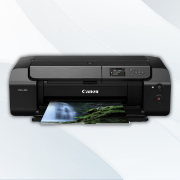 High-performance, beginner-friendly with true color representation.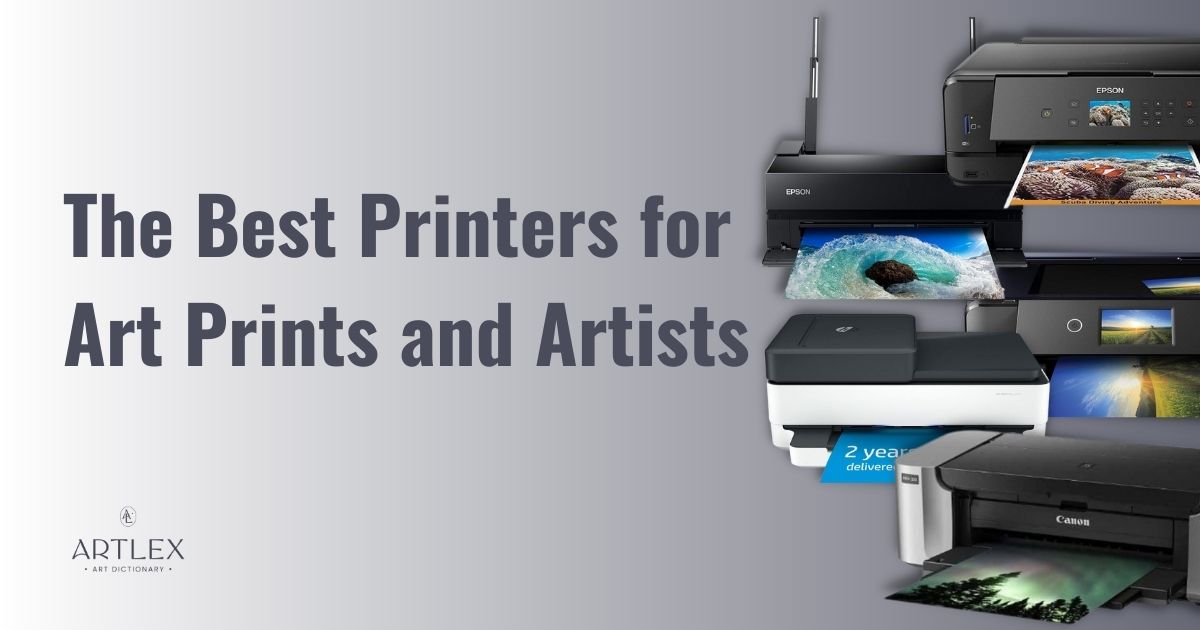 Artists and graphic designers often need to print their work. Buying an art printer may seem like an expensive investment, but it will pay off over time. Artists regularly need to create high-quality prints that look impressive and professional. Owning a printer can be a cost-effective alternative to using printing services.
Whether you're looking to print large-scale art prints for sale or want to improve the quality of your creative work, having your own printer puts you in control. Here's a look at some of the best art printers for artists.
What To Consider When Choosing an Art Printer
There are several important criteria that every artist must take into account when purchasing a printer. The biggest requirements are its resolution (dpi), print sizes, ink cartridges, print speed, and price.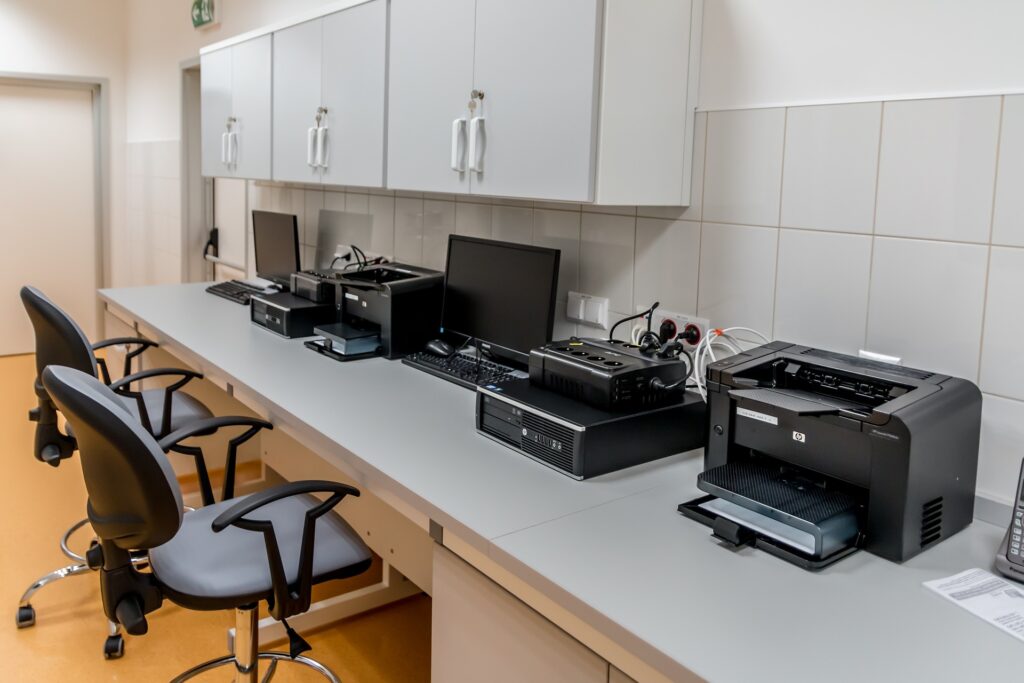 Resolution
Quality is certainly a key factor that should lead you to invest in a professional inkjet printer. Models offering a higher quality output of the photographs will give you work that's fit to hang in a gallery.
Professional inkjet printers are normally capable of producing prints with good resolution. The minimum is 600 x 600 DPI in black, while color can vary depending on the brand. Printers with this resolution cost more than a standard printer but are still affordable.
High-quality printers can recreate images up to 4800 x 2400 DPI. If you're printing very detailed images or large-scale prints, you want to look for a printer with the highest DPI. These printers are more expensive, but you're getting work that's suitable for art shows and sales.
Print Size and Substrates
Basic printers default to 8.5" x 11" paper, which is US letter size. But artwork doesn't fit a typical size. The standard print size is 6 inches. You can use a basic printer and trim your art, but an art printer will accept different sizes of paper for easy production.
You can use a wide-format printer to print photos up to 19 inches. To produce 24-inch-wide prints of any length you want, you should know that these types of printers are very large and expensive equipment. The larger the maximum print size, the more high-priced and bulky the printer will be.
To print different types of media, you'll want a printer that can handle various paper types. Thick paper can easily jam a standard printer. You might need to print your art of card stock, semi-gloss sheets, or textured paper.
For printing photos, most basic art printers will produce a nice picture. But many artists use their printers for various projects and prints. In that case, you want to make sure the printer can handle a variety of substrates without jamming the machine.
Ink Cartridge, Variety of Colors and Pigments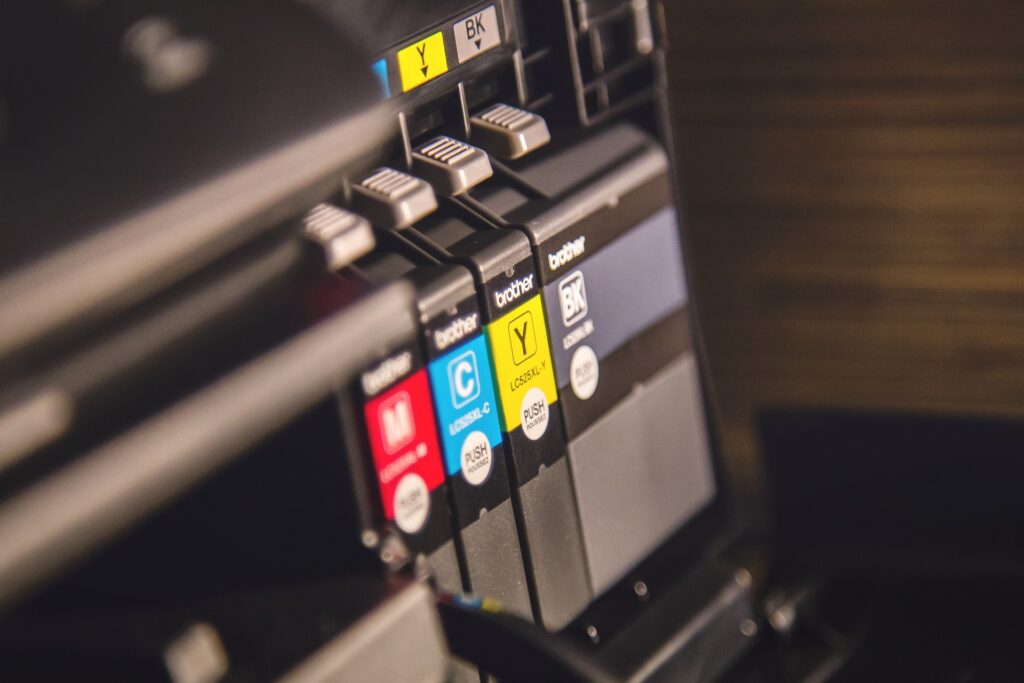 Each printer has different options. Some provide a better variety of colors, pigments, and sharpness. The best photo printers offer a wide color palette that can be rechargeable. It is a plus when it comes to refilling the black or color ink you need and not all at the same time.
Printers with separate CMYK ink tanks aren't limited to producing those four colors. The printer uses them in various levels to mix thousands of colors, bringing your artwork to life.
Art printers can also produce different hues, saturation, and levels of brightness. These settings allow you to fine-tune your art, so the printer uses the exact colors from the color wheel.
Some art printers have ink cartridges specifically for glossy or matte textures. Whether you're producing photos or other art prints, having different options for the finish can give you an array of pieces.
The more choices your art printer has in terms of the ink cartridge, colors, and pigments will help you reproduce your work in the highest quality.
Print Speed
Pigment inks can last longer without fading when the printing speed is between 2 and 6 minutes. Art printers usually work slower, but they give better color quality to your images. The colors are more vivid and dense when the ink penetrates the paper for a longer time.
If your priority is to offer a service of fast prints or numerous copies of photos, do not look for printers with high printing speed. If you prefer image quality as a priority factor, stay away from printers that prioritize speed. Print speed does not give a better print quality.
Price
A printer can be expensive, but it's worth it for the quality. You can invest in a decent printer for about $80. If you have the budget, you can buy one of the printers for artists and designers with the best pigments and professional details. They have a starting price of approximately $2,500.
The Best Printers for Art Prints on the Market Today
Whether you're a professional artist or simply dabble in art as a hobby, it's important to have quality printing resources on hand. So which printers are best for artists? Check out our review and breakdown of some of the top printers on the market right now.
Best Art Printer Overall: Epson ET-8550
Best Art Printer for Experts: Epson SureColor P900
Best Art Printer for Serious Beginners: Canon PIXMA PRO 200
Best Affordable Printer for Artists: Epson Expression Photo XP-970
Alternative Budget Printer for Artists: HP Envy Pro 6475
1. Best Printer for Art Prints Overall – Epson ET-8550
Selection Criteria
Resolution: 5,760 x 1,440 dpi
Print size: A3, 11.75 x 16.5 in
Colors: 5 ink tanks, CMYK + Black Pigment
Print speed: 10 PPM Color
Price: $$
About the Epson ET-8550
The Epson ET-8550 is a professional art printer that delivers high turn-out at a low per-print cost. Thanks to its ink tanks (which come equipped to print over 3000 pages), it has a much lower ink cost than other cartridge based systems.
If you are a professional artist that wants to keep an eye on ongoing costs, this is the printer for you. While it's price is higher than some on this list, it's not the most expensive at all. We think this is the perfect "sweet spot" between price and value, hence we recommend it at the top of our list.
Pros
Low Ongoing Ink Cost
Comes equipped with 3000+ pages worth of ink.
Great contrast due to additional black pigment.
Cons
Big and bulky
Moderately higher price point
2. Best Art Printer for Experts – Epson Brand SureColor P900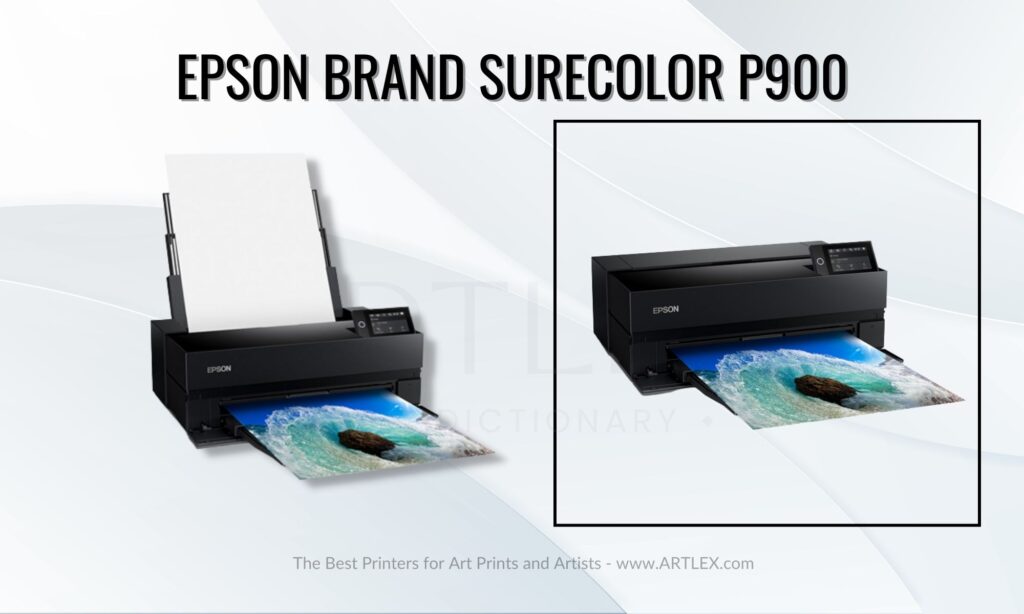 Selection Criteria
Resolution: 5760 x 1440 DPI
Print size: 17" x 22"
Colors: 10-ink UltraChrome PRO10 pigment ink
Print speed: 1 min 29 sec per page
Price: $1400
About SureColor P900
With ten different inks, including violet, the SureColor P900 gives you better quality pictures full of clarity and depth. With two specific nozzles for Matte Black and Photo black, there's no need for swapping out one for the other.
Furthermore, this printer has Carbon Black Driver Technology which allows for increased density of black on even glossy paper. With an optional roll feeder, it also can print sheets of 17 x 129 inches.
Speaking of size, this printer measures 14.7 x 18.6 x 29.3 inches and weighs approximately 20kg. These dimensions are 30% smaller than other printers in its class, making them ideal for home printing.
The SureColor also features a 4.3" touch screen you can customize to get the same kind of prints every time. It can also accommodate a variety of paper, including sheet media 1.5 mm thick. Print jobs from this device last an incredibly long time, with colors that refuse to fade for 200 years.
Pros
Ten different inks for incredible color
WiFi connectivity options from smartphones, PCs, and laptops
Uses a 10-Channel MicroPiezo AMC printhead
Carbon Black Driver Technology
Different nozzles for Matter Black and Photo Black
Compact design
Cons
3. Best Art Printer for Serious Beginners – Canon PIXMA PRO 200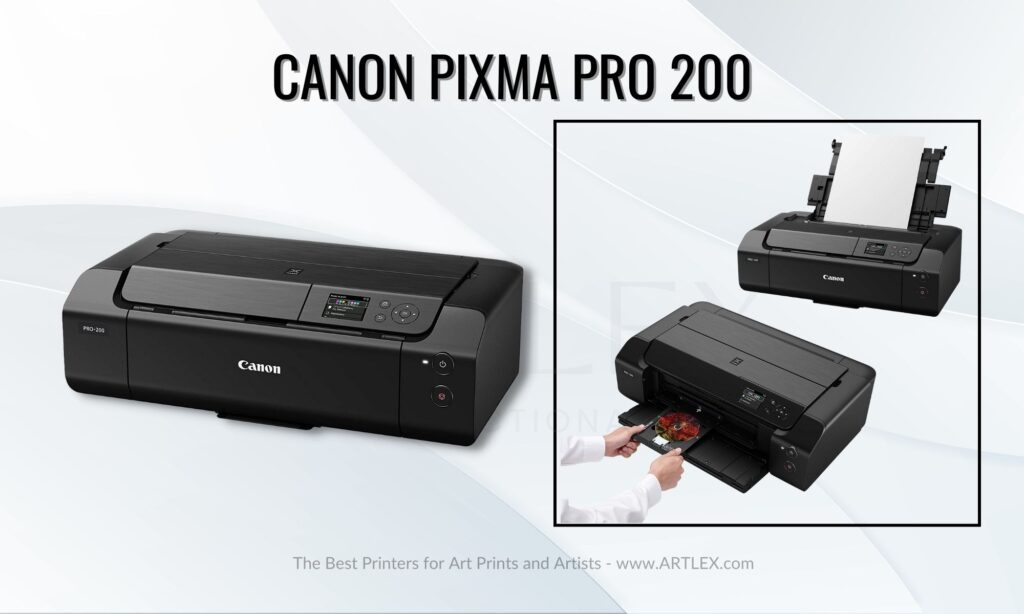 Selection Criteria
Resolution: 4800 x 2400 DPI
Print size: 13" x 19" maximum
Colors: 8-ink dye-based ChromaLife
Print speed: 90 seconds
Price: $$$
About PIXMA PRO 200
It is a high-performance wireless photo printer and stand-alone inkjet. It has copier features with intuitive touch screen controls, allowing printing in large format to A3 and sheets of 13 inches x 19 Inches. Its print quality is good in both gray and color scales, so even if you've done a digital black and white painting, your print will stand out. It allows 50 printing sheets with Airprint to smartphones through Wireless connectivity.
It has an optimum image generating system, so your colors will look true to how you painted them when you print. It's also compatible with various operating systems, so even if you have an older system or upgrade after buying the printer, there won't be any hiccups. If you have more experience with non-art printers and want to make the switch, this printer is close enough to a standard model that you shouldn't have issues, making it perfect for beginners learning the ropes.
Pros
High-performance photo printer
Has a stand-alone copier function
Cons
The printer is heavy and large
Lacks many control buttons for control on the printer
No SD memory card slot or LCD screen to preview photos
4. Best Affordable Printer for Artists – Epson Expression Photo XP-970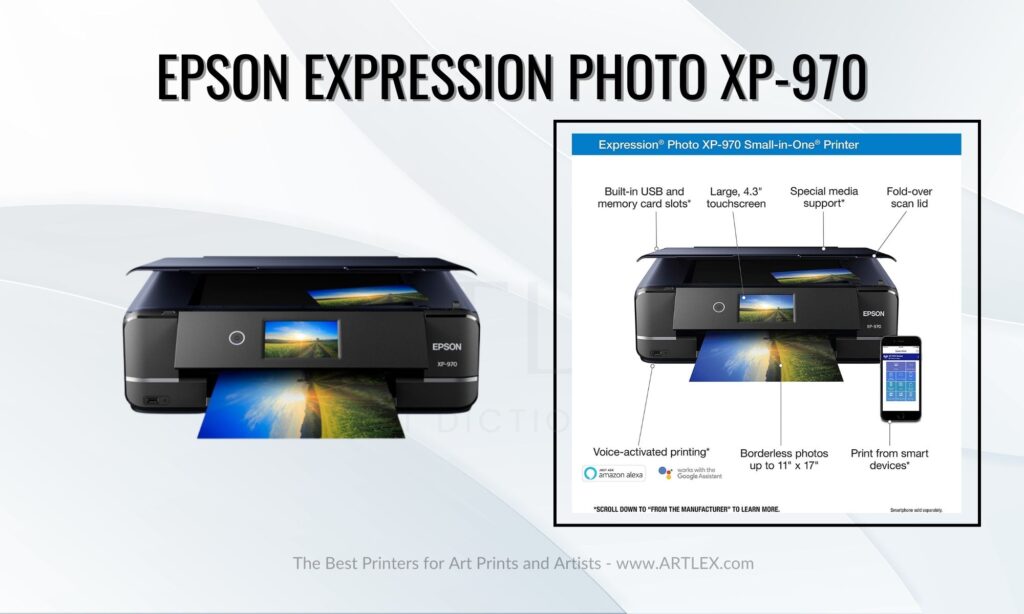 Selection Criteria
Resolution: 5760 × 1440 DPI
Print size: 11" × 17" maximum
Colors: six-color Claria Premium ink set
Print speed: 8.5 ppm Black, 8 ppm color
Price: $
About Expression Photo XP-970
I have placed this wireless color photo printer at the top of this list, as it is hard to beat in terms of performance. Its compact and innovative design means you can place it anywhere in your workspace.
This model from Epson is a printer with a scanner and copier. Due to these features, it has two front paper trays, one A4 size and the other for photos. There is also a tray for special papers found in the back for thicker substrates.
It is specifically designed to use original ink cartridges from Epson. The continuous system 3-in-1 inkjet printing technology makes nearly identical color copies. The highest printing speed is 8.5 ppm for black and white copies.
Your ink costs are high, but using generic cartridges could cause damage not covered by the manufacturer. The expense of the original ink system is worth it for its tones, details, and shades.
It has a high-resolution scanner and intelligent motorized paper input tray of print quality compatible with printing on A3 and A4 size paper. You can print from the photographic paper tray using smartphones, PCs, and laptops. There's a power button next to a control panel, which is a 10.9 cm color LCD touch screen for operation or interaction.
Pros
It is a professional printer that is not expensive
Offers good print quality
The brand has an App
Has a reader for SD, USB, and LAN cards
Cons
It is somewhat heavy, at 8.7 kg
5. Best Budget All-in-One Printer for Artists – HP Envy Pro 6475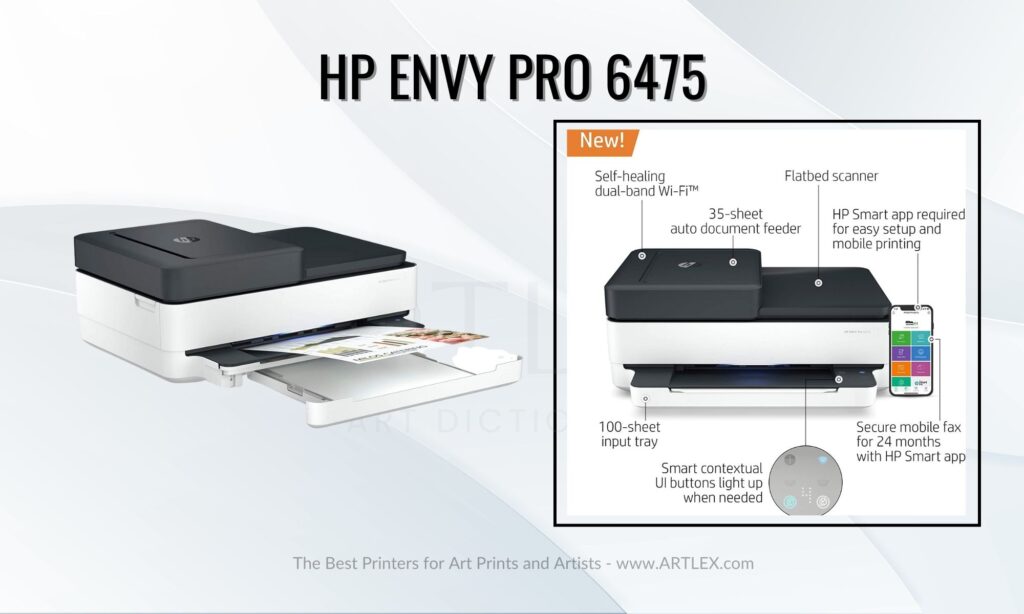 Selection Criteria
Resolution: 4800 x 1200 DPI
Print size: 8.5" x 11.7" maximum
Colors: CMYK
Print speed: 10 ppm (black), 7 ppm (color)
Price: $
About Envy Pro 6475
This inkjet printer from HP provides All-in-One capabilities for printing, scanning, copying, and auto document feeding. Thanks to the HP Smart app, you can also do any of these tasks from any room in your house or even another building. If you have problems with connectivity, this printer has self-healing dual-band WiFi, meaning it will automatically search for problems and try to correct them, so you don't have to.
The flatbed scanner makes it easy to upload up to 35 sheets of photos or art at a time, helped along by the auto document feeder. The Envy Pro can accommodate a range of sheet sizes, from three by five inches to eight and a half by 11.7 inches.
With purchase, you also get two years of ink cartridges delivered to your door. This deal rides on the assumption that you will print an average of 100 pages per month.
Pros
All-in-One capability
Prints from HP Smart app
Climate Pledge Friendly
Self-healing WiFi solves connectivity issues
Comes with 2 years of delivered ink
Cons
Can't set up without the app installed
Conclusion
Buying an art printer can seem expensive, especially when choosing the best printer for art prints. If you regularly need to create high-quality prints, it may be a better alternative to buy a printer than to go through a printing service. You can customize each print and create new art from your home.
It's an investment that will be worth it, especially if you plan to stay in the art field for a long time. Since some printers are more than $100, it is important to compare several products before buying one. When you're looking for a printer, don't just base your choice on price, but also features and efficient use.
I hope this guide has helped you in your search for the right printer. If you have any questions, please leave a comment below. I'm happy to help!