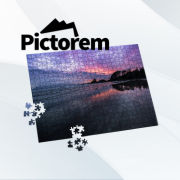 A top-notch service offering high-quality, fully customizable puzzles for preserving your favorite memories.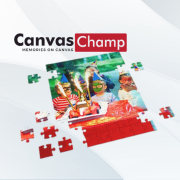 Perfect for personalized gift puzzles, offering robust pieces and great image quality at competitive prices.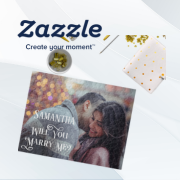 A unique marketplace connecting you with creators for the most diverse range of customizable puzzles, ideal for gift-giving.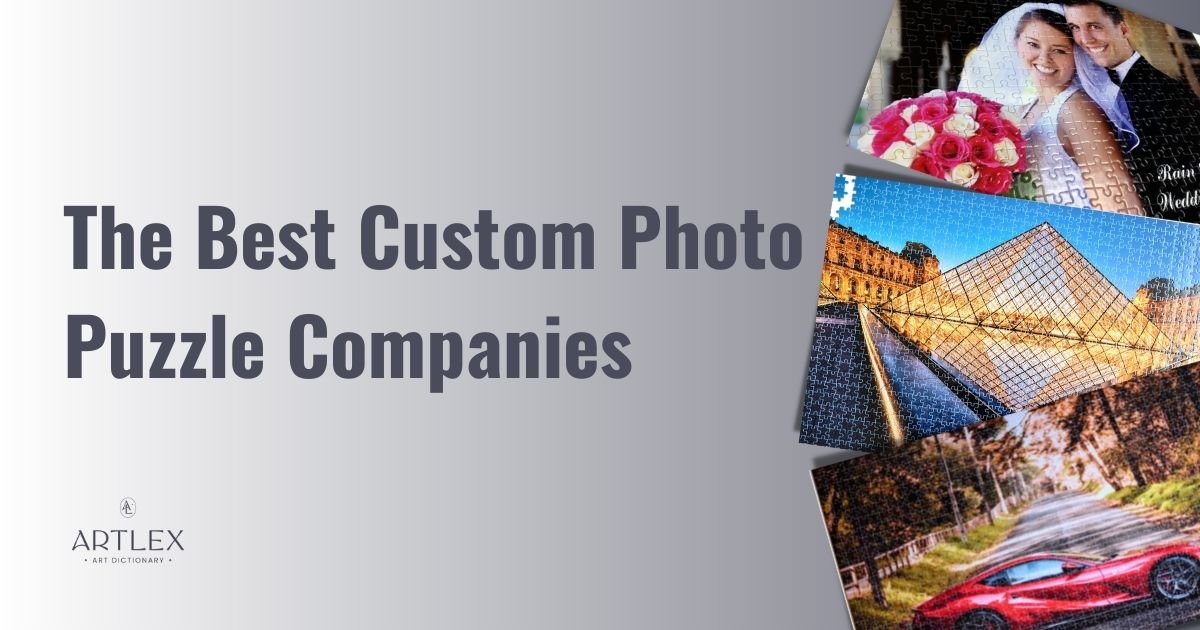 Family members who enjoy putting together puzzles will appreciate some of their favorite photos on a personalized puzzle. The best photo printing companies have various puzzle options to choose from and print each photo using high-resolution formatting. They are flexible in the types of pictures they accept and at the same time provide excellent customer service.
A personalized jigsaw puzzle makes a perfect gift for the whole family to remember a special holiday or occasion. A personalized photo puzzle can also create family fun as everyone contributes to putting the puzzle together. Our search helped us uncover the five best photo puzzle companies for everything from family collage puzzles or fun kids puzzles.
Types of Custom Puzzles
There are literally dozens of different types of photo puzzles to choose from, including:
Wooden Jigsaw Puzzles
Magnetic Puzzles
Plastic Jigsaw Photo Puzzles
Double-sided Jigsaw Puzzles
'Endless' puzzles
Read on to learn which are the best companies to choose from to order a custom jigsaw puzzle to give as gifts for the upcoming holidays or simply spend hours of fun with family and friends.
Our Product Selections
1. Best Custom Puzzle Overall – Pictorem Print Company
Selection Criteria
Price – ~$35 (Was $58) (17×12 inches, 315 pieces) – Our score: 9/10
Finish – Gloss – Our score: 9/10
Variety – Fully customizable – Our score: 9/10
Customer Service – Excellent – Our score: 9/10
About Pictorem Puzzle Prints
For high-quality puzzles, including a personalized picture puzzle, Pictorem is top-notch. Pictorem offers personalized puzzles in a variety of different sizes with either artwork or a favorite image printed on a photo puzzle. These custom jigsaw puzzles can showcase favorite memories and make an excellent personalized gift for Christmas, a wedding anniversary, or as a gift, the whole family can enjoy.
Each puzzle is printed using 300 dpi (PPI) on a firm backing with a high gloss finish. What's more, if you aren't a professional photographer and your photo needs professional editing, Pictorem offers image optimization and picture enhancement.
Your very own photo puzzle can either arrive assembled without a box or disassembled in a plain cardboard box or an attractive metal tin. The estimated delivery date is approximately two weeks from the date of purchase.
Sizes start from 25 pieces, shaped like a heart up to 1,000 pieces.
Pros
Free shipping within Canada and the US
Includes a volume discount with a Pro account
They have an ICC profile
Offers a 30-day satisfaction guarantee
Cons
Does not deliver outside of the US or Canada
Boxes are extra
2. Best Gift Photo Puzzle Company – CanvasChamp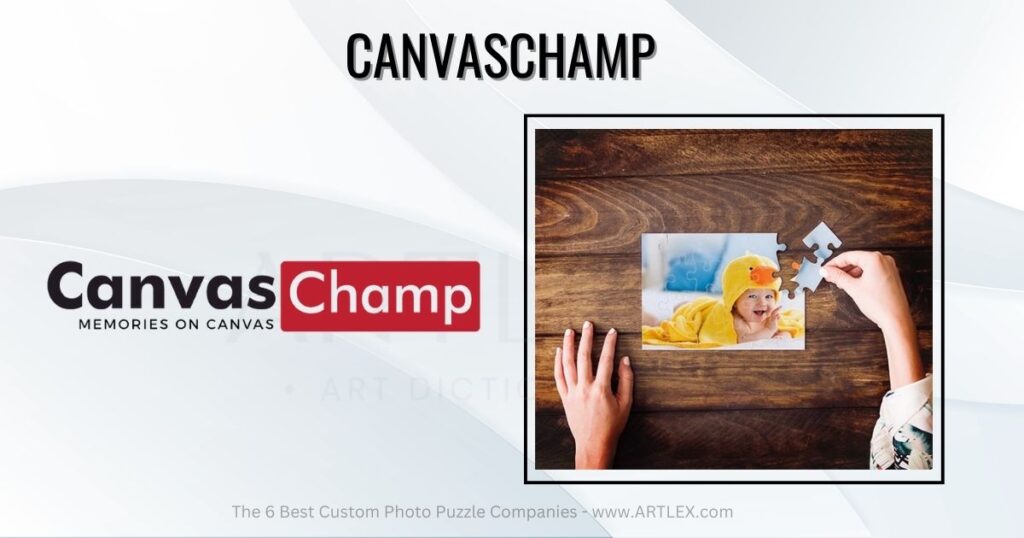 Selection Criteria
Price – ~$7.99 (6 pieces) to ~$80.70 (1056 pieces) – Our score: 9/10
Finish – Semi-matte – Our score: 8/10
Variety – Fully customizable – Our score: 9/10
Customer Service – Excellent – Our score: 9/10
About CanvasChamp
If you want to offer a customized picture puzzle as part of your marriage proposal, birthday wishes or even ask your closest friend to be a bridesmaid, CanvasChamp is the place to go.
CanvasChamp provides puzzles ranging from six to 1056 pieces at reasonable and competitive prices. Their puzzles, including picture mugs and pillows, are among the most popular print goods they provide.
Overall, the components were made of robust cardboard that was smooth and firm enough to be mistaken for plastic at first touch. The printed image did not peel from the paper even after extensive use.
CanvasChamp prioritizes durability, thus, their puzzle components are solid and well-supported, allowing for unlimited disassembly and reassembly with no wear and tear. There were no mismatches since the pattern was so beautifully produced that there was little ambiguity about which sections fit where. The shapes of the pieces varied enough that finding the right one to fit was a decent but not impossible task.
The fact that there was almost no dust on the parts set this firm apart. It was evident when putting it together that the maker made the effort to trim and clean the components so that no mess was left behind.
Pros
Perfect for customized gifts (including birthdays and anniversaries)
High-quality puzzles.
Firm backing.
Cons
Missed the snapping sound when clicking pieces together.
3. Best Gift Photo Puzzle Company – Zazzle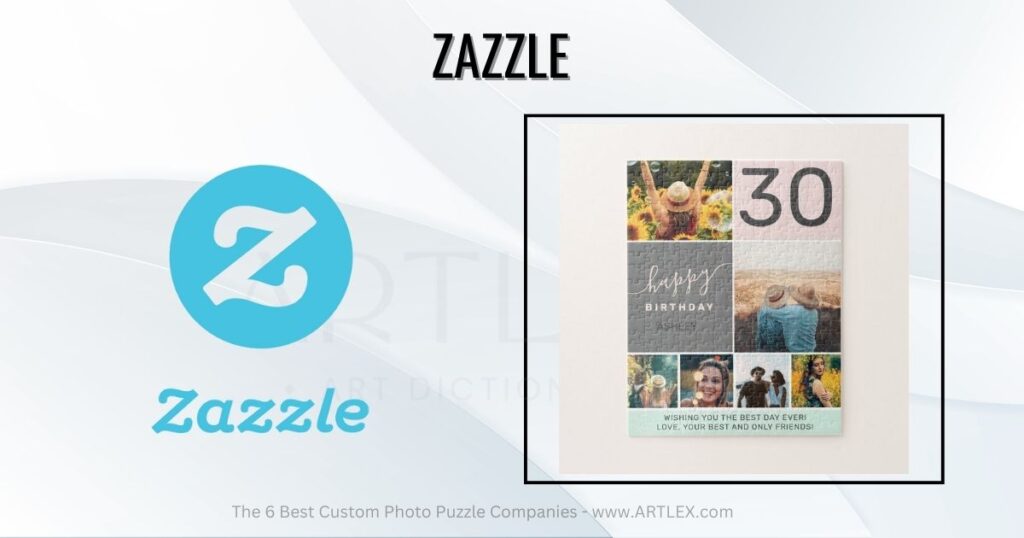 Selection Criteria
Price – ~$20 (252 pieces) to ~$60 (1000 pieces) – Our score: 9/10
Finish – Semi-matte – Our score: 8/10
Variety – Small variety – Our score: 8/10
Customer Service – Good – Our score:8/10
About Zazzle
Zazzle is a marketplace that connects customers with creative companies and individuals that produce customized products on-demand. It's a little different than the usual e-commerce store, but it's uniqueness has some advantages. One advantage of it's many partner creators is that Zazzle features the widest variety of gift puzzles we found. We particularly liked the "collage photo puzzle" option, which uses multiple pictures (and customized text/wording) to create a very unique end product.
Pros
Perfect for customized gifts (including birthdays and anniversaries)
Widest variety of options.
Supports independent creators.
Cons
Possible inconsistencies due to independent creators.
4. Best Photo Puzzles – Portrait Puzzles Photo Gift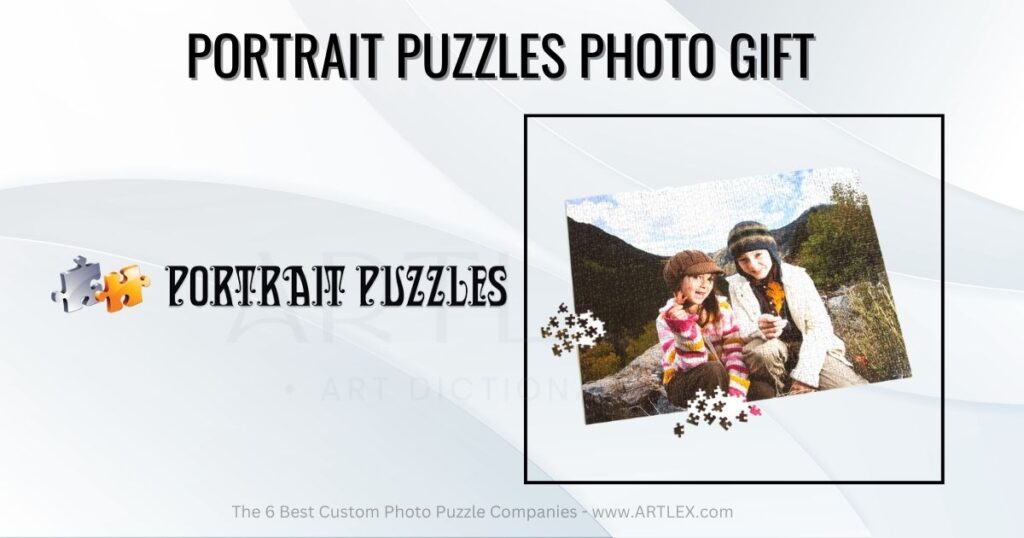 Selection Criteria
Price – ~$29.99 (16×20 inches, 300 pieces) – Our score: 9/10
Finish – Semi-matte – Our score: 8/10
Variety – Small variety – Our score: 8/10
Customer Service – Good – Our score:8/10
About Portrait Puzzles
Make your own jigsaw puzzle with Portrait Puzzles to create a personalized gift for that special occasion. Portrait puzzles offer eight different puzzles from 30 to 1,000 pieces, including 16 postcard puzzles that can be great for kids. Creating puzzles for family and children is fun and can keep memorable moments alive.
Ordering a photo puzzle is straightforward and easy. Simply upload your favorite images, ensuring that it's a high-quality image, choose the size puzzle you'd like, the type of box, or if you want it to arrive assembled. In addition, photos can be mailed in or scanned if no digital file is available.
Each personalized picture puzzle can add text of up to 15 words at no extra charge. Only a single image can be placed on each jigsaw puzzle. If you aren't happy with the final product, the company will reimburse you.
Pros
Made in the USA
Next day shipping
Puzzle box is included in the price
Provides gift certificates
Cons
Assembled puzzles are an additional price
Cannot preview the puzzle before it's cut
5. Best Picture Puzzles – Printique Personalized Puzzle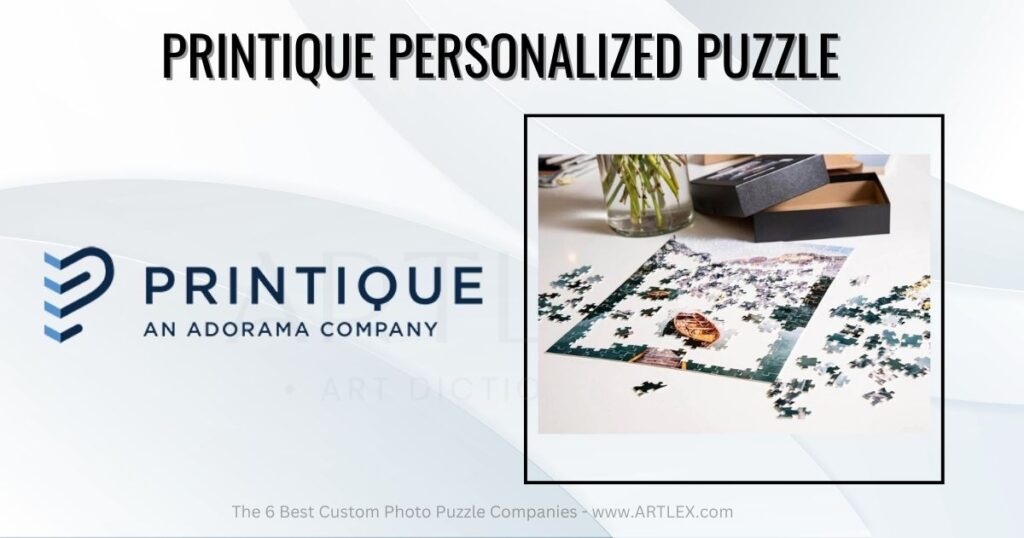 Selection Criteria
Price – ~$23 (11×14 inches, 252 pieces) – Our score: 9/10
Finish – Gloss – Our score: 8/10
Variety – Small variety – Our score: 8/10
Customer Service – Good – Our score: 8/10
About Printique Photo Puzzles
Picture puzzles make great gifts, and Printique offers personalized puzzles for both kids and adults. Kids' puzzles range from 30 to 56 pieces, and puzzles for adults are between 252 to 1,014 pieces. Your custom jigsaw puzzle arrives in a sturdy black box, unassembled with the photo image printed on the cover.
Multiple photos are not supported when creating your picture puzzle, but the handy editor tool allows users to edit images before finalizing the picture.
Small puzzle pieces can pose a choking hazard to young children, so keep this in mind when gifting a picture puzzle to a family with small kids.
Pros
Has the option to create kids and adults puzzles
A photo or kids artwork can be printed on the puzzle
Cons
Shipping is included on orders over $100
Doesn't ship internationally
6. Best Photo Jigsaw Puzzles – Create Jigsaw Puzzles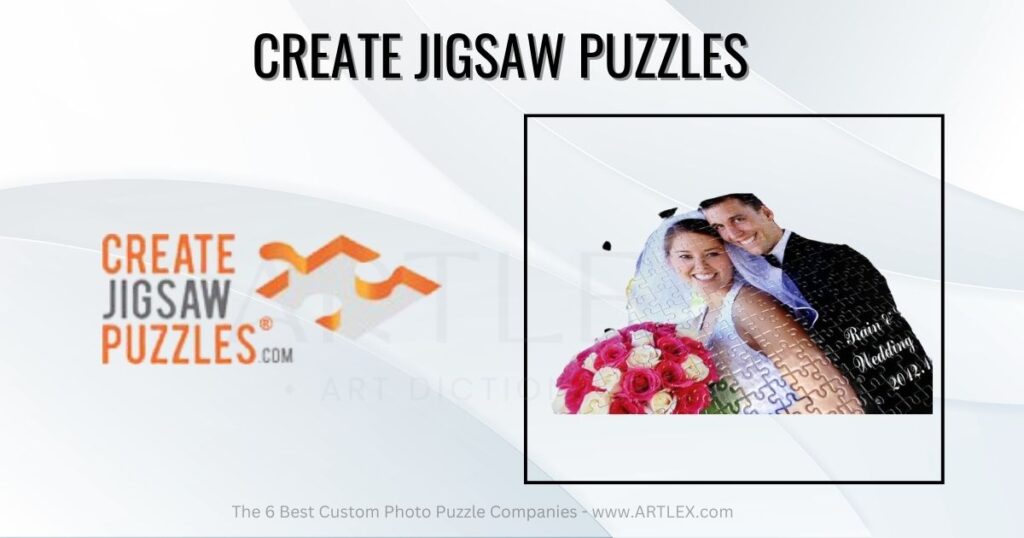 Selection Criteria
Price – ~$17.99 (12×16.5 inches) – Our score: 8/10
Finish – Four different finishes – Our score: 9/10
Variety – Wide variety – Our score: 9/10
Customer Service – Good – Our score: 8/10
About Create Jigsaw Puzzles
Create Jigsaw Puzzles has everything under the sun to make a puzzle in just about every shape or size, from wood, plastic, magnets, or traditional puzzles even to puzzle jewelry. To make your own puzzle, simply upload one or multiple photos, choose from dozens of design possibilities, choose a gloss or matte finish or gloss/matte linen finish, and 11 box or bags options.
Additional choices include different piece shapes from tubes, a tree, a collage, 2-sided puzzle pieces, a guest book puzzle, and a coloring photo puzzle for kids. In addition, their number-shaped puzzle would be a great kids' birthday present or to celebrate an upcoming wedding anniversary. Unique puzzle pieces include a lenticular design, 3D, cork, and acrylic.
Personalized puzzles are printed on professional or premium boards with a textured or traditional surface. Family members can add text to the photos for more personalized gifts and create lasting memories.
Pros
Multiple finishes available to make your own custom puzzle
Two framing options provided
Bulk discounts
Offers the widest variety of custom photo puzzles on our list
Additional gift options include accessories such as crayons and cards
Cons
Does not ship internationally
Conclusion
We hope you found our guide to the best custom photo companies helpful. We've covered the different types of puzzle options available and have shared our recommendations in various contexts.
TIP: For another innovative custom photo gift idea, how about Custom Pet Portraits?
We've discussed how you can choose the best custom photo companies with different puzzle design options. Lastly, we've combined our recommendations to create fun custom photo puzzles for every budget.
Thanks for reading; we hope our suggestions help you choose the best-personalized picture puzzle and turn your photos into a fun puzzle!