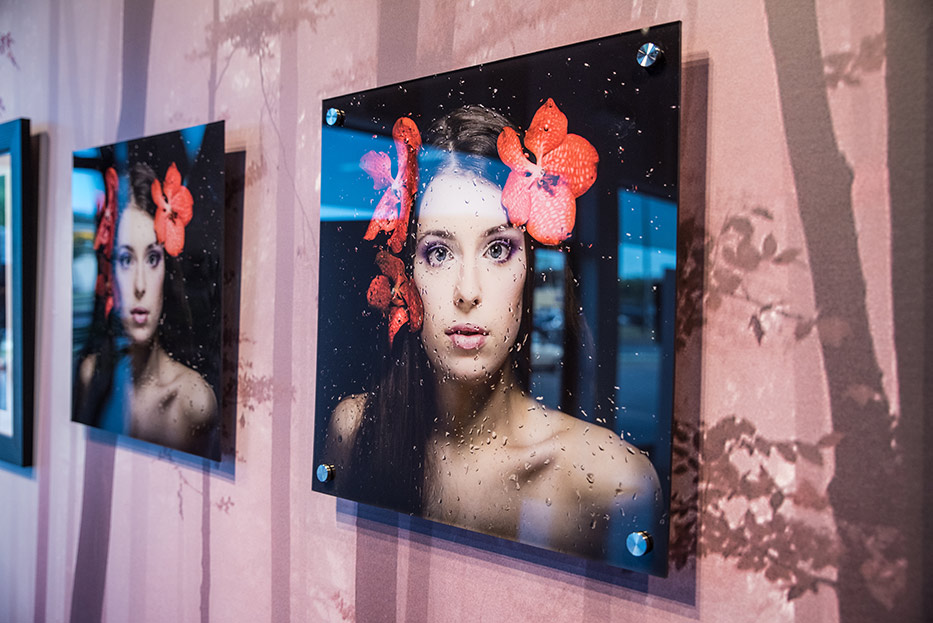 Acrylic prints add a modern touch to home decor and can spruce up any dull room or wall. While not all acrylic prints are designed equally, and there could be varying degrees of quality, buying acrylic prints with the best image quality is usually the primary focus for most people.
Although a lot more than image quality goes into custom acrylic prints, choosing the best company doesn't have to be complicated.
Our complete guide outlines the essential criteria to look for when choosing an acrylic printing company, including printing different sizes, allowing diverse print options and giving competitive pricing.
We have also covered how to select acrylic prints for specific purposes like for a business, for home use, or those looking for large format acrylic prints.
Acrylic Prints
Unlike canvas or metal prints, acrylic prints are waterproof, and the type of ink used offers UV protection against the elements. The highest quality acrylic prints are created using a flatbed printer or LexJet printer with high-quality paper, which is then placed on the acrylic sheet. These acrylic sheets save the photos printed from scratches, fading, or bubbling and are always made with clear acrylic.
Additionally, acrylic printing can be completed directly onto the acrylic using two different paper types, from metallic paper to a lustre surface. Metallic photo paper provides extra vibrancy, depth, and boldness, especially when used in conjunction with display lighting. Backings come in either white or black and can add an element of depth depending on the color chosen.
Fun Fact: An acrylic photo print is lighter than a glass photo print and impact-resistant.
Face Mounted Acrylic Prints
Two main processes are used for printing photos on acrylic, face mounting, or printing directly onto photo paper.
The first process is a direct print and is completed by having the image printed directly onto the sheet of acrylic, which allows light to pass through, thereby creating depth and a crisp image. A direct print is the more economical of the two choices.
Unlike printing directly onto the acrylic sheet, the second process is called a face-mount, where the image will print directly onto high-quality paper, then is sandwiched between two sheets of acrylic and a metal backing.
Choices for backing can really bring out the image crispness and include transparent, white, or black colors, with a plethora of hardware options. There is an additional cost incurred with this process, but the end result is well worth it, including more luminous colors and a fine art appeal.
To clean your acrylic print, we suggest using a microfiber cloth and a common window cleaning solution that is free from ammonia or other abrasive chemicals since an acrylic print is easily scratched.
Block Mounted Acrylics
Photo blocks, as their name suggests, are images printed in a block. Usually, one inch thick, these blocks come in custom sizes like panorama, large or small. These blocks create a 3D effect and are a unique way to showcase images or artwork.
Mounting Options
There are an array of mounting selections to choose from, such as backing thickness, finishes, type of hanging hardware, or stainless post diameters that usually range from ⅝ to one inch.
A French cleat mounting system has a metal interlocking bracket that secures the acrylic photo to the wall to guarantee it doesn't fall. This is especially useful in areas that get earthquakes or in a home with children.
There are also ready to hang mounting options that don't require any hardware.
1. Best Acrylic Prints Company Overall – Pictorem Acrylic Prints Company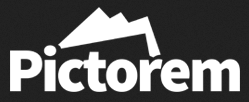 Price – ~$92 (Was $153) (16×24 inches) – Our score: 9/10
Custom Sizes – Over eighteen image sizes – Our score: 9/10
Print options – Face mounting and direct print image – Our score:  9/10
About Pictorem
Catering mostly to businesses, professionals, and artists, Pictorem offers optically pure acrylic prints with a variety of effects such as frost, backlighting for displays, or selective transparency to highlight a logo. Mounting selections include decorative or floating frames, a back float, metal posts, or no mount, along with four different shapes.
PRO TIP: Acrylic prints aren't the only option, Pictorem also tops our list of the best canvas prints and best metal prints companies!
Pictorem also provides a variety of acrylic custom print sizes with a maximum ratio of 96×60 inches. In addition, the acrylic material used is made of the highest quality clear acrylic. Depending on framing, thickness, size, or shape, there are different price points for every budget.
Pros
Free shipping in the USA and Canada
Great customer service
30-day satisfaction guarantee
Custom sizes
Cons
Does not offer face-mounted photos
2. Best Budget Acrylic Printing Company – Canvas Champ Acrylic Printing Company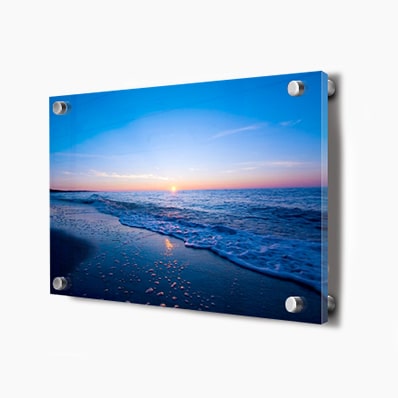 Price – ~$61.34 (Was $204.46) (20×16 inches) – Our score: 9/10
Custom Sizes – Dozen of sizes – Our score: 8/10
Print options – Direct print – Our score:  8/10
About CanvasChamp
Anyone looking to print their favorite photos to dress up their home decor without the extra cost will appreciate the prices offered by CanvasChamp. Their easy online ordering and reasonable prices are guaranteed to work for every budget. They provide a nice variety of products, including a wall display, photo collage and mosaic, and word art. They can also customize acrylics to include quotes or lyrics on the image.
CanvasChamp offers discounts of up to 70% off the first print, with an additional 15% off for additional prints. The largest wall image this company can print is 45×45 inches. Images are printed using clear transparent plexiglass. Note, that the options available cater to home decorating, so mounting or printing options might not be suitable for professionals or businesses.
Pros
Provides the cheapest options in acrylic printing available
Offers over 10 different styles
Able to retouch photos
Sends digital proof prior to printing
Cons
Doesn't yet offer a French cleat hanging option
3. Best Quality Acrylic Prints Company – BumbleJax Acrylic Print Company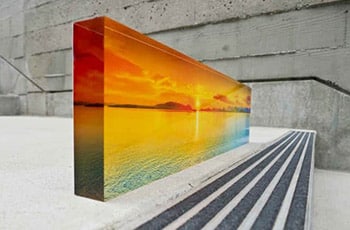 Price – ~$179 (16×24 inches) – Our score: 8/10
Custom Size – Dozens of sizes – Our score: 9/10
Print options – Face mounts – Our score:  8/10
About BumbleJax
BumbleJax offers the highest quality images for their clarity, vibrancy and printing methods. Focusing solely on face-mounted prints, each image is printed using an HP Designjet, and only the finest paper is used like the premium Epson gloss paper or LexJet sunset metallic paper. Bumblejax also prints acrylic photo blocks in a variety of sizes. In addition, their premium polished clear acrylic provides an added layer of beauty and quality.
This company also offers a new acrylic designer series, where images are printed using either metallic photo paper or gloss with a black or white backer color. Other options include anti-glare, which provides 50% reduced glare or TruLife, which offers 25% anti-glare as well as anti-scratch and anti-dust. All mounts come ready to hang.
Pros
Ships internationally
Does not outsource printing
Uses the highest quality printers, ink and paper
Cons
Cancelled orders incur a 2–3.5% fee, depending on credit card or Paypal fee
4. Best HD Acrylic Prints Company – Printique Acrylic Prints Company
Price – ~$179.99 (16×24 inches) – Our score: 8/10
Custom Size – 72 Pieces – Our score: 9/10
Print options – Face mount – Our score:  8/10
About Printique
For an eye-popping experience, nothing beats ordering an HD acrylic print, and a great option for HD acrylic prints is Printique, an Adorama company. Printique uses the highest quality materials for its acrylic images with a focus on businesses, professionals, and artists. Mounting choices include steel posts, a wall float, an easel, an acrylic pedestal, or the option of no mount, while sizes range from a small 4×6 to a large 30×40 inch print.
Printique also prints photo blocks that are one inch thick and come in six different sizes. Other services include metal, wood, or canvas printing as well as fine art giclée prints, books, cards, photo albums, calendars, and a range of other gift ideas.
Pros
Offers professional membership
Full custom sizing and backing are available
Cons
Does not offer larger format sizes
5. Best Large Format Acrylic Printing Company – Bay Photo Acrylic Print Company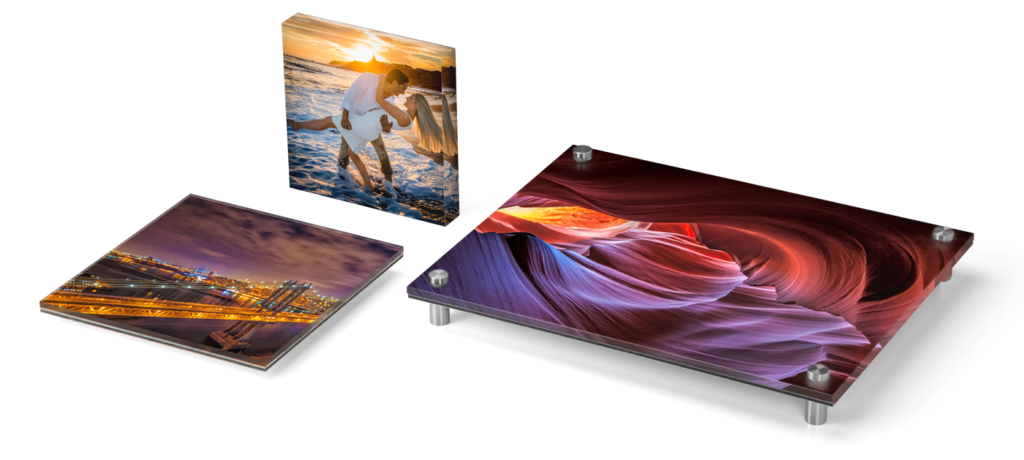 Price – ~$111.25 (20×16 inches) – Our score: 8/10
Custom Size – 49 different sizes – Our score: 9/10
Print options – Face mount – Our score:  8/10
About Bay Photo Labs
For stunning wall art in large format sizes, Bay Photo is one of the best. With over 49 sizes to choose from, including their largest size of 43×96 inches, there are a range of options to customize any image. Mounting selections include DiBond, paper backing, large or small posts, and with or without cleats. They also have the additional option of choosing metallic photo paper or lustre photo paper for added appeal.
Acrylic blocks come in two different thicknesses with a vivid and metallic surface finish. They provide optimum quality with anti-glare or glossy finishes, and acrylics can be printed in a wall cluster or mosaic type presentation. Bay Photo also prepares metal prints, wood prints, canvas prints, bamboo-mounted photos, ceramic tiles, face masks, or jewelry, among dozens of other selections.
Pros
Offers two thickness sizes
Includes French cleat or stainless posts
Cons
Takes over a week to produce orders
6. Best Custom Acrylic Printing Company – CanvasDiscounts Acrylic Print Company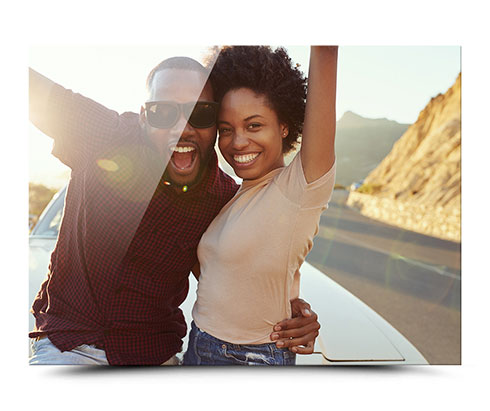 Price – ~$70 (20×20 inches) – Our score: 8/10
Custom Size – 7 sizes – Our score: 7/10
Print options – Direct print – Our score:  7/10
About CanvasDiscount
Offering affordable prices on each acrylic print, Canvas Discounts provides one of the finest quality products for a fraction of the cost, including acrylic that is individually poured and polished by hand. In addition, there are sales throughout the year that offer 67% off the first print, with up to five total prints for an additional 50% off. They also print acrylic blocks that can be mixed and matched that are 2×2 inches for a unique presentation of family photos.
Previewing of photos is available before ordering your print through their website. However, changes aren't possible once the order is placed, so it's important to only order once you're satisfied with customization settings. This printing company also offers many gift ideas such as a gift blankets, masks, towels, or pillows.
Pros
Shipping is free for orders over $70 in the contiguous US
Can be delivered within one week of production
Has a wide range of gift-giving ideas
Cons
Doesn't offer face mounting printing options
Conclusion
This wraps up our guide to the best acrylic print company. Not only have we discussed how you could identify different kinds of acrylic photo prints, but we've also shared our recommendations in various contexts.
We've discussed how you can choose the best acrylic print company and why price, custom sizing, and print options are key deciding factors. We've outlined them thoroughly to help you understand them easily.
Lastly, we've combined our recommendations in different situations. So whether buying an HD acrylic print, a large format acrylic print, or even finding an acrylic print on a budget, we've discussed it all.
Thanks for reading; we hope our suggestion helps you purchase the best custom acrylic printing for your home or office.