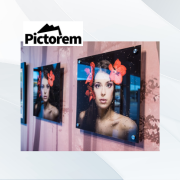 Exceptional quality and highly customizable acrylic photo prints with quick shipping times.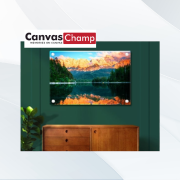 Affordable, high-quality acrylic photo prints with a variety of customization options and excellent customer service.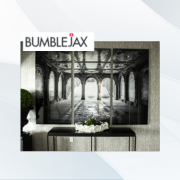 High-end, top-quality acrylic prints renowned for their use of premium materials and professional service.
When looking for the best possible way to showcase our photographs, designs, art, or family photos, we always look for the best choices. Acrylic printing has become a popular way to create stunning, high-quality prints; as this printing technique gains popularity, the number of companies offering acrylic printing services continues to grow. With so many options, it can be challenging to determine which companies are the best and which will disappoint you.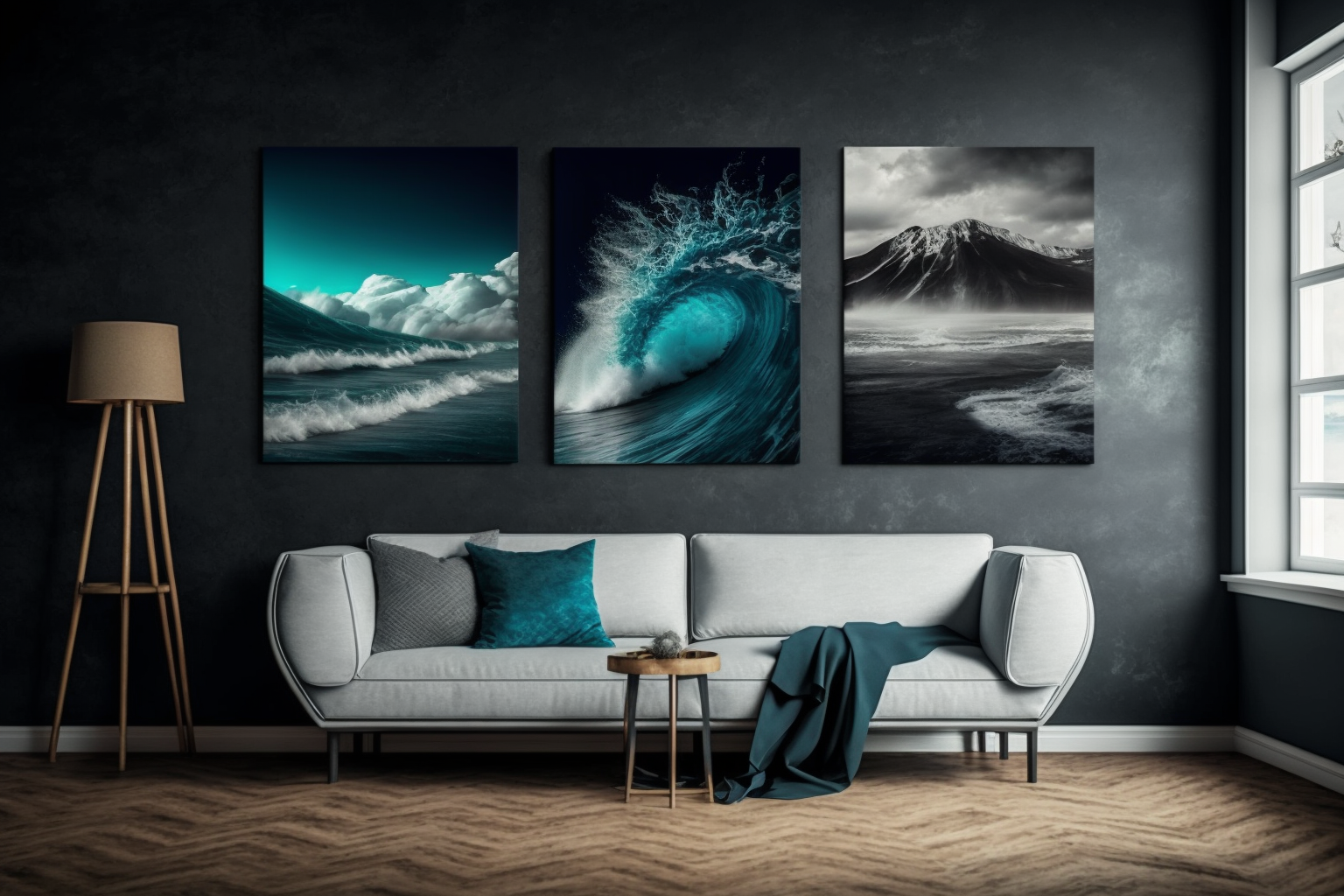 In this article, we'll tell you all about the different acrylic printing processes, the types of acrylic and how they affect the quality of your prints, the different mounting options that you might find, and we will take a closer look at some of the top acrylic printing companies in the market.
canvas prints acrylic photo print acrylic photo print plexiglass hd acrylic print hd acrylic print hd acrylic prints hd acrylic prints highest quality acrylic prints circular prints metallic paper custom size custom sizes float frame stunning wall art print photos
What is Acrylic?
Acrylic is a type of plastic derived from Acrylic Acid; it is a fascinating material that can be used in many different ways. The origins of acrylic can be traced back to the early 1900s when scientists first began experimenting with various forms of acrylic acid.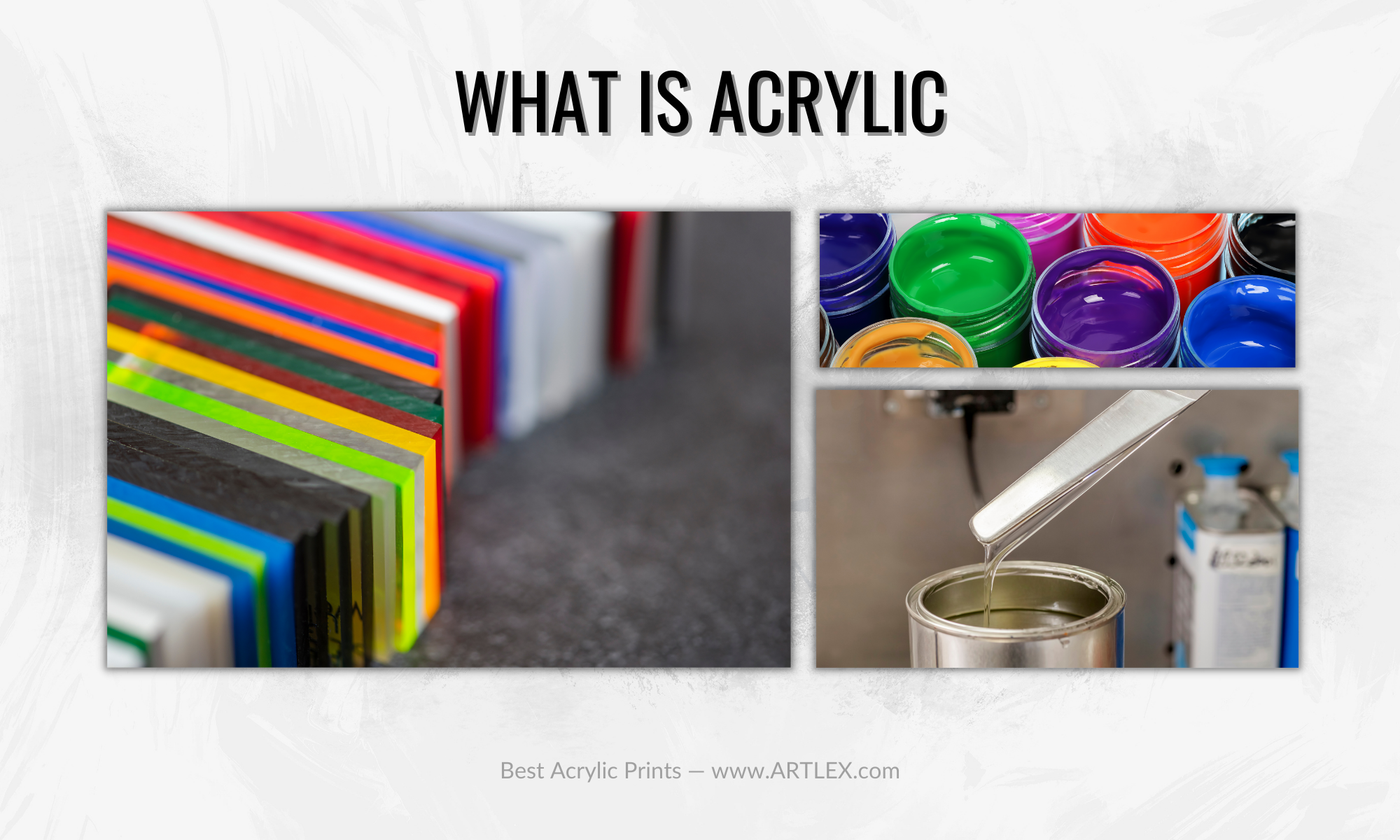 However, the first commercial applications of acrylic were developed around 1930. Since then, acrylic has become a popular material with a wide range of applications and can be found pretty much everywhere since it's used in many industries, from textile, to construction, medicine and even art.
What are Acrylic Prints?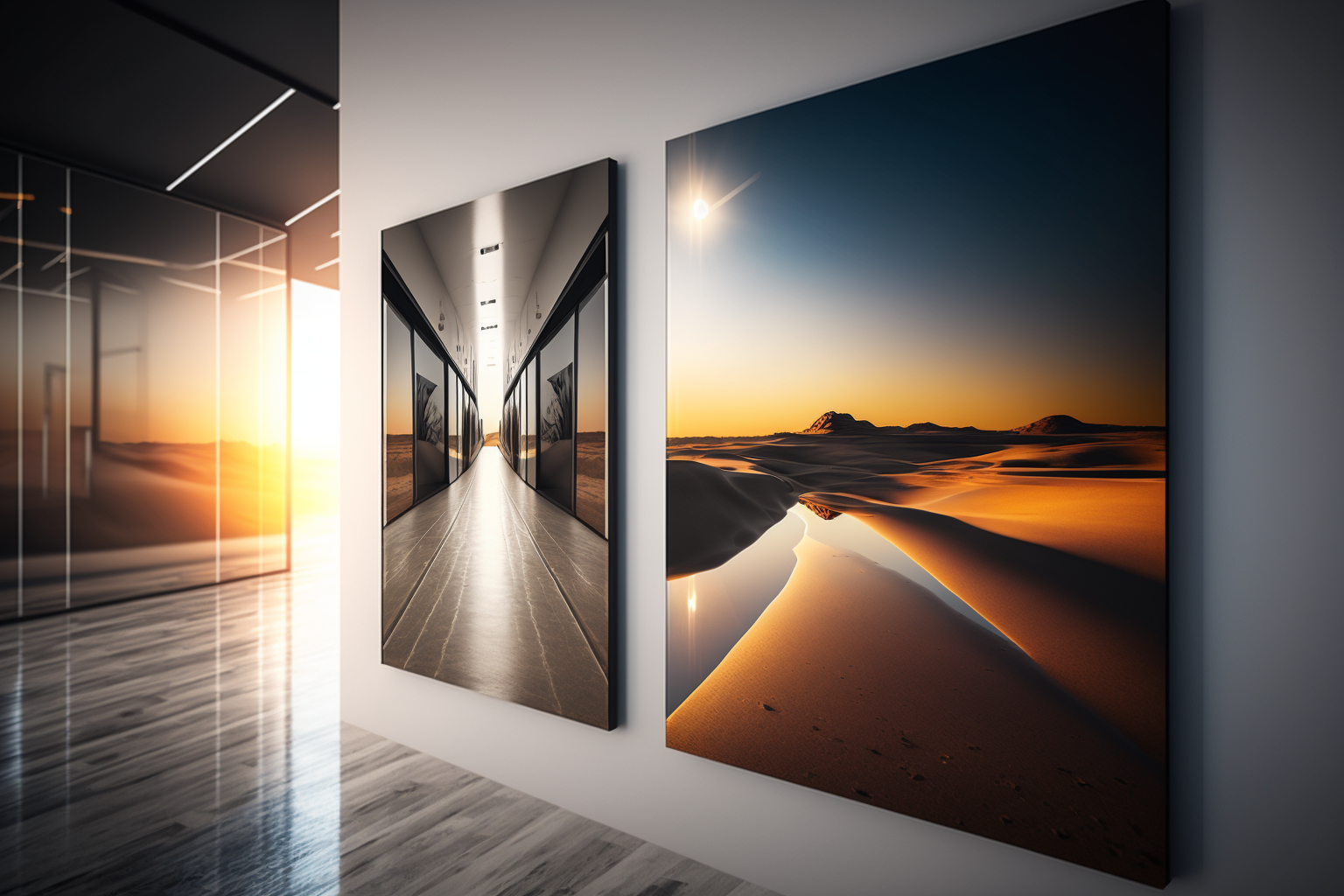 Acrylic prints are a popular choice for displaying photography, artwork, and other graphic designs due to their durability, modern aesthetic, and ability to capture and reflect light. They are often used in commercial settings such as museums, galleries, and high-end retail spaces, as well as in homes and offices as statement pieces to display art prints or personal photos.
Types of Acrylic Prints
Face Mounted Acrylic Prints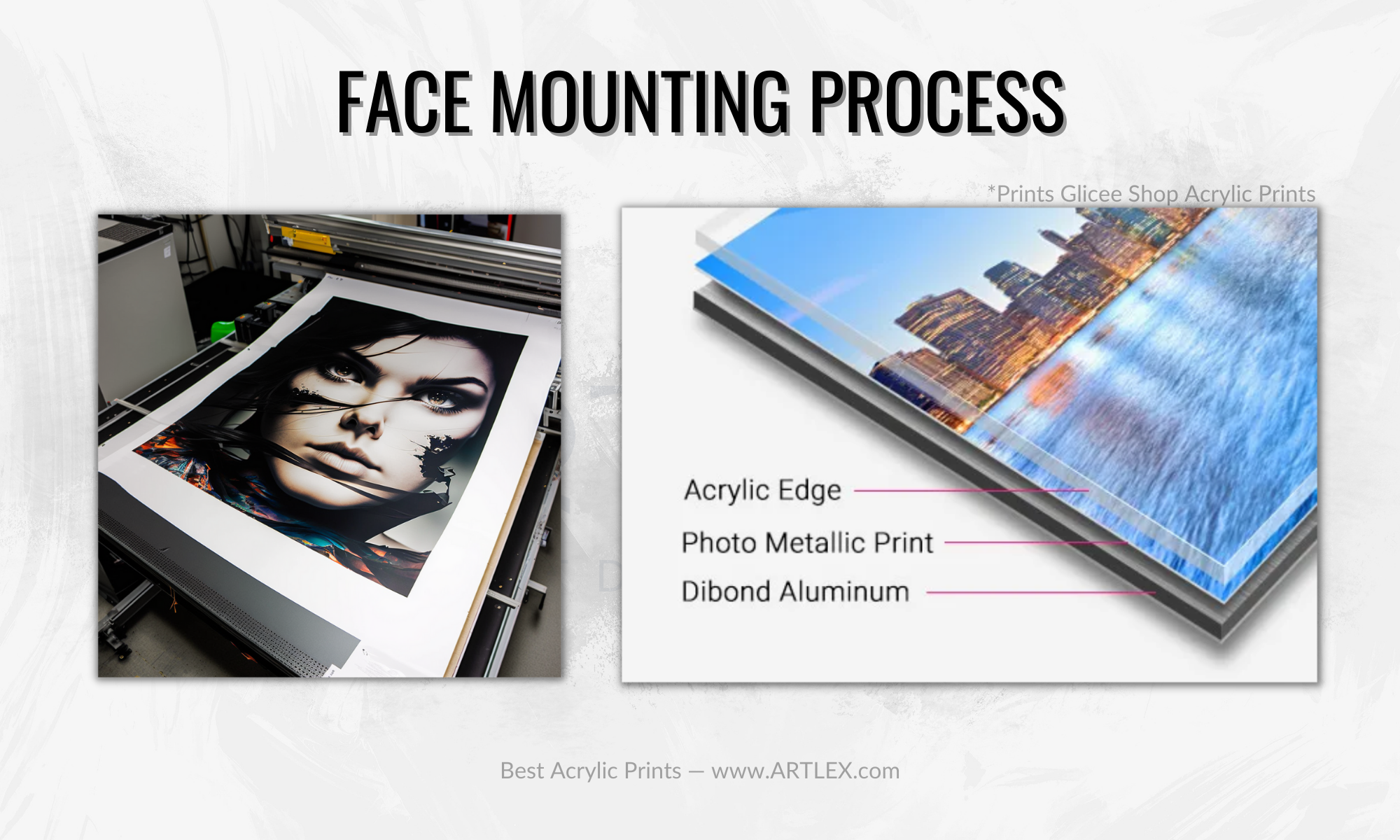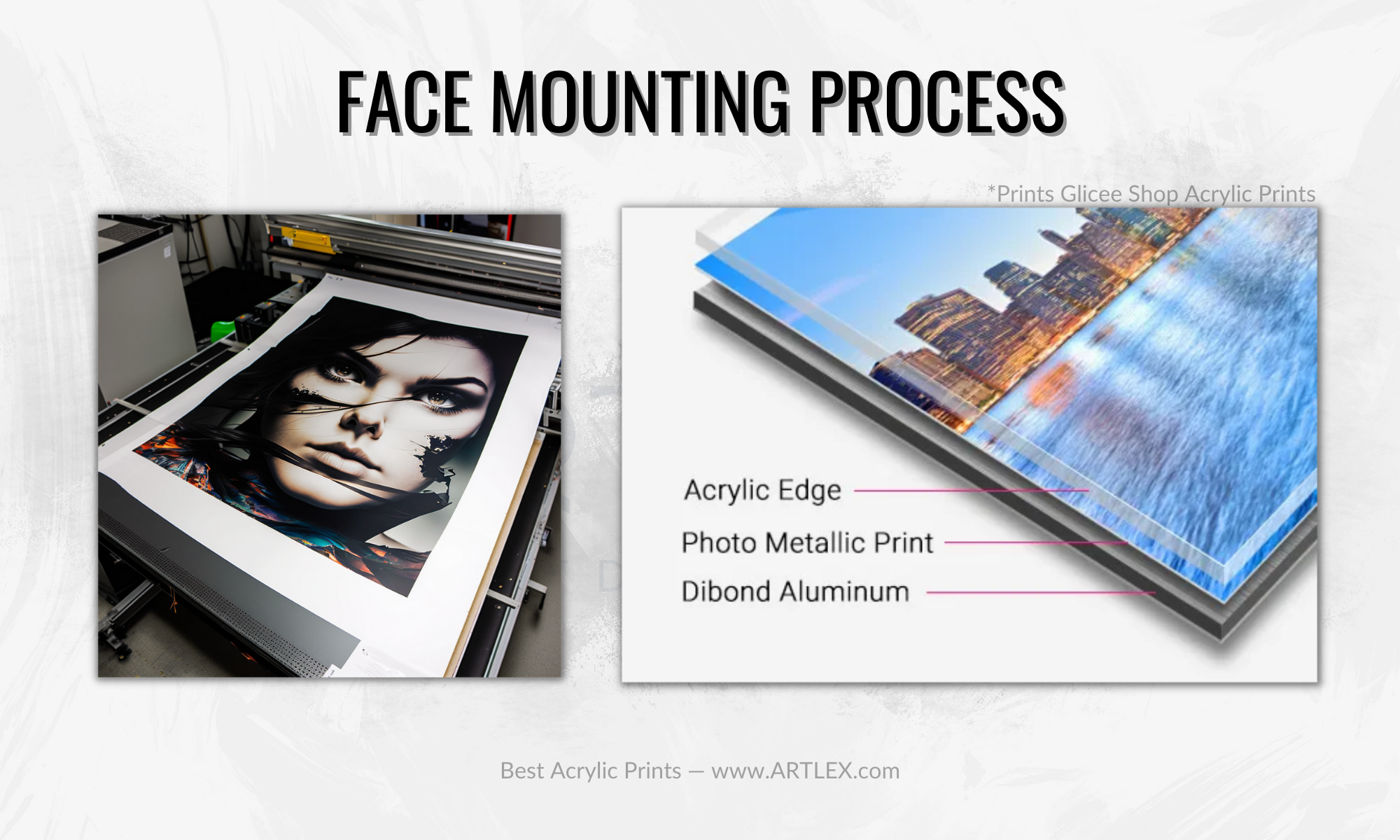 Acrylic face mounting is a specialized printing and mounting process that isn't used by many companies. It involves printing your photo onto archival-quality paper (metallic or glossy photo paper) using museum-grade ink, which is then carefully mounted onto an acrylic sheet using a high-quality optical adhesive.
Another protective PVC foam board, Dibond, or Acrylic sheet is also added to the back to ensure that your print is protected and well-preserved. It's a complex process that produces stunning results but requires a lot of attention to detail, hence making it more expensive than normal acrylic prints.
Direct-Print Acrylic Prints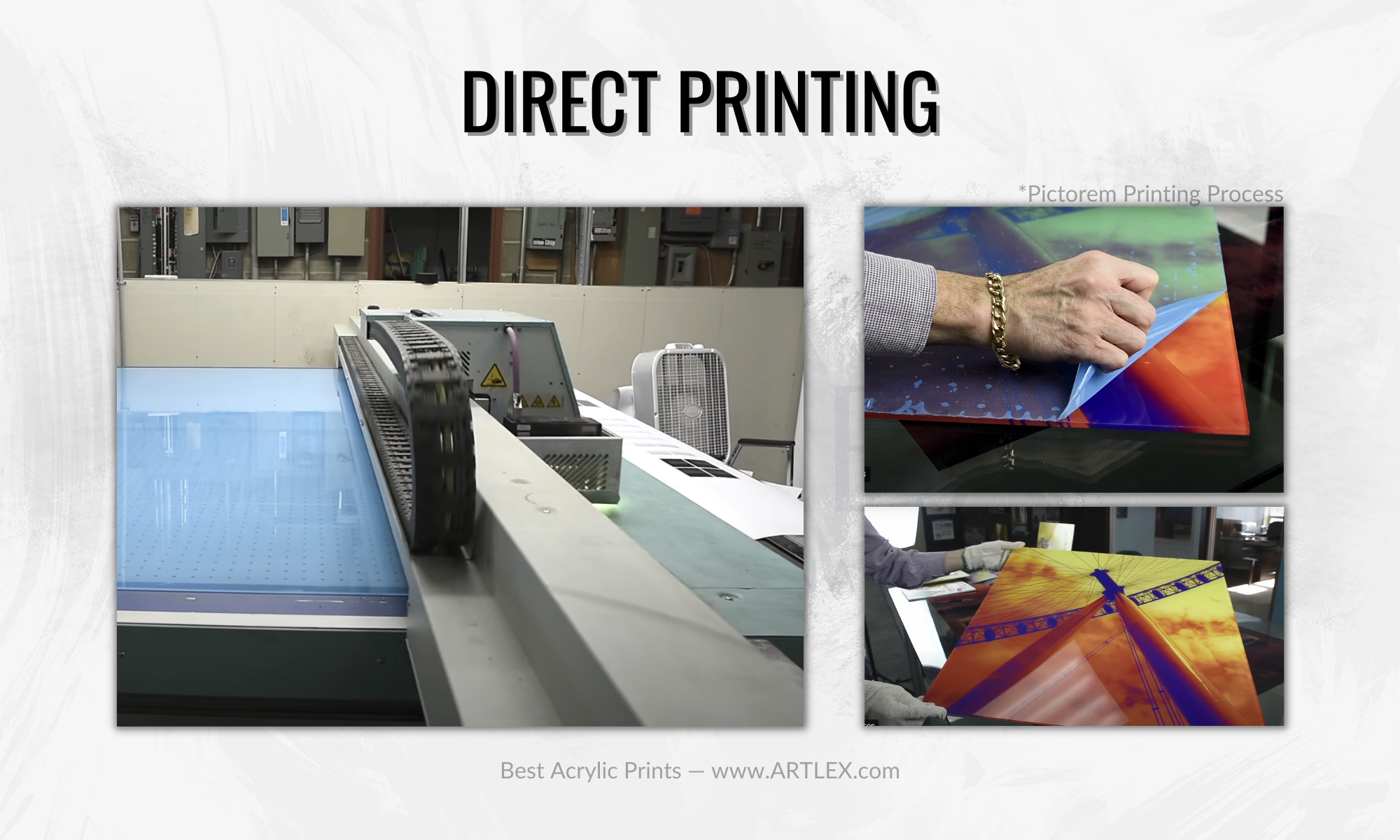 A direct acrylic print is created with a type of printing process where the image is printed directly onto acrylic sheets using a flatbed printer with UV-resistant archival inks. This process is also known as direct-to-substrate printing, as the ink is applied directly to the substrate material without the need for a transfer medium like paper or vinyl.
Although there is a small sacrifice in quality, the price and versatility of these kinds of prints are more than enough to compensate for this. Besides, since the image is printed directly onto the acrylic, you can also use transparency in your favor, print logos and silhouettes, and even create nice layering effects by playing with transparency. Additionally, with the proper lighting, you can make your acrylic prints glow and come to life.
What are Acrylic Photo Blocks?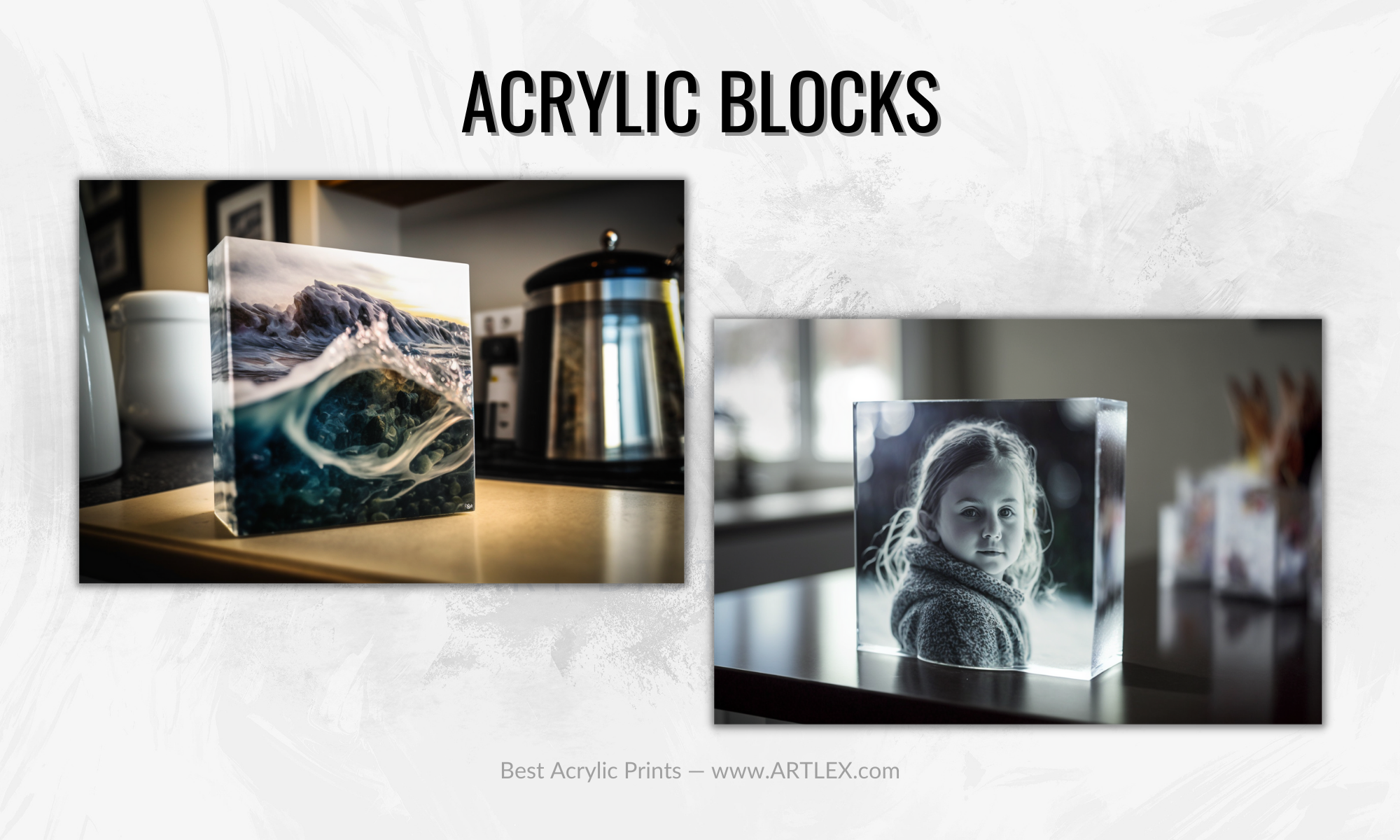 Photo blocks are photos printed in thick acrylic blocks with the intention of creating an interesting 3D effect and having the acrylic blocks stand on their own, making them ideal for small photos and portraits and the perfect gift for loved ones. The blocks have a modern aesthetic and a stunning polished edge effect that makes your images come to life.
How to Choose the Best Acrylic Print Services
Size and Customization
Size is a significant matter to consider, as it can affect the final print's level of detail and clarity. Although size is inherently related to image quality, most sites let you know when your image is not big enough for your chosen size or have a guide like this to help you prepare your file for printing.
Having the option to choose the perfect size for your photo or design is essential as well; some acrylic printing companies offer limited sizes according to the acrylic thickness and mounting options, so it's important you check whether they sell your desired size.
In case your choice is not on the list, you can contact the company to get a quote for a custom-made acrylic print.
Customization is also an important consideration when buying an acrylic print, as it can allow you to tailor the print to your specific needs and preferences. Customization options can include choosing the type of acrylic, selecting a finish, adding mounting or framing options, and more.
For example, if you want to display your print in a bright or sunny room, you may want to choose non-glare or Tru Life acrylic to reduce reflections. If you want to create a more dramatic effect, you may opt for a larger size or a unique mounting option, such as face mounting or float mounting, instead of the usual and not-as-aesthetic standoff bolts.
Print Options
As we mentioned earlier, there are two main printing styles or processes that are used for creating acrylic prints: direct printing and face-mounting printing.
Direct printing involves printing the image directly onto the acrylic sheet using a flatbed printer. This process results in a print where the ink is fused into the acrylic; direct printing is typically more affordable and faster than face-mounting, making it a popular choice for those on a budget or who are looking for a cost-effective way to create acrylic prints.
Face-mounting, on the other hand, involves printing the image onto high-quality photographic paper and then adhering it to the back of an acrylic sheet using a special optical adhesive. Since high-quality photographic paper is used in this process, the acrylic light refraction properties enhance the colors and depth of the image. Face-mounting is more expensive and time-consuming than direct printing, but it results in a print with a higher level of detail, durability, and UV resistance.
Acrylic Types and Qualities
There are several types of acrylic that can be used for printing, each with different qualities, applications, and prices.
Tru-Life Acrylic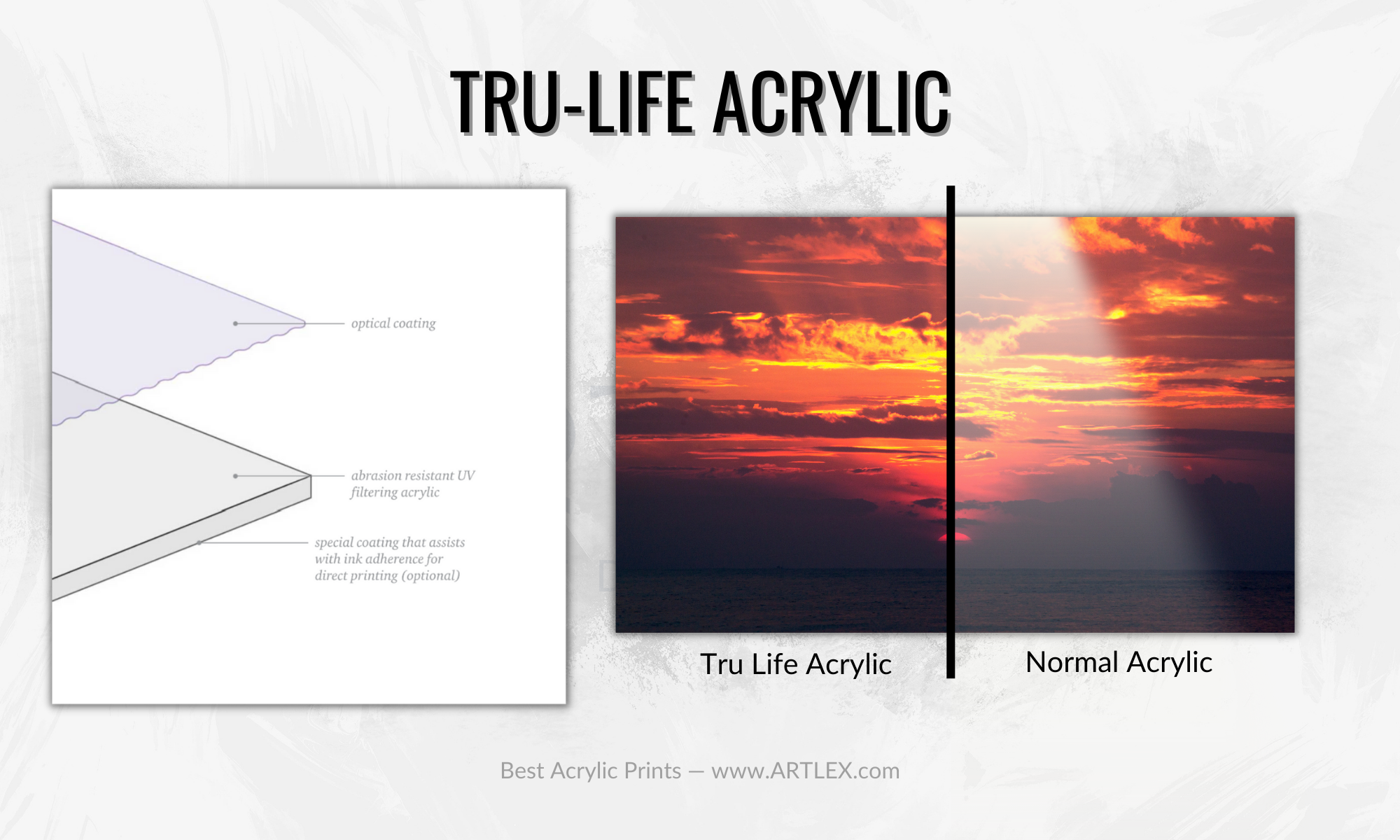 Tru Life Acrylic is the best of the best; it is a high-end acrylic sheet known for its amazing clarity and vivid color reproduction. This type of acrylic is much more expensive than other options since it's UV and scratch resistant and has a special coating that reduces reflections without sacrificing image quality, resulting in an HD Acrylic Print that seems to be illuminated from within and lasts a lifetime.
Non-Glare Acrylic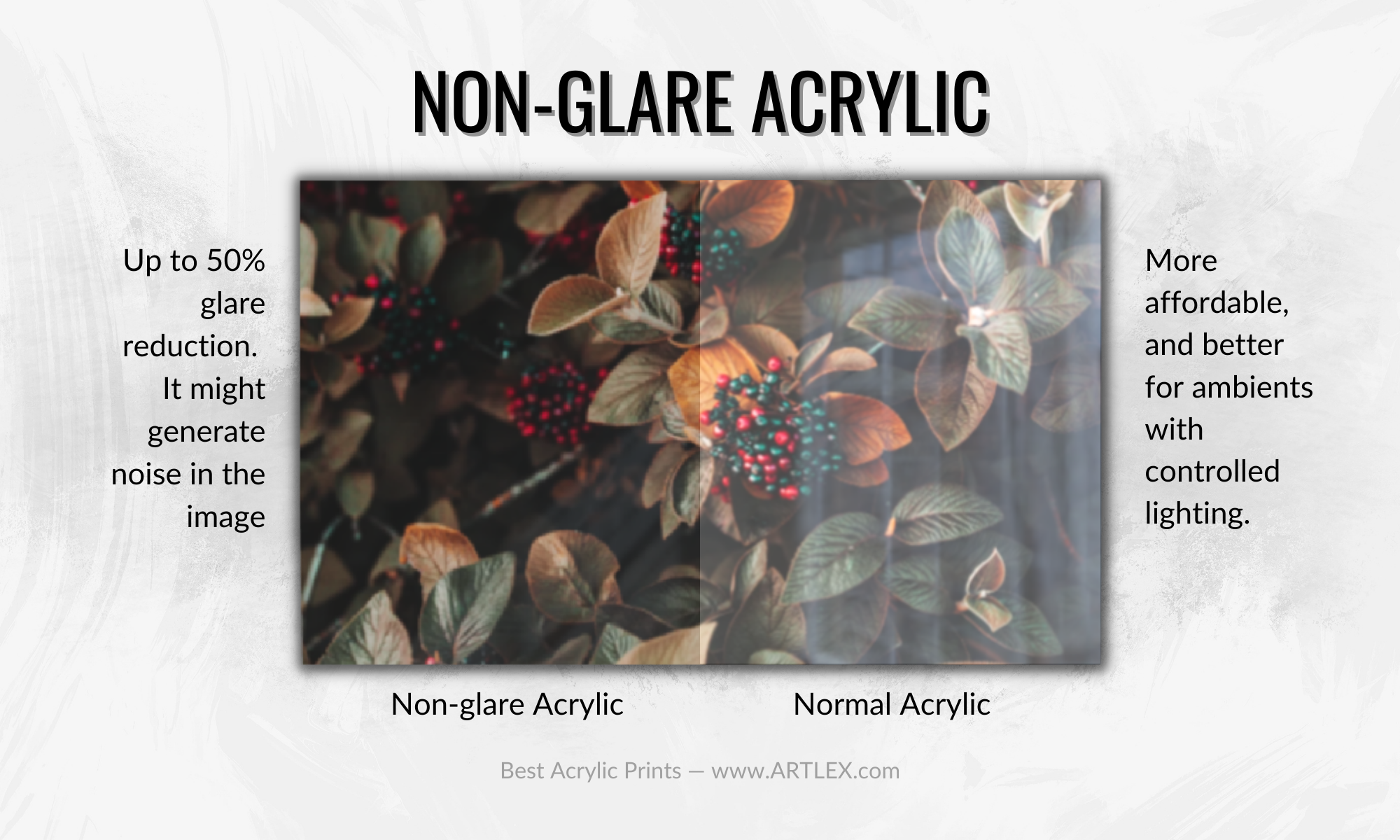 Non-glare Acrylic is another popular choice for acrylic printing, especially in situations with poor lighting control. This type of acrylic glass has a soft matte finish that diffuses light and minimizes reflections. However, non-glare acrylic can sometimes produce a slight haze in the final print, so it may not be the best option for prints that require absolute clarity.
Matte Acrylic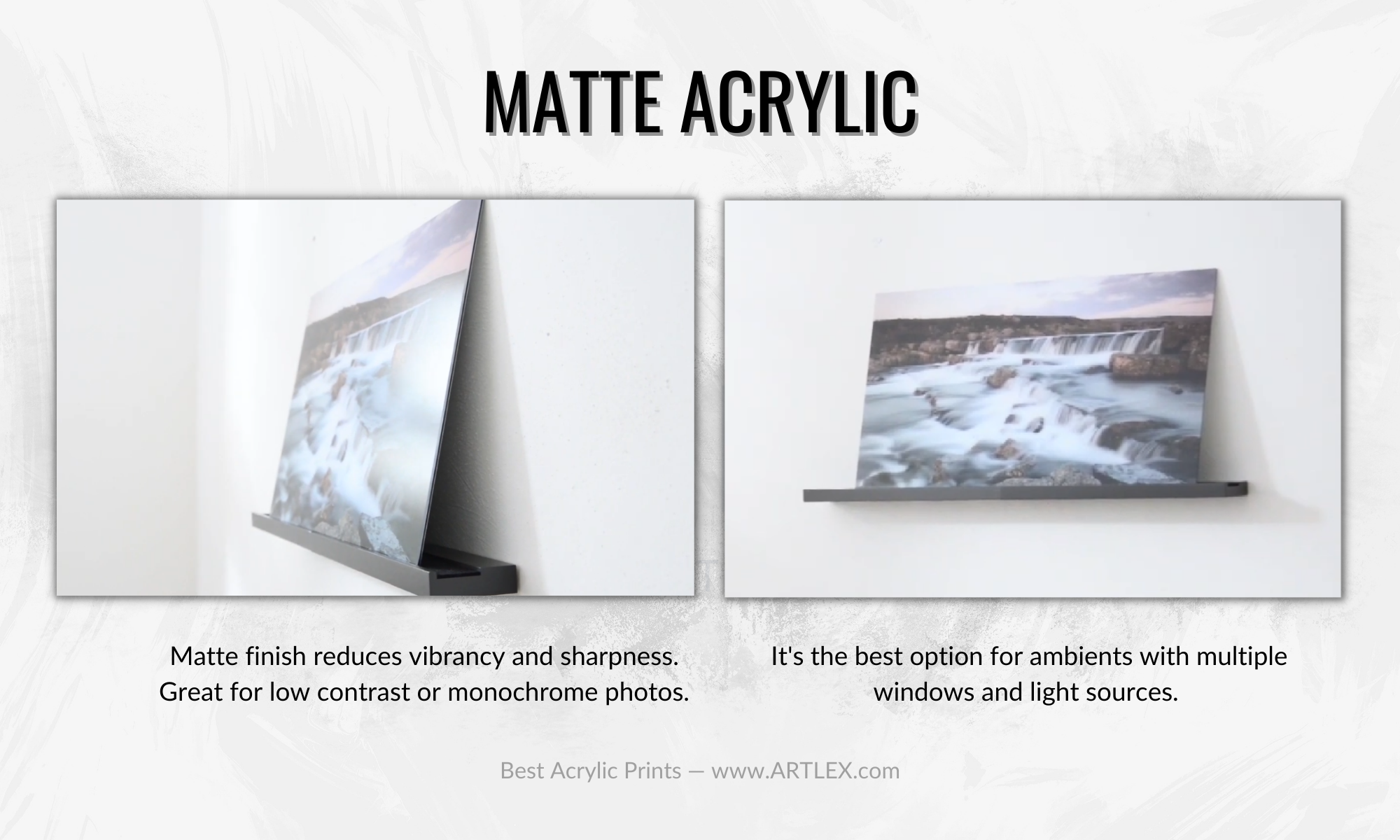 Matte Acrylic is another option for those looking for anti-glare acrylic prints, but with a smoother surface and less distortion than non-glare acrylic. It has a soft finish that also diffuses light, resulting in a print that has a subtle, sophisticated look; however, it can dull the sharpness and colors and will lack the usual vibrancy of acrylic prints.
Regular Cast Acrylic
Finally, there is Regular Cast Acrylic, which is a more affordable option than the acrylics listed above. While it may not have the same level of optical clarity or scratch resistance as Tru Life acrylic, it can still produce beautiful, durable, and vibrant acrylic prints at a more budget-friendly price point.
Backing and Mounting Options
When it comes to backing and mounting options for acrylic prints, there are a few different choices that you can make depending on your preferences and needs.
Backing Options
One standard option is to use a thin, lightweight backing such as foam board or Sintra. It provides additional support and helps to prevent warping or bending in smaller prints. However, for larger prints or thicker acrylic sheets, it's essential to use a more heavy-duty backing, like Dibond, which has an aluminum backing.
Choosing the right backing option is crucial for maintaining the integrity and durability of your acrylic print. If you choose a company that doesn't offer any backing options, or if you try to hang your acrylic print without proper support, you run the risk of warping, bending, and even causing damage to the print.
Mounting Options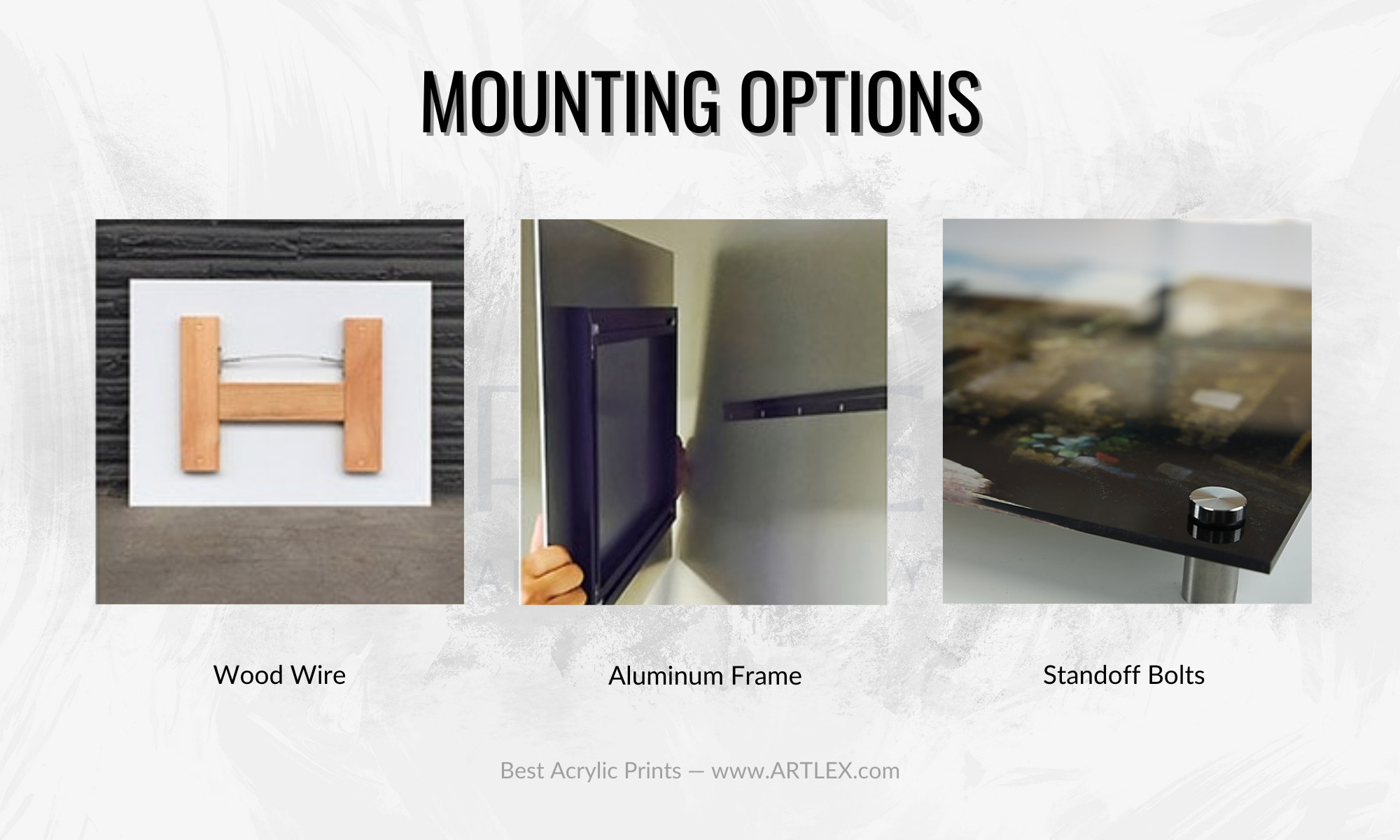 When choosing a mounting option for your acrylic print, it's important to consider the size and weight of the print, as well as the intended display location.
One common mounting option is to use a simple stand-off system, which involves drilling small holes into the acrylic print and mounting it with small screws or studs. This method allows the print to be mounted flush against the wall, giving it a sleek and modern look; however, it might not be everyone's favorite since larger prints need more than the usual four stand-offs, ruining the aesthetic of the print.
Another popular option is to use a frame or cleat system to mount the print. This involves attaching a frame or bracket to the back of the acrylic sheet, which can then be hung on a wall or other surface. This method is particularly useful for larger and thicker acrylic prints, as it provides additional support and helps prevent warping or bending over time.
Our Recommendations for the Best Acrylic Photo Print Companies
Best Overall Acrylic Photo Prints Company: Pictorem Acrylic Prints Company
Best Budget Acrylic Prints Company: Canvas Champ Acrylic Prints Company
Best Acrylic Prints for Professionals: BumbleJax Acrylic Prints Company
Best HD Acrylic Prints Company: White Wall Acrylic Prints Company
Best Large Format Acrylic Prints Company: BayPhoto Acrylic Prints Company
Best User-Friendly Acrylic Prints Company: ArtBeat Studios Acrylic Prints Company
1. Best Acrylic Print Company Overall – Pictorem Printing Company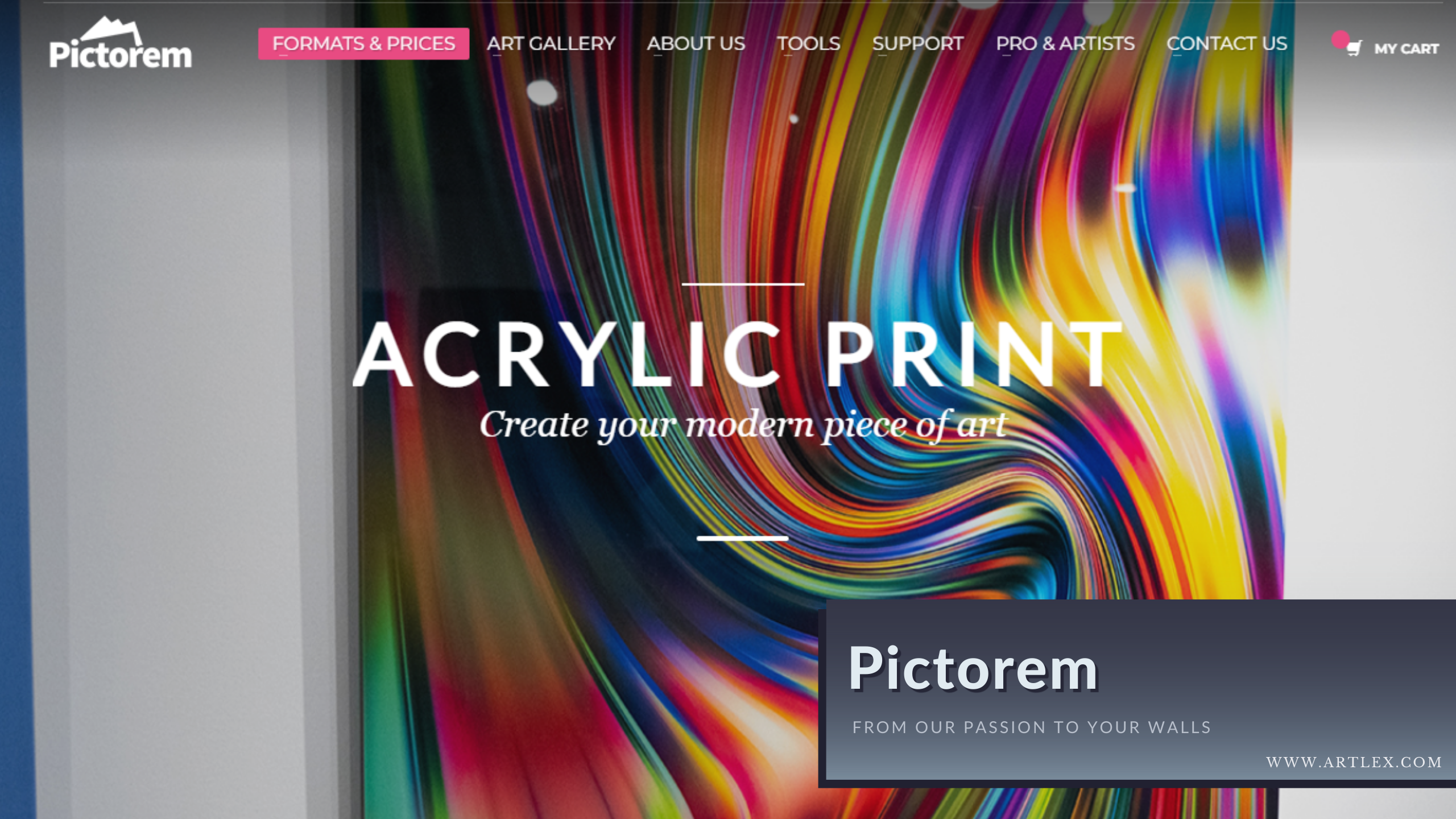 Selection Criteria
Price – From $58 – $69 (12×18 inches)
Size and Customization – Yes [From 8×8 to 90×60 inches]. Thickness, shape, size, and print customization
Print options – Direct Print via UV Printer
Backing and Mounting : No backing options, three different mount options
Shipping: Free in the US and Canada, 5 -7 Business Days
About Pictorem
Pictorem is a top-rated printing company that has made a name for itself in the world of photo prints and wall art. With a focus on exceptional quality and unbeatable value, Pictorem has become an excellent choice for anyone looking to create stunning acrylic prints.
What sets Pictorem apart from other printing companies is not only the exceptional quality of their acrylic prints or the reasonably low prices but the level of customization regarding sizes, shapes, and printing modes. You can use transparency in your favor since they use direct printing and play with light using their "frost" effect, where only 25% of the white is opaque, making them perfect for creating amazing visual effects by playing with lighting and get the best custom acrylic prints from a single service.
PRO TIP: Acrylic prints aren't the only option, Pictorem also tops our list of the best canvas prints and best metal prints companies!
In Pictorem, they understand that creating beautiful wall art should be accessible to everyone, and they work hard to keep their prices affordable without compromising on quality. Although they don't offer face-mounted printing services or use the most expensive acrylic glass, they still deliver the best results; besides, their excellent customer service makes the process easy for both professionals and beginners.
Pros
Excellent value for the price
Many customization options
Quick shipping
Cons
Doesn't offer face-mounted prints
2. Best Budget Acrylic Printing Company – Canvas Champ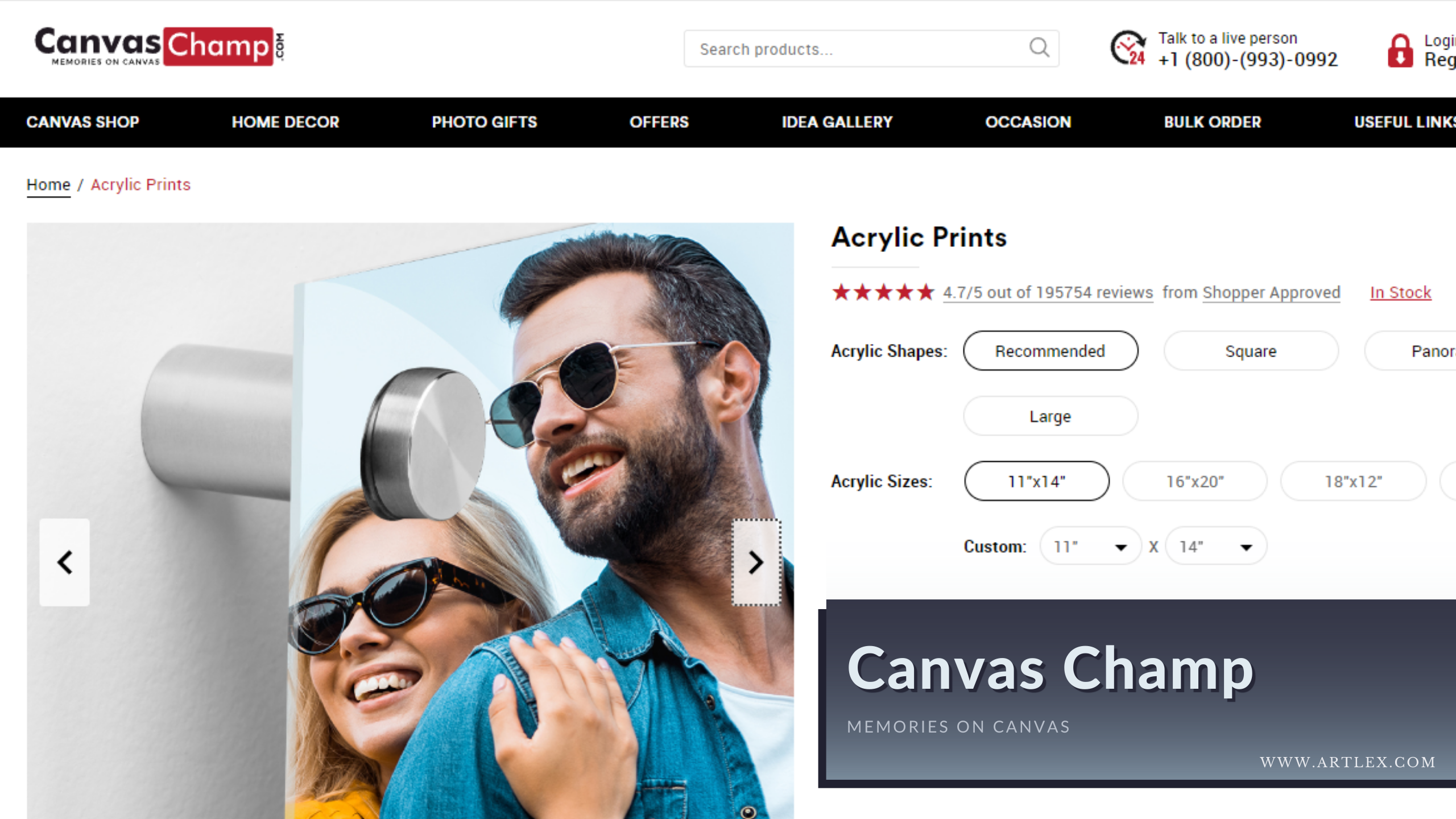 Price – From $30 – $50 (12×18 inches)
Size and Customization – Yes [From 8×8 to 48×48 inches] Shapes, size, and format customization
Print options – Direct Print
Backing and Mounting – No backing options, Two mounting options available
Shipping – $9.99 and free in orders above $90, 6 -8 Bussiness Days
About CanvasChamp
If you're looking for an extra affordable option, then Canvas Champ is your way to go; they have the lowest price in the market and have an extensive selection of wall decor at very low prices.
In addition to their competitive pricing, Canvas Champ also offers a variety of customization options to make your prints unique. You can choose from a wide range of sizes and wall art formats like photo collages and mosaics. Adding lyrics, quotes, or any text you want to your photos is another option that Canvas Champs offers.
We decided to order a print that was familiar to us, a picture of the inside of an NYC subway. The seats' colors were sharp and vibrant, as well as the stainless steel, and they stood out nicely on the acrylic:
champ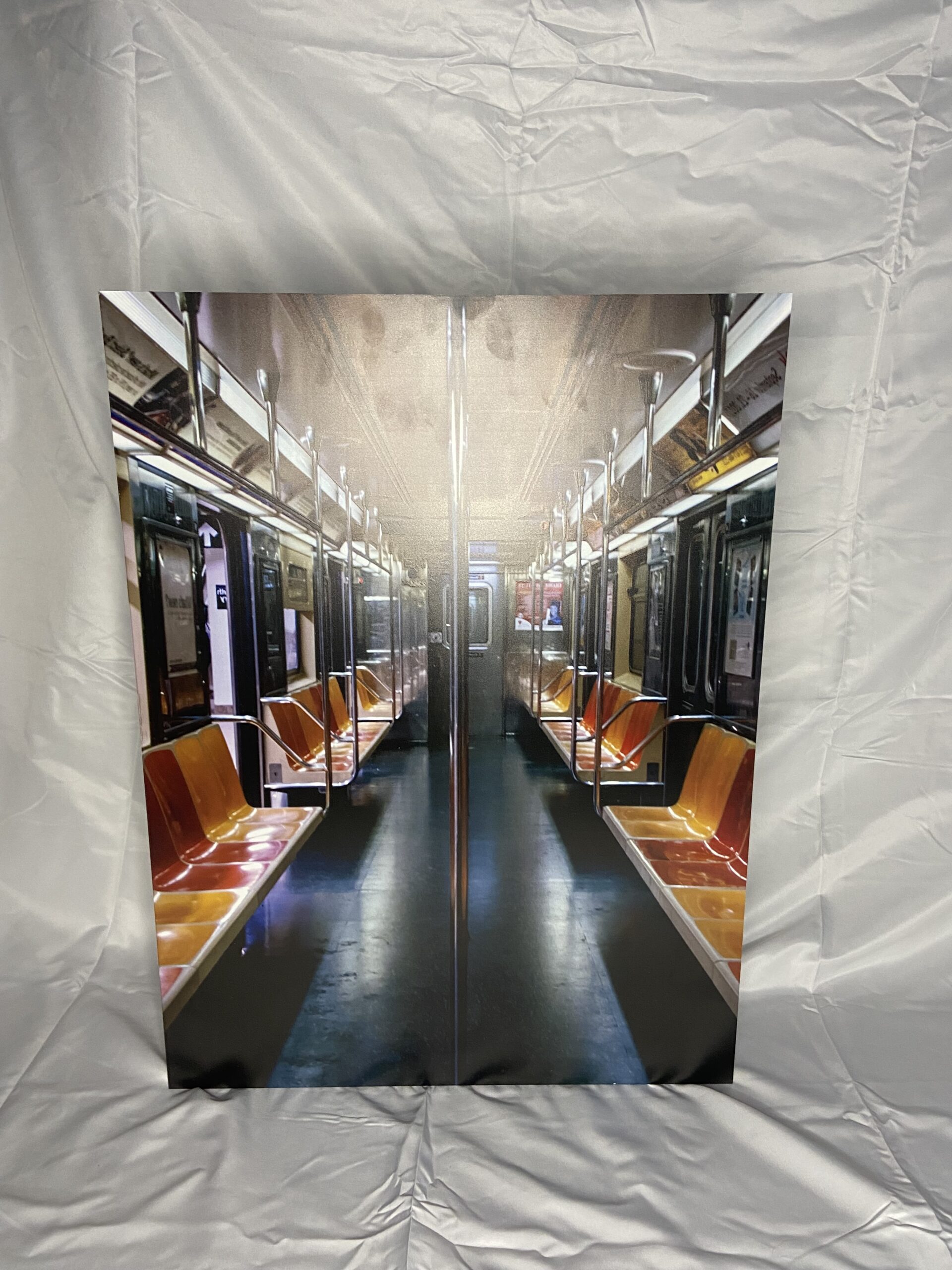 CanvasChamp offers discounts of up to 70% off the first print, with an additional 15% off for additional prints; they also sell canvas and metal prints at the lowest prices. In case you run into any issues, you'll find the customer service is unmatched, and they won't doubt on replacing or refunding your order if you're not satisfied with your print.
Pros
Most affordable company
High-quality and customization options
Great customer service
Cons
Doesn't offer face-mounted prints
Doesn't offer backing options
3. Best Quality Acrylic Prints Company – BumbleJax Acrylic Print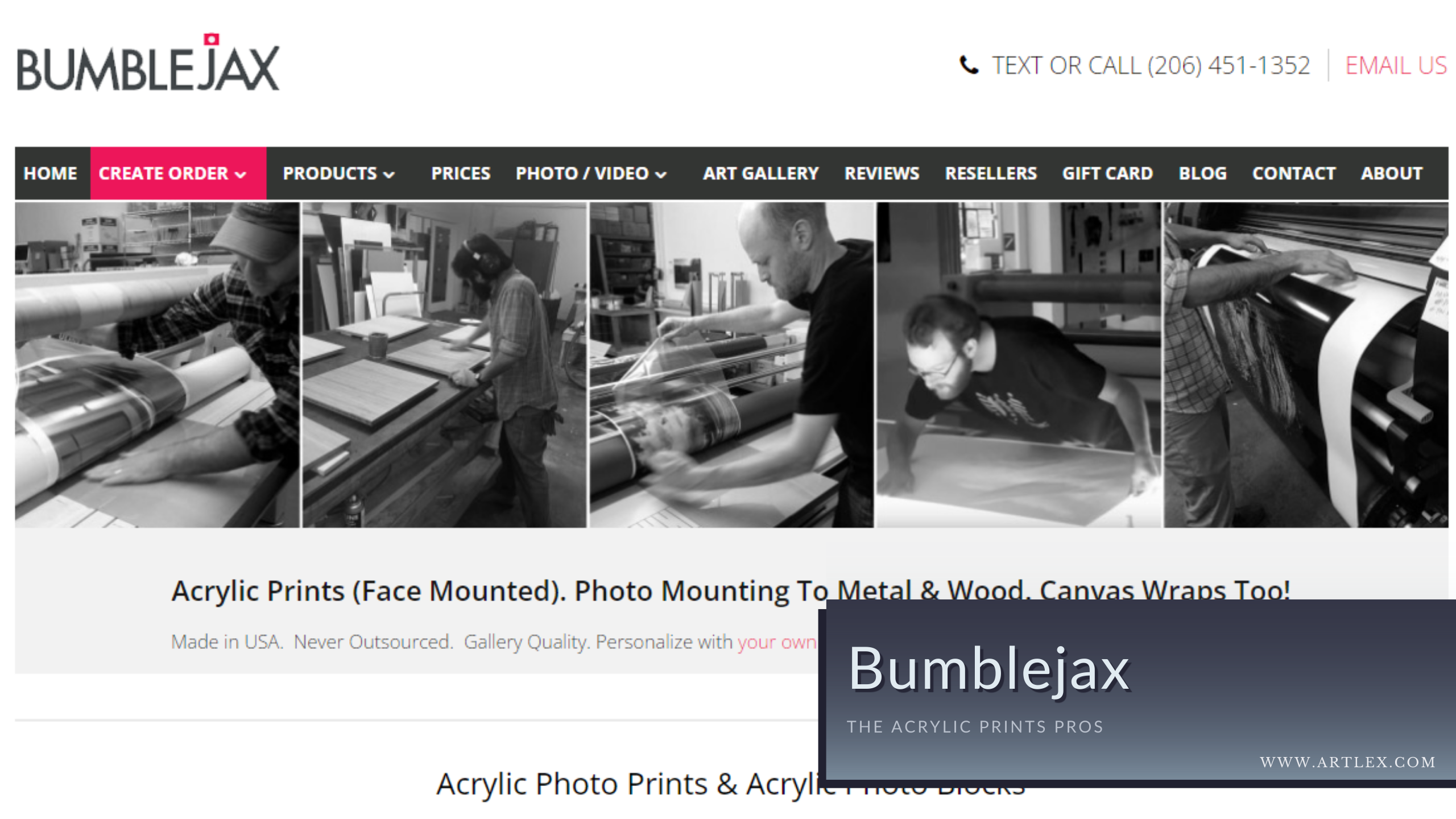 Selection Criteria
Price – From $143 – $214 (12×18 inches)
Size and Customization – Yes [From 7×7 to 40×30 inches]. Thickness, acrylicquality, shape, and paper.
Print options – Face-Mounting
Backing and Mounting: Dibond backing, two different mount options
Shipping: Worldwide shipping by request, 10% off order, 5 -10 Bussiness Days
About BumbleJax
Bumblejax is a Seattle-based printing company that specializes in creating high-quality photo prints and wall art; they offer a variety of products, including metal prints, canvas prints, and bamboo prints, but they are known the most because of their stunning acrylic prints.
They are one of the few companies that offer Tru-life acrylic, which is well known for reducing glare up to 25% without affecting the image's quality, protecting the print from UV rays, and being scratch resistant and easy to clean. Besides that, they also offer the option of having your work printed into metallic photo paper and of using a less expensive anti-glare acrylic (up to 50%).
Bumblejax also offers excellent customer service and a user-friendly website. They have a team of experts who can help guide you through the ordering process and answer any questions you may have. They also offer free consultations and samples or mockups to help you visualize what the finished product will look like.
Bumblejax's products are not the most affordable on the market; however, they are totally worth the investment since their quality is unmatched, whether you're a professional photographer looking to have your work printed or simply looking for top-quality wall art that will make a statement in any room, you can never go wrong with Bumblejax.
Pros
High-quality prints
In-house printing
Uses high quality acrylics (Tru-life) and photo paper
Cons
On the expensive side
Sizes are limited
4. Best International Acrylic Prints Company – White Wall Acrylic Prints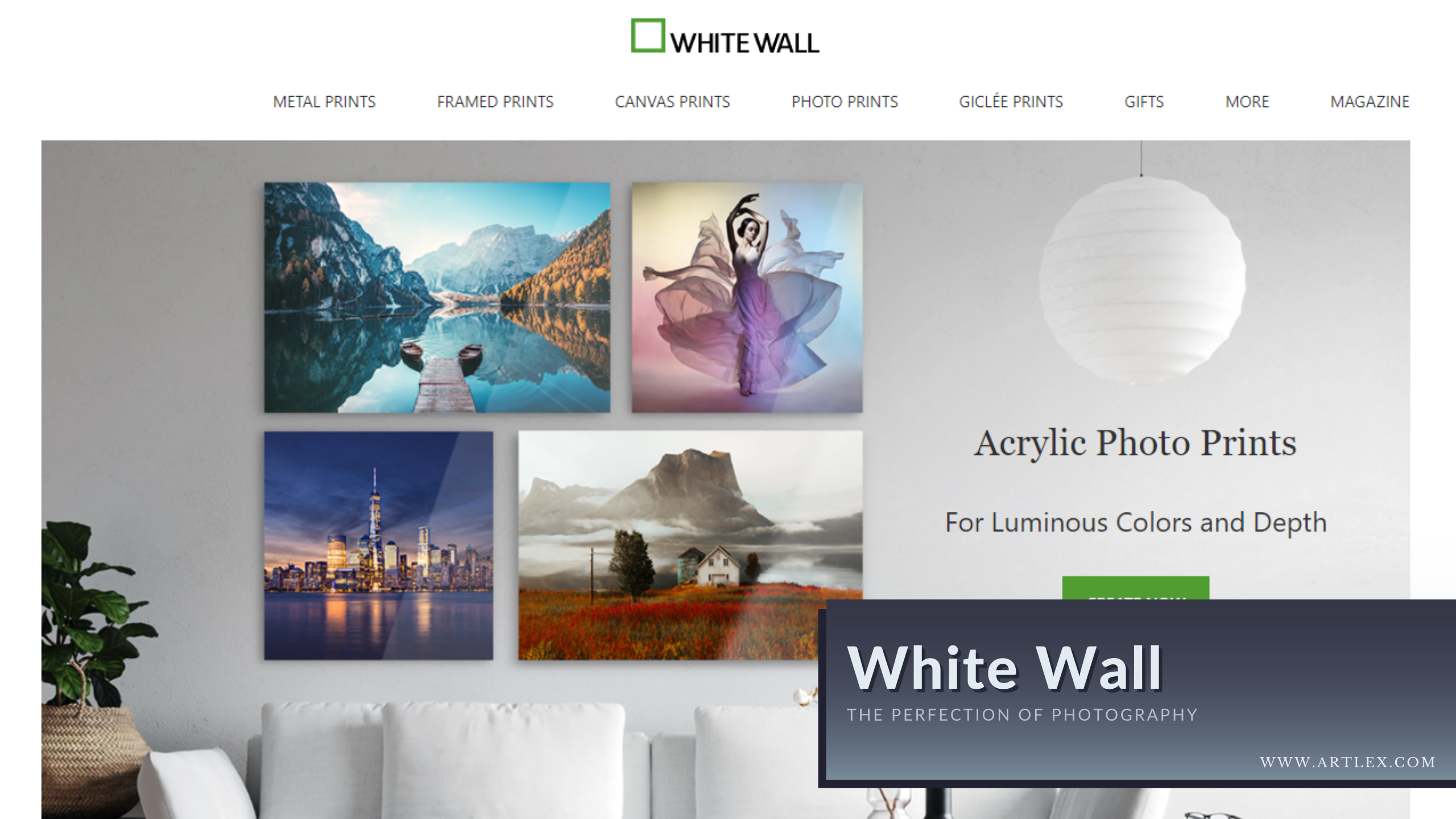 Selection Criteria
Price – From $156 – $235 (12×18 inches)
Size and Customization – Yes [From 6×4 to 114×70 inches]. Thickness, acrylic quality, and paper.
Print options – Face-Mounting
Backing and Mounting: Dibond backing, two different mount options
Shipping: International shipping, $14.95, 9 -12 Bussiness Days
About White Wall
WhiteWall is a world-renowned printing service that offers high-quality prints in diverse mediums; characterized by their incredible attention to detail, and professional work, they've earned a great reputation among photographers, galleries, and artists by offering great service and using only high-quality materials.
In addition to its excellent reputation, WhiteWall has also won the "Best Photo Lab" TIPA World Awards multiple times; TIPA (Technical Image Press Association) is an independent organization representing magazines in the photography and printing industry.
At White Wall, you can choose from different types of acrylic prints, each with its own distinctive characteristics. Their Best-Seller uses a high-quality photo print mounted under acrylic glass (you can choose the thickness and photo paper);
You can also find their UltraHD Photo Print, which uses Fuji Crystal archival paper; their UltraHD Metallic Photo Print, and their Matte Acrylic Print which are in the specialized section and come at a higher price.
Larger sizes are available only for their Fine-Art Pigment Prints and White Wall Masterprint, which are made by printing with inks (Glicee Printing) instead of developing light-sensitive photo paper with LEDs and can have sizes up to 196×94 inches.
Pros
Excellent reputation
Award-winning company
Museum-grade materials
Cons
On the expensive side
Shipping takes longer than usual
5. Best Large Format Acrylic Printing Company – Bay Photo Acrylic Print Company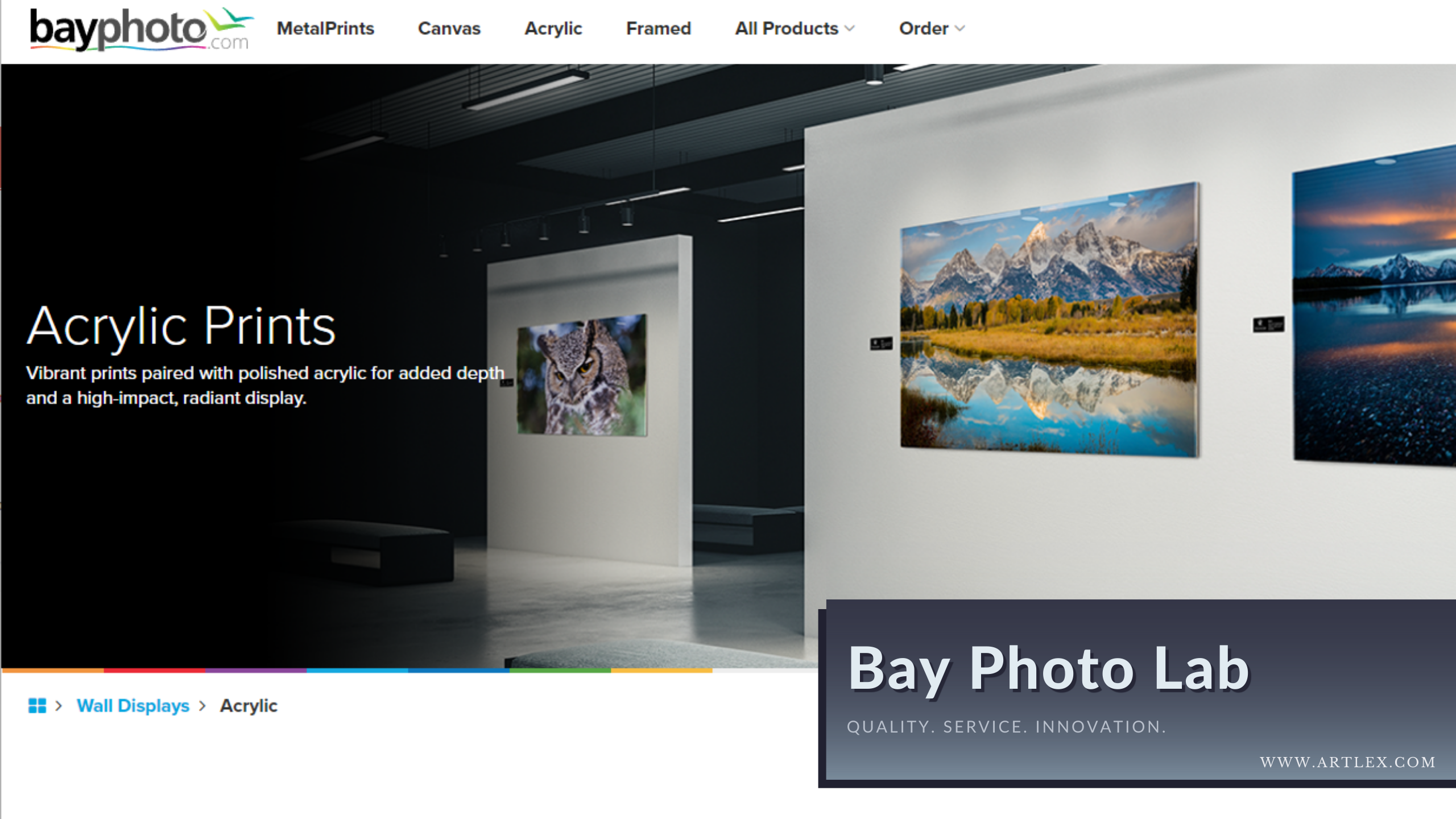 Selection Criteria

Price – From $78 – $164 (12×18 inches)
Size and Customization – Yes [From 4×4 to 43×96 inches]. Thickness, acrylic finish, and paper.
Print options – Face-Mounting
Backing and Mounting: Dibond and paper backing, three different mount options
Shipping: US, International by request, $19.99, 12 – 15 Bussiness Days
About Bay Photo Labs
Bay Photo Lab is another excellent choice for professional print work. They have been around for more than 40 years and have built a strong reputation for delivering high-quality photo prints.
In 2013 they launched their acrylic printing line, and from then on they have become one of the most trusted acrylic printing services online. Their interface is user-friendly, and they have a wide set of customization tools to make the perfect piece for you.
They use high-quality materials and have amazing customer service besides the BayROES ordering software that lets you customize your prints on a whole other level, create multiple items with your photos or prepare packages for client's approval in case you're a professional.
Although they take a bit longer on shipping, be sure you'll receive a fantastic print, and in case you have any issues with your product, their customer service team will take care of it in no time.
Pros
Very experienced company
Excellent ordering software
Amazing quality and customer service
Not as expensive
Cons
Procesing and shipping times are long
6. Best Custom Acrylic Printing Company – Artbeat Studios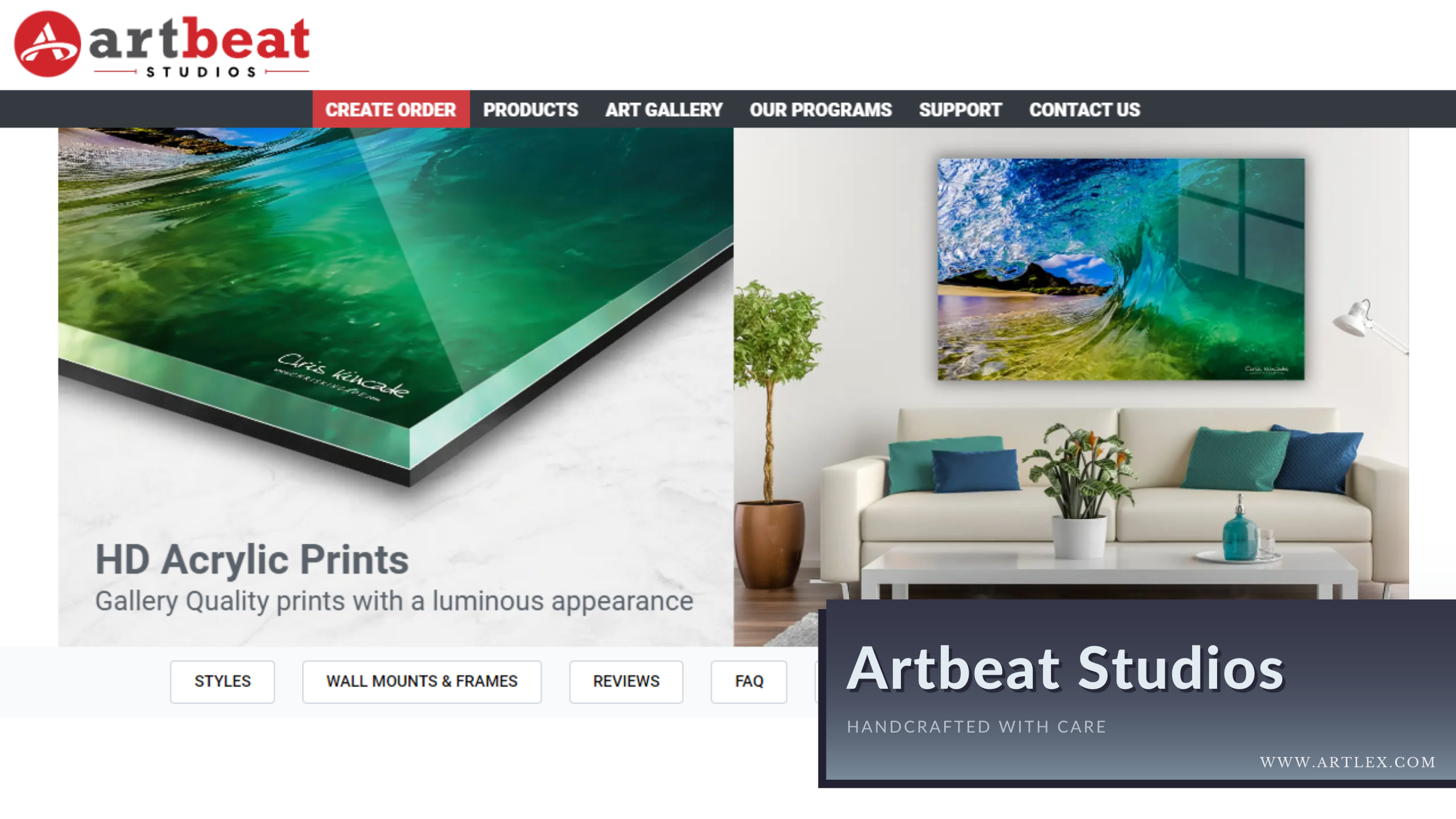 Selection Criteria
Price – From $119 – $187 (12×18 inches)
Size and Customization – Yes [From 8×8 to 40×60 inches]. Thickness, shape, size, and print customization
Print options – Direct Print via UV Printer
Backing and Mounting: Acrylic, Sintra, and Paper, three different mounting options.
Shipping: Free in the US and Canada, 9 – 10 Bussiness Days
About Artbeat Studio
If you're looking for attention to detail and high-quality acrylic and metal prints, then Artbeat Studios will be the perfect choice for you. They offer not only a wide range of sizes but also different finishes and backing options, allowing you to customize your print and make it more durable and resistant.
All of their prints are made of UV-protected cast acrylic, which ensures high definition and durability. You have the option to choose an anti-glare finish for an additional price and also to choose between paper, clear acrylic for a 360° look, or Sintra for the backing.
What we liked the most about Artbeat Studios was their user interface, which was the best we've seen so far, letting us visualize the different thicknesses, finishes, backing, and mounting for your print from every angle. They even offer professional framing for an extra price.
Pros
Great user interface
High customization on multiple aspects
High quality materials
In-house printing
Cons
On the expensive side
Processing and shipping takes longer than other companies
Conclusion
In conclusion, there are many great options when it comes to acrylic printing services. Each company has its own unique style, price points, and features that cater to different needs and preferences. Whether you're looking for a budget-friendly option or the highest quality, top-of-the-line service, there's a company out there that can provide it.
From CanvasChamp's unbeatable prices to Bumblejax's designer series, to WhiteWall's award-winning quality, and Bay Photo Lab's attention to detail, there's a service for everyone.
Don't forget to consider important factors like customization options, size, mounting, and especially backing choices to ensure that you're getting the best acrylic print that suits your needs.
With all these great options, you're sure to find the perfect acrylic print to add a touch of elegance and personality to any space.