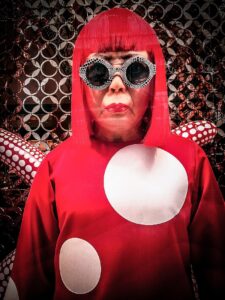 Yayoi Kusama is a Japanese artist born in Japan, in 1929. The world-famous artist is known for her works that span the art movements of Abstract Expressionism, and a pre-cursor to the emergence of Minimalism, before transforming into Pop Art. She has worked in painting, photography, installation, and performance art.
Repetition, polka dots, phallic symbols, pumpkins, mushrooms, mirrors, and reflective surfaces are all part of her works.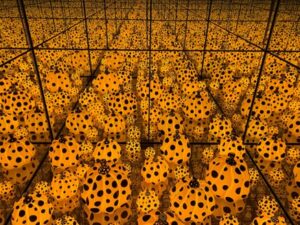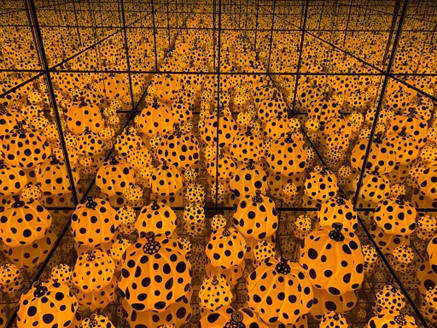 Yayoi Kusama Art Influences
Yayoi Kusama suffered from childhood hallucinations where a pattern would overtake her vision. As a form of dealing with this, she would paint what she saw. Artist Yayoi Kusama explained, " One day I was looking at the red flower patterns of the tablecloth on the table, and when I looked up, I saw the same pattern covering the ceiling, the windows, and the walls, and finally all over the room, my body, and the universe. I felt as if I had begun to self-obliterate, to revolve in the infinity of endless time and absoluteness of space and be reduced to nothingness." This was the influence for dots and repetitive patterns in her work.
Personal anxiety is also a theme in the work of Yayoi Kusama, including a fear of sex, which she says is from years of watching her father who was a womanizer. Additionally, she was raised by an unhappy physically and mentally abusive mother, which caused additional trauma. Art became a way of dealing with her mental health.
At the age of 13, Yayoi Kusama worked sewing parachutes for Japan and World War II. Learning how to sew was invaluable, as she used this skill to create her soft sculptures. Moving forward she was always vocally opposed to war. This merged with the 60s hippie movement of anti-war, anti-establishment, and free love.
Yayoi Kusama Early Training
After studying traditional Japanese painting Yayoi Kusama was ready for change. During the time of her art studies, (1948–49) at the Kyōto City Specialist School of Arts, the country of Japan rejected all things Western. Yayoi Kusama was taught the art of Nihonga, using Japanese painting techniques and materials that were based on thousand-year-old traditions. Although Kusama's art were excellent examples of this, and her works were shown in exhibitions throughout Japan, she wanted the freedom to create her own style and work.
About Japan Yayoi Kusama would later say, "For art like mine, it was too small, too servile, too feudalistic, and too scornful of women. My art needed a more unlimited freedom, and a wider world."
Yayoi Kusama and A Move to New York
In 1958, she moved to New York, attracted to the post-war art scene. Yayoi Kusama began to work in watercolors and was intrigued initially by Abstract Expressionism. "When I arrived in New York, action painting was the rage…" Yayoi Kusama reflected. "I wanted to be completely detached from that and start a new art movement." Later she would find her way into the Pop art movement.
Yayoi Kusama worked obsessively on her artwork, in all its various forms. In fact, she would sometimes work for 50 hour stretches, without stopping.
Yayoi Kusama, the Art Scene, and Expansion
Yayoi Kusama had started corresponding with female artist Georgia O'Keefe, before moving to New York. The friendship initially began because Kusama greatly admired O'Keefe's work. She sought advice by writing, "I'm only on the first step of the long difficult life of being a painter. Will you kindly show me the way?"
O'Keefe corresponded by saying it was difficult to make a living as an artist in her country, but still suggested Yayoi Kusama come over to show her work to as many people as she could. With O'Keefe's connections, Kusama was able to quickly secure exhibitions and sales of her work.
Minimalist artist Donald Judd purchased Yayoi Kusama very first Infinity Net painting. Years later, in 2008, it set a new auction price record for works by female artists.
Yayoi Kusama also developed a devotionally close, but platonic relationship, with the assemblage artist Joseph Cornell. Upon his death, in 1972, she began working in collage to honor his memory.
During her time living in New York, Yayoi Kusama became a central figure on the New York art scene, working along with other Pop art artists, including Andy Warhol and Claes Oldenburg.
Yayoi Kusama was a good friend of Andy Warhol. Later, she confessed she thought he had stolen her ideas, pointing out an exhibition in 1963. Kusama had covered a rowboat in phalluses, as part of her Accumulation Series. Yayoi Kusama photographed the sculpture and made a repetitive wallpaper with the image. Warhol made a wallpaper with the repetitive symbol of a cow for a 1966 exhibition.
The Woman (1953)
Yayoi Kusama's art The Woman is an abstract drawing using pastel, aqueous tempera, and acrylic paint, at the Blanton Museum of Art, at The University of Texas at Austin. In it a lone spiked, red outlined biomorphic object, illuminated with yellow and filled with green flecks, floats in a sea of blackness. The work has an aggressive quality, even though unworldly. This is an example of the artist's early work.
The Infinity Nets Series
The Infinity Nets Series by Yayoi Kusama are considered some of her most iconic works. Highly detailed, the artist painted minute areas that resemble lace. Kusama first started producing these works between 1958 and 1968.
"My nets grew beyond myself and beyond the canvases I was covering with them…They began to cover the walls, the ceiling, and finally the whole universe. I was always standing at the center of the obsession, over the passionate accretion and repetition inside of me," said Yayoi Kusama.
No. F is part of Yayoi Kusama's art Infinity Nets Series. The oil on canvas work, at The Museum of Modern Art, in New York, combines Abstract Expressionism with Minimalism. The work uses an allover painting method. The nongeometric abstract painting also manages to incorporate repetition. From a distance the work appears monochromatic in blue-grey, until the viewer steps closer to observe its complexities of white semi-circles.
Yayoi Kusama explained this work by simply saying it was, "without beginning, end or center. The entire canvas would be occupied by a monochromatic net. The endless repetition caused a dizzy, empty, hypnotic feeling."
The Infinity Nets Series was not only painted. In Accumulation Nets (No.7), also at The Museum of Modern Art, in New York, gelatin silver photographs of Yayoi Kusama's art Infinity Nets Series were cut and assembled into a grid pattern. Here, without visible brushstrokes, the work is starker.
Accumulation Series
In this series Yayoi Kusama took everyday objects and sexualized the pieces to turn them into unique pieces of art, starting in the 1960s. Accumulation No. 1 at the Museum of Modern Art in New York, was the aptly named first in the series. In this work, artist Yayoi Kusama takes a stuffed chair and embellishes it with numerous stuffed phallic pieces. The result is a new three-dimensional sculpture that confronts fear of sex and the viewers' sense of wonder. Critics were initially shocked by the work, especially because it was made by a female artist.
Infinity Mirror Room
Yayoi Kusama found filling, stuffing, sewing and sometimes painting her phallic pieces taxing, both physically and mentally, due to the sheer vastness required for her art projects in the Accumulation Series. What if she made these pieces look more plentiful, in a room full of reflective mirrors? The Infinity Mirror Room was born. The interiors may change with each Infinity Mirror Room the artist Yayoi Kusama creates, but they are all based on the same premise—endless repetition.
For Infinity Mirror Room—Phalli's Field (1965) Kusuma used a mirrored room as a space for hundreds of red dot painted stuffed phalli. The work was first shown at Castellane Gallery, in New York, in 1965.
Infinity Mirror Room—Phalli's Field (1965) Yayoi Kusuma
The second Infinity Mirror Room the artist Yayoi Kusama created is entitled Infinity Mirrored Room- Love Forever. The room is shaped like a hexagon. Two peep holes allow viewers to see themselves and another reflected in endless mirrors, under lights.
When the room was set up for view, in 1965, the artist disturbed button that said Love Forever. Crafted from wood, mirrors, metal, and lightbulbs, today Infinity Mirrored Room- Love Forever is part of the collection of Ota Fine Arts, in Tokyo.
Meanwhile, the Infinity Mirrored Room- The Souls of Millions of Light Years Away (2013), constructed from metal, wood, plastic, acrylic, rubber, and an LED lighting system, is at The Broad Art Foundation, in Los Angeles. The lights represent the galaxies.
Infinity Mirror Rooms by Yayoi Kusama, in their many forms continue to fascinate viewers.
An Infinity Mirror Room installation by Yayoi Kusama
Narcissus Garden (1966)
Although she hadn't been invited to participate in the 1966 Venice Biennale, her installation and performance art entitled Narcissus Garden made Yayoi Kusama an international success. Dressed in a gold kimono, she placed 1500 reflected stainless steel balls on the lawn where the art event was taking place. Then, she posted a sign that read, "Your narcissism for sale!"
Those who entered the 1966 Venice Biennale were entranced by Yayoi Kusama's Narcissus Garden, but eventually she was asked to leave and escorted away by the police.
As a savvy promoter, she was always networking. "Publicity is critical to my work because it offers the best way of communicating with a large number of people… avant-garde artists should use mass communication as traditional painters use paints and brushes." This would become most notable in her performance art.
Anatomic Explosion (1968)
After Narcissus Garden, Kusama started to develop more performative "happenings". In 1968, during her Anatomic Explosion, across from the New York Stock Exchange, four naked dancers moved to the beat of bongos. Yayoi Kusama painted the dancers with blue polka dots. The police interrupted the performance within 15 minutes.
Yayoi Kusama said the work was in protest to the Vietnam War. She wrote a to the president in a work called An Open Letter to My Hero, Richard M. Nixon. In it she said earth was like a polka dot among all the other celestials. With his help she wanted to create a peaceful environment. "You can't eradicate violence with more violence," she wrote.
The polka dots symbolized the earth. The nakedness was a return to the Garden of Eden. As for the location of the performance across from the New York Stock Exchange, Yayoi Kusama said, "The money made with this stock is enabling the war to continue. We protest this cruel, greedy instrument of the war establishment,"
Grand Orgy to Awaken the Dead (1969)
The New York Daily News posed the question "But Is It Art?" in 1969, after Yayoi Kusama staged a performance happening, Grand Orgy to Awaken the Dead (1969), in the Sculpture Garden, at the Museum of Modern Art, in New York.
The "happening", unauthorized by the museum, involved naked performers embracing each other and the nude sculptural works of dead artist, arranged as part of the fountain. Onlookers were shocked at what they saw.
Critics interpreted this as a publicity stunt, by artist Yayoi Kusama, who during the event was in attendance, but faced away from the frolic. However, Kusama wanted to make a point that there were too many works by dead artists in the museum and she wanted to draw attention to living artists.
Pumpkin (1994)
Yayoi Kusama started to work with outdoor sculptures, with the work Pumpkin, which she designed for the Benesse Art Site on Naoshima Island, in Japan. Made from acrylic on ceramic, the large yellow pumpkin sculpture is painted with various sized polka-dots black.
Moving Back to Japan
In 1973, Yayoi Kusama moved back to Japan, where she is still creating art, writing poetry and fiction. Then, diagnosed with obsessive compulsive disorder, she checked herself into a mental institution, where she continues to live.
Yayoi Kusama's art was almost forgotten, until 1993, when she was asked to represent Japan, in the 45th Venice Biennale. One of her Infinity Mirror Room series was installed containing dotted pumpkins. It was a raving success!
The Yayoi Kusama Museum
The Yayoi Kusama Museum is one of the most visited Museums in Tokyo, Japan. Located in a polka-dot covered small building, it houses a collection of artist Yayoi Kusama works including paintings, sculptures, installations, and exhibitions. Mini Infinity Mirror Rooms have been constructed in the elevator and bathrooms too.