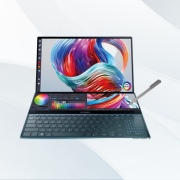 Top-tier with a secondary touch screen, ideal for professional multitasking artists; a bit pricey.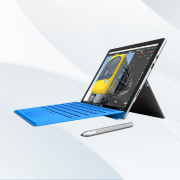 Versatile 2-in-1 laptop with high-contrast screen, lightweight and portable; keyboard sold separately.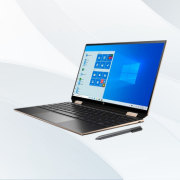 Best for 3D artists with seamless graphics software support, includes security features; battery life may vary.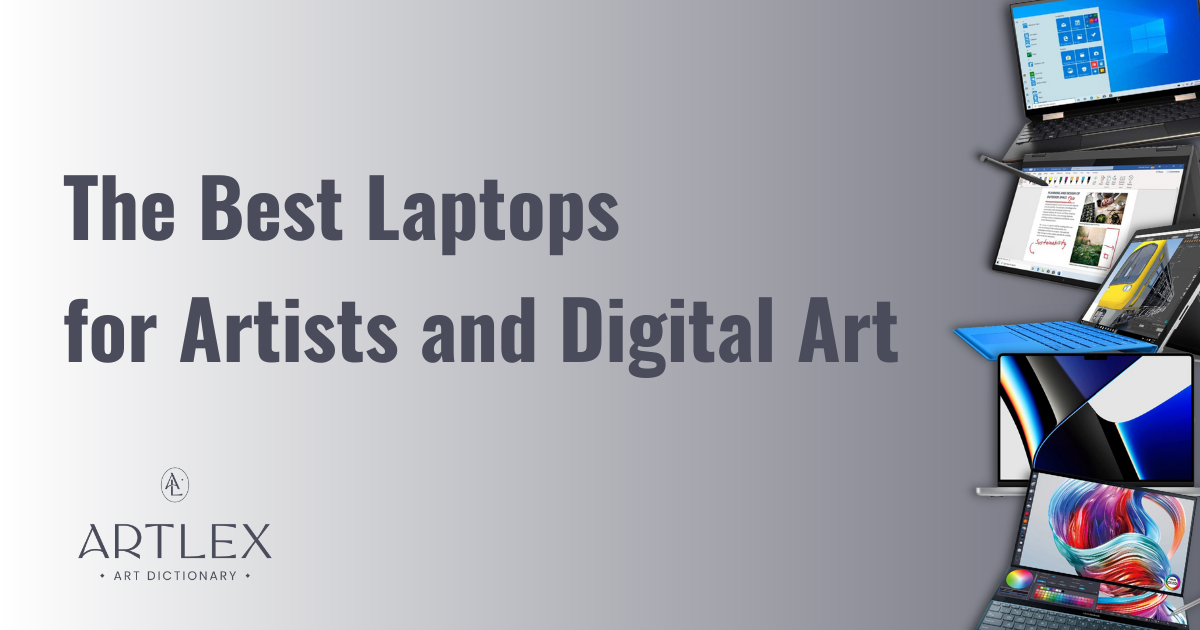 In the digital world, there is room for just about anything, and that includes art. But with the countless upgrades and new models and new (insert any upgradeable piece of tech here!), it can also mean that an artist, whether for hobby or profession, might not know exactly what to look for when choosing a computer for digital art.
Not all computers are created equally. When you know what to look for, finding what you want will be that much easier. Here I will help you understand what to look for when choosing a new laptop and round up what I believe are the top laptops for digital art.
How To Choose the Best Laptop for Digital Art
Whether you're a seasoned digital artist or just beginning your journey, finding the right laptop for your art can make all the difference. When trying to find the best laptop for you, there are several factors you'll want to consider.
Processor
The more powerful the internal processor is on the computer, the more tasks it can perform at one time. This can also go hand-in-hand with RAM, which I will discuss next.
There are three main companies that manufacture processors: Intel, AMD, and Apple Silicone. Intel and Apple are the big competitors.
The structure of the processor is made up of transistors. The more transistors it has, the more processing power. Transistors are measured by nanometers. Intel processors measure in at 10nm, Apple at 5nm. This is why Apple likes to tout that their processors are much more powerful and energy-efficient.
Intel has the i3, i5, i7, i9, and the X series for their processors. For digital artists using programs requiring heavy computing power, I recommend going with at least an i5 processor. For heavy usage for programming, art, and gaming, I recommend at least i7.
As for Apple, the Pro and Max chips offer heavy-duty computing power and a higher price tag. The M1 standard is more than sufficient unless you create complicated content.
RAM
RAM, or random access memory, is essentially the computer's short-term memory. The more space you have to keep things within reach, the more you can do quickly. So, when art programs are using multiple, complicated layers or rendering, or you're using multiple programs at once (multitasking), it can take up a lot of processing power.
RAM is measured in gigabytes (GB), and the higher the number, the more efficient the computing. It typically comes in 2GB, 4GB, 8GB, 16GB, or more. For graphics programs and multitasking that require extensive processing, I recommend at least 8GB of RAM, and the more, the better.
Depending upon the laptop model, you can also upgrade the RAM, but not all laptops are capable of user upgrades. User upgrades may also be a specific perk to look for in an artist's laptop.
Internal Storage
Internal storage is the filing cabinet of your computer. The more room you have, the more you can store on it. While some artists may be fine with storing only some things on the laptop or using external storage, others may want to keep their entire portfolio in one place.
Depending on your needs, there are varying options for storage: 128GB, 256GB, 512GB, 1TB, 2TB, and 8TB. Like RAM, the internal storage can be user-upgraded, but it will depend on the laptop.
There is always the option to keep important files in an external storage drive. My advice is to have room on your computer and then back up those important files on an external drive.
Screen: Size, Resolution, and Type
For artists, the screen is everything. For some people, bigger screens are better, and I'd have to agree with this one. If you are using it as an art medium, you want the most usable space you can get so you can see what you are doing!
Resolution translates directly to clarity. The higher the resolution number, the sharper and clearer the images on the screen. High-resolution displays are marketed as HD or 4K these days, and the resolution of the screen is easy to find in product specs. Again, the higher, the clearer.
Battery Life
The better the processor is, the better the battery life. When using graphics programs or doing heavy multitasking, it can wear out the battery. When you're on the go, it's essential to have the power to do the work you need. 5-hour battery life is on the short side, and I recommend finding one that can give you at least 8-10 hours.
Price
The price of the laptop may play a role in your decision. You'll want to consider this when browsing if you're on a budget. If money isn't an object to you for this purchase, you can disregard the cost of the laptop.
Product Recommendations
Best Laptop for Artists Overall: ASUS Zenbook Pro Duo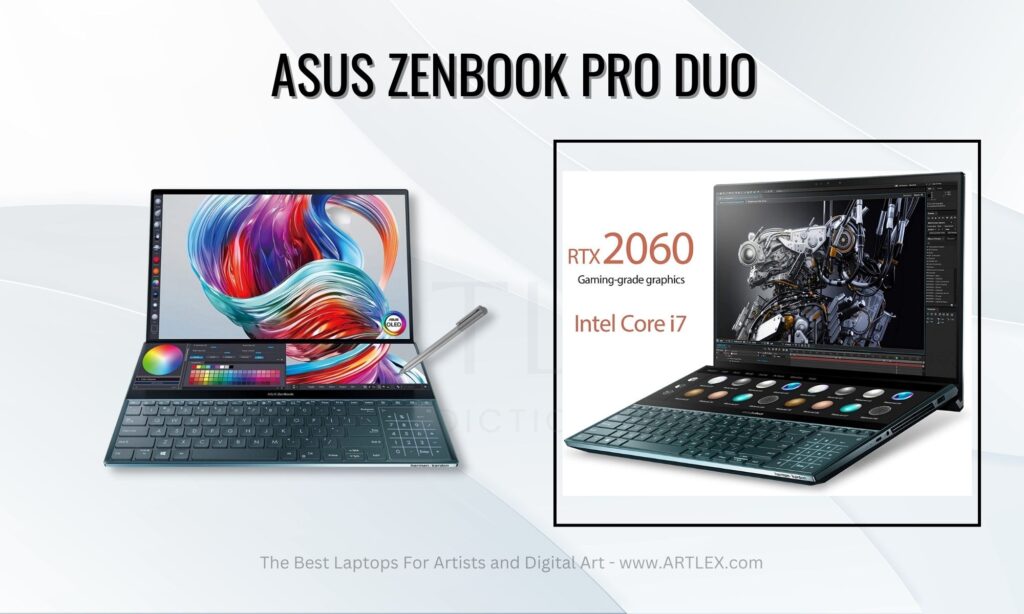 Selection Criteria
Processor: Intel i7 Core – 9/10
RAM: 16 GB – 9/10
Internal storage: 1 TB – 10/10
Screen: 3840×2160 resolution on either a 14" or 15.6" screen – 10/10
Battery life: 8 hours – 7/10
Price: ~$2,299.99 – 6/10
About ASUS Zenbook Pro Duo
This laptop touts a second touchscreen below the screen, allowing for greater streamlined productivity. This pick is best for professional artists who multitask on heavy graphics software. This laptop works well for almost any artist. From photographers to graphic designers to everything in between, this laptop can help you accomplish your goals.
The ASUS Zenbook Pro Duo weighs just over five pounds which is still lightweight enough for transporting it wherever. The laptop comes with a palm rest for comfort and a stylus for more precision when creating. If you're not interested in the palm rest, it's detachable.
The internal storage is large enough to handle a large workload and ensures that you don't lose your files. Possibly the best thing about this laptop is the secondary touch screen above the keyboard. It allows for easy app switching and can be a paint palette when creating digital art.
Pros
It has a secondary touch screen
Large internal storage space
Ample RAM
An OLED screen
Cons
The price is a little steep
Best 2-in-1 Laptop for Artists: Microsoft Surface Pro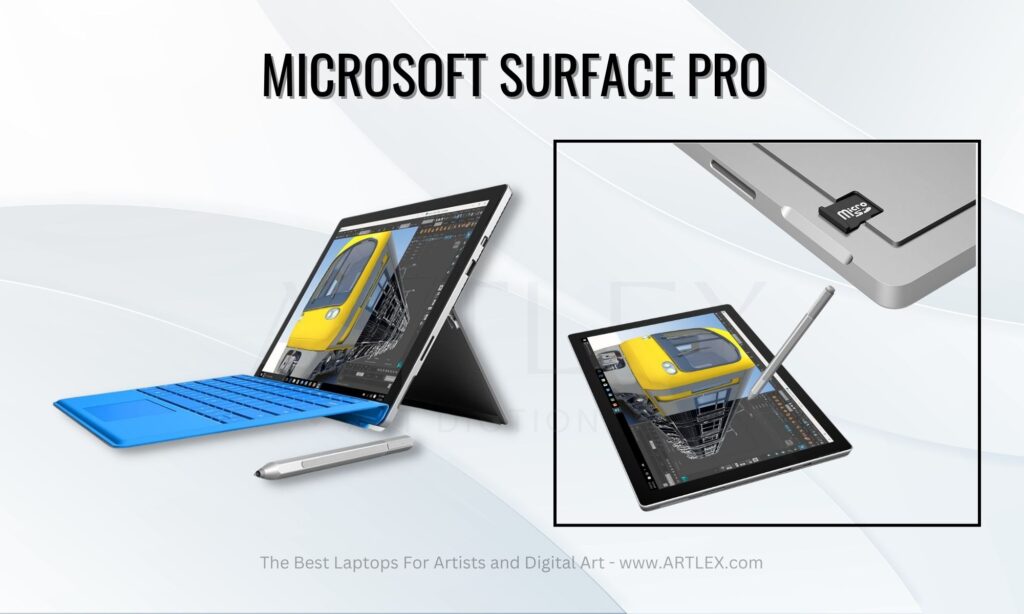 Selection Criteria
Processor: Intel i7, but also available in i5 – 8/10
RAM: 16 GB – 9/10
Internal storage: 1TB, but also comes in 512, 256, and 128 GB – 10/10
Screen: 2736×1824 resolution on a 12.3" screen – 6/10
Battery life: 14 hours – 9/10
Price: ~$1,299.99 – 7/10
About the Microsoft Surface Pro
The Surface Pro offers the ability to switch between the laptop experience and a tablet. It has a low-glare, high-contrast screen touchscreen that doubles as a tablet–fold away the keyboard to convert. The portability and versatility give this laptop the title of best 2-in-1.
When shopping for a Microsoft Surface Pro, you can choose between two color swatches. The laptop comes in black and silver. This 2-in-1 laptop only weighs 1.7 pounds without the keyboard, making it one of the easiest laptops for artists to bring with them anywhere. Something important to note about this laptop is that the keyboard is sold separately.
Pros
Includes a stylus
The battery lasts for up to 14 hours
It weighs less than two pounds
Cons
It has a smaller screen than its competitors
The keyboard is sold separately
Best Laptop for 3D Artists: HP Spectre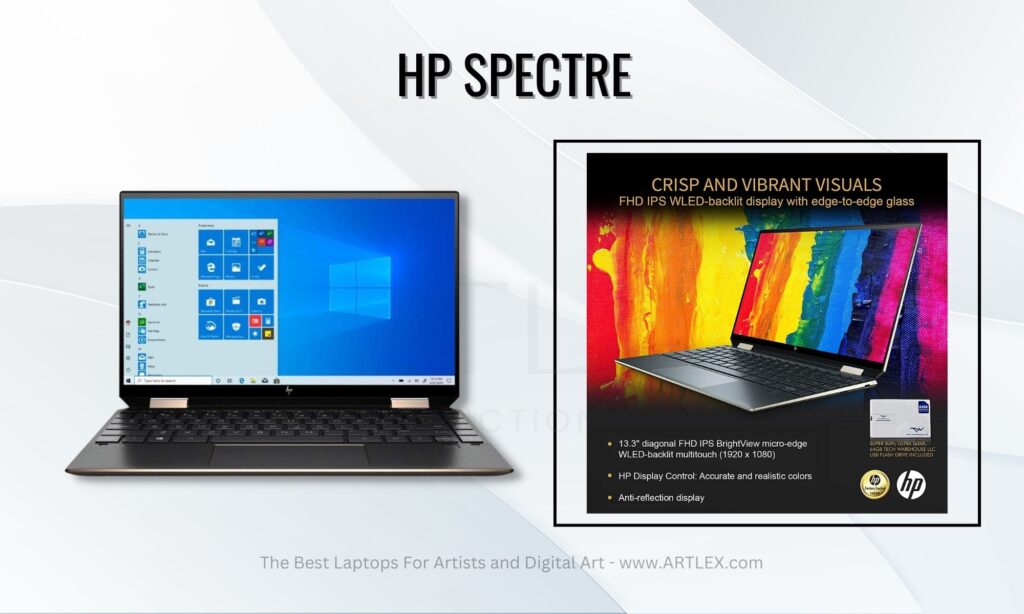 Selection Criteria
Processor: Intel i7 – 8/10
RAM: 16 GB – 9/10
Internal storage: 512 GB – 10/10
Screen: 3840×2160 resolution on a 15.6" screen – 9/10
Battery life: 12 hours – 8/10
Price: ~$1,449.99 – 8/10
About the HP Spectre
This laptop is suitable for artists in that it boasts all the computing power to keep things running smoothly. It's the best laptop for 3D artists to show off their skills and hone them. The RAM allows for intense seamless graphics software. This one is for all art creators, not just those who want to dabble in 3D art.
The HP Spectre comes with 10th gen Intel core, a fingerprint reader, a webcam kill switch, and a key that allows you to mute your microphone easily. The fingerprint reader is great for artists who want to protect their creations from being stolen or seen by people yet. The laptop only weighs 2.88 pounds, making it great for artists on the go.
Pros
Processor and RAM capacity make the laptop run very smooth
There's a fingerprint reader
It weighs less than three pounds
Cons
The battery life may vary according to reviews
Best Laptop for Artists on a Budget: Lenovo Flex 5 2-in-1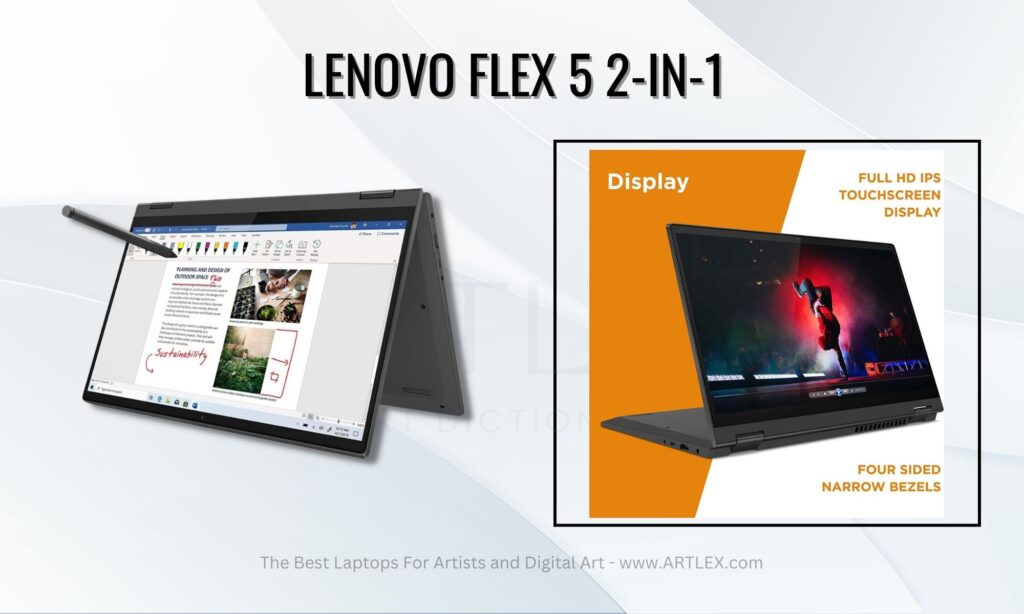 Selection Criteria
Processor: AMD Ryzen 5 – 8/10
RAM: 8 GB – 7/10
Internal storage: 128 GB – 7/10
Screen: 1920×1080 on a 14" screen – 7/10
Battery life: 10 hours – 8/10
Price: ~$849.99 – 10/10
About the Lenovo Flex 5 2-in-1
This laptop is perfect for a beginning digital artist who may not be able to splurge on the highest grade of professional processing. The processor and RAM capacity are ample enough to tackle any art a beginner may try to create. The price on this one is hard to beat, compared to some others on the list that creep up into the thousands.
The Lenovo Flex 5 comes with two USB ports so you can plug in whatever you may need. Whether you need to plug in a mouse, charge your phone, or if your stylus requires a plug, you'll be able to use it on this laptop. It weighs a little over five pounds, which isn't heavy, but it's not the lightest option amongst competitors.
Pros
The screen rotates 360 degrees
The price is affordable
It has a touchscreen display
Cons
The internal storage could be better
It's not the lightest option
Best Laptop for Professional Artists: MacBook Pro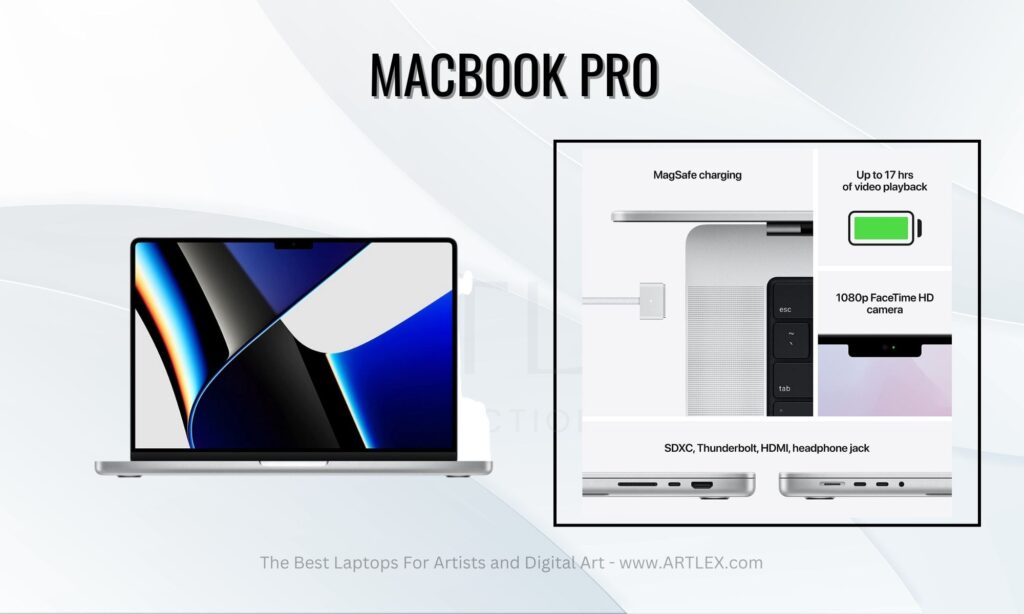 Selection Criteria
Processor: Apple M1, M1 Pro, or M1 Max – 10/10
RAM: 8 or 64 GB unified memory – 10/10
Internal storage: 512 GB, 2 TB, or 8 TB – 10/10
Screen: 2560×1600 on a 13.3", 14", or 16" screen – 9/10
Battery life: 18-21 hours
Price: ~$1,999.99 for base models
About the MacBook Pro
The Liquid Retina Display from Apple provides a clear, crisp screen. The MacBook Pro series also has three display sizes to choose from, which means you can find the right fit for your artwork. While this isn't the biggest deal, you can choose from two color swatches. There's space gray and silver.
It has high processing power due to the combination of the M1 processor and the unified memory (similar to RAM, but that gets complicated.) This laptop is a workhorse for professional artists because the processor allows you to fly through projects without getting slowed down by technology.
Most laptops have a battery life of 8-10 hours which is excellent, but the MacBook Pro's battery life upon purchase can last 18-21. This will diminish as you use it, but it's more than other laptops. The laptop is lightweight at 3.5 pounds.
Pros
It has a powerful processor
It's available in two color swatches
It has an extensive battery life
Cons
The price may vary depending on what model you're looking at
Conclusion
And there you have it! There are the top 5 best laptops for artists and digital artists! The market for laptops can be overwhelming, but if you can sort out what you need from the laptop, there is a machine out there that can do the job.
While it would be rare to find something that ticks every box–such as a wildly powerful processor, ample RAM, amazing display, long battery life, lightweight, and inexpensive–I believe we can get close to finding something that will work for any artist. Happy creating!