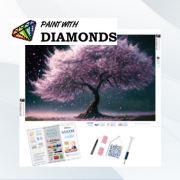 A popular, eco-friendly DIY diamond painting kit with a nostalgic image that enhances fine motor skills and ensures hours of entertainment.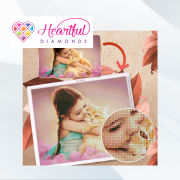 An ideal choice for personalized gifting, this diamond painting kit offers customization with personal photos or images, ensuring a unique creative experience.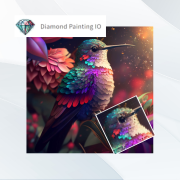 Diamond Painting IO provides a delightful and immersive diamond painting experience that brings nature's charm right into your living room.
Diamond painting kits might be your next favorite craft if you've ever embroidered, completed a paint by number, or DIY painting. Similar to sand painting, diamond art takes focus, a steady hand, and patience. Ideal for kids or adults who love handcrafting and creating beautiful art, this new artform will add more sparkle to your life and has been known to even reduce stress.
Fun fact: Diamond painting originated in China in 2010 and has just recently gained traction worldwide.
Creating art using small bead-like diamonds to form a beautiful image is an excellent gift idea and might be just what your favorite crafter wants this holiday season. When purchasing your kit, some features to look out for include whether all the tools are included. If they aren't, the company will quickly replace them, the shape of diamonds and premium quality materials. Note that the shape of the diamonds determines the difficulty level, which is explained in more detail below. Read on to learn our top favorite diamond kits based on the above criteria.
The Best Diamond Painting Companies and Kits in 2023:
1. Best Diamond Painting Kits Overall – Paint with Diamonds Diamond Art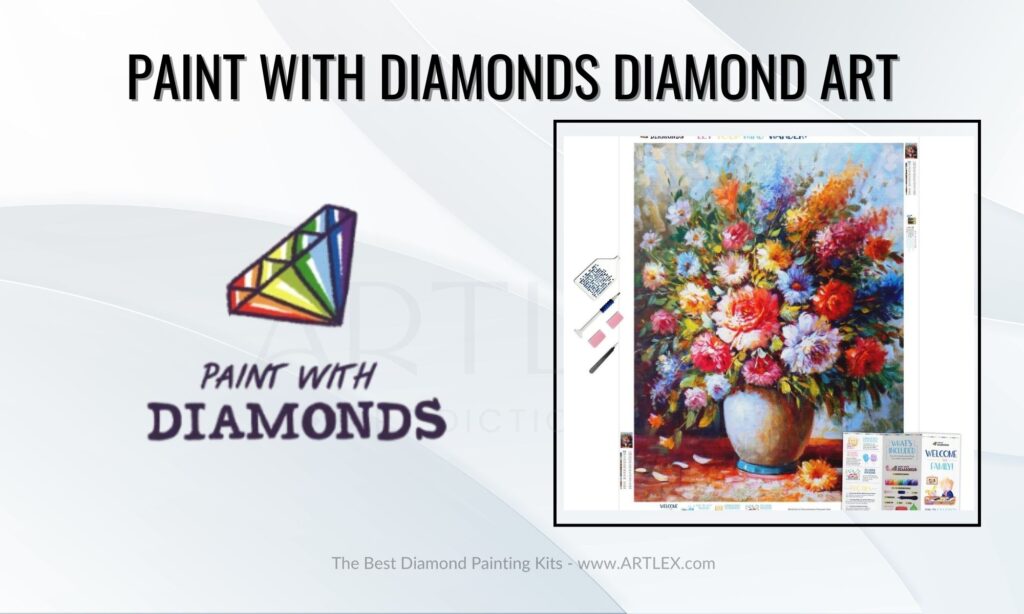 Price – ~$19.99 (Was $67.98) – Our score: 7/10
Full Kit – Yes – Our score: 9/10
Shape – Round or Square – Our score: 9/10
Quality – Moderate – Our score:7/10
About Paint with Diamonds
Kids will hone their fine motor skills with this DIY diamond painting that reminds us of days gone by. This kit is one of the best sellers and comes with non-toxic resin diamonds. This happy Christmas scene is sure to keep your little one occupied for hours. In addition, the entire picture is 15×20 inches. Young children must be supervised while creating their diamond art as long-term exposure outside of the plastic will dry out the adhesive backing on the canvas. Buyers will have an additional 20% off using the discount code provided on the website.
Pros
Unlike other brands, this kit has eco-friendly diamonds
Beautiful and nostalgic image of quality diamonds
Can be completed in five easy steps
No hassle replacement guarantee
DMC color-coded diamonds for less eye strain
Cons
International shipping can take a few weeks
2. Bonus – Best Custom Diamond Painting Kits – Heartful Diamonds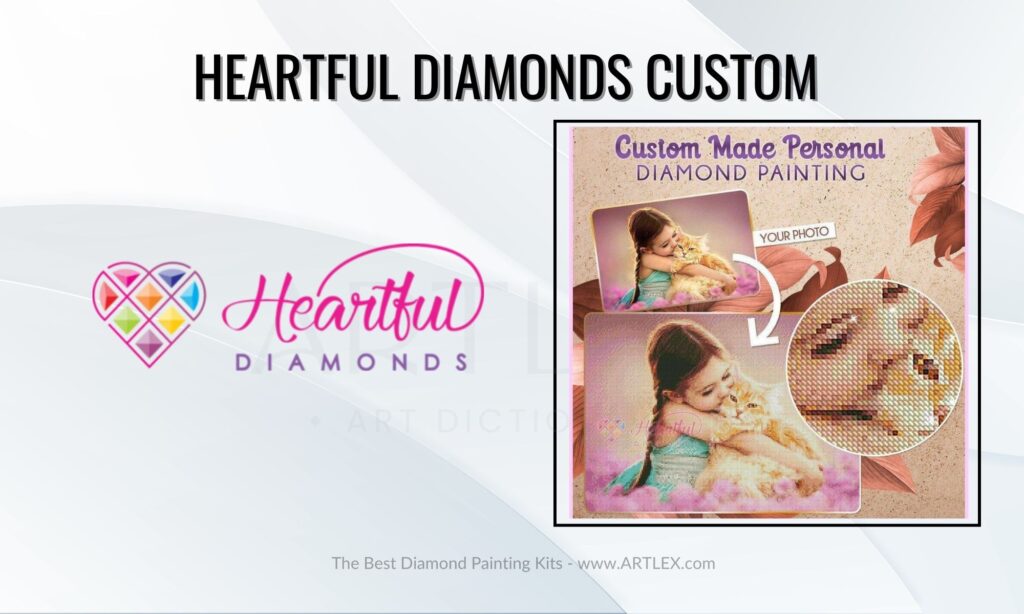 About Heartful Diamonds
If none of the above seem like good options to you, you might consider using your own photo or image and getting a custom diamond painting. This is especially good if you want a personalized gift for a birthday, christmas, or mother's day/father's day.
Family photos make really good options for a custom diamond painting kit, as well as family pets, pictures of a house or a home, or a favorite vacation scene.
The only downside of custom kits is that it may take a pretty long time to receive them. Most of these kits are manufactured in China, and the shipping can take up to 30 days.
Pros
Includes custom photos images
Free shipping on orders over $50
Drills will quickly be replaced by the manufacturer if lost or broken
Cons
Shipping may take up to 30 days
Does not deliver to Hawaii or Alaska
3. Cutest Diamond Painting on Earth: Mouse in a Jar
Ok, hold up, we might have a winner here. We know puppies and kittens are cute, but this takes things to another level. A tiny little Mouse in a Jar, with a little lantern!?!?
This evokes magical realism feels, maybe even a little bit of Secret's of NIMH. Our favorite part might be the fairy dust and the tiny little butterfly that is fascinating the tiny little guy. So cute!
4. Best Elephant Diamond Painting – Rainbow Elephant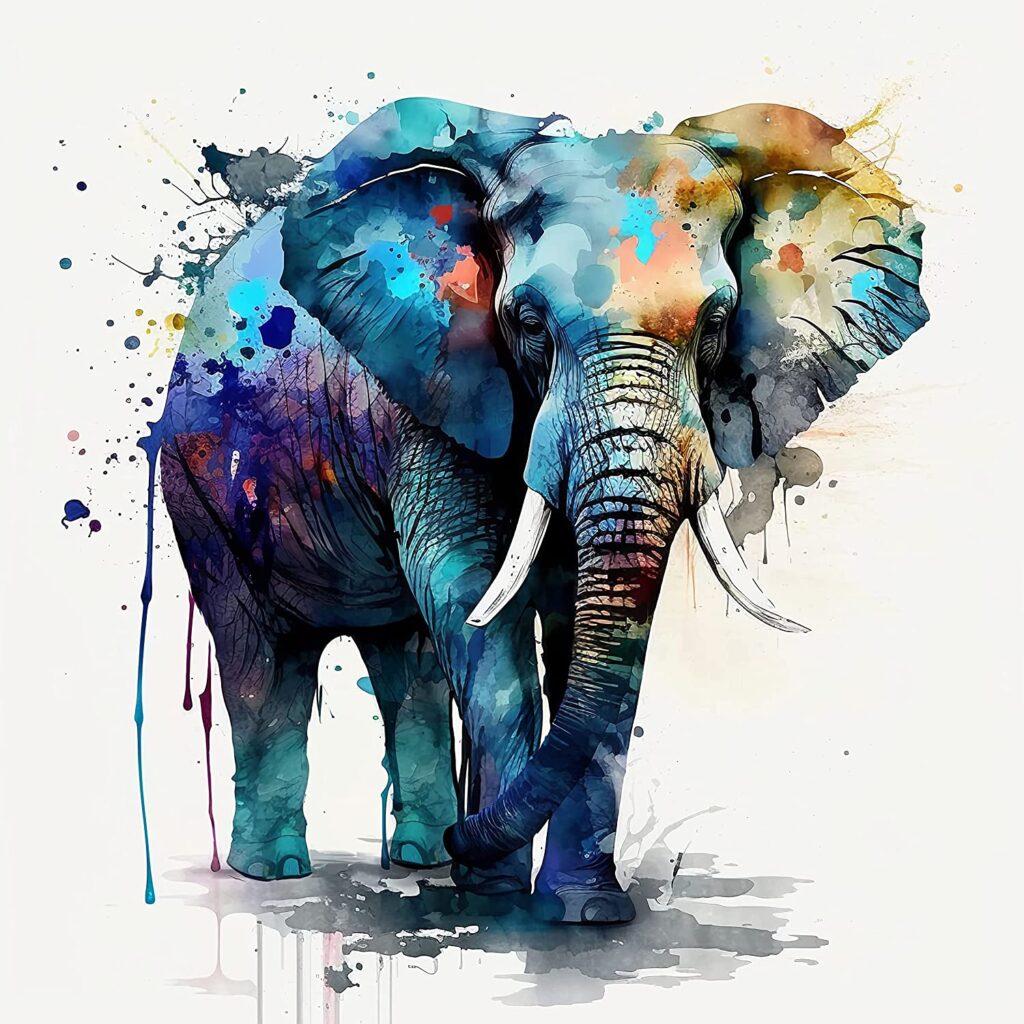 This Rainbow Elephant Diamond Painting Kit has colors that evoke the Indian Spring Festival of Holi, also known as the Color Festival, where rich powdered pigments are splashed and flung into the air, coating all those that surround it.
The splashy colorful nature of this piece, plus our overall love of Elephants, make this one of our top picks. It's a great choice for animal lovers (who doesn't love Elephants?).
5. Runner Up for Cutest Diamond Painting Kit – Puppy in a Teacup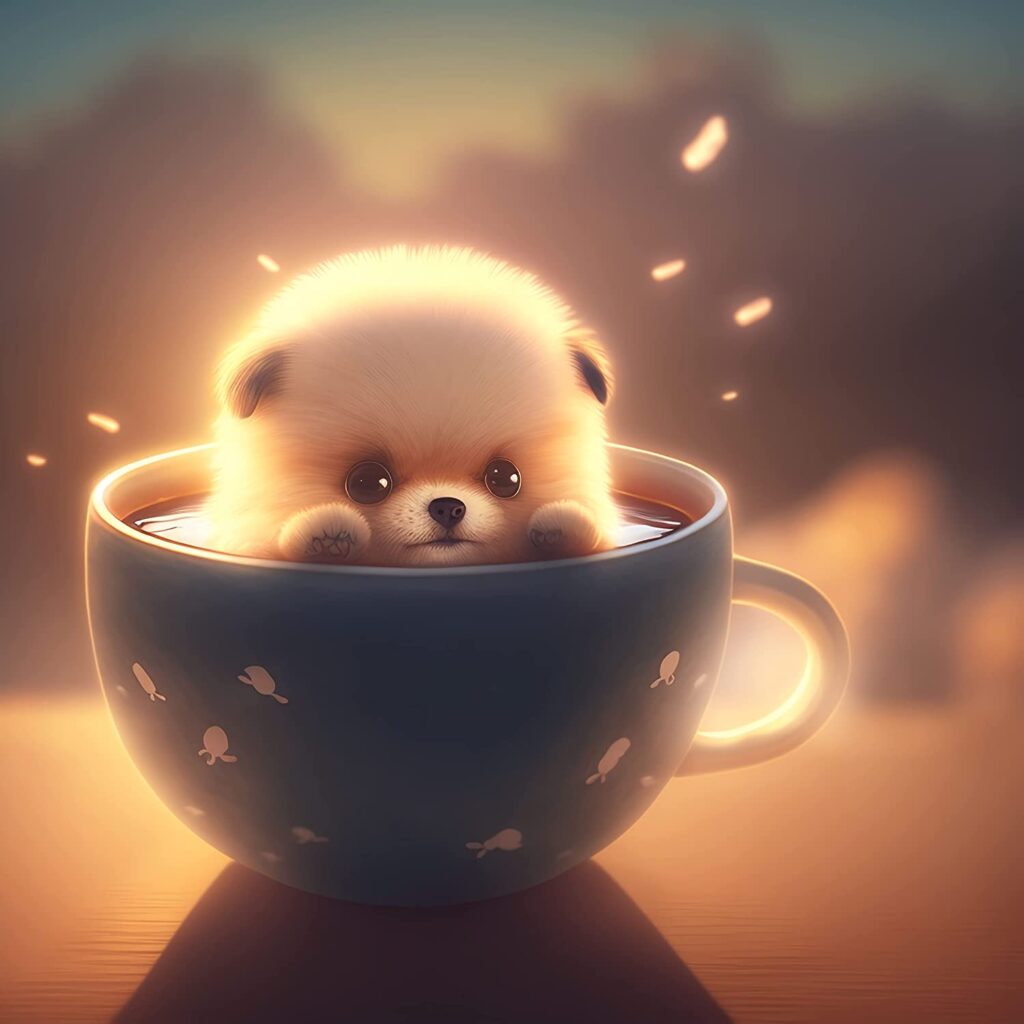 About the Puppy in a Teacup Diamond Painting
What more is there to say? It's a bleeping Puppy in a Teacup. This may be one of the cutest images I've ever scene, along we've got a few other contenders below (like Mouse in a Jar, for instance).
Aside from the cuteness it's got some brilliant lighting effects that make for very satisfying diamond application.
It's also a relaxing scene, calm and peaceful, in addition to fantastical.
Maybe even enjoy it with a cup of tea? Just don't dunk your poor pup in it.
6. Cutest Cat Diamond Painting Kit – Kitten in Space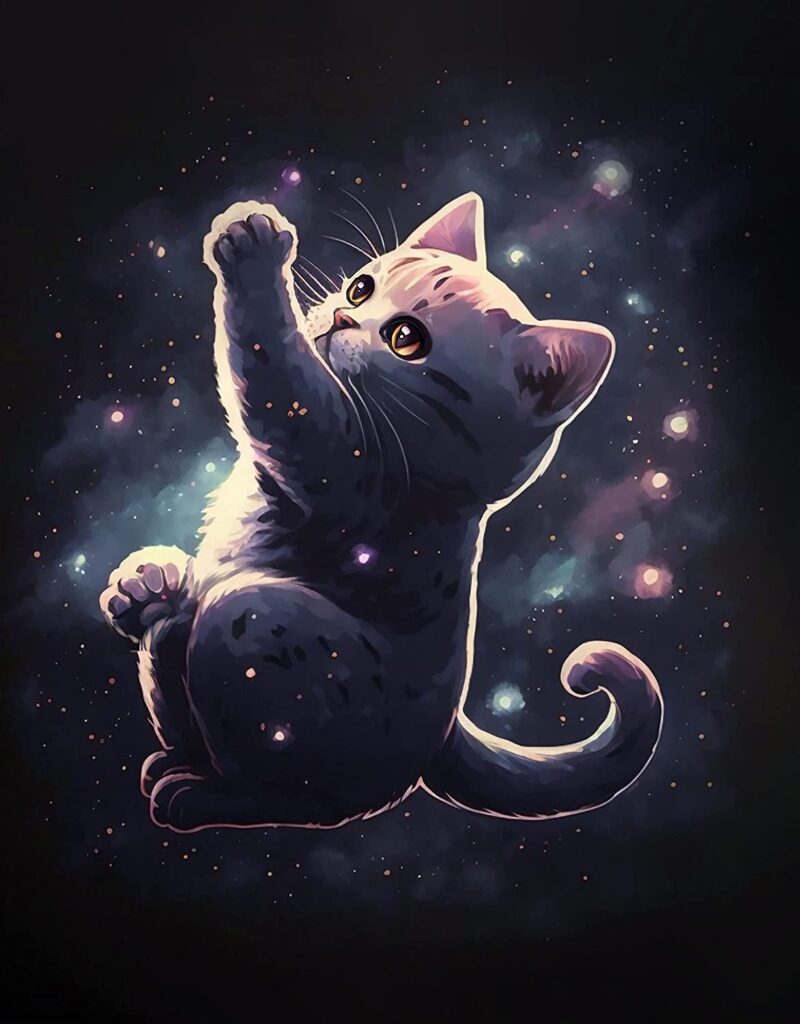 Maybe we spoke too soon. It's probably hard to find something cuter than a tiny little Kitten in Space placing with stardust like it was a cat toy.
In terms of the colors, like other space scenes, this has some good contrast between the space/stars and the kitten. We might have asked for some additional "space stuff" in the background to spruce it up, but we'd be hard pressed to complain much about this one.
If you are a cat person, you probably can't pass this one up.
7. Best Night Scene Diamond Painting – Starlit House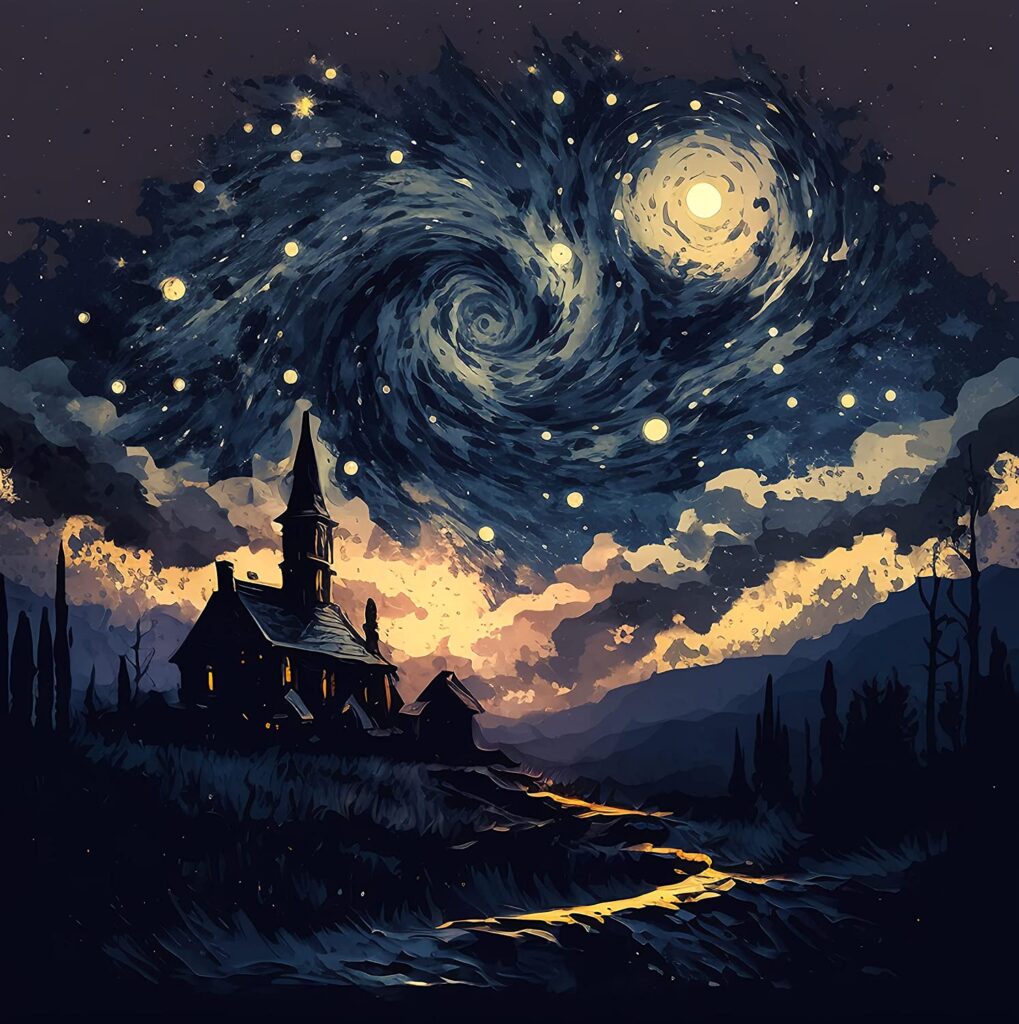 Sort of like a spooky, New England, halloween-esque version of "Starry Night", "Starlit House" diamond painting is a great option for halloween-time, or for those that love this type of ambience. The rich dark hues and high contrast stars and clouds make for really satisfying drill groups.
It was also a nice change of pace of bright sun and flowers kits that we've been doing, so if you'd like to switch it up, this is a good option!
8. Best Fantasy Diamond Painting Kit – Kitten Tea Party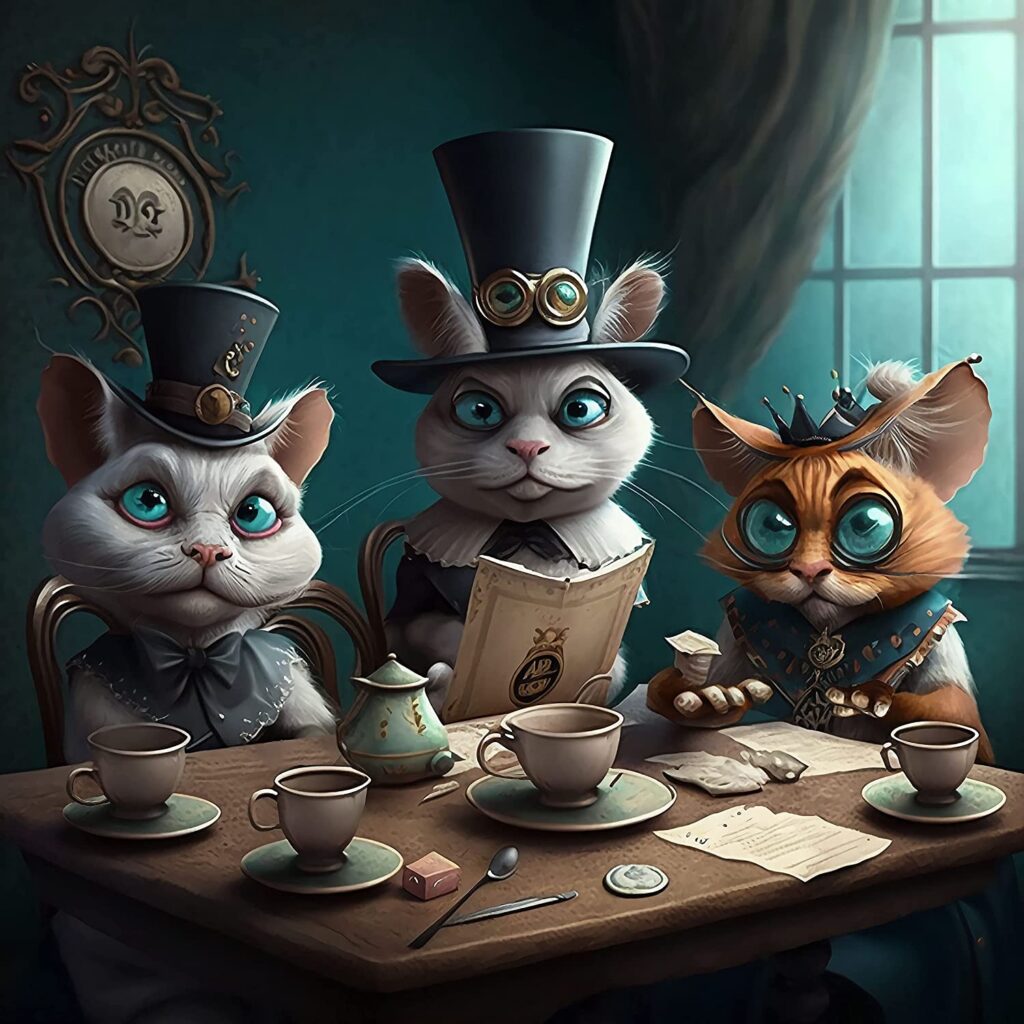 Did someone say "Alice and Wonderland". Well, no, technically not. I'm not sure when exactly the fantastical characters of Lewis Carroll's "Through the Looking Glass" become public domain, so we'll give these guys the benefit of the doubt and call this a very nicely designed coincidence.
Whatever you call it, "Kitten Tea Party" this is a great diamond painting that pulls on some surreal, fantastical elements. The bright blue eyes of the cats make for great contrast, and the uncanny valley effect makes these pretty evocative. Honestly, this one might spook the kids, so use your judgement.
9. Runner-Up Night Scene – Starlit Forest Diamond Painting Kit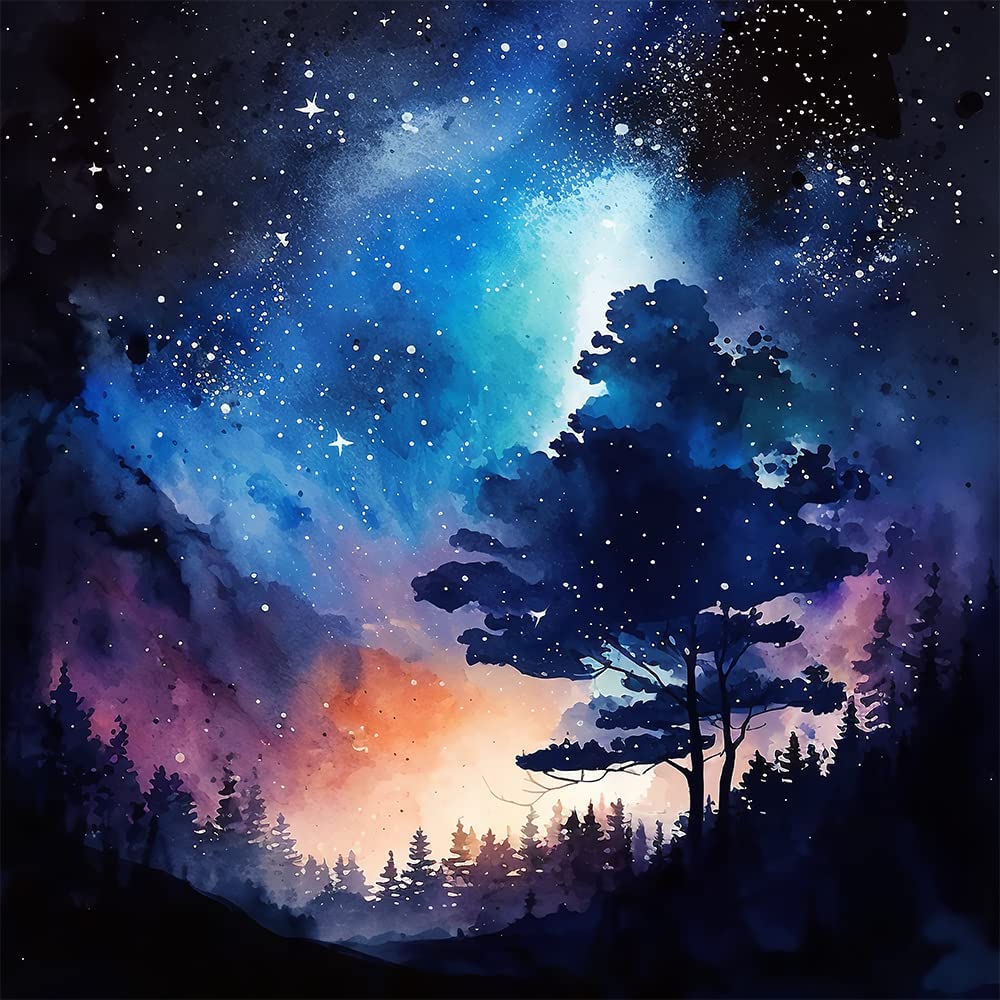 If you like star-scapes, then "Starlit Forest" a great option. It's got the stars in the night sky, but it's also got the nebulous colors of clouds or galaxies that make for great diamond drill-ing.
Rich oranges that fade into purples and pinks, contrasting with rich dark hues, it's a really nice scene.
10. Quirkiest Diamond Painting Kit – Baby Duck in Space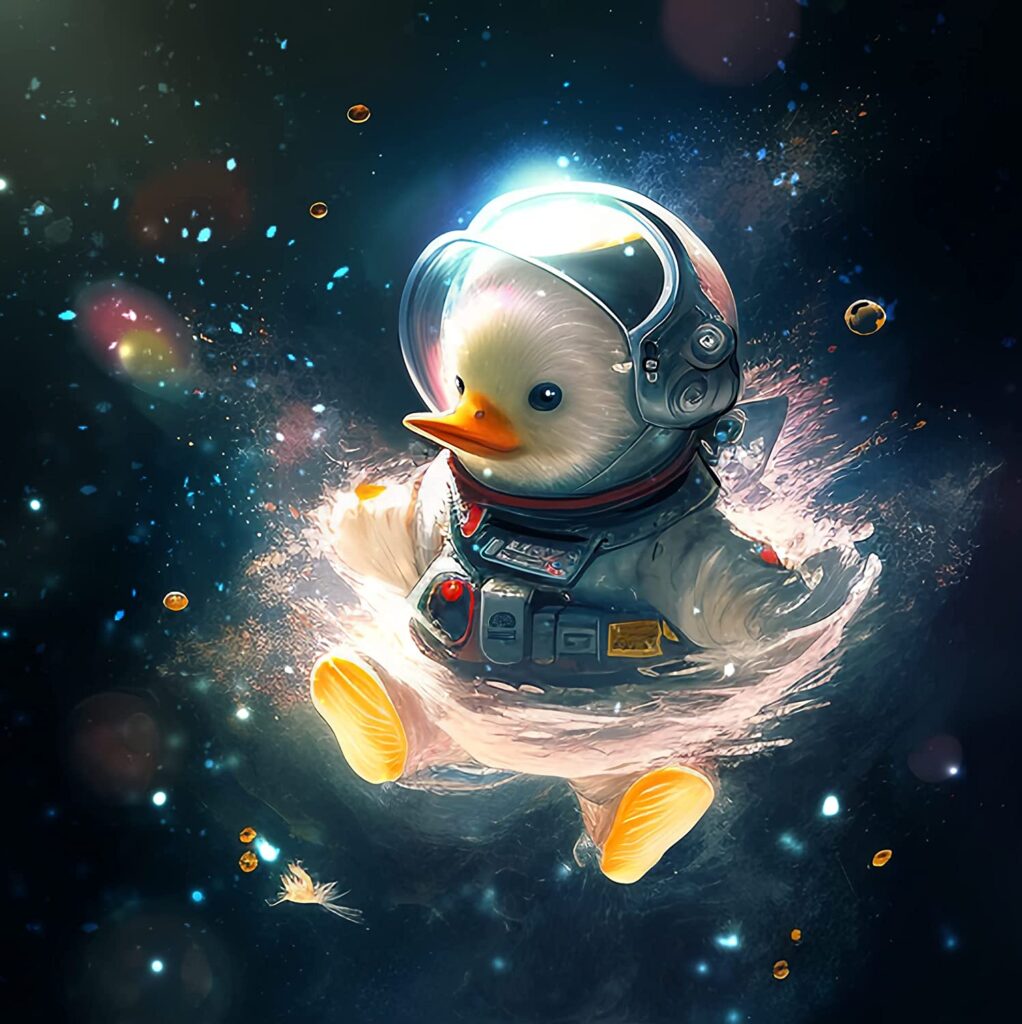 What can we say? "Baby Duck in Space" is just a really quirky, interesting kit. It's both cute, and fantastical. It's got rich darks, but bright whites and oranges, for some really good contrast.
Reminds us a little bit of a "Howard the Duck" meets "Apollo 13". Idk, quirky all around, but we like it.
11. Best Landscape Diamond Painting Kit – Starlit Mountains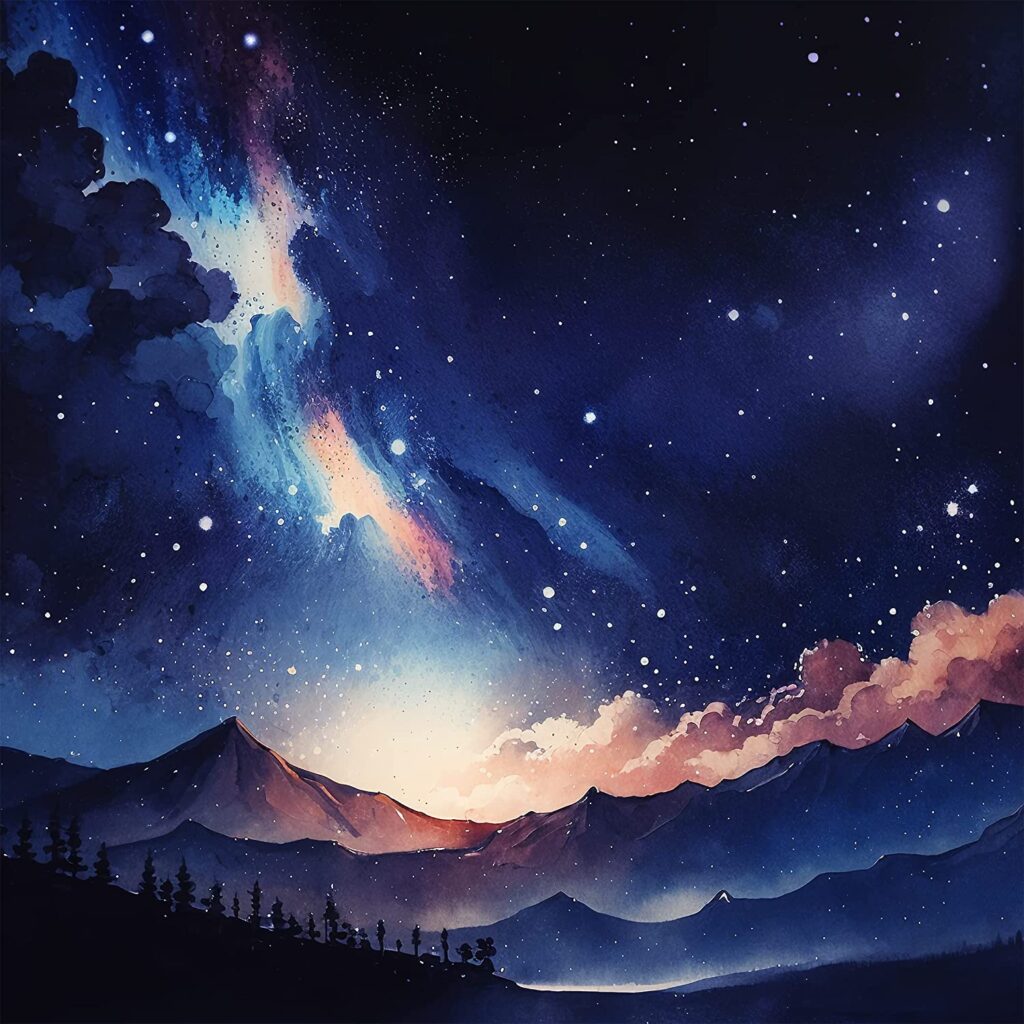 For another starry, landscape option, here is "Starlit Mountains". It's got lots of similar traits to "Starlight Forest" above, include the same colorful clouds/galaxy effect, but combines with a some nice mountains. It sort of has a watercolor effect, which is sometimes a nice change of pace from the sleeker photograph effects of some other kits.
That's it for our choice of the best kits in 2023. See below for a breakdown of the diamond painting crafting process for some more useful info:
About Diamond Art Painting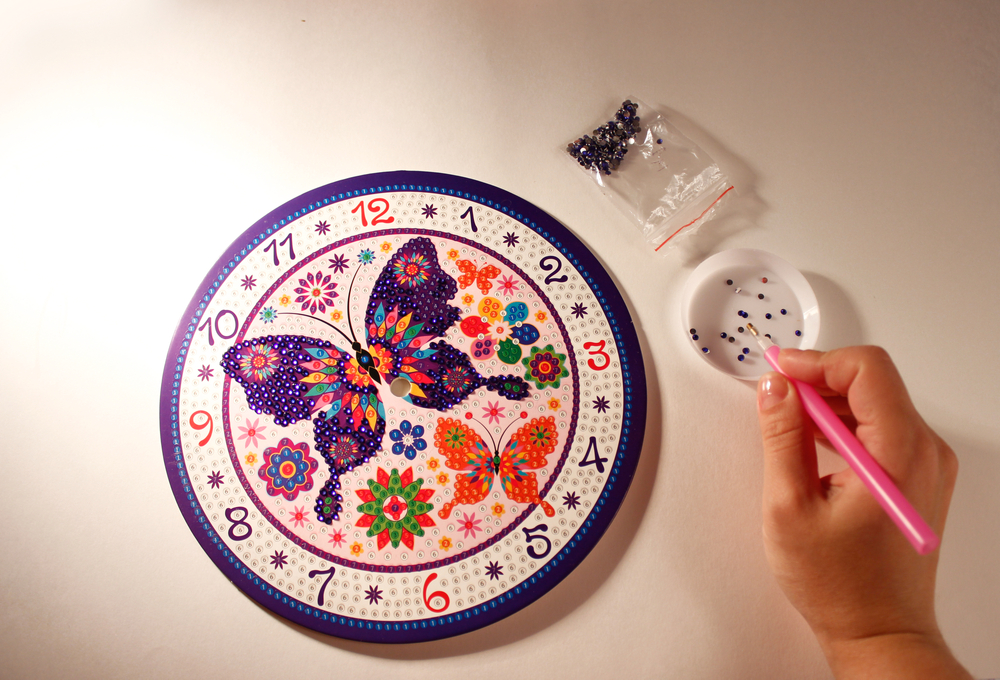 Diamond art kits come as a canvas with a sticky background that is protected by a plastic covering. The canvas has little sections that are either color-coded or number-coded, similar to paint-by-number, where each diamond is glued to create a whole image. A complete kit comes with the right tools to assemble your diamond painting, such as an applicator, sometimes called a diamond pen, tweezers, plastic plates, painting mud or gel, and diamond beads.
Two different types of kits can be purchased–3D and 5D kits explained in more detail below. What's more, diamond paintings with square or round diamonds should also be considered based on skill level.
3D Diamond Painting
Each bead is called a drill with sides that are called facets. A 3D diamond painting has three facets on each side for a total of nine facets. These facets are easier to use than 5D and are recommended for beginners.
5D Diamond Painting
5D diamond painting kits have more facets on each side, for a total of 15 with five facets on each side of the drill. They are generally more challenging to hold and require more hand-eye coordination.
Round Drills
Round diamond drills simple means round diamonds are used in the kits. They are easier to pickup and take up more space (meaning fewer diamonds are needed to complete the painting) due to their larger size and shape. While most diamond painters ultimately prefer square drills, round drills may be best for beginners just entering the world of diamond painting.
Square Diamond Drills
Square diamond drills simple means square diamonds are used in the painting. Some may find these are more difficult to use since alignment is important (unlike round drills) and errors will be more noticeable then round drills.
However, most diamond painters prefer square drills. Many report satisfaction that the square drills 'snap' into place, leading to stress relief when working through the painting. A square drill is the more common diamond kit and can contain more complex paintings than round drills.
Full Drill vs. Partial Drill Kits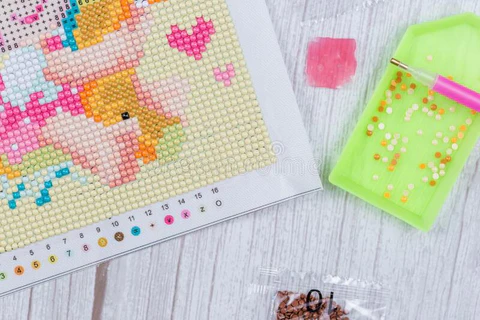 A full drill contains a full canvas that, once complete, includes the entire canvas as one picture, whereas a partial drill kit includes one image on multiple canvases. An entire drill is best for crafters with more experience as it takes more time than smaller, assorted canvases. In addition, assorted canvases can be completed by multiple family members and be combined once complete.
Conclusion
We hope you found our guide to the best diamond painting kits helpful. We've covered the different types of diamond art painting options available and have shared our recommendations in various contexts.
We've discussed how you can choose the best diamond art painting kits with different features. Lastly, we've combined our recommendations to create fun art kits for every budget.
Thanks for reading; we hope our suggestions help you choose the best diamond art kits for gift-giving this holiday season.