Diamond painting kits might be your next favorite craft if you've ever embroidered, completed a paint by number, or DIY painting. Similar to sand painting, diamond art takes focus, a steady hand, and patience. Ideal for kids or adults who love handcrafting and creating beautiful art, this new artform will add more sparkle to your life and has been known to even reduce stress.
Fun fact: Diamond painting originated in China in 2010 and has just recently gained traction worldwide.
Creating art using small bead-like diamonds to form a beautiful image is an excellent gift idea and might be just what your favorite crafter wants this holiday season. When purchasing your kit, some features to look out for include whether all the tools are included. If they aren't, the company will quickly replace them, the shape of diamonds and premium quality materials. Note that the shape of the diamonds determines the difficulty level, which is explained in more detail below. Read on to learn our top favorite diamond kits based on the above criteria.
Diamond Art Painting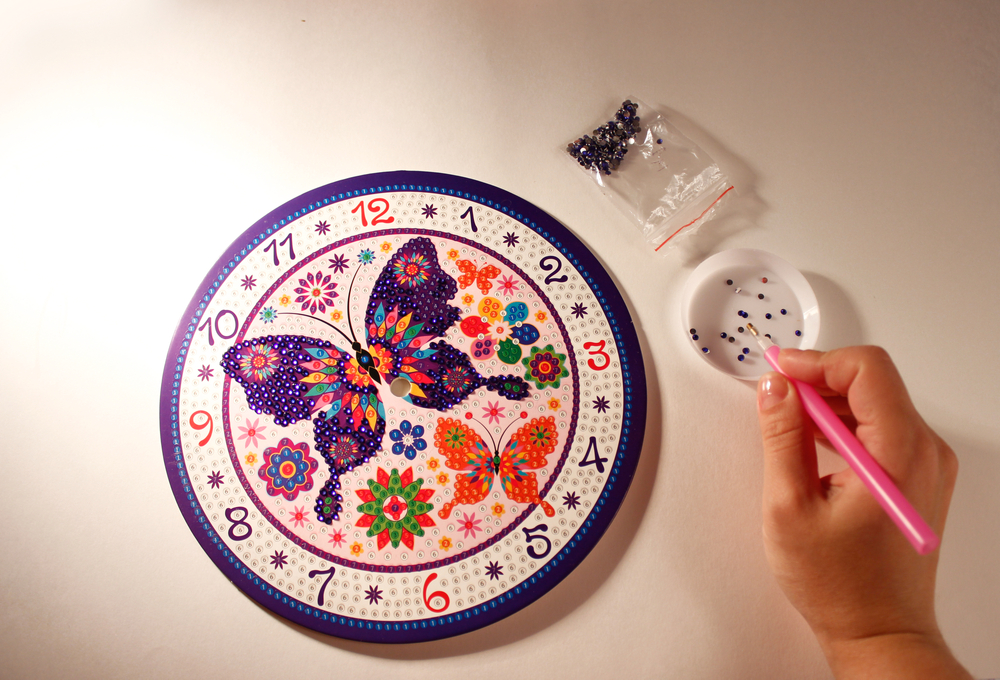 Diamond art kits come as a canvas with a sticky background that is protected by a plastic covering. The canvas has little sections that are either color-coded or number-coded, similar to paint-by-number, where each diamond is glued to create a whole image. A complete kit comes with the right tools to assemble your diamond painting, such as an applicator, sometimes called a diamond pen, tweezers, plastic plates, painting mud or gel, and diamond beads.
Two different types of kits can be purchased–3D and 5D kits explained in more detail below. What's more, diamond paintings with square or round diamonds should also be considered based on skill level.
3D Diamond Painting
Each bead is called a drill with sides that are called facets. A 3D diamond painting has three facets on each side for a total of nine facets. These facets are easier to use than 5D and are recommended for beginners.
5D Diamond Painting
5D diamond painting kits have more facets on each side, for a total of 15 with five facets on each side of the drill. They are generally more challenging to hold and require more hand-eye coordination.
Round Drills
Round diamond drills simple means round diamonds are used in the kits. They are easier to pickup and take up more space (meaning fewer diamonds are needed to complete the painting) due to their larger size and shape. While most diamond painters ultimately prefer square drills, round drills may be best for beginners just entering the world of diamond painting.
Square Diamond Drills
Square diamond drills simple means square diamonds are used in the painting. Some may find these are more difficult to use since alignment is important (unlike round drills) and errors will be more noticeable then round drills.
However, most diamond painters prefer square drills. Many report satisfaction that the square drills 'snap' into place, leading to stress relief when working through the painting. A square drill is the more common diamond kit and can contain more complex paintings than round drills.
Full Drill vs. Partial Drill Kits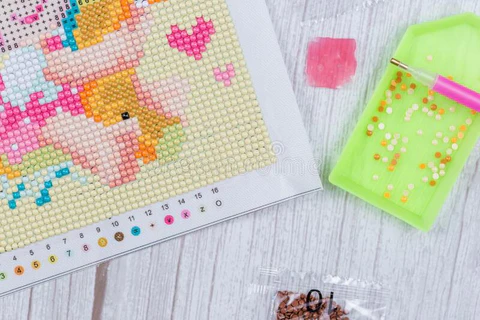 A full drill contains a full canvas that, once complete, includes the entire canvas as one picture, whereas a partial drill kit includes one image on multiple canvases. An entire drill is best for crafters with more experience as it takes more time than smaller, assorted canvases. In addition, assorted canvases can be completed by multiple family members and be combined once complete.
Our Product Recommendations
Best Diamond Painting Kits Overall – Paint with Diamonds Diamond Art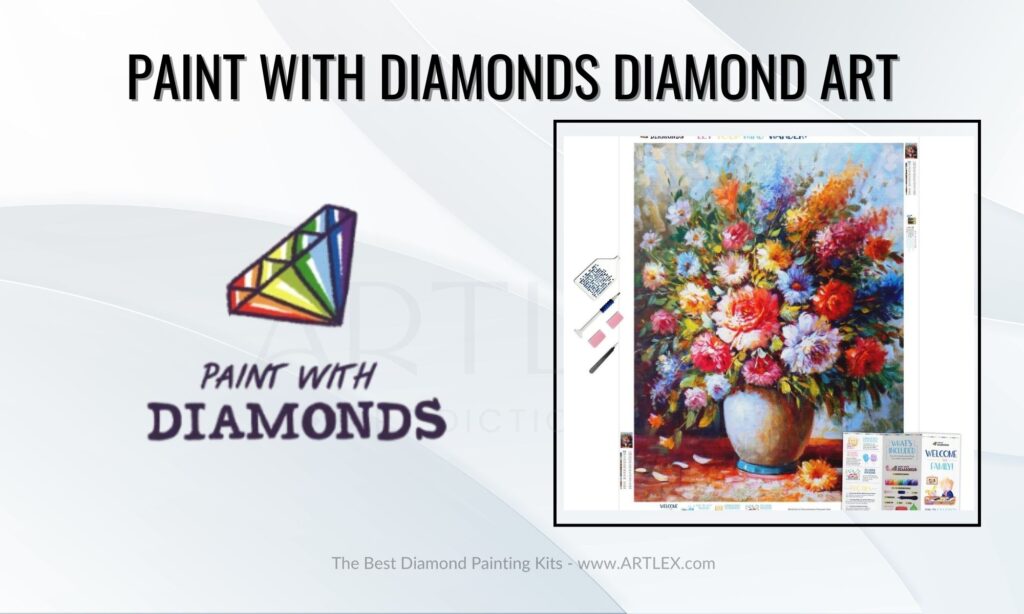 Price – ~$19.99 (Was $67.98) – Our score: 7/10
Full Kit – Yes – Our score: 9/10
Shape – Round or Square – Our score: 9/10
Quality – Moderate – Our score:7/10
About Paint with Diamonds
Kids will hone their fine motor skills with this DIY diamond painting that reminds us of days gone by. This kit is one of the best sellers and comes with non-toxic resin diamonds. This happy Christmas scene is sure to keep your little one occupied for hours. In addition, the entire picture is 15×20 inches. Young children must be supervised while creating their diamond art as long-term exposure outside of the plastic will dry out the adhesive backing on the canvas. Buyers will have an additional 20% off using the discount code provided on the website.
Pros
Unlike other brands, this kit has eco-friendly diamonds
Beautiful and nostalgic image of quality diamonds
Can be completed in five easy steps
No hassle replacement guarantee
DMC color-coded diamonds for less eye strain
Cons
International shipping can take a few weeks
Best Custom Diamond Painting Kits Full Drill – Heartful Diamonds Custom Diamond Painting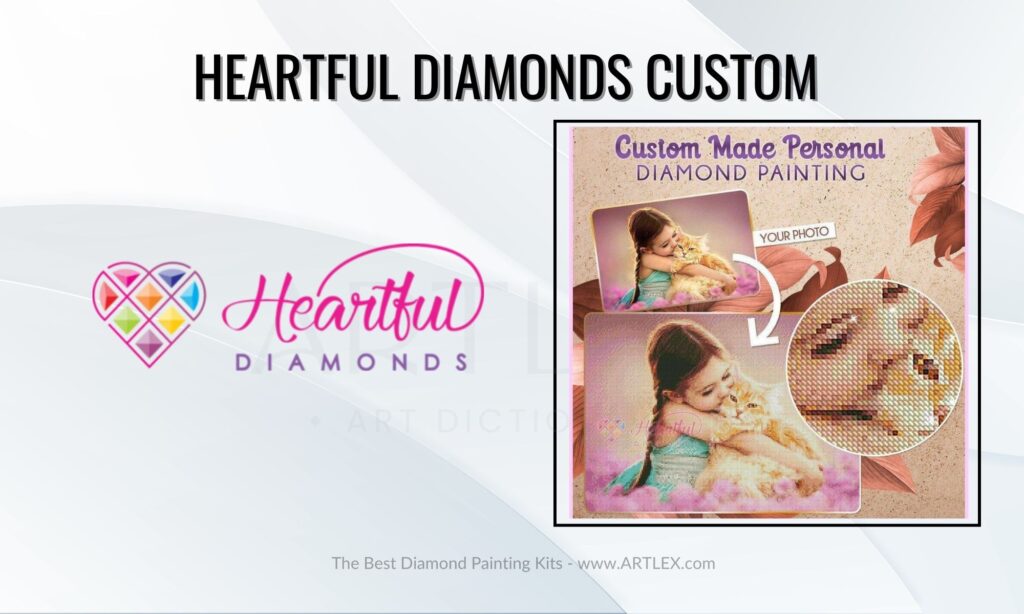 About Heartful Diamonds
Price – ~$40 (Was $60) – Our score: 7/10
Full Kit – Yes – Our score: 9/10
Shape – Round or square – Our score: 8/10
Quality – Moderate – Our score: 7/10
This ideal kit is another of the best sellers for custom diamond art kits for anyone who loves Christmas scenes. Like number kits, this diamond painting has a number of vibrant colors to organize and apply with gorgeous diamonds with easy-to-follow instructions. This full kit includes all tools needed to complete the painting. The canvas is 16 x 24 inches and is the perfect size to bring any empty wall to life.
Pros
Includes custom photos images
Free shipping on orders over $50
Drills will quickly be replaced by the manufacturer if lost or broken
Cons
Shipping may take up to 30 days
Does not deliver to Hawaii or Alaska
Best Intermediate Diamond Painting Kits – Diamond Art Club Diamond Paintings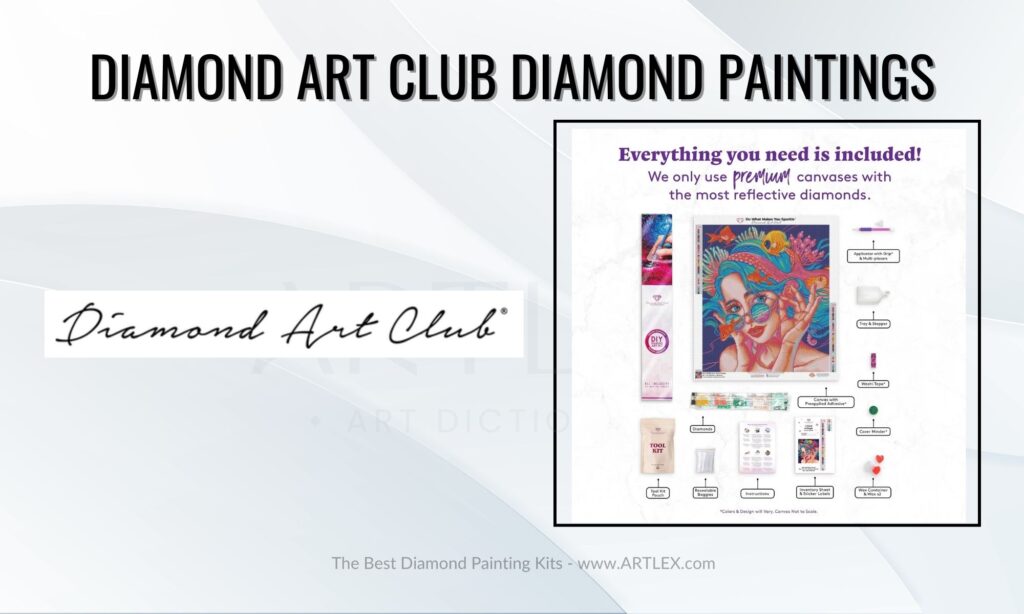 Price – ~$79.99 – Our score: 8/10
Full Kit – Yes – Our score: 9/10
Shape – Square – Our score: 7/10
Quality – High – Our score: 7/10
About Diamond Art Club
Intermediate users will appreciate the difficulty of this vibrant and colorful Christmas scene with its square diamonds. The canvas allows users to quickly see the colors to avoid eye strain while the adhesive is strong enough to ensure the diamonds stay in place even if displayed on a wall. To protect the final product, we suggest framing the image behind glass. The manufacturer will quickly send out replacements if users run out of diamonds.
Pros
30-day money-back guarantee
Fast shipping from the USA
Lifetime warranty
Shipping is free during the Christmas holidays
Cons
Ships only within the USA
Best Individual Diamond Painting Kits on Amazon – AIRDEA Moon 5D Diamond Art
Price – ~$10.98 – Our score: 9/10
Full Kit – Yes – Our score: 9/10
Shape – Round or Square – Our score:8/10
Quality – Premium – Our score: 9/10
About AIRDEA Moon 5D Diamond Art
DIY diamond painting has never been easier than with this round full drill diamond art kit. Ideal for adults, this beautiful 5D diamond painting art of the moon is of the highest quality and will keep anyone busy for days. Unlike other kits, this custom diamond painting comes with a painting roller, a storage box for the diamonds, canvas, pen, and gel. Note that the drills are not made of resin in this kit, making them more vibrant and shiny than other resin-made drills. The canvas measures 11.8 x 15.8 inches and will make a beautifully framed picture for any wall.
Pros
Each canvas comes with all tools needed to complete the painting
Premium quality
Comes with a box to organize all items neatly
Available in round or square diamonds for different skill levels
Cons
May be too difficult for children
Runner-Up Diamond Painting Kits on Amazon – AIRDEA Beach 5D Diamond Painting Kit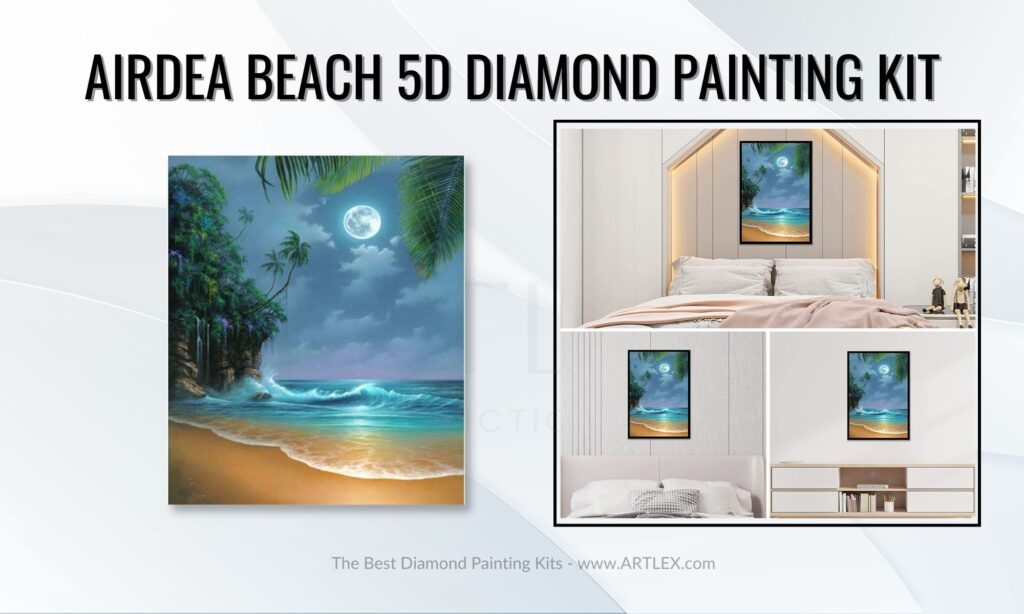 ​​
Price – ~$7.98 (Was $9.98) – Our score: 9/10
Full Kit – Yes – Our score: 9/10
Shape – Round – Our score: 8/10
Quality – High – Our score: 8/10
About AIRDEA Beach 5D Diamond Painting Kit
Adults will appreciate the wonderful craft of this round drill diamond painting with its peaceful beach scene and cross-stitch pattern. The diamond art canvas is 16.18 x 2.80 inches, and each of the round diamonds has 18 facets that make them sparkle more. The HD canvas is waterproof, and each creative art kit comes with additional diamonds.
Pros
HD waterproof canvas
Diamond cross stitch pattern
Is one of the best sellers on Amazon
Can be framed and displayed on a wall
Cons
Instructions are difficult to follow
Conclusion
We hope you found our guide to the best diamond painting kits helpful. We've covered the different types of diamond art painting options available and have shared our recommendations in various contexts.
We've discussed how you can choose the best diamond art painting kits with different features. Lastly, we've combined our recommendations to create fun art kits for every budget.
Thanks for reading; we hope our suggestions help you choose the best diamond art kits for gift-giving this holiday season.