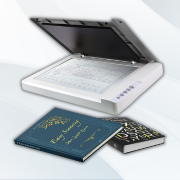 Well-rounded art scanner with large format support and high color accuracy.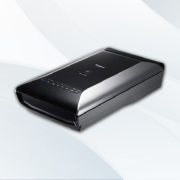 Professional flatbed scanner with high bit depth and resolution, excellent for consistent scans.
Canon CanoScan 9000F MKII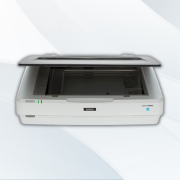 Offers the highest resolution among artwork scanners, ideal for precision scans.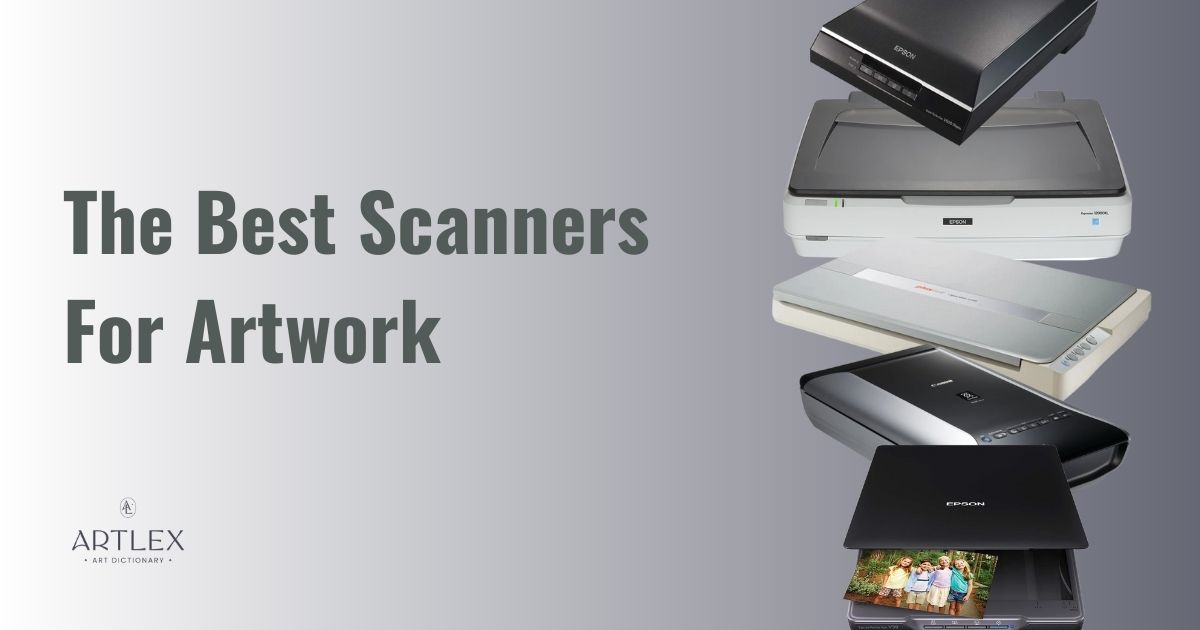 In this article, we'll be discussing the best scanners for artwork and artists. Our objective is to help our readers make the best buying decision possible.
While picking out these art scanners, we spent over 25 hours testing, researching, writing and editing this guide. Our research was based on testing, expert opinion, and user feedback. We certainly hope you find the guide useful and are able to land on the perfect art scanner for you.
As part of this process, we landed on specific selection criteria for artwork scanners. Then, we graded each of our recommended products with a score of 1-10 on each criterion.
After writing out the selection criteria, we put out various relevant use cases for each scanner. These use cases include the likes of the best portable scanner or the best scanner for offices, etc. These use-case recommendations will help to identify the most relevant scanner for your situation.
Enjoy!
How To Choose the Best Scanner for Artwork
For an optimal decision-making process, we've decided that the following selection criteria are the best for picking the best scanners for artists.
Bit Depth
Bit Depth is also known as color depth; it represents the number of bits of color in a single pixel. A higher bit depth gives the users more flexibility and data to work with upon scanning the document.
Some bit depth options include 8-bit, 16-bit, and 32-bit. Ideally, you'd want your scanner to have 32 bits, but you can go as low as 16-bit.
In today's article, we'll be looking at scanners that have bit depth ranging from 24 bit up to 32 bit.
Scan Resolution
Scanner resolution refers to the density of pixels that a scanner can scan. It is a critical selection criterion as an artwork's clarity and color accuracy depend entirely on the scan resolution.
Scanner resolution is measured in Dots-Per-Inch or DPI. Ideally, you'd want a 600×600 DPI resolution scanner. This is the best scanning resolution for scanners as the color accuracy and text clarity stays intact within this threshold.
In today's article, the scanners that we'll be recommending have 600DPI each. So all of them have the perfect scan resolution!
Supported Scanning Media
Different scanners have different scan portal sizes and handle various media. For example, a standard document scanner may only take a few different paper sizes.
Ideally, you'd want your scanner to scan at least letter and legal-sized papers as these are the most used papers in the US.
In today's article, we'll be talking about scanners that support printing papers such as Envelopes, letters, Legal, ID card, and Business cards.
Scanning Speed
Scanning speed refers to the rate at which a scanner can scan a piece of paper or media. Usually, a higher scanning speed is better for professional usage as businesses prefer documents to be processed quickly.
Scanning speeds are measured in PPM (Pages Per Minute). Ideally, you'd want your scanner to have a minimum of 30PPM printing speed. However, the scanning speeds might not be the same as higher resolution documents take longer to be scanned at a similar resolution.
Today's article will discuss scanners that have scanning speeds between 10 PPM and up to 40 PPM.
Connection Interfaces
Connection interface refers to the ways you can connect other devices to your scanner. Connection interfaces are essential as you may need to import documents from various devices from time to time.
As most devices have some form of USB connectivity option, a USB port is considered the gold standard in terms of connection interfaces for scanners. Some scanners even have a wireless connection available, but wireless connectivity is costly and largely unnecessary. Thus a scanner should have USB connection options at the very least.
In today's article, we'll be taking a look at scanners that offer connection interfaces such as USB 2.0, USB 3, and Wireless connections.
Price
Perhaps the most deciding factor among all of these is the price of a scanner. Based on the current market, we can divide the scanners into three portion
Cheap – $200<
Mid-Range – $200-$350
Expensive- $350+
After considering all possible selection criteria, we've concluded that the best scanner for artists is the Plustek OpticSlim A3. This scanner scores near perfect on our selection criteria and is our overall top pick!
Our Product Recommendations
#1. Best Overall Scanner for Artwork – Plustek OpticSlim A3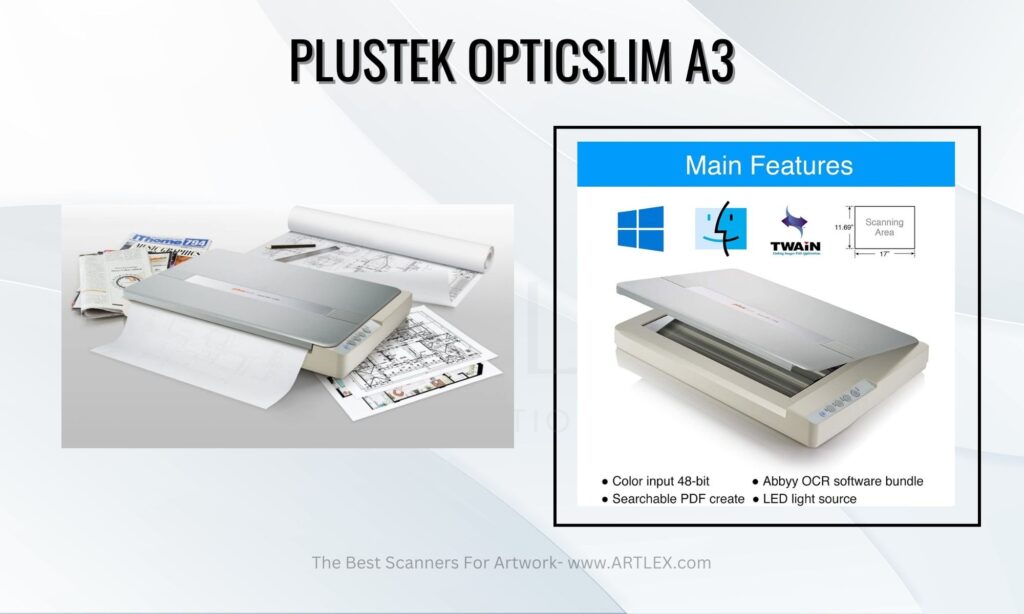 Selection Criteria
Bit Depth – 48 Bit (External), 24Bit (internal)
Scan Resolution – 1200 DPI
Compatible Scan Media – Large Media format as well as general scan media such as A4 papers.
Scan Speed – Up to 30 PPM
Connection Interface – USB 2.0
Price – $400
About the Plustek Opticslim A3
The best scanner for artists overall is the Plustek Opticslim A3. While it doesn't have a specific thing that stands out about it, it has the most well-rounded configuration for an art scanner at the moment. So it's straightforward to claim that this is the best scanner for artwork.
The Opticslim A3 is a large format scanner, so scanning canvas papers or cardstock wouldn't cause issues. Furthermore, this is one of the very best scanners in terms of handling media support. Just about any scanning media, you can think of works with this scanner.
The scanning technology offered here is also one of the best. It doesn't take much effort to run this scanner or use its functions. All a person needs to do is set their preferences on the scanner and set it to auto-scan mode. The high color depth, as well as color accuracy, makes this an even better artwork scanner.
Pros
It provides the most value for money among art scanners at the moment.
Compatible with just about any art media.
The auto scan mode ensures a smooth using process of the scanner.
Color accuracy is greatly improved because of the high color depth rate.
Cons
Compared to other scanners, it's one of the lesser-known brands, so the warranty claiming process is slightly painful.
#2. Best Scanner for Film and Negatives – Canon CanoScan 9000F MKII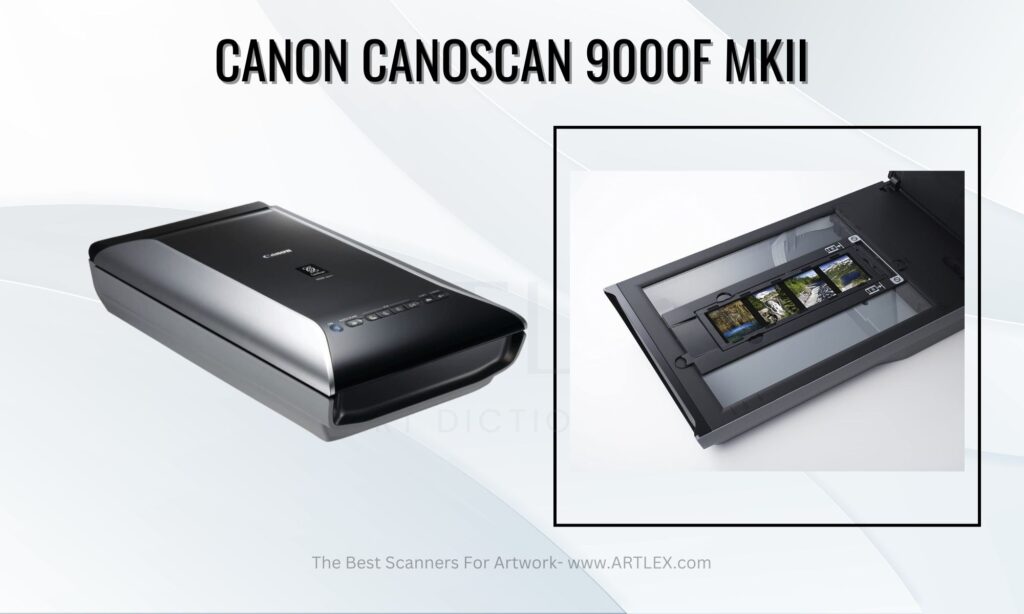 Selection Criteria
Bit Depth – 48 Bit
Scan Resolution – 9600 DPI
Compatible Scan Media – Letter, Legal, Cardstock .
Scan Speed – Up to 25 PPM
Connection Interface – USB 2.0
Price – $200
About the Canon CanoScan 9000F MKII
Professional Artists often have to deal with the accuracy issues of their scans. To achieve the most accuracy in a scan, it's pivotal for the scanner to have as much resolution as possible. This is why we believe that the Canon 9000F MKII is the best high-resolution scanner.
As we've stated already, this scanner has the maximum resolution among artwork scanners, making it an easy choice to go for if detailing or object lining accuracy is the main thing a user wants. It also comes with an auto-scan feature through which a user can scan quickly and efficiently.
The supported scan media is quite diverse, and it covers some of the most used media by artists. However, you won't be able to scan large files with this scanner. Though it supports the maximum resolution, it isn't a large format scanner. The connection interface has some tune-ups from the factory, which allows it to transfer data the fastest among standard USB 2.0 interfaces.
Pros
It has the maximum scan resolution among art scanners ( Both Optical and Interpolated).
The film automatic retouching feature corrects any debris or cracks on the scanner.
It's pretty light and compact, making it an excellent option for home/small offices.
Cons
The lid isn't entirely removable.
#3. Best Large Format Art Scanner – Epson Expression 12000XL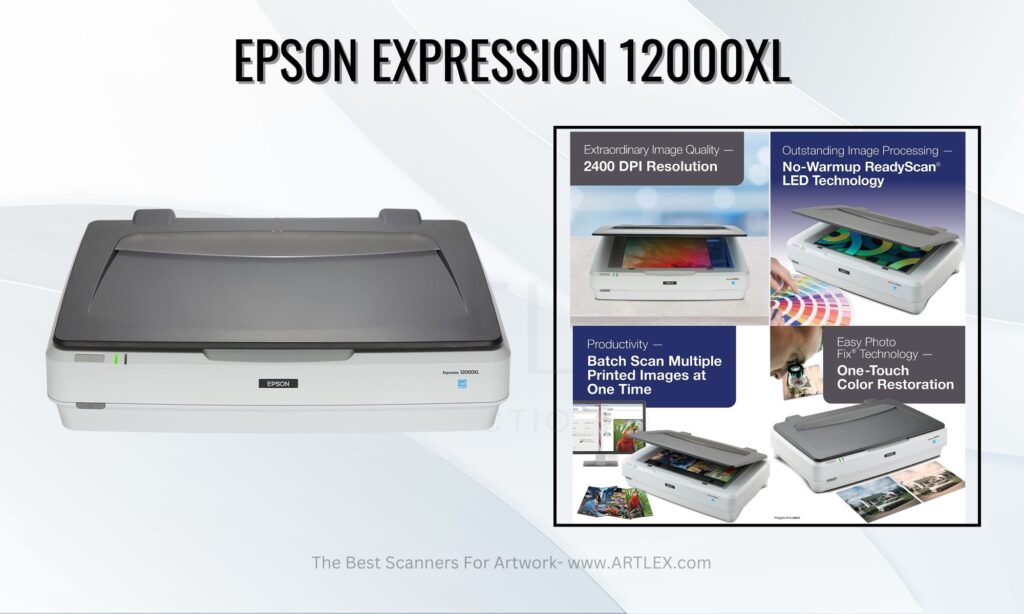 Selection Criteria
Bit Depth – 48 Bit
Scan Resolution – 2400 DPI
Compatible Scan Media – Letter, Legal, Cardstock, and most of the large format media.
Scan Speed – Up to 31 PPM
Connection Interface – USB 2.0
Price – $3000
About the Epson Expression 12000XL
The Epson 12000 XL is the scanner that ensures the utmost scan quality in terms of large format scanning media. Though most scanners offer high-quality scanning, they often aren't compatible with scanning more extensive format media.
It isn't a surprise that this scanner can easily scan larger media, but it does so while maintaining superb image quality. The bit depth and scan Resolution is the highest among the artwork scanners on this list.
This is also another quality scanner because it offers diversity in terms of printable media on top of maintaining accuracy. So the users can opt to scan either large or regular-sized media depending on their needs. Moreover, the scanner keeps crisp images no matter what format the user scans.
This scanner is also great at scanning different types of images. As a result, the scan quality is noticeable on a scanned image. In addition, the scanner has a persistent image quality across all of the scans, so accuracy (both color and details) isn't a thing to be worried about.
Pros
Scanned Images are color accurate due to impressive bit depth.
Compatible with most of the large scanning media as well as paper types
Despite higher scan speeds, image quality is maintained at higher resolution levels.
It's a durable scanner, and it would be a perfect fit for busy offices as well.
Cons
#4. Best Scanner For Professional Artists – Epson Perfection V600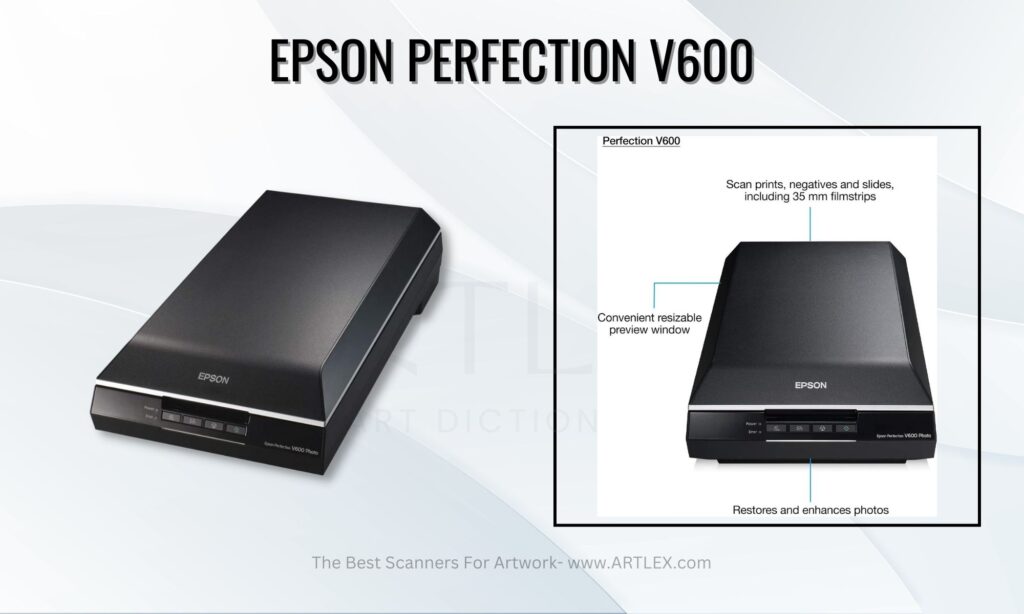 Selection Criteria
Bit Depth – 48 Bit
Scan Resolution – 6400 DPI (Optical)
Compatible Scan Media – Letter, 35mm, Medium Format
Scan Speed – Up to 23 PPM
Connection Interface – USB 2.0
Price – $250
About the Epson Perfection V600
The Epson Perfection V600 is the perfect scanner for professionals that print art frequently. It's a flatbed type scanner with a hit bit depth and scan resolution. This makes it one of the best scanners to pick for scanning artwork.
While the Epson Perfection V600 is slightly slow on the scanning speeds, it doesn't create any issues with the image quality because of the high bit depth count and scan resolution. In addition, since the scanner has consistency throughout its scans, it stands out as a significant art scanner for offices.
The scanning process with this scanner is straightforward due to it being a flatbed scanner. The flatbed system also helps to scan oversized images. On top of this, this scanner automatically detects any debris or cracks in the photo and fixes them. So it's safe to claim that this is one of the best scanners for artwork.
The OCR portion of the Epson perfection V600 is quite decent too. So it has no problem in being used as a document scanner. It also has a removable lid in case the lid gets damaged anyhow.
Pros
Excellent Color depth ensures color accuracy and excellent image quality.
It has one of the highest scanning resolutions among art scanners.
On top of scanning artwork, it also supports document scanning.
The removable lid makes body part replacement easier in case any accidents occur.
Cons
It doesn't scan negatives.
Lacks auto-scan feature
#5. Best Scanner For Beginner Artists – Epson Perfection V39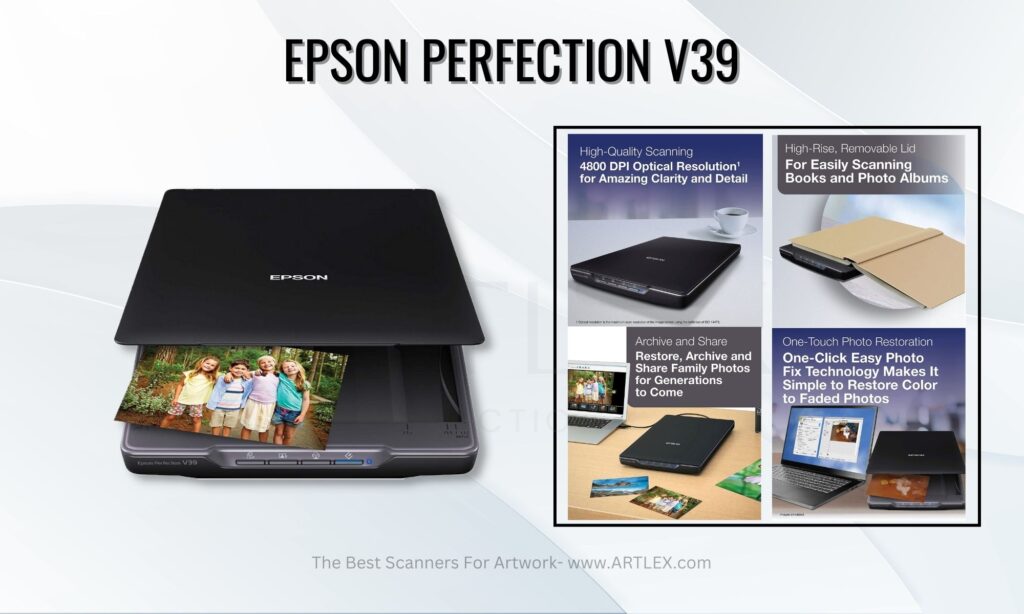 Selection Criteria
Bit Depth – 48 Bit
Scan Resolution – 4800 DPI
Compatible Scan Media – A4, Letter and similar sizes
Scan Speed – Up to 10 PPM
Connection Interface – USB 2.0
Price – $99
About the Epson Perfection V39
Like the Epson scanner we've discussed above, the Epson Perfection V39 is another flatbed scanner that is excellent for scanning artwork. Due to having better bit depth and higher scan resolution, this scanner prioritizes image quality above everything else.
The Epson V39 is a good scanner for people who are getting into art. It has a smaller and compact size compared to other art scanners and also doesn't weigh much. Unfortunately, the less weight also means that it isn't a large format scanner, but it may not matter much as it is compatible with most scan media.
While the scanning speed is a section that could've been improved upon, besides being a scanner for beginners, this can also be used as a budget option art scanner. Though this is primarily a photo scanner, it also works great as a document scanner.
The removable lid is an excellent addition to an already valuable scanner. There are also no indications of smudging or blurring with the performed scans.
Pros
Provides excellent scan quality due to having a hit bit depth and scan resolution.
In comparison to other artwork scanners, it's straightforward to set up and use.
The price of this scanner is low, making it a good budget option.
Cons
The scanning speeds are below par.
Conclusion
This concludes our guide to finding the best art scanner. In this article, we've discussed how anyone can identify a good scanner based on their needs. After that, we gave out recommendations based on use cases.
At first, we discussed the prime selection criteria for the scanners. During that bit, we explained why things like bit depth, scan speed, scan resolution, and other factors mattered so much while buying a scanner for artists. Then, we discussed each of these criteria in detail, and we also have left recommended ranges for each of them.
During the 2nd part of the article, we recommended scanners based on the use cases we researched. We recommended users with both flatbed scanners and traditional scanners. Readers can relate themselves to these use cases and determine which scanner works out the best for them.
References