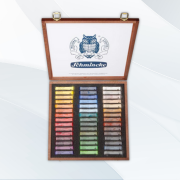 Premium-grade pastels offering vibrant colors and smooth consistency ideal for professional artists.
Faber Castell Creative Studio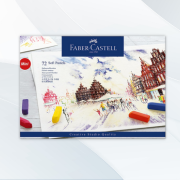 Vivid, beginner-friendly pastels with a harder consistency, perfect for drawing fine details.
Renowned for their pure pigments and buttery application, an excellent choice for creating vibrant artwork.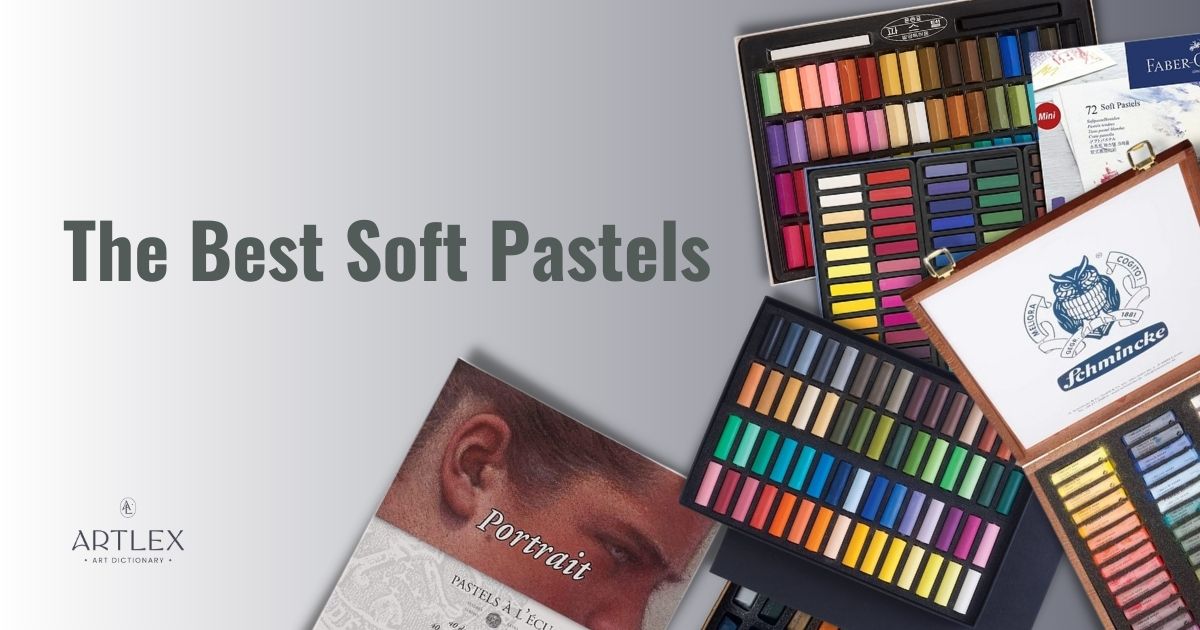 Pastels are an excellent art medium to pursue for those who are looking for the most unadulterated color, unlike acrylic paints or other art mediums. The vibrancy and purity of pastels are what draw many professional pastel artists to this art. Unlike other art mediums, pastels cannot be blended, so in order to master pastel techniques, a range of colors is essential.
FUN FACT: One of the most famous pastel artists was Edgar Degas, an impressionist painter from the 1600s, who transformed pastel painting with his bold and vivid use of color. His techniques are still widely used today.
How to Choose the Best Soft Pastels for Artists
When buying soft pastels, the following factors can help you choose the best soft pastels for your needs
Color variety
Grade
Soft pastel length
Price
We will also cover the best soft pastels for beginners, artist-grade pastels, and the best pastels for portraits. Since most soft pastels are made by hand from natural pigments, they are one of the more expensive art supplies available, but there are a few student-grade budget options available as well.
Types of Pastels
Pastels produce an opaque finish and are made by blending either a resin binder or gum binder and pigment, which are naturally derived in more expensive brands. On the other hand, soft pastels have less binder and more hue, making them more pliable and easier to blend.
Soft Pastels
Unlike other pastels, a soft pastel contains less gum or resin binder and more pigment, making them softer and easier to use than hard pastels, especially for large sweeping colors. Due to their more delicate makeup, sofer pastels create more pastel dust than other pastels.
Hard Pastels
Hard pastels have less pigment and more binder than soft pastels. Nor do they create the vibrancy and opacity of a soft pastel stick. They are also more difficult to blend or layer and don't have as much vibrancy.
Since they are more stable than soft pastels, hard pastels are mainly used for fine lines, and most professional artists use both hard and soft pastels in their paintings.
Chalk Pastel
As their name suggests, chalk pastels have a more chalky consistency as they are made mostly with calcium carbonate mixed with minimal pigment. Generally, they are not as smooth and creamy as other pastels. In addition, chalk pastels also tend not to be as opaque nor have such vibrant pastel colors.
Oil Pastels
Oil pastels are mixed with not just color, but with a wax binder and oil. Oil pastels are sometimes referred to as compressed pastels as they are condensed and therefore harder to break.
Pencil Pastels
Pastel pencils are simply pastel sticks encased in wood. They are a preferred art medium for beginners as they are cleaner to use than loose pastels and generally less expensive. We have a specific guide on the best pastel pencils if that is what you prefer.
Color Variety
A large assortment of hues is essential when working with pastels since they cannot be mixed like other mediums. The best soft pastel set will have no more than 72 colors and no less than 24. Some professionals have different sets of soft pastels for the concentration of colors, and others prefer to purchase individual pastels.
Since quality pastels are expensive, it is not recommended for beginners or students to invest in several soft pastel sets until they understand the different techniques employed specifically by pastel artists.
Grade
Artist-grade pastels or any art medium within this grade are of the highest quality that can be found anywhere in the art world. Professional artists will only use specific pastel brands like Rembrandt, Sennelier, or Schmincke, that are trusted and well known for their lightfastness, color quality, and vibrancy.
Student-grade pastels are intended to be used by beginners or students learning pastels. They contain hardly any mineral pigments, and the overall quality, including smoothness, and vibrancy, are considerably lower. They also have a more chalky consistency.
Price
Like all art supplies, the more you can afford to spend on soft pastel sets, the better the quality, including richer and more vibrant colors, smooth consistency when applied to pastel paper, and higher lightfastness.
Our Product Recommendations
1. Best Soft Pastels Overall – Schmincke Extra Soft Pastels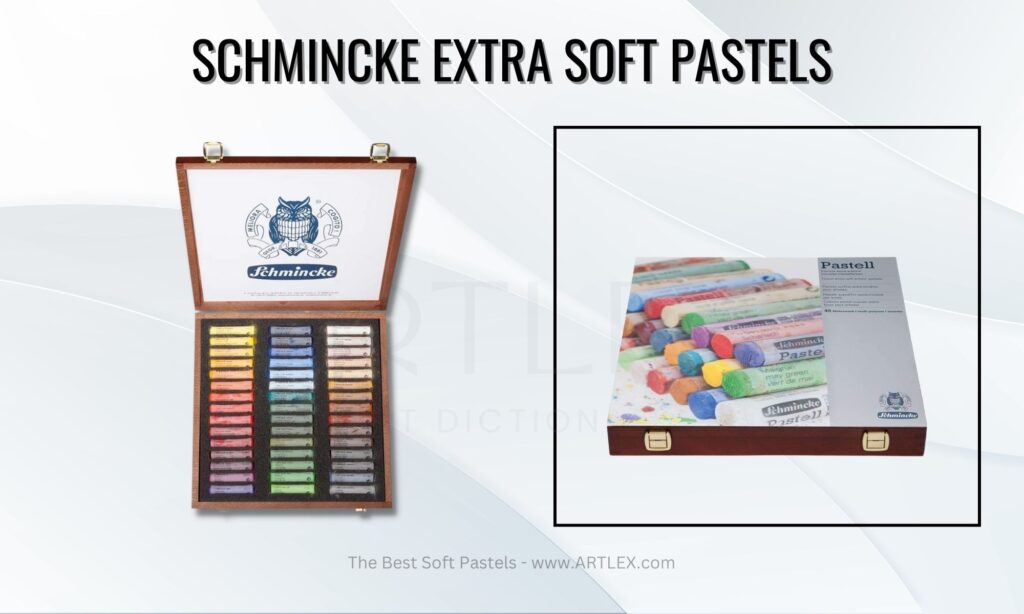 Price – ~$226.45
Color Variety – 45 Pieces
Soft Pastel Length – Half Stick
Grade – Artist
About Schmincke Extra Soft Pastels
These professional-grade pastels from Schmincke are among the best premium soft pastels available due to their soft and smooth consistency. The fine ground pure pigments produce vibrant colors that have the highest lightfastness and a marginal amount of binders. Professionals will appreciate these premium soft pastels for their color variety, including a range of blues, greens, purples, oranges and yellows, and a handful of browns and greys.
These soft pastel sticks also come in an attractive wooden box with foam inserts for easier organization, making this set the overall best soft pastels on our list and one of the best pastel brands available.
Pros
Have the highest lightfastness rating
Handmade pastels
Paper wrappers protect hands from dust and residue
Walnut-stained wooden box
Cons
Are too soft for finer details
2. Best Soft Pastels for Beginners – Faber Castell Creative Studio Soft Pastel Crayons
Selection Criteria
Price – ~$30.08
Color Variety – 72 Pieces
Soft Pastel Length – Half Stick
Grade – Student
About Faber Castell Creative Studio Soft Pastel Crayons
Beginners or students looking for quality student-grade pastels won't be disappointed with these soft pastel crayons. They come in a range of vivid colours that make them ideal for landscapes, while their harder consistency makes them one of the better soft pastels for drawing fine lines. These pastel sticks glide smoothly and work best on thicker pastel paper.
The range of colors in these half-stick chalk pastels will allow students to experiment with shading, blending, and layering and be able to master pastel painting.
Pros
Large range of colors
Soft colour deposit
A more hard pastel for drawing fine details
Cons
They leave a chalky residue on hands
3. Best Artist-Grade Soft Pastels – Rembrandt Soft Pastels, Artist-Grade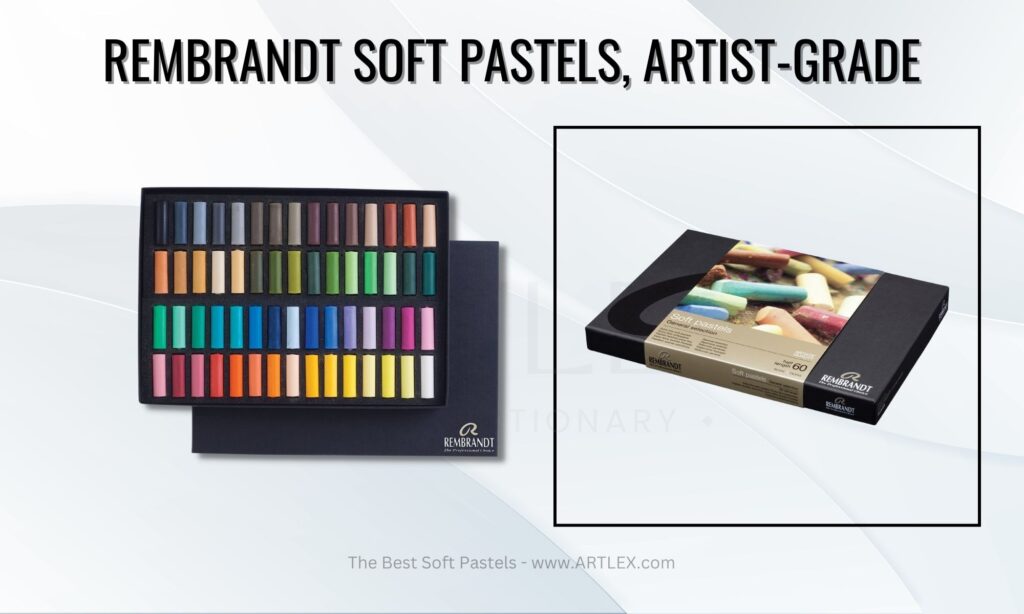 Selection Criteria
Price – ~$76.95
Color Variety – 60 Pieces
Soft Pastel Length – Half Stick
Grade – Artist
About Rembrandt Soft Pastels
Rembrandt pastels is one of the best soft pastel brands known for their unsurpassed glow, pure pigments, and buttery smooth application. These artist-grade pastels have an assortment of vibrant greens, yellows, and blues with several other complementary pastel colors, perfect for creating a neutral pastel drawing.
These half-stick pastels offer professional artists the ability to create subtle blends, and this set of Rembrandt pastels comes with a sturdy cardboard box.
Pros
High range of colors
Good for subtle blends
Cons
Creates a lot of pastel dust
4. Best Soft Pastels for Portraits – Savoir-Faire Sennelier Soft Pastels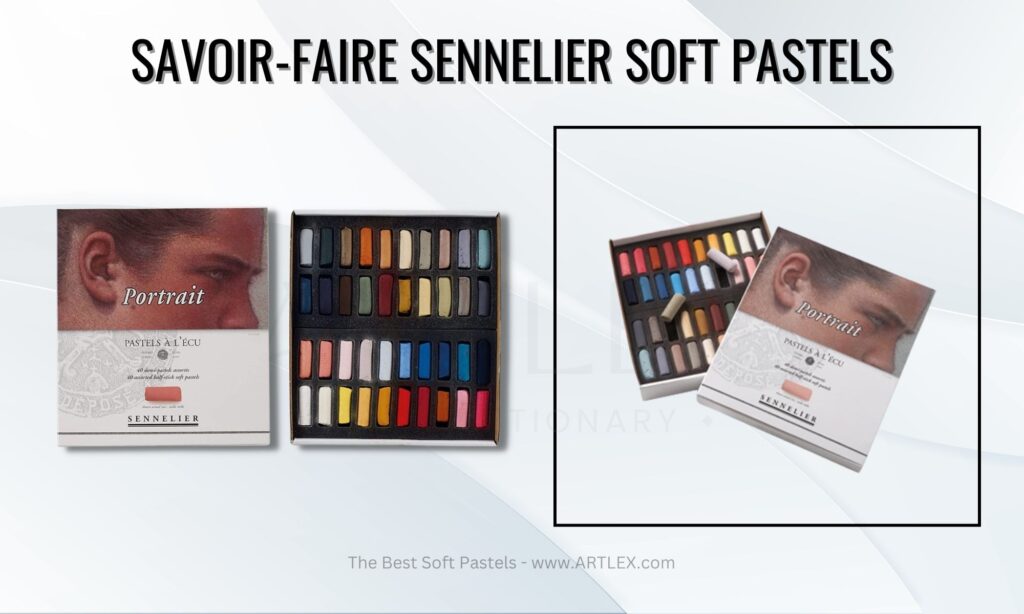 Selection Criteria
Price – ~$63.93
Color Variety – 40 Pieces
Soft Pastel Length – Half Stick
Grade – Artist
About Savoir-Faire Sennelier Soft Pastels
Sennelier has always made studio-quality pastels, and these half-stick oil pastels are no exception. These highly pigmented oil pastels, with their bold and beautiful colors, strike a balance between hard pastels (no hard lines) and soft pastels (they don't crumble in your fingers).
Half of the set of these natural pigments come in browns, greys, blacks, beiges, and other shades that can be used for a variety of skin tones. Due to their oil consistency, these rectangular pastels can be used not just on paper but on glass, metal, wood, or even stone, and each pastel stick has a high lightfastness rating.
Pros
Has a wide array of neutral colors for all skin tones
Includes a foam organizer that also protects pastels
Can be used on an assortment of surfaces
Small enough to transport
Cons
Leaves a chalky and dusty residue on the hands
5. Best Budget Soft Pastels – Mungyo Soft Pastels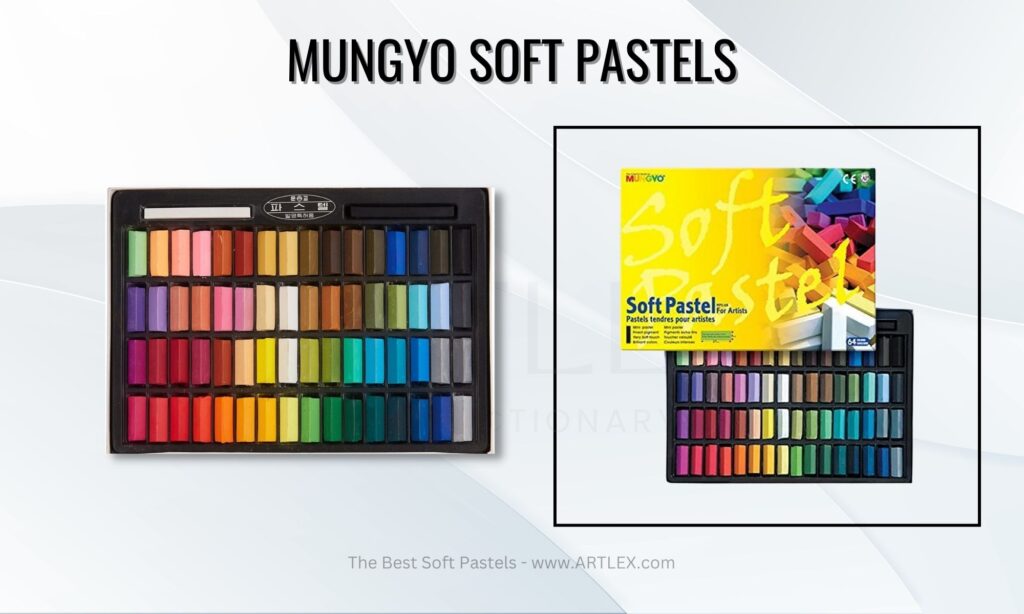 Price – ~$8.45 (Was $13.99)
Color Variety – 64 Pieces
Soft Pastel Length – Half Sticks
Grade – Student
About Mungyo Soft Pastels
Mungyo soft pastels offer budget-conscious shoppers the ability to experience a range of vivid colors safely. They are the only non-toxic soft pastels on the list and are a safe alternative to be used by kids for coloring books, drawings, or even pastel paintings.
These square pastels have a relatively high lightfastness, considering they cost under $10, as well as an assortment of vibrant and bold colors, unlike other chalk pastels.
Pros
Non-toxic and conform to ASTM standards of safety
Can safely be used by children
Cons
They are one inch long and erode quickly
6. Best Full Stick Soft Pastels – Sennelier Soft Pastels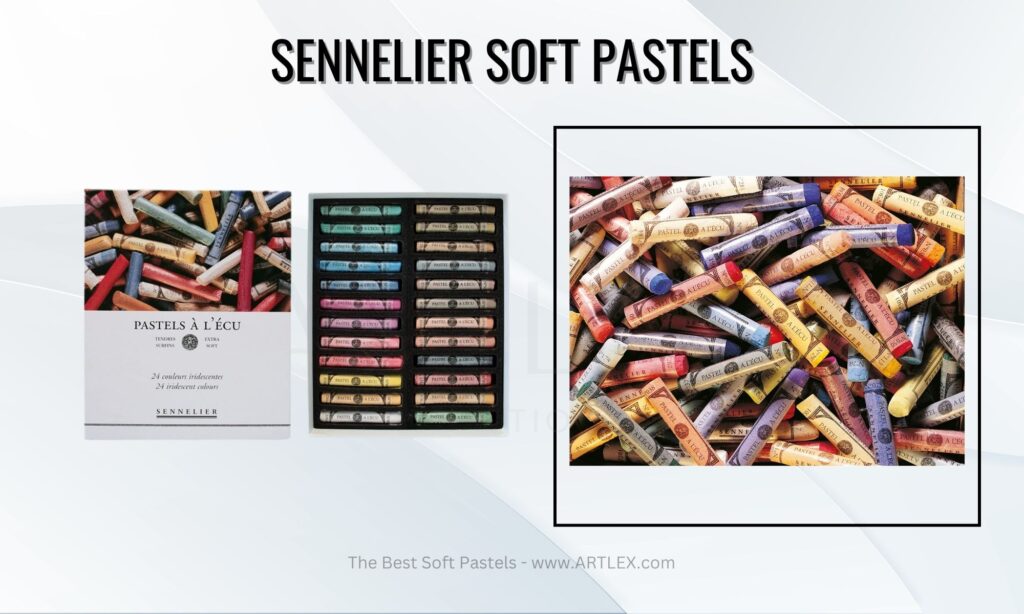 Selection Criteria
Price – ~ $52.97 (Was $76.89) – Our score: 8/10
Color Variety – 24 Pieces – Our score: 9/10
Soft Pastel Length – Full Stick – Our score: 9/10
Grade – Artist – Our score: 8/10
About Sennelier Soft Pastels
These iridescent Sennelier soft pastels are an excellent quality option for artists who need a full pastel stick. Their soft, powdery, and vivid properties give paintings a light, and special effect, and a little goes a long way. Be sure to remove the label slowly to avoid taking some of the expensive pastel material along with it.
Pros
Creates a beautiful pearlescent sheen
Is made of pure pigments
Cons
The two gold colors are too hard to provide proper highlights
Conclusion
This wraps up our guide to the best soft pastels. Not only have we discussed how you could identify different kinds of soft pastels, but we've also shared our recommendations in various contexts.
We've discussed how you can choose the best pastels and why price, color variety, soft pastel length, and grade are key deciding factors. We've outlined them thoroughly to help you understand them easily.
Lastly, we've combined our recommendations in different situations. So whether buying the best soft pastels for beginners, artist-grade soft pastels, or a budget option, we've discussed it all.
Thanks for reading; we hope our suggestion helps you purchase a set of the best soft pastels for your next art project.
Sources