Chairs are an essential part of an artist's workflow. The chair an artist buys needs to be perfect in comfort, usefulness and durability. Office chairs and drafting chairs, along with your regular old desk chair, may fit the bill and be perfectly fine, but it may be hard to tell.
That's where we come in. In this article, we'll be discussing the best chairs for artists and looking at the exact selection criteria artists will need to consider to make the best decision for their specific situation.
In our journey to find the best chairs for artists, we spent over 25 hours researching and writing the article. We mainly focused on what are the things that define a good chair. We gathered information and created the selection criteria portion of the article. We later graded each of these products out of 10 in our recommended products section.
After the selection criteria, we recommended our picks for the best chairs for artists in specific use case scenarios. This will help readers to pick the most relevant chair for their situation.
Enjoy!
How To Choose the Best Chair For Artists
Since artists tend to sit in a chair for long hours, we prioritized the comfort and ergonomic health of the artist. The following selection criteria exemplify that and will help artists to find the right chair for their situation.
Lumbar Support
Lumbar is a fancy word that means "lower back", or the part of a human spine where the spine's natural curvature vaults forward. Any ergonomic chair will need to have sufficient support of this lumbar region, and its critical for artists as they may spend long hours sitting and perfecting their work.
Lower back support depends on a couple of things. Your body figure and what you feel comfortable in play a more significant role here. Because if you have a slightly curvy stature, then you'll need a deep lumbar cushion. But If your body stature is average, then we recommend chairs with at least slight curvature to support your spines natural curve.
In today's article, we'll discuss chairs with various kinds of lower back support, including bottom curved lumbar and mesh curved lumbar supports.
Backrest
The backrest is the part of your chair that supports your entire back (upper and lower) while seated. A chair with a good backrest promotes ideal posture if you stay sitting for a long time. In addition, a good backrest supports the natural posture of your spine.
The ideal backrest of a chair for artists have a height of about 26 inches to accomodate over 95% of heights. It's better if the chair has a slight curvature to support the natural spine curve. Moreover, if the backrest is adjustable it adds tremendous value to the chair.
In today's article, we'll be discussing chairs that have backrest heights between 20.2 and 26 inches.
Fabric
Fabric is the material that covers the seating portion and the resting portion of artist chairs. If the fabric isn't breathable, it causes a sense of discomfort to the artist, especially for those seated for extended periods.
The only thing that you need to keep in mind while buying a chair does the chair passes air well enough. But among all the fabrics, mesh leather provides the most breathability. Other materials such as Vinyl, Faux Leather, and Fabric are suitable too.
In today's article, we'll be discussing chairs that offer fabrics such as Light mesh, bonded faux leather, and heavy mesh.
Adjustability
Adjustability refers to the ability to adjust your chairs to your comfort. While shopping for chairs, you'll find out that most chairs will either come in fixed or have various ways to be adjusted ( Height, Base).
For ease of understanding, we can split this section into two parts
Seat Height
Height is the most critical adjustability option that a chair needs to have as everyone's height is different, and the chair needs to be adjusted as such.
For a healthy posture, seat height should be between 16 to 21 inches off the floor. This allows the user to have their feet flat on the floor, which is the preferred ergonomic posture. It would also ensure that their arms are even compared to the height of the desk. All this together would provide a healthy posture.
In today's article, the chairs we'll be discussing can have their heights adjusted between a minimum of 18 and a maximum of 23 inches off the ground.
Swivel Base
The swivel base provides stability and ease of movement, so your chair must have a solid swivel seat for it to be an acceptable artists chair. Without a solid base, your chair might face issues such as uneven movement and instability, which can make drawing or working on other art forms very tedious.
An ideal swivel seat should be large enough and not too bulky. In addition, it should pass stress tests like the ANSI bifma tests to prove durability. Furthermore, the material needs to be either plastic, steel, or aluminum. Most office chairs from high quality manufacturers will be a solid swivel chair.
In today's article, our recommended chairs have all of the necessary factors mentioned above.
Armrests
Armrests are an essential portion of an office chair. It allows the artist's arms to rest after a busy work session. It also allows the body to stay aligned with the rest of the body parts.
Ideally, your armrests should be adjustable. It should be spacious enough to rest your arms and elbow on the armrest properly. If you're going for a chair with pivoting armrests, then be sure that the armrest has a minimum of 15-degree tilt support.
In today's article, we'll be discussing chairs that have various kinds of armrests. These armrests range between being as simple as a plastic armrest and advanced as a 90-degree flip mesh armrest.
Price
The price of a chair is perhaps the most critical selection criteria of them all. While we can't pinpoint the exact costs as they may change due to stock availability and other reasons, we can provide general ranges.
We can divide the prices into three sections, they are
Low- $100<
Medium- $100-$150
High- $150>
Considering all of the selection criteria, we can safely say that the Flash Furniture Drafting Chair is the best overall office chair for artists at the moment. However, we also have several other recommendations for specific situations that might fit your needs more precisely.
Enjoy!
Our Product Recommendations
#1. Best Artist Chair Overall – Flash Furniture Drafting Chair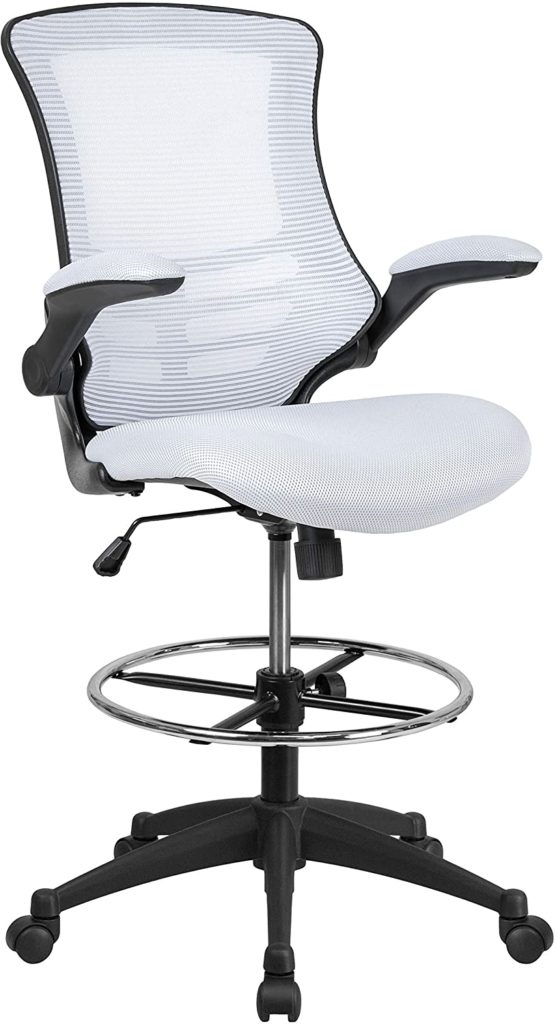 Lumbar Support – Curved Bottom
Backrest- 24.5 inches
Fabric- Breathable Mesh Leather seat
Adjustability – Adjustable Footrest, Tilt and Height
Armrests- Flip-Up padded armrests
Price- $150
About the Flash Furniture Drafting Chair
The Flash Furniture Drafting Chair is our pick for the overall best chair for artists. This chair looks stylish, has various color options, is very comfortable, and score high across the board on our selection criteria.
The first thing that anyone will notice is its bent shape. Thanks to this shape, this chair is excellent for posture maintenance. In addition, the backrest is very spacious, so even the bulkiest of people can sit comfortably at the drafting table for extended periods.
This drafting chair is made using ideal materials. The fabric, for example, is mesh leather which allows the air to flow through easily. Dual wheel casters are designed for ease of movement, but also stability.
The chair seat is set at a minimum of 23 inches off the floor. Finally, the base is made with heavy-duty plastic so that it won't decay anytime soon.
Pros
The seat and back have good airflow.
The chair has an Ideal shape for maintaining a healthy posture.
It's made with heavy-duty material.
Fully adjustable to make yourself as comfortable as possible.
Cons
Some people might feel that the chair is tilted downwards slightly.
#2. Most Ergonomic Chair for Artists – Steelcase Leap Chair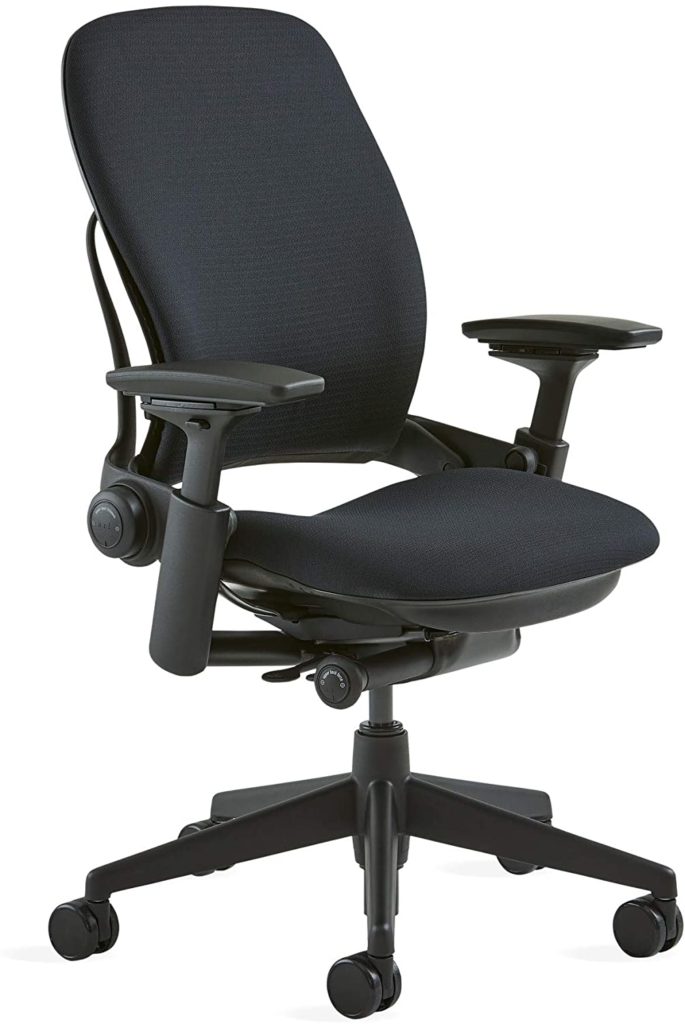 Selection Criteria
Lumbar Support – Height and firmness adjustable.
Backrest – 25 inches, with LiveBack(TM) Technology
Fabric – Buzz2 Fabric and proprietary cushions
Adjustability – Most Adjustable Chair on our list
Armrests – Fully adjustable Armrests
Prices – ~$1,400
About the Steelcase Leap Chair
Steelcase has been a leader in the ergonomic industry for some time. As a publicly traded company, it's invested in proprietary technology to set it's chairs apart from the competition. Examples include the Natural Glide (TM) technology for easy reclining, LiveBack(TM) technology that adjusts to your backs curvature, even as it changes, as well as proprietary fabric and seat cushion innovations.
Pretty much the entire chair is adjustable, not only the seat height, but also multiple dimensions of adjustability for arm rests and lumbar/back support.
Possibly the only downside is the price. It's priced at a very high premium compared to the market. However, if you have concerns of back pain, or long hours sitting at the drafting table, this might be the right chair for you.
Pros
A leader in the ergonomic space.
Proprietary innovations in reclining, fabric and cushions.
Fully adjustable (seat height, recline, back support and armrests).
Cons
#3. Best Artist Chair for Neck Support – Gabrylly Ergonomic Mesh Office Chair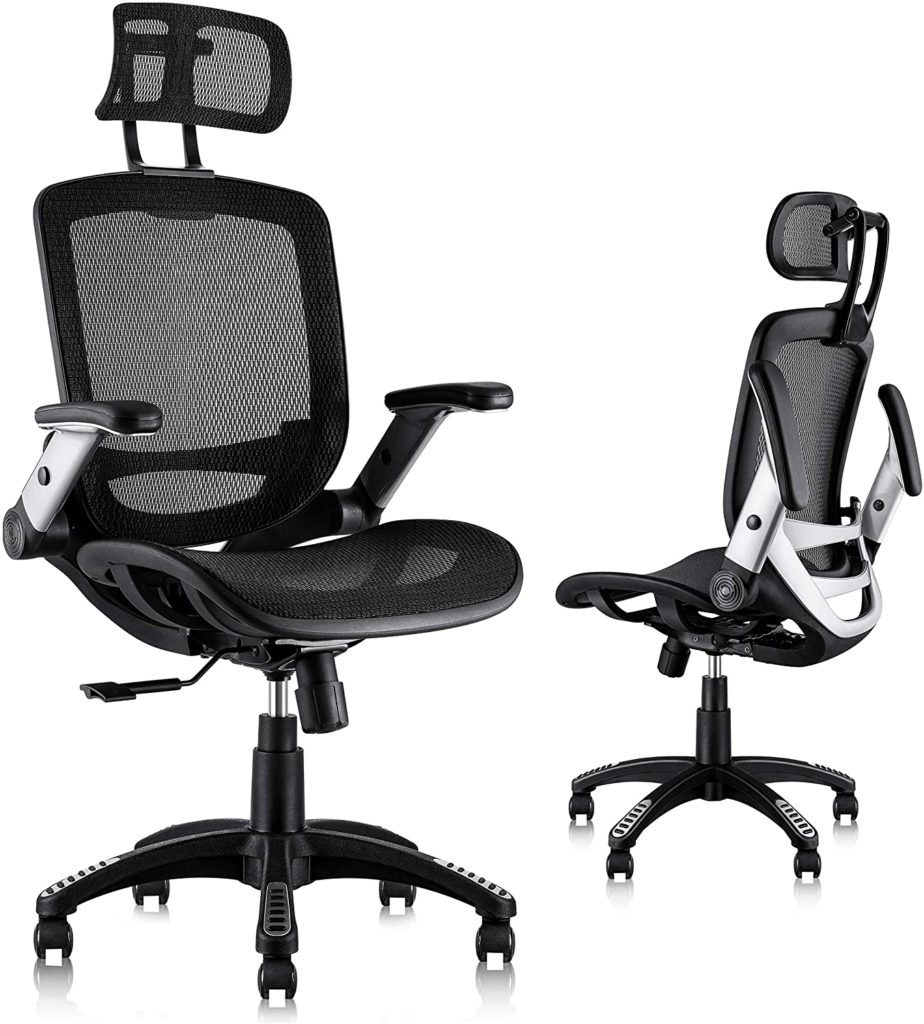 Selection Criteria
Lumbar Support – Slightly Curved Bottom
Backrest – 25.6 inches
Fabric – Breathable Mesh Leather seat
Adjustability – 21 inches off the floor, Chrome Footrest, Heavy Duty plastic base
Armrests – Foldable plastic armrests
Price – $200
About the Gabrylly Ergonomic Mesh Office Chair
The next chair on our list is the Gabrylly Ergonomic Mesh Office chair. It's a nice ergonomic alternative to the Steelcase, at a much lower price.
The Gabrylly chair has one of the bigger backrests on our list. For this, it's also one of the more spacious chairs on this list. The lumbar support isn't too curved, but it's curved enough to maintain a healthy standard.
This chair has foldable plastic armrests. So even if you don't use them, you can fold them up and put them away. Also, the seat won't get hot up and uncomfortable after some time with its breathable mesh.
Pros
The spacious backrest offers the person seating comfortability.
A strong footrest and base ensure better durability of the chair.
Seat height and tilt tension can be adjusted quickly.
Cons
Not suitable for taller people.
#4. Best Artist Chair For Art Students – AmazonBasics Classic Puresoft
Selection Criteria
Lumbar Support- Soft Plain Back with Cushion
Backrest- 24.2 inches
Fabric- Bonded Faux Leather seat and back
Adjustability- 18 inches off the floor, Caster wheelbase
Armrests- Fixed Padded armrests
Price- $75
About the AmazonBasics Classic Puresoft
Soft chairs are very comfortable to sit on, and such a chair is the AmazonBasics Puresoft chair. It's great for the students that are looking to get a good deal in a chair. The price is excellent, and the chair is comfortable with decent selection criteria scores.
The first thing about this chair is it's very soft, which is both good and bad. So it'll be very comfortable to sit on, but at the same time, you can't sit on it for a stretch.
Despite being a low-priced chair, the adjustability options are solid, with height and tilt both adjustable.
Pros
Very soft and comfortable to sit on.
Spacious Back Support.
Very reasonable price.
Cons
Not ideal for sitting for a long time as the chair consumes body heat.
#5. Best Budget Artist Chair – BestOffice Mesh Chair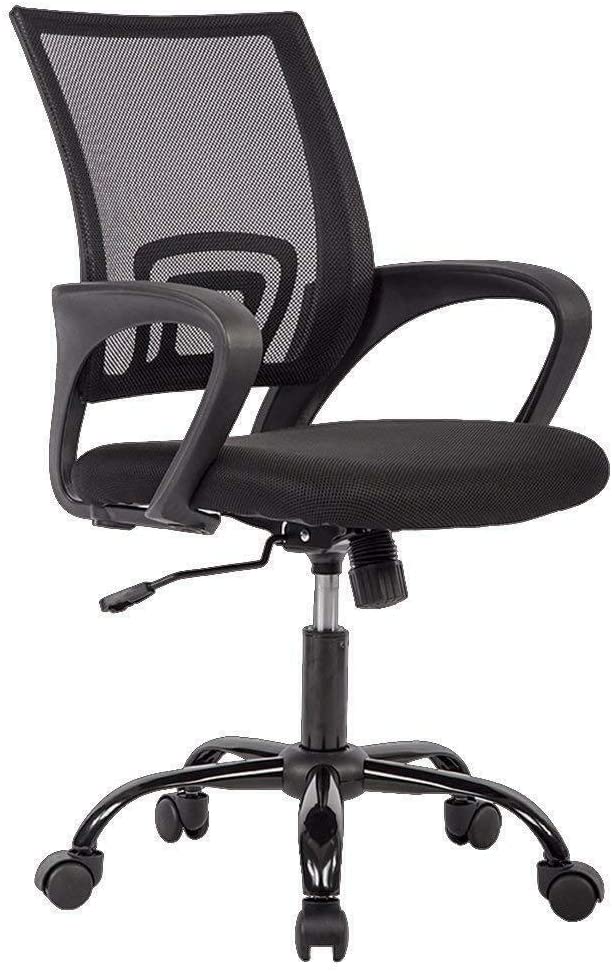 Selection Criteria
Lumbar Support – Curved Mesh
Backrest – 20.2 inches
Fabric – Heavy Mesh seat and back
Adjustability – 20 inches off the floor, Aluminum base
Armrests – Fixed Plastic armrests
Price – $55
About the BestOffice Mesh Chair
If you're looking to buy a chair cheaply, then the Chair from Best office is the best deal anyone can grab at the moment. This chair comes with decent scores across the board and at a very lucrative price.
This chair is pretty simple, and this is expected as it's a reasonably low-priced chair. The back of this chair is slightly curved and mesh, so the lumbar support is good enough. On the other hand, the breathable mesh ensures that the seat and back don't get hot after hours of sitting.
Despite being a reasonably low-priced chair, this chair has a solid aluminum base. Due to the firm base, the chair can hold up to 250lbs weight at once. It also has a commercial class 3 lift, so height or tilt adjustment is effortless. And the best part is all of this comes at just $54.
Pros
Very affordable price.
The chair has a solid industrial class build.
Tension control is easy thanks to 360 Degree Swivel & Casters.
Cons
The plastic armrest can be a bit slippery if you sweat.
#6. Best Art Chair For Back Pain – Modway Edge Mesh Chair
Selection Criteria
Lumbar Support- Curved Bottom
Backrest- 26 inches wide
Fabric- Breathable Light Mesh seat and back
Adjustability – Height and tilt, flippable arm rests
Armrests- Flippable, mesh padded
Price- $184
About the Modway Edge Mesh Chair
The final chair that we've picked today is the Modway Edge Mesh chair, and this chair is particularly great for those with back pain. This chair helps maintain a good posture and is comfortable to sit on. This chair also has excellent selection criteria scores in all sections.
Those who have back pain know how hard it is to sit for a long stretch. This chair helps them solve this issue by helping to maintain a healthy posture. The mesh back and seat let air pass quickly and hold the seat comfortably for a more extended period.
The build of this chair is very durable and will last very long if handled with care. The Two-Tone Base system is the reason behind this, as the chair is built on a dual base system. The armrests can also be flipped up to 90 degrees whenever needed.
Pros
Great for people with back pain because of the lumbar support.
Breathable mesh fabric provides a comfortable sitting experience.
Very durable build with the two-tone base setup.
Cons
The armrests can be slightly irritating to the skin because of the sharp mesh fabric.
Conclusion
This concludes our buying guide for the best chairs for artists. Finding a high quality desk chair or drafting chairs for artists can be very difficult, especially shopping online. While everyone knows the basic swivel chair with dual wheel casters that sits in every office, it's hard to know whether this is a good choice as a drafting chair.
This article explained the main points to look when buying a chair for artists, as well as gave recommendations of the best chairs for various real-life use cases, to help make that online shopping experience a little easier.
In the first half of the article, we explained why factors such as lower back support, backrest size, seat height and seat depth , as well as fabric considerations all mattered when evaluating artist chairs. Then, we discussed each selection criteria in detail and informed the readers about what is needed to keep an eye out for in each selection criteria.
After that, we gave out our best recommendations based on real-life scenarios, such as the best chair for offices or the best chair for back pain. Because of this, the readers will have an easier time understanding what they need and eventually landing on the most comfortable, ergonomic chair for their artistic endeavors.
References
https://www.spine-health.com/wellness/ergonomics/types-lumbar-support-and-ergonomic-office-chairs
http://spine-health.com/wellness/ergonomics/good-posture-helps-reduce-back-pain
https://officechairtrends.com/what-is-the-best-material-for-an-office-chair/
https://www.spine-health.com/wellness/ergonomics/office-chair-back-support
https://www.sbs.it/en/bases-for-swivel-chairs/
https://www.spine-health.com/wellness/ergonomics/office-chair-choosing-right-ergonomic-office-chair