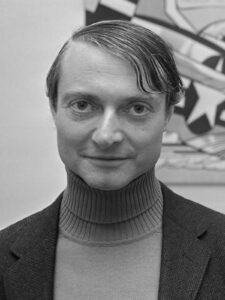 Roy Lichtenstein (1923-1997) was an American Pop Art artist based in New York City. Originally creating works in Cubism and Abstract Expressionism, his works had a Western and Americana theme. Later, he became a pioneer in American Pop art, focusing on popular culture and mass media.
As a teen Lichtenstein initially studied with painter Reginald Marsh. In 1949, Lichtenstein received his master's degree, from Ohio State University.
A Brief Look at Pop Art
Pop art is an art movement that began during the mid-twentieth century. It had its start in England, with its roots in American consumerism. A radical shift in what was considered art, it mixed high and low art. The Pop art movement featured a fine art blended with popular culture. Everyday consumer items, advertisements, television, newspapers, magazines, and comic books were playfully incorporated into Pop art.
Art history was forever changed with the introduction of Pop art. Roy Lichtenstein produced precise compositions which would become his trademark.
Roy Lichtenstein and Pop Art Movement
As one of the founders of the American Pop art movement, Roy Lichtenstein would later say, "Although almost anything seemed to be fair subject matter for art," he recalled, about this new art movement and point in art history "commercial art and particularly cartooning were not considered to be among those possibilities."
Roy Lichtenstein's work is recognizable by his use of cartoon characters, comic book strips, bold colors, dark outlines, Ben-Day dots, and his dead pan humor, for viewers to read in thought bubbles.
In 1960, on a whim, he made a painting of Mickey Mouse and Donald Duck for his children, enjoying this process of taking a cartoon and turning it into fine art. Originally, he painted recognizable characters from cartoons, including Popeye. Later, he took a more generic approach, with images from comic books.
Three of his most famous artworks are Look Mickey (1961), Drowning Girl (1963), and Whaam! (1963).
Roy Lichtenstein and Controversy
Although lighthearted, Lichtenstein's work was not without controversy. He was accused of copying images directly, although his methods involved alterations. Comic book artists that inspired Lichtenstein's work including Jack Kirby, Tony Abruzzo, Russ Heath, Irv Novick, and Jerry Grandenetti, were rarely credited. This became more of an issue, the more famous and wealthier Roy Lichtenstein became.
Many questioned if he was really creating art at all. Was this new art movement really art?
Perfecting the Pop Art Technique
By the 1960s, Roy Lichtenstein had perfected his technique. The first step was to draw the cartoon or source image by hand. Here, the Pop artist would adjust it to suit the narrative. Often, he focused on one subject, eliminating others in the original drawing, as well as removing small details.
Next, the Pop art artist projected the sketch on to the canvas, tracing the outline. Then, he painted in the color. The artist had his own color palette in mind, regardless of the source material, and worked mainly with bold primary colors.
Finally, the Ben-Day dots were stencilled in. This gave his fine art works the look and feel of mechanical reproduction.
Art Representation at Leo Castelli Gallery
Leo Castelli was the premier contemporary art dealer, in New York, who represented Abstract Expressionists, as well as artists in Neo-Dada, and the Pop Art art movement. He agreed to represent Roy Lichtenstein, in 1961. The Leo Castelli Gallery gave the artists a platform to reach a larger and more international audience.
The First Solo Show
In 1962, in New York City, Roy Lichtenstein held his first ever solo show, which was a huge commercial success for the artist. Soon after, with an international fan base, the Pop art artist was invited to show his works at the Tate Gallery, in London. It was the first time an American artists exhibited there.
Girl with Ball (1961)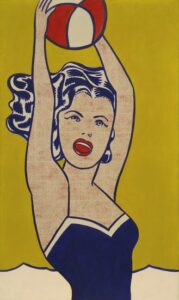 When Lichtenstein completed Girl with Ball, in 1961, he considered this work his break from his abstract style. The artist had now aligned himself with the Pop art movement. The inspiration for the Pop art artwork was a print advertisement for the Mount Airy Lodge, a hotel in the Pocono Mountains, in Pennsylvania. He transferred the photograph of the girl holding a beach ball, into a comic-strip doll like form, reducing natural colors to primary colors. Girl with Ball is part of the collection at the Museum of Modern Art, in New York.
Popeye (1961)
Popeye (1961), is a vibrant, bold colored piece of fine art by Roy Lichtenstein. Popeye throws a mighty punch against the face of his rival Bluto. The viewer witnesses the scene just moments after the popular character's fist makes contact. The sailor's gigantic forearms are prominent, and motion is created through a map of black lines following the movement. At his feet is his signature tin of spinach.
Bluto is bent back, his body like one piece of steel, with stars encircling his clenched face, just before the fall. Today, this work is located at the Museum of American Art Crystal Bridges, Bentonville, Arkansas.
Look Mickey (1962)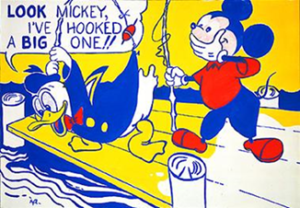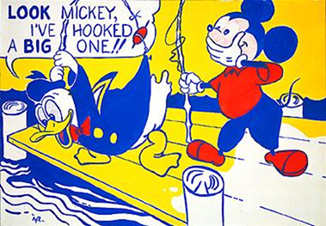 Look Mickey (1962) was created by using Ben-Day dots, as used in the commercial printing of comic books. The image was inspired by a Walt Disney's children's book entitled, Donald Duck: Lost and Found. In it the two beloved cartoon characters are fishing.
Roy Lichtenstein includes a thought bubble over Donald Duck, which reads, "Look Mickey, I've hooked a big one!" Mickey laughs, as the duck has only snared the back of his own shirt.
Look Mickey.1961. Roy Lichtenstein. National Gallery of Art, Washington.
Two Crying Girls
Roy Lichtenstein painted Crying Girl on two occasions, both in comic book style. The first was in 1963. The second was in 1964. While both comic book strip women have lemon yellow, with bold red lips and tears in their eyes, both images are different.
Created for a show at Leo Catelli Gallery, in New York, Crying Girl (1963) is an offset lithograph on wove paper. Crying Girl (1964) is made from porcelain enamel on steel. The close composition, without background context, invites the viewer to ask why these women are crying.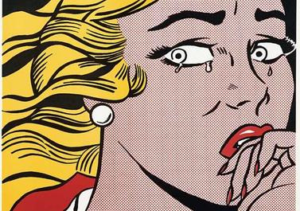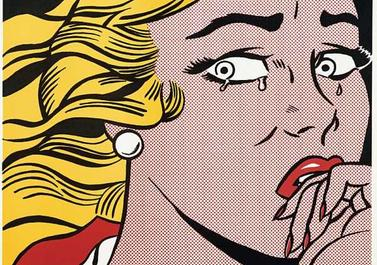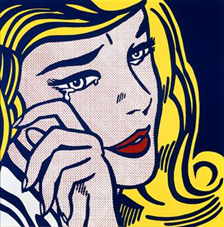 Drowning Girl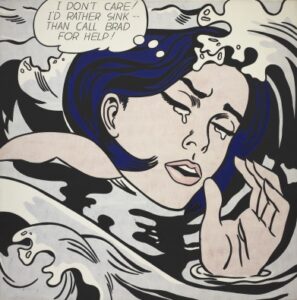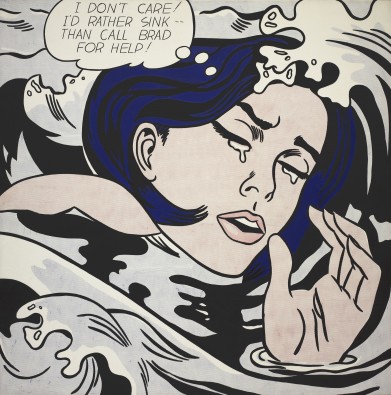 In Drowning Girl, the inspiration was taken from the comic book Secret Hearts. Artist Tony Abruzzo drew the original magazine image. Roy Lichtenstein chose to take the image and crop it to only include the drowning female. He also condensed the text to the words in a thought bubble which reads, "I don't care! I'd rather sink—then call Brad for help!"
In the comic book, the woman's boyfriend is illustrated in a boat above her. By eliminating this background information, Lichtenstein's Pop art allows the viewer to ponder what has happened. This work created using oil and synthetic polymer paint on canvas resides at the Museum of Modern Art, in New York.
Whaam! (1963)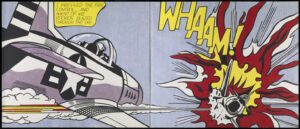 Roy Lichtenstein's Whaam! , a Pop art artwork using acrylic paint and oil on canvas, illustrates air force battle across two panels. On the left the viewer reads the pilot's thoughts, "I pressed the fire control… and ahead of me rockets blazed through the sky." The second panel shows the exploding plane and the words WHAAM! Here the emotion is taken out of war as Lichtenstein uses the look of a comic strip to portray war.
Roy Lichtenstein and the World's Fair Mural (1964)
For the 1964 World's Fair, in Queens New York, Lichtenstein created The World's Fair Mural (1964), using oil on plywood. The mural was commissioned by architect Philip Johnson. The purpose of the piece was as a panel for the New York State Pavilion, at the World's Fair and installed outside the architect's Theaterama building.
Against a painted green window frame, with a ruffle of white curtains, a woman leans forward, laughing with delight, with eyes closed. The colors, including the woman's yellow dress, bright red hair, lips, and fingernails add to the merriment of the scene. Of course, the artist included his signature Ben-Day dots.
Today, the giant mural measuring 240 by 192 inches, is displayed over the front desk of the Weismann Art Museum, in Minneapolis, Minnesota, in the building designed by architect Frank Gehry. The image Roy Lichtenstein used for inspiration for the The World's Fair Mural came from comic artist Hy Eisman. The image was altered in the artist's signature way. The caption was removed, the window frame was his invention, and the colors were changed to bold primary colors.
M-Maybe (1965)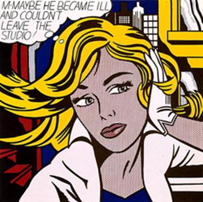 A yellow haired woman, in a crisp white shirt and gloves, inside a boldly colored apartment, is the image for Roy Lichtenstein's M-Maybe (1965). In a cropped composition, the female subject, in comic book style, contemplates the whereabouts of an unknown man. Her thought bubble says, "M-maybe he became ill and couldn't leave the studio."
Referencing the Masters
Roy Lichtenstein stopped using comic books for inspiration by the late 1960s and instead turned his focus to recreating works by master artists from the modern era, but in his own Pop art style. In 1969, he paid homage to Claude Monet (1840-1926) with print series based on the modern artist's paintings of cathedrals and haystacks.
Later, as one of a series of six screenprints, Lichtenstein explored the French artist further, with Waterlily Pond Reflections (1992). The screenprint on enamel on stainless steel uses primary colors, as well as black, white, and grey, along with Ben-Day dots, and stripes, to portray Monet's beloved waterlilies. Two more from the series include Water Lilies with Japanese Bridge (1992) and Water Lilies with Cloud (1992). All three are at home in the Tate, London.
Other modern artist artwork that Lichtenstein re-imagined in Pop art include Pablo Picasso and Henri Matisse.
Other Large-Scale Commissions
Large scale commissions continued throughout the 1980s for Pop art artists Roy Lichtenstein. Between 1984-1986, the artist worked on Mural with Blue Brushstrokes for the AXA Center, in New York. The work is unique because of his use of colors, encompassing 18 colors, instead of his usual five. Included are elements of his previous works like the beach ball from his Girl with the Ball (1961) Pop art, and a woman's hand, with the signature red nail polish.
Meanwhile, Roy Lichtenstein's 27-foot-high Bauhaus Stairway Mural (1989), was commissioned by the Creative Arts Agency, for the communal space, inside the post-modern building created by architect I.M. Pei, in Beverly Hills, California. Roy Lichtenstein's inspiration was Oskar Schlemmer's Bauhaus Stairs (1932), an important piece of modern art.
Roy Lichtenstein's 53-foot-long Times Square Mural (1990), a porcelain enamel on wall painting, at the Time Square subway station, is in the center of busy New York City. Here the artist incorporated many images, including references to earlier works, as well as items like old Buck Rogers comic strips.
Roy Lichtenstein in Major Galleries and Museums
Today, the Pop art artwork of Roy Lichtenstein can be enjoyed at major art galleries and museums including The Museum of Modern Art in New York, the National Gallery of Art in Washington, D.C., the Art Institute of Chicago, and the Tate Modern in London.