David Hockney (1937-) is a British is a painter, printmaker, and stage designer for opera and ballet, who is most well known for his Pop art style. He was born in 1937 in Bradford, West Riding of Yorkshire, England. David is known as one of the most influential British painters of the 20th century. He has previously held the record for the most expensive auction artwork by a living painter, for his "Portrait of an Artist (Pool with Two Figures)", which sold for $90 Million in 2018.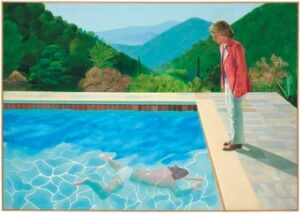 David Hockney The Early Years
David Hockney grew up in the industrial English city of Bradford, with four siblings. Art was always what he wanted to pursue. As a boy, he painted what he saw in the neighborhood, putting his paint set in a baby stroller to easily move around locations.
David Hockney and Art School Training
David Hockney attended Bradford College of Art (1953–57). About the experience, he told The New Yorker magazine, in a published interview, in 2022, "I was sixteen years old. And for four years we really just did life drawing, and that teaches you to look," said David Hockney, "That's all drawing is. It's teaching you to look and question things. A person would sit down next to my drawing, and then he'd draw a shoulder or something, and I could see he had seen more than I had. So, when I got back to mine, I looked harder."
About Royal College of Art, in London, within the same article, David Hockney recalled, "And then, from 1959 to 1962, I was at the Royal College of Art—three years, and that's when I really discovered my painting. I hadn't done that much painting in Bradford—I'd done models and things like that, but we didn't know much about color then. Bradford was a very, very dark city, with black buildings from all the coal and things. I left it in 1959 and never really went back."
David Hockney flourished at Royal College of Art, in London, where the founder of Pop art, Richard Hamilton was one of his instructors. Hockney also became friends with fellow Pop art artists Peter Blake.
David Hockney, excelled in his training as an artist. In fact, in the graduate art competition, Hockney took home a gold medal. Although, it is a fact that if the Royal College of Art hadn't changed their rules, the young student would not have graduated from the program. With the final work, all students were required to submit an essay. David Hockney refused insisting on being judge solely on his artwork.
David Hockney Pop Art Style
What makes David Hockney's Pop art style especially unique is that it is autobiographical, unlike the work of his contemporaries. As an openly gay artist, he came out in 1957, a time when homosexuality was still considered illegal in both England and the United States. His color choices including pink, purples, yellow, and green were in support of homosexuality.
One can't think of David Hockney without envisioning swimming pools. Swimming pools are a reoccurring motif in his work, especially in his works between 1963-1967. It was a symbol of California lifestyle and Americanism in general.
Another motif to set off scenes that David Hockney includes in his art are lush green plants and calla lilies. Throughout his career, David Hockney has also painted portraits and double portraits of friends and important people in his life.
To see how David's style compares to other Pop Art styles, see our article on Pop Art Characteristics.
David Hockney and his First Solo Exhibit
For his first solo exhibit, David Hockney was invited to show his work at the Kasmin Gallery, in London. His art sold out completely. Then, he decided to treat himself to a trip to California. This trip taken by chance would lead to the kind of American dream artwork David Hockney was known for.
David Hockney and California
The English painter fell in love with California, after his first visit in 1963.
"I instinctively knew I was going to like it," David Hockney recalled later. "And as I flew over San Bernardino and saw the swimming pools and the houses and everything and the sun, I was more thrilled than I have ever been in arriving in any city."
On a postcard David Hockney wrote a note to a friend stating, "The world's most beautiful city is here – LA… You must come." It was something he had only imagined in films. Painting Los Angeles and its pools gave him full access to a sensual world and the semi-nude men he could paint from magazines such as Physique Pictorial.
David Hockney made the realization that, "There were no paintings of Los Angeles. People then didn't even know what it looked like. And when I was there, they were still finishing up some of the freeways. I remember seeing, within the first week, a ramp of freeway going into the air, and I suddenly thought: My God, this place needs its Piranesi. Los Angeles could have a Piranesi, so here I am!"
David Hockney continued to make frequent trips to California, before moving there in 1978.
We Two Boys Together Clinging (1961) by David Hockney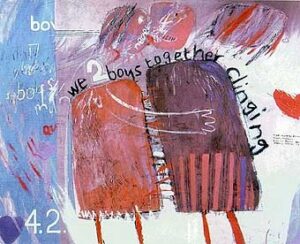 We Two Boys Together Clinging (1961), and oil on board work by artist David Hockney, is based on a poem by American poet Walt Whitman by the same name. In the poem he writes, "Arm'd and fearless eating, drinking, sleeping, loving."
Influenced by Abstract Expressionism, David Hockney paints two bulky forms that hug and kiss, with lines connecting them together. The work contains gay slang, writing and symbols.
In his book My Early Years (1976) "What one must remember about some of these pictures is that they were partly propaganda of something I felt hadn't been propagandized, especially among students as a subject: homosexuality."
Domestic Scene, Los Angeles (1963) by David Hockney
The oil on canvas work by David Hockney entitled Domestic Scene, Los Angeles (1963) is an early painting by the artist that was exhibited at his first solo show, at the Kasmin Gallery, in London, in 1963.
Domestic Scene, Los Angeles (1963) was painted before David Hockney's first trip to the city. It was inspired by a picture in a gay magazine called Physique Pictorial. In it, one man is taking a shower, while another is washing his back. The work is significant, not only because it is one of David Hockney's earliest works, but it is the first that illustrates water.
Picture of a Hollywood Swimming Pool (1963) by David Hockney
This work entitled Picture of a Hollywood Swimming Pool (1963) is the very first work by artist David Hockney that features a swimming pool. Acrylic on canvas was used by the artist, so the image and not the paint was the focus.
Loops of blue and white paint dominate most of the canvas and illustrate the fanciful rippled pool liner and the gentle movement of the water. He would subsequently paint his own pool with the same ripple motif, as well as the pool at the Roosevelt Hotel, in Hollywood, in the 1970s and the 1980s. It also appeared in other paintings.
A spiky plant features prominently in the center, with some bushes along the backdrop. The block of a modern designed home is represented only partially on the right, with an L-shaped patio jutting out toward the viewer.
The work was based on a drawing David Hockney sketched. The painting was completed in England. Today, Picture of a Hollywood Swimming Pool (1963) is part of a private collection.
California Collector (1964) by David Hockney
Outside in her garden, under a canopy, a woman rises from a floral decorated chair. Beside her is a sculpture by William Turnbull, as well as an ancient work resembling a Moai monolith from Easter Island. To her left David Hockney paints a colorful rainbow, and just beyond, a glimpse of a pool and palm trees. This acrylic on canvas work is part of a private collection. It was inspired by the homes of art collectors in California that David Hockney was frequently invited to.
Peter Getting Out of Nick's Pool (1966) by David Hockney
British Pop art artist David Hockney painted Peter Getting Out of Nick's Pool (1966) using acrylic on canvas. The central image is of a naked man from the back, hoisting himself out of a pool. The tiles on the pool are a cool turquoise, while the pool liner reflects a loopy pattern under the clear blue water. The work is in the Walker Art Gallery, in Liverpool, England, United Kingdom.
Autobiographical in nature, the subject, Peter Schlesinger, was an American art student that David Hockney befriended. The two later became lovers. Additionally, the setting is the pool at an apartment complex, where friend and art dealer Nicholas Wilder lived.
The Sunbather (1966) by David Hockney
David Hockney painted his friend Nick Wilder, in The Sunbather in 1966. A naked man is faced down on a towel sunbathing beside a pool. His buttocks are an untanned white, in juxtaposition to the bronzed skin on the rest of his body. To his left is the familiar pattern of yellow looping scrolls of the pool liner, reflected under the water's clear blue.
Today, the acrylic on canvas work is part of the collection at Museum Ludwig, in Cologne, Germany.
A Bigger Splash (1967) by David Hockney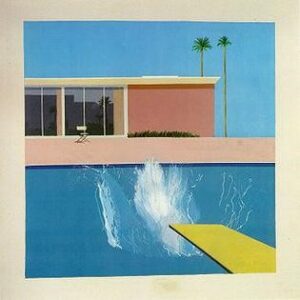 Against the backdrop sits a home in popular California modernist architecture, reminiscent of architect Rudolph Schindler or Richard Neutra. The artists drew it inspired by homes in Los Angeles.
Across the entire mid-section of the canvas to the bottom, the work dominated by a pool was taken from a photograph in a pool manual. The viewer witnesses the scene just after the action has taken place. Someone has just jumped off the yellow diving board and into the bright turquoise water, resulting in a huge splash.
Of the work, David Hockney said, " When you photograph a splash, you're freezing a moment and it becomes something else. I realise that a splash could never be seen this way in real life, it happens too quickly. And I was amused by this, so I painted it in a very, very slow way."
Measuring 94 by 94 inches, the oil on canvas work is at home at the Tate Gallery, London, in the United Kingdom.
American Collectors (Fred and Marcia Weisman) (1968) by David Hockney
David Hockley's work portraying art collectors in American Collectors (Fred and Marcia Weisman) (1968), on display at the Art Institute of Chicago, is shown at the real-life couple's art garden in Los Angeles. Both friends of David Hockney, Fred stands tall and slim like the totem pole at the right on the canvas, while Marcia's more rounded figure represents the green Henry Moore statue in the center.
The couple separated in the early 1970s, just a few years after this work was completed. Their stiff bodies, a stance far from one another, and Fred's clinched fist, are almost a foreshadowing on the impending divorce.
The couple were less than pleased with how they appear in the double portrait and chose not to keep it. Today, the David Hockney work is part of the collection of the Art institute of Chicago.
Mr and Mrs Clark and Percy (1970-1971) by David Hockney
David Hockney's painting entitled Mr and Mrs Clark and Percy were real life friends of the artist. Dress designer Ossie Clark and fabric designer Celia Birtwell were two fellow artists from the north of England. Hockney was their best man in 1969 when they married.
The setting is at the couple's Notting Hill Gate home, in west London. David Hockney chose their bedroom, which had the best light. Both friends posed multiple times for the life-sized painting.
Celia Birtwell poses in a long gown, with her hands on her hips, on one side of the partially opened, louvered, floor to ceiling window. Ossie Clark sits relaxed on the other side of the window. Both subjects look directly at the viewer.
The huge canvas was painted in David Hockney's studio, with light that approximated the couple's bedroom. The calla lilies on the table on Celia Birtwell's right, were also painted it the studio, inspired by the same real flowers.
Portrait of an Artist (Pool with Two Figures) (1972) by David Hockney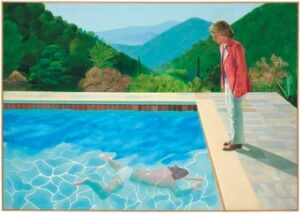 For this work, David Hockney combined two photographic images, one of a man swimming under water and the other of a man looking down to the ground. The scenes from the photography were re-enacted in Saint-Tropez, France, where his assistant and friend swam and posed, while Hockney took photographs.
Back at the studio in London, David Hockney placed the images around him. He also chose one photo of his ex-lover Peter Schlesinger wearing the hot pink blazer, as it would eventually appear in the finished painting. With 18 hour working days over a total of two weeks, the work was complete.
In 2018, this work by David Hockney sold at Christie's auction house, in New York for 90 million dollars. At the time, this was the highest dollar amount fetched at auction, for a work by a living artist.
A Bigger Grand Canyon (1998) by David Hockney
In 1982, David Hockney started to photograph the Grand Canyon. To illustrate its grand size, Hockney chose only to paint a section of its gigantic scope. This oil on canvas, is comprised of 60 canvases measuring 81 ½ by 293 inches in total.
The depths of the canyon are painted shades of vivid orange moving onward to purple. Trees, and shrubs grow around the cliffs of this David Hockney artwork.
Winter Timber (2009) by David Hockney
This work by David Hockney was painted from the scenery close to where the artist grew up. The view, embellished as a magical forest of green, electric blue and tones of purple. Slim yellow logs are stacked and lined along the curving road that continues to stretch into distance. The work, on view at the Guggenheim, in Bilbao, Spain, spans over 15 oil on canvas paintings.
Garden (2015) by David Hockney
In this work by David Hockney entitled Garden (2015) the artist paints his Hollywood home, in fantastical shades, with the ever-present swimming pool in the center. In the background, the light blue house, highlighted with electric blue and purple trim has two chimneys on top. One is green, while the other is light pink.
The garden at the forefront is full of cacti and purple blooms. To the left is a forest of palm trees, while at the right is a terra cotta walkway painted a vivid red.
David Hockney Today
David Hockney continues to make art today. Most recently he traveled to Normandy and spent a year there during the pandemic. There he made a giant fresco on a graphic tablet, inspired by the countryside and the famous Bayeux Tapestry. The work called A Year in Normandy, shows flowers blooming in the springtime.
Other new works inspired by living in France are 116 pieces, which were drawn and painted on his iPad. All celebrating spring, the works were blown up and printed, with David Hockney overseeing production.
David Hockney Legacy
David Hockney has had a long and prosperous career as an artist. As one of the most influential British artists he is well respected as one of the leaders in British Pop art, and the Pop Art movement in general. David Hockney has earned his place in art history.