When it comes to showcasing artworks, photographs, or any other visual media, the quality of the print plays a crucial role. Everybody always wants to present their pieces in the best possible light; whether you're having a professional exhibition or want a beautiful family photo, choosing the right material is essential.
A popular choice for many artists and photographers is Canvas Prints, often used for exhibitions and wall art, as they have a classic, fine art feel, and nice texture.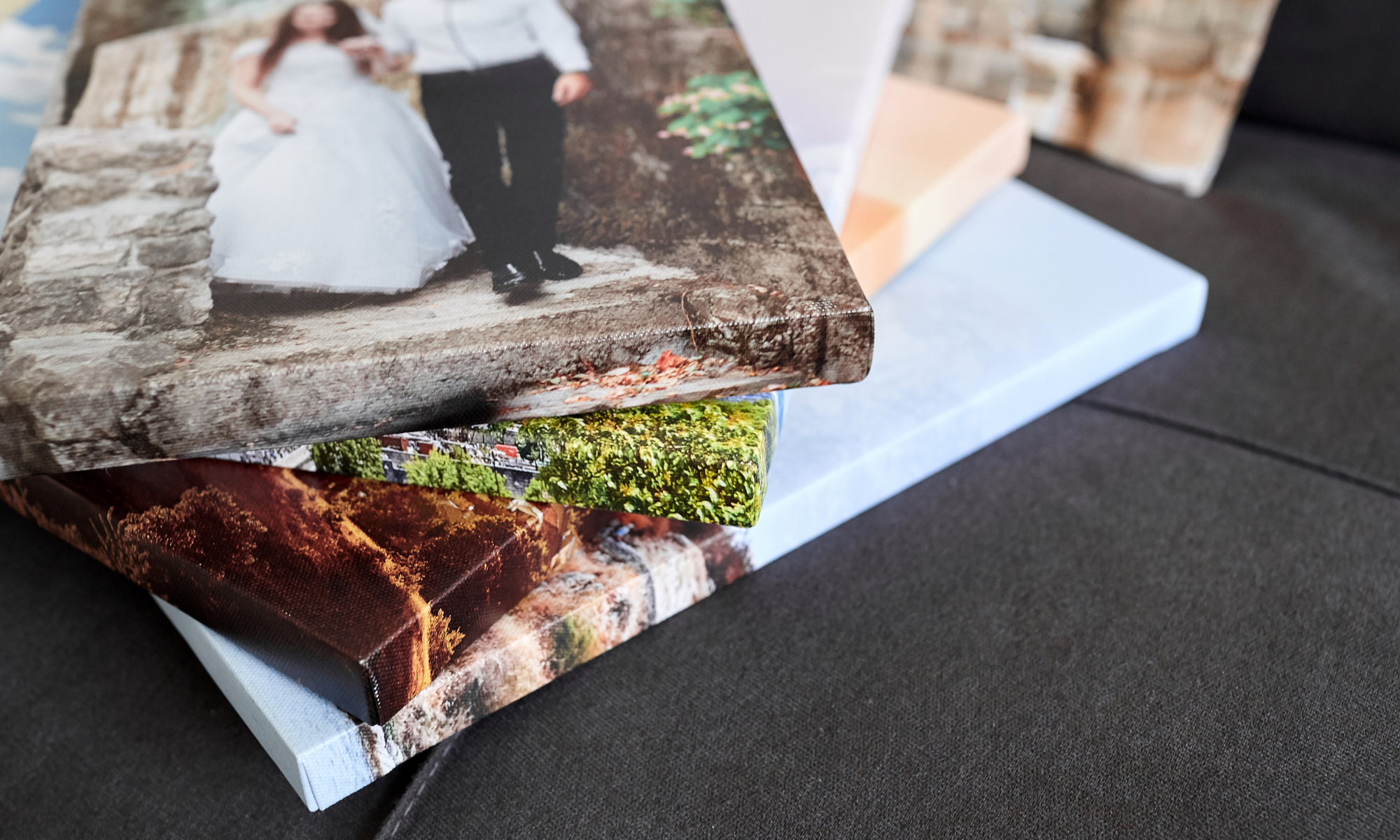 But where to get them? How to know they are good enough? A high-quality canvas print should accurately represent the colors, details, and values of the original piece, should be made from durable, high-quality materials, and have a professional appearance that enhances the value of the artwork.
The quality and price of a canvas print can also change according to the use you're going to give it. If you want a family photo to hang in your living room, you probably won't need archival museum-quality canvas fabric or an expensive finish that will protect it from the sun and weather.
With so many canvas print companies out there, it can be difficult to know which one to choose. That's why we've compiled a list of the best canvas print companies that offer high-quality prints that artists, photographers, and art lovers demand.
Whether you're looking to create a stunning piece of wall art for your home or exhibit your work in a gallery, our list of the best canvas print companies will help you find the right one for your needs, but before jumping to our recommendations, let's learn a bit about canvas prints first.
Our Top Recommended Canvas Print Companies
Best Canvas Printing Company Overall: Pictorem Print Company
Best Canvas Prints on a Budget: CanvasChamp Print Company
Best Canvas Printing Services for Professionals: Printique Canvas Print Company
Best Independent Canvas Printing Service: Paint Addict Studio
Best International Canvas Printing Service: Social Print Studio
Alternative Canvas Wall Art Printing Services: Elephant Stock Canvas Print Company
1. Best Canvas Printing Company Overall – Pictorem Print Company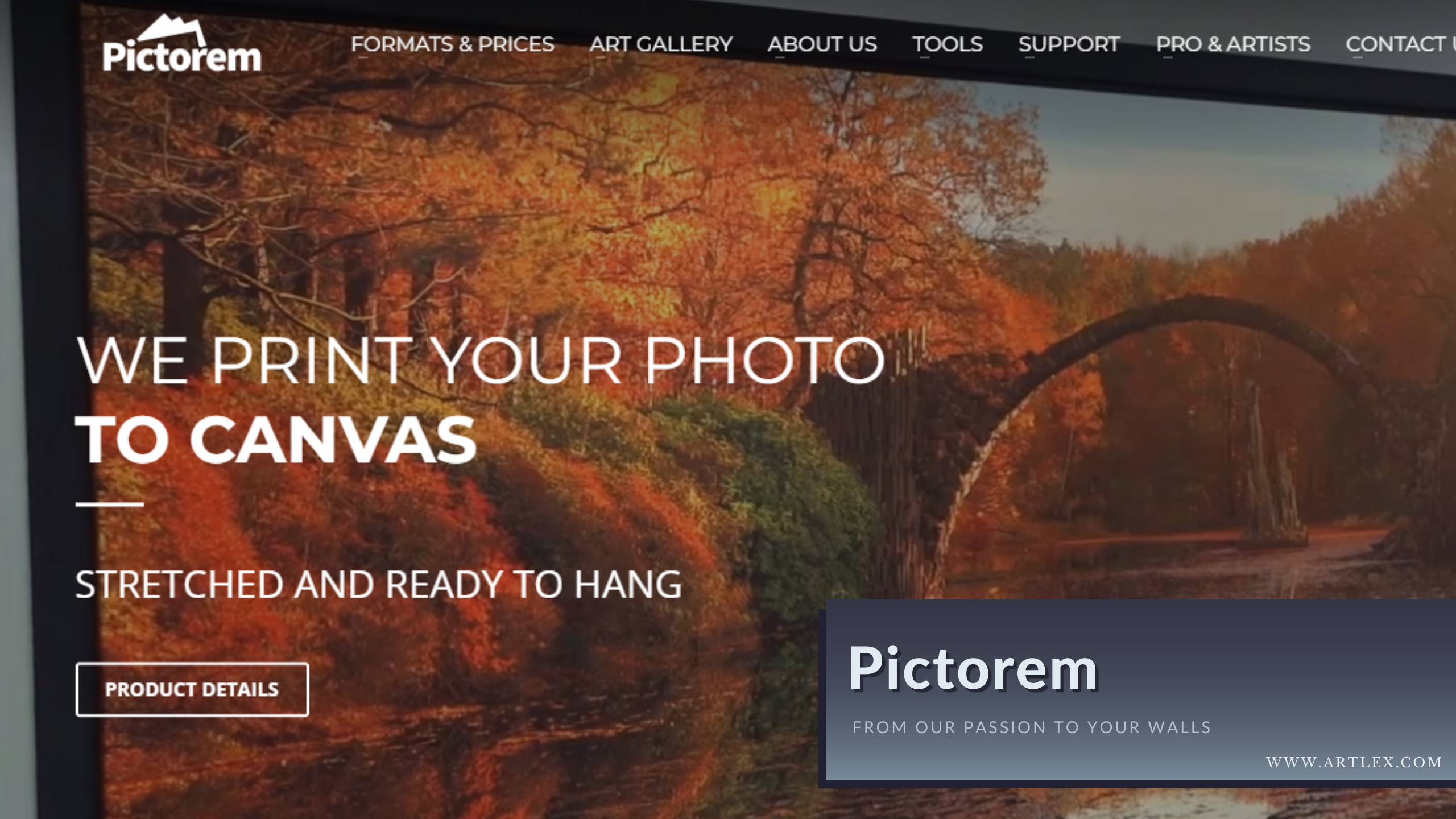 Selection Criteria for Pictorem
Price – $87 (30×24 inches)
Canvas Quality – Museum-quality canvas
Custom Canvas Size – Fully customizable
Customer Service – Excellent
Shipping – US and Canada
About Pictorem
Pictorem is one of the best canvas printing services you can find online, offering high-quality canvas prints for both personal and commercial use for a great price. Their services include printing your images or artwork with museum-grade materials, including premium-quality inks, dyes, and high-quality canvas materials.
They use advanced printing techniques to ensure that your images are printed with the highest level of detail, accuracy, and color reproduction possible. They offer a variety of canvas print sizes and styles to choose from, including standard, panoramic, and collage formats.
When making your purchase, you will have several mounting and framing options to choose from, including floating frames and gallery-style canvas wraps, but that's not all; they also offer acrylic, metal wood, and fine art paper prints, as well as entertaining puzzles you can get made out of your pictures.
The main reason they are the first choice on our list is that they don't only offer the best quality canvas prints, but also have the best price, deals, and levels of customization, letting you choose between several types of finishes, change the size of your print, and also offer tools like a DPI calculator, online image editing you you can get the most out of your artwork, and even let you add a certificate of authenticity for $5 extra.
Pros
Free shipping within Canada and the US
Includes a volume rebate
The easy and straightforward ordering process
30-day Satisfaction Guarantee
Cons
They don't ship internationally
2. Best Canvas Prints on a Budget – CanvasChamp Print Company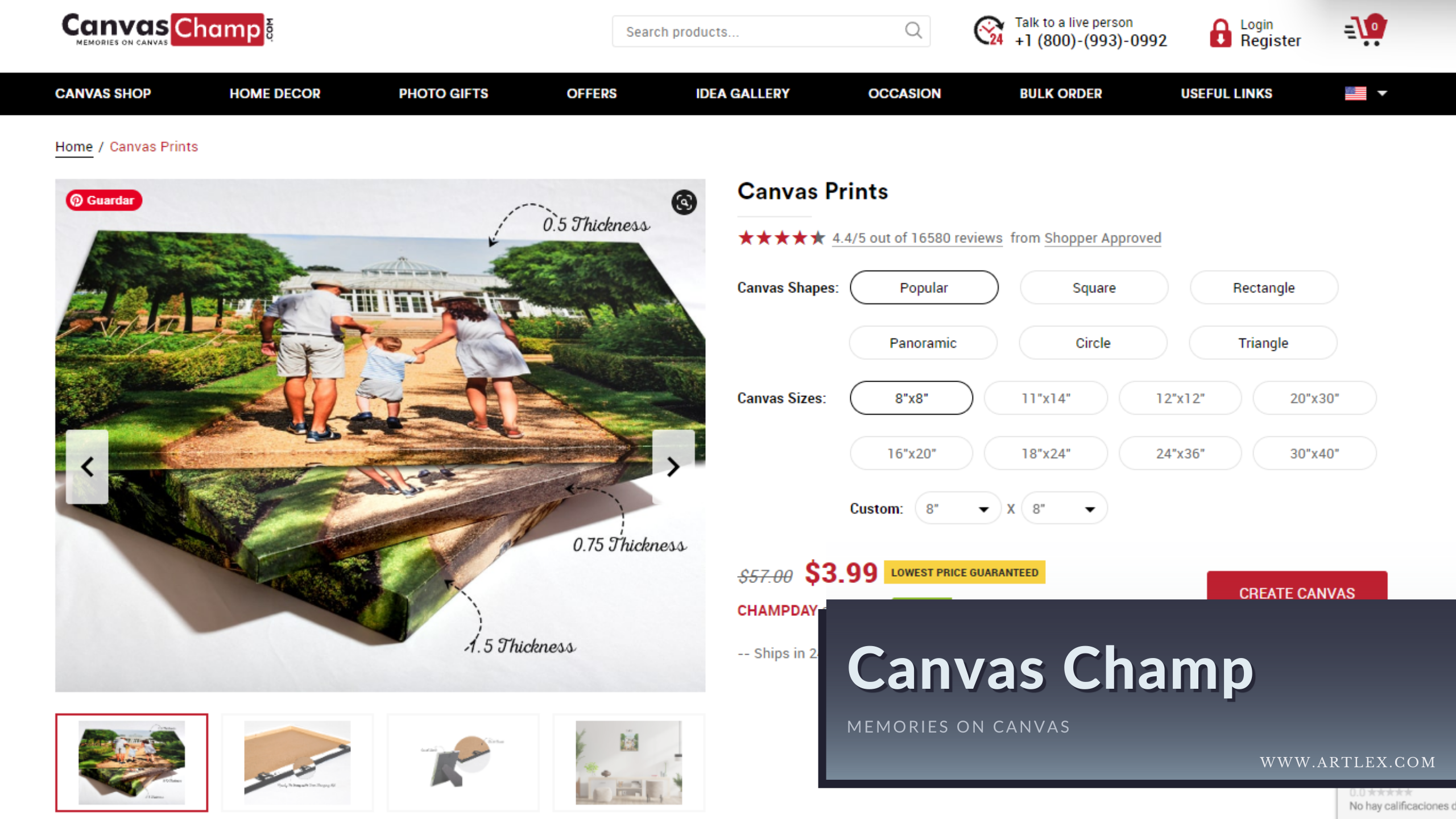 Selection Criteria for CanvasChamp
Price – ~$169.50 (24×30 inches)
Quality – Museum Quality
Customizable – Extensive variety
Customer Service – Very good
Shipping – Internationally
About CanvasChamp
If you want to live the canvas experience without spending too much on a print, then Canvas Champ is your way to go! They offer high-quality prints, several wrapping and mounting options, several shapes, sizes, and formats, and even let you add text to your canvas during the ordering process. Canvas Champ is the most versatile website with the best prices in the market; they also use high-quality and museum-quality materials, ensuring your canvas will last a very long time.
Although they offer very low prices, they keep using wooden frames instead of cardboard boxes with canvas glued to them that many companies that claim to sell the "best quality canvas prints" and tend to overcharge you use nowadays.
Canvas champ is also a great choice for business since they also allow you to choose "dropshipping" in the checkout process so you can send your prints to your clients without worrying about storage and shipping.
The only downside would be the lack of protection they add to their prints while shipping, which can cause damage and leave a bad experience if you're shipping internationally.
Pros
Includes a 99-year warranty on each canvas print
They have the largest variety of canvas prints
Ships Internationally
Cons
Gallery wrap and lamination costs extra
Shipping is free only from $100 orders
3. Best Canvas Printing Services for Professionals: Printique Canvas Print Company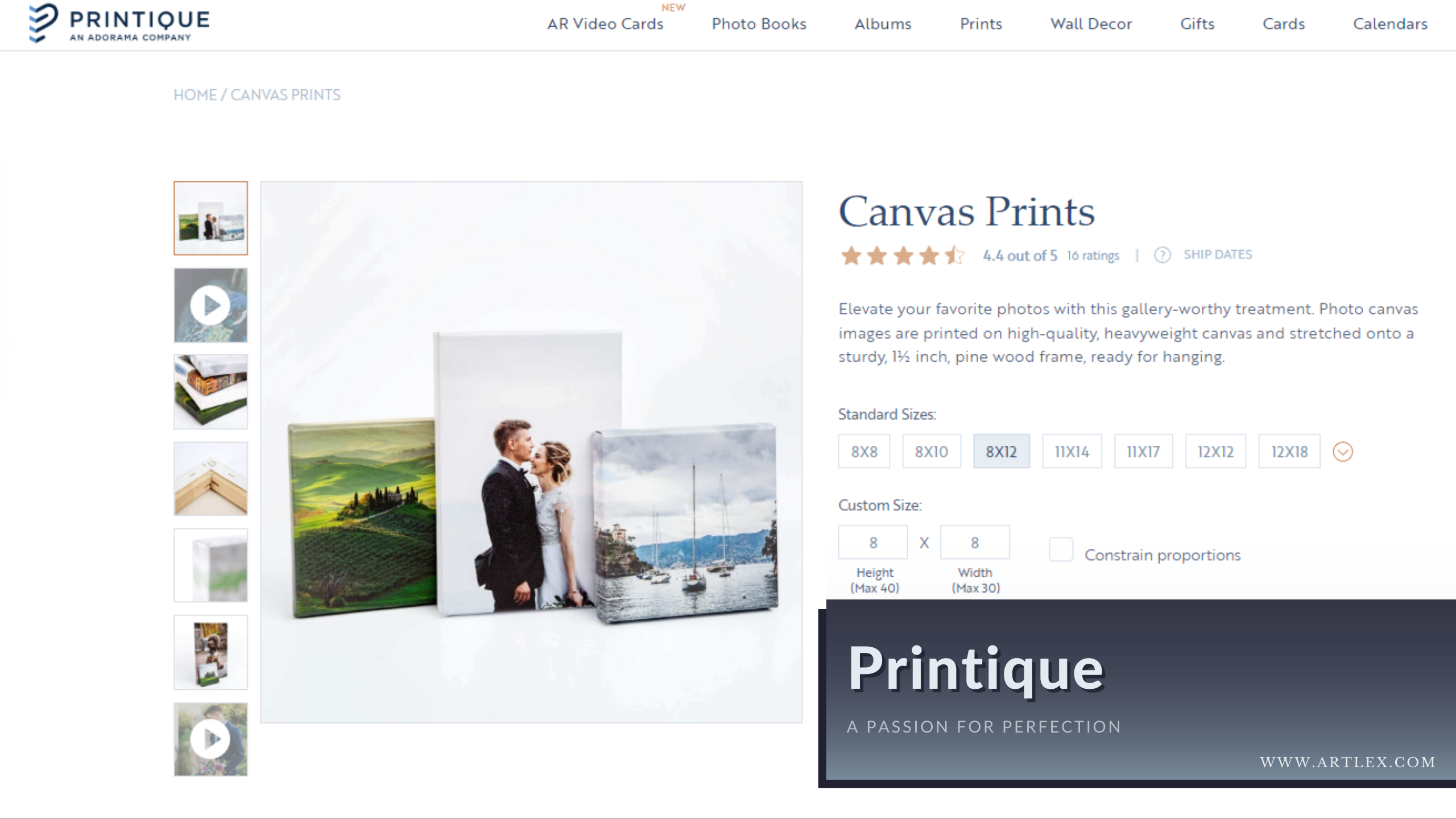 Selection Criteria for Printique
Price – $159 (30×24 inches)
Canvas Quality – Museum-quality canvas
Custom Canvas Size – Fully customizable
Customer Service – Excellent
Shipping – US and Canada
About Printique
If you want to get a canvas print for professional use or a gallery exhibition, then Printique is your way to go. The museum-quality materials and advanced printing techniques they use to produce stunning canvas prints that are sharp, vivid, and long-lasting.
Printique is considered one of the best canvas printing services online; their canvas is made from 100% cotton. They also use archival-quality inks in their printing process that are resistant to fading and discoloration, ensuring that your canvas print will look fantastic for many years to come.
Nonetheless, if you want to ensure the final product is a beautiful representation of your image. Take your time to do thorough research and make sure to read reviews to guarantee you are making a well-informed decision.
With their various sizes and custom framing options, you can create floating or framed canvas prints that genuinely reflects you and your brand, your personal style, and enhances the look of any room. And, with their easy-to-use online ordering process and their attention to detail in the packaging and shipping process, ordering through Printique becomes the easiest way to get the perfect canvas print straight to your hands.
The only downside would be that Printique's prices are on the expensive side; however, you get what you are paying for, and sometimes it's better to invest in better-quality prints than to have to buy twice due to lack of quality or attention to detail.
Pros
Free shipping
Easy ordering process
High attention to details
Cons
They don't ship internationally
They're kind of expensive
4. Best Independent Canvas Printing Service – Paint Addict Studio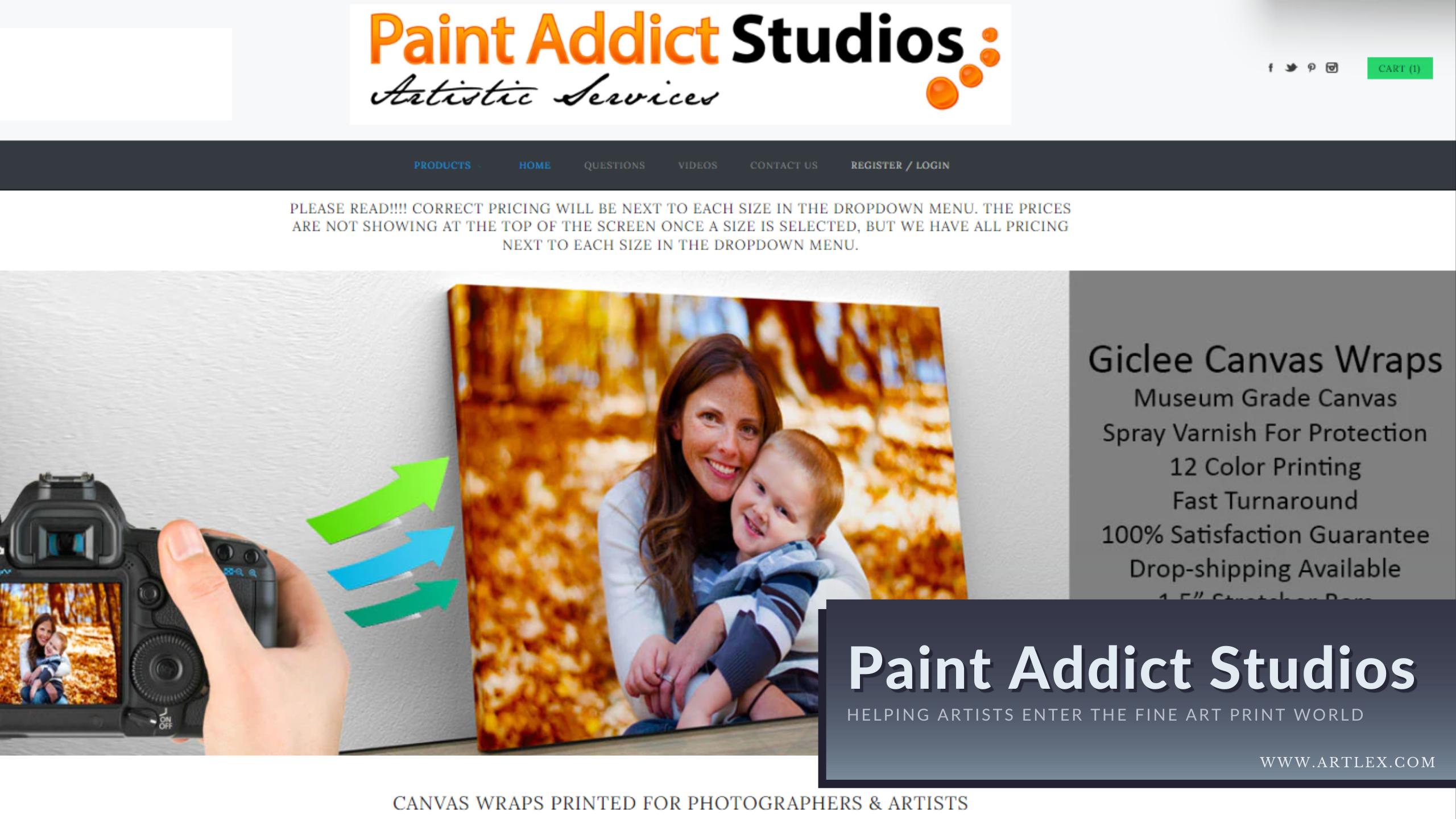 Selection Criteria for Paint Addict Studio
Price – ~$120 (24×32 inches)
Quality – High quality
Customizable – Not so wide variety
Customer Service – Excellent
Shipping – US Only
About Paint Addict Studio
This company is relatively new to the canvas printing market and might not be as popular as the other options presented in this article. Still, it's a hidden gem and certainly one of the best canvas printing services for professionals and non-professionals alike. This business is artist-owned and inspired by artists and photographers, so they know what it is like to go through the canvas printing process better than anyone.
They ship their packages with the most care, using museum-quality materials, and offer excellent customer service with a team that will help you through every step of the process in case you need them.
Although they don't offer the widest variety of sizes and formats and their website is not as interactive as others, their quality and attention to detail are fantastic.
Pros
High-quality prints
Extra attention to detail
Fast shipping
Cons
Not that many customization options
Their website is not as visual and interactive as other sites
5. Best International Canvas Printing Service – Social Print Studio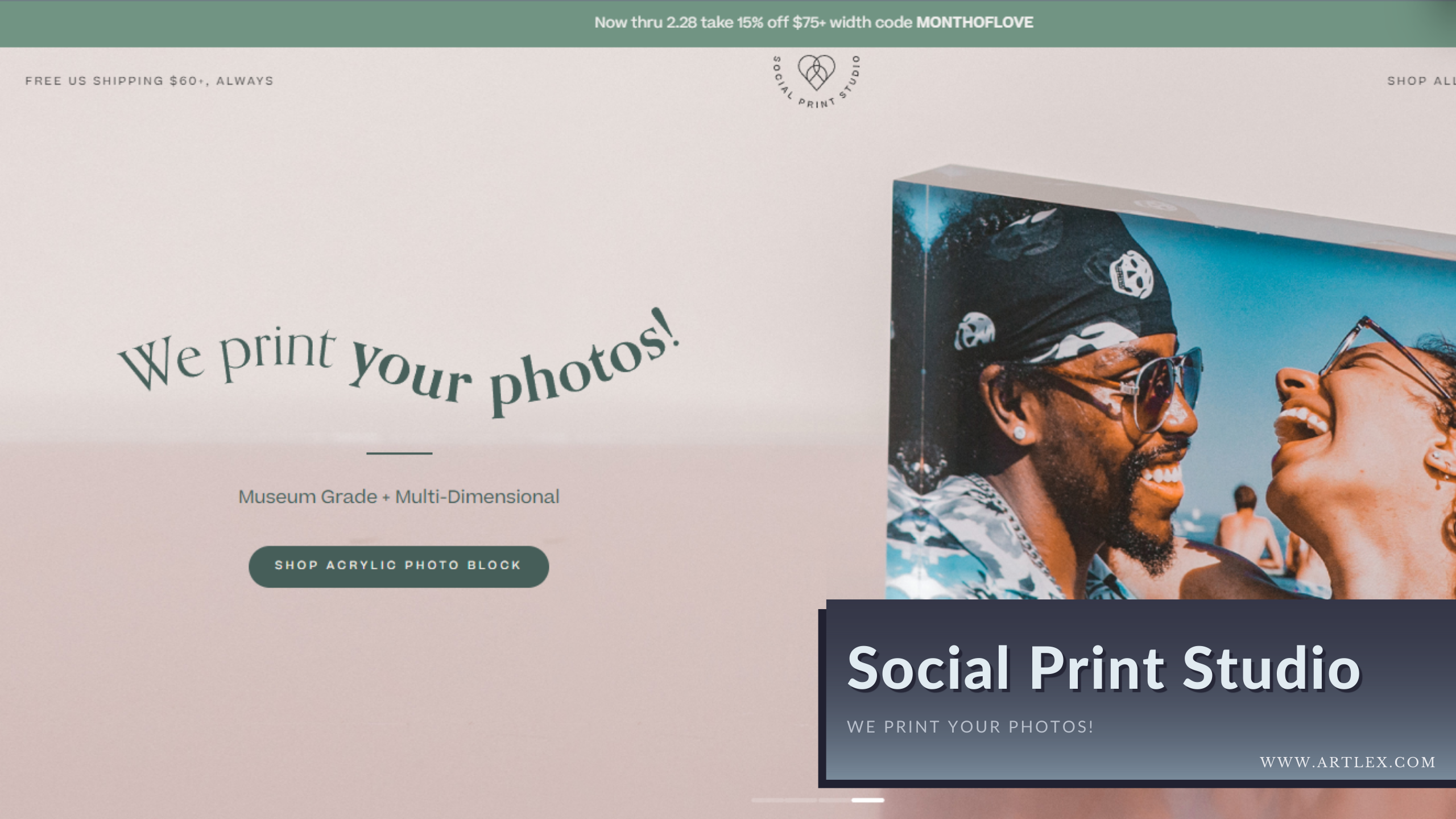 Selection Criteria for Social Print Studio
Price – ~$75.90 (16×20 inches)
Quality – Museum-quality canvas
Customizable – Few sizes and formats available
Customer Service – Standard
Shipping – Internationally
About Social Print Studio
If you're looking for a company that offers custom printing services and ships internationally, look no further than Social Print Studio! They're the perfect choice for anyone who wants to have their photos or designs printed on high-quality canvas materials. With their focus on detail and commitment to using only the best materials, you can be sure that you'll receive a canvas print that you'll love and cherish for years to come.
And it's not just canvas prints they offer – they also have a wide range of other custom printing services, like photo books, posters, mini canvas, mini prints, and mini photo albums so that you can create unique, personalized products for yourself or gifts for your loved ones.
With their user-friendly app and website and easy ordering process, you'll have your custom product in your hands in no time. The downside would be the lack of customization and choices regarding finish, backing, mounting systems, and the limited amount of sizes available, which is a big limitation, but hey, they ship internationally and are especially careful when wrapping and protecting your package.
Pros
High-quality prints
Gallery wrap and mount system included with your purchase
Free shipping in the US and low international shipping rates
Cons
Low customization options
It is a bit expensive
6. Alternative Budget Option for Canvas Wall Art – Elephant Stock Canvas Print Company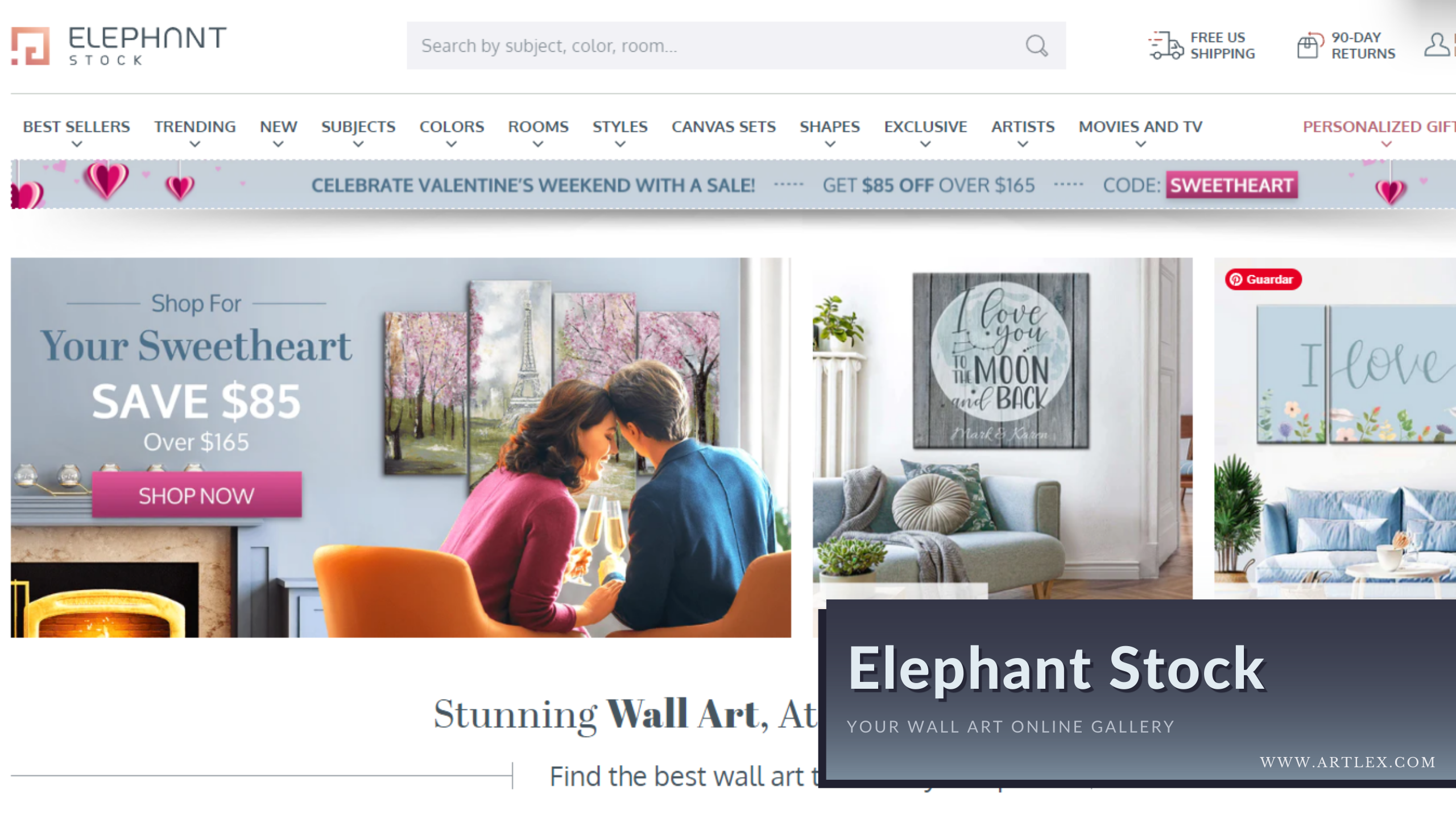 Selection Criteria for ElephantStock
Price – ~$79.85 (20×30 inches)
Quality – Museum-quality canvas
Customizable – Wide variety
Customer Service – Excellent
Shipping – US and Canada
About Elephant Stock
Elephant Stock is a fantastic company that provides a wide range of high-quality custom printing services, including canvas prints. Elephant Stock is an excellent option whether you're looking for a special piece of art for your home or need a custom print for your business. They have a user-friendly website and a quick and straightforward ordering process, making it easy for customers to upload their designs and have them printed on a beautiful canvas.
The sizes go from 9 x 6 inches to 110 x 36 inches for their Panoramic format, and adjust according to your image resolution, not setting you up for failure in case your image isn't big enough.
They include lamination, UV coating and 1.5″gallery wrap, and free shipping while maintaining the price at a very affordable level; their customer service is always available and ensures you get the best product possible while making your experience more enjoyable.
In addition to canvas prints, they also offer photo books, posters, and cards, so you can find the perfect product to fit your needs. With options for different canvas layouts, including panoramic, horizontal, vertical, or square, and the possibility to print one photo on multiple canvases for a unique effect, Elephant Stock has it all. Plus, occasional sales for up to 70% off their entire stock are a cost-effective choice too!
Pros
Great quality
90-day return with satisfaction guaranteed
Free Shipping
Cons
They don't ship internationally
Lack of finish and framing customization
What is Canvas?
Canvas is a type of fabric made from cotton (or polyester) and, depending on the canvas material, is often used to create tents, bags, and other outdoor gear, as it is resistant to weather and abrasion. Canvas is also used for creating oil and acrylic paintings, as the fabric provides a solid, absorbent surface for the paint.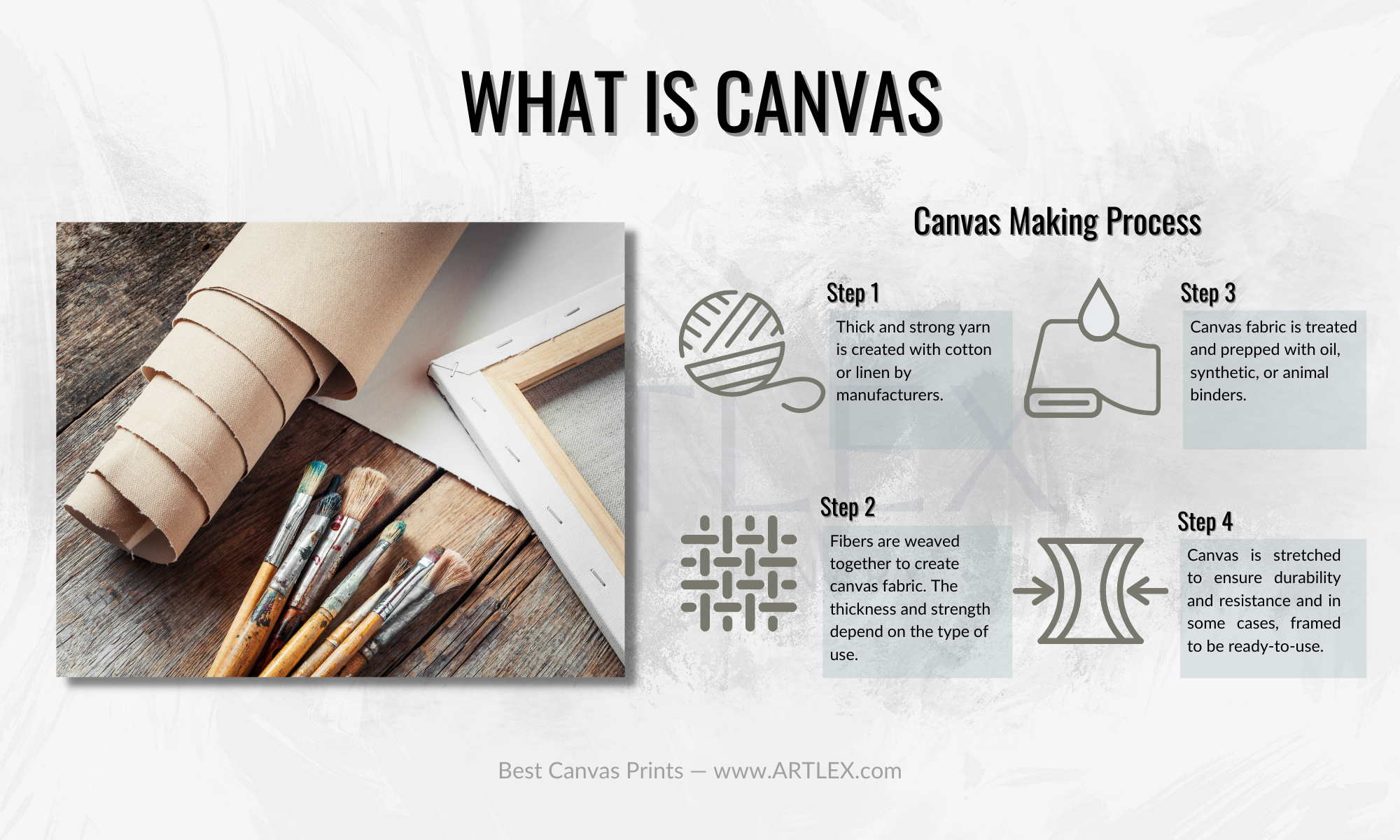 In the world of art and photography, Canvas is used as a surface for printing images. When the Canvas is printed, the image is absorbed into the fabric fibers, which provides a rich, textured look, different from paper or vinyl prints.
But printing the fabric alone is not enough; the canvas must be stretched over a wooden frame to create a sturdy, durable surface and an aesthetic display while giving it support and strength. This helps prevent the canvas from sagging or wrinkling over time, giving the print a clean, finished look.
What are Canvas Prints
Canvas prints are images printed onto canvas fabric, which offers a rich, textured look that is difficult to achieve with other printing materials. The canvas is then stretched onto a wooden frame; this creates a strong and long-lasting base for exhibiting the image. You can print pretty much anything on canvas, including photographs, fine art reproductions, digital art, and illustrations.
Canvas prints can be used for a wide range of applications, including:
Art exhibitions: Due to the archival quality of canvas prints, they are bound to last, so galleries, museums, and other art institutions use canvas prints to showcase the work of artists and photographers.
Home decor: Canvas prints are a popular choice for home decor, as their textured look can enhance any room; they make the perfect wall art or photo decor for your home.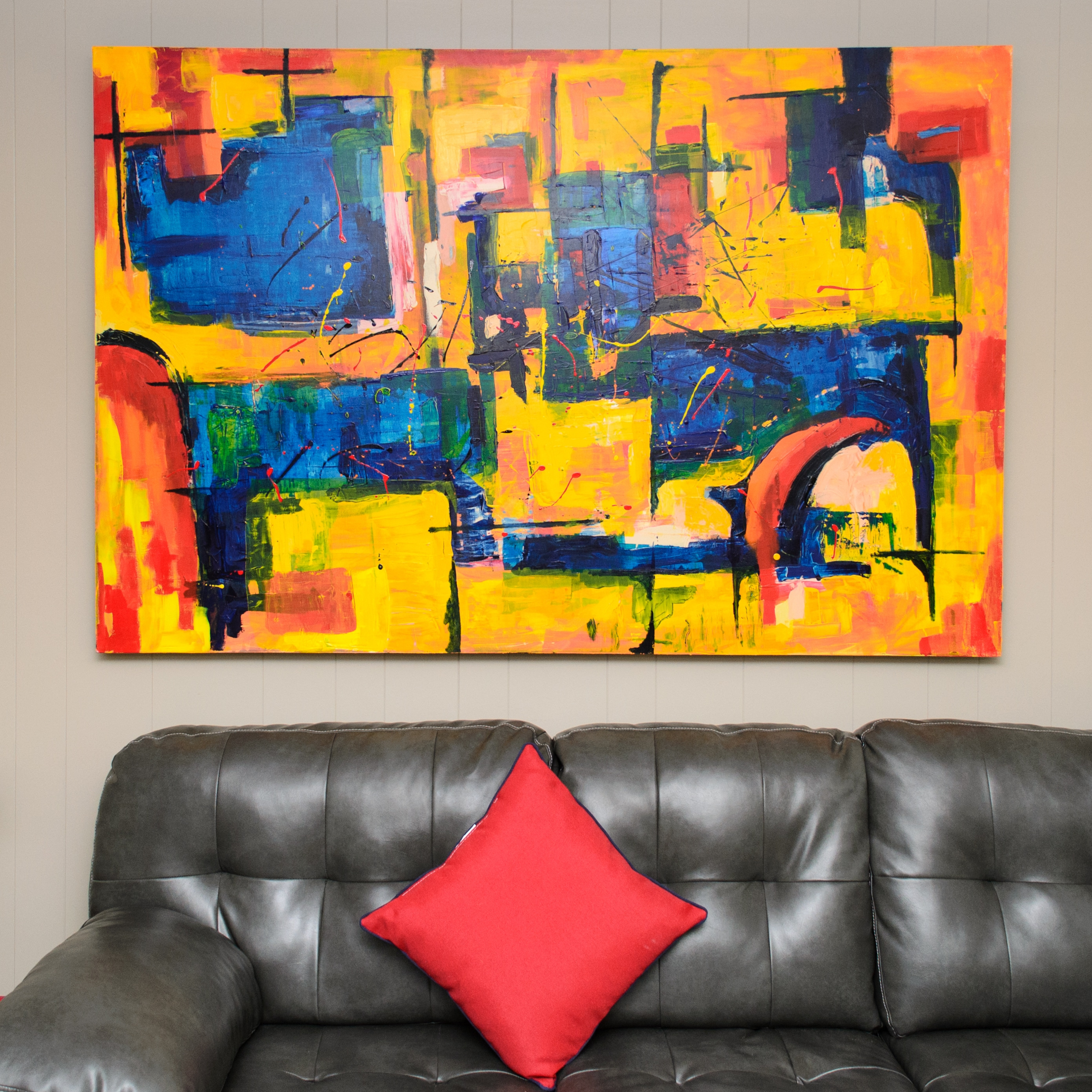 Business: Canvas prints are sometimes used for business purposes, such as promotional materials or advertising displays. You can also use Canvas Prints Companies to sell your art, photographs, and illustrations since they offer drop-shipping and business customization.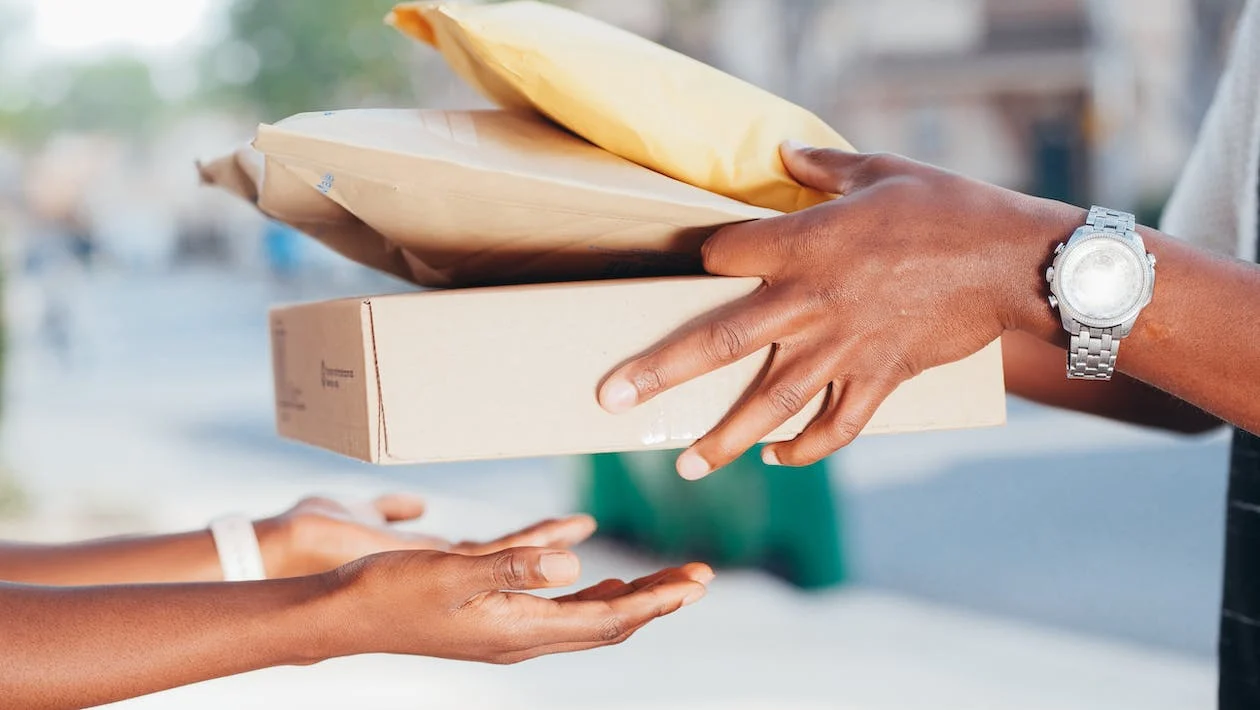 Gifts: Canvas prints can also be used as gifts, as they provide a high-quality and personalized way to celebrate special occasions.
What to Look for in a Canvas Print Company
Materials Quality
When it comes to canvas prints, the quality of the materials used plays a crucial role in determining the final result. There are two main aspects to consider: the inks/dyes, and the canvas materials.
Inks and Dyes
The method used to print and the quality of the inks and dyes can significantly impact the longevity and appearance of the final print. There are several printing methods, including digital printing, giclée printing, and dye sublimation printing, each with its own advantages and disadvantages.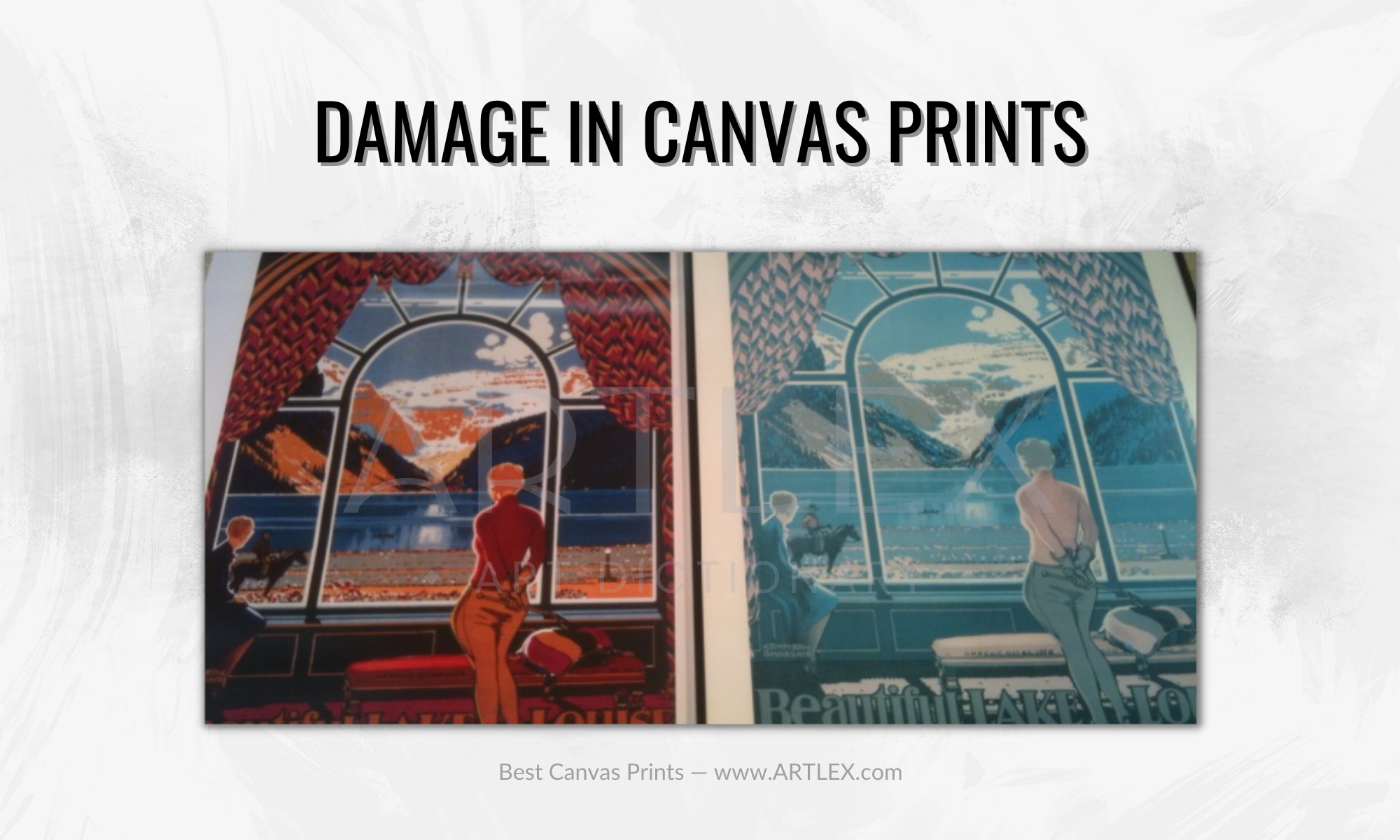 Digital printing uses a high-quality inkjet printer to print directly onto the canvas. The inks used in digital printing are typically UV-resistant, which helps to prevent fading over time. Giclée printing is a fine art printing process that uses high-quality, pigment-based inks to produce a high-resolution image with fine detail and vivid colors. Dye sublimation printing uses heat to transfer dyes directly onto the canvas, creating a long-lasting, vibrant print with a high level of detail.
Canvas Materials
The canvas material is also important. The thickness and quality of the canvas will determine how well the print holds up over time, as well as the texture and overall appearance of the final product. The canvas used for museum-quality prints is typically made from 100% cotton or a blend of cotton and polyester. It is carefully selected for its strength, durability and archival qualities, as well as its ability to absorb and retain the inks used in the printing process.
Image Quality
The quality of the image is a crucial factor to consider when selecting a canvas print service. Poor image quality can result in a dull and pixelated print that fails to do justice to the original artwork or photography.
This can be disappointing, especially for those who aim to showcase their work in the most professional or visually appealing manner.
That's why choosing a canvas print service that takes image quality seriously is so important; high-quality image reproduction will capture and transfer every detail and color onto the canvas.
A serious canvas print service will use technology and techniques to ensure that every aspect of the original image is captured and transferred onto the canvas and, in the ordering process, will let you know and warn you when your image is too big or if the resolution is too low for the size you selected.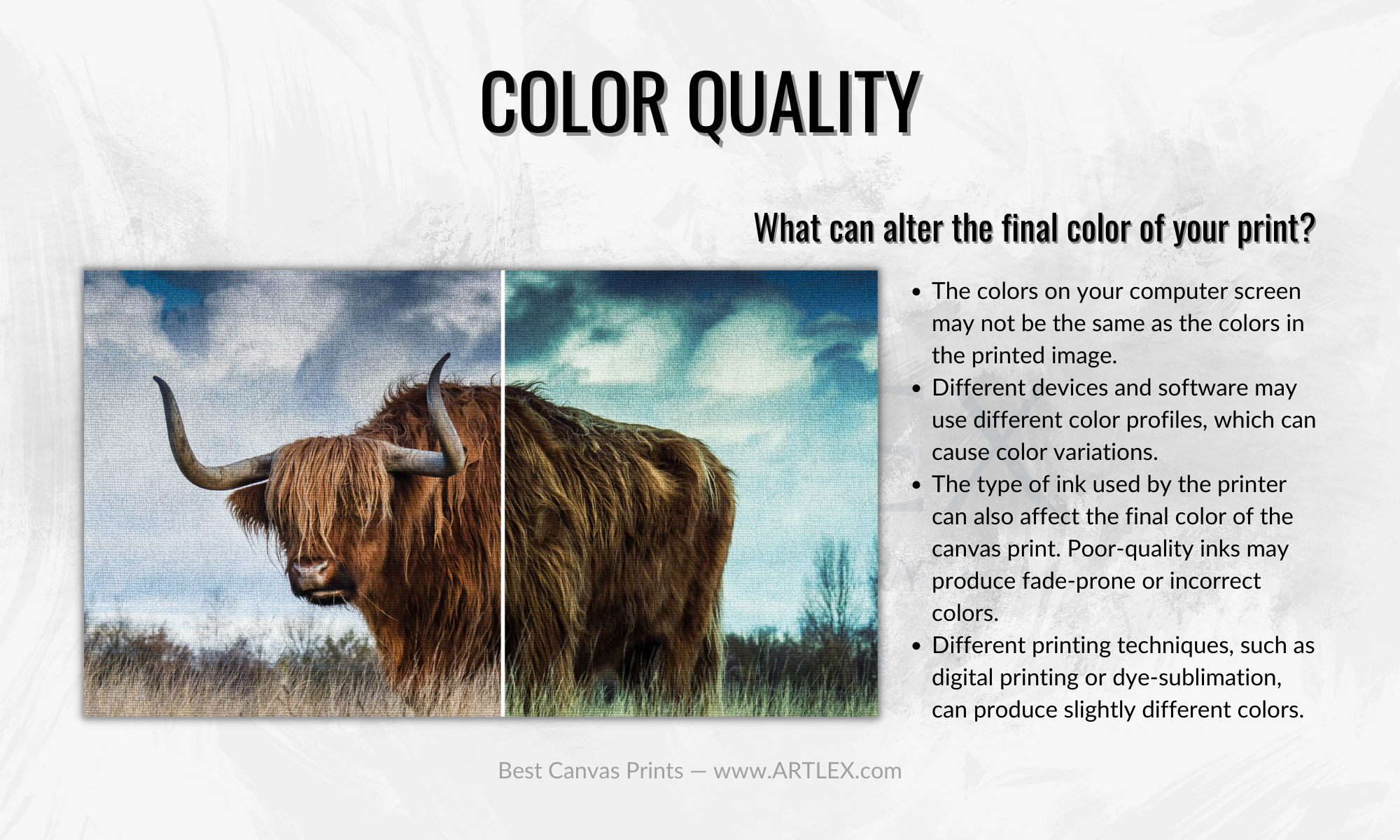 If you have doubts about your image resolution, the safest way to know is to contact the company and ask directly, and they'll be happy to help you choose the best canvas print size for your image.
Sizes and Styles
When it comes to canvas prints, you'll see that there are many different sizes and styles available online, which can sometimes make choosing the right one for your needs a bit overwhelming.
Some of the most popular sizes for canvas prints include 8×10, 11×14, 16×20, 20×30, and 24×36 inches. Of course, larger sizes are also available, depending on what you need and where you plan to display your canvas print.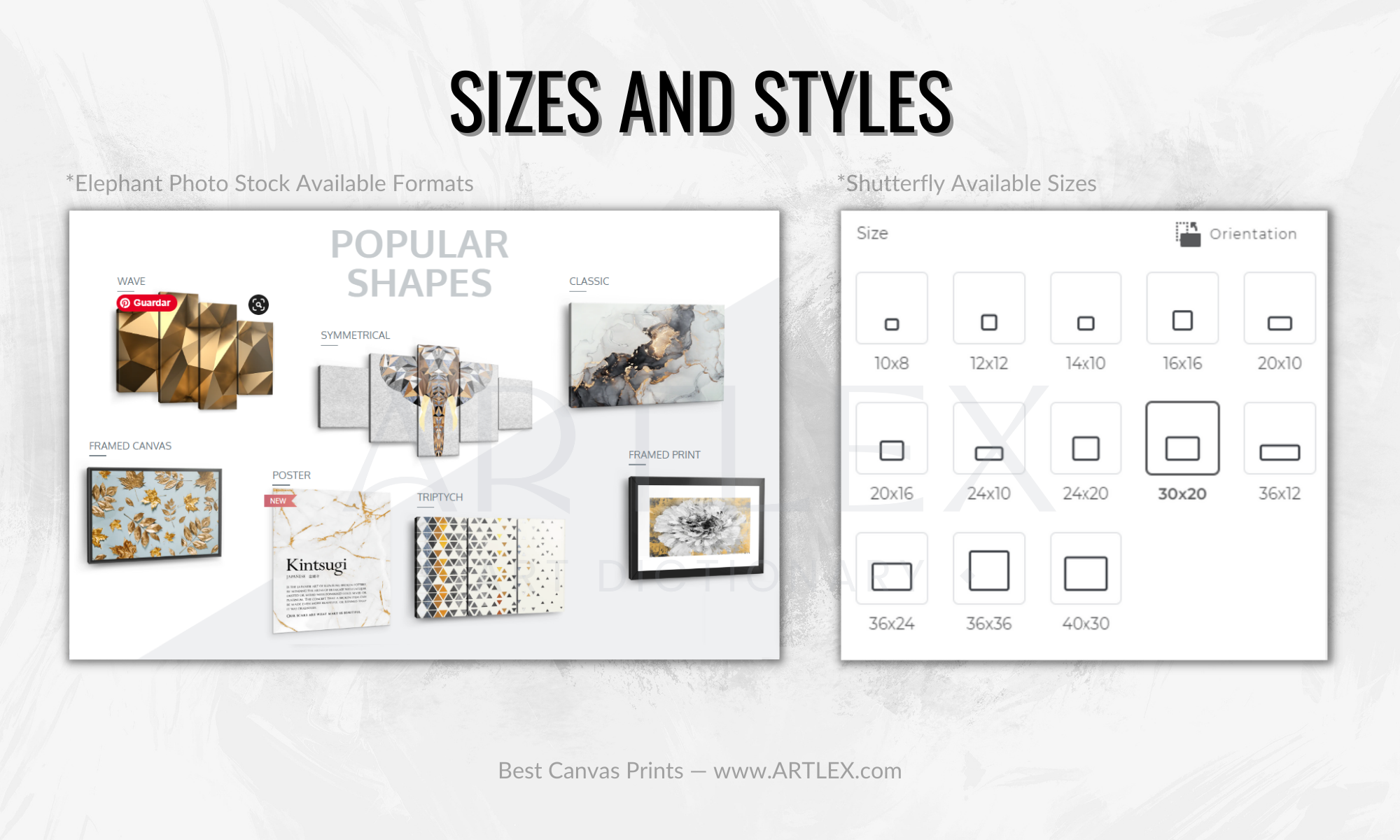 In terms of styles, you have wall art and exhibition formats, and there are many different styles and sizes to choose from. Some popular options include standard prints, collage canvas prints, panoramic prints, and even multi-panel splits.
For example, a large, panoramic canvas print might be the way to go if you're looking to create a statement piece for your living room. On the other hand, if you're looking for a more subtle addition to your decor, standard photo canvas prints or collages might be a better choice.
The format you choose will also depend on the type of image you're printing. For example, a panoramic print might not be the best choice for a portrait image, but it could work well for a scenic landscape.
On the other hand, exhibition formats are larger sizes meant to be displayed in galleries, museums, or other public spaces. When choosing a canvas prints company, it's essential to consider the size and style you need so that you can get a print that's perfect for you.
So, if you have a specific size or style in mind, check the availability while ordering, and if you can't find what you're looking for, don't be afraid to empty your cart and walk away.
Trust me; it's better to know in advance what options you have and what will work best for your needs rather than being disappointed when you receive your canvas print, and it's not the size or style you wanted.
Ordering Process and Customization
One special aspect to consider when purchasing canvas prints online is the ease of the ordering process. Some websites have the advantage in this regard, with well-developed websites that allow you to see how the print would look in a real-life setting, such as in a room or a gallery.
These websites may also provide previews of different finishes and borders, such as a mirrored border or an image wrap, so you can see how the final product will look.
Some give you the option to frame your canvas and let you choose the type of framing by previewing the different materials and colors; some even include a preview of the backing and mounting options, so you know exactly what to expect.
Also, some companies offer the option to add a certificate of authenticity or a custom card to the package for an additional price. You might also have the option of customizing the shipping address and logo for dropshipping purposes.
These features let you have a more personalized canvas print and are especially important in case you're planning on selling your canvas prints or just want to add a special touch to your home; these options give you the ability to personalize your print in a way that truly represents you, your name as an artist, your brand as a business owner or your personality.
Finish Options
The finish can be decisive when choosing if you want to buy high-quality canvas prints. There are several different finishes that can be applied to canvas prints to enhance their appearance and durability; some of the most common finishes include: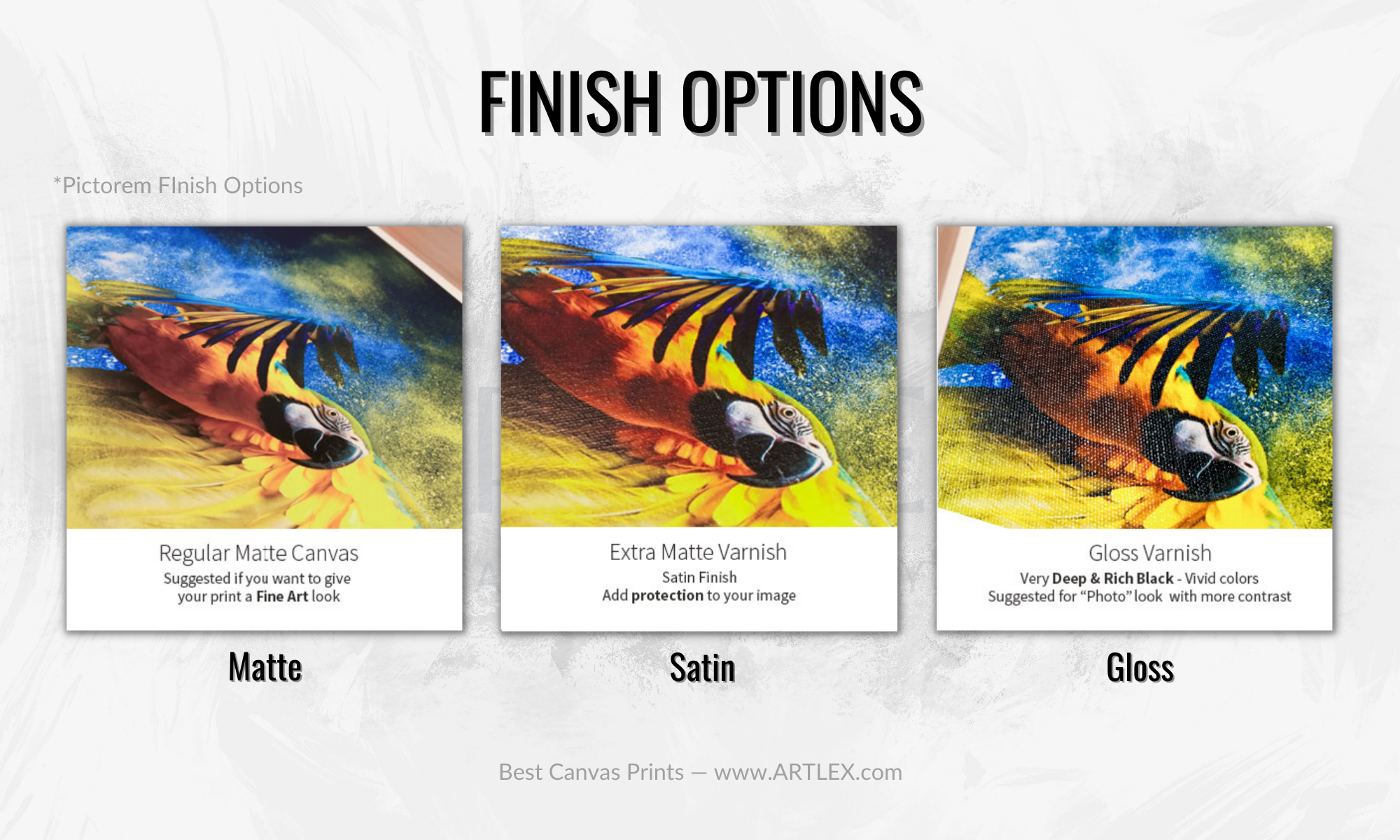 Matte: A matte finish provides a smooth, non-reflective surface that can help to reduce glare and make the images appear softer and more muted; this is great for images with high contrast or very dark values as the light won't reflect and change their appearance.
Glossy: This finish is perfect for images with a lot of light values or needing an extra boost to make the colors pop. The shiny appearance of the glossy finish can add an eye-catching, modern look to your canvas print, making it ideal for displaying images in well-lit spaces.
Satin: The satin finish has the best of both worlds, perfect for adding a bit of vividness to your colors while keeping the extra reflectivity away. It is well-suited for any type of image and is often used to create a more modern, polished look.
Textured and Epoxy Finishes
There are other finishes like "textured" and "epoxy" that aren't offered by all companies; however, they are becoming increasingly popular due to the unique look they provide.
Textured finishes add depth and dimension to the image by creating a bumpy surface that imitates brush strokes and can give the print a more organic, hand-painted look. Although it's hard to obtain gallery-quality textured canvas prints, some companies like Pictorem do an excellent job and are worth considering if you're looking for a more artistic piece.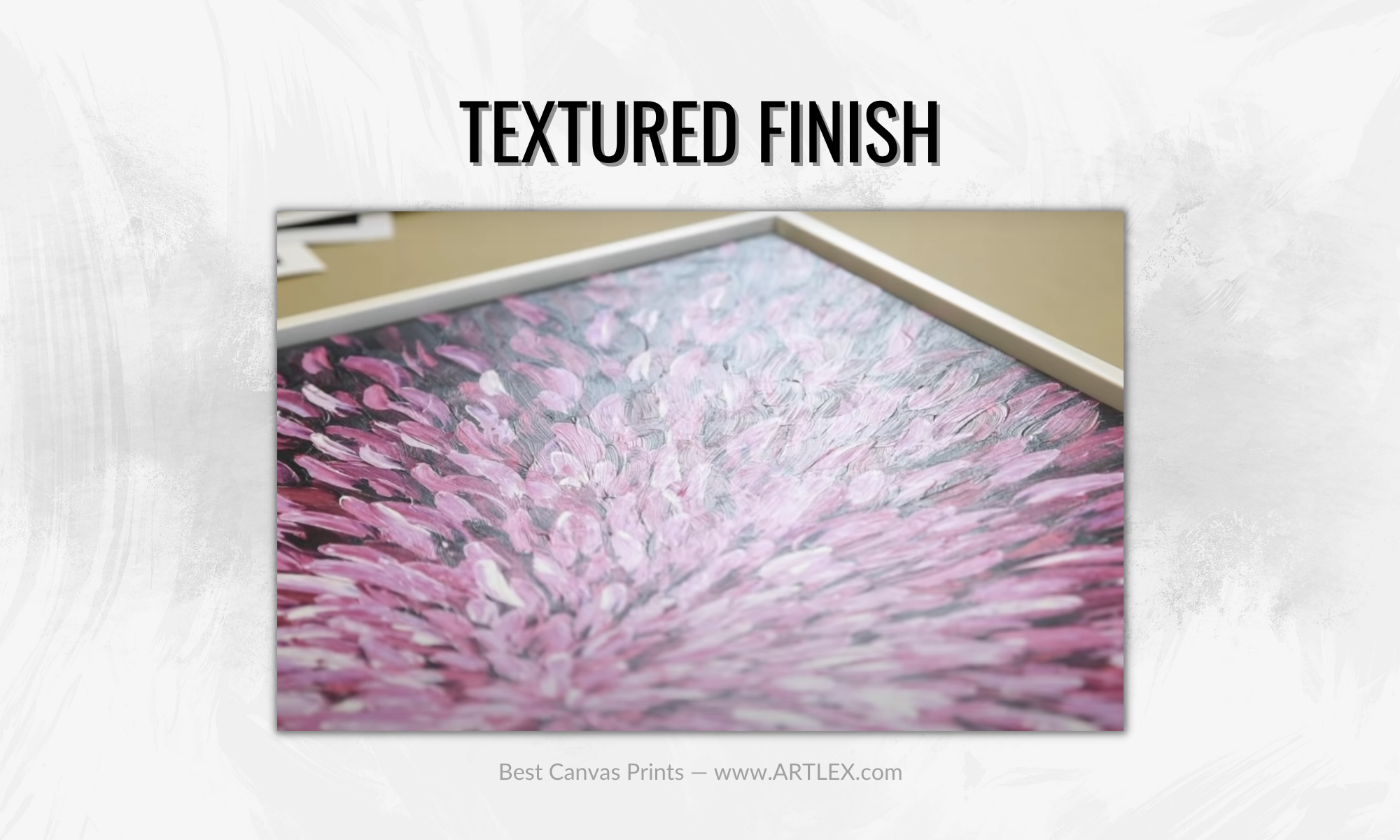 Epoxy Finish: An epoxy finish is a clear, resin-based coating applied over the image to create a glass-like appearance. This finish is not for everyone, but it can give images a luxurious, high-gloss look and is often used for works that can benefit from the added shine.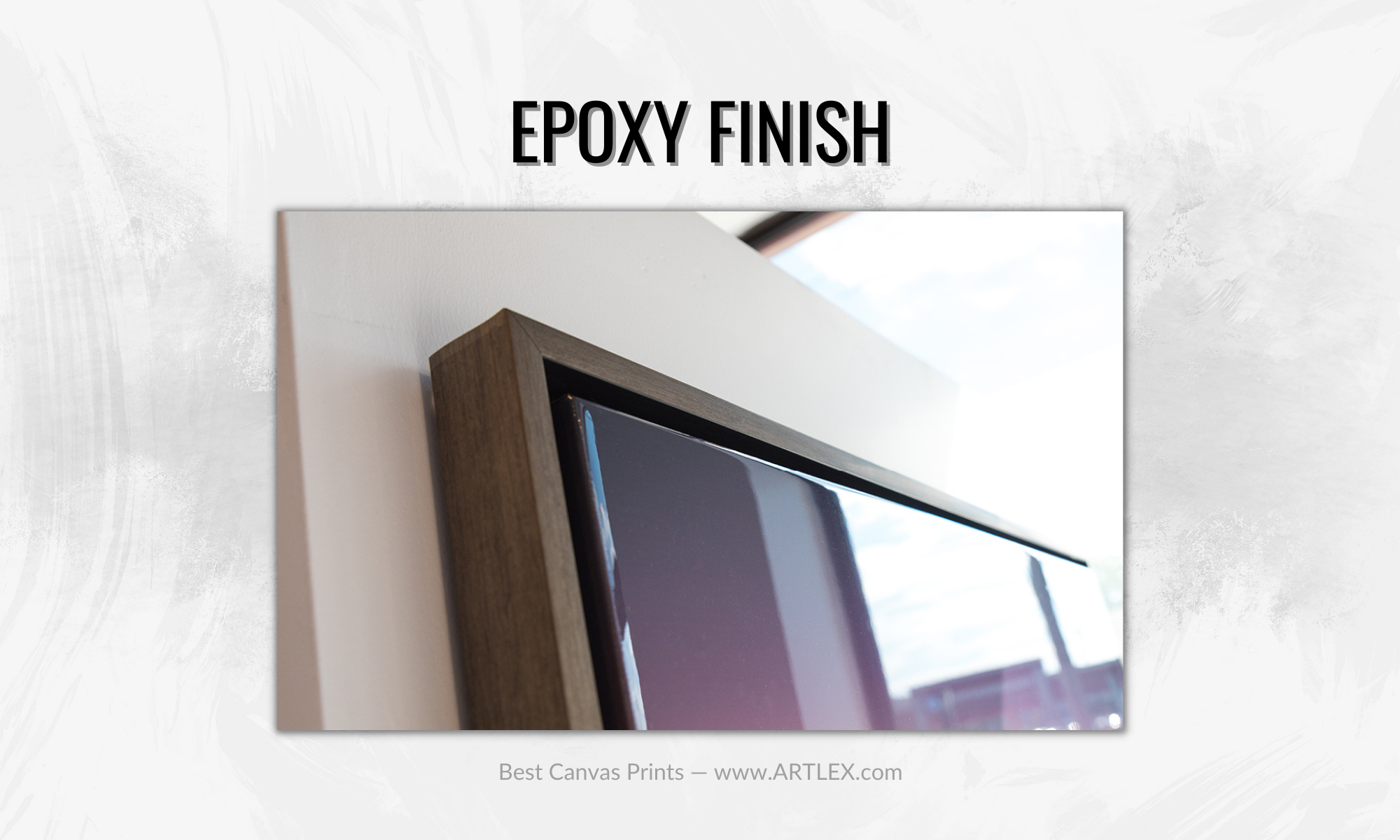 However, it's important to note that the glossy surface can create extreme glare, so it may not be the best choice for every piece or display space and might need controlled lighting.
Shipping and Delivery
When it comes to shipping and delivery, it's essential to consider more than just the processing and delivery times.
Although ensuring your package arrives quickly is crucial for businesses and professionals with tight deadlines or those who have ordered a canvas print for a special event or just for personal enjoyment, the level of protection and packaging a company provides is equally important in ensuring the integrity of the canvas print during transit and until it reaches your hands.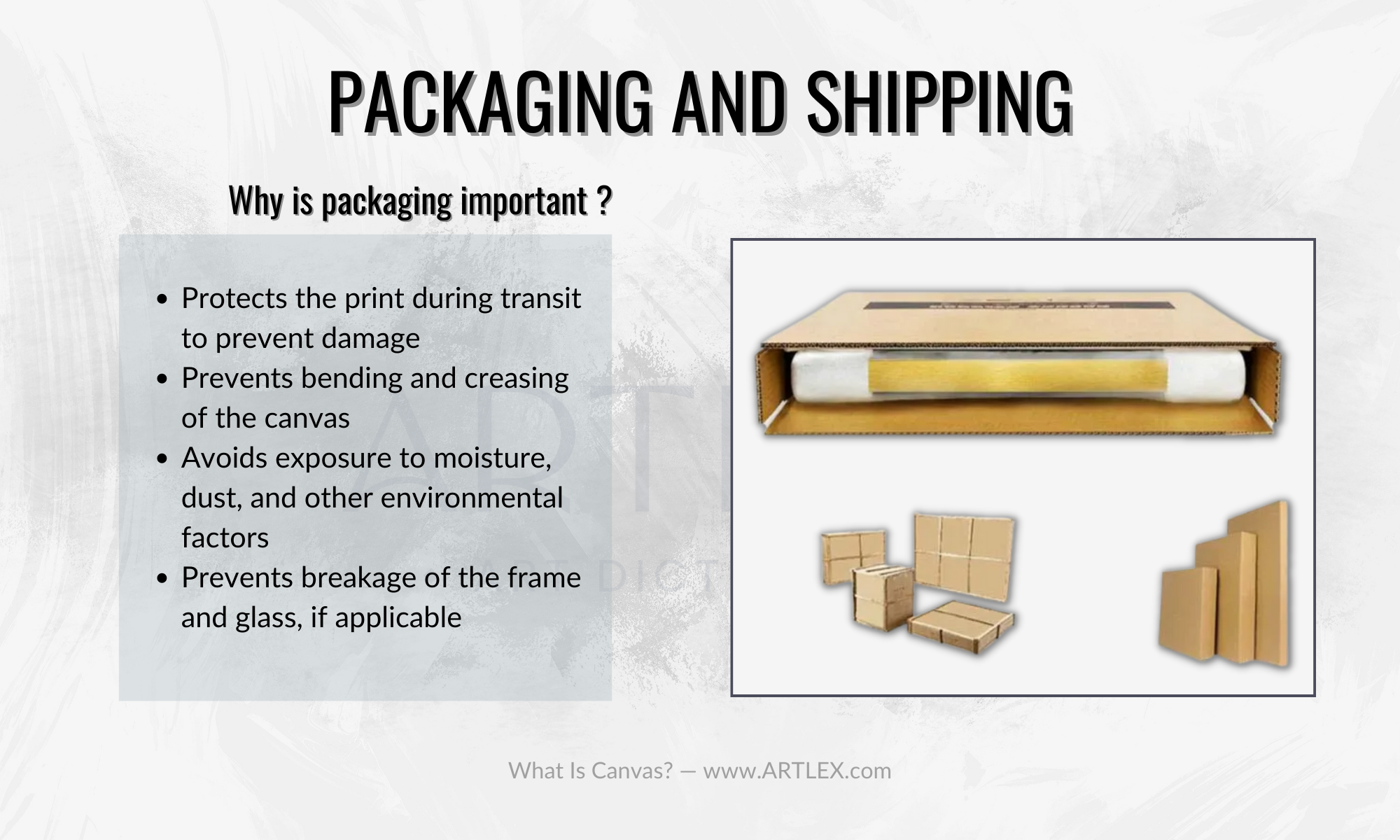 There's nothing more disappointing than opening your print and discovering damaged borders or scratches on the surface, especially if the canvas print is intended for professional use and display. To avoid these issues, choosing a company that takes extra care in wrapping and protecting the canvas print during shipment is very important.
In case you're using the dropshipping option to sell your canvas prints to clients, then it is also important to know if the company gives you a choice to add your logo and customize the packaging to fit your brand better.
Cost
The final cost is an important factor to consider when choosing a canvas print company. Many factors can elevate the final price of your canvas print, like the type of finish, backing, framing, custom mount systems, etc. The best quality canvas prints tend to follow the rule that "you get what you pay for," and while it might be tempting to opt for cheaper options, this could ultimately lead to disappointment.
Low-cost canvas prints are often made with low-quality materials and subpar printing processes, resulting in a product that is not only visually unappealing but also prone to damage.
Sometimes, the canvas is made from synthetic materials, and the frame is not a wooden frame but a cardboard box to which the print has been glued. This takes away any level of professionalism and quality of your canvas. Although it might work for a quick, cheap print, it's unthinkable to use these services for business, professional prints, or photographs that are meant to last.
Furthermore, these prints are often not backed by a warranty or customer support, leaving you with a product that is difficult to replace or repair.
On the other hand, investing in high-quality canvas photo prints can turn out to be pretty expensive, but it provides you with a product that looks great and is durable and long-lasting. These prints are often made with high-quality materials, such as archival inks and acid-free canvases, ensuring that your print will maintain its color and quality for years to come.
Conclusions
In conclusion, choosing the best canvas print services can be a bit of a challenging task, given the numerous options available. However, by considering factors such as image quality, available sizes and styles, finish options, and the ordering process flow, you can narrow down your options and find the company that best suits your requirements.
Not all of us are artists or photographers, so most canvas prints companies don't only make custom canvas prints but also offer you acrylic prints, metallic prints, and even wall art choices, having a vast gallery with professional photos or fine art ready to be printed and shipped straight to your door.
Whether you're looking to spice up your home with some sophistication or searching for the perfect gift for someone special, there's something for everyone. With these options, you can experiment with different styles and materials to create a unique, personalized display that genuinely represents you.
Nonetheless, if you want to ensure the final product is a beautiful representation of your image. Take your time to do thorough research and make sure to read reviews to guarantee you are making a well-informed decision.
We hope this article has been useful in helping you determine the best canvas print company for your needs. Remember that quality should always be a top priority when choosing a canvas print company.
Due to the proven loss of quality in recent years, we haven't included sites like Easy Canvas Prints, Canvas Pop, or Canvas on demand. At Artlex, we worry about you and always make sure to recommend the best products and services. We're still looking forward to seeing new companies raise the bar regarding quality, attention to detail, and durability.