Tanchen 4K Canvas Artist Portfolio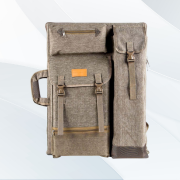 Durable, water-resistant, many large pockets; not fully waterproof.
JanSport Big Student Backpack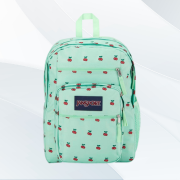 Versatile, comfortable, ample storage; not artist-specific or waterproof.
PRO ART PRO-7301 Messenger Art Supply Bag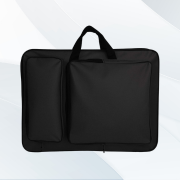 Waterproof, durable, lays flat; lightly padded straps, material may look cheap.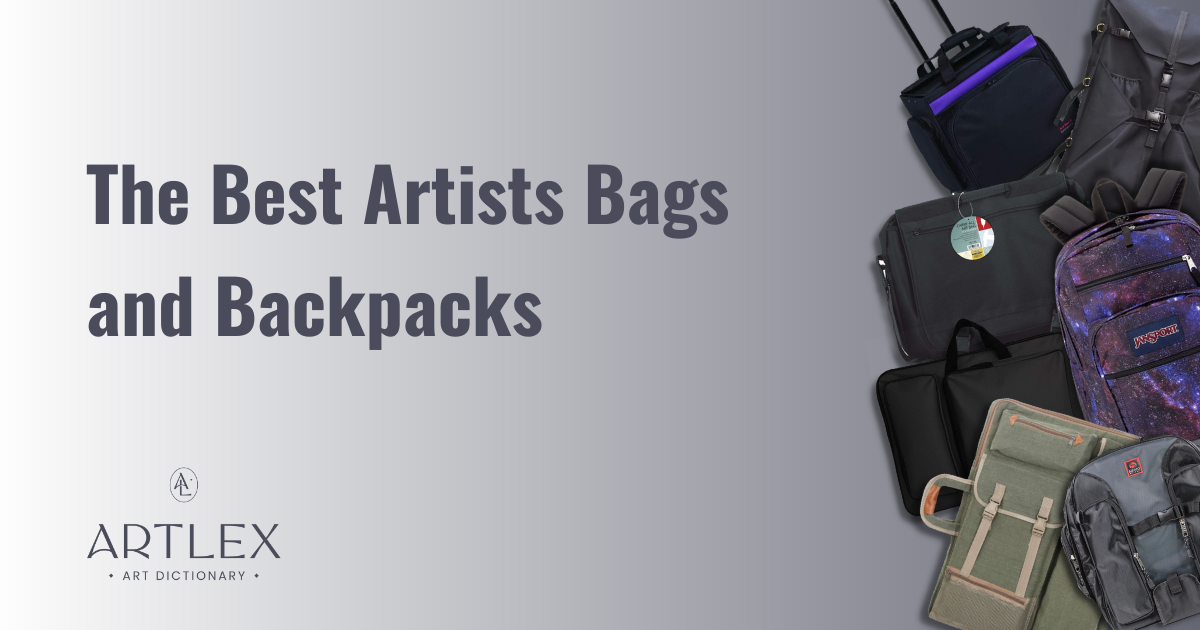 The artist on the go needs a good way to carry their supplies, but not all artist bags and backpacks are alike. In this guide, we go over how to choose the best artist backpack or bag for you and review the eight best artist bags and backpacks we've found.
How to Choose an Artist Backpack or Bag
The best backpack or bag for an artist is the one that does what they need it to do. Every artist is different and has a unique set of needs that their bag must fulfill. While there are a lot of factors to consider, we primarily evaluated these bags on size, compartments, comfort, durability, and price.
Size
Size isn't everything, of course, but it's one of the first things we look at when deciding whether a bag or backpack fits a particular purpose. Take note here that we're not saying to look for the most enormous bag you can find. Among the best backpacks for artists are bags in all shapes and sizes. The best size for any artist's bag is the size that gets the job done.
For example, an art student may need a large bag to carry all of their supplies around campus all day because they can't get back home in the middle of the day to swap things out. If they need to carry their portfolio to class, they'll want something with a durable frame to keep the corners and edges from getting dinged on their commute.
On the other hand, a hobbyist may not want a giant bag to carry their supplies. If their priority is to have their supplies all in one place to grab them and go, they may want a small bag that doesn't take up a bunch of space in their car or closet. A massive bag with tons of pockets for a wide variety of supplies just wouldn't be necessary to them.
In this guide, we discuss the size of each bag on this list in terms of its purpose. Some bags are big enough for portfolios, and others are just big enough for tablets, but they're all the right size for the job they have to do.
Compartments and Pockets
Every bag needs pockets and compartments, but artist backpacks often demand more specialized storage options. For example, painters need slots to store paint tubes and pockets for pallets, plus storage loops for dry brushes and waterproof pouches for wet ones. Drawing artists may want a removable pad holder and zippered pouches for their pencils and pens.
Portfolios, sketch pads, and drawing boards require large, specialized pockets to keep them safe. Compartments that only open at the top can damage the corners, edges, and bindings of notebooks, so look for bags that open completely and fold flat to insert and remove items like these.
An artist must also consider whether they will use their bag only for art supplies or whether their bag will serve a more multifunctional purpose. Bags with more compartments allow users to store everyday items along with their art supplies, so they can go from the office to the studio without having to swap bags or even hop on a plane for a vacation or business trip.
Again, the most important thing to consider here is what you will use the bag for. It does no good to buy a bag with a special pocket for a portfolio unless you actually need to carry a portfolio around. It's almost always better to prioritize versatility over specialization unless you have a particular need.
Comfort
Art supplies are heavy, and portfolios and drawing pads are enormous and unwieldy. Even in the best of circumstances, they can be awkward to carry, so an artist's bag needs to make that job more manageable. For a portfolio bag, look for even weight distribution and straps set high on the bag to avoid getting caught by the wind.
Regular backpacks should have padded shoulder straps, and some even have an ergonomic shape to distribute weight evenly and comfortably across the shoulders and back. A padded back is helpful, too, especially if there are ventilation channels in the padding to keep it cool.
Of course, sometimes things are just too heavy to carry. For artists who have a lot of bulky supplies to transport, we recommend skipping the backpack altogether and investing in a bag with wheels to make the job easier.
Durability
Some artists put a lot of wear and tear on their bags, which can cause them to become damaged or broken over time. This is an unfortunate but necessary fact of the art world – art supplies are heavy, and they can make a huge mess. Choosing a bag made of durable materials can ensure that it lasts a long time.
Canvas is one of the most popular and durable materials for art bags. It's naturally water-resistant, so it repels rain and moisture, and it lasts a lifetime. Vinyl is another commonly used material, and while it's fully waterproof, it tends to break down over time.
There are plenty of other natural and synthetic materials that can be used to make artist bags, and some are more durable than others. If you're buying online, check the reviews to see what users are saying. If you're buying in person, give all the seams and zippers a good tug to see how strong they feel.
Price
It should come as no surprise to anyone that a high-quality bag often comes with a high price tag, but that's not always the case. There are several durable artist bags and backpacks on this list with a price point below $50, which is a steal.
On the other hand, sometimes it's worth paying more. Sometimes, a higher price tag means better craftsmanship and higher durability for a longer-lasting backpack. Remember that replacing a $20 bag twice costs more than a $50 bag.
Of course, sometimes money is tight, and we just need a bag to get us by until we can afford the bag of our dreams. That's okay, too. There's even a bag on this list for under $15, and while it won't last forever, it'll do a great job while it lasts.
The Best Artist Backpacks and Bags on the Market
With all of those criteria to consider, choosing the perfect backpack often comes down to deciding what bag fits an artist's lifestyle. Some artists are on the run all day, every day, and want a bag that can do everything. Others just want a bag that keeps all their supplies in one place so they can grab them and go at a moment's notice.
We've reviewed dozens of bags to bring you the eight best artist backpacks and bags for all purposes. Whether you're an art student, professional artist, or hobbyist, there's a bag on this list for you.
1. Tanchen 4K Canvas Artist Portfolio Backpack – Best Artist Backpack Overall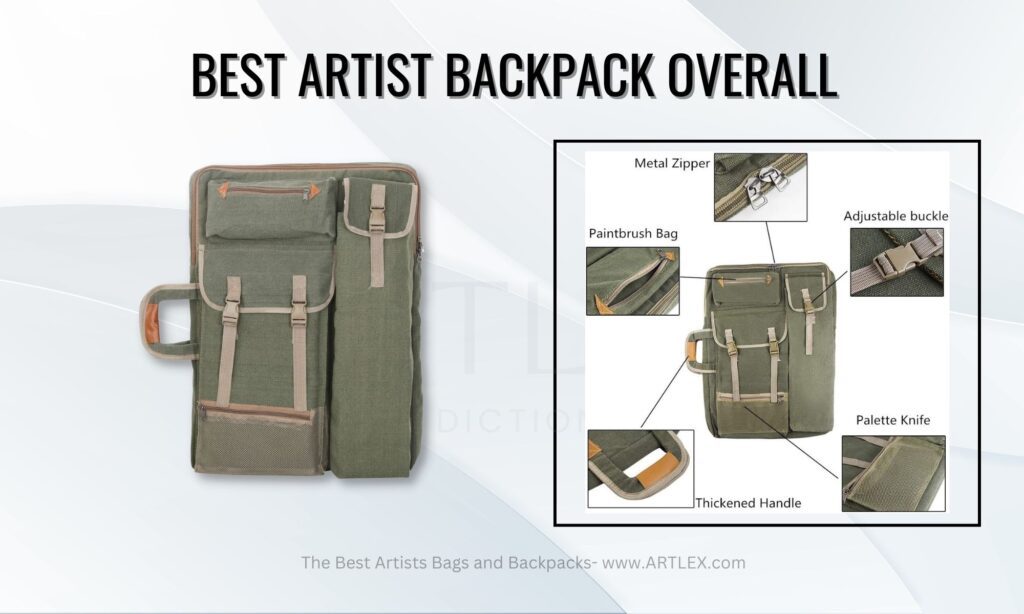 Size: 9/10
Compartments and Pockets: 9/10
Comfort: 9/10
Durability: 10/10
Price: 10/10
About the Tanchen 4k
Choosing the best overall backpack was hard because there are so many options to choose from that fit so many different use cases. For the best overall artist backpack, we looked for something made specifically for artists in various disciplines. It had to be durable yet comfortable, water-resistant, and large enough to hold a full-sized portfolio.
The best overall artist backpack is this multifunctional 4k canvas artist bag from Tanchen. It's made from high-quality, durable canvas that lasts a lifetime. It's not fully waterproof, so we wouldn't throw it in a pool or anything, but it's water-resistant enough to keep the rain away from an artist's hard work.
There are tons of pockets – more than almost any other portfolio bag we've seen – and they're absolutely massive, so an artist can take all their favorite supplies wherever they go. It can hold up to a 25 by 18-inch drawing board, and there's even enough room for an easel in this bag, so it's suitable for working outdoors!
This bag is beautiful, durable, and even ventilated to keep it from getting smelly. We would expect this bag to cost a fortune with all those features, but it's just over $25 with hundreds of positive reviews.
Pros
Ventilated pockets keep it smelling fresh
Durable canvas material
Inexpensive
Cons
The back isn't reinforced, so it bends when worn
Not fully waterproof
2. Best Everyday Backpack – JanSport Big Student Backpack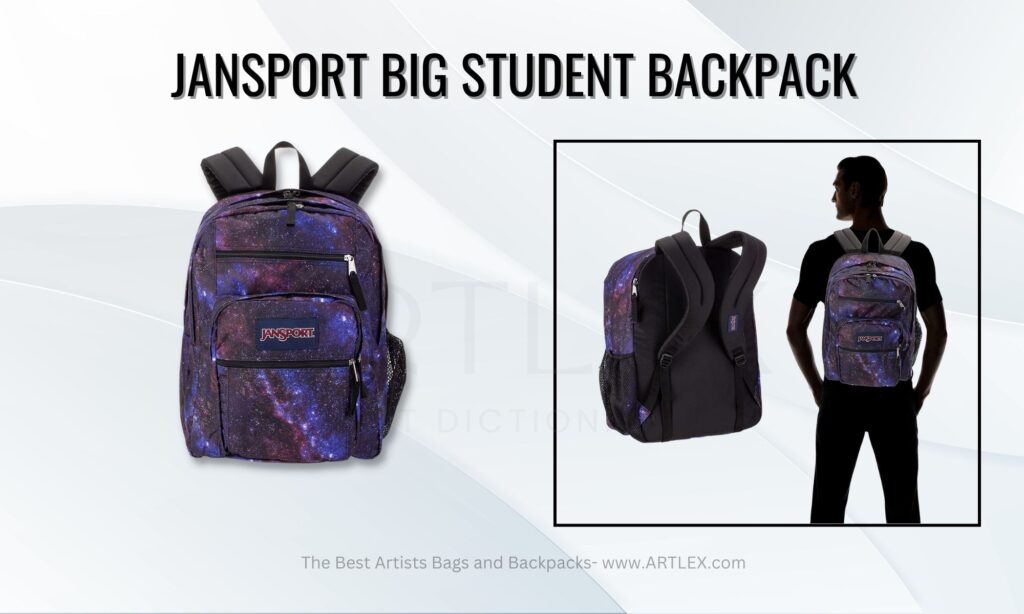 Size: 10
Compartments and Pockets: 8
Comfort: 10
Durability: 10
Price: 8
Most artists do more than just art, and sometimes they need a backpack that can do more than just carry their supplies. JanSport has been making backpacks for school and everyday life for more than 50 years, and the classic Big Student Backpack is the most versatile backpack we've found.
This bag features two large interior pockets that can hold drawing boards, sketchbooks, regular notebooks, and other supplies, plus a dedicated laptop compartment for up to a 15-inch laptop. There are additional zippered and pleated pockets for carrying your wallet, keys, phone, and other everyday items, and a side pocket for a water bottle.
At 17.75 by 13 by 10 inches, this bag doesn't look huge, but it has a volume of 34 liters, which is pretty massive for an everyday backpack. The padded ergonomic shoulder straps and fully padded back panel make it comfortable to carry no matter how much is in it. It comes in a variety of colors and printed designs, which we love, and at under $50, it's budget-friendly, too.
Pros
Versatile backpack for everyday wear
Lots of fashionable designs
Super comfortable to carry
Cons
Generic compartments aren't artist-specific
Not waterproof
3. Best Backpack for Students – RUIXIB A3 Waterproof Canvas Portfolio Bag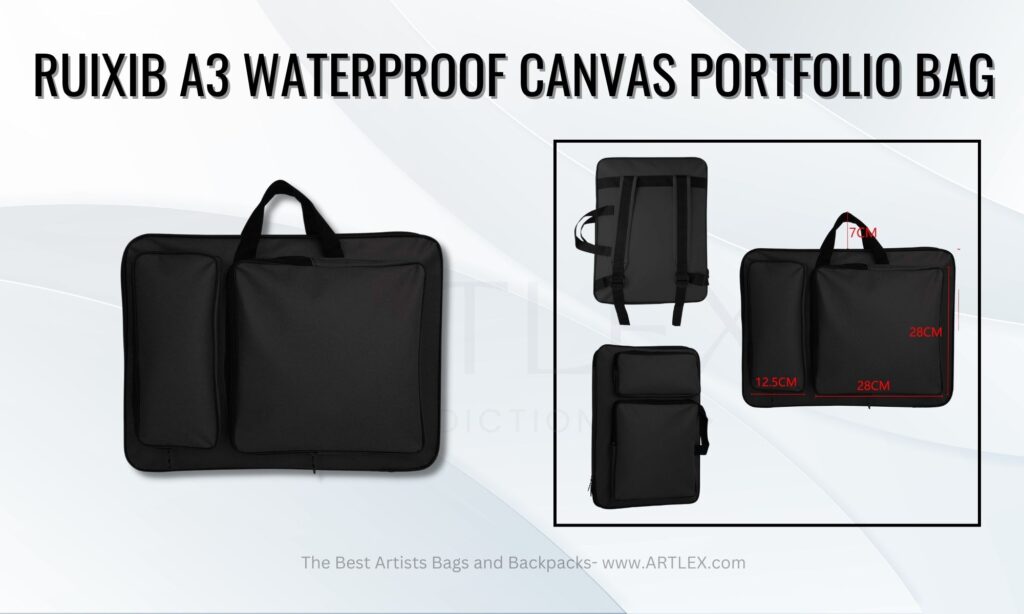 Size: 8/10
Compartments and Pockets: 7/10
Comfort: 8/10
Durability: 10/10
Price: 9/10
Students require a lot out of their backpacks, and art students have special considerations to protect their supplies and work. This durable waterproof backpack is made of heavy-duty canvas so that it can take a beating on long commutes to campus and transfers from one class to the next.
This bag fits up to an 8k painting board or A3 portfolio, and the waterproof material protects the student's hard work from moisture, even during heavy rains. A medium-sized pocket is large enough for a folding easel, sketch pad, or paint palette, and the small pocket is the perfect size for brushes, pencils, and pens.
We love how this bag zips all the way open and folds out flat, so portfolios and drawing pads don't get damaged during insertion and removal. There's also a comfortable side handle to carry it as a handbag as needed. A high-quality bag like this one usually costs a bundle, but this bag comes in at a shocking $30, which helps artists and students save money, too.
Pros
Zips open and lays flat
Waterproof material
Perfectly sized pockets
Cons
Straps are only lightly padded
Material looks somewhat cheap
4. Best Budget Artist Bag – PRO ART PRO-7301 Messenger Art Supply Bag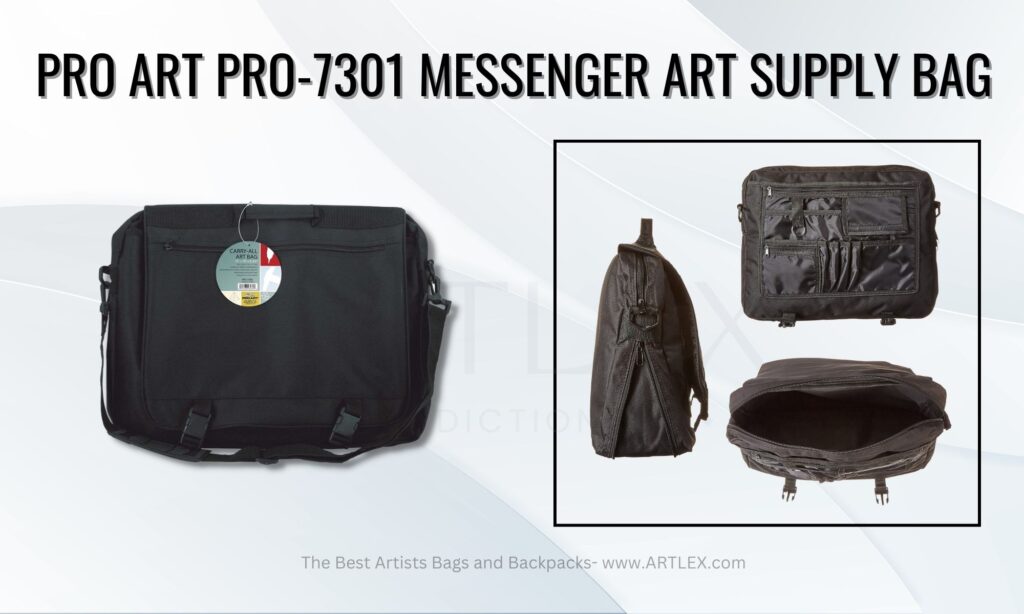 Size: 7/10
Compartments and Pockets: 8/10
Comfort: 7/10
Durability: 6/10
Price: 10/10
An art supply backpack doesn't have to be a significant investment, as this inexpensive messenger bag from Pro Art demonstrates. At under $15, this bag is affordable for even the most budget-conscious artists and art students. Plus, it's still roomy enough to carry all of an artist's everyday supplies.
The bag itself is 19 by 15 by 2-3/4 inches, so it safely holds drawing pads up to 14 by 17 inches. It expands up to 4 inches to fit bulkier supplies, too. The removable, adjustable shoulder strap is comfortable enough for everyday use, but it's not padded, so it's not going to feel great when it's loaded down.
There are many zippered compartments inside and out, including an organizer to help keep supplies nice and tidy. The vinyl material is waterproof throughout, so artists don't have to worry about their supplies getting damaged by the elements or each other.
Unfortunately, some artists have noted that this bag isn't built to last forever. The material degrades over time, so artists and students who need a heavy-duty bag to carry their supplies should look elsewhere, but this bag is perfect for light, everyday use.
Pros
Expandable main compartment
Adjustable shoulder strap
Super inexpensive
Cons
Material breaks down quickly
Shoulder strap isn't padded
5. Best Rolling Bag for Artists – Martin Universal Design Just Stow-It Traveling Artist Rollerboard Bag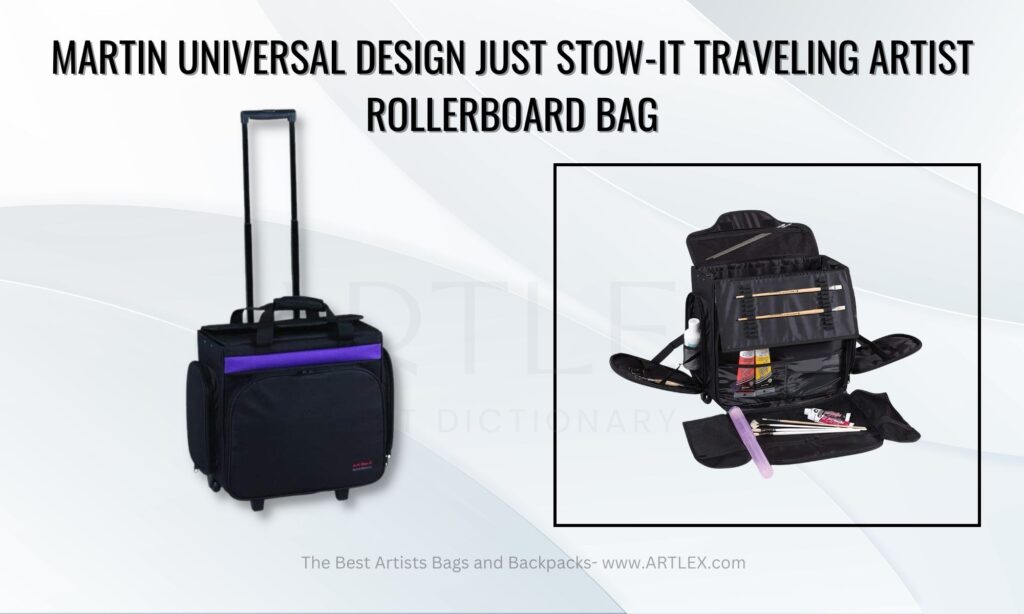 Size: 10/10
Compartments and Pockets: 10/10
Comfort: 8/10
Durability: 9/10
Price: 7/10
Sometimes even the most padded shoulder straps aren't enough to make a heavy load of art supplies bearable. This rolling bag from Martin Universal Design is a lifesaver for artists whose gear weighs a ton. The wheeled design of this artist bag allows artists to pull it along behind them instead of carrying it all on their backs.
The large main compartment leaves plenty of room for drawing pads and other bulky art supplies and has a removable divider to keep a laptop safe. The top flaps open to reveal one zippered compartment and several loops that keep brushes in reach when the bag is open. The zippered side flaps are perfect for brush cleaner, while the front has slots for paint tubes.
It's easy to open the bag and start working and just as easy to put it all away and get going. This bag would be perfect for an art student going from class to class or a traveling artist. The retractable handle switches to a handbag with the press of a button, for when rolling is inconvenient.
It's nearly $100, which is rather pricey for an art bag, but it's worth every penny. We wish it had padded straps to convert it into a stow-it backpack as needed, though.
Pros
Rolling bag eliminates back strain
Huge main compartment for tons of supplies
Loops for brushes, pencils, and pens
Cons
Expensive
No shoulder straps
6. Best Artist Bag for Portfolios – OROODPOD Heavy-Duty Art Portfolio Bag
Size: 9/10
Compartments and Pockets: 10/10
Comfort: 9/10
Durability: 9/10
Price: 8/10
Ordinary backpacks are poorly suited to carrying something as large as an art portfolio. One wrong move and all of an artist's hard work could be spoiled with bends, folds, or marred edges. That's where this sturdy portfolio backpack comes in.
This heavy-duty portfolio bag is made from high-quality oxford fabric. It relies on a wireframe to keep its shape, so it's ultra-durable to protect a 4k drawing board, 8k sketchbook, or portfolio of up to 18 by 24 inches from damage, but it can damage the corners of portfolios and sketchbooks over 18 inches.
There are loads of exterior zippered pockets lined with water-resistant material to keep wet supplies from soaking through to the portfolio pocket. The entire bag is not waterproof, which is unfortunate because it has a lot of surface area to catch a lot of rain. But the adjustable shoulder straps are padded and comfortable, even with the bag fully loaded with supplies.
At under $50, the price point is pretty attractive, too.
Pros
Heavy-duty Oxford fabric
Tons of pockets for lots of supplies
Wire frame helps the bag keep its shape.
Cons
Can't fit large portfolios
Not waterproof
7. Best Bag for Digital Artists – HUION Water-resistant Artist Portfolio Tote and Backpack Bag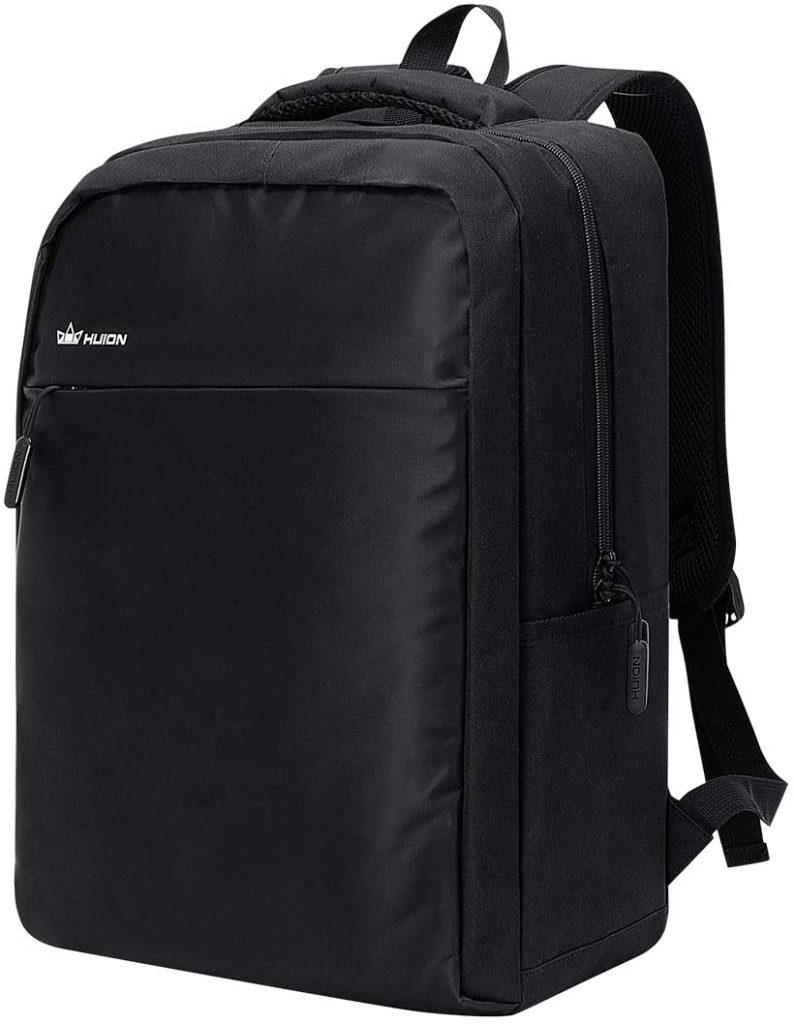 Size: 8/10
Compartments and Pockets: 9/10
Comfort: 8/10
Durability: 8/10
Price: 8/10
Digital artists have a particular set of needs when it comes to a backpack or bag. In addition to traditional art supplies such as drawing pads, pencils, pens, and the like, digital artists have delicate electronic equipment to protect from breaking and water damage.
This backpack from Huion is water-resistant to protect laptops, tablets, and other art supplies from getting damaged if it rains. It has a separate compartment for a laptop or drawing tablets up to 15.6 inches, and the outer shell is durable and scratch-resistant. This is a very durable bag that will keep any digital artist's most precious supplies safe.
The padded shoulder straps make it comfortable to carry, and there's a handle on the top to carry it as a handbag if needed or desired. At 18 x 14 x 3 inches, it's an average-sized backpack that will hold enough traditional supplies for non-digital art projects as well.
It's also a really reasonable price at under $75, which is less than most decent quality laptop bags cost.
Pros
Water-resistant design
Dedicated laptop and tablet pocket
Built-in charging port
Cons
Not designed specifically for artists
A little pricey
8. Best Plein Air Bag – Sienna Plein Air Ultimate Backpack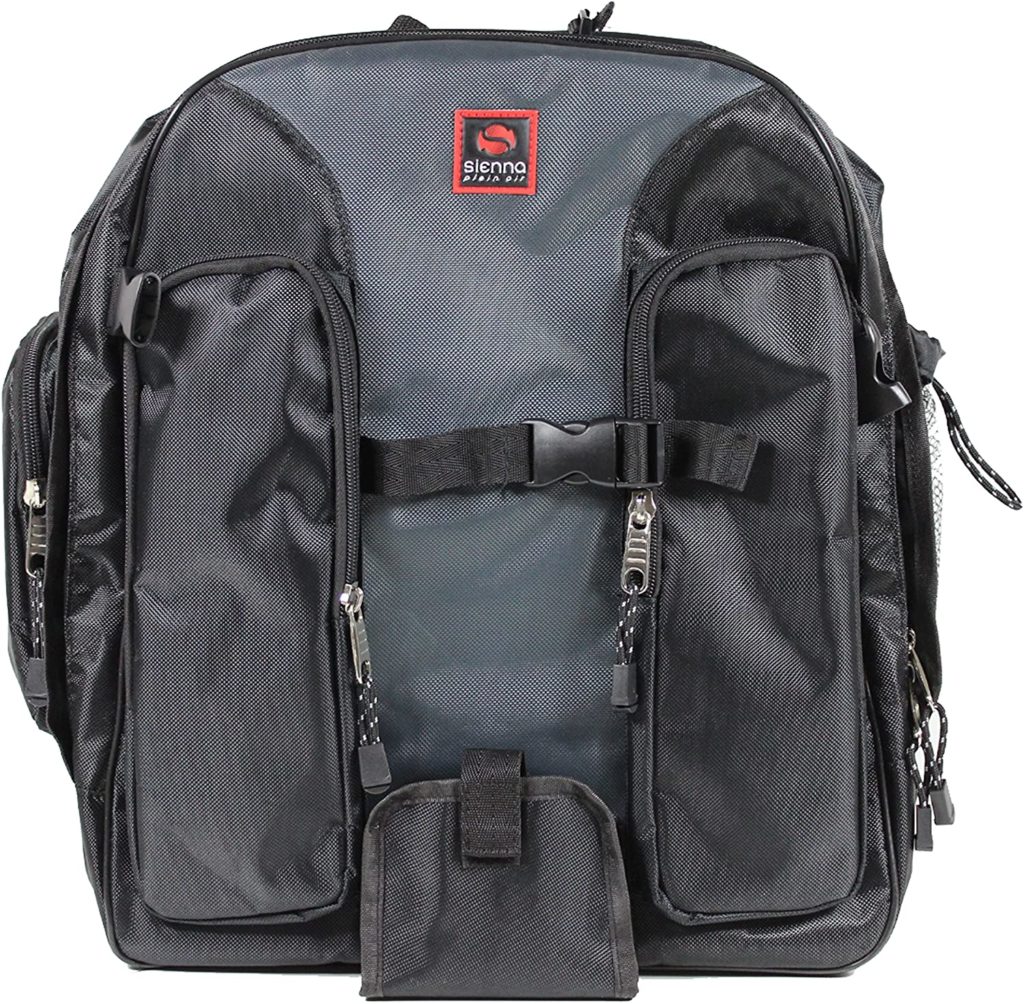 Size: 9
Compartments and Pockets: 9
Comfort: 9
Durability: 8
Price: 6
This en plein air backpack from Sienna is all the bag artists need to get out of the studio and into the real world. There are zippered front and side compartments on the outside of the bag and a large internal compartment, which is plenty of room to carry all the art supplies any artist could need.
The interior compartment is large enough for the Sienna large pochade box, an additional supply box, brush cleaner, and more. The front straps hold a plein air tripod securely, and there's even a mesh pouch for a water bottle.
The extra padding on the back and shoulder straps make this bag extra comfortable to carry, no matter how full of supplies it is, although it does get a little heavy with the large pochade box (sold separately) inside. It's surprisingly compact for all it holds, coming in at just 9 x 3.5 x 15.7 inches.
The bag isn't perfect, of course. Some artists say that the pockets are all just a little too small to carry all of their supplies, and others have complained of poor durability, which is disappointing at a price point of over $100.
Pros
Huge main compartment
Extra padding for added comfort
Built-in easel straps
Cons
Pockets are too small for long brushes
Not super long-lasting
Conclusion
Every artist is different, and one artist's "best backpack" is going to be different from another's. Still, some backpacks clearly fit the bill better than others. We hope you've found this guide to the eight best artist bags and backpacks helpful.