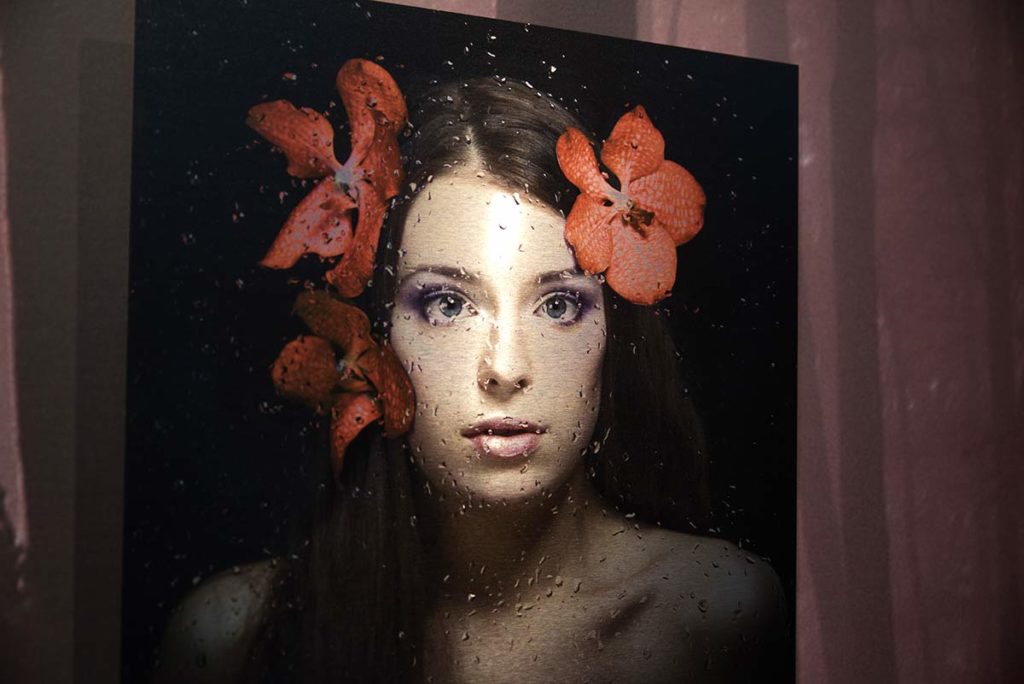 Choosing the best metal print company can seem intimidating, but before deciding on which metal print company to choose from, ensure they meet the following criteria– they use ChromaLuxe panels, have a variety of photo mounts, can print larger sizes, and offer competitive pricing options.
What are Metal Prints?
Metal prints are photos infused on a metal surface (usually aluminum) using either a dye sublimation process (for HD metal prints) or an Inkjet printing process (for standard metal prints). Unlike a canvas print, metal prints are resistant to water and scratches, making them useful for indoor or outdoor displays. The best metal printing companies offer various image service options, use high-quality metal, and have excellent customer service.
Fun fact: Metal prints have up to four times more image stability than photo paper that is silver-based. They are also waterproof and scratch-resistant.
Types of Metal Prints
The right company will offer various aluminum prints like those outlined below, custom sizing options, and a variety of photo mounts like a frame mount or back frame mount.
Brushed Aluminum Prints
Infusing images with a silver base metal allows the silver to shine through while reducing the colors in the image and can either be called brushed metal printing or a brushed aluminum print.
Glossy Finish
A glossy layer adds shine to an image. This finish comes in sheer gloss, mid-gloss, or high gloss options.
Epoxy Prints
These prints infuse a layer of high gloss epoxy onto a brushed aluminum print base. This adds a glossy layer to the brushed metal image.  This can improve the sheen of brushed metal, making them a bit closer to HD metal prints, but at a lower cost.
HD Prints
HD prints are created using dye-sublimation and ChromaLuxe, the industry standard for producing vivid images guaranteed to last decades under the proper care.  For artists and creators that want the utmost quality for your professional prints, HD is the way to go.
Our Top Online Metal Print Company Picks
1. Best Overall Metal Print Company – Pictorem Metal Prints
Price – ~$93 (Was $155) – Our score: 9/10
ChromaLuxe – Yes – Our score: 10/10
Variety of photo mounts – 100+ – Our score: 9/10
Largest size –  up to 96×60-inches – Our score: 10/10
Of all the metal print companies we evaluated for this guide, Pictorem came out as the best overall.  We absolutely love Pictorem, with its variety of printing options, including custom metal prints in different shapes and sizes from round or rectangle to murals or wall art (excluding HD prints).
PRO TIP: Metal prints aren't the only option, Pictorem also tops our lists for the top canvas prints and acrylic prints companies!
They also use the highest quality inks that are resistant to water and UV rays, making them perfect for outdoor displays. Their HD prints use dye sublimation and are produced through ChromaLuxe, a company known for having the best HD prints. In addition, Pictorem also offers canvas prints and acrylic prints.
Pictorem's epoxy metal prints are also of the highest quality. They use a high gloss layer over a brushed aluminum frame that gives the silver an extra shine and adds another layer of protection.
What's more, their floating frames collection offers dozens of options, including back float mounts and a frame box. We all know the final decision boils down to price, and Pictorem provides a variety of competitive prices and usually has promotions for up to 40% off with free shipping in North America.
Pros
Uses 1200 dpi resolution
Great customer service
Can print larger prints, like a bay photo, mural, or wall art
All substrates are made from recycled materials
Museum-quality materials, ideal for art gallery exhibits or home decor
Cons
Does not have free shipping outside of North America
2. Most Affordable Metal Photo Print Company – Canvas Champ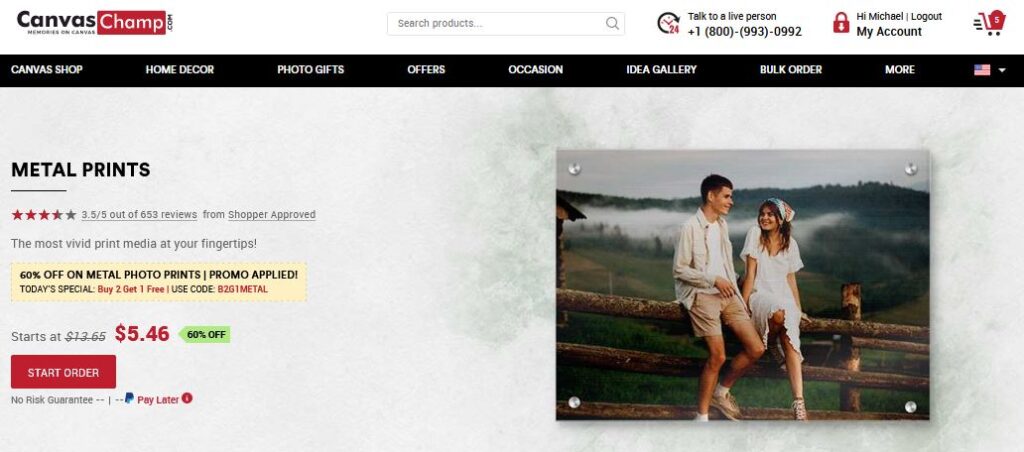 Price – ~$54.30 (24×36") – Our score: 8/10
Chromalux – Yes – Our score: 10/10
Variety of photo mounts – 25+ – Our score: 9/10
Largest size – up to 24×36-inches – Our score: 8/10
When looking for a company with the reputation to back up its products, look no further than CanvasChamp. This company offers incredibly competitive discounts, like a whopping 87% off on some prints and other promotions offering up to 60% off all metal prints. Their metal printing services include sepia or grayscale images, along with the standard original images.
The metal prints offer rich colors, and are great for abstract painting, like the one we ordered:
Pro Tip: Absolutely order these with a frame or mount attached.  We made the mistake of ordering just the print, hoping to save a few dollars, but we received just the aluminum slab.  It's a beautiful abstract art piece, but we can hang it!
Print options include brushed aluminum, epoxy metal prints, wall displays, photo collages, or mosaics, among other prints.
Pros
Rich colors, excellent for abstract art or nighttime photography.
Does offer metal prints for highly discounted prices.
Cons
The shipping took a while, but you can expedite for an extra charge.  Unless you're in a rush, it's worth it for the price.
Can't print the very large prints that Pictorem can.   Perfectly fine for most home decor options, though.
3. Best Metal Print Company for Size Options – Mpix™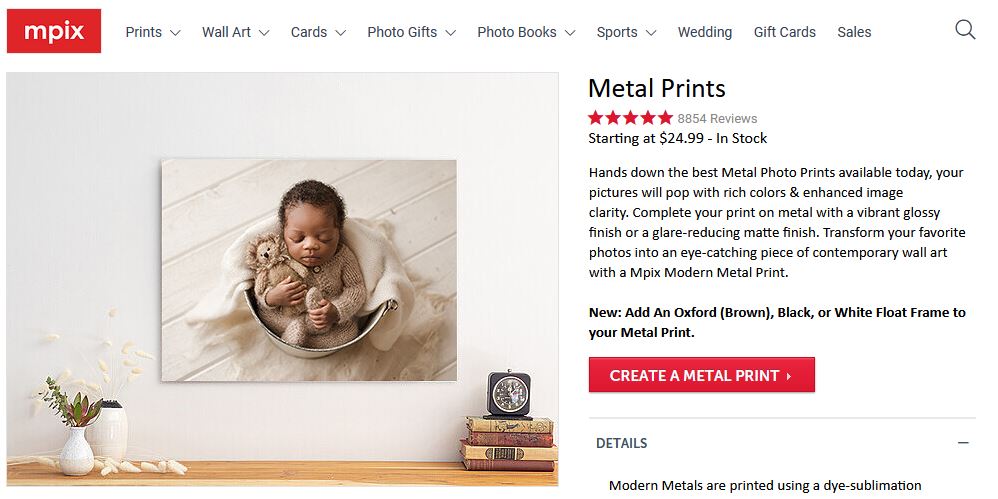 Price – ~$149.99 (20×24") – Our score: 7/10
ChromaLuxe – No – Our score: 8/10
Variety of photo mounts – Two – Our score: 7/10
Largest size – 40×60-inches – Our score: 9/10
About Mpix™
With 27 sizes to choose from, including 40×60 inches, Mpix offers one of the largest varieties of readily available print sizes. Using a dye sublimation process, all prints are retouched and printed on a 1/16-inch mounted aluminum plate with the option of either a metal easel or float mount base. Float frames have three colors available, including black, white, or Oxford. There are two metal options– a natural metal or white color that offers more vivid photos with either a glossy or matte finish. Text can be added to the image by the customer prior to printing for a more customized feel. Mpix suggests leaving a ⅛-inch margin to ensure a full framed photo.
Retouching to ensure color quality is completed by a number of expert technicians on-site to ensure the printed colors match. Photos are printed using RBG files, but JPEG files can be submitted. Customers who have more experience with photo printing can choose not to have the color of the photos corrected. Note that the photo cannot be reprinted free of charge if this option is chosen. Lastly, files should be submitted in RAW format for the highest quality image for larger print options.
Pros
Offers free shipping on orders over $35
Images are stored free of charge online for over one year for easy reprinting
Quick processing time
Has a lot of promotions throughout the year
Excellent return policy and 100% customer satisfaction
Cons
Matte Modern finish is only available in sizes smaller than 20×30 inches
Doesn't have a selection of photo mounts
4. Most Creative Metal Prints – Bay Photo Labs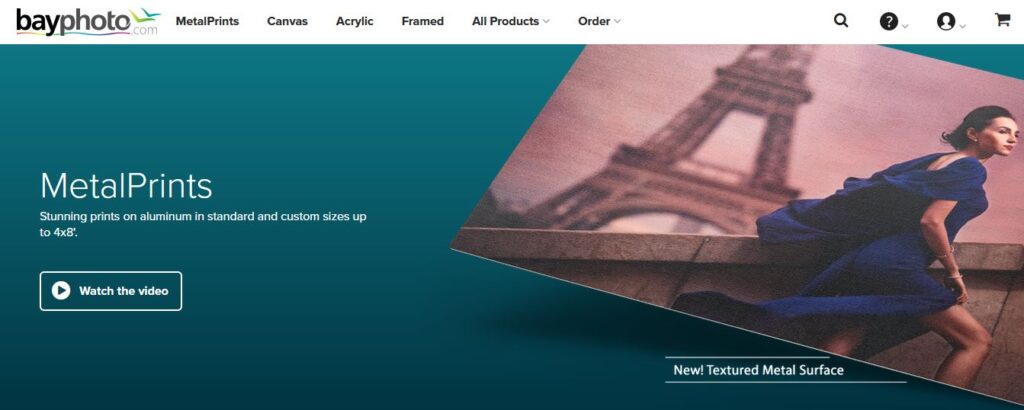 Price – ~$99.65 (20×24") – Our score: 8/10
Chromalux – Yes – Our score: 10/10
Variety of photo mounts – 80+ – Our score: 9/10
Largest size – 48×96-inches – Our score: 9/10
Bay photo labs use innovative photographic printing techniques with dozens of customizable options. They are one of the few metal printing companies that offer curved metal prints and what's called a "double float" print, that is, two images mounted on a Gatorfoam float mount that makes the photo appear to float. They also offer 14 floating frame options for their double float prints alone and over 80 different handcrafted frames, from bamboo and barn wood to modern or ornate frames.
Bay Photo also offers acrylic metal prints that are presented on large posts with the option of adding ½-inch or ¼ inch acrylic coatings for added protection. In addition, they have over 34 different shapes and 18 size choices that include heart-shaped, triangles, and flower shapes. Lastly, this company offers six different finishes on their metal photo prints.
Pros
Have the largest custom size options
Fast production time
Excellent customer service
Offers curved or double-float metal prints
Excellent for home decor or professional presentations
Cons
5. Best High-Definition Metal Print Companies – Chromalux HD Metal Prints Company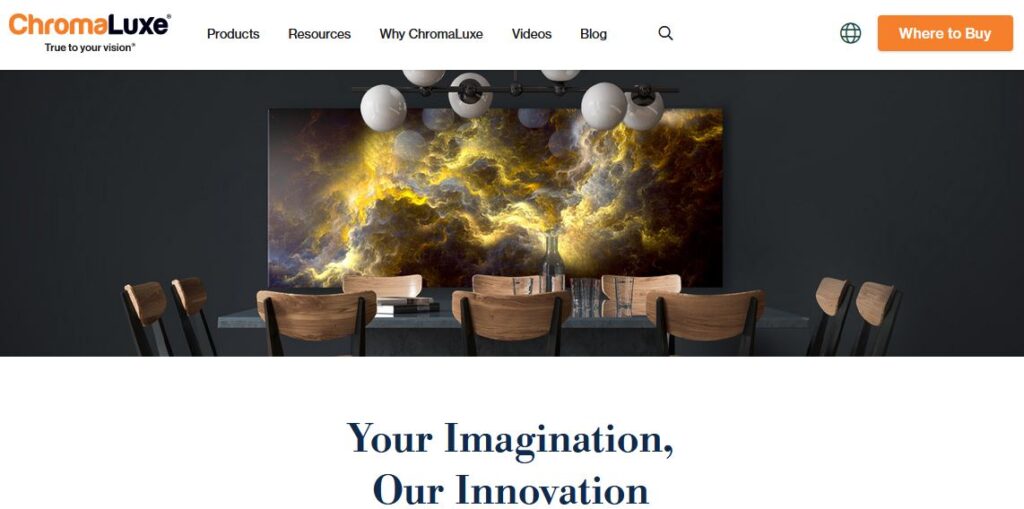 Price – Varies – Our score: 8/10
Chromaluxe – Yes – Our score: 10/10
Variety of photo mounts – Handful – Our score: 8/10
Largest size – 96×60" – Our score: 9/10
About Chromeluxe
While customers order through third-party partners, ChromaLuxe provides the industry standard for all HD metal prints. HD metal images produced by ChromaLuxe are guaranteed to last longer due to the high-quality inks they use. The extra cost for these HD metal prints is well worth it for the practically flawless image results.
Professionals will appreciate their team of designers and photographers who provide more information about their cutting-edge printing techniques. Further, the gallery page on their website inspires with seemingly unlimited possibilities of metal prints from tabletops to dry erase boards.
Pros
Materials are 100% recyclable
Ships internationally with offices in Europe, the USA, and Australia
Cons
Must go through third-party partners to order (hint hint: Pictorem!)
6. Best Display Options Metal Print Company – MetalPrints.com

Price – ~$109.15 (20×24") – Our score: 8/10
ChromaLuxe – Yes – Our score: 10/10
Variety of photo mounts – Dozens – Our score: 9/10
Largest size – 48×96-inches – Our score: 9/10
About MetalPrints.com
MetalPrints.com is another high-quality printing company offering one of the widest variety of display options for home decor. Options include a metal easel, acrylic, or bamboo stands and more traditional frames options such as inset, flush, or a back frame mount. In addition, their wall art section provides over ten types of wall-size art with an additional 60+ sizes, and dozens of different styles.
MetalPrints.com is the right company to choose from when looking for wall displays, a variety of home decor framing and display options, or even metal Christmas ornaments. They are currently offering 25% off the first order when you create an account with them.
Pros
Provide a range of display options
Specialize in metal prints
Offer competitive prices
Includes high-performance EXT metal for added protection on outdoor prints
Cons
They don't ship internationally
Shipping can be expensive within the US
Conclusion
This wraps up our guide to the best metal print services. Not only have we discussed how you could identify different kinds of metal printing companies, but we've also shared our recommendations in various contexts.
We've discussed how you can choose the best metal printing services and why using ChromaLuxe for HD Metal Prints, offering various photo mounts, competitive pricing, and a variety of large size printing options are key deciding factors.
Lastly, we've combined our recommendations for buying metal photo prints in different situations. So whether buying the best epoxy metal print, best HD quality image, or the best customizable metal print, we've discussed it all.
Thanks for reading; we hope our suggestion helps you decide on the best metal print company for your next printing project.
Sources