Canon imagePROGRAF PRO-1000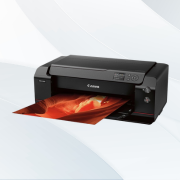 An all-round versatile printer known for its high-quality monochrome prints.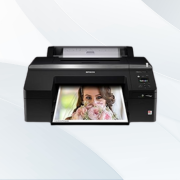 A high-speed, high-resolution printer offering exceptional color-matching for exhibition prints.
Canon imagePROGRAF PRO-300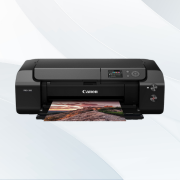 A compact and lightweight printer perfect for smaller, high-resolution prints with both matte and glossy finishes.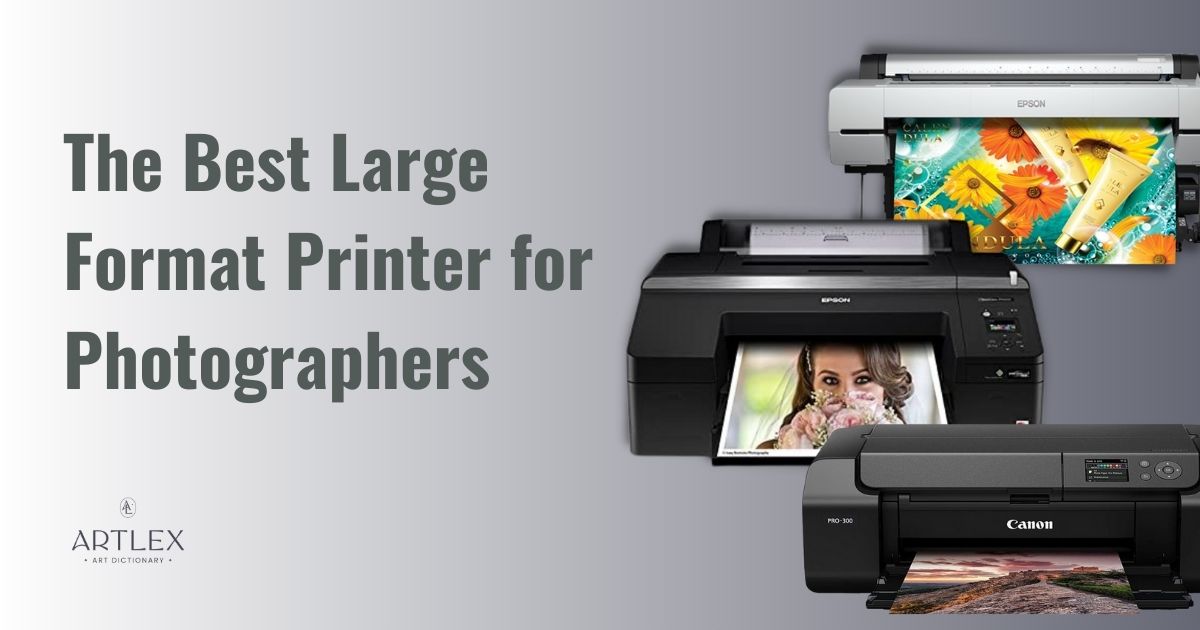 Researching a product online can feel like jumping into a black hole. There are so many places to start, and many reviews feel flimsy. This feeling especially heightens when buying items that aren't cheap with so many options to choose from, such as a large-format photo printer.
This guide has been compiled to take some of that daunting feeling away and dive deeper into products I believe are good for certain instances based on criteria that matters in photography, such as print resolution, print size, print speed, inks, and how you print.
Let's take a better look at the criteria that I will be judging the products on before getting to the 5 best large format printer options for Photographers in 2022.
How to Choose a Large Format Printer?
When buying a printer these days, there are some variables that can help determine its quality in relation to your needs. You'll want to consider, first and foremost, your goals for printing photography.
The top 5 products in this article were chosen based on the criteria including print resolution, maximum print size, print speed, ink sets, available interfaces, and printer unit size and weight. They were also chosen based on historically reliable and cutting-edge printer companies such as Epson, Canon, and Hewlett Packard.
Print Resolution
Print Resolution is defined as the degree of detail and image quality that each print has. As the resolutions increase, so does the detail of the image. Resolutions are most often measured by dots per inch or DPI. The more dots (of ink) in a line across one inch, the higher the resolution. Resolution can be noticed in a print's sharpness and character.
The ideal resolution today for a large format printer begins at 2400 x 1200 dpi and goes up, so the products I will be reviewing here will range between 2400×1200 and 9600×2400 dpi.
Maximum Print Size
There are two attacks that the best printer companies take when designing large format printers. The first, such as the Epson EcoTank ET-8550, use paper carriages that can deliver a minimum of 13-inch images and wider. Others, like Epson SureColor P20000, have 64-inch or wider paper paths for wide format printing.
This is something you will want to consider when shopping for a printer. We will look at both categories of print sizes and give the best options for each.
The products covered in our recommendations range from 13-inch to 64-inch paper carriage widths. Paper width is defined as the smallest number listed in a dimension.
Inksets
The inkset that your printer uses will have a great impact on the print quality. The amount of ink cartridges that a printer utilizes will make significant changes to the richness of your photos as it utilizes more colors to recreate the proper tone.
For instance, green and red create yellow, so the more red and green variations you have available to you, the more accurate that yellow will look. Since images are a combination of many different tones, the more ink colors you have at your disposal, the better your images will be. Some printers even use a variation of blacks and white to enhance grayscale prints as well.
The type of ink you choose will also determine the longevity of a print. For instance, pigment-based inks create longer-lasting products than dye-based inks.
The next consideration you'll want to make involving inksets is the ongoing investment. You should regularly expect to replace ink cartridges for your printer, and that can have significant cost associations. Shopping for ink prices ahead of time will minimize your headache and help you stay within your budget so that no unexpected expenses catch you off-guard.
It is generally recommended to buy ink from the same manufacturer as your printer, as the systems were designed to work best together.
Printers we will look at today range between 4 and 12-ink cartridges used to create the color-depth for your prints.
Available Interfaces
With so many ways to send an image to print, you should want your printer to have the most options available to you. Some files will hold a higher amount of data and will only be available to print on a high-resolution printer from a data source that can host the image at its full quality, while others will be able to print through your phone.
Most devices will feature at least a standard Ethernet connection, as well as a USB port. Yet, some other convenient options are becoming available each day as well, such as high-resolution wireless.
I will be considering all of the many interface options discussed above in the products in this list to determine the best large format printer.
Our Product Recommendations in 2022

Now that we've identified the criteria for the 5 best large format printers for photographers this year let's dive into the products themselves.
Best Overall Large Format Printer for Photographers – Canon imagePROGRAF PRO-1000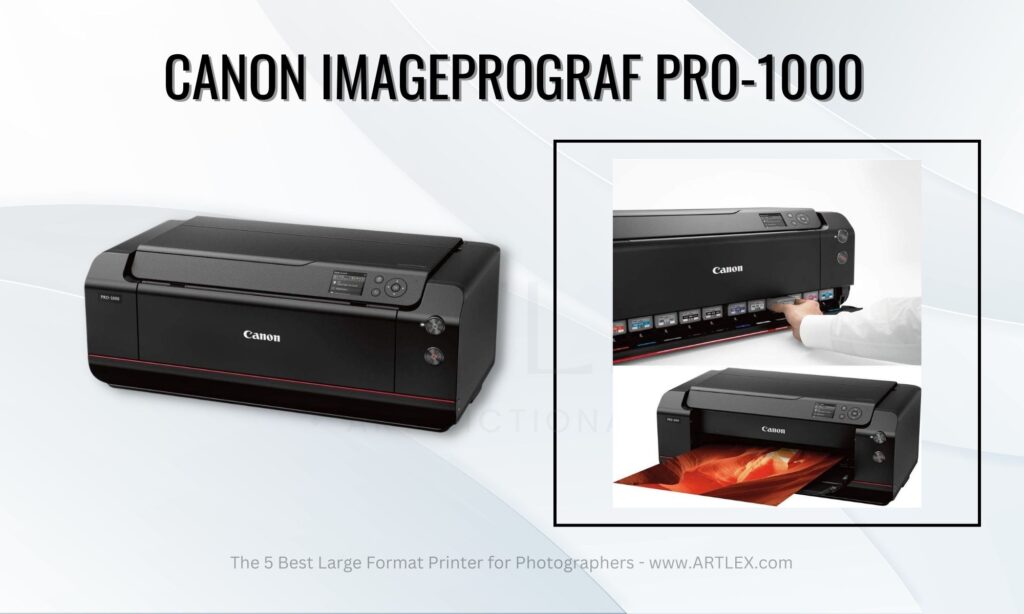 Max resolution: 2400 x 1200 dpi (5.5/10)
Maximum paper width: 17-inches (6.5/10)
Print speed: A2 prints in 6 minutes (8/10)
Number of inks: 12 (10/10)
Available interfaces: Ethernet, USB, Wireless (10/10)
Unit size: 723 x 435 x 285mm / Weight: 32.3kg (6/10)
About the Canon imagePROGRAG
The Canon imagePROGRAF PRO-1000 is an inkjet printer for photography prints as well as graphic art. With its speed, resolution, and quality, it's a workhorse, and is one of the most diverse printers on the market today.
What makes this our pick of the year is not that the Canon imagePROGRAF PRO-1000 is the highest-rated in any of the criteria, it is that in my experience it holds up as the most well-rounded option based on its mid to high rating delivery in each category.
Pros
The PRO-1000 contains multiple black tones to enhance the depth and richness of monochrome prints from film or digital cameras, and what stands out about these cartridges is that they can be replaced individually. This is beneficial towards recurring costs.
Visually, the PRO-1000 is a clean black with the iconic red line across its bottom to match Canon's photo lenses, but its best feature in my opinion is the inclusion of the "Chroma Optimizer" which assists in applying an even glossy coat over your paper stock to minimize color changes from light exposure.
Despite its advanced gloss print features, the PRO-1000 delivers its best work for matte prints in color and monochrome alike.
Cons
But with all of the many benefits of the PRO-1000, there are of course some expected drawbacks—no printer is perfect after all.
Some cons of the printer include its size. This machine is slightly larger and heavier than an average printer in its class, though not by much. It also doesn't offer a roll-feeder attachment to ease high-volume printing. This means that you will need to cut the paper manually before printing.
Best Large Format Printer for Exhibitions – Epson SureColor SC-P5000
Selection Critera
Max resolution: 2880 x 1440 dpi (6.5/10)
Maximum paper width: 17-inches (6.5/10)
Print speed: 16 x 20-inch prints in just over 4 mins (8/10)
Number of inks: 10 (8.5/10)
Available interfaces: Ethernet, USB (6.5/10)
Unit size: 863 x 766 x 406mm / Weight: 52kg (5/10)
About the Epson SureColor P5000
For images you hope to show off at an art exhibition, the Epson SureColor SC-P5000 is a specialist. The award-winning machine will still fit on your desktop and has been a viable contender in the market because of its 99% color-matching capability of Pantone solid coated colors.
Pros
Epson upgraded this printer's reliability by adding new covers and seals to limit foreign intrusions such as dust and dirt getting in the way of high-quality prints on your fine art paper.
In my opinion what the SC-P5000 does better than the Canon is print with a high-resolution very quickly. It is intuitive and does most of the confusing technical work for you.
Cons
The reasons you might want to avoid this printer include its size and weight. That means that this printer is larger and heavier than most other printers in its class (including the Canon PRO-1000). Another con of the SC-P5000 is its expensive up-front investment.
Best Printer for Smaller Prints – Canon imagePROGRAF PRO-300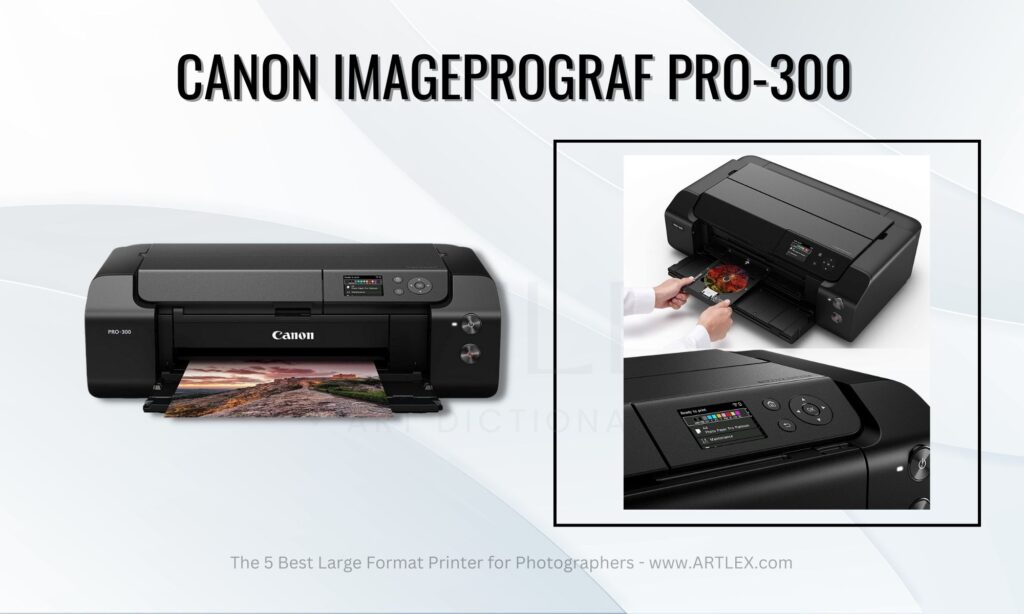 Selection Criteria
Max resolution: 4800 x 2400 dpi (7.5/10)
Maximum paper width: 13-inches (4/10)
Print speed: 13×19 inch; standard quality in 6.5 minutes. 16 x 20″ prints in just over 4 mins (6/10)
Number of inks: 10 (8.5/10)
Available interfaces: Ethernet, USB, Bluetooth (10/10)
Unit size: 639x379x200mm / Weight: 14.4kg (8/10)
About the Canon imagePROGRAF PRO-300
The Canon imagePROGRAF PRO-300 scores high on many of our selection criteria, including high scores on Unit Size, Available Interfaces and Max Resolution and Number of Inks. What sets the impagePROGRAF PRO-300 apart from competitors is its use of pigment ink in lieu of dye-ink, and in the number of ink cartridges it contains. However, one downside of this printer is that's it's at the smallest range of wide-format printers on this list.
Pros
This printer holds 10 ink cartridges including a "Chroma Optimizer" that puts the finishing touches on glossy stock prints. Within the other nine ink cartridges your printer has monochrome tones such as "photo" black and matte black at its disposal. This comes in handy if you plan to print matte and gloss equally.
The PRO-300 has a front and rear feed, and is smaller and lighter than its competition without sacrificing resolution.
Cons
Some disadvantages of the PRO-300 include lagging print times. It also can not produce long prints such as panoramics or banners. Its maximum paper width is also on the smallest end of the spectrum when it comes to large format printers. However, if 13 inch prints are what you're looking for, this printer might be your favorite tool.
Best Large Format Printer for High End Studios – Epson SureColor P20000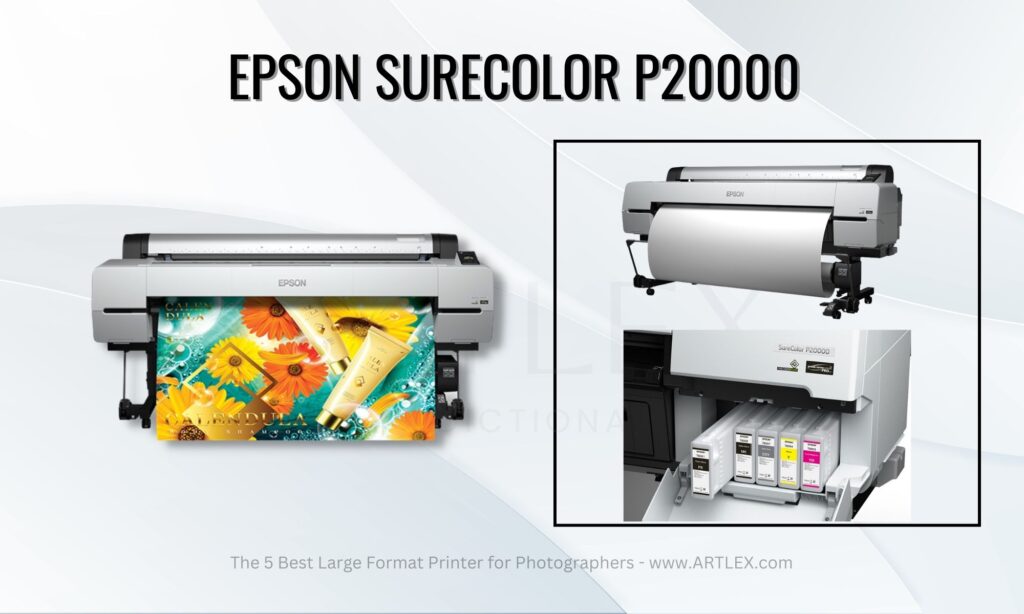 Selection Criteria
Max resolution: 2400 x 1200 dpi (5.5/10)
Maximum paper width: 64 inches (9/10)
Print speed: 209 sq ft per hour (9.5/10)
Number of inks: 10 (8.5/10)
Available interfaces: Ethernet, USB, Bluetooth (10/10)
Unit size: 2415 x 980 x 1168mm / Weight: 171kg (2/10)
About the Epson SureColor P20000
When compiling this list of the 5 Best Large-Format Printers for Photographers in 2022, I wanted an option for everyone, including businesses that might be putting out high-volumes of prints day in and day out with a wide format printer. That's when I found the Epson SureColor P20000.
Pros
The P20000 feels directly designed for labs and studios. From personal photographs to exhibition prints, to signs, it can run with the wolves. This is my pick for a workhorse printer.
Cons
The cons of these wide format printers are variables that might not matter depending on your needs. It's expensive first and foremost, but if this is for business, its reliability might save you money in the long-term.
The second con is that it is heavy and large, not exactly for a small office space. With that said, this is the nature of high-volume large format printers and may be just what you're expecting.
Best Large Format Printer on a Budget – Canon PIXMA iP8720 / iP8750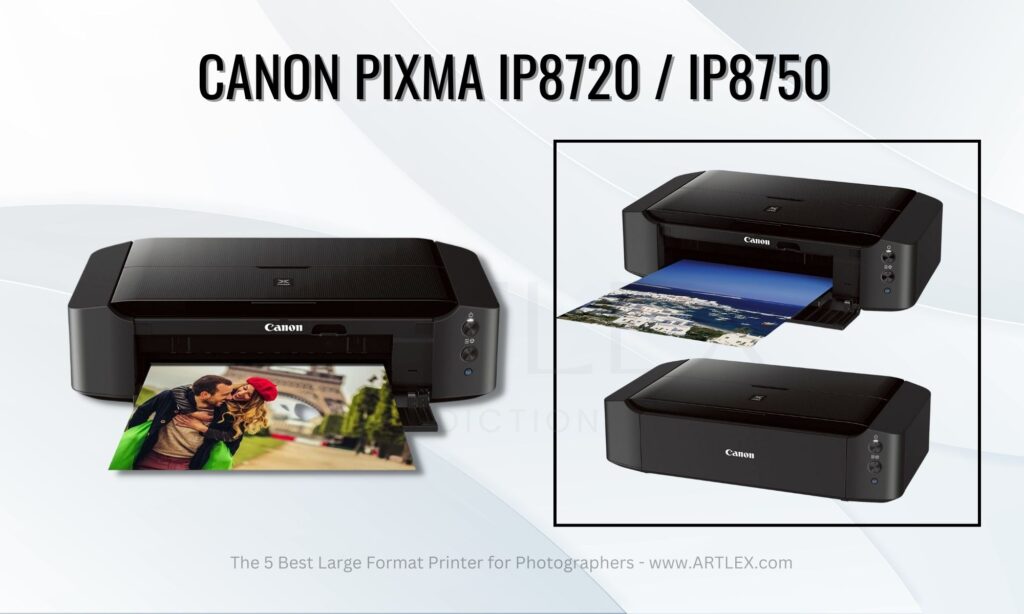 Max resolution: 9600 x 2400 dpi (9.5/10)
Maximum paper width: 13 inches (4/10)
Print speed: Approx 10.4 ipm (3/10)
Number of inks: 6 (4/10)
Available interfaces: USB, WiFi, Apple Airprint, Google Cloud Print, Canon print app (wireless) (8/10)
Unit size: 590 x 331 x 159mm / Weight: 8.5kg (9.5/10)
About the Canon iP8720
The Canon PIXMA iP8720 is our budget option for large format printers. It is a great option for photographers and artists beginning their career, or hobbyists that want to print vibrant and high quality photographs. It is not suitable for professional studios with high output due to its slow print speed. It is also at the lowest end of our range for wide format printers, with a maximum paper width of 13 inches.
Pros
What really stands out to me on the Canon PIXMA iP8720 and iP8750 is not only the cost, but the connectability options it offers. Not only can you send photos to print in the traditional ways such as USB (no Ethernet however), but through a series of apps, bluetooth, and cloud options as well. In some ways, this budget option is outdoing it's more expensive competitors.
It also uses a combination of dye and pigment inks so that the prints are efficient for the pocketbook. And while 6 cartridges in the inkset may seem low compared to the 10 and 12's we've looked at, the prints are high quality. You can also opt for XL cartridges which compliment this choice as an economical printer for personal uses for bordered and borderless printing.
Sure, the iP8720 and iP8750 may not be up to the professional grade that some of the other printers that have been reviewed today, but in my experience, they're not too far behind either.
Cons
Other disadvantages to this option is that the color precision is lacking, which might be noticeable when printing photographs.
Conclusion
With so many places to start and options on the market for photo printing, I hope this list helps narrow the options so that you can find the right printer for your photography.