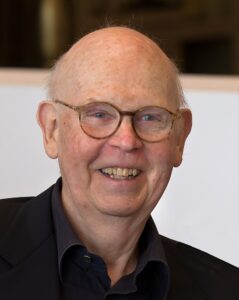 Claes Oldenburg (1929-2022) the Swiss-born American inspired Pop Art artist is best known for his fun, whimsical, pioneering Pop Art sculptures. Some of the works he created over his long life and career as an artist include, Lipstick Ascending on Caterpillar Tracks (1969), Clothespin (1976), and Spoonbridge and Cherry (1988). Today, the artist's work is represented in the United States, Europe, and Asia.
Spoonbridge and Cherry. 1988. Claes Oldenburg. Minneapolis Sculpture Garden, at the Walker Arts Center, in Minneapolis, Minnesota,
Claes Oldenburg Childhood and Education
Born in Stockholm, Sweden, Claes Oldenburg moved to Chicago, with his parents, when he was just seven years old. Even in the early years he had an exceptional talent for drawing.
Later, Oldenburg studied literature and art history at Yale between 1946-1950. Then, he studied at The School of Art Institute, in Chicago, while apprenticing as a reporter for the local city news.
In 1953, he worked as a freelance magazine illustrator. Attending Ox-Bow School in Saugatuck, Michigan, in 1954, he started to paint in oils.
Claes Oldenburg in New York
Claes Oldenburg moved to New York in 1956, settling into the city's Lower East Side. He developed friendships with other artists including Andy Warhol, Robert Rauschenberg, Jasper Johns, Allan Kaprow and Jim Dine, who were all part of the New York art scene.
Meanwhile, Oldenburg was inspired from working at the library at Cooper Union for several years. Here, he had his first solo show with works of figurative drawings. Architecture of the 18th century Romantics captured his imagination, as did the Statue of Liberty sculpture. Soon, he started sketching the architecture, monuments, and public sculptures around New York City.
Claes Oldenburg and Pop Art
Most Pop art artists worked in two-dimensions. Claes Oldenburg's three-dimensional forms, uses paper Mache, plaster models and soft sculptures made from fabric. Later he worked in steel and more durable materials to create permanent outdoor works. While some sculptures are to scale, some are colossal and even gigantic in size. Following the theme of Pop art, Oldenburg poked fun at American consumerism, using brightly colored, ordinary everyday objects.
The Happening and Early Sculpture.
Snapshots from the City was Claes Oldenburg's first "happening" staged at Judson Memorial Church. Here, he and Patty Mucha performed covered in garbage. The couple was inspired by the trash around their neighborhood. Oldenburg created cardboard figures, objects, and signs for the performance. In fact, several of the works sold.
"The performance is the main thing, but when it is over, there are a number of subordinate pieces which may be isolated, souvenirs, residual objects. To pick up after a performance, to be very careful about what is to be discarded and what still survives by itself. Slow study and respect for small things. One's own created found objects. The floor of the stage is like the street. Picking up after is creative. Also, the particular life of objects must be respected."
The Store and Claes Oldenburg
Next came, The Store, on the Lower East Side. Oldenburg described it by saying, " The Store, or My Store, or the Ray Gun Mfg. Co., located at 107 East 2nd St., NYC, is eighty feet long and is about ten feet wide. In the front half, it is my intention to create the environment of a store by painting and placing (hanging, projecting, lying) objects after the spirit and in the form of popular objects of merchandise, such as may be seen in store windows of the city, especially in the area where The Store is (Clinton St., for example, Delancey St., 14th St.) This store will be constantly supplied with new objects, which I will create out of plaster and other materials in the rear half of the place. The objects will be for sale in The Store."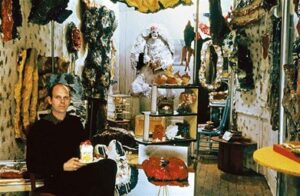 Clearly Claes Oldenburg had a sweet tooth. Some of these objects included ice cream, berry pie and other pastries, as well as cigarettes, shoes, hats and even underwear. In creating art of out of everyday objects, and then selling them commercially, in a small Mom and Pop shop, that could have been anywhere in New York, Oldenburg crossed over between art and commodity. This was truly a Pop art endeavor! In fact, through The Store the artist created his own installation.
Business cards and stationery were made to resemble posters in Puerto Rican neighborhoods. He even incorporated Spanish words.
About The Store the Swedish-born American sculptor said, "The people in the neighborhood were pretty terrified. They didn't know what was going on. So, they didn't come in. However, certain people interested in art dropped in, and people bought things. Andy Warhol came, and he bought a shirt. And other artists came in and bought things. So, it was a good experience."
Colossal Sculptures
The Store garnered art scene attention from Green Gallery on 57th Street, and important place to exhibit for artists including Tom Wesselmann, Dan Flavin, James Rosenquist, Donald Judd, and Robert Morris. In 1962, the gallery displayed three of Claus Oldenburg's colossal soft sculptures, based on comfort foods and the joy of American consumer culture. The works are joyful, gigantic food fantasies and part of the artist's early soft sculptures. Oldenburg's first wife Patty Mucha sewed together these soft sculptures, while he painted them.
Floor Cake made from fabric is a triangular slice of "cake" measuring nine feet long and five feet high. Today, it is at home in The Museum of Modern Art, in New York. Representing a chocolate layer cake, covered in white frosting, and a couple nuts, this Pop art soft sculpture is comprised of synthetic polymer paint and latex on canvas. The interior stuffing is made from both cardboard ice cream cartons and rubber. In demand for art exhibitions, The MoMA has loaned it out for journeys across the Atlantic three times.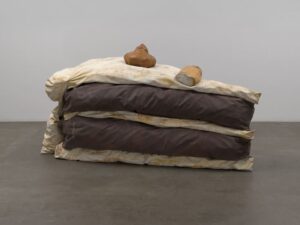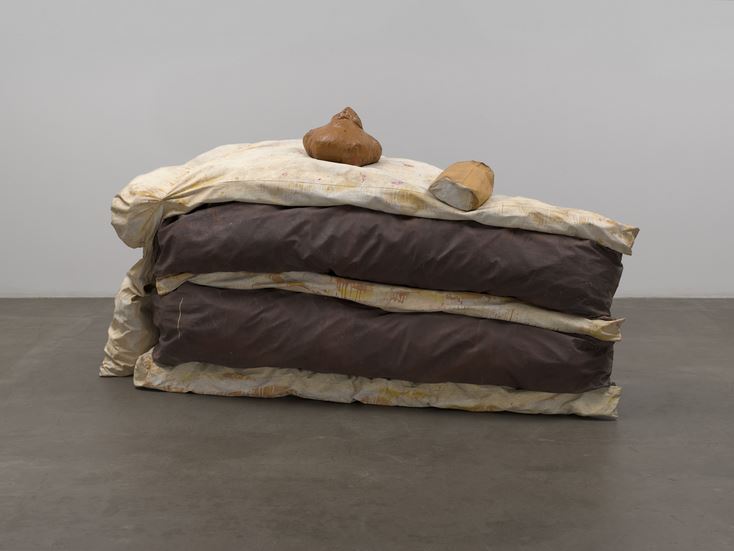 Floor Cone (1962) also at the Museum of Modern Art, in New York, is a gigantic ice cream cone made from synthetic polymer paint on canvas, and then filled with foam rubber and cardboard boxes. The work has appeal to both adults and children.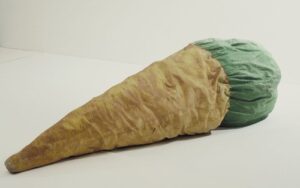 The third colossal sculpture, at The Art Gallery of Ontario, in Toronto, is Floor Burger (1962) A patty between a bun, with a pickle on top, is made from canvas filled with foam rubber and cardboard boxes. The artists painted it using acrylic paints to make this everyday object and favored food of the American people.
About these soft sculptures, Claes Oldenburg would say, "It seemed perfectly natural to me that if you like to touch things, you like to touch soft things, as well as hard things. If you're going to make sculpture out of real things around you, then why not try to make them soft so that you can push them around, and they'll change shape. They all had to be stuffed. That was the important thing, And there were different ways of stuffing them. You could stuff them hard, or you could stuff them soft. Those big pieces were so large that the interior space required so much stuffing that I finally decided to stuff them with boxes."
Yet, fellow Pop art artist Yayoi Kusama wrote in her autobiography Infinity Net, that the inspiration came from her. In the book she writes that in 1962, she made her first soft sculptures for a group show exhibit, in which Claes Oldenburg was one of the artists invited. Later in the year, Oldenburg debuted his large, colossal soft sculptures. His wife Patty Mucha ran toward Kusama at the opening of Oldenburg's show, asking the Pop artist to forgive them for taking her idea.
Pastry Case, I (1961-1962)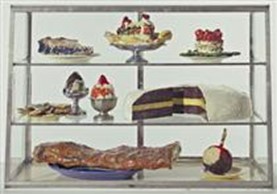 Made from painted plaster, ceramic and metal, Pastry Case, I ( 1961-1962) is Claes Oldenburg's showcase of cookies, a cake, two sundaes, a banana split and other sweets, along with a rack of ribs. These sculptures made almost to scale, show the American consumer's fascination with both meat and sugar. It's a fun look at everyday objects. The work is made from burlap and muslin soaked in plaster and then painted with enamel. The glass and metal case was a store-bought purchase, as were the metal bowls and ceramic plates.
Soft Toilet (1966)
Clause Oldenburg's Soft Toilet (1966) is crafted from vinyl, kapok, wire, plexiglass, and wood, with a wood and metal base. It has a humorously funny forward tilt.
The work, on display at the Whitney Museum of American Art, in New York, gives it a nod to Marcel Duchamp's Fountain (1917), in which a lowly toilet was first turned into a work of art.
Lipstick (Ascending) on Caterpillar Tracks (1969-1974)
This Pop art sculpture by artist Claes Oldenburg is a site-specific artwork at Yale University, in New Haven, Connecticut, with themes of politics, sexuality, violence, and war. The public work standing 24 feet tall is made from Cor-ten steel, steel, aluminium and cast resin. Lipstick (Ascending) on Caterpillar Tracks is painted using polyurethane enamel.
Originally, Claes Oldenburg made a version out of plywood, as more of a political statement about war and less about a permanent sculpture. It was built for the students at Yale University, who made and invited others to make anti-war speeches, in Beinecke Plaza, on the Yale Campus.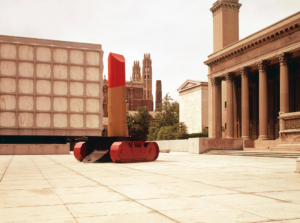 The work brings together male and female themes in a humorous way, with masculinity represented as a war tank and femininity with a tube of lipstick. Additionally, Yale was a coeducational university that had by 1969, allowed female students into the undergraduate program. Claes Oldenburg's Pop art sculptural was also meant to illustrate inclusion.
Clothespin (1976)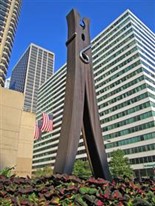 Standing at a massive 54 feet high, Clothespin (1976), built just outside the SEPTA subway station, at Center Square Plaza in Philadelphia, Pennsylvania, draws a lot of attention. Crafted from weathering steel, Claes Oldenburg referenced his design to The Kiss, where two lovers meet entwined, a sculpture from artist Constantin Brancusi, in the Philadelphia Museum of Art. In fact, it does look like a couple in a hug, feet slightly away from one another.
Oldenburg embarked on a clever trick for those standing underneath. He created a hinge to form the number 76, the year it was commissioned and erected. Clothespin (1976), makes the perfect juxtaposition, between the formal City Hall across the street and a fun and whimsical giant household object.
Spoonbridge and Cherry (1988)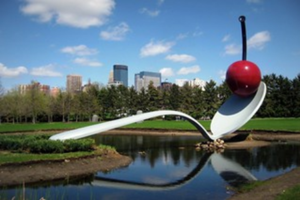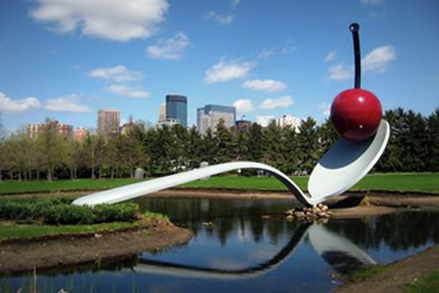 From 1976, Claes Oldenburg worked almost exclusively on large public sculptural works. He also married his second wife, Dutch art historian Coosje van Bruggen (1942-2009), with whom he would collaborate on the works with. Spoonbridge and Cherry (1988) the sculptural pop art fountain is one of their most beloved works.
It's a cheerful piece with a large cherry, resting on the upper most curve of the spoon. It is crafted from stainless steel and aluminum, with a coating of polyurethane enamel. The spoon alone weighs 5800 pounds, while the cherry weighs 1199 pounds.
At home in the Minneapolis Sculpture Garden, at the Walker Arts Center, in Minneapolis, Minnesota, the sculptural work crosses over a small pond as a working bridge. Water shoots from the base, as well as the cherry.
Shuttlecocks ( 1994)
Shuttlecocks (1994) outside on the lawn of the formal neoclassical Nelson-Atkins Museum, in Kansas City, Missouri, is comprised of four mammoth birdies or shuttlecocks, each standing 18 feet tall and weighing in at 5,500 pounds. This Pop art, site specific work is made from aluminum and fiberglass-reinforced plastic and paint.
Dropped Cone (2001)
Dropped Cone (2001) is every child's worst fear—loosing an ice cream cone on the ground! Here the giant cone smashes against the corner of the shopping mall it is placed upon, in Neumarkt Square, Cologne, Germany.
Later Years
Oldenburg created his first independent work in almost 30 years, back in 2011. Paint Torch (2011) was installed in Philadelphia. Afterwards, he focused on different projects, until his death in 2022. These included photography, and small-scale mixed media sculpture. Through his Pop art artworks using everyday objects, Claes Oldenburg found his way into art history.