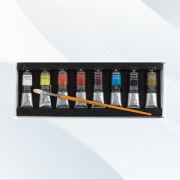 High-end, artist-grade paints perfect for landscape art with their creamy texture, high pigment load, and historic usage by famous artists.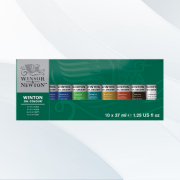 Affordable, high-quality oil paints ideal for beginners and students, offering a wide color range and easy clean-up.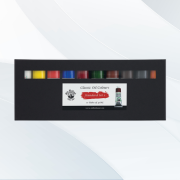 An old brand producing vibrant, high-quality paints perfect for a range of art styles, albeit more expensive, suitable for professionals.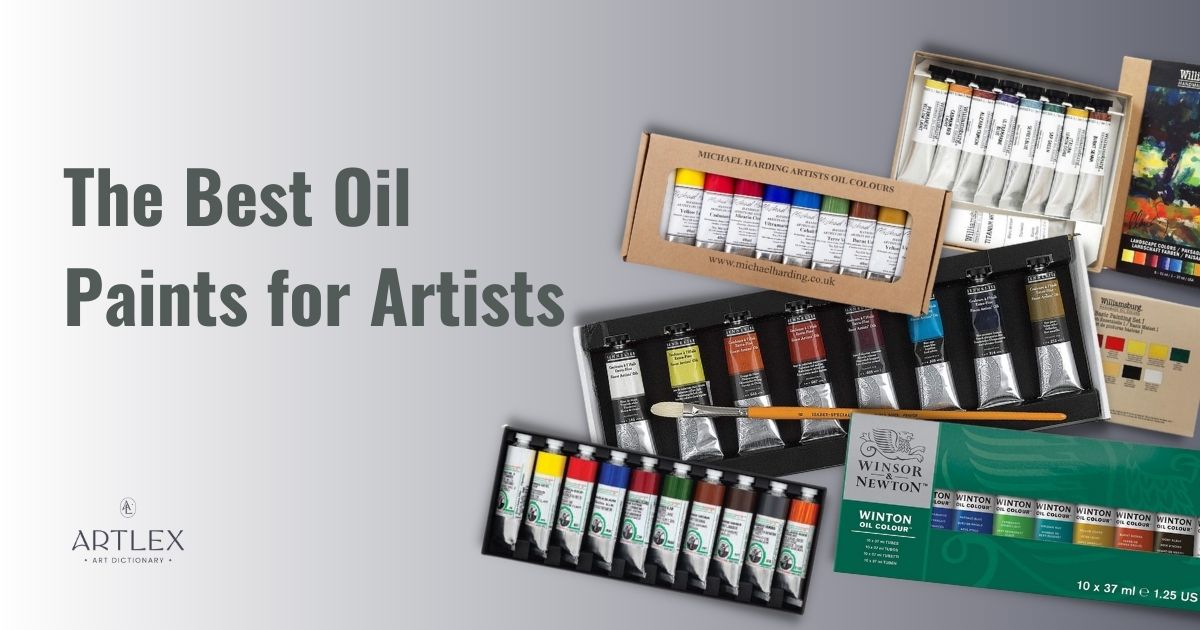 Oil paints are pigment mixed with an oil base that is usually cold-pressed linseed oil due to its ability to dry faster than most other oils. Due to its oil base, oil paint usually takes longer to dry than other painting mediums, thus special care must be taken not to smear artwork even after several weeks. Other binding oils include safflower oil or poppy seed oils.
When purchasing oil paint, a few criteria to note are the number of paints that come in a set and the appropriate colors for landscapes, portraits, or still-lifes, as well as the size of the oil paint tube.
Fun fact: The most expensive painting ever sold was Leonardo da Vinci's Salvator Mundi, which was painted with oil paint on a walnut panel.
Beginners and students might also factor in price as oil paints tend to be more expensive than other mediums.
The oil paint brand is also important as some companies like Old Holland have been in business since the Renaissance. We have covered a few top brands and what they're most well know for.
Unlike acrylic paint, oil paint should be thinned before painting. Many artists prefer using linseed oil, but poppy oil or even inexpensive safflower oil is also appropriate.
Oil Painting
Oil Painting is different from other mediums because it takes some preparation prior to placing the paint to canvas. As mentioned above, oil paint must be thinned before starting and is more difficult to clean than acrylic paints or watercolors. Below we've covered some pointers to help beginning oil painters get started.
Brushes
Natural hair or high-quality synthetic mix brushes are best for oil painting. Kolinksy Sable and hog are two of the most liked among professionals.
Beginners can get away with an assortment of flat and round brushes while professionals and serious students should look at Fan, Filbert and Bright brush shapes along with the usual flat and round shapes.
Students and beginners can start out with three brush types, assuming you'll be painting on smaller canvases. Since brush sizing differs between brands, we'll suggest sizes in inches.
The first essential brush is a flat ½ inch brush, next is a rigger brush for fine details and your signature. Lastly, a round brush that is ¼ inches wide is needed.
Thinners
As mentioned above, the most common thinner is linseed oil, but other oils including poppy and safflower oils can be used.
Turpentine, mineral spirits, or other paint thinners can also thin oil paint. We suggest purchasing non-toxic thinners such as linseed or safflower oil since paint thinners are made of petroleum and contain Volatile Organic Compounds.
What's more, the paints themselves have caustic agents in them and it can reduce exposure to harmful chemicals.
Mixing
Mixing oil paints is essentially thinning them before applying them to canvas. The more the paints are thinned the more they will run on the canvas and the less control the artist will have over brushstrokes and technique.
Beginners should start out with thicker paint while they are master mixing various brush shapes and other styles. Students can add thinners drop by drop until the right consistency is reached.
Clean Up
When working with oil paint it's imperative to clean brushes after each use and in between colors.
If you're going to continue using the brushes, a simple clean-up of alike colors can involve just wiping the brush on a dry washcloth.
Once finished, all brushes must be cleaned with a thinner such as turpentine or a similar mineral spirit until most of the paint is removed. The brush may still be discolored due to the paint, but that's natural.
The final step is the cleaning and conditioning of the brushes. I usually clean and condition my brushes with The Masters Brush Cleaner.
Oil Paint Brands
Some oil paint brands like Sennelier were established in France in 1887. They are known for their quality, pure pigments as well as opacity and transparency.
Old Holland has an even more impressive history of being established in 1664 during the Rennaisance. They have 168 different colors and are known for having excellent lightfastness.
Winsor Newton were started in England in the 1800's, and have a whole line of watercolors, oils, acrylics, brushes, and paper. Their oil paints are known for their consistency and vibrant color palette. Their Winton line has 55 colors to choose from and are designed with the beginning oil artist in mind.
Williamsburg oils are produced in Williamsburg, Brooklyn and are made with high-quality pigments and linseed oil. These paints are known for their luminosity and undertones.
Michael Harding is a modern oil paint brand based in England. This brand is famous for its creamy, smooth and vibrant colors.
Our Recommendation List for The Best Oil Paints
#1 Best Oil Paint Overall – Sennelier Oil Paints
Price – $160.17 – Our score: 8/10
Number in the set – 8 – Our score: 8/10
Best for – Landscapes: 9/10
Size – 3.7 oz – Our score: 8/10
Many professional artists love plein air painting. These artist-grade paints from Sennelier are the perfect palette for landscapes. The earth colours and natural pigments are smooth, creamy, and full of vibrant colors with an extremely high pigment load.
These traditional pigments have a buttery consistency and can be thinned with refined linseed oil or another oil medium to create very thin layers.
The eight paint tubes of artist-grade pure pigments come in modern colours that can be mixed to create a variety of earth tones that are ideal for landscapes. Sennelier was used by some of the most famous impressionist artists such as Cezanne and Van Gogh.
Pros
Artist-grade paints
The color variety is all a professional artist would need for landscape oil paintings
Paints perform well for wet-on-wet techniques
Each tube has a high pigment load
Cons
The price is higher than some other brands
#2 Best Beginners Oil Paints – Winsor Newton Oil Paints
​​
Price – $43.09 – Our score: 7/10
Number in the set – 10 – Our score: 8/10
Best for – Landscapes and still life: 9/10
Size – 1.25 oz – Our score: 7/10
Winton oil paints from Winsor Newton is one of the best oil paint brands in the industry. This oil paint has a reputation for consistently producing high-quality paint for the beginning oil painter and students alike.
These top oil paints can be thinned with walnut oil, linseed oil, or another medium before you start oil painting. There are 55 colors to choose from in the Winton line and over 100 colors in the Winsor Newton Artist line.
Each pure pigment comes in a 1.25 oz tube and a few colours include Cadmium yellow and red, French Ultramarine, blue, greens, and other neutral colors. Most oil paints can't exceed the quality yet affordability of this oil paint brand.
Pros
Includes a versatile colour range
Very forgiving oil paint for beginners to use
Easy to clean
Thick and rich pigments
Cons
Not as high quality as other brands or the Cotman series
​​
#3 Best Artist-Grade Oil Paints – Old Holland Classic Oil Colors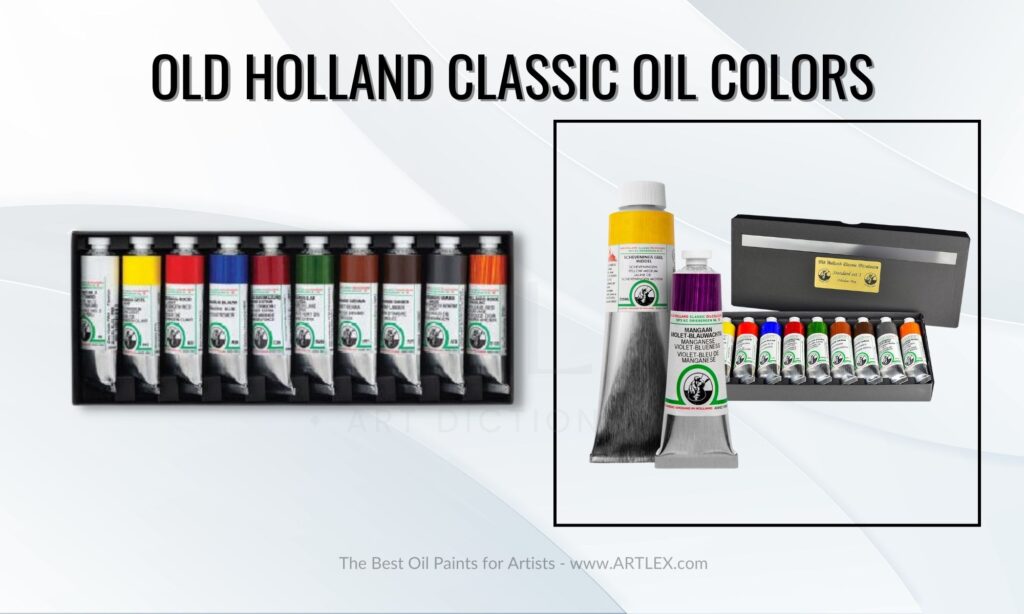 Price – $207.38 – Our score: 6/10
Number in the set – 10 – Our score: 8/10
Best for – Landscapes, portraits, or abstracts 9/10
Size – 1.35 oz – Our score: 8/10
Unlike other oil paint brands, Old Holland paints has been producing quality paints since the Renaissance. The variety of colors in this set of 10 colors is versatile enough to paint a range of objects from landscapes, abstracts, or even portraits.
Walnut oil can be used to thin the colors that include Scheveningen Yellow and Red Light, Warm Gray, and some blues, browns, and green for optimal color mixing.
While any professional artist will agree that these are top-quality paints, students will also approve of the smooth consistency and may never want to return to a student-grade paint set again.
Pros
Excellent color variety for versatile painting subjects
Vibrant and pure pigment quality
One of the oldest continuously producing oil paint companies
Cons
The price may be cost-effective only for professional artists
#4 Best Student-Grade Oil Paints – Williamsburg Oil Traditional Colors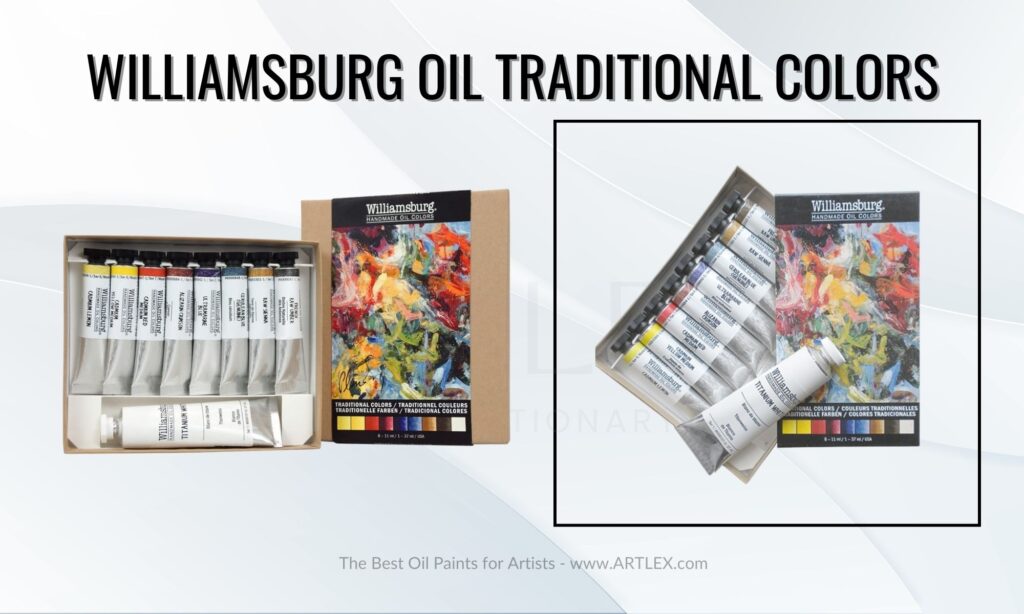 Price – $45.35 – Our score: 7/10
Number in the set – 10 – Our score: 8/10
Best for – Landscapes, portraits, or abstracts 9/10
Size – 37 ml – Our score: 7/10
Students just entering the oil painting world and who want to invest in affordable yet quality student-grade paints set will appreciate this Williamsburg Traditional oil paint set.
The colors and consistency make learning techniques easier than water-mixable oils or cheaper oils that have paint separation.
The gold color is the best oil paint to use if artists want to give their paintings an iridescence sheen. The other colors are rich and highly pigmented as well. Since most colors are made with linseed oil or safflower oil, both can be used to thin these vibrant and beautiful colors.
Pros
Some of the colors have an iridescence to them
Rich pigment load
Ideal for mixing colors with perfect viscosity, while providing a smooth finish
Cons
The colored paint tubes are small
#5 Best Professional-Grade Oil Paints – Michael Harding Oil Paints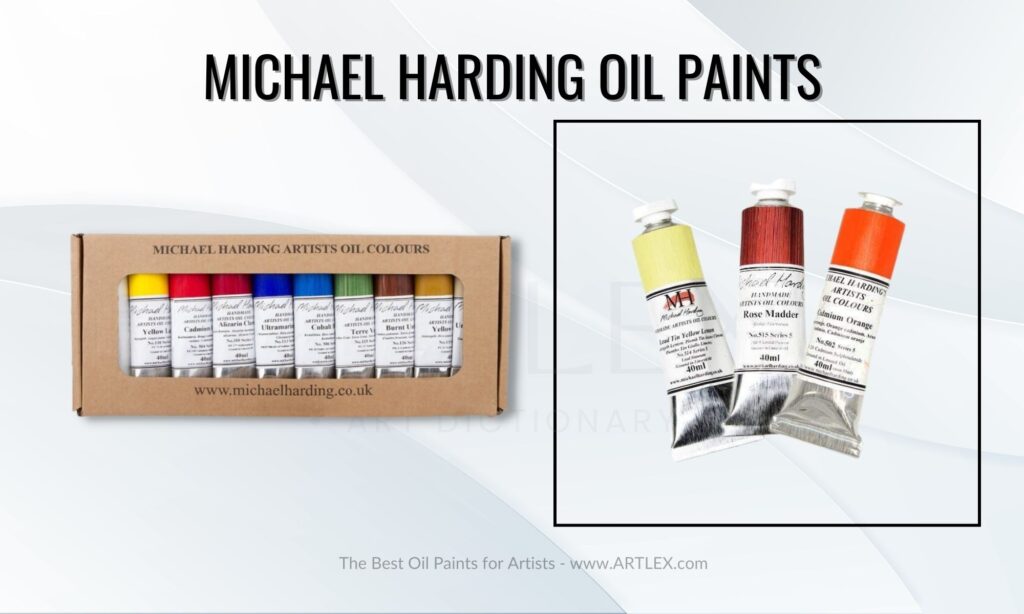 Price – $170.83 – Our score: 9/10
Number in the set – 10 – Our score: 8/10
Best for – Landscapes 9/10
Size – 40 ml – Our score: 7/10
Professionals that take their oil painting seriously will appreciate the quality and vibrancy of these handmade oil colors.
Each 40 ml oil paint tube contains no fillers or additives and produces creamy and deep colors. In fact, the colors are so full that a little goes a long way with these paints.
This set includes traditional colors such as Yellow Ochre, Cadmium Red, Cobalt Blue, and Burnt Umber. Each color has excellent lightfastness and will not fade quickly.
Pros
Includes all primary colors for versatile mixing potential
One of the highest quality oil paint brands in the industry
Professional-quality paints that will go a long way due to their rich pigments
Some colors dry transparent, opaque, semi-opaque
Cons
Most colors dry quickly, but there are a few that take longer to dry
Conclusion
We hope you found our guide to the best oil paints helpful. We've covered the best oil paints, including beginner, professional and student-grade options. We also covered the best oil paint brands from Old Holland to Sennelier, along with our recommendations in various contexts.
We've discussed how you can choose the best oil paint, from handmade paints with modern pigments to artist oils with luscious working properties for landscapes or portraits. Lastly, we've combined our recommendations for oil painters with a different painting style along with moderately priced pigments that are still high-quality art supplies.
Thanks for reading. We hope our suggestions help you choose the best oil paints, whether choosing from the top oil paint brands that are known for their vibrant colors or deciding on synthetic pigments for your next oil painting session.