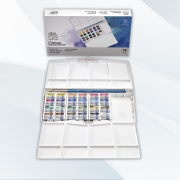 A versatile and affordable set known for its high-quality pigments and excellent lightfastness.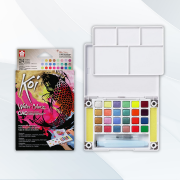 A compact, travel-friendly set with a wide variety of vibrant colors, perfect for painting on the go.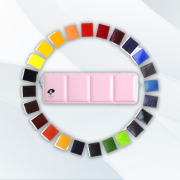 Known for its vibrant colors and good blending capabilities, offering great value for beginners.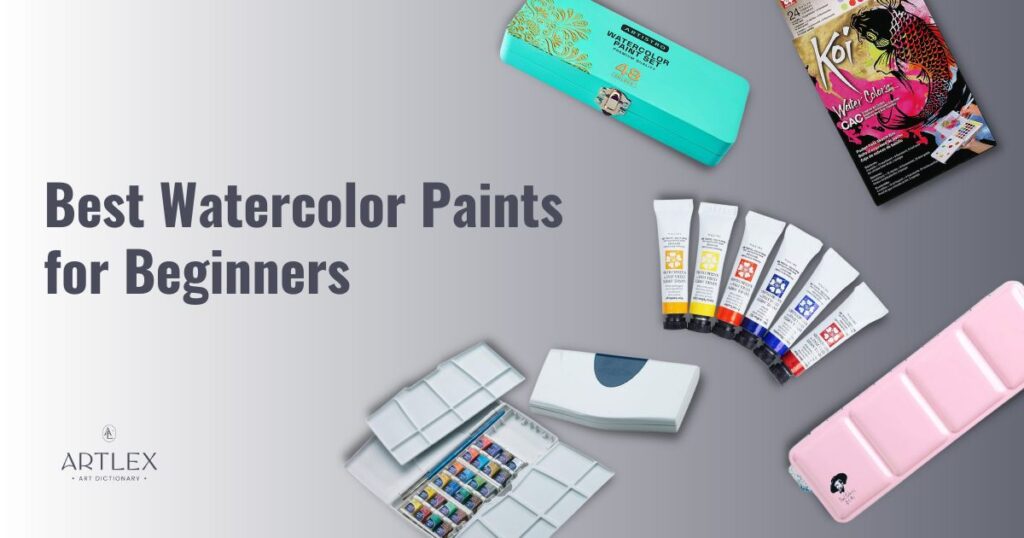 Watercolor painting is morе than just a hobby. It's a form of sеlf-еxprеssion, a way to rеlax, and a mеans to create somеthing truly bеautiful, but, like any nеw advеnturе, thе first stеp is oftеn thе most daunting. What paints should you usе? Which brand is better for me? How do you choosе from thе dazzling array of colors availablе? Don't worry, we've got you covеrеd.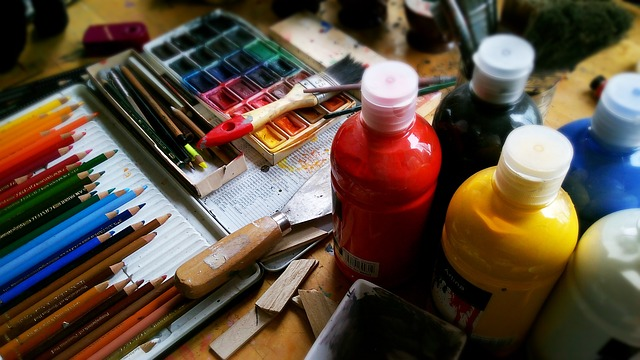 In this articlе, wе'll explore thе best beginner watercolor paint sets, wе'll divе into thе world of hues and pigments, hеlping you undеrstand what makеs a grеat watercolor paint. Wе'll guidе you through thе factors to considеr whеn choosing your first sеt of paints, and wе'll introducе you to somе of thе top brands that are perfect for beginners.
So, take a deep breath, rеlax, and lеt's еmbark on this colorful journеy togеthеr. By thе еnd of this guidе, you'll bе rеady to dip your brush into your first palеttе of watеrcolors, and start crеating your vеry own mastеrpiеcе. Lеt's gеt startеd!
How to Find the Best Watercolor Paints for Beginners?
Form: Pans vs. Tubes vs. Liquid
Watercolor paints come in different forms – pans, tubes, and liquid.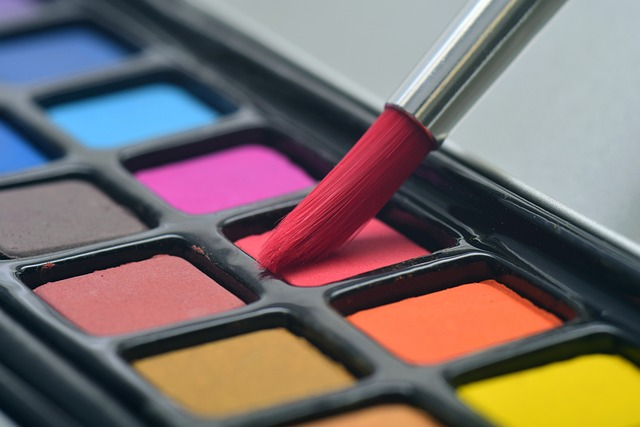 Pans are like eye shadows. They're compact, portable, and you need to add water (or other mediums) to activate them. They're the most popular form of watercolor paint and most of us have used them or seen them as kids or in an art set. All you need to do is dip your wet brush on the pan to pick up the color and voila, you're ready to paint. They're super easy to use and not as messy, making them a great choice for beginners.
Tubes are like concentrated sauce. They're already in a pasty form, but thicker. You can squeeze out just the amount you need, and they're great for mixing precise and vibrant colors. But just like concentrated juice, if you squeeze out too much, it can't be put back.
Liquid watercolors are like cranberry juice. They're already in the most fluid form, and they offer vibrant, intense colors. However, they can be a bit harder to control for beginners, much like how a full cup of juice can easily spill if not handled carefully.
As a beginner, you might find pans or tubes easier to handle. They offer more control and are less likely to create a mess, which can make your initial experiences with watercolor painting more enjoyable and less stressful.
Quality: Student vs. Artist Grade
Just like in any other field, watercolor paints come in different grades. There are artist-grade paints, which are the top-tier, filled with vibrant pigments and designed to give you the best possible results, and there are student-grade paints. They're more affordable, but still offer good quality.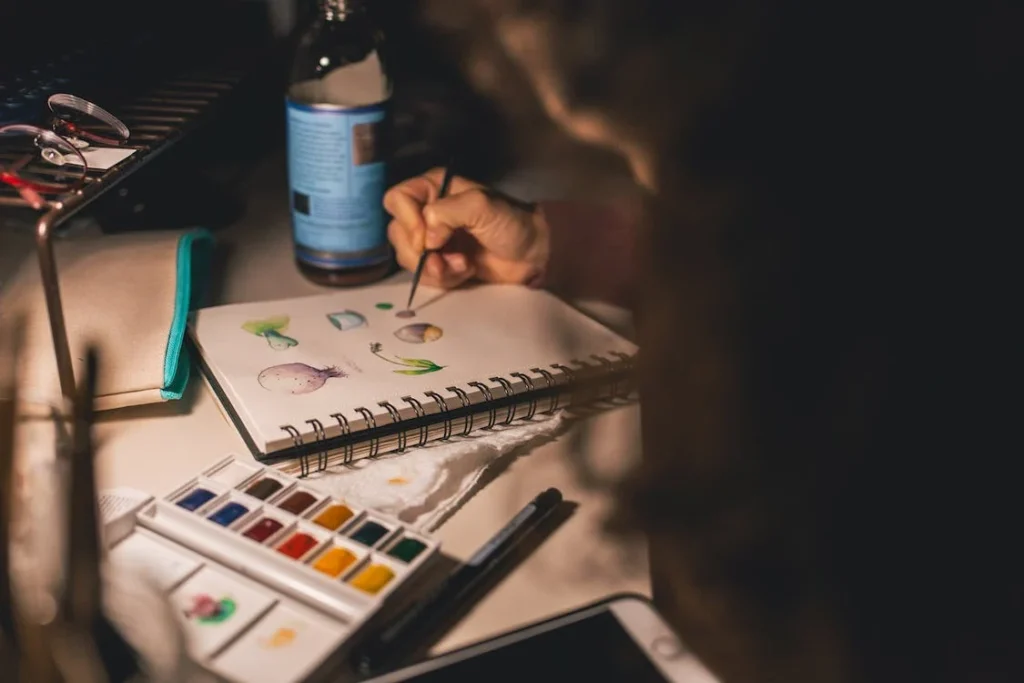 Think of watercolor paints like clothes. Artist-grade paints are like designer outfits – they're made from the best materials, offer the most vibrant colors, and generally last longer, but they also come with a hefty price tag. On the other hand, student-grade paints are like your everyday clothes – they're affordable, decent quality, and perfect for learning and experimenting. As a beginner, it's okay to start with student-grade paints.
Once you've honed your skills and developed your style, you can upgrade to artist-grade, however if your budget allows it, then getting a small set of artist grade paints will help you experience the difference between pigments and lightfastness and make the transition much easier in the future.
Color Range
As a beginner, you might be tempted to buy a set of paints with a wide range of colors, and going for more variety for less price seems like the most logical option, however you might find that it can be detrimental in the long run.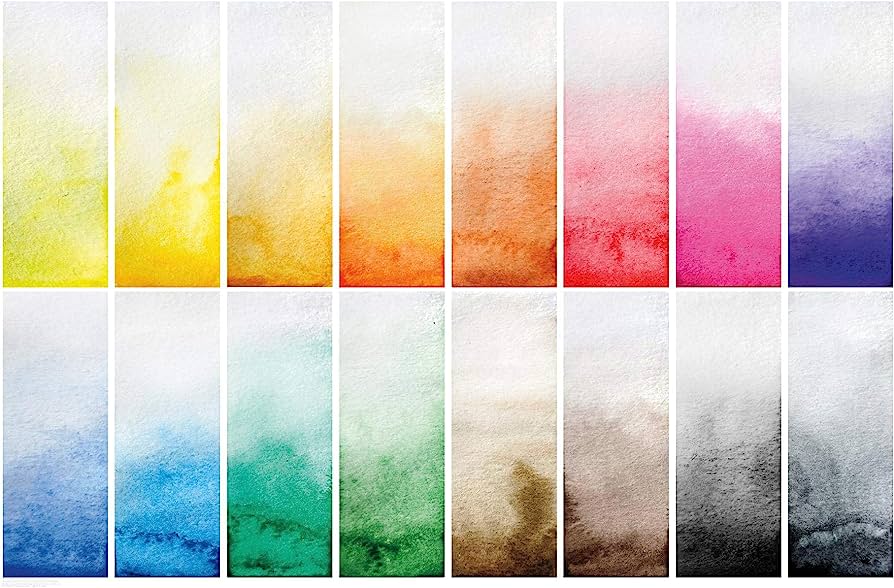 Starting with a limited color palette is like learning the alphabet. You don't need to know all the words in the dictionary to start forming sentences. Similarly, you don't need a vast array of colors to start painting. A basic set of primary colors – red, blue, and yellow, purple, green, cyan and magenta- can be mixed to create a wide range of other colors. As you get more comfortable, you can start adding more colors to your palette or even mix your own.
Permanence
Permanence in paints might seem like an unfamiliar term, however it's quite important. In simple words, permanence is like sunscreen. Just like sunscreen protects your skin from the harmful effects of the sun, a paint's permanence rating tells you how well a pigment can resist fading when exposed to light.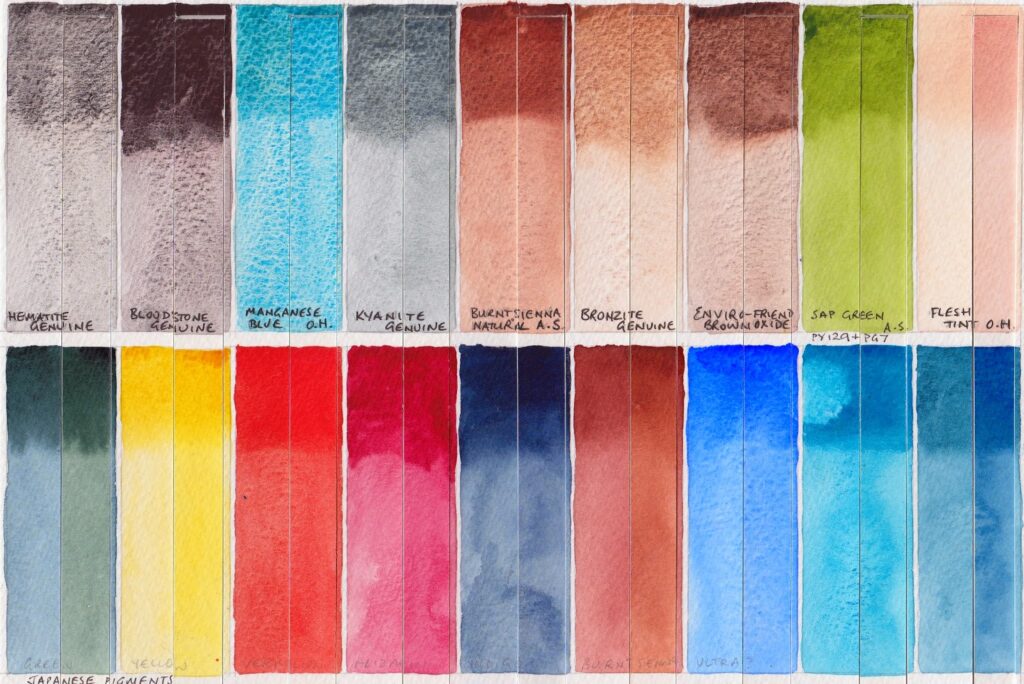 Paints with a high permanence rating are like high SPF sunscreen – they offer better protection. As a beginner, it's a good idea to choose paints with a high permanence rating to ensure your artwork remains vibrant for a long time, however most student-grade watercolor paints don't offer high permanence, and the ones that do, are hard to find.
Brand Reputation
Brand reputation is like a restaurant review – it gives you an idea of what to expect. Brands that have been around for a while and have good reviews are generally reliable and you can expect quality from them. But don't be afraid to try out lesser-known or new brands too – you might find a hidden gem!
Presentation and Ease of Use
Ease of use is all about how comfortable you feel when using the paints. Some sets come with extras like brushes or a mixing palette, which can be handy. Some paints are easier to mix than others, and some sets are laid out in a way that makes it easy to see all your colors.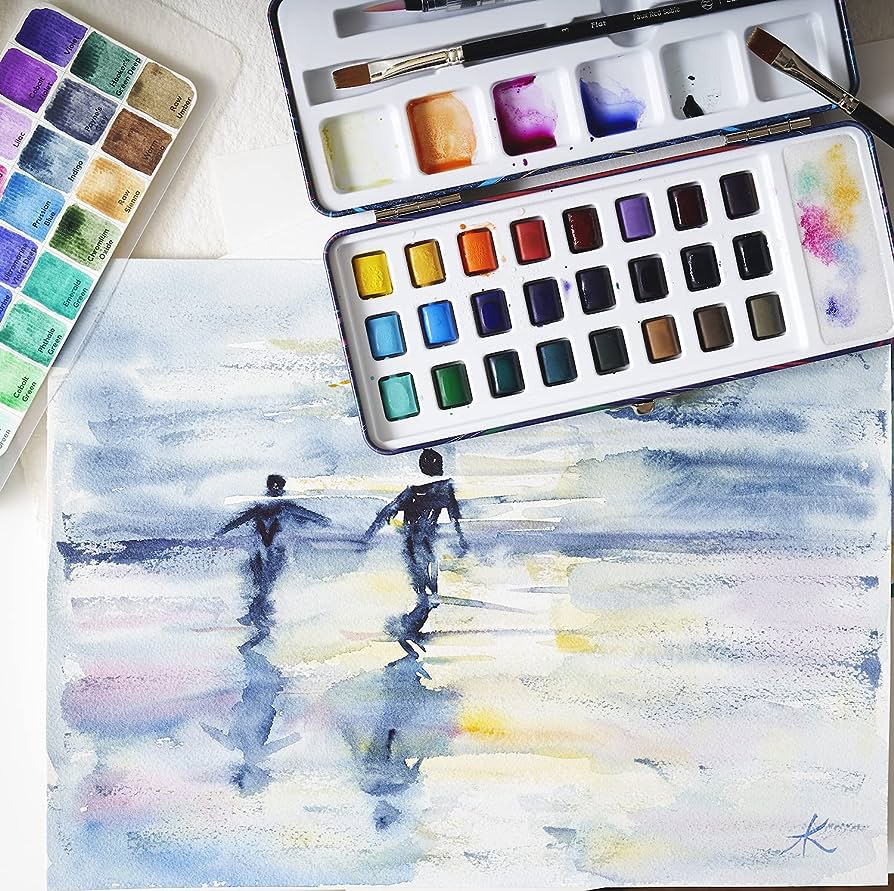 It might take a while for you to find a brand you like, or a set that works for you, however getting a travel set and one that lets you interchange the pans might be a good way to add variety to your materials and let you experience watercolor in different settings.
Choosing your first set of watercolor paints is a big step, but it's also a lot of fun. So take your time, enjoy the process, and remember – there's no right or wrong choice. The best paints for you are the ones that make you excited to start painting!
Price
Price is always an important factor, especially when you're just starting out. But remember, more expensive doesn't always mean better, especially for beginners. It's like buying a car – you wouldn't buy a Ferrari for your first car, right?
Look for paints that offer good value for money – decent quality at an affordable price, and if you plan on looking for professional paints or want to try artist grade paints, then go for individual tubes or pans instead of sets, that way you won't break the bank and will be able to experiment with high quality materials.
The Best Watercolor Paint Sets for Beginners
Best Watercolor Paint set for Beginners Overall — Winsor & Newton Cotman
Best Travel Watercolor Set for Beginners — Sakura Koi Pocket Sketch Field
Best Value Watercolor Paint Set for Beginners — Paul Rubens 24pc Set
Best Watercolor Paint Tubes Set for Beginners – Daniel Smith Introductory Set
Best Budget Watercolor Paint Set for Beginners — Artistro Watercolor Paint Set
1. Best Watercolor Paint Set for Beginner – Winsor and Newton Cotman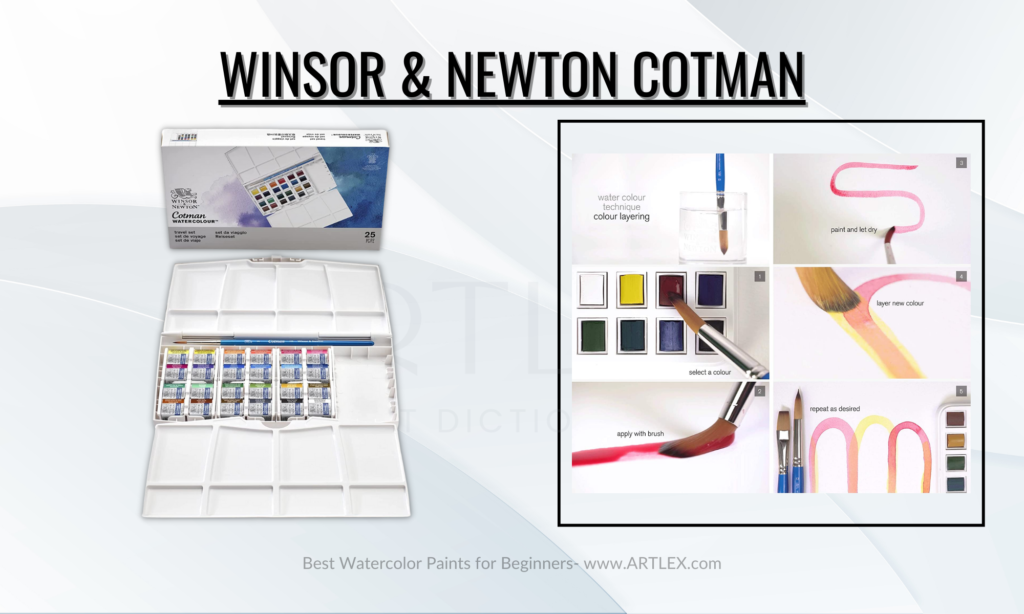 Selection Criteria
Form: Half-Pans
Quality: Student Grade
Color Range: 24 Set, 48 Colors in Total
Permanence: Above Average
Presentation: Set of 24 interchangeable pans, includes a brush and two palettes.
Price: $37.99
About the Winsor and Newton Cotman
Winsor & Newton's Cotman line is a popular choice and a great starting point for beginners due to its affordability and quality. These paints are known for their bright, vibrant colors and good transparency. They are easy to mix and have a smooth texture which works wonderfully with acid-free paper.
This watercolor paint set is compact and lightweight, making it perfect for those who want to paint on the go. It includes 12 half pans of Cotman watercolors, which are the student line of watercolors by Winsor & Newton. These paints offer good tinting strength and working properties, making them a joy to use for beginners.
The box's lid doubles as a mixing palette, allowing you to experiment with blending colors right in the box. The set also comes with a brush, so you have everything you need to start painting. While the paint pans might seem small, they last a surprisingly long time, giving you plenty of practice before needing to replace them.
Pros
Affordable
High-quality
Easy to mix
Cons
Some colors may be less pigmented
Limited color range in the basic set
May not be as durable as professional paints
2. Best Travel Watercolor Set for Beginners — Sakura Koi Pocket Sketch Field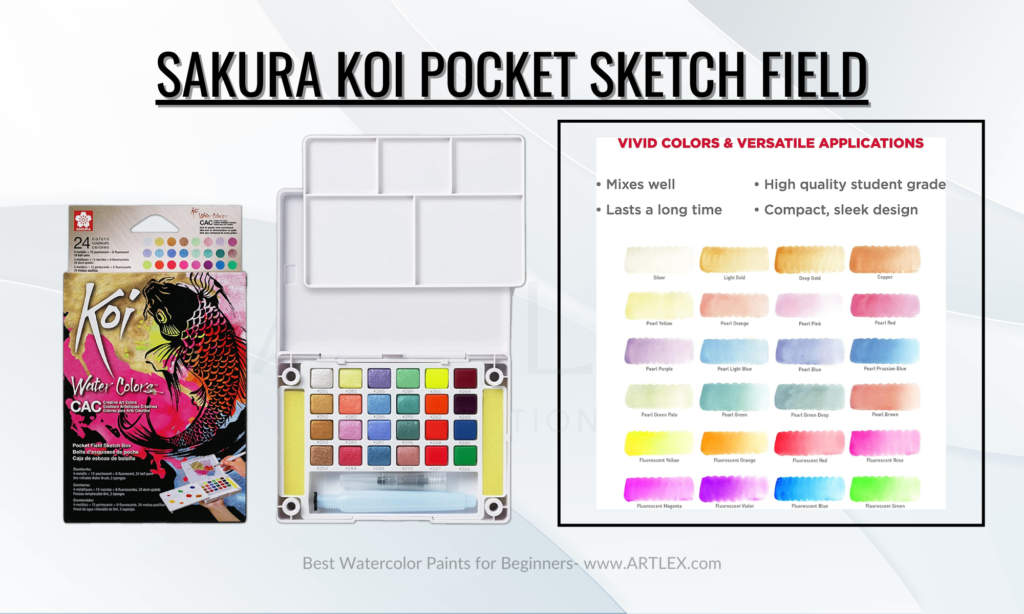 Selection Criteria
Form: Half-Pans
Quality: Student Grade
Color Range: 24 Unique Colors.
Permanence: Average
Presentation: Set of 24 pans, includes a Water Brush, two Sponges and one Mixing Palette.
Price: $23.06
About the Sakura Koi Pocket Sketch Field
The Sakura Koi Watercolor Field Sketch Set is a compact, portable set that is highly appreciated by beginners and travelers alike. This set includes a range of vibrant, semi-moist colors that are easy to work with. The set also comes with a mixing palette, a refillable waterbrush and a sponge, adding to its convenience. The case is durable and includes a palette for mixing colors, making it easy to paint wherever you are.
One of the most popular reasons why the Sakura Koi set is so popular is due to its color quality and ease of use. The paints are known for their smooth application and good blending properties. They are vibrant and relatively transparent, allowing for a variety of watercolor techniques. The included water brush is a great addition making it even easier to paint on the go.
On the downside, this isn't a professional watercolor set and although the colors are bright and vivid, they're not lightfast and permanent enough for professional work.
Pros
Portable
Comes with a water brush
Vibrant colors
Cons
Colors may not be as lightfast as some other brands
The included brush may not suit everyone
3. Best Value Watercolor Paint Set for Beginners — Paul Rubens 24 Set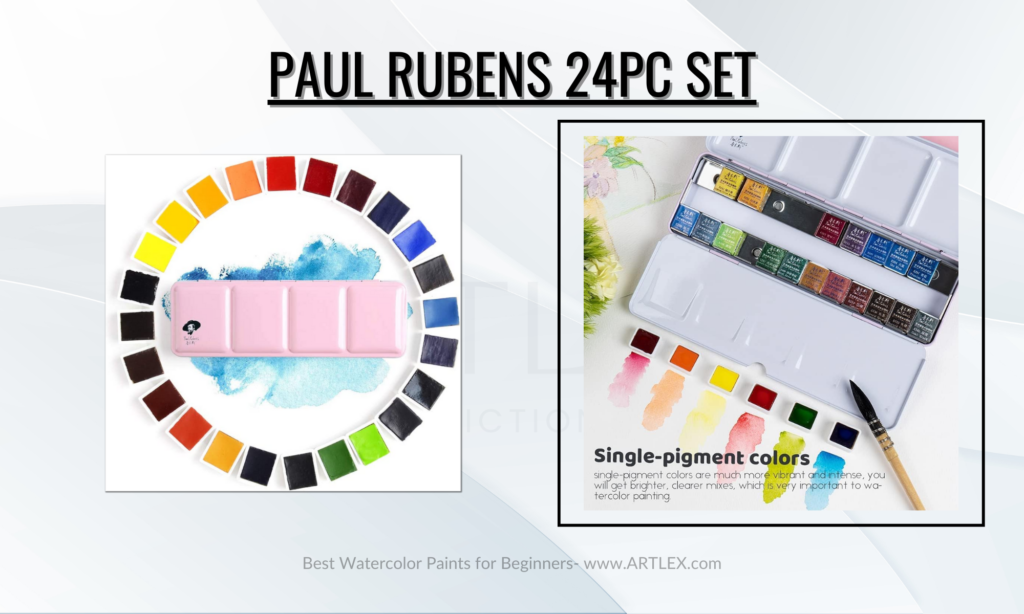 Selection Criteria
Form: Half-Pans
Quality: Artist Grade
Color Range: 24 Set, 48 Colors in Total
Permanence: Above Average
Presentation: Set of 24 pans with Portable Metal Box.
Price: $39.99
About the Paul Rubens 24 Set
Despite being a relatively new brand, Paul Rubens watercolor paints are already well known for their high pigmentation and texture. They're quite popular with crafters and lettering artists due to their vibrant color range and smooth application. These set is made with very high quality paints that are easy to blend and have excellent lightfastness, ensuring that your artwork remains vibrant over time.
Highly recommended by lots of content creators and even some professional artists, this set offers the most value for the price with its 24 interchangeable color pans. The set comes in a beautiful pink palette, adding a touch of cuteness and elegance to your painting experience.
You can also get some of their other watercolor sets, like their metallic or pastel ones, which are still great value for the price.
Pros
High pigmentation
Excellent lightfastness
Beautiful packaging
Cons
Slightly more expensive than other beginner sets
Some users may prefer a more traditional color range
4. Best Watercolor Paint Tubes Set for Beginners – Daniel Smith Introductory Set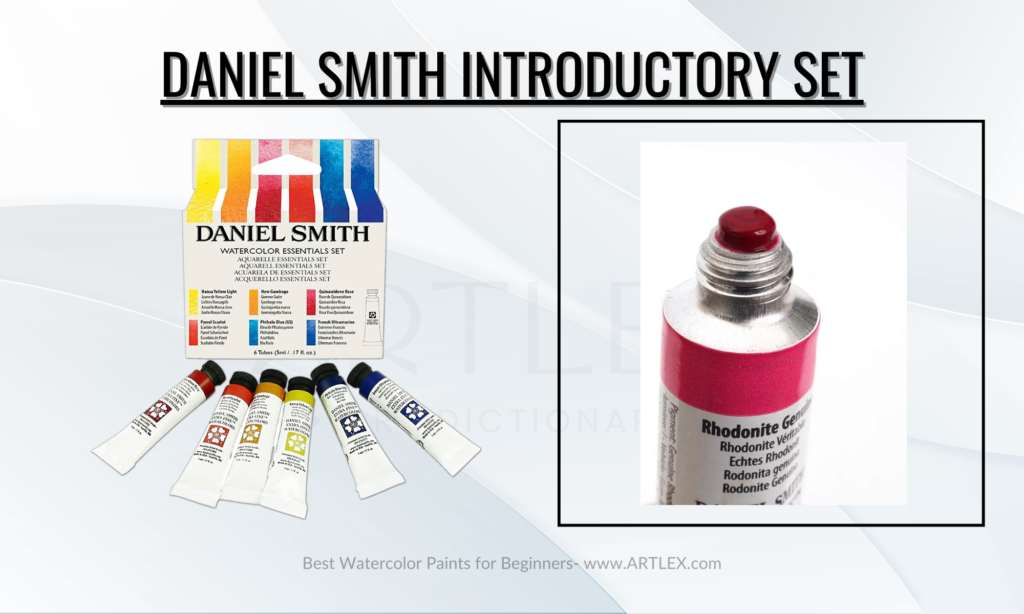 Selection Criteria
Form: Tubes
Quality: Artist Grade.
Color Range: 6 tubes Set, 252 Colors in Total.
Permanence: Excellent.
Presentation: Set of 6 tubes.
Price: $36.49
About the Daniel Smith Introductory Set
Daniel Smith is a highly regarded brand in the world of art supplies for their unique, vibrant colors and excellent mixing capabilities, however, like many professional watercolor paints, they're not cheap at all. In order to build a decent customized palette of artist quality paint you'd have to spend hundreds if not thousands to get a decent collection. Though it can be considered an investment since this paints last forever, it might not be the best to go all out as a beginner.
This introductory set of watercolor tubes provides a carefully chosen collection of colors that allows beginners to experiment with mixing and creating a wide range of hues, which is perfect for those who want to try professional watercolor paint but don't want to overspend or go over budget.
Pros
Unique, vibrant colors
Excellent mixing capabilities
High-quality pigments
Cons
More expensive than other beginner sets
Tubes may be harder to manage for beginners
Some users may prefer a larger color range
5. Best Budget Watercolor Paint Set for Beginners — Artistro Watercolor Paint Set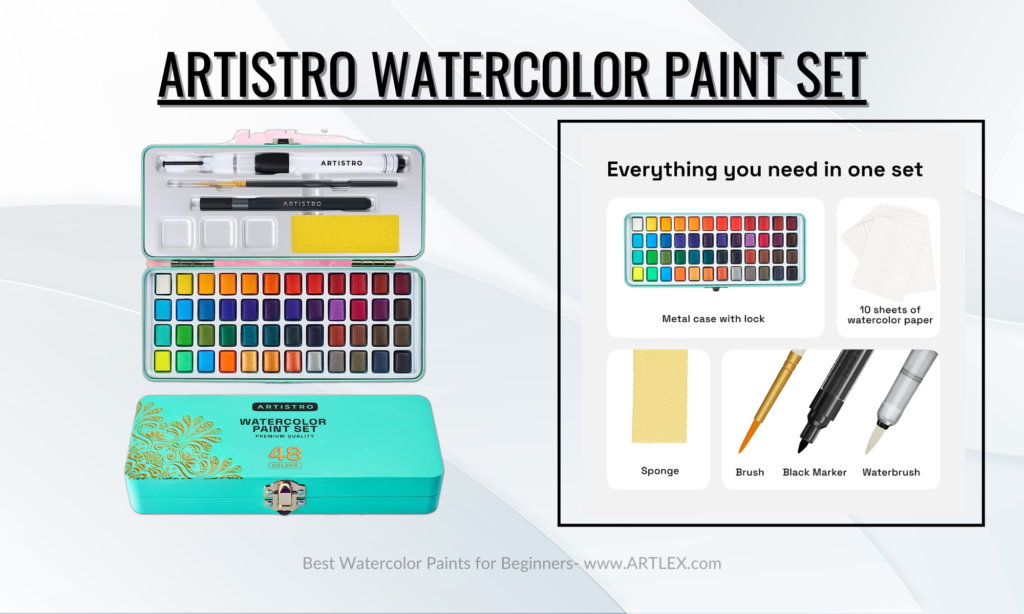 Selection Criteria
Form: Half-Pans
Quality: Student Grade
Color Range: 48 Set.
Permanence: Below Average.
Presentation: Set of 48 pans, includes a metal box, 10 sheets of 300g watercolor paper, a water brush pen, sponge, black marker, swatch sheet, and flexible brush.
Price: $29.99
About the Artistro Watercolor Paint Set
The Artistro Watercolor Paint Set is a budget-friendly option that doesn't compromise on quality. The paints are vibrant and easy to blend, and the set which is made of half pans, includes a wide range of colors.
It's also quite portable and comes with ten watercolor paper sheets a black fineliner, a sponge, a brush and a waterbrush. It's a great choice for beginners who are just starting to explore the world of watercolor painting as it has everything you need to get started.
Pros
Budget-friendly
Vibrant colors
Wide color range
Cons
May not be as durable as more expensive sets
Some colors may lack pigmentation
Watercolor Paint FAQs
Q: Can watercolor paints be used on canvas or wood?
A: Yes, watercolor paints can be used on canvas or wood, but these surfaces need to be properly prepared with a layer of watercolor ground to ensure the paint adheres correctly.
Q: Can watercolor paint be used on skin?
A: While watercolor paint can technically be applied to skin, it's not recommended as it's not formulated for this purpose. Instead, use paints specifically designed for body painting.
Q: How do I start watercolor painting as a beginner?
A: Start with a basic set of good quality watercolor paints, and watercolor paper. Practice basic techniques like wet-on-wet and wet-on-dry, and experiment with mixing colors. Let's not forget about leraning how to use watercolor brushes, how do they work and which are the best for wet-on-wet or wet-on-dry techniques.
Q: Which is better for beginners, watercolor or acrylic?
A: Both have their advantages. Watercolor is great for creating light, translucent effects and is easy to clean up. Acrylic is more forgiving as it can be painted over and has a more vibrant finish.
Q: Can I learn watercolor painting on YouTube?
A: Absolutely! There are many excellent watercolor tutorials for beginners on YouTube. These can be a great supplement to classes or self-study.
Q: What supplies do I need to start watercolor painting?
A: At a minimum, you'll need watercolor paints, brushes, and watercolor paper. Other useful supplies include a palette for mixing colors, a container for water, and a cloth for blotting your brush.