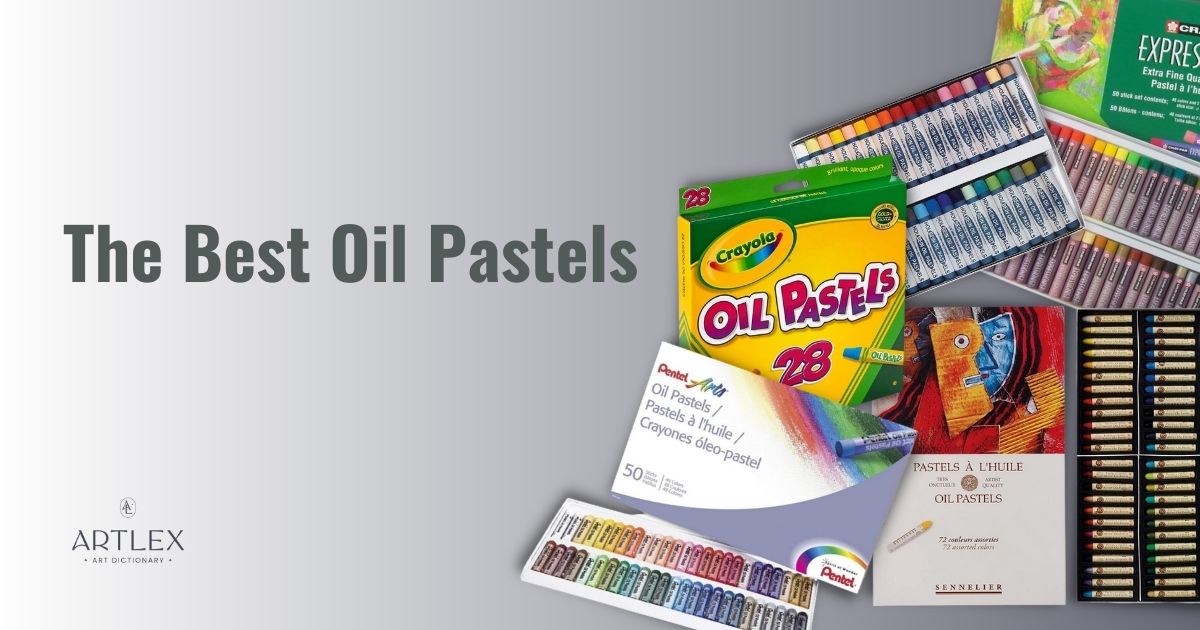 Buying the best oil pastel paints, especially high-quality pastels, isn't as straightforward as one would think. While the top brands may guarantee a rich and buttery consistency, other less expensive brands may leave a waxy and hard residue behind. This guide will help you to tell the difference between a great purchase, a good purchase, and a bad purchase.
What exactly should artists be looking for when evaluating oil pastels? Artists should look for the the following selection criteria: color variety, lightfastness, specific use for the oil pastels such as drawing, sketching, or both, and whether they are non-toxic. Toxicity is especially important if young artists or children are allowed to use oil pastels.
Note that while some oil pastels that come in the same box may not all be toxic, certain pigments are made with harmful ingredients. Therefore, if purchasing professional-grade oil pastels for student artists, it's imperative to look at each pastel and remove potentially toxic pastels before using them.
Fun fact: One of the most expensive pastel paintings ever sold was of a ballet dancer by Degas. It sold for over $27 million US dollars.
Different brands of oil pastels offer specific properties for blending in layers or a fine tip for sketching. Beginner artists would do well to use fewer colors to learn color combinations and mixing, which can produce unique and beautiful oil pastel artwork.
Below we have covered the different types of pastels and their best uses.
What are Oil Pastels?
Oil pastels are a crayon/stick shaped painting medium that consists of pigment mixed with a 'binder' agent of oil or wax. Oil pastels are a common artists tool for painting and drawing.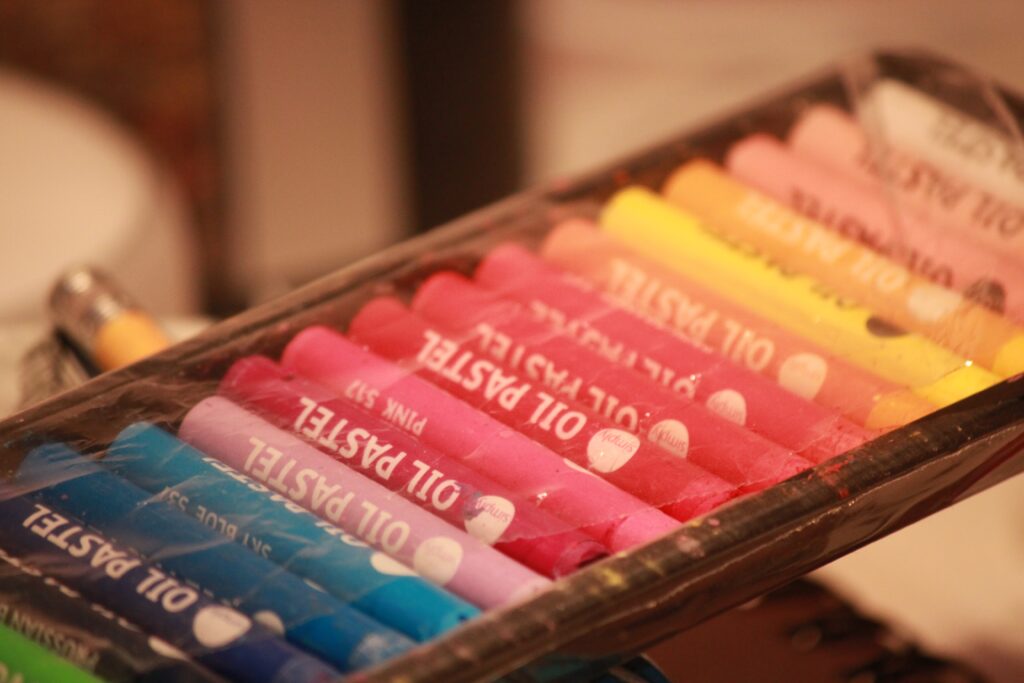 Types of Pastels
Quality pastels are made with different binders, creating different consistency between them. Below we have covered the various pastels, including those with the most creamy texture and vibrant colors.
Soft Pastels
Soft pastels are the most frequently used pastel and are what an artist refers to when mentioning "pastels."
They are made with pigment and a gum binder and sometimes only use pigment and no binders, making them the most vibrant of all pastels. Their consistency is a creamy texture that is powdery and soft.
Hard Pastels
Unlike soft pastels, hard pastels have more binders, making them harder. This allows artists to use the point to create more delicate lines or create sketches.
They also don't crumble and leave dusty residue as soft pastels are known to do.
Pastel Pencils
Many artists prefer using pastel pencils to avoid getting their hands covered in pastel pigment. Pastel pencils are hard pastels encased in a pencil.
Like hard pastels, they are used for sketching. Most artists who use soft pastels also have hard pastels available as they're better for sketching.
Water-Soluble Pastels
Another type of soft pastel with one significant difference, water-soluble pastels, once dried, can be manipulated like watercolors.
Artists can essentially paint and blend the pastels using water and a brush to create unique and interesting effects.
Oil Pastels
Oil pastels are soft pastels made with an oil and wax binder. Rather than a smooth and creamy texture like soft pastels made with a gum binder, they are oily and soft.
They are best for broad strokes and bold statements. If oil pastels get on clothes or other surfaces, turpentine is required to remove it.
Our Recommendation List for The Best Oil Pastels
#1.Best Oil Pastel Overall – Sennelier Oil Pastels

Selection Criteria
Price – $149.98 – Our score: 8/10
Assorted colors – 72 – Our score: 9/10
Lightfast – Excellent – Our score: 9/10
Specific use – Drawing – Our score: 8/10
Non-toxic – Yes – Our score: 9/10
About Sennelier Oil Pastels
Professional artists will appreciate the quality of these 72 assorted Sennelier pastels. These oil-based pastels have a soft and creamy texture and are packed with vibrant shades ideal for portraits.
An experienced artist can use all the oil pastels in this pack for blending colors in landscapes, portraits, or still-life paintings. Using a fixative is suggested when adding many layers of these quality pastels to a painting.
Sennelier oil pastels are one of the top oil pastel brands in the industry, and these professional oil pastels are a treat to use and don't have a waxy residue or leave behind dust like cheaper pastel brands.
Pros
One of the top professional-grade oil pastels available
High pigment load in each color
Does not smell or go rancid like less expensive brands
Blends perfectly with multiple-layered paintings
Cons
If too much pressure is applied, these pastels will break
2. Best Oil Pastels for Beginners – Sakura Cray-Pas Pastels

Selection Criteria
Price – $25.15 – Our score: 8/10
Assorted colors – 50 – Our score: 9/10
Lightfast – Excellent – Our score: 9/10
Specific use – Drawing – Our score: 7/10
Non-toxic – Yes – Our score: 9/10
About Sakura Cray-Pas Pastels
Sakura Cray-Pas oil pastels are a well-priced assorted blend of beginner's oil pastels. The variety of colors is ideal for landscapes, wall art, still life, or portraits.
While they aren't Sennelier quality, they do blend well and create a nice smooth texture on a finished painting.
Using this pastel medium will allow beginners to experiment with earth tones and full gallery soft oil pastels. A few pastels look like they're the same color, but in fact, there are no duplicates in this 50-piece box.
Pros
They aren't messy and clean easily
Excellent for beginners to practice blending technique
Excellent lightfastness for the price
Cons
They are waxy and have a strong odor
Not suitable for blending many layers
3. Best Oil Pastels for Kids – Crayola Oil Pastels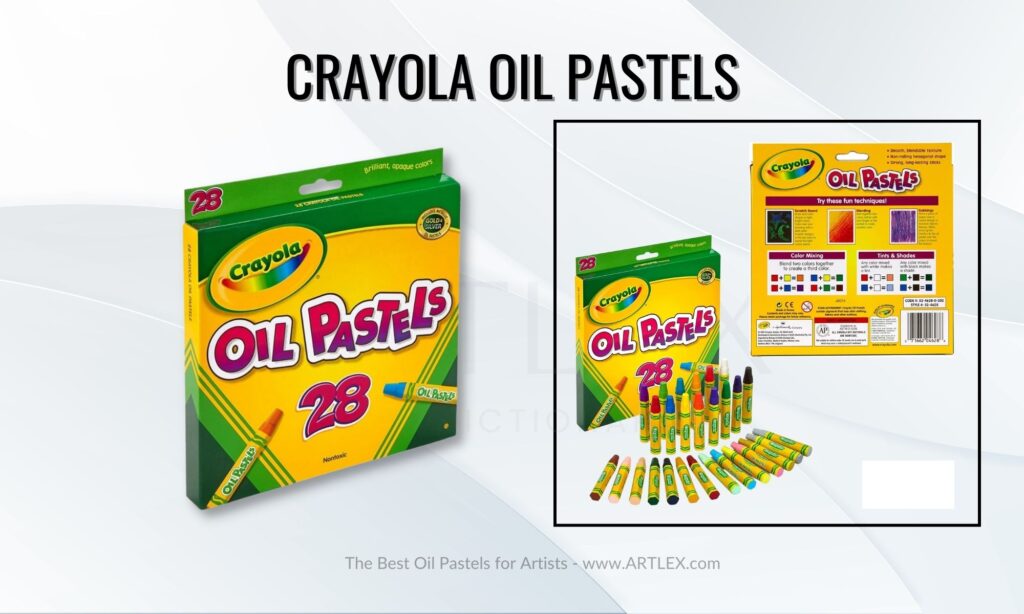 Selection Criteria
Price – $5.99 – Our score: 8/10
Assorted colors – 28 – Our score: 9/10
Lightfast – Good – Our score: 9/10
Specific use – Drawing and sketching – Our score: 7/10
Non-toxic – Yes – Our score: 9/10
About Crayola Oil Pastels
For kids wanting to explore oil pastels safely, these student-grade oil pastels from Crayola are excellent. The very affordable price of this set of oil pastels makes them cost-effective for the budding pastel artist to explore techniques without breaking the bank.
These non-toxic oil pastels can be used to make sharp lines or layered portraits. Other oil pastel brands also don't clean as easily as these soft pastels making them ideal for an art class.
They are also more easily blended than colored pencils or crayons. This set of 28 colors includes many neutral colors for landscapes or portraits, and the long length makes them easier to hold for small hands.
Pros
Vibrant and non-toxic pigments
Includes a good variety of neutral and opaque colors
Easy to clean
Suitable for young and older artists alike
Cons
They leave dust and residue on paper
4. Best Student-Grade Oil Pastels – Pentel Student-Grade Oil Pastels

Selection Criteria
Price – $9.94 (Was $10.99) – Our score: 8/10
Assorted colors – 50 – Our score: 9/10
Lightfast – Very good – Our score: 8/10
Specific use – Drawing and sketching – Our score: 7/10
Non-toxic – Yes – Our score: 9/10
About Pentel Student-Grade Oil Pastels
Most artists will agree that Pentel oil pastels are a good starting point as a student-grade oil pastel set. While they are a bit softer than other brands, it does make it easier to blend colors.
This 50-piece set does not contain the same pigments as other brands do. For students entering the world of oil pastel painting, this brilliantly colored oil pastel set is a good choice.
Students must buy oil pastels that are non-toxic, blend well and have longer lengths like these top Pentel oil pastels.
Pros
Contains a variety of yellows, blues, greens, and reds
Excellent price for the quality
Great for schools
Easy to clean
Cons
5. Best Artist-Quality Oil Pastels – Holbein Artists Oil Pastels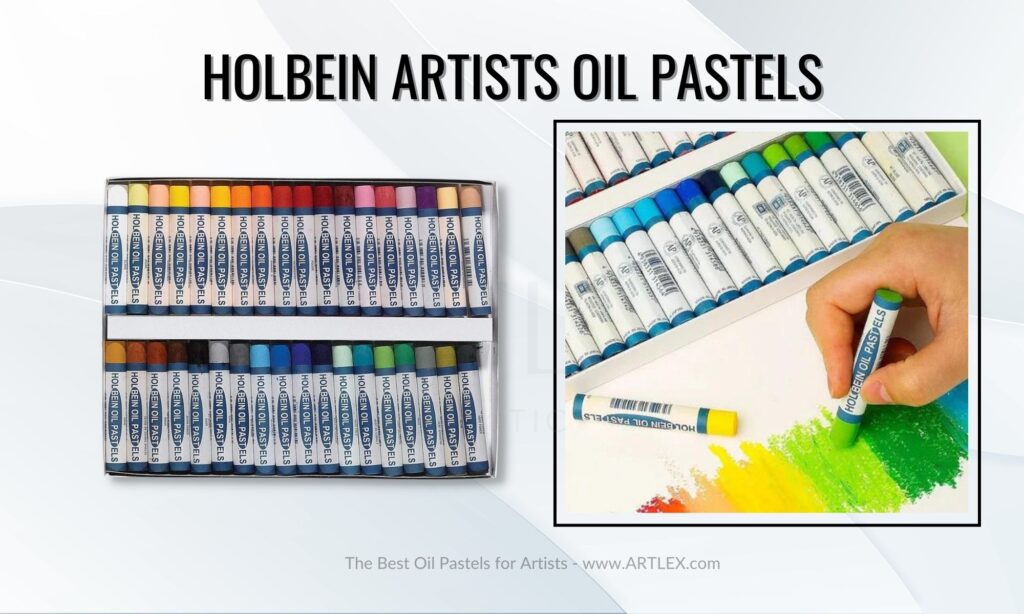 Selection Criteria
Price – $32.54 – Our score: 8/10
Assorted colors – 36 – Our score: 9/10
Lightfast – Excellent – Our score: 9/10
Specific use – Drawing – Our score: 7/10
Non-toxic – Yes – Our score: 9/10
About Holbein Artists Oil Pastels
Good quality oil pastels at this price point are hard to come by like these Holbein artist-grade oil pastels.
Students and professional artists alike will appreciate the creamy consistency and vibrant colors of this oil pastel set with its high-quality pigments.
While other oil pastels tend to crumble, these oil pastels don't leave a dusty residue and are ideal for blending oil pastels or landscapes.
Many artists like to use a palette knife when blending oils for interesting effects, similar to oil painting.
Pros
Contains 36 unique and rich colors
Doesn't leave a waxy residue like other brands
Perfect for blending
Cons
When sketching, they tend to break easily if not careful
Conclusion
We hope you found our guide to the best helpful. We've covered different oil pastels brands like Holbein artists' oil pastels or Sakura Cray-Pas beginners or professionals' oil pastels, along with our recommendations in various contexts.
We've discussed how you can choose the best oil pastels, from student or artist-grade pastels to the best oil pastels for professional artists. Lastly, we've combined our recommendations for the best oil pastel set with a soft texture, intense colors, or those with a high pigment load.
Thanks for reading; we hope our suggestions help you choose the best oil pastels, whether for young artists, serious artists, or artist-grade quality art supplies to create your next oil pastel work.