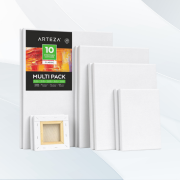 Economical multi-pack, cotton material, primed, with variety of sizes and wooden frames made of pine.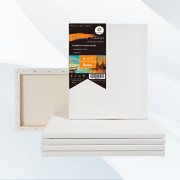 Triple primed cotton canvas, various sizes available, suitable for heavy brush strokes.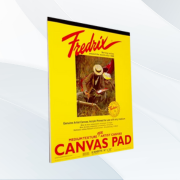 Medium texture cotton canvas paper, primed, single sheets that can be easily removed for framing.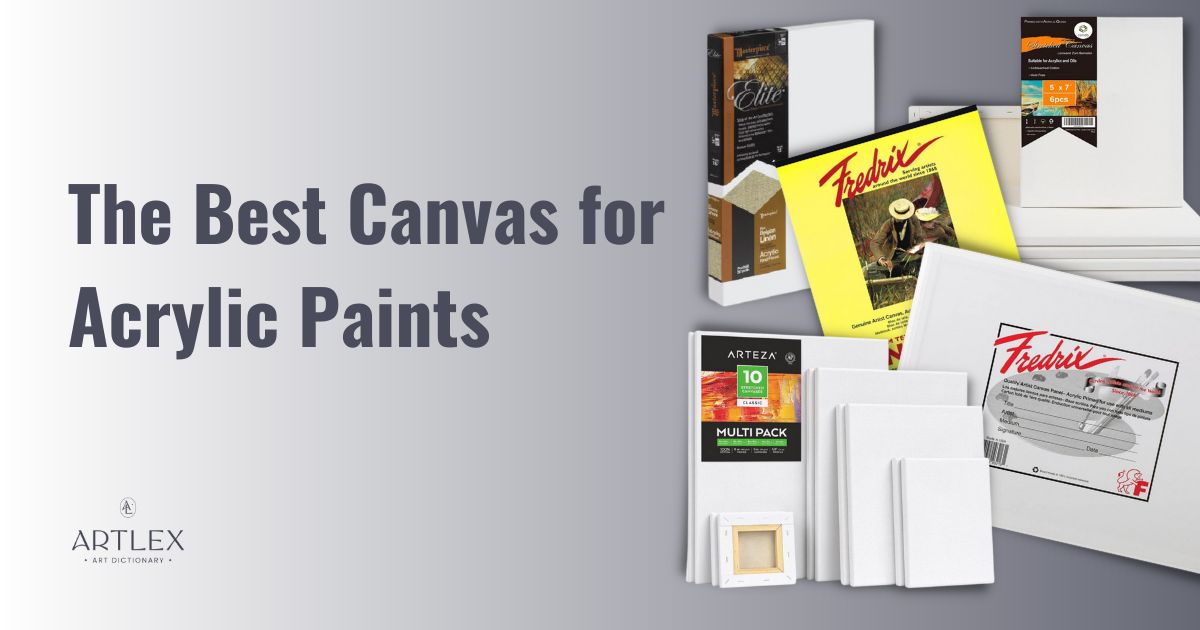 Choosing the right painting surface for each specific medium is just as important as the types of paint brushes and the quality of paint used. Doing so ensures the best piece of art possible. Before investing in the best painting surface for acrylic painting, look for the following criteria – the material it's made from, whether it's primed; the size, the number of canvases included in the pack, and the type of wood the stretcher bars are made from.
Fun fact: Linen and hemp canvases were the first widely available canvas materials from the 16th century. It wasn't until the 19th century that cotton canvas was introduced to the art scene. Source
A canvas that is prepared specifically for acrylic is a bit different than those intended for other mediums. The acid-free gesso will protect acrylic pigments and ensure lightfastness, whereas other types of gesso may be more appropriate for gouache or oil painting.
Types of Canvases
There are a few options to consider when choosing the best canvases from primed fabric to triple primed canvases. Below we've covered the main types of canvas for acrylic painting.
As a general rule, a rough canvas is excellent for larger paintings which have wide and strong strokes whereas a smoother surface is best for small details.
Cotton Canvas
A cotton canvas simply refers to the material the canvas is made from. They can come as stretched canvas or any of the types listed below. If you are brave enough to try and stretch your own canvas for acrylic painting, starting with cotton, it will be easier than other materials such as linen.
Note that pre-primed canvases are one of the easier cotton canvases to buy as artists can paint right out of the packaging.
Linen Canvas
A linen canvas is made with linen fabric and lasts longer than a cotton canvas due to its tough fibers. The fabric is made from Belgian linen, one of the finest in the world with a price tag to match.
It's a suitable canvas for professional artists or those who want to create permanent artwork as a gift or for sale. While cotton canvases offer a smooth surface, a linen canvas provides more texture, depending on how primed it is.
For example, priming a linen canvas surface will create a smoother surface that is also lighter than unprimed painting surfaces.
Linen is the right canvas for a large painting, especially oil-primed linen. Many professional artists love the art style that is produced from a good quality canvas
Pre-Stretched Canvas
Pre-stretched canvases come already stretched but not mounted. They require some skill to mount on stretcher bars but are optimal for artists that require deep canvases or custom-sized art materials.
Pre-Primed Canvas
A pre-primed canvas already comes treated with acrylic gesso. Most canvases that are framed come already treated with gesso, since it makes the canvas shrink once it's applied. If buying an unprimed canvas that you intend to treat with acrylic gesso, it is best to apply the acrylic primer before setting it on the wooden frame.
Professional artists tend to buy a canvas that is primed with archival quality acrylic gesso that offers more tooth to hold the paint.
Note, it's not easy to prime your own canvas. It takes some skill so we suggest watching a few how-to videos before attempting to use them as a painting surface.
Primed Canvas
Primed canvases can be double primed or triple primed, depending on the quality. More economical canvases have a light layer of archival glue and gesso thereby leaving a more smooth surface.
Stretched Canvas
A stretched canvas refers to any canvas that is already stretched over stretcher bars or, as is commonly referred to, a wood frame. Most stretched canvases are made of cotton, but you can find them in linen and other materials.
A cotton canvas panel is thinner than stretched canvas or canvas rolls, which contributes to its economical price. They also tend to warp and can be pierced easier than canvas panels. It also doesn't offer the longevity that other canvases offer.
Canvas Panels
Canvas panels and canvas boards are one and the same. They are hard boards with a canvas panel glued to the surface. They are a less expensive option for students or beginners who are just learning techniques yet still want to practice on canvas. They are also easier to store than larger framed canvases.
Canvas Pads
Canvas pads are canvas in a notepad form. They are ideal for plein air painting and each canvas can be mounted on stretcher bars to be gifted, sold, or decorated on bare walls.
Canvas Rolls
Canvas rolls, as the name implies are rolled-up pieces of canvas that aren't yet attached to a frame. A canvas roll provides optimal creativity to prepare your own gesso, create a different surface texture for each canvas and make custom-sized art.
Our Recommendation List for the Best Canvas for Acrylic Paint
Best Canvas for Acrylic Painting Overall: Arteza Stretched White Canvas Multipack
Best Stretched Canvas for Acrylic Painting: Conda Artist Stretched Canvas
Best Canvas Paper for Acrylic Paints: Fredrix Canvas Pads
Best Canvas Panels: Fredrix Canvas Panels
Best Belgian Linen Canvas: Masterpiece Artist Canvas
#1 Best Canvas for Acrylic Painting Overall – Arteza Stretched Cotton Canvas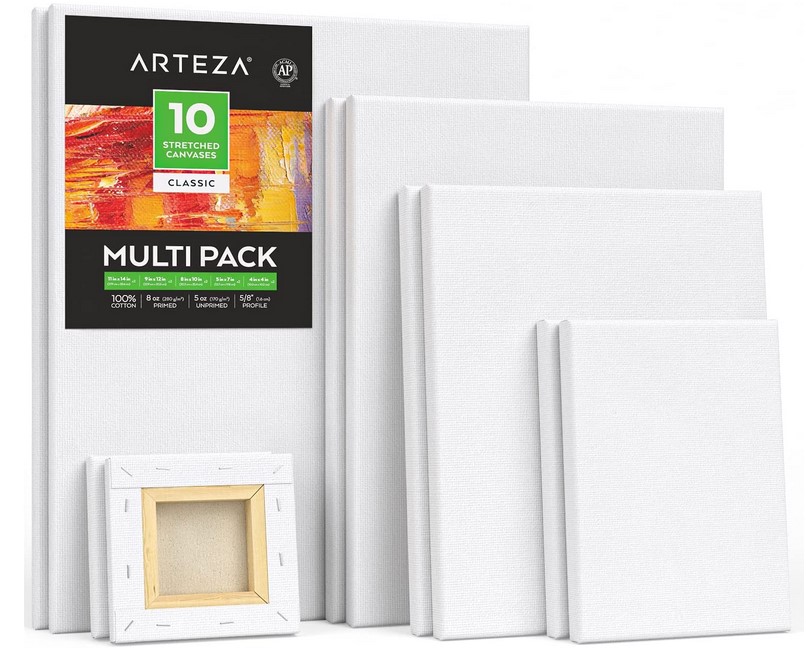 Price – ~$31.99 (Was $39.99) – Our score: 9/10
Canvas Material – Cotton – Our score: 9/10
Primed – Yes – Our score: 9/10
Sizes – 5 – Our score: 9/10
Multipack – Yes – Our score: 9/10
Wood frame material – Pine – Our score: 9/10
Each primed cotton canvas in this Arteza multipack is priced well and allows anyone to master different acrylic painting techniques. The canvases are primed with acid-free gesso so beginners or professional artists can begin painting immediately.
The wooden frame is made of solid pine along with the pine wood stretcher keys. The smooth surface of the canvas sheets is ideal to hold acrylic paints.
Sizes come with two each of a large 11×14 inch frame, 8×10, 9×12, 5×7, and 4×4 inches to create a variety of paintings. The perfectly folded corners are sturdy and thick so wedges aren't included with each frame.
Pros
Nice variety of art supplies for the price
Good quality for beginners and professional artists
Non-toxic primer used
Ideal for acrylic paints and other mediums
Cons
Doesn't come with wooden wedges
2. Best Stretched Canvases for Acrylic Painting – Conda Stretched Canvas for Painting
​​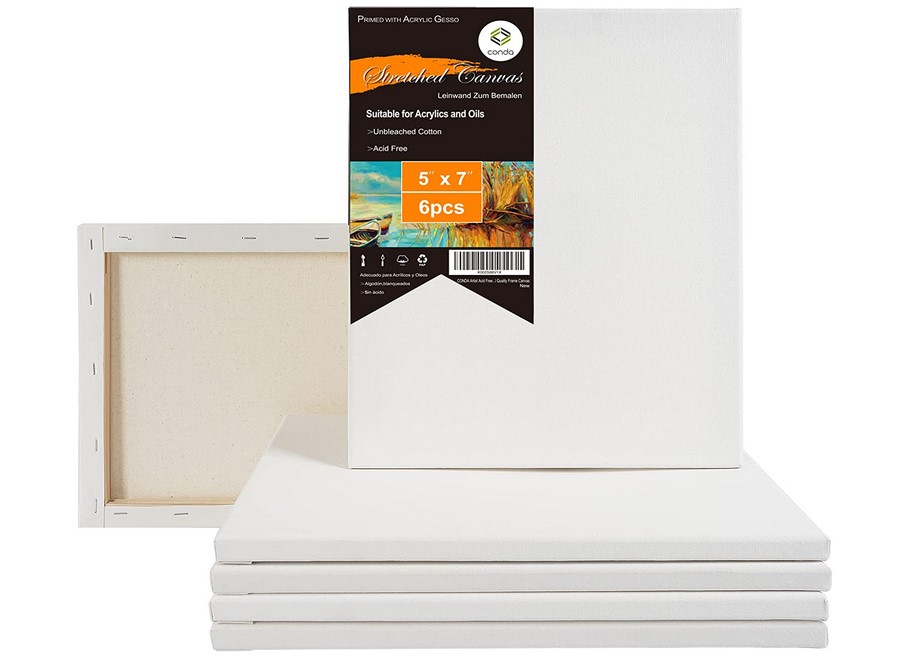 Price – ~$14.99 – Our score: 8/10
Canvas Material – Cotton – Our score: 9/10
Primed – Yes – Our score: 9/10
Size – 5×7 inches – Our score: 7/10
Multipack – Yes – Our score: 8/10
Wood frame material – Pine – Our score: 9/10
These triple primed stretched canvas packs of 5×7 inch cotton canvases from Conda are ideal for acrylic painting. Their excellent quality is reflected in the medium-grain texture canvas that is primed to avoid bleed-through of pigments, even when applying heavy washes. They are best for heavy, solid brush strokes.
Different sizes are available ranging from a small 4×4 inch 12-pack to a large 18×24 five-pack and just about everything in between. The multi-size 10 pack comes in five different sizes. Adding another layer of gesso will make them a bit smoother.
Pros
Triple primed with 8oz weight gesso
⅝ inch frame thickness
Wedges included with each frame
Packaged nicely to avoid being ruined during shipping
Cons
Not as smooth as other canvases with its medium texture
3. Best Canvas Paper – Fredrix Canvas Paper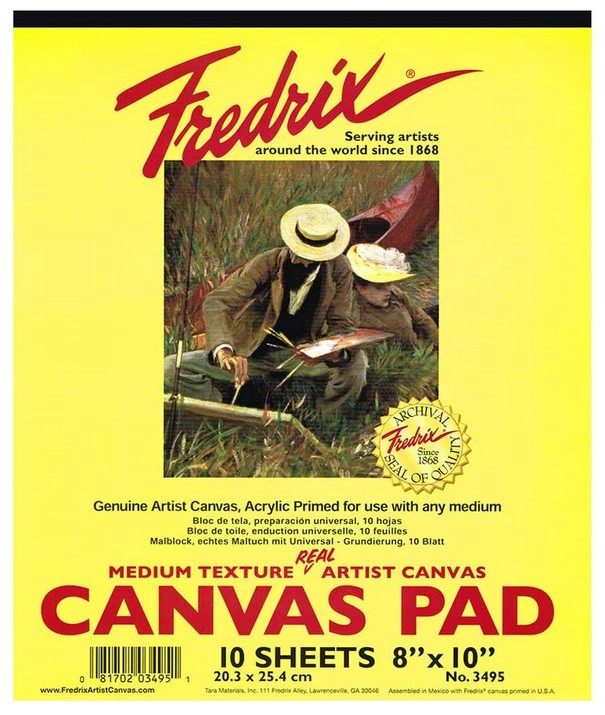 Price – ~$30 (Was $33.14) – Our score: 8/10
Canvas Material – Cotton – Our score: 9/10
Primed – Yes – Our score: 9/10
Size – 16×20 inches – Our score: 9/10
Multipack – No – Our score: 7/10
Wood frame material – N/A – Our score: 7/10
Plein air painters will appreciate this medium texture cotton canvas pad from Fredrix. These 16×20 inches are single primed with acid-free acrylic titanium gesso and include 10 sheets per pad. Unlike spiral-bound primed canvas, these sheets can be easily removed for framing and gift-giving.
The backing of each canvas sheet is reinforced with double-layered cardboard making it easier to use with an easel without worrying about folding over or securing the edges. Note that the medium texture isn't as smooth as other canvas wraps so keep this in mind when looking for art alternatives for acrylic paints.
Pros
Lays flat without the need to secure to an easel or table
Excellent for beginners who don't have the space to store stretched canvas
Thick, quality canvas sheets
Can be framed unlike other canvases
Cons
Doesn't come framed
Not good for fine details
4. Best Canvas Panels – Fredrix Canvas for Acrylic Painting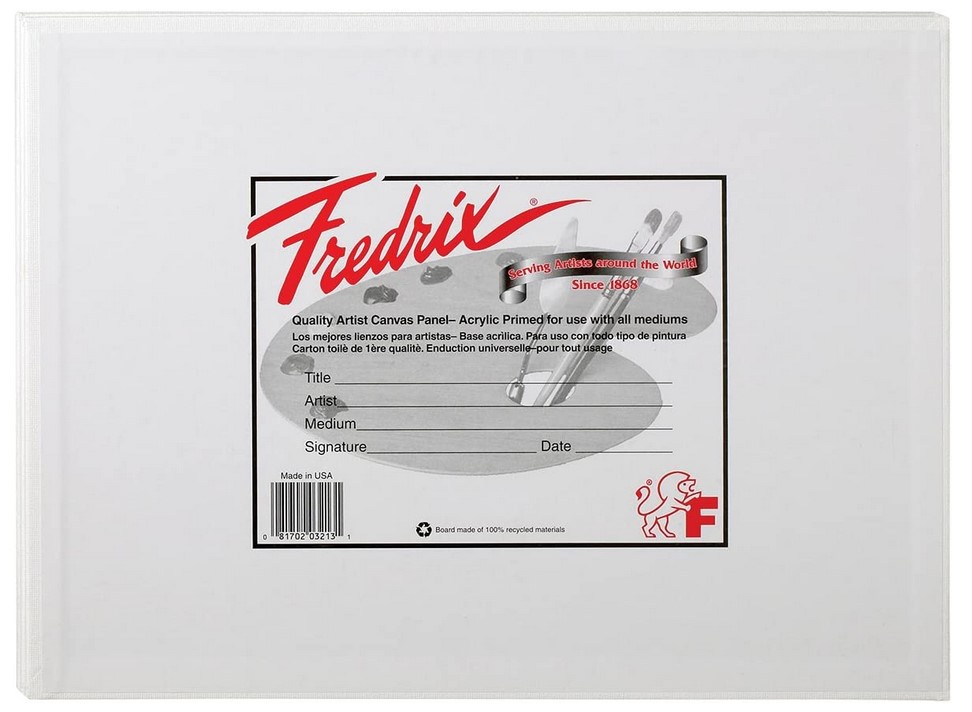 Price – ~$14.22 – Our score: 8/10
Canvas Material – Cotton – Our score: 9/10
Primed – Yes – Our score: 9/10
Size – 11×14 inches – Our score: 8/10
Multipack – Yes – Our score: 8/10
Wood frame material – N/A – Our score: 7/10
Start painting with this thin panel canvas surface from Fredrix. Unlike traditional canvases a canvas panel is easy to store, doesn't warp or bend, and is a good surface to practice acrylic or oil painting. The medium texture is ideal for large brush strokes and the quality is great for beginners or students.
The rigid panels can be used with easels for plein air painting or laid flat on a table without needing to tape the edges. They can also be framed and treated with another layer of gesso to have it double-primed. These panels can be used by professionals or students due to the quality and price.
Pros
Comes in a pack of three
Thinner than framed canvases for easier storage and framing
Sturdy enough for indoor or outdoor painting
Cons
5. Best Linen Canvas – Masterpiece Belgian Linen Smooth Canvas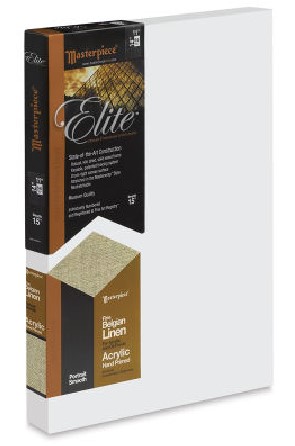 Price – ~$121 – Our score: 7/10
Canvas Material – Belgian Linen – Our score: 9/10
Primed – Yes – Our score: 9/10
Size – 11×14 inches – Our score: 8/10
Multipack – No – Our score: 7/10
Wood frame material – Kiln-dried solid wood – Our score: 9/10
The smooth surface of this Belgian linen canvas from Masterpiece is excellent for detailed painting. The surface has been treated six times, four with acrylic primer and twice with sizing primer. The frame is 1.5 inches thick and made of durable solid wood and the canvas is stretched so it will not need framing once the art is complete.
Intended for use by professional artists that are selling their artwork, the Masterpiece series of canvases come in high-quality cotton or linen in a wide range of sizes. Blick art materials sell dozens of them at excellent prices.
Pros
Has a matte finish
Museum-quality canvas
Treated more than most other canvases
Cons
Heavy canvas with the thick solid wood
Conclusion
We hope you found our guide to the best canvas for acrylic paint helpful. We've covered the different types of canvases available along with our recommendations in various contexts.
We've discussed how you can choose the best canvas made from different materials from Belgian linen to primed cotton canvas. Lastly, we've combined our recommendations for the best canvases from a primed surface, real canvas pads, canvas panels, or stretched canvas for indoor or outdoor painting.
Thanks for reading. We hope our suggestions help you choose the best canvases for acrylic paint, whether using an already primed surface or mounting your own canvas.