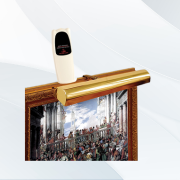 Best overall art gallery LED lights with a warm white light and remote control.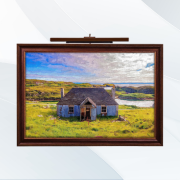 Top rechargeable gallery lighting with a minimalistic design.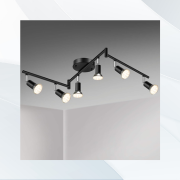 Track: Best track lighting for sloped ceilings with six adjustable LED lights.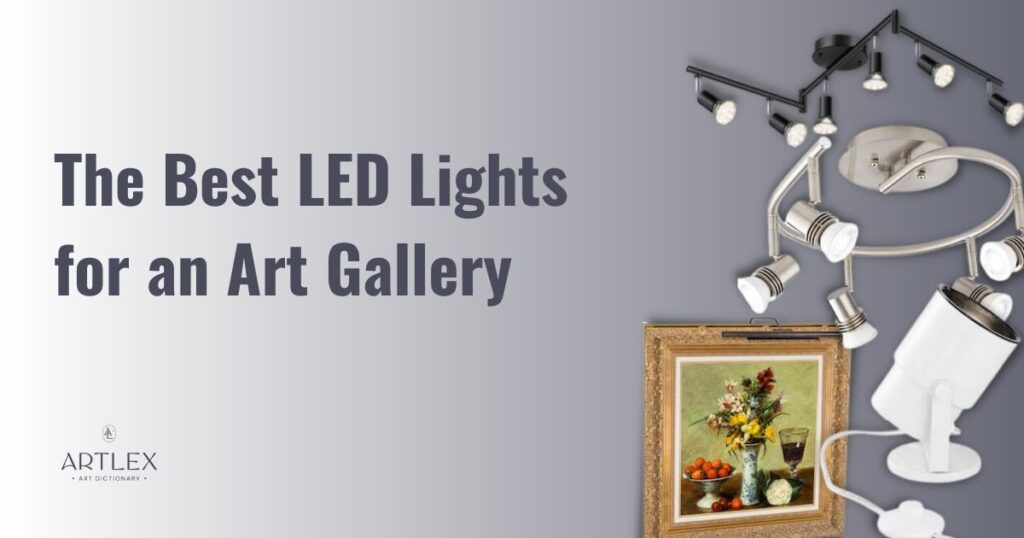 One of the most important aspects of any museum or gallery is its lighting. That's because how the artwork is lit may drastically alter how it is perceived. Shadows, glare, and distorted colors prevent viewers from getting a good look at a work of art, while well-balanced lighting allows them to see every detail as the artist intended.
This is why most artists, gallery owners, or even art enthusiasts turn to LED lighting to properly display their pieces. Color accuracy can be greatly enhanced, allowing viewers to experience artwork in the exact way their creator envisioned it. Because of their high color accuracy, LED lights are often the ideal choice for illuminating artwork. These bulbs have a color rendering index (CRI) and temperature of light that are close to what you'd get from natural sunlight.
Further, as some halogen bulbs emit too much heat, they might damage priceless artwork. LEDs produce 80% less heat, which is important for preserving art pieces.
Selection Criteria for Art Galleries LED lighting 2023—Buying Guide
Understanding the foot-candle requirements, beam spread, color temperature, and the color rendering index will help you choose the optimum lights for your artwork in any setting, including a gallery, museum, art studio, or your own living room. To uncover the best lighting systems for art galleries, we ​​considered the following factors:
Art Gallery Lighting Color rendering index (CRI):
The Color Rendering Index (CRI) is a metric for how well a given light source can convey an object's true color. Sunlight has the greatest CRI. Therefore, it is the closest approximation to the colors used in the original artwork. LED lights are the next best thing to natural sunlight. To guarantee that colors are accurately reproduced in the artwork, it is advisable to opt for LED lights with a high CRI (80 or higher).
Art Gallery Lighting Correlated Color Temperature:
LED lighting with color temperatures of 2700K to 3500K is considered warm white, which renders them comparable to typical incandescent bulbs. This, in turn, will create a welcoming mood in the gallery and make the artworks appear more natural.
Light Source Dimmability and Space Adjustment:
It is one thing to buy lights that will do the artwork justice and another to buy a light fixture that will be useless once you decide to change the set up of your space. It is advisable to keep your art gallery lighting options open by getting dimmable LED lights so you may modify to fit different types of artwork and create different moods in the space to reflect the sentiment of each artist. Also, by opting for a lighting system that can adjusted depending on your current display project, you can save time and money longterm.
Initial Cost and Energy Efficiency:
There is no reason to buy accent lighting that is not within your budget. However, do factor in the long-term energy and maintenance savings you gain from changing your light bulbs and the increase in sales by properly displaying your art collection, when making a decision about your lighting project.
In conclusion, art galleries prefer LED lights with a high CRI and warm color temperature because they faithfully depict the colors of the artworks, create a warm and inviting ambiance, and are cost-effective and practical. It's also worth noting that different types of artwork necessitate different lighting, so it's always a good idea to contact a lighting professional to verify that the LED lights you select are the greatest fit for your gallery's needs.
Top Product Recommendations for the Best LED Lights for Art Gallery 2023
1. Overall Best LED Lights for an Art Gallery—Concept 101L Cordless Remote Control LED Picture Light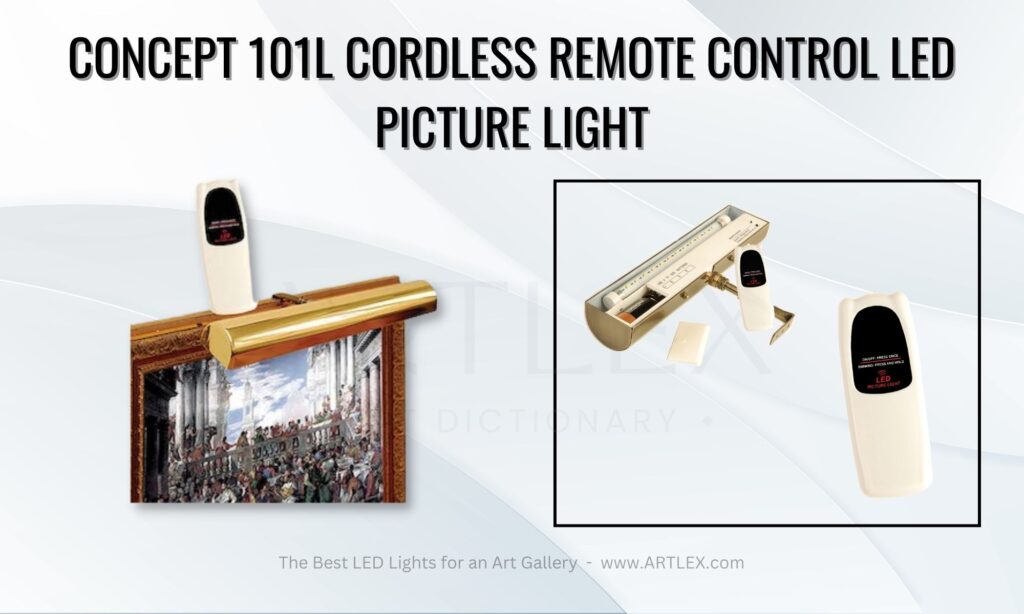 Art Gallery Lighting Selection Criteria
Color rendering index – 80 – 9/10
Lighting Color Temperature – 2700K – 9/10
Dimmability – Yes
Cost – 9/10
About Concept 101L
These wireless LED light fixtures are suitable for a wide range of art objects, including paintings and photography, and may be used time after time, artist after artist, irrelevant of the specific type of project your gallery hosts. Setup is simple and quick, as they can be mounted on the wall or frame for displaying art of maximum width up to three feet.
On a single charge, this battery-powered light can shine for more than 100 hours. The included LED bulbs' 50,000-hour endurance further adds to their cost efficiency.
Its warm white LED makes it perfect for art galleries, and because it emits no heat or UV light, it is safe for prolonged contact with paintings. They are a good option if you want to highlight details of your artwork, as they provide a consistent glow due to their warm white color temperature and excellent light dispersion.
The universal remote control is a nice touch, as it allows you to easily modify the brightness of the light depending on your gallery's current project. If you use more of the same company's lights, you can even use one remote to simultaneously control all of your art fixtures.
The end effect of this accent lighting is a strong, consistent light for a wide range of artwork and a quick adjustment of mood in any gallery room. This is a really comprehensive product that, while initially expensive, will pay for itself in the long term.
Pros:
Versatile product
Rated as museum lighting
Cost-effective LED technology
Cons:
Need to drill holes, either to the wall or frame
2. Best Rechargeable Art Gallery Lighting—Situ Lighting: Wireless and Rechargeable LED Art Light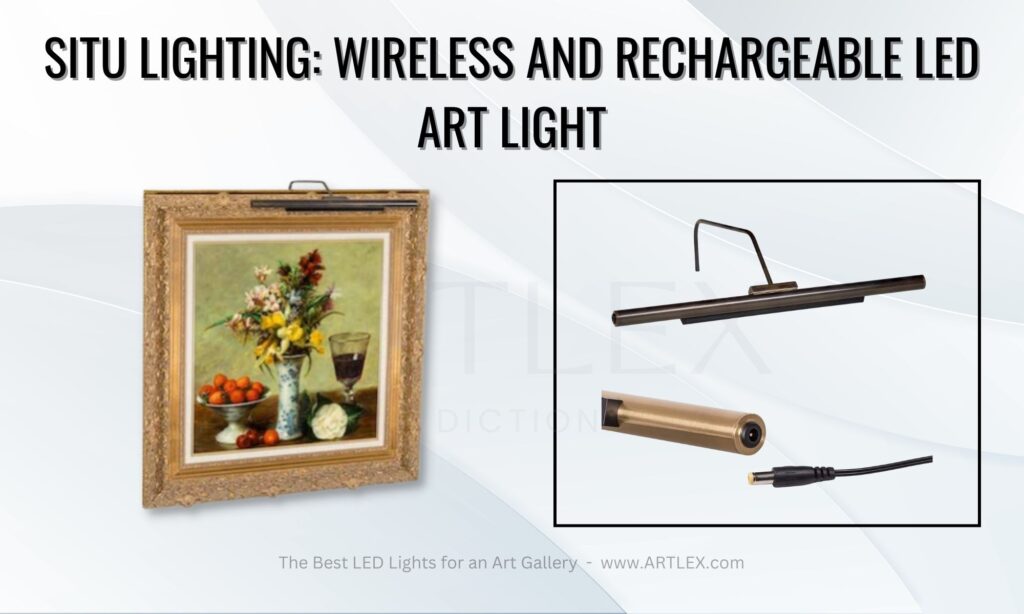 Art Gallery Lighting Selection Criteria
Color rendering index – 95 – 10/10
Lighting Color Temperature – 2700K and 3000K – 10/10
Dimmability – Yes
Cost – 9/10
About Situ Lighting: Wireless and Rechargeable LED Art Light
Despite having the highest initial cost on our list, this art lighting may end up being the most cost-effective option. This light source comes with magnets, so you don't need to hire a professional to mount it. It's also rechargeable, so you won't have to buy batteries to keep it going. However, you must be able to reach the top of your paintings to turn it on/off and dismount it in order to charge it.
These picture lights create an inviting space for the art while also affording you accurate color rendition by illuminating the whole color palette of any painting you mount it on. You can also order it with two light color temperatures to fit your specific needs.
Aesthetically, this is one of our most minimal lighting solutions. It comes with four color options (black, bronze, brass, and silver anodized finishes) to match most frames. These LED fixtures route the cord out of sight around the side or rear of the frame to make sure your clients focus on your art studio and not the cords dangling all over the place. Finally, it is fully made of metal, unlike most products in this category, making it the right light for people looking for the best light for long-term use.
Pros:
Low cost of installation and operation
Energy efficient, rechargeable
¾ inch profile to focus attention on the art piece itself
Cons:
Need to be able to reach the top of the painting, in order to turn it on/off and charge it
3. Best Trak Lighting for Art Galleries with Sloped Ceiling—Unicozin Six Light Track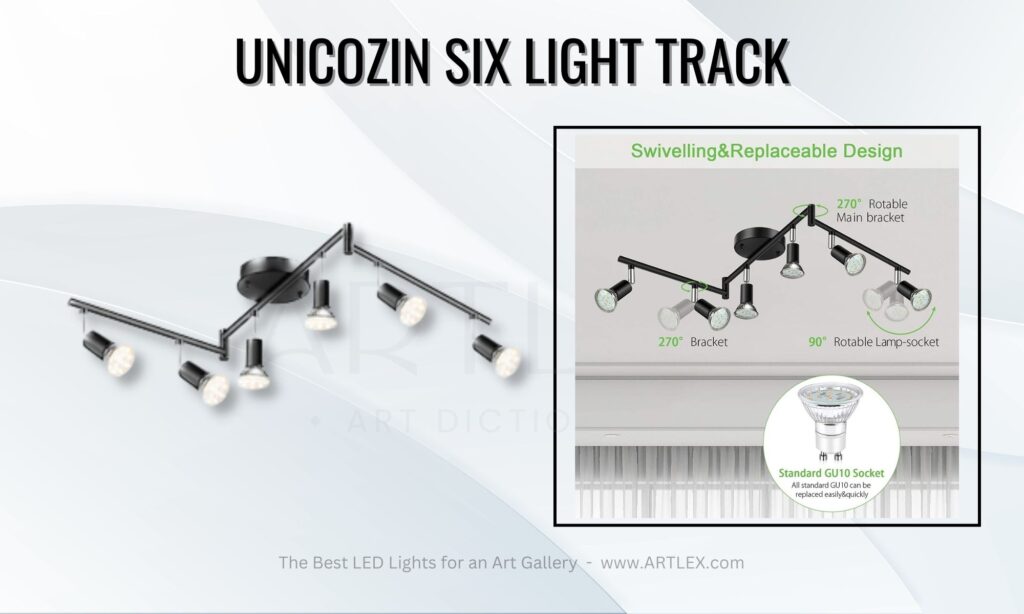 Art Gallery Lighting Selection Criteria
Color rendering index – 85 – 10/10
Lighting Color Temperature – 2700K – 9/10
Dimmability – No
Cost – 8/10
About Unicozin Six Light Track
It might come as a surprise that our best-LED light fixtures mounted-on-a-track is a home-use product, but keep an open mind, as this is the most holistic option for permanent solutions in galleries. When you add LED track lighting, usually you aim for ambient light as well as display lighting in one product.
These six LED track lights can be adjusted depending on the paintings you have on display, and adjusted easily, without the help of a professional, every time you alter something in your art display. Also, the minimalistic design of this track system, with its matte black color, will not attract unwanted attention, allowing what is on display to maintain your customers' attention.
The light beam can be directed precisely where it is needed by rotating the head 270° horizontally and 90° vertically. So no matter the shape or slope of your gallery's ceiling, these track lights can be adjusted to imitate natural light.
This Unicozin ceiling fixture is constructed from metal, making it both long-lasting and simple to set up, as it doesn't have a lot of components. Further, as the package includes all six light bulbs, it cuts on extra expenses.
Pros:
Can be used as six independent light sources
Can illuminate even a narrow spot
Can rotate 270° horizontally and 90° vertically
Cons:
4. Best Round Lighting for Art Galleries—Pro Track Spiral Lighting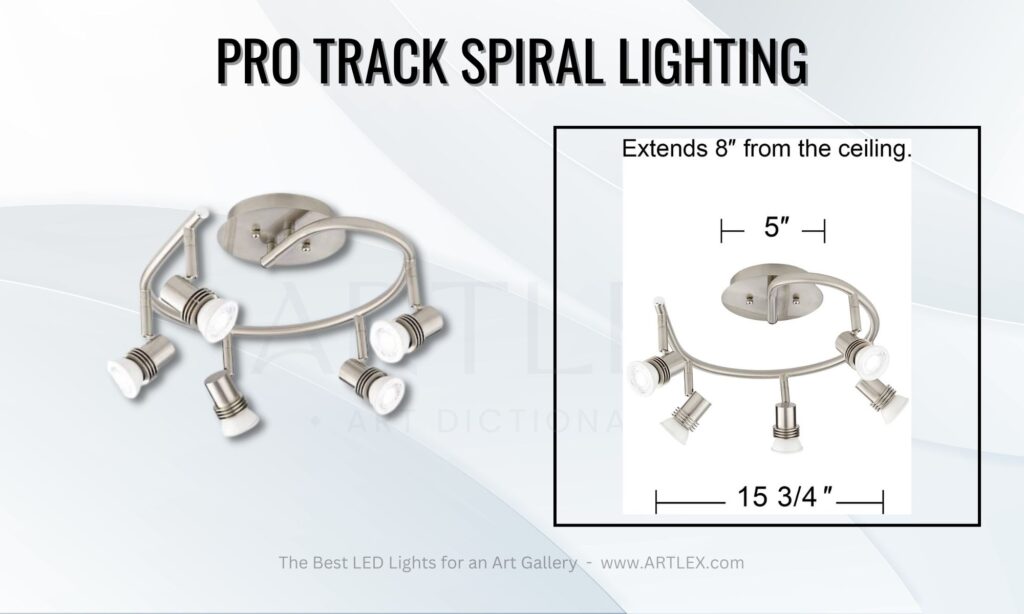 Art Gallery Lighting Selection Criteria
Color rendering index – 90 – 9/10
Lighting Color Temperature – 2700K – 9/10
Dimmability – No
Cost – 7/10
About Pro Track Spiral Lighting
This spiral-shaped LED track fixture, which artfully combines design and function, is the ideal choice for adding brilliant light to galleries that are pressed for space. This way, you may reap the benefits of LED track lighting without having the fixture take over the room.
These LED track lights shine direct light on your artwork yet can be altered whenever you modify your setup. This fixture comes with five LED bullet lights that can be aimed and positioned as needed. This design is the most basic way to install track lighting because it just plugs into a ceiling junction box like any other ceiling light, saving you money on professional installation.
The 2700 Kelvin temperature LED lighting will allow you to produce light that is similar to warm natural sunlight, emphasizing all the details of your art and directing attention to the most flattering details of your paintings.
Pros:
Task lighting in spiral shape will not dominate the space
Cons:
Need to experiment to get the light patterns right
5. Best LED Floor Lamp for Art Galleries—​​Pro Track Cord-n-Plug Uplight Set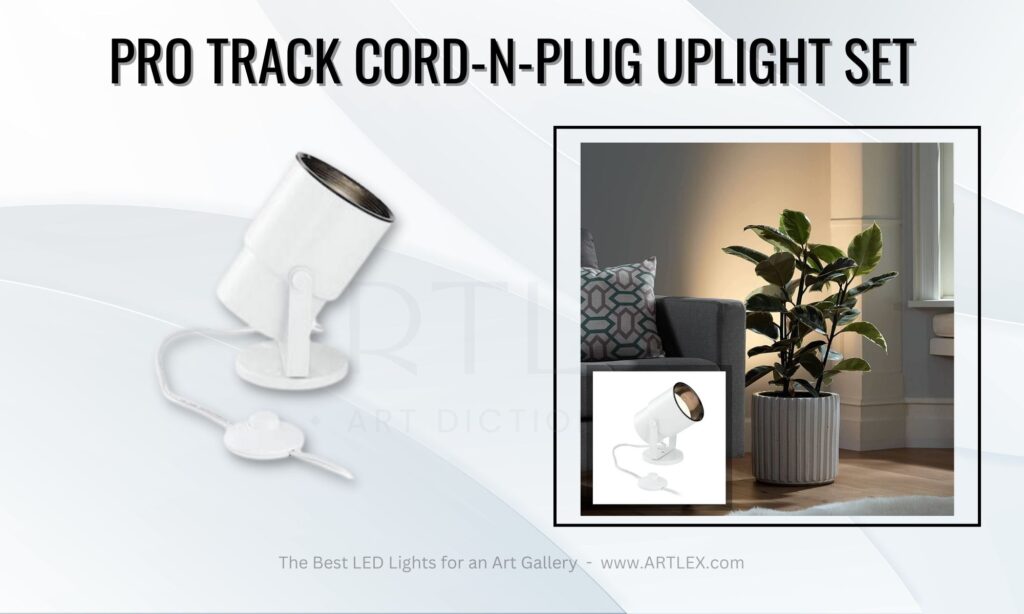 Art Gallery Lighting Selection Criteria
Color rendering index – 90 – 9/10
Lighting Color Temperature – 3000K – 9/10
Dimmability – Yes
Cost – 9/10
About Pro Track Cord-n-Plug Uplight Set
Art galleries benefit greatly from floor lighting, as they come with freestanding chords rather than requiring permanent wiring, making it ideal for museums with frequently rotating displays.
This package includes a set of two LED spotlights, where each comes with a single standard-medium base and a LED bulb with enough light to replace a 50-watt halogen bulb, so don't let their compact size deter you from trying out this set.
The metal framework has a white paint job, so it can go unnoticed when placed next to walls; while the head can be pivoted in any direction and adjusted to suit your needs. Further, these two Pro Track small accent uplights can give a touch of subtle illumination to your gallery, to set the mood.
Pros:
Directional lights can also create ambient color temperatures
Sturdy construction
Not easily harmed, even though they sit on the floor
Cons:
Long chords could prove to be an accident hazard
Conclusion—The Best LED Lights for Art Galleries 2023
Art displays that don't have proper lighting will not do the work justice, so the stakes are pretty high when lighting artwork. Unfortunately, there is no such thing as the best light for every gallery. In the end, it is a matter of experience and preference.
If, for example, you are pressed for space but believe that track lights are the correct way to go, then maybe you could try the Pro Track Spiral Lighting. If, on the other hand, you care more for ambient lighting, floor light fixtures such as ​​the Pro Track Cord-n-Plug Uplight Set could be of interest.
Keep in mind that gallery lighting works well only if you research the correct lighting systems for highlighting the pieces you currently have on display.
We hope you found our analysis of the top LED lighting technology for your art gallery of 2023 to be helpful. Consult our associated guides for further sources of comparable items for the artistic lifestyle.