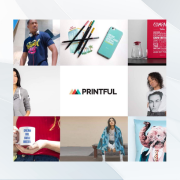 Offers wide product range, superior print quality, and seamless integration.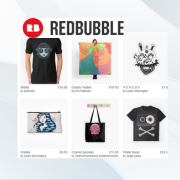 Ideal for showcasing and selling artwork, with emphasis on search visibility and customization.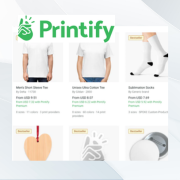 Offers diverse range of customizable products.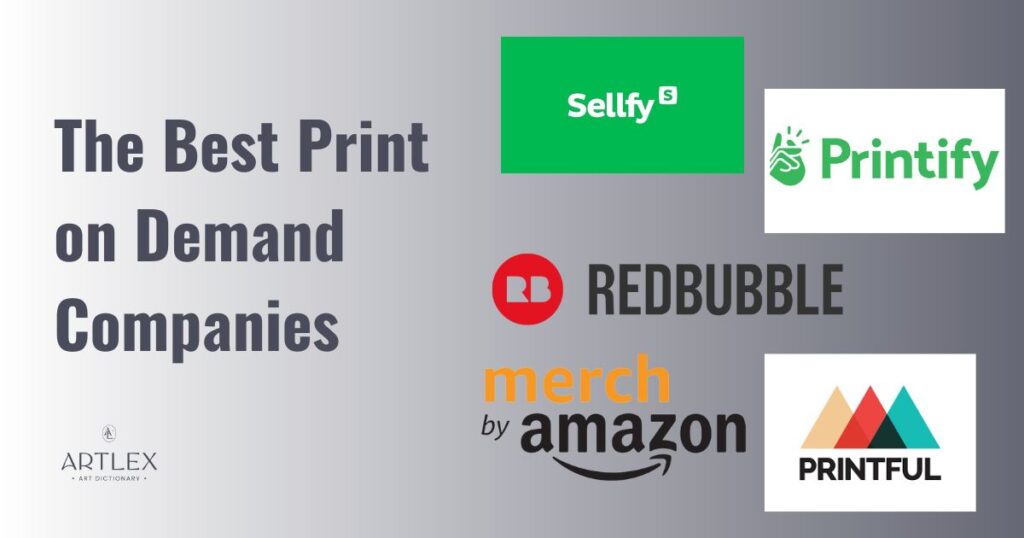 Print-on-demand (POD) companies are businesses that allow customers to create and purchase custom products, such as clothing, accessories, home decor, and more, without the need to hold any inventory or make bulk purchases.
When a customer places an order on a POD website, the company will use digital printing technology (including heat transfer printers) to print the customer's design onto the chosen product and then ship it directly to its destination.
This business model has a number of advantages over traditional manufacturing and retail methods. It eliminates the need for upfront investment in inventory, reduces the risk of unsold items, and allows for more flexibility in product offerings. It also allows for individual creativity and personalization, as the customer can design their product exactly as they envisioned it.
Print-on-demand companies also provide a platform for artists, designers, and creators to sell their designs to a wider audience without having to handle the manufacturing, inventory and shipping themselves.
Selection Criteria for the Best Print on Demand Sites for Artists in 2023—Buying Guide
When you consider opening your own online store, it is normal to feel overwhelmed by the number of print-on-demand companies out there. When we assessed the major ecommerce platforms, we considered the following criteria:
Range of Product Offerings: How wide is the range of products that are offered by each company (such as clothing, accessories, home decor, etc.). However, you also need to consider if the type of products they offer aligns with your design interests.
Print quality: A company that uses high-quality printing technology and materials, such as heat transfer printers, produces vibrant and accurate prints that will last for a longer time.
Shipping and fulfillment costs: A company that offers reliable and fast shipping and fulfillment is always preferable, as your own brand will take the heat if there are major delays in production and shipping. Also, international shipping is always preferable if you are looking to expand your online store.
Profit margin: A company that offers competitive prices and reasonable profit margins will allow for your own profit margin to increase. Always be on the lookout and also consider the cost of any additional fees, such as shipping and handling.
Design tools: A company that provides easy-to-use design tools and templates for creating custom designs allows for greater creative options for artists.
Brand reputation: A company that has a good track record for producing quality products and providing good customer service will attract more clients, which in turn will take a look at your items as well, thus increasing your exposure.
Integration options: A company that allows you to integrate their platform with your own website or social media, will make it easier to sell your designs.
By considering these factors, you can choose a print-on-demand company that meets your specific needs and requirements. We used them to evaluate the best print on demand companies in our list.
Top Product Recommendations for the Best Print on Demand Sites for Artists in 2023
Overall Best Print on Demand Company: Printful
Best Print on Demand Company for Artists: Redbubble
Best Print on Demand Company for Wide Product Selection: Printify
Largest Reach Print on Demand Company: Merch by Amazon
Easiest Print on Demand Company Platform: Sellfy
1. Overall Best Print on Demand Company—Printful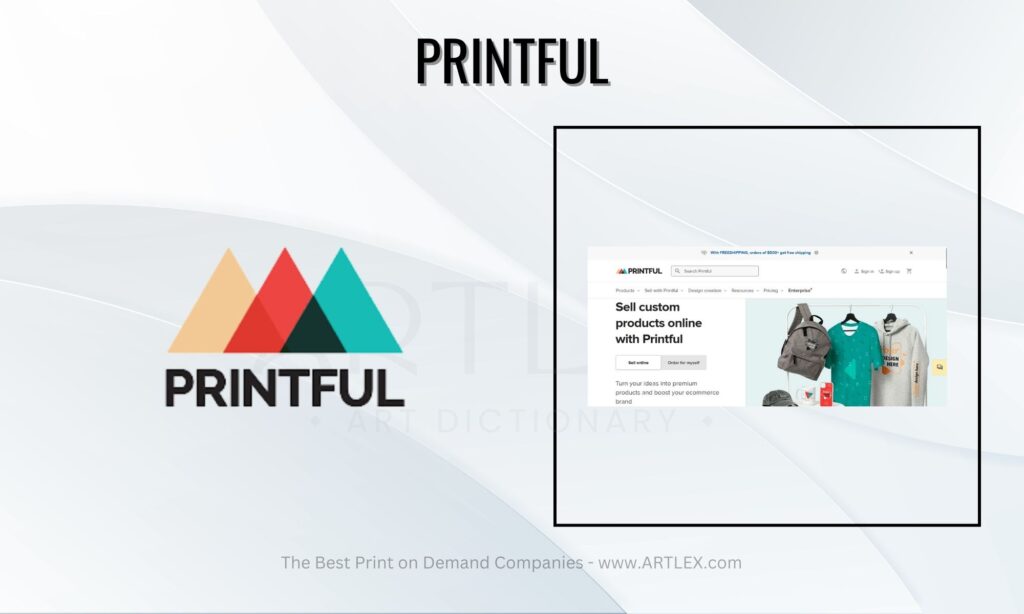 Best Print on Demand Company Selection Criteria
Range of Product Offerings: 9/10
Print quality: 9/10
Shipping and fulfillment costs: 7/10
Profit margin: 7/10
Design tools: 8/10
Brand reputation: 10/10
Integration options: 10/10
About Printful
Printful is a print on demand business that provides a number of resources to help you transform your ideas into profitable goods. There are currently 293 customisable products available on Printful, such as t-shirts, tote bags, long sleeve t-shirts, face masks, and more.
Sublimation printing, embroidery, cut and sew, and more are just a few of the printing techniques you may experiment with on Printful. You can see how your final product will look in detail before it is printed with their mockup generator. Once you've settled on a design you like, you may place sample orders at a discount of 20% to ensure your clients receive the highest possible product quality.
Printful lets you upload your own designs or make one from scratch with access to 80 million public domain pictures. The service streamlines the process of making original designs from scratch, based on your own ideas and sketches. Besides famous e-commerce systems like Shopify, Squarespace, WooCommerce, PrestaShop, 3DCart, and many more, Printful interfaces with a wide variety of other platforms, so adding your new products is a seamless process.
Printful also gives you a lot of leeway in terms of how you handle orders being shipped out to customers. From Europe, the United States, or Mexico, it normally only takes 2–5 business days to get your packages ready to be sent. The procedure is often fast and easy; and as Printful is a printing partner to a variety of global establishments, nomatter where your customers are from, there is a good chance they will avoid costly customs charges.
Printful doesn't charge you a monthly fee, so the only costs you'll incur are those associated with purchasing inventory and delivering it to clients. Prices vary widely from product to product and among printing methods. Overall, this print provider is rather on the costly side, when compared to other platforms.
As a general rule, shipping costs start at roughly $3.99, with higher rates for bigger items. Additional packaging costs are reflected in the higher prices of some fragile products.
Pros:
Mockup generator
User friendly interface
Discount on sample orders
No customs charges
Cons:
High shipping costs
High product costs
2. Best Print on Demand Company for Artists—Redbubble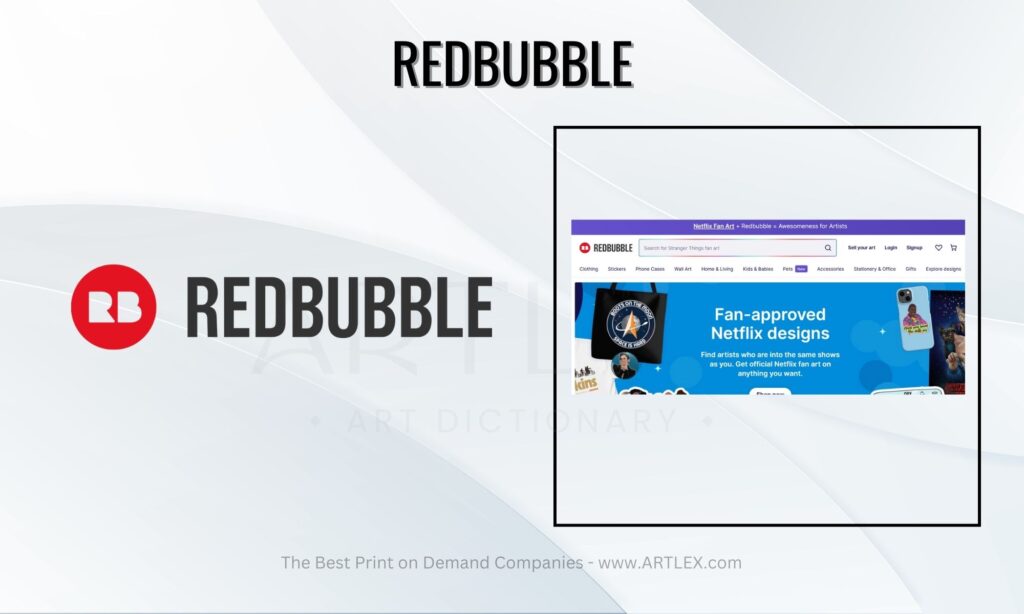 Best Print on Demand Company Selection Criteria
Range of Product Offerings: 10/10
Print quality: 8/10
Shipping and fulfillment costs: 7/10
Profit margin: 8/10
Design tools: 9/10
Brand reputation: 10/10
Integration options: N/A
About Redbubble
If you are an artist that is now delving into the POD service world, without a significant following yet, you might want to consider using Redbubble for your garment printing. Although you will not be able to integrate it to your online store, Etsy store or Shopify, you will have a greater chance of getting your work to show up on people interested in shopping.
Joining Redbubble is hassle-free and will get you selling your creations in no time. When one of your things sells, you get a commission, and you are paid whenever you hit a certain amount total.
A large portion of Redbubble's audience finds the site through organic search engine results, which is what this veteran site is mainly known for. Redbubble is pretty effective at getting your designs to show up on Google, especially on search queries, which is great news for freelance artists that are now starting to work with print on demand services.
Without charging you anything more, Redbubble will market your designs using Google Shopping advertisements and re-targeting. This raises the possibility that your designs will be noticed by the people who are most inclined to buy them. Redbubble was designed with artists in mind, so it lets you customize your brand in a number of ways. These include your profile picture, header, and links to your social media accounts.
Besides promoting and featuring artists on their homepage, Redbubble also has an internal following system, including "follow," "like," and messaging capabilities, so customers that like your style can easily be notified of your new products.
Also, the website comes in a variety of languages, including German, French and Spanish, thus enabling international trade with ease.
This in its turn comes at a price, as Redbubble uses printing partners across the globe to ensure fast and reliable shipping with lower shipping costs, it also means that the quality of their products varies significantly depending on who prints your items. Returning a product is very easy however, so that is always a plus when making sales, as people are more confident to try out new things.
Redbubble allows for variable profit margins. Yet, its customers are willing to pay, on average, larger prices than those found on competing marketplaces as they know products come directly from artists, making each item rather unique. Also, Redbubble's prices are subject to rapid modification, making it challenging to establish a stable business plan if you are considering making this your full time income job.
Redbubble has a wide variety of items to print on, which is of course a good thing, but this also means that you can spend a considerable amount of time tailoring your artwork to each product. In other words, Redbubble's product upload and configuration process leaves a lot to be desired.
Also, since it appears like Redbubble does not yet use automated scanning of artwork to compare it to existing designs, it is possible that others will create designs that are nearly identical to yours.
Pros:
Easy to promote your own brand
Large client base
Clients reach site via organic search
Global reach
Cons:
Copyright issues are not detected by this print provider
Printing options affects quality
3. Best Print on Demand Company for Wide Product Selection—Printify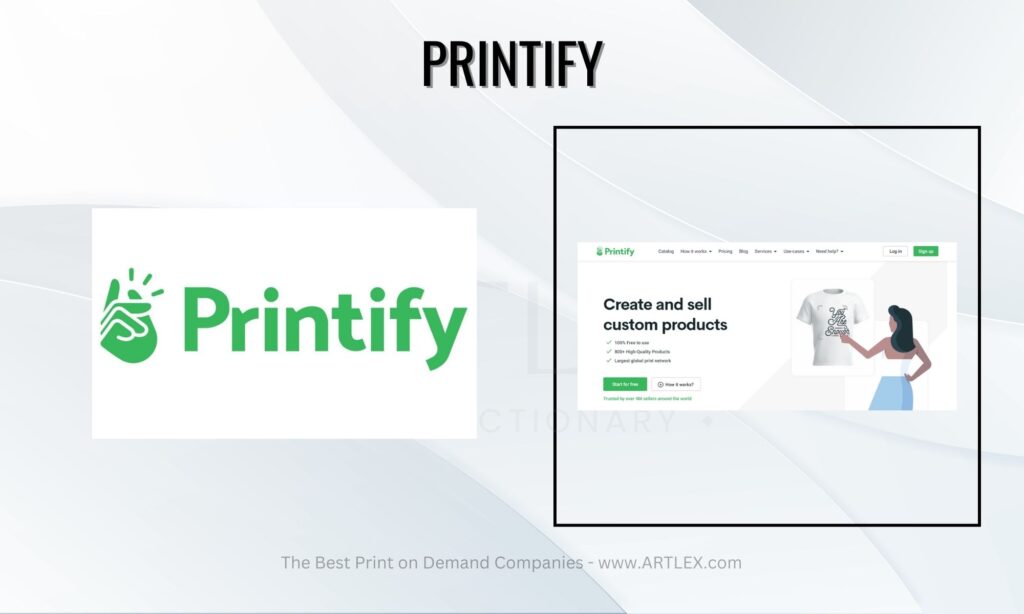 Best Print on Demand Company Selection Criteria
Range of Product Offerings: 10/10
Print quality: 8/10
Shipping and fulfillment costs: 10/10
Profit margin: 10/10
Design tools: 9/10
Brand reputation: 9/10
Integration options: 9/10
About Printify
In order to free up time for you to concentrate on product creation, sales, and marketing, Printify will manage all of the printing and shipping operations.
With over 500 products to choose from, Printify is a great choice for freelancers looking for an established print on demand business to work with. Printify's extensive network of suppliers means that in addition to the normal garment printing, you can also find more unique items like golf balls, custom poker cards, hockey pucks and bean bags ready to be personalized.
Although Printify is only a middle man, it connects you to a global network of printing partners. As a result, you not only have more goods to choose from, but you can tailor your printing needs to the specific market you're targeting in terms of both time and money.
Printify has partnered with 65 printing facilities across the globe, including those in the United States, Europe, Canada, and Australia. The most noticeable difference when using Printify is that you have to choose a specific printing service when making your product. When you place an order, it will always be routed to that one printing plant.
Since Printify isn't a printer themselves, the quality of the items they offer varies depending on which provider they choose. Further, with the large number of print on demand marketplaces they work with, it is difficult to decide which one to choose.
To help, Printify provides a ranking score for each provider that is based on product reprints and production times from the previous 30 days, which can prove helpful during normal times, but when it comes to the holidays and high-production times, it does little to help. Keep in mind, that most artists working with print on demand companies are mainly counting on those times to make the most profit.
On the other hand, if you're not happy with the quality of service you're receiving from your present printer, you may switch to a new company without having to recreate your Etsy or Shopify listings or risk harming your search engine optimization.
Unfortunately, Printify only allows one supplier per product, so orders aren't automatically sent to the warehouse that's physically nearest to the customer. You will need to manually change the provider for items not being ordered from your primary location, unless you are ok with paying extra and waiting longer for the item to reach your client.
While Printify now has an order-rerouting tool, it only activates if your primary print supplier doesn't have the item in stock and doesn't always choose the provider that is geographically closest to the final delivery address. So again, you will have to go back to cloning products and doing things manually, which can prove to be complicated and time consuming, depending on the traffic of your ecommerce store.
Keep in mind that changing the location of production for an item, also affects the quality of the product. So unless you are familiar with the new print-on-demand service, you are taking a gamble.
If you're interested in low prices, Printify is a good place to start, making it a more affordable option for newcomers.
They'll take your orders manually, of course, but they also work with major platforms like Shopify, Etsy, Ebay, and Woocommerce.
Then again, if you're working with a specialized platform, you'll need to find out how to integrate it with Printify or order products manually.
On the downside, given that Printify is still only intermediaries, it stands to reason that their customer support service is limited, at best. It can be annoyingly difficult to acquire up-to-date information on orders and stock levels, especially during busy periods.
So, Printify may not be the best choice if you require personalized assistance or if you want to expand your brand by adding services like white label products or offline retail channels. Yet, with their free plan, you may manage up to five stores, and you can use their mock-up generator to make product photos without spending a dime.
Pros:
Large selection of physical products
Good integration with your own store
Eco friendly products
Good shipping rates
Bulk discounts, when registering for professional account
Access to global vendors
Cons:
Automated delivery system, not based on geographic location
Not allows for custom branding
Variety in quality products
4. Largest Reach Print on Demand Company—Merch by Amazon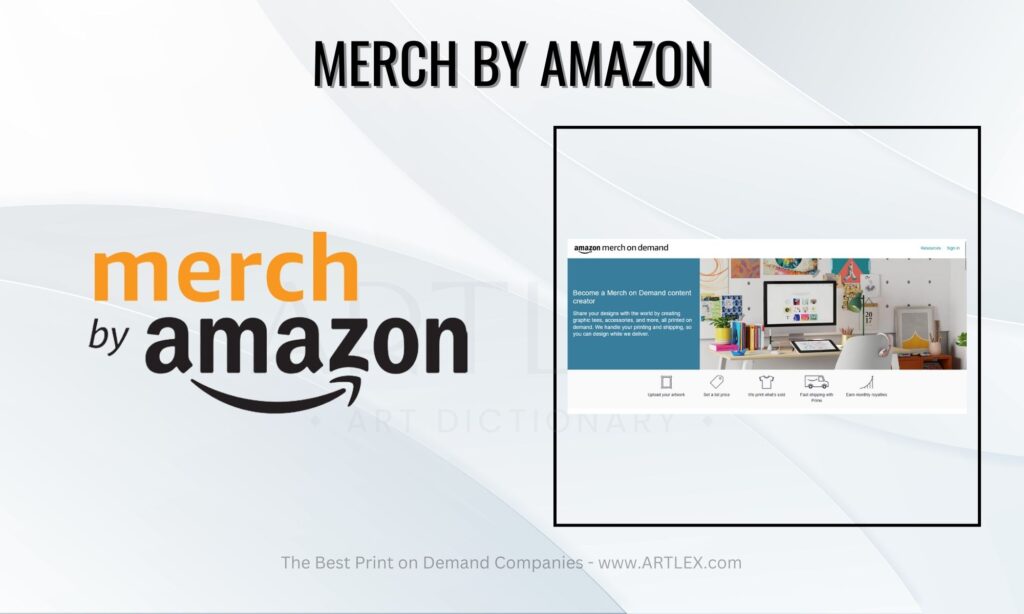 Best Print on Demand Company Selection Criteria
Range of Product Offerings: 10/10
Print quality: 9/10
Shipping and fulfillment costs: 10/10
Profit margin: 10/10
Design tools: 8/10
Brand reputation: 10/10
Integration options: N/A
About Merch by Amazon
As is common knowledge, Amazon is a giant of retailer and having it back up your products will surely give you an edge over your competition. And yet, not exactly.
Merch by Amazon is an exclusive print on demand business, and an online store. Unlike most other print on demand sites, you do not just sign up, upload your designs, and hope to find clients.
Here, you need to submit a request for an invitation before you can begin selling on Merch by Amazon.
Also, there is no set timeframe in which fresh invite requests are processed or assurance that you will be invited to join Merch by Amazon. So, depending on the traffic at the time, you might not even be allowed to create your print on demand designs.
Assuming that you are chosen to proceed though, you will now be part of the largest online retailer and one of the most frequented websites in the world.
Since many people conduct product searches directly on Amazon, it stands to reason that you will reach more potential buyers there than anyplace else. Having said it so many times already, keep in mind this is not always a good thing.
Merch By Amazon is one of the quickest ways to get a t-shirt to a buyer because its products ship via Amazon's Prime service, and you get to decide how much of a cut you get from each sale.
Although you are constrained by the retail price of products and must compete with other designers, you are not obligated to a set royalty. You are given the amount it will cost for the print on demand company, and then you set the final price for your item; the difference will be your profit.
And now let's discuss the problems with being part of such a large client base: design theft is a persistent issue for Merch by Amazon due to the platform's large and diverse marketplace, and the generous royalties offered to sellers. Keep in mind, this is an issue with many print on demand companies but it is slightly prominent here simply because of the vast amount of products being advertised and the BSR (best seller rank) option being public knowledge.
To rephrase, once you have a best-seller on Amazon, it will likely be replicated and listed at a lesser price, hence reducing your sales and profits.
Another issue is that you can't easily promote your own branding and count on repeat business. When you upload your work, you don't create a profile or gain the ability to have followers, you just get a link to your brand, but not actual profile or biography, making it difficult to create a solid following.
Since there are no out-of-pocket expenses associated with selling through Merch by Amazon, you can expect a profit. Creating an account, uploading content, and selling items on the site does not cost anything.
Merch by Amazon has the ability to earn more money for an artist or designer than any other platform because of its high royalties and consistent organic traffic.
Having said all this, let us explain something mainly gained from experience. Having a high traffic footing does not always lead to an increase in sales for the artist. If you are selling generic t-shirts, wall art, tote bags, phone cases or art prints, then yes you may need to try high traffic websites. But if you are creating niche POD products, then your audience may be looking at a more specialised demand site. So being a well known artist in smaller print on demand companies can be more profitable in your case.
Pros:
Wide audience
Custom pricing
No shipping costs
Cons:
Copyright issues
Hard to promote your own brand
Exclusive print on demand service
5. Easiest Print on Demand Company Platform—Sellfy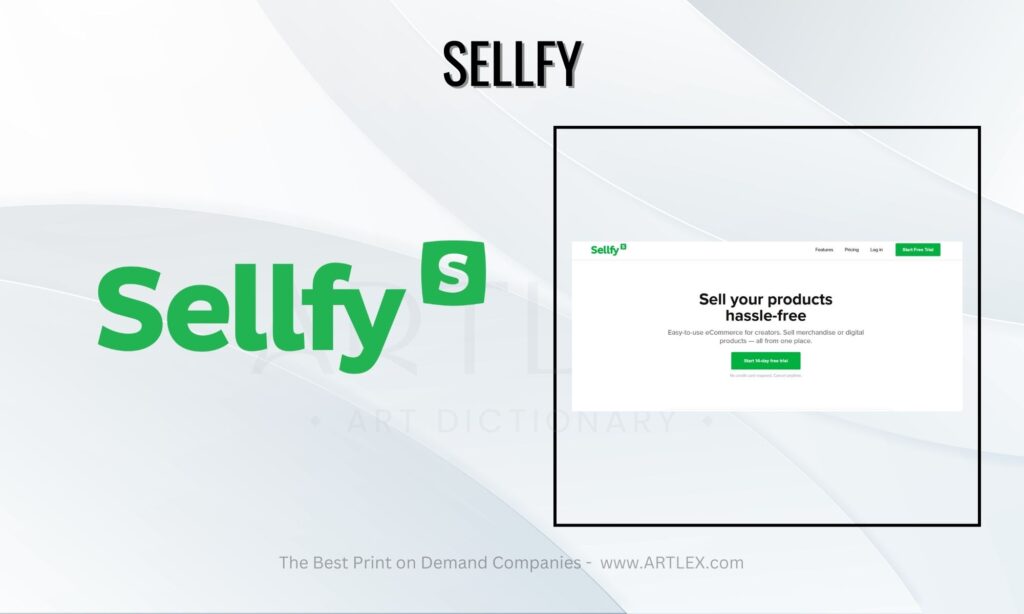 Best Print on Demand Company Selection Criteria
Range of Product Offerings: 10/10
Print quality: 9/10
Shipping and fulfillment costs: 9/10
Profit margin: 9/10
Design tools: 10/10
Brand reputation: 10/10
Integration options: 10/10
About Sellfy
Sellfy is a great option if you're searching for a one-stop-shop to create your own online store. Here, you'll have access to all the marketing and customization options you need to set up shop online selling print on demand products.
Among business owners in Europe and Asia, Sellfy has become a preferred e-commerce platform. Although, this print on demand business entered the market with an emphasis on digital goods, it has subsequently branched out to print-on-demand services. Because of this, their method deviates slightly from common demand sites. They focus on creating your own designs vibe rather than a single product.
In less than 5 minutes and with just a few clicks, you can have your own online shop up and running.
With its creator-centric design, Sellfy makes it easy to sell t-shirts, phone cases, long sleeve t shirts, wall art, and tote bags, among other products. Along with these, they have developed a new line of sustainable goods, such as cotton tote bags and environmentally friendly phone cases. In addition, you can include your own selection of digital products, and subscription services.
As an online storefront, Sellfy makes it simple for anybody to market and sell their own software and media files, including e-books, films, and digital artwork.
With this mobile-friendly platform, you can promote your products on your own website and social media, so your clients can be easily notified when you upload a new project.
The Sellfy platform also features an assortment of analytical and promotional tools, while handling production and distribution for your custom products. Physical products can be suited to your needs, including the creation of white label products at no extra cost.
Then, once you've settled on a design you're happy with, it's a simple matter to publish your finished product on your storefront, or your own website, including those built using platforms such as WordPress, and more.
Sellfy does not charge a commission or additional fees for shipping or handling, but there is still an initial manufacturing cost. Instead, shoppers pay the full price of the item plus tax and shipping at the time of checkout. Profit is calculated by adding the base price to your desired profit margin. Even though it is free to add products to your store, you'll have to pay a monthly charge to keep your virtual shop running.
Pros:
Physical and digital products in one place
Five minute initial set up
Quality products
Holistic online marketplace
International shipping
Repeat business made easy
Cons:
Monthly fee
Need to upgrade plans, if sales surpass $10,000/year
Conclusion—The Best Print on Demand Business 2023
Print on demand is a viable option for anyone interested in starting an internet business but doesn't want to deal with the hassle of custom product printing, stocking, and shipping. If you're thinking about starting a business, you'll find our list of the best print-on-demand companies helpful.
We have compiled the top choices for various scenarios in case you don't have time to investigate every organization. Keep in mind that opening your print-on-demand internet store is only the first step. Then, once it's live, you'll need to promote it to get the word out and bring in additional clients.
As a new artist, Redbubble may be a good place for you to look into, as it will allow you to create your unique brand while promoting you on Google and offering you organic search power.
Merch by Amazon, on the other hand, can help if you are just looking for a quick profit. By adding your designs and uploading to this giant, you can get to selling really fast. Keep in mind, though, that this is an invitation-only print on demand business, where you also need to keep an eye on copyright theft, if you want to keep making money from your designs.
Lastly, if you want a more holistic approach, with global reach and direct to garment printing, you may want to have a look at our overall best print on demand website: Printful.
We hope you found our analysis of the best print on demand companies of 2023 to be helpful. Consult our associated guides for further sources of comparable items for the artistic lifestyle.