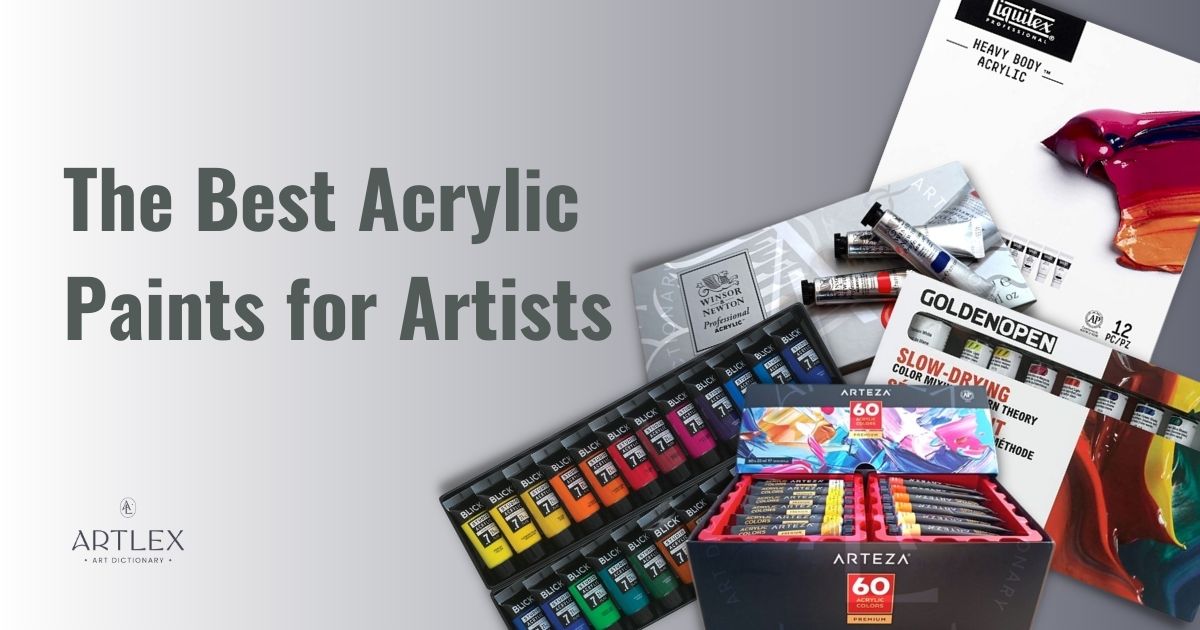 This article is a complete guide to help artists choose the acrylic paint brands and sets that work best for their work, keeping in mind what aspects they need to explore before choosing the right acrylic paint. The main selection criteria for how to choose acrylic paint include pigment, quality, viscosity, and permanence. We will evaluate the 7 best acrylic paints against those criteria.

The most crucial element for a painter to make an impact on their audience is the paint itself. The burst of color in a vivid display, or the use of subtle monotones of different intensities on a single canvas, all require good quality painting materials that make the whole process smooth and fulfilling.
What are Acrylic Paints?
Acrylic paints are paints that are made of pigments suspended in an acrylic emulsion. Acrylic is a type of plastic, or polymer, used in a variety of applications in art and industry. Acrylic paints are usually the top rated and best selling types of paint because they have the best qualities and are great for all levels of expertise.
Characteristics of Acrylic Paint
Characteristics of Acrylic paint that make them a good choice for artists include: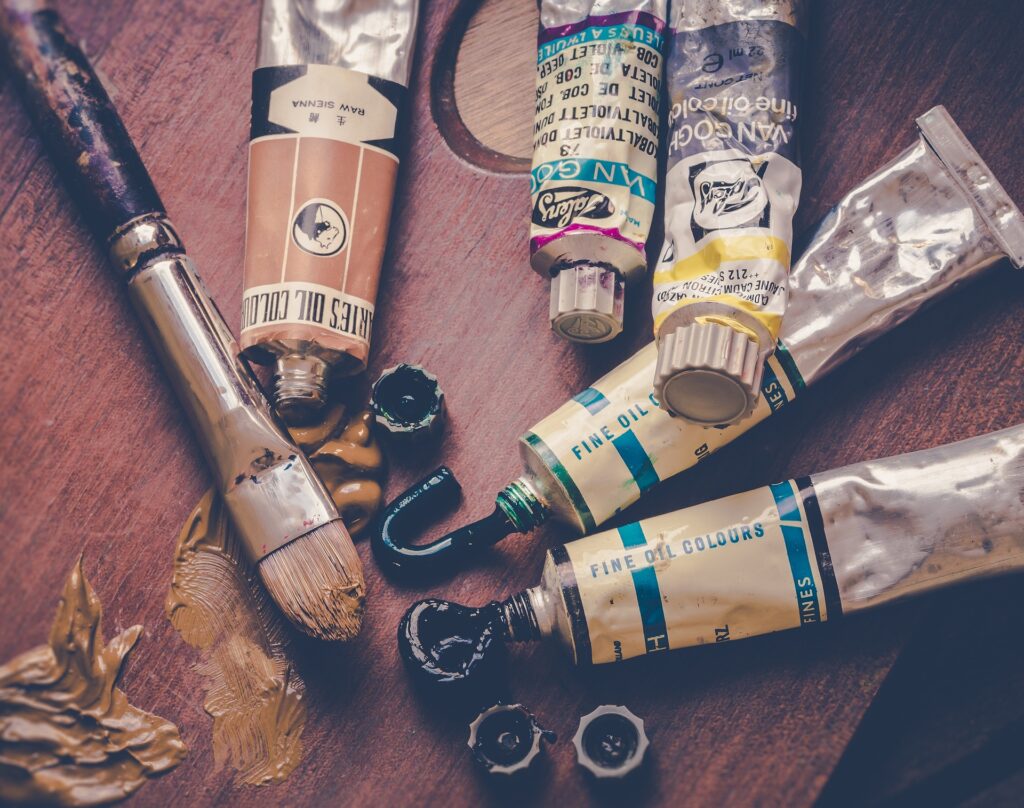 Quick Drying
Whereas oil paints take ages to dry and even more time to have the finished product considering the layering, Acrylics are fast and quick. No matter how many layers you want to paint, it won't take as much time as heavy oil-based paints. A single layer of Acrylic paint usually takes less than an hour to dry completely, even less so if you thin them with water. And although watercolors dry quite fast, the vibrancy and texture of acrylics is unmatched.
Water-based
Acrylics and Watercolors are water-based products that can be handled, cleaned, and thinned by simple water. Water solubility helps the artist's versatility and confidence to be spontaneous with their work and to work long hours without worrying about their health. Whereas the Oil based paints have to be removed or thinned using special materials like Thinner and Spirit, sometimes causing dizziness and intoxication if the area is not properly ventilated.
Layering and Coverage
Acrylics are the best paints when dealing with layers and even mistakes. Watercolors don't leave a margin to cover up previously painted mistakes as the use of more water ruins the paper. Acrylic paints get easily removed when wet and can give different color spectrums when thinned with water. A small portion can cover a large canvas area if used with the proper technique. A wide variety of brushes, spatulas, and other tools can be used with Acrylic paints to create different effects, vibrancy levels, and textures. Whereas Oil paints require a much more elaborated process when mixing, removing, and getting to the final product. That's why oil painting is not considered a beginner-friendly art medium.
Mess-proof
Art doesn't always equal mess. However, artists are always subject to chaos when working with paints. Watercolors are easily removable from almost every surface using water. Oil paint needs to be removed with special chemicals; however, you can remove acrylic paint with water or simply peel the acrylic away from your fingers, palettes, flat surfaces, and even your electronics with no risk of damaging them.
That also makes them beginner and children-friendly since they're non-toxic and relatively easy to clean.
How to Choose The Best Acrylic Paint Brand
It's pretty commendable how some artists make art just out of nature, using rocks, sand, pigments of grass and flower petals, etc. Because for an artist will, there are literally no bounds. But even doing so, to achieve the desired effect in their art, especially when working professionally, some things are absolutely essential. The most important is the quality of the pigment, the right intensity of the color, and the lasting nature of the pigment.
Here are some properties you can look up in different paint brands in order to better suit your artist needs:
Pigment
Sometimes it's hard to find the right color for our art; however, any paint, no matter the rarity of the color, is useless if it has a bad quality pigment as the core. Colors and spectrums have no bounds except one, the core element that forms the color needs to be made with the finest ground pigments with intense ingredients. The greater the pigment load, the higher the vibrancy will be. When working with acrylics, choosing professional paints is always the best choice, even if you are not a professional. Paints last a long time, and even if expensive at the beginning, you'll find yourself using those paints over and over again through many years of your career.
Quality
If we only talk about acrylic paints, they come in two grades based on quality. One is professional-grade, and the other is student-grade. The main difference lies in use.
Professional Grade Acrylic Paint:
Professional Grade (also called artist grade paints) come with finely grounded pigment that gives a variety of hues in a single color, and vivid intensity, their level of permanence is the highest, ensuring many decades of preservation. Along with that, a higher color concentration, good feel quality, and consistency are considerably better than student-grade paint.Fine art masterpieces are often a result of professional-grade acrylic paints that depict exquisite quality in one glance.

Student Grade Acrylic Paint:
Student-grade acrylic paints are mostly used for color studies, technique explorations, and texture experimentation and are not recommendable for final art pieces. Student grade paints are best if an artist is changing their medium or trying to explore different paints. Best work is achieved when beginners work their way up, starting with student-grade acrylics as they ease the painting process and give satisfying results while learning.
Viscosity
Viscosity of a paint means the thickness of the paint. The choice of what viscosity to use is mostly an artist's preference. Some artists who like to do detail work or are oriented toward a pop-art style would need a Soft Body acrylic paint that can get as runnier as they want for coverage or to mix it up with different textures. In contrast, Hard Body acrylic paints are a bit difficult to mold and not that versatile. They work best with knives, spatulas, and hard-bristled brushes. They hold their texture and form on a canvas giving a much more lively and 3D effect. Some paints are also in the middle, those being the perfect ones for beginners or students that need more quantity for a lower price.
Permanence
Permanence of paint means the durability of the paint to last over a period of time. One aspect of permanence is lightfastness, which means how paint reacts to exposure to light. In order to make a long-lasting masterpiece, painting with acrylics with a good level of permanence is necessary. Many canvases in art galleries are decades old but still shine through the observer's eyes, and this is only possible if the permanence index of the paint used is high.
When buying paint, there are specific standards of permanence that we need to check. Those are stated in each tube by the companies and can change from brand to brand:
Star System: 4 stars have the highest permanence.

ATSM Standard: Grades from I to V where I is the best and V is bad permanence.

AA to C: Here, AA-labeled paints are the most long-lasting.
Our Product Recommendations – Best Acrylic Paints
Acrylic paints are probably the best painting medium for artists of any level. They are easy to handle, need minimal care, and give excellent results. They perfectly fit all criteria of good quality paint. It doesn't matter if someone is a beginner or a professional. Acrylics never disappoint.
Art is vast, and we need variety to keep it that way. So here are our top picks of the Best Acrylic Paints in the market.
Best Acrylic Paint Overall — Golden Acrylic Paint
Second Best Acrylic Paint — Liquitex Heavy Body Acrylics
Best Professional Glossy Acrylic Paint – Tri-Art Acrylic Paints
Best Acrylic Paint for Texture — Winsor and Newton Professional Acrylic
Best Price-Value Acrylic Paint — Arteza Acrylic Paint
Best Acrylic Paint for Beginners — Blick Studio Acrylic Paint
Best Student-Grade Acrylic Paint — Pebeo Studio Acrylic Paint
Best Slow-Drying Acrylic Paint — M.Graham Acrylic Paint
1. Best Acrylic Paint Overall — Golden Acrylic Paint
Selection criteria
Price – $54.20 for a pack of 8

Pigment — The most vibrant pigment

Quality — Professional

Viscosity — Intermediate

Permanence — ATSM I (Excellent)

Variety of colors — Wider range of colors sold separately

Product handling – Easy to store
About Golden Acrylic Paint
Golden Acrylics brand are best known for their high quality and rich pigment. The saturation is remarkable and gives a refreshing effect. This line of Acrylic Paints is in the professional category because of its high-end pigment quality, excellent permanence, and light fastness.
Pros
Intense and high-quality pigment

Thick consistency

A vibrant and wide spectrum of colors
Cons
On the expensive side as compared to other brands
2. Runner-up Best Acrylic Paint – Liquitex Heavy Body Acrylic Paint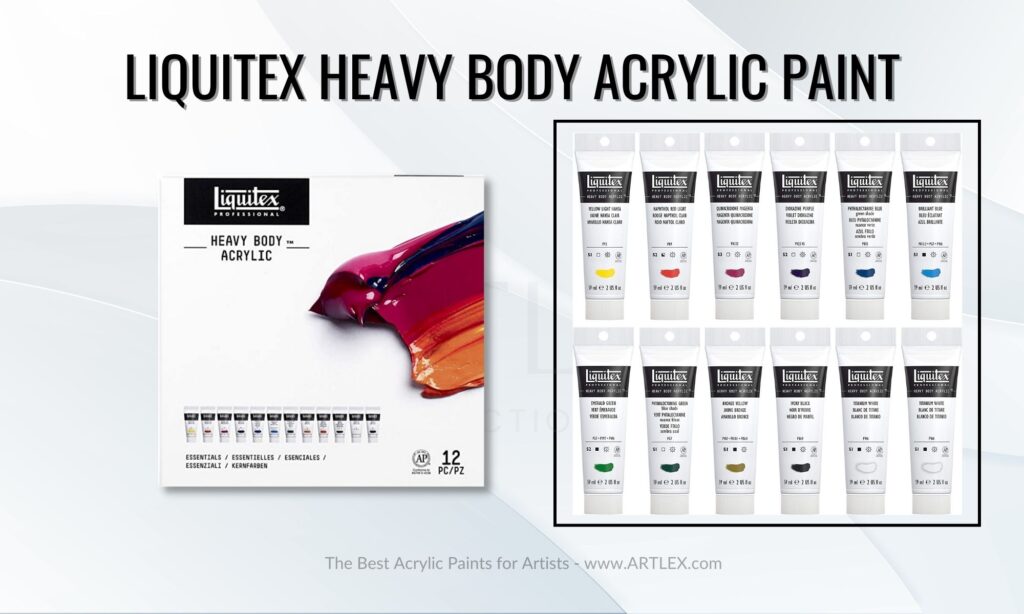 Selection criteria
Price – $52.14 for a pack of six

Pigment — Very pigmented

Quality — Professional

Viscosity — High Viscosity

Permanence — ATSM I

Variety of colors – 12 colors in a box, including White. Extra colors sold separately

Product handling – 12 tubes of 2oz, perfect size for beginners and professionals.
About Liquitex Heavy Body Acrylic Paint
Liquitex Heavy Body Acrylic Paint brand are amazing professional-grade paints for an affordable price. Liquitex Heavy body has excellent pigment intensity, smooth texture, good coverage, permanence index, etc. Also, this paint set is safe to use in enclosed spaces and with archival quality for a fair price.

Pros
Best for both professionals and beginners

Crack-free for impasto and 3D textured techniques

Professional grade
Cons
Less opaque as compared to other brands
3.Best Professional Glossy Acrylic Paint — Tri-Art Acrylics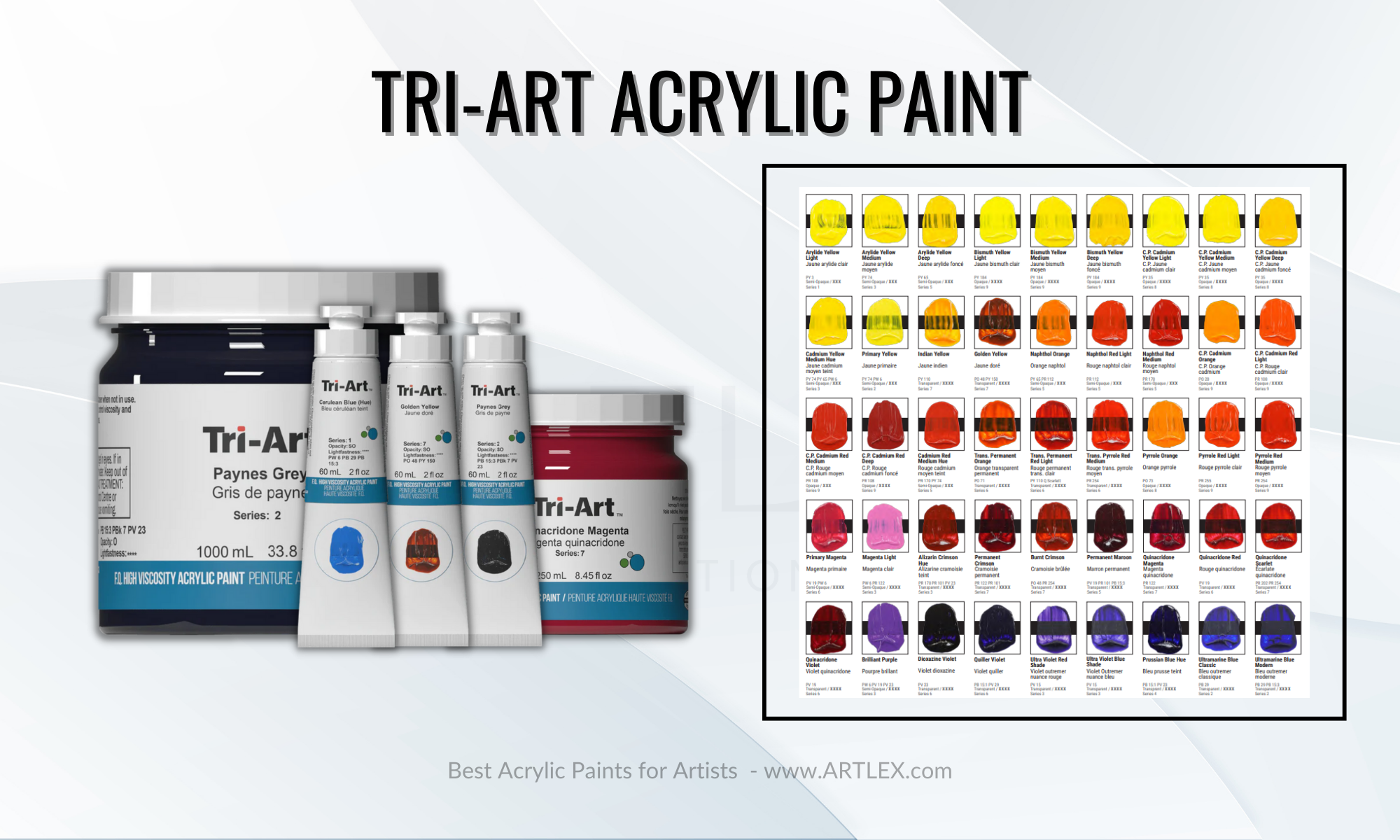 Selection criteria
Price – From $9 – $21 per 2 Oz Tube

Pigment — The most vibrant pigment

Quality — Professional

Viscosity — High Viscosity

Permanence — ATSM I (Excellent)

Variety of colors — Wider range of colors sold separately

Product handling – Easy to store
About Tri-Art Acrylic Paint
Tri-Art acrylic is a brand of professional acrylic paint that is known for being one of the highest-quality paints available in the market; while it might not be as popular as other brands, it is very recommended by art professors and professionals due to its high pigmentation, heavy body, and excellent lightfastness, which we've tested and proved ourselves. The High Viscosity line is fantastic for textured painting techniques, it has a thick and creamy consistency, and the paint holds its shape after drying. When diluted with a bit of water, the paint becomes great for smoother applications and blends beautifully, making it great for botanical art techniques and to create beautiful gradients. It has a very glossy finish that adds brightness and vividness to the colors; however, if you prefer another finish, you can always get their matte finish medium.
Pros
High pigment concentration

Thick consistency

Wide range of colors available
Cons
4. Best Acrylic Paint for Texture – Winsor and Newton
Selection criteria
Price -$51.86 for a pack of 12 (20ml)

Pigment — Very pigmented.

Quality — Professional

Viscosity — Intermediate, holds its shape but not heavy-body.

Our Score: Not applicable

Permanence — ATSM I (Excellent) / A and AA on all pigments

Variety of colors — Numerous colors along with textured paints sold appart.

Product handling — Well packaged tubes in hard plastic
About the Winsor and Newton Professional Acrylic Paint
The Winsor and Newton Professional Acrylic Paint set is a line of professional acrylic paints with a smooth yet thick creamy texture. The mere look and feel of the paint are compelling of excellent quality. With their consistent texture, you'll find that handling these paints on a canvas is much easier than their student-grade counterpart, Winsor & Newton Galleria.
You can also create 3D relieves and different textures since they hold their shape quite well after drying. A little amount goes a long way. But they dry on a palette after a while, so it is better to take small quantities when mixing.
Pros
Creamy and rich quality texture

Colors are consistent and long-lasting

Good coverage on any textured canvas (even fabric)

Consistency changes with flow-improver according to taste
Cons
It dries faster than other professional acrylic paints

Needs to be mixed in small portions (you might have to make the same combination more than once)
5. Best Value Acrylic Paint – Arteza
Selection criteria
Price – $54.99 for a pack of 60

Pigment — Vibrant pigment

Quality — Student

Viscosity — Intermediate

Permanence — ATSM III

Variety of colors — Sets of 60, 24, and 14 come with a wide range of colors

Product handling – Comes with a manageable, organized kit (perfect for a gift)
About Arteza Acrylic Paint
Arteza Acrylic paints offer soft to medium body paints that are high quality in texture, pigment, and overall smoothness of the paint coat. They do have a slight color shift when they dry and give a much darker appearance than expected. The broad range of colors comes in easy-to-use tubes and an organized kit which speaks volumes about the fine quality of the makers. Although these paints are not professional-grade, the variety of pigments in this set makes a perfect gift that most artists will happily receive.
Pros
Good opacity and wide color choices

Affordable ranges

Great organizing kit
Cons
Not so lightfast and permanent

Dry quickly

When dry, pigment lacks fidelity
6. Best Acrylic Paint for Beginners – Blick Studio
Selection criteria
Price – $45 for a pack of 6 (120ml), $72 for a pack of 36 (21ml) – our rating 9/10

Pigment — Not as pigmented

Quality — Student

Viscosity — Soft Body

Permanence — ATSM I&II

Variety of colors – Wide spectrum of colors sold separately 10/10

Product handling – Compact plastic tubes in a tray that is easy to store and handle
About Blick Studio Acrylic Paint
If you're looking for something a little more budget-friendly and easier to work with, then Blick Acrylics is for you. It's pretty amazing how great the pigment load is in this range of products. But of course, due to this low cost, they come with a noticeable less opacity on canvas. Although this does not decrease the quality of the product, it might be inconvenient when working with a large canvas. We recommend getting this set for beginners and students, mainly because of these paints' low prices.
Pros
Affordable yet good quality

High lightfastness
Cons
Not as opaque as other brands
7. Best Student-Grade Acrylic Paint – Pebeo Studio Acrylics
Selection Criteria
Price – $36.33 for 28 piece set, including a brush

Pigment — Not as pigmented

Quality — Student

Viscosity — High Viscosity

Permanence — ATSM I&II

Variety of colors – 28 colors in a set. A separate set includes 5 x 100ml Primary colors

Product handling – 20ml tubes easy to squeeze. 250 ml plastic tube packing is also available.
About Pebeo Studio Acrylics
Pebeo Acrylics is a very affordable and user-friendly brand of acrylic paints. They have a reasonably thick consistency and coverage that works well with textured paintings and layer work. Student-grade acrylics are great for beginners as they are affordable for their startup work. This way, it's easier to eventually explore their way to the professional ones.
Pros
Best value for money

Good pigmentations

Thick viscosity gives premium texture
Cons
Less coverage due to thick texture

Some pigments are not as permanent

Dry quickly
8. Best Acrylic Paint for Outdoors – M. Graham Acrylic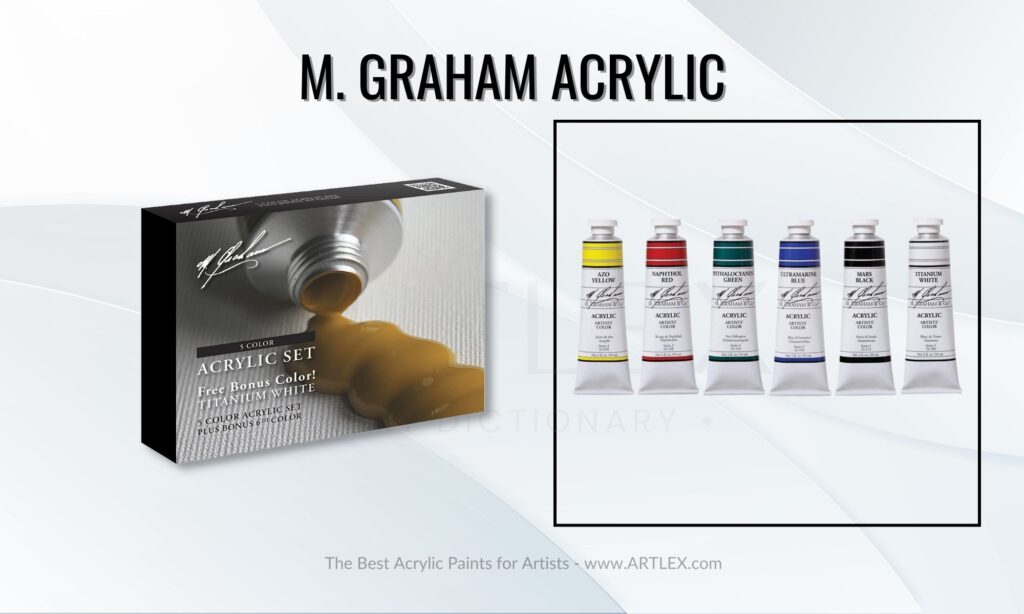 Selection criteria
Price – $43.4 for a pack of six

Pigment — Very bright and pigmented

Quality — Professional grade

Viscosity —

Permanence —

Variety of colors – 6 colors in a box, including White

Product handling – Tubes of 2oz each.
About M. Graham Acrylic Paint
After years of making high-quality watercolors, M Graham presents their acrylic line, an exciting option for people who like to think out of the box and experience variety. M. Graham acrylics are a great alternative to Oil Paints. These are still acrylics but dry much slower, making them unique from others. Perfect for working outside and mixing on the spot since a little spray of water while painting makes it much more smooth and gives it a premium satin finish.
Pros
Works well in place of Oil paints

Fine satin finish

Dry slowly gives more margin to artists
Cons
The color spectrum is less vivid as compared to other brands
Conclusions
It's shocking how these little aspects contribute to making a masterpiece. All artists should have several choices to decide. We believe we've presented you with the best options regarding quality, price range, and reviews from many experienced and passionate artists. I hope this compilation of the best acrylic paints helps artists turn ideas and inspiration into a reality. After all, it is about how one makes the most of a simple paint tube. Happy painting!