Winsor Newton Cotman Professional Set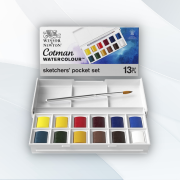 Vibrant, blend well, excellent for students; half pans may fall out.
Daniel Smith Watercolor Paints Set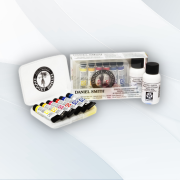 Great price point, good transparency, rich tones, limited color combinations.
Winsor-Newton Professional Set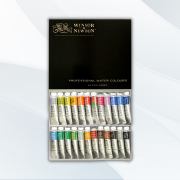 High-quality pigments, consistent, suitable for all skill levels; tubes may lack pigment variety.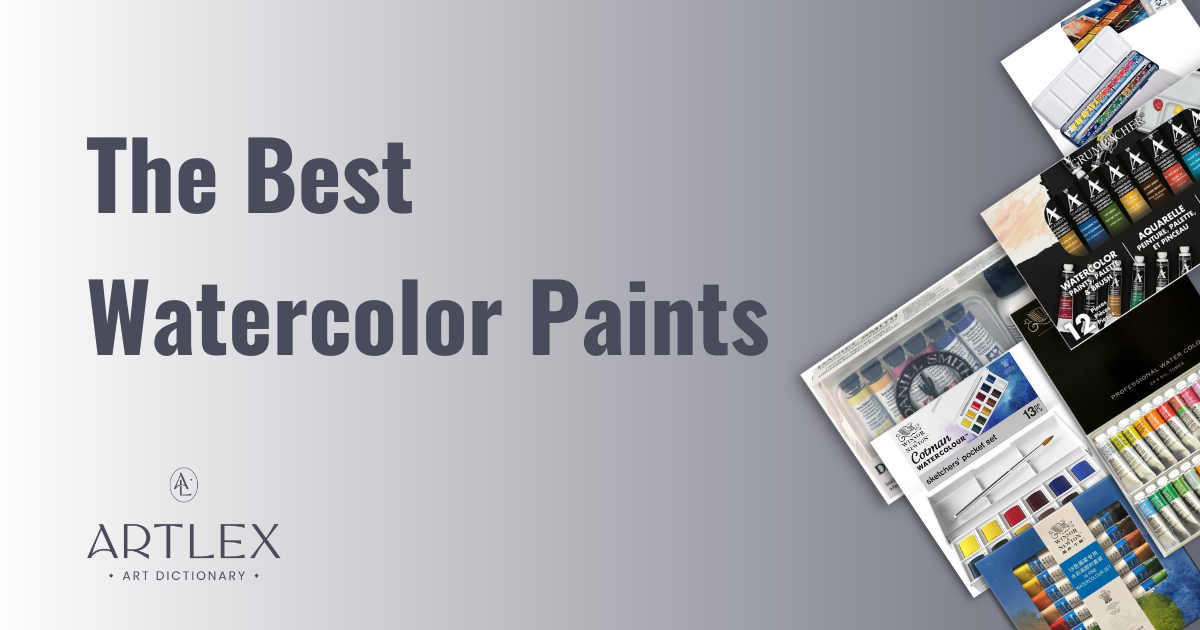 Watercolor paintings have an otherworldly beauty unique to this medium that you won't find with oil or acrylic paints. The best watercolor paints don't necessarily have to break the bank to showcase their quality and vibrant colors, but selecting watercolor paints that are from top watercolor brands does help.
Buying paint is straightforward, and some criteria to look out for include buying the highest-priced set your budget will allow, their grade– student, artist, or professional, if they are true pigments or synthetic mixes, and if they blend well.
Fun fact: Artists used to make their own watercolor paints using gum Arabic, pigment, honey, or glycerine– as a binder and a natural preservative.
As a general rule, buying paint, especially professional-grade paints, is suggested, even for beginners, as they blend well and contain finely ground pigments that are more lightfast. A local art store will sell much higher quality art supplies than those purchased at a general shop.
Watercolor Painting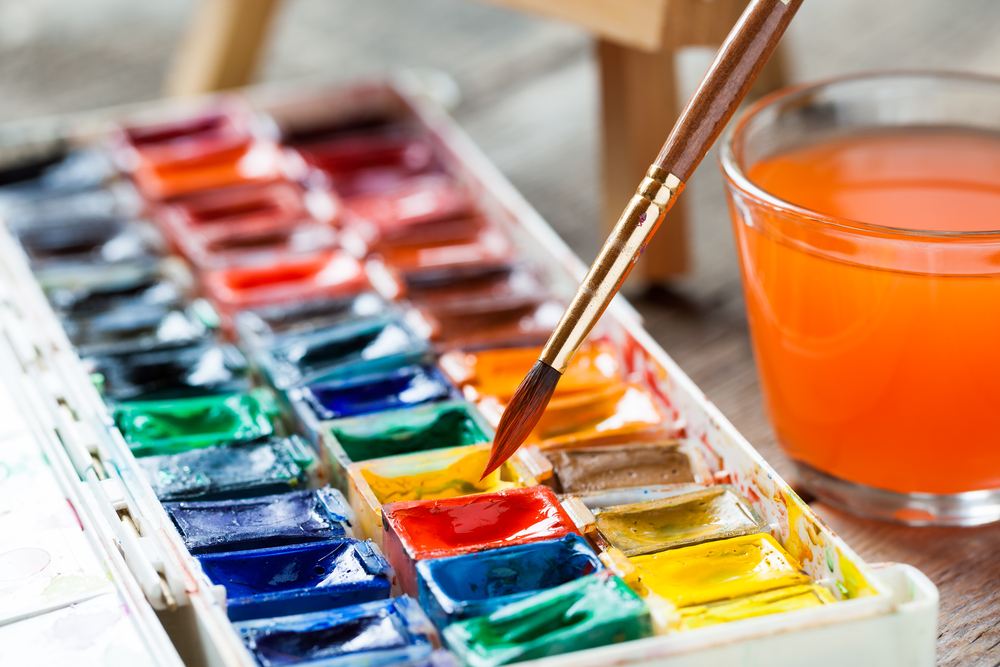 Some of the best watercolor sets brands include Van Gogh watercolors, Schmincke Horadam Aquarell, Daniel Smith, and Holbein watercolors. A popular French watercolor paint set is from the brand Sennelier, which also tends to sell more professional watercolors.
Like professional grade paints, watercolor paper can make or break a watercolor painting. What's more, if poor quality, synthetic brushes will shed and may ruin an exquisite art piece, so buying quality brushes is suggested. Each particular paint, whether it be from Daniel Smith, which is known for its creamy neutral hues, or Winsor Newton, which is known for its vibrancy, is worth experimenting with.
In addition, pan paints, including half pans, can have different effects on a paper surface depending on the quality of the paper. Choosing thick, watercolor-specific paper is integral, and beginners will see a marked difference in the life a painting can take on when using the right paper.
The Best Watercolor Paints on the Market Today
Best Watercolor Paints Set Overall – Winsor Newton Cotman Water Colours Professional Watercolor Paint Set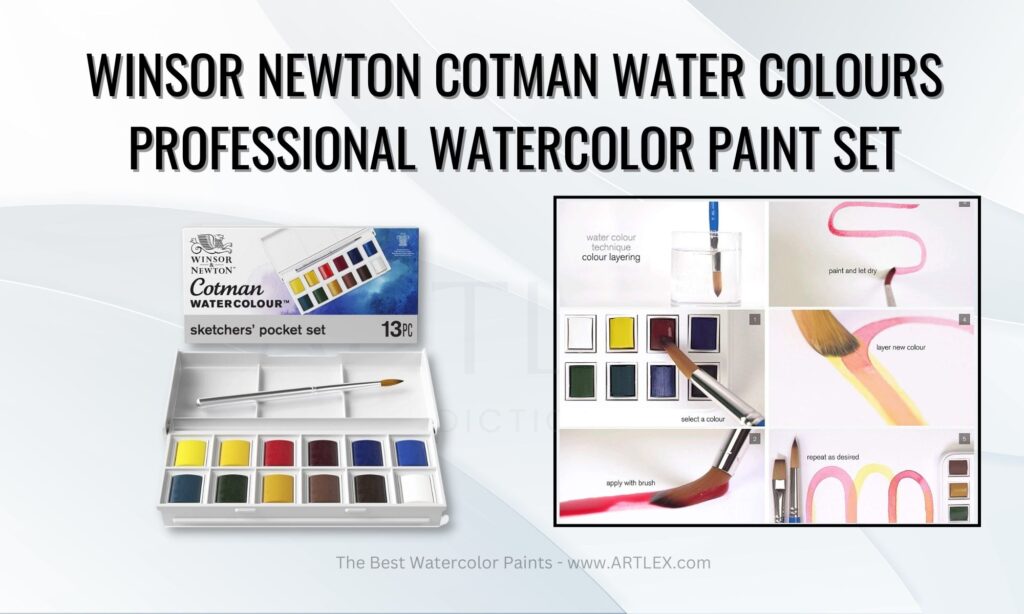 Price – ~$18.18 (Was $27.49) – Our score: 9/10
Grade – Student – Our score: 8/10
True Pigment – Some are single, and some are mixed pigments – Our score: 8/10
Blends well – Yes – Our score: 9/10
About Winsor Newton Cotman Water Colours
Most watercolor paintings don't have the vibrancy that this Winsor Newton professional watercolor set boasts. This watercolor paint set comes in half pans and includes 12 colors along with one round brush. Natural pigments include burnt sienna, burnt umber, yellow ochre, lemon yellow, and sap green.
Any watercolor artist will appreciate the professional line of these pan watercolors. The colors of this high-quality watercolor set will blend well and stay true to color when mixing your own colors. Investing in quality art supplies like professional paints, watercolor brushes and professional watercolor paper makes a difference for any budding artist.
Pros
Excellent price for a student-grade watercolor set
Half pans also come with a mixing palette
Can be used as a travel set
All except three colors are vegan friendly
Cons
Half pans are not magnetized and tend to fall out when opening the case
2. Best Watercolor Tubes Paint – Daniel Smith Watercolor Paint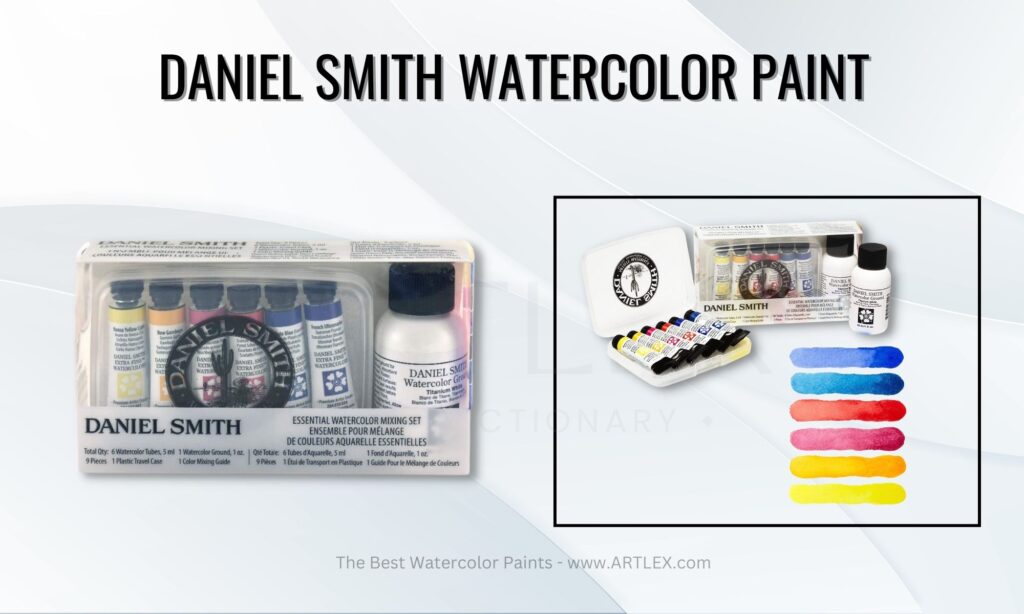 ​​
Price – ~$26.90 – Our score: 8/10
Grade – Professional – Our score: 9/10
True Pigment – Yes – Our score: 9/10
Blends well – Yes – Our score: 7/10
About Daniel Smith Watercolor Paint
Beginners looking to try a professional grade watercolor set should look no further than these economical Daniel Smith tubes. The colors have good transparency, each of the primary colors producing warm and cool tones when mixed. This liquid paint comes in a small case and does require investing in watercolor pans and palettes for mixing.
The Daniel Smith brand is well known for its quality and lightfastness. At this price point and with primary colors that can be mixed to make virtually any combination from brown to a purple color, this watercolor set is all a watercolor artist would need to create beautiful watercolors.
Pros
Includes all primary colors to mix a large variety of color combinations
Can be used with a half pan set for storing
Is one of the highest quality watercolor sets in the industry at a fraction of the price
Creates rich tones, is easy to mix, and has a smooth application
Cons
Some of the colors are made with harmful ingredients
3. Best Professional Artists Watercolor Paint – Winsor Newton Professional Watercolor Paints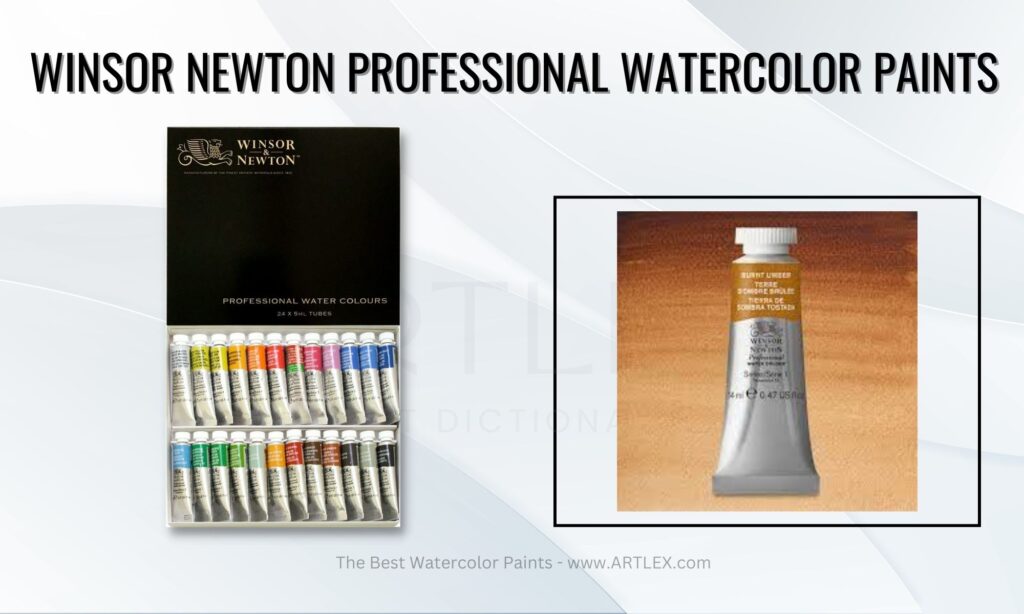 Price – ~$141.56 – Our score: 6/10
Grade – Professional – Our score: 8/10
True Pigment – Yes – Our score: 9/10
Blends well – Yes – Our score: 9/10
About Winsor Newton Professional Watercolor Paints
Many professional artists choose the finest watercolors like these Winsor Newton tubes of 24 colors. This set has a large variety of high-quality pigments, including burnt sienna, yellow ochre, and cadmium-free Red Deep. The colors in this set stay true when mixed to create more vibrant and beautiful colors.
The superior quality of professional watercolor paints will be noticed by students and experienced artists alike when using one of the best professional watercolor sets from one of the best brands. If needing to replace one or more tubes rather than the whole set, they are also sold individually.
Pros
Includes some of the most commonly used pigments
Fits perfectly in half pans palette
Excellent quality, consistency, and colors
Perfect set for a watercolor class for any skill level
Cons
Each tube does not hold that much pigment
Mixing palette must be purchased separately
4. Best Artist-Quality Watercolor Paint – Winsor Newton Fine Watercolor Paint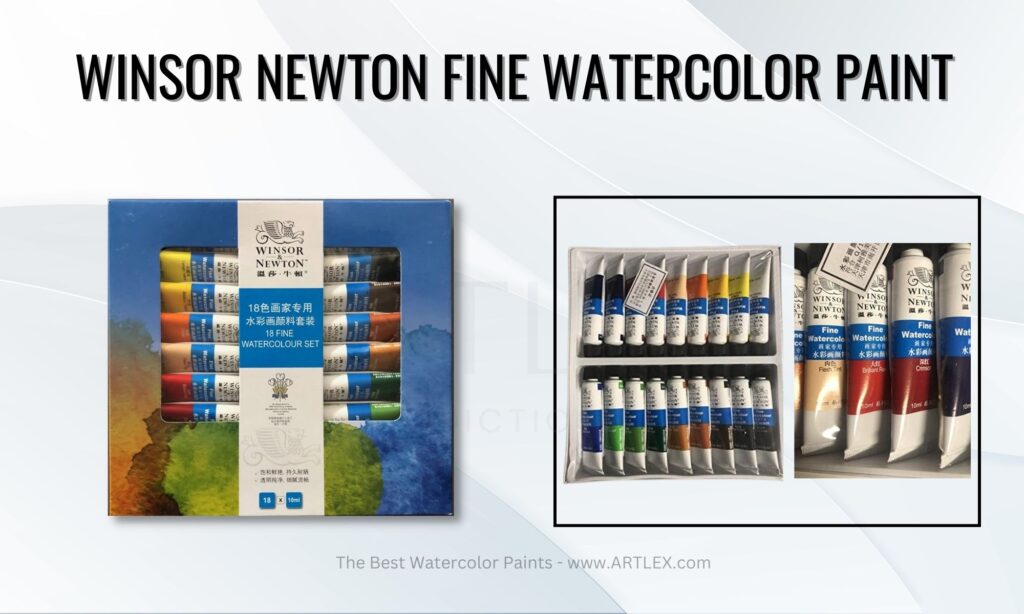 Price – ~$18.18 (Was $27.49) – Our score: 9/10
Grade – Student – Our score: 8/10
True Pigment – Mixed – Our score: 7/10
Blends well – Yes – Our score: 7/10
About Winsor Newton Fine Watercolor Paint
While artist and professional grade paints are considered similar, this bargain set is a steal at under $19 and is perfect for students and intermediate artists alike. They aren't as vibrant as a professional-grade set, but the 18 tubes offer beginners a variety of pigments and are easy to learn the art of watercolor mixing.
This set includes primarily neutral colors like browns, yellows, greens, and orange. Darker colors include grays, blacks, and one white making this set perfect for depicting autumn landscapes or skin tones.
Pros
Includes mostly neutral colors, unlike most other watercolor sets
Heavily pigmented colors make them perfect for beginners or experienced artists alike
Colors have good lightfastness
Cons
A mixing palette must be purchased separately
5. Best Student Quality Watercolor Paint – Grumbacher Academy Watercolor Paints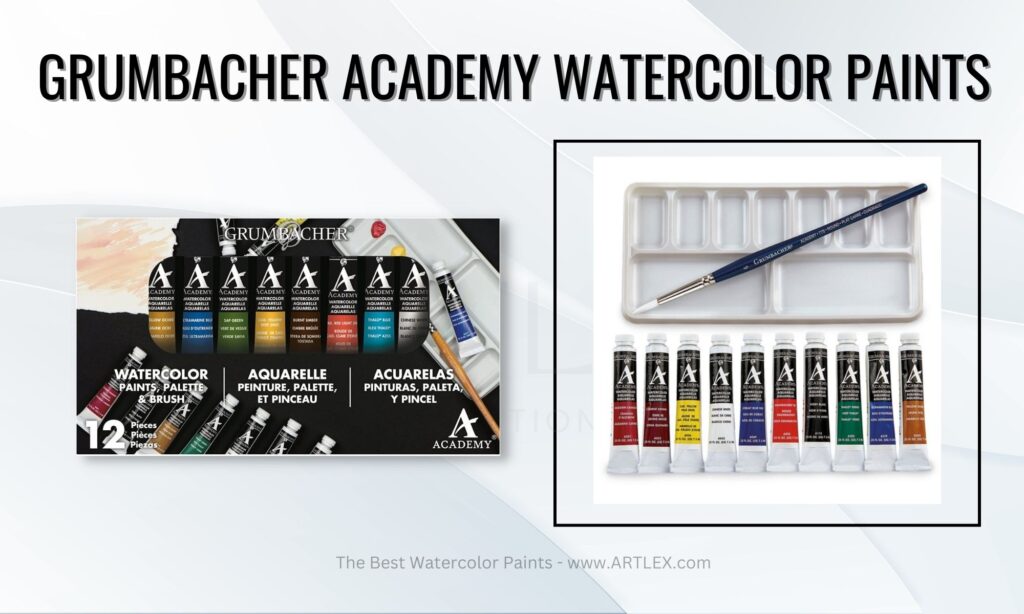 Price – ~$14.99 (Was $22.60) – Our score: 9/10
Grade – Student – Our score: 7/10
True Pigment – Mixed – Our score: 7/10
Blends well – Yes – Our score: 8/10
About Grumbacher Academy Watercolor Paints
This set of student watercolors from Grumbacher Academy makes learning watercolor techniques easy without breaking the bank. Mixing paints is one of the cornerstones of watercolor painting and learning to use a flat brush and different brush shapes are essential to mastering the wet brush technique. This paint set is an easy starter set to learn such techniques.
This inexpensive set allows beginners to explore mixing with quality paints with vibrant colors that blend well. This set comes with 10 colors, and artists can replace each tube without purchasing another set or adding additional colors to experiment with blends and mixes further.
Pros
Contains enough colors for different landscape seasons
Excellent quality at an affordable price
Natural ground pigments are used in this set
Includes a camel hair pocket brush and thin palette
Cons
The plastic palette is thin, and care must be taken when using to avoid breakage
6. Best Deep Colored Watercolor Paint – Van Gogh Watercolor Paint Set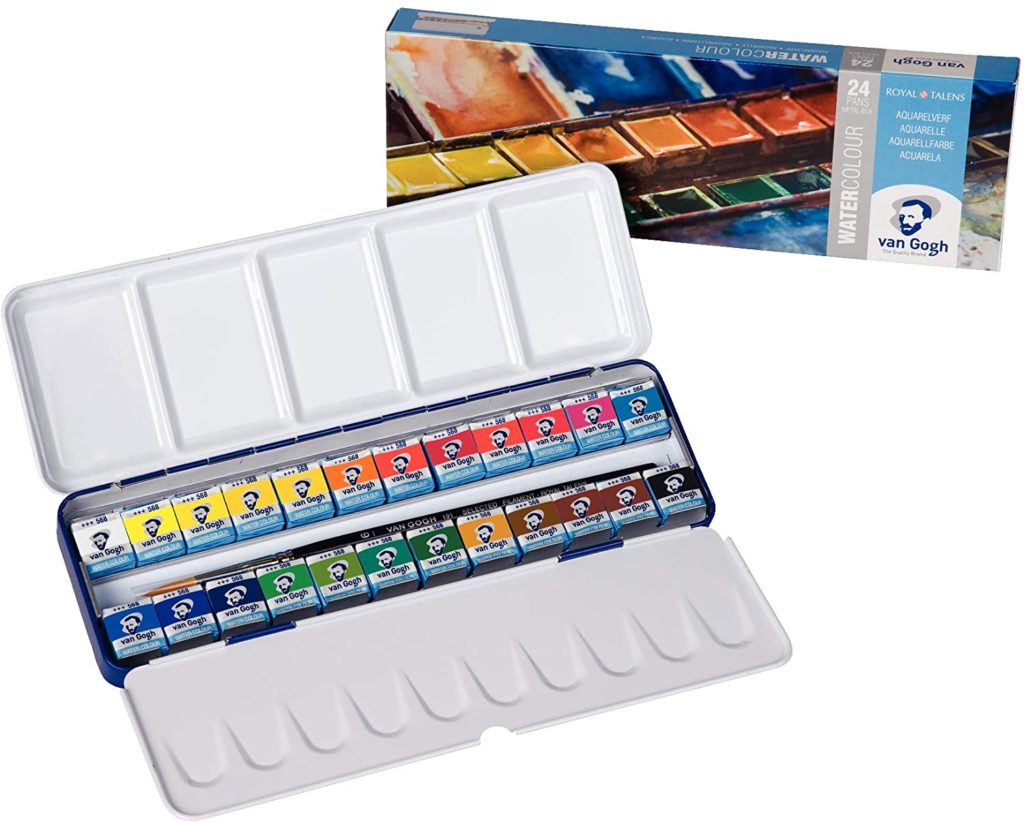 Price – ~$67.24 – Our score: 8/10
Grade – Student – Our score: 7/10
True Pigment – Mixed – Our score: 7/10
Blends well – Yes – Our score: 8/10
At this price point, this is as close as students will get to professional-quality paints without going over $100. This set has some seriously brilliant, gorgeous, and deep vibrant colors that are sure to impress even the most experienced artist. These watercolor paints also mix well and focus on primary colors to ensure mixes will have a range of nuance.
The half pans of 24 colors fit nicely in the included palette, which comes with several mixing areas. Note that this set doesn't come with purple, but mixing blue and red, of which there is a nice variety of shades, will create the deepest or lightest purple needed.
Pros
Each pan can be replaced separately, so you never run out of each color
Professional quality for the price of a student set
Pure colors from a reputable and long-standing brand
Has one of the highest lightfastness of any watercolor paint
Cons
May be pricey for students to learn with
Conclusion
We hope you found our guide to the best watercolor paints was helpful. We've covered the different types of watercolor paints from brands like Daniel Smith along with our recommendations in various contexts.
We've discussed how you can choose the best watercolor paints with a range of vibrant colors and the importance of selecting the right paintbrushes for each watercolor technique.
Lastly, we've combined our recommendations for the best watercolor paint that is student, artist, and professional grades by some of the best watercolor brands in the industry.
Thanks for reading; we hope our suggestions help you choose the best watercolor sets, whether buying tubes sold individually or watercolor pans for your next watercolor project.