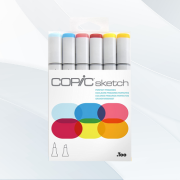 Best overall adult coloring markers with a wide color variety, replaceable nibs, and flexible brush tips, but they can be expensive.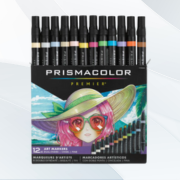 Best dual-tip markers for adult coloring with bold and expressive lines, blendable colors, and permanent ink, but they may perform better on thicker paper.
Crayola Fine Tip Coloring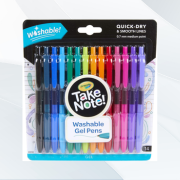 Best markers for adult coloring books as a non-toxic alternative, with washable ink, vibrant colors, and comfortable grip, but refills are not available.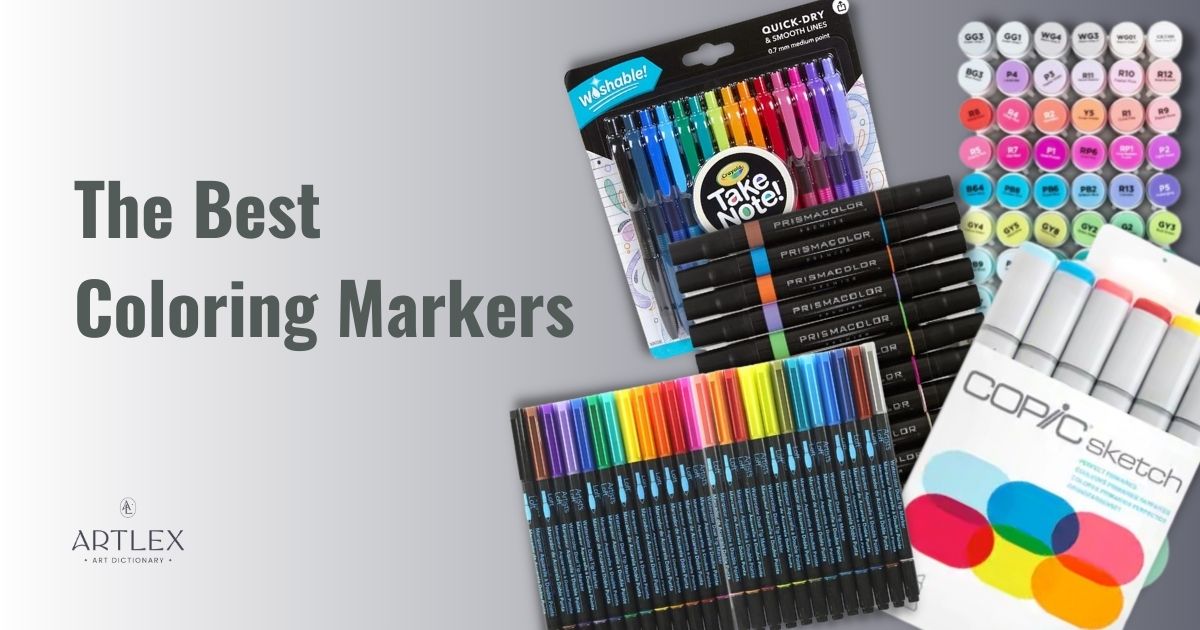 The best markers for coloring finer details like coloring books, graphic design illustrations, or artwork don't have to break the bank. Before buying a set of colored markers a few criteria to factor in are– the number of markers that come in the set, the tip style, and whether they're permanent or can be washed.
Similar to coloring pencils, colored markers can be used to create gorgeous works of art that can be sold, entered into contests, or gifted to loved ones. Below we've covered the different types of coloring markers and pens along with their specific uses.
Fun fact: The first marker pen was created in 1953. The first fiber-tipped pen was created in Japan by Yukio Horie in 1962.
Pens for adult coloring books come in a variety of colors, price points, and uses. Adult markers have fine or thick tips and can also be purchased with flexible tips that mimic a paintbrush.
Artist pens provide ink consistency, which is especially important for beginners and intermediate artists.
Notwithstanding, investing in a good colored marker will make a difference for professionals who rely on consistency without bleeding.
Artists who splurge a few more dollars on good coloring markers will notice a marked difference in color vibrancy, quality, and smoothness over cheap markers that cost a few dollars. Below we've covered the different types of coloring markers for professional use.
Types of Adult Coloring Markers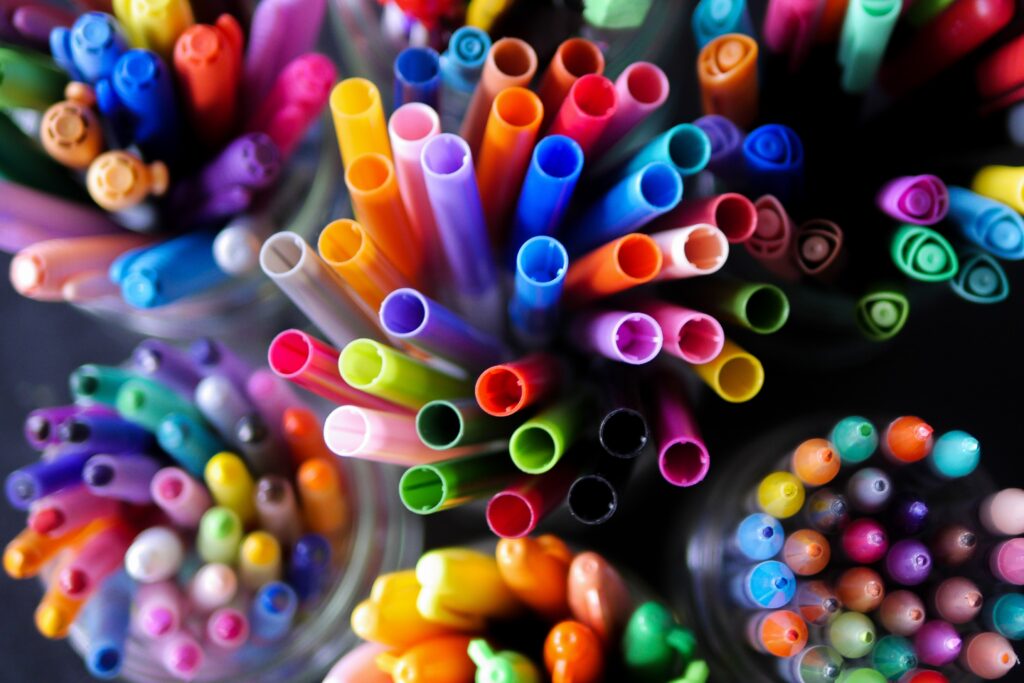 Markers for adult coloring books come in all shapes and sizes from fine line markers to dual-tip coloring markers for the best of both worlds.
When buying coloring markers, especially for adult coloring books having a fine tip is essential.
It's also important to know which pens work well on acid-free paper as many one-sided coloring books are printed on acid-free paper.
Alcohol-Based Markers
These colored markers are best for professional artists and for adult coloring books since they dry faster than other markers. Copic is one of the best-colored marker brands that are alcohol-based.
Unlike water markers, alcohol markers are not washable. These coloring pens are also easy to blend which means a few colors can go a long way to create unique and interesting color mixes, which is a good thing since they are some of the most expensive fine tip markers in the industry.
When buying alcohol markers, note the lightfastness of each one. The lightfast ink works on thick and thin paper and the colors will maintain their vibrancy over time.
Watercolor Markers
One of the most economical brush tip markers to purchase, water-based ink is simply water and pigment in a pen, usually with a fine tip. These fine line markers are non-toxic and can be easily washed out of clothes or from the skin.
While alcohol-based coloring markers are the best coloring markers for adult coloring books, water-based markers do offer some creative blending opportunities. We suggest using thicker paper, like watercolor paper when working with these art markers.
These are the best markers for beginners or younger artists where toxicity is more important than other features.
Permanent Markers
Permanent markers are alcohol-based and as their name suggests, are permanent. They are the best markers for adult crafting projects on different surfaces, such as wood, metal, or rocks.
These markers do not blend well so aren't best for color mixing. They also won't smear making them ideal for art that will be gifted or sold.
Finally, these are the most durable coloring pens available on the market. They can be purchased as single markers or as part of a marker set.
Gel Pens
Gel pens, similar to water-based inks are color mixed with water-based gel. Although, unlike water-based pens, these inks cannot be washed once completely dry.
These pens come in metallic, glitter, pastel, and other vibrant colors and are the best pens for adult coloring books where artists want a variety of colors and textures.
Fine tip pens, which is another name for gel pens are also available in very fine nibs or a thicker brush tip to create fine or thicker lines.
Brush Markers
Brush markers have a brush tip that is fed pigment directly from the marker, unlike a regular paintbrush that requires artists to dip the brush in paint. Brush pens are the same as brush markers and the name is used interchangeably.
Brush pens have brush tips that come in synthetic, natural, or felt tips. Most brush markers are made with felt tips, which tend to create thicker brush strokes than fine tip markers made with sable or nylon ultra-fine tips.
What's more, brush markers are also available with dual tips in alcohol or water-based inks to help artists create thick or fine lines using just one marker.
Dual-Tip Markers
For finer details and consistent lines, especially if coloring on thinner paper, investing in marker pens with dual tips saves time and money.
Double-ended art markers offer a thick brush tip and a thin nib or fine brush tip on the other. It's the best of both worlds as artists can maximize different blending and artistic techniques using one marker.
Artists can't go wrong adding dual-tipped markers to their repertoire of art supplies for their versatility and portability.
Our Recommendation List for The Best Coloring Markers
Best Adult Coloring Markers Overall: Copic Markers
Best Dual-Tip Markers: Prismacolor Dual Tip Markers
Best for Adult Coloring Books: Crayola Fine Tip Coloring Pens Gel Pens
Best Alcohol-Based Markers: Ohuhu Markers Alcohol-Based Markers
Best Water-Based Markers: Artist Loft Watercolor Dual Tips Coloring Pens
#1 Best Adult Coloring Markers Overall – Copic Coloring Markers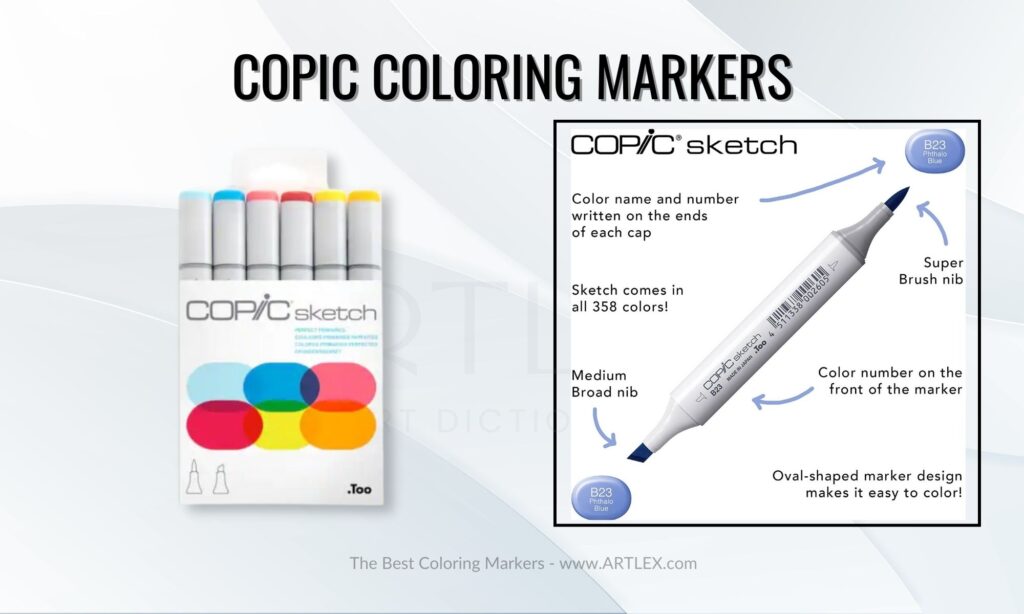 Price – $44.99 – Our score: 8/10
Number in the set – 6 – Our score: 9/10
Tip style – Flexible brush tip – Our score: 9/10
Permanent – Yes – Our score: 8/10
Washable – No – Our score: 8/10
Available on:
As far as coloring pens go, these alcohol-based Copic markers are the cream of the crop. Professionals and avid hobbyists will agree that these are the best markers for adult coloring books, drawing, or any professional-quality image.
These amazing markers have replaceable nibs and come in vibrant or darker shades with 358 colors to choose from, the largest color variety of any coloring marker.
If just starting to add Copic markers to your art supplies, this six-piece set of primary colors is a perfect choice. The ethanol-based ink guarantees color consistency and the flexible tip allows artists to use the tip on thin paper or the wide thicker body for broad strokes.
Pros
The best markers for adult coloring books or any art that requires fine, consistent lines
Available with dual tips
Vibrant colors
Replaceable nibs are available
Permanent markers
Cons
The price might not be cost-effective for beginners
2. Best Dual-Tip Markers – Prismacolor Dual-Tip Markers
​​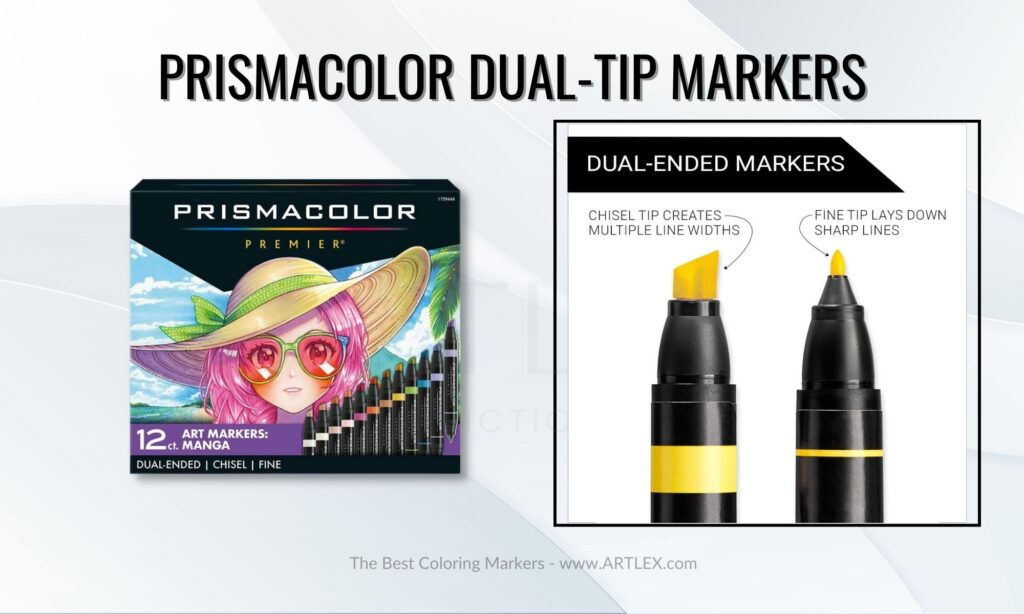 Price – $41.20 – Our score: 7/10
Number in the set – 12 – Our score: 8/10
Tip style – Broad chisel and fine point – Our score: 9/10
Permanent – Yes – Our score: 8/10
Washable – No – Our score: 8/10
Available on:
Adult coloring pens like these Prismacolor markers are ideal for creating bold and expressive lines with their double tips. The thin tip, similar to colored pencils lets artists create fine thin lines while the chisel tip allows beginners or experienced artists alike to create fine or sweeping solid designs.
The brush tips with their alcohol, and dye-based inks guarantee color consistency from both tips. They blend perfectly with their proudly permanent ink marks, especially if using blending markers, and don't bleed.
The 12 colors Manga set include a range of pastel, neon, and skin tones that can be used for Manga drawing, in an adult coloring book, journal, or for young budding artists.
Pros
The double tip makes them versatile for adult coloring books
Create smooth colors
The vibrant colors can be mixed for lighter or darker shades
The fine tip is similar to Fineliner Color Pens
Cons
Thicker paper is best for the darker shades
3. Best Coloring Markers for Adult Coloring Books – Crayola Fine Line Markers Gel Pens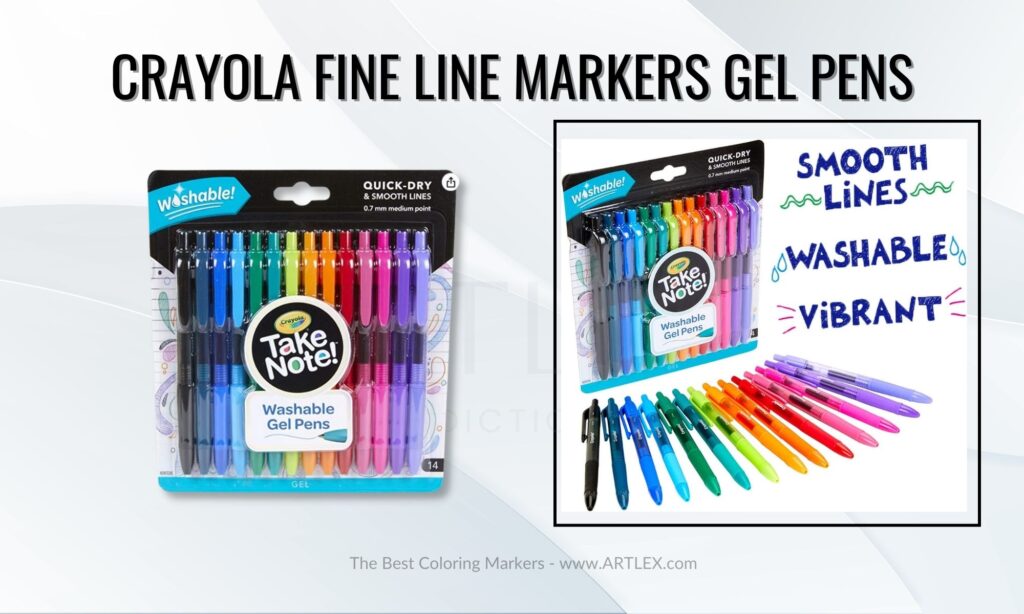 Price – $12.69 – Our score: 9/10
Number in the set – 14 – Our score: 7/10
Tip style – Fine point – Our score: 8/10
Permanent – No – Our score: 7/10
Washable – Yes – Our score: 7/10
Adults or young artists that want a non-toxic alternative to a coloring marker will appreciate these Crayola gel pens. This fine tip marker set is good for coloring books, taking notes, or small drawing projects.
This marker set includes primary colors and has washable ink that will not bleed through thin and fine paper. For artists who love glitter and sparkles, Crayola also sells their Iridescent gel pens for added color that is sure to add creative effects to any coloring book.
While these gel pens work best on lighter colored paper, the vibrant and rich colors can be combined and blended to create interesting and unique color combinations. In addition, the rubber grip makes drawing or sketching for hours more comfortable.
Pros
The best markers as a non-toxic drawing alternative
Available in Iridescent or ombre market sets
Silky ink for smooth drawings
Cons
4. Best Alcohol-Based Markers – Ohuhu Alcohol-Based Colored Markers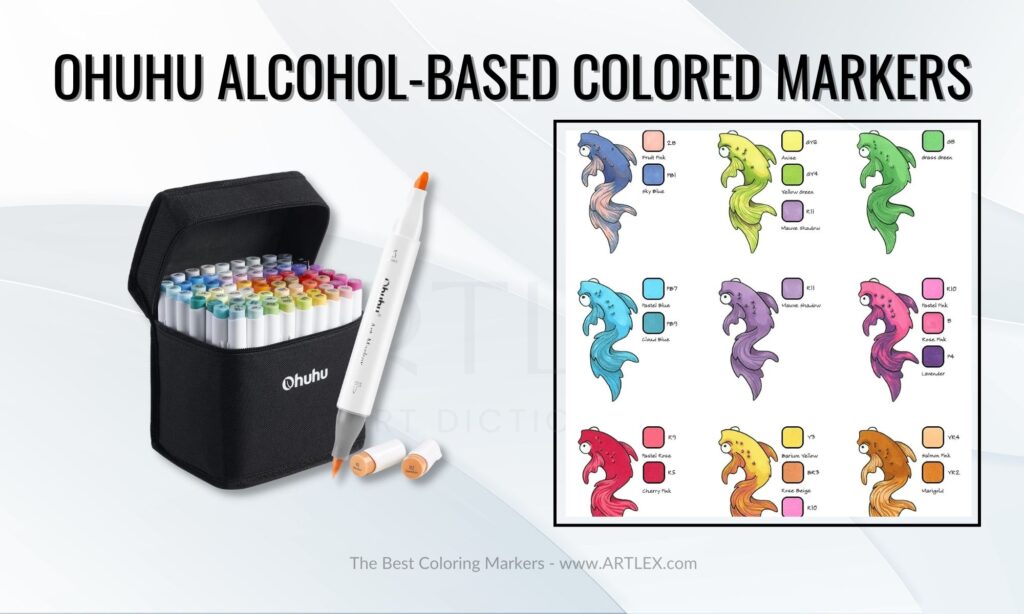 Price – $69.99 – Our score: 7/10
Number in the set – 72 – Our score: 9/10
Tip style – Broad chisel and fine point – Our score: 9/10
Permanent – Yes – Our score: 8/10
Washable – No – Our score: 8/10
Available on:
If color variety and versatility are what you're in the market for then these art markers from Ohuhu are an excellent choice. The 72 colors and their permanent alcohol base make them the best markers for coloring, drawing, or sketching.
Adults who have a collection of coloring books will appreciate the color variety of these coloring pens which includes a range of purples, blues, greens, oranges, and everything in between with handy color-coded caps.
These artist pens' colors remain vibrant for years and the brush tip can simply be turned around if it becomes frayed for double usage. The ergonomic handle also reduces hand fatigue.
Pros
The best marker set for the price, versatility, and color variety
One tip is similar to brush pens for thick or fine drawing
Beautiful pigments
Cons
Some colors don't blend so well
They don't have refills like other brands
5. Best Water-Based Markers – Artist's Loft Water-Based Dual Tip Coloring Markers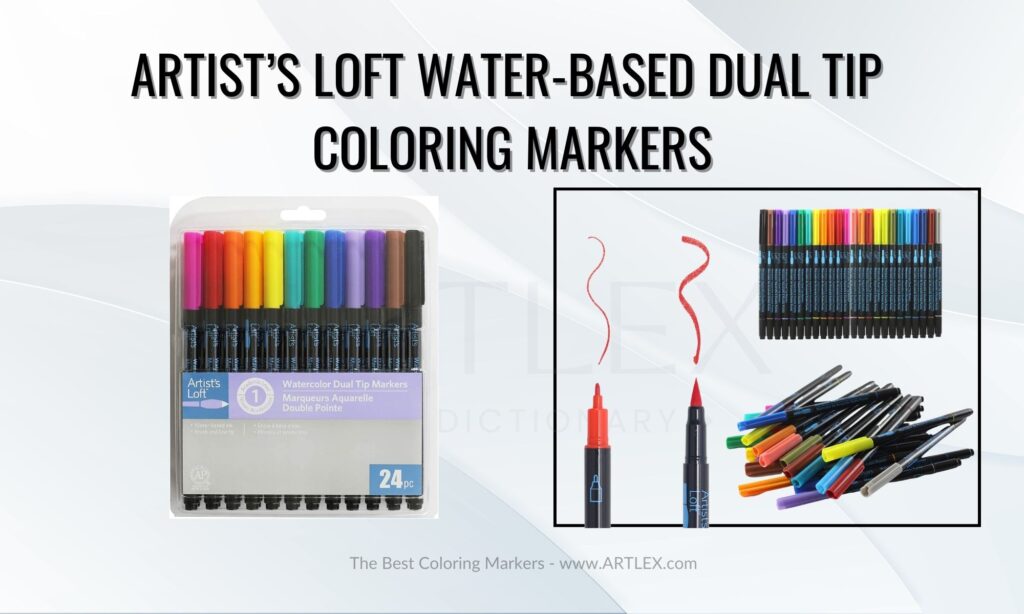 Price – $31.99 – Our score: 9/10
Number in the set – 24 – Our score: 8/10
Tip style – Broad chisel and fine point – Our score: 9/10
Permanent – Yes – Our score: 8/10
Washable – No – Our score: 8/10
Available on:
Unlike alcohol-based markers, water-based coloring markers like these Artist's Loft coloring pens are easily washable. Their water-based ink is non-toxic and they come with a fine tip to draw or color in a coloring book or other drawings that require fine lines.
The fine tips make the best markers for school projects or blending and layering different colors for landscapes. Blending can also be achieved using a paintbrush or blending marker.
The non-toxic ink conforms to ASTM D-4236 standards and includes 24 rich, vibrant, and deep colors.
Pros
Double tips are great as adult coloring book markers
A good starter set for adults and young artists alike
Best for blending and shading on watercolor paper
Cons
Not many skin tone colors included in this set
Conclusion
We hope you found our guide to the best coloring markers helpful. We've covered the best markers for coloring a journal, acid-free paper, or adult coloring books along with our recommendations in various contexts.
We've discussed how you can choose the best-colored markers with fine tips, a chisel tip, or dual tips. Lastly, we've combined our recommendations for the best markers for adult coloring books as well as the best coloring markers with water or alcohol-based inks.
Thanks for reading; we hope our suggestions help you choose the best coloring markers, whether choosing a single marker or an entire marker set with a range of vibrant or dark colors, for your next adult coloring book, sketching, or other art projects.