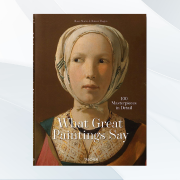 A comprehensive guide dissecting and analyzing the world's most significant paintings, offering insight into the symbolism and visual elements that construct each masterpiece.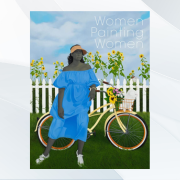 A pioneering compilation of nearly 50 female artists from the 1960s to present day, exploring the female form and individuality through art.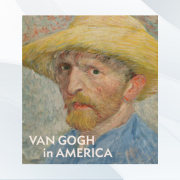 An analysis of Van Gogh's posthumous rise to fame in the USA, showcasing how his art gained recognition and appreciation beyond European borders.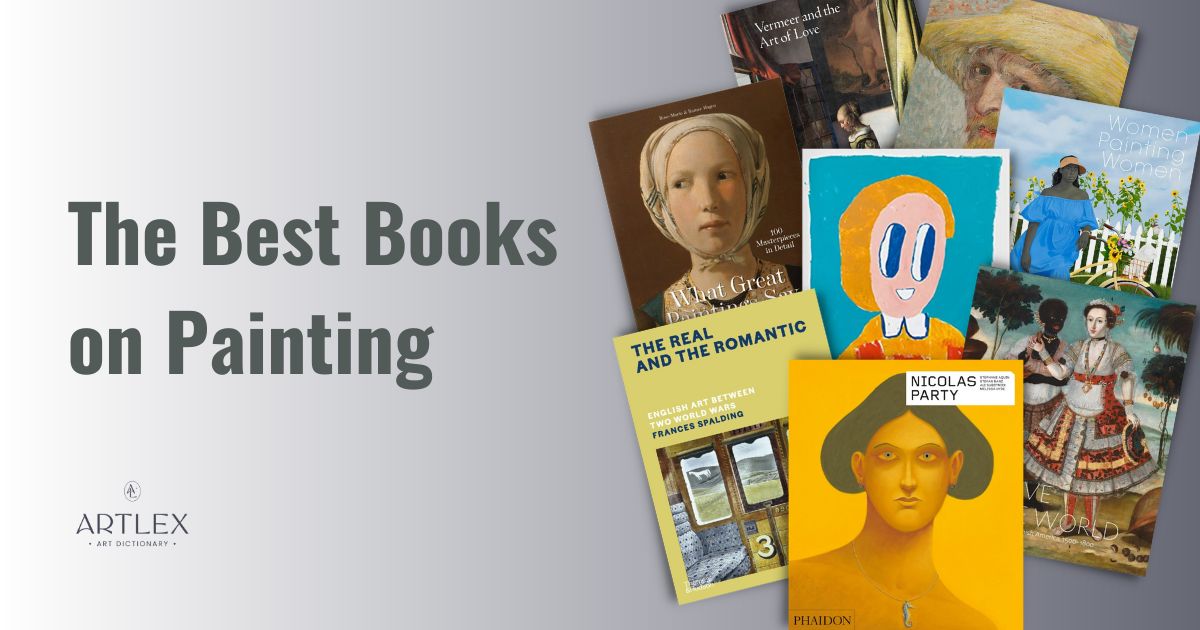 Whether you are an artist or art lover, 2022 is the perfect year to discover new books about timeless paintings. I have compiled a list of the best books on paintings available this year.
Most have not yet reached their release date, so be sure to mark your calendars or preorder them!
Keep reading to discover ten of the most recent best art books about paintings.
Nicolas Party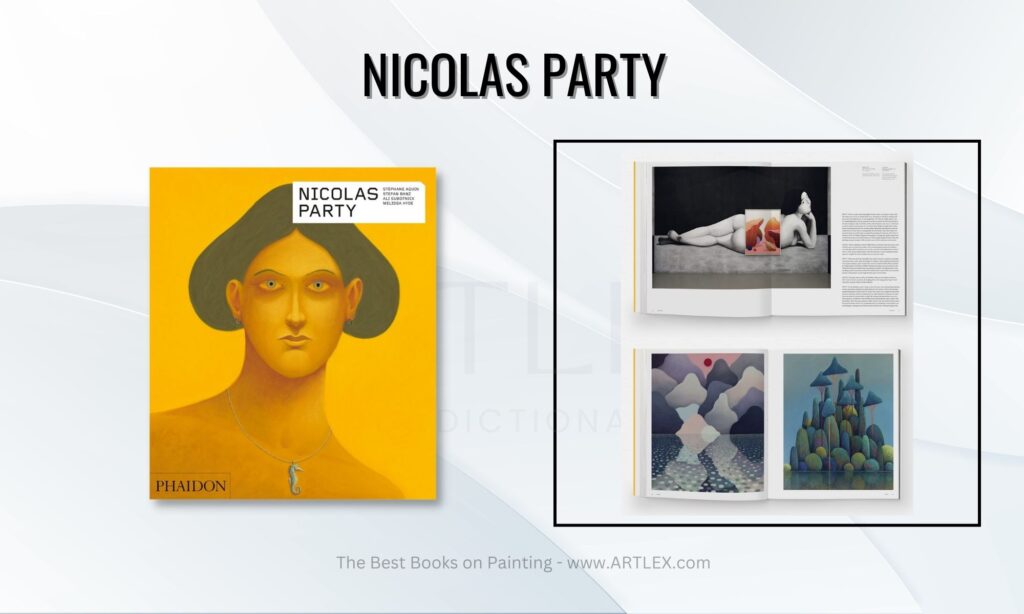 Authors: Stefan Banz, Stéphane Aquin, Ali Subotnick, and Melissa Hyde
Publisher: Phaidon Press
Release Date: February 16, 2022
Pages: 160
Nicolas Party is one of the most celebrated and visionary contemporary artists today. His first monograph is the first book entirely dedicated to his practice and the first to examine his entire career to date, making it a necessary addition for anyone who follows contemporary art.
This book is one of the smaller paperbacks on this list, but its compactness does not compromise the quality. You can enjoy pages of high-definition renditions of his paintings.
Inspired by the color story of Georges Seurat, Swiss-born Party is famous for painting everyday objects and people and elevating them with his use of saturated colors and bold lines. His style is sophisticated yet accessible, and Party uses his fascination with everyday life to translate emotions into his subject – even those usually considered mundane.
This volume combines the varied expertise of four authors, who each approach Party from a different angle and experience. Aquin, the Director of the Montreal Museum of Fine Arts, and Banz, a curator, bring a practical approach to Party's style and influence. Hyde, an art school professor at the University of Florida, and Subotnick, an art writer, bring an intellectual vision to analyze Party's contributions.
André Butzer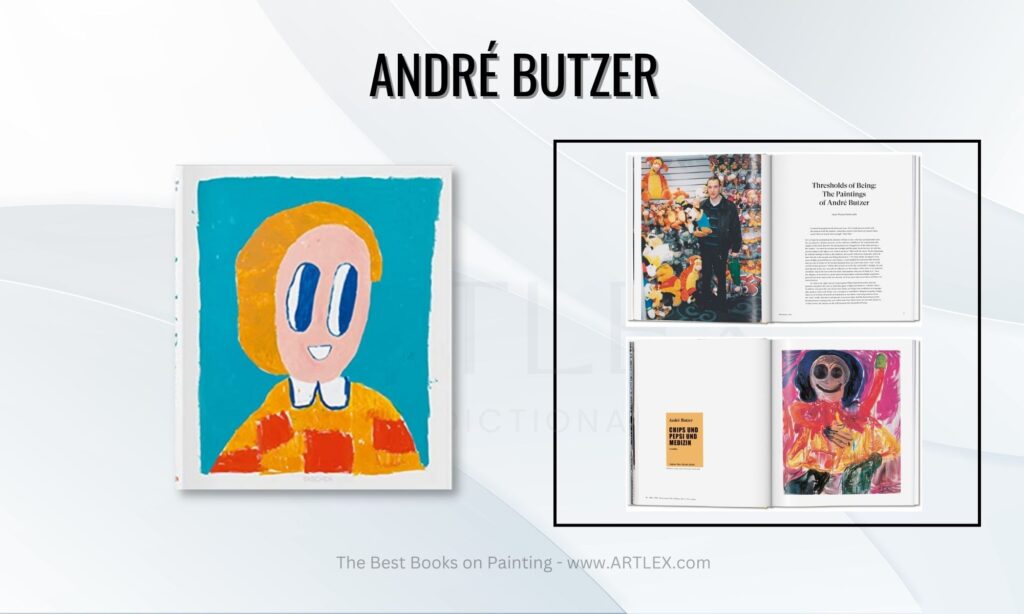 Author/Artist: André Butzer
Introduction: Hans Werner Holzwarth
Publisher: Tauschen
Release Date: February 12, 2022
Pages: 428
André Butzer has created a visionary huge-format book that not only explores his biography and early works but discusses his plans for the future as an artist and intellectual.
Butzer, a German-born artist, has been painting across Europe and the USA for more than 25 years, exploring American pop culture through the lens of European expressionism. He rose to fame with a style the artist has coined "Science-Fiction Expressionism." This style combines painting with fiction and storytelling. Butzer created an entire fictional universe centered around the space colony NASAHEIM.
This book explores Butzer's entire oeuvre from 1999-2021 and beyond, progressing in a way that feels like a story in itself, where each era and painting is its own chapter. The introduction by Holzwarth, a German art professor, contextualizes Butzer's work within the historical and contemporary canons.
Witchcraft. The Library of Esoterica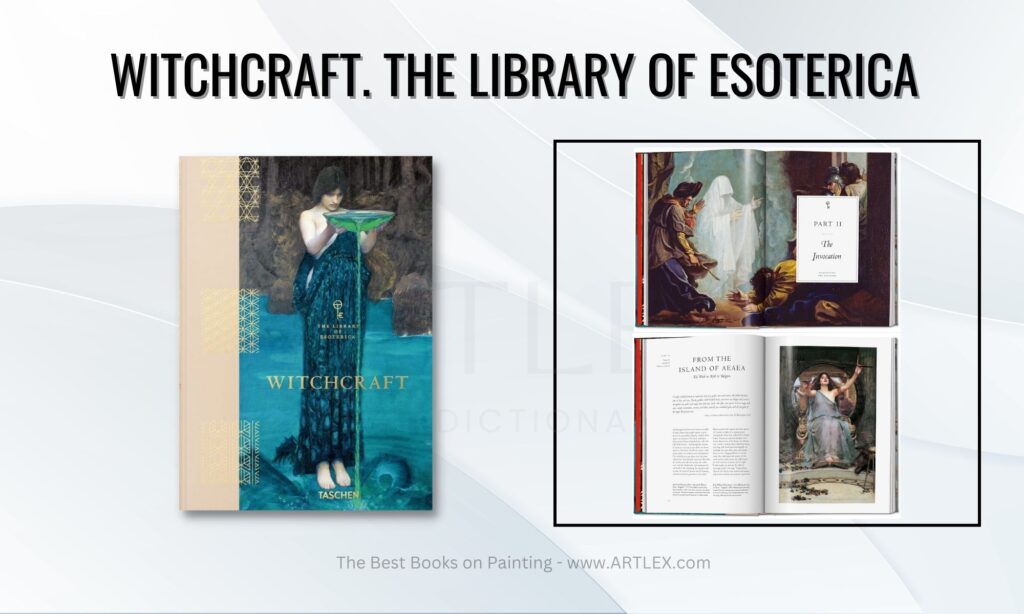 Editor: Jessica Hundley and Pam Grossman
Designer: Thunderwing
Publisher: Taschen
Release Date: October 28, 2021
Pages: 520
This listing is not your classic art book. However, both the beautiful renditions of paintings and the captivating history accompanying them will leave you spellbound. This third volume in The Library of Esoterica explores magical tradition from ancient times to its modern incarnation, spanning centuries of Western history.
This volume encompasses more than 400 works of art, including some of the most famous painted representations of witchcraft. The high-quality art reproductions come with revelatory essays and interviews with modern practitioners, who discuss the fascinating history of witchcraft, from the worship of ancient goddesses to modern-day artists and activists' uses of magick in practice.
The editors Jessica Hudley and Pam Grossman are both preeminent thinkers in the intersection of art and witchcraft. Grossman is an art historian and teacher of magical practice and history and hosts The Witch Wave podcast. Hundley is a journalist who has written about art and magick for many major publications. Both women bring their expertise and creativity to this project, adding a unique perspective to each art piece.
Leonardo da Vinci: Complete Paintings and Drawings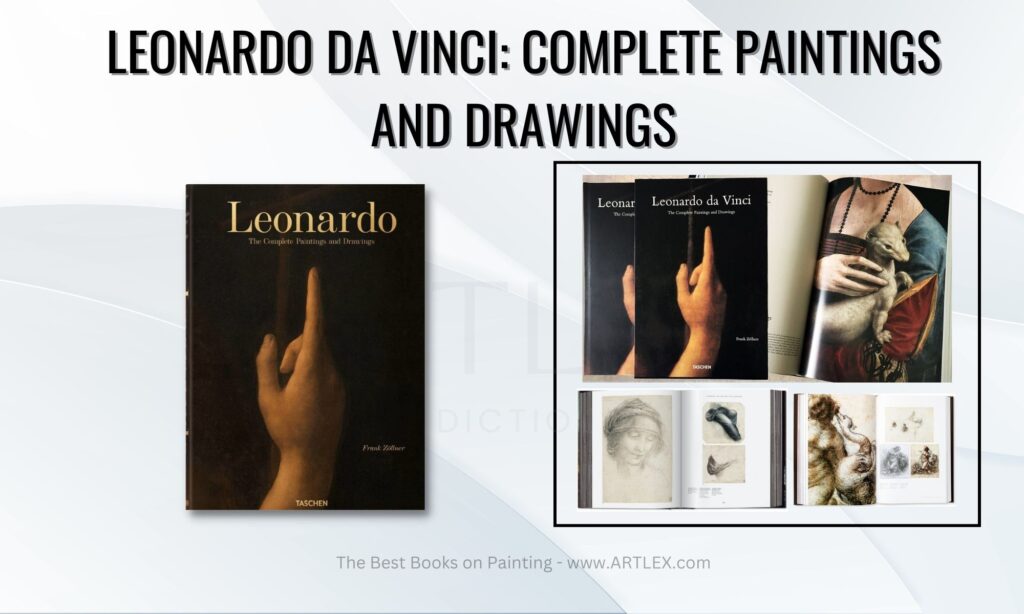 Authors: Frank Zöllner and Johannes Nathan
Publisher: Taschen
Release Date: May 2022
Pages: 712
For true art history fans or connoisseurs who only display the most elite collectibles, there is no book more coveted than the definitive book on the definitive artist, Leonardo da Vinci: Complete Paintings and Drawings. This massive volume covers the visionary Renaissance artist's work and life, with an expansive catalog of nearly 700 paintings and drawings.
No other book has the breadth and magnitude of the collection on display here, an unparalleled demonstration of how da Vinci was the epitome of the Renaissance Man. From diagrams of intricately engineered machines to portraits of cherubic babies, the pages reflect his groundbreaking techniques, visionary perspective, and subtle hand.
More than 500 years after his reign, scholars are still uncovering new dimensions of da Vinci's work and imagination. Frank Zöllner explores these creations in his visionary preface. Zöllner is a preeminent author and expert on Renaissance art, and uses the preface to take a critical look at one of da Vinci's most discussed and expensive pieces, a painting of Christ titled "Salvator Mundi".
Women Painting Women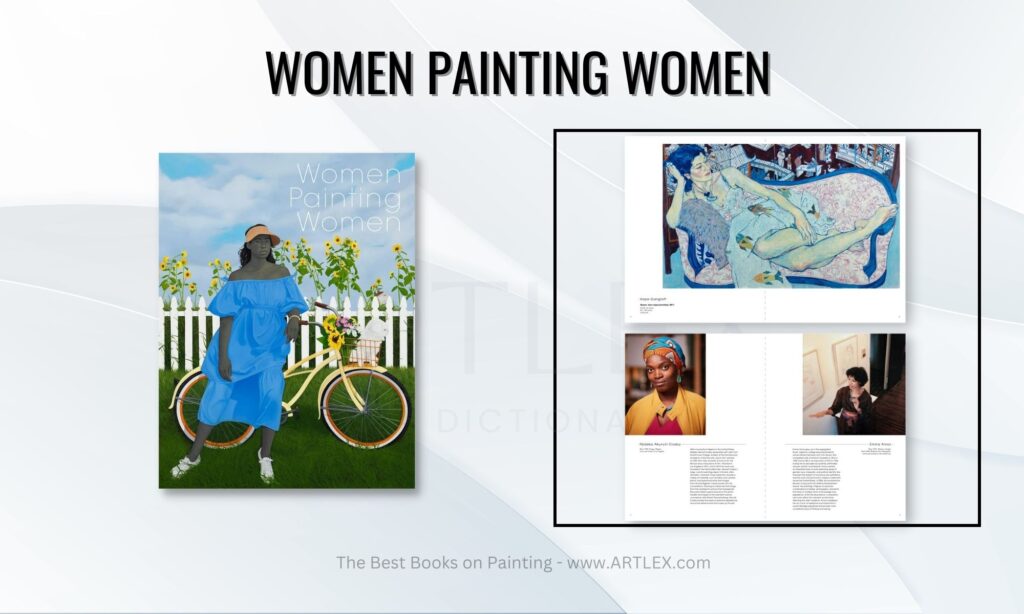 Distributed by: The Modern Art Museum of Fort Worth
Editor: Andrea Karnes
Preface by: Marla Price
Designer: Derrick Saunders
Text by: Emma Amos and Faith Ringgold
Publisher: DelMonico Books
Release Date: May 10, 2022
Pages: 172
From early pioneers like Emma Amos and Alice Neel to new talents such as Jordan Casteel, Somaya Critchlow, and Apolonia Sokol, Women Painting Women includes nearly 50 female artists spanning from the 1960s to the present day.
Women are severely underrepresented in the fine arts world, and these women are even more innovative because their subject matters are also women. The 50 portraits in this book do not just use women as subjects of convenience but explore their bodies, gestures, and individuality. Each portrait has a story to tell, surrounding themes of Nature Personified, Selfhood, Body, and Color as Portrait.
The forward by Marla Price, the director of the Modern Art Museum at Fort Worth, introduces the themes and artists with brevity and wit. Readers will not only enjoy learning from her text but use it to enrich their viewings of each painting.
What Great Paintings Say: 100 Masterpieces in Detail – Rainer Hagen and Rose-Marie Hagen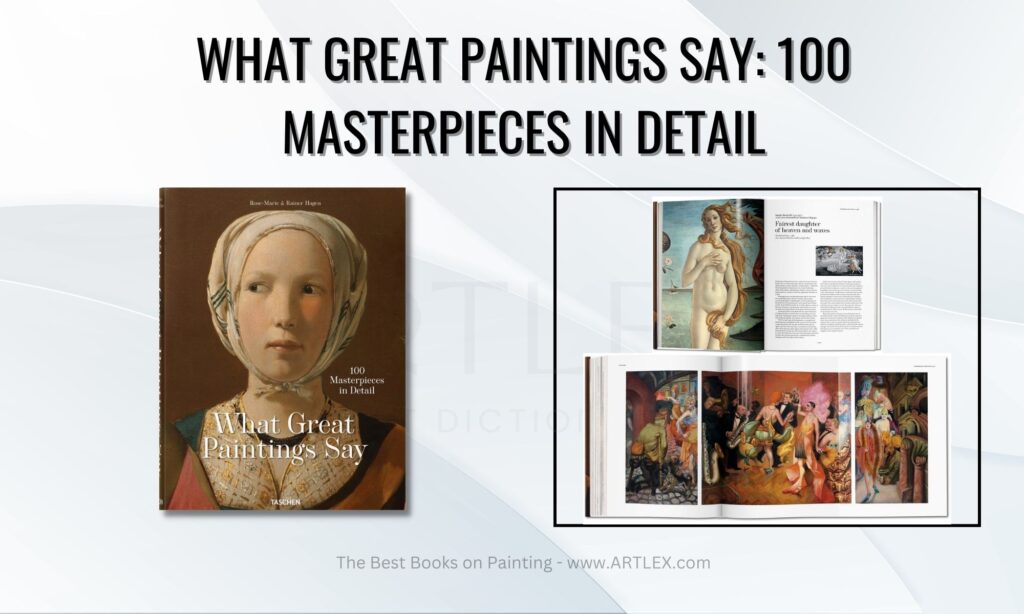 Looks for some deep-dives and formal art analysis of paintings? This is the book for you. Hagen breaks down some of the worlds most familiar and unusual paintings by analyzing the symbols and visual elements, almost like a puzzle.
It's sort of like 100 different mysteries in one, and Hagen guides you through the solution to the complex puzzle that is a fine art painting.
Art students and art lovers will both enjoy this book, but students might find it additionally helpful for their course work and to add some tools to their analytical tool belt. It's not too wonky, however, and it's content is accessible to non-academic readers as well.
It's also got the widest historical span of books on this list, covering books from Ancient Egypt up to the 1920's.
Vermeer and the Art of Love
Author: Aneta Georgievska-Shine
Series: Northern Lights
Publisher: Lund Humphries Publishers
Release Date: September 22, 2022
Pages: 160
The iconic Rijksmuseum in Amsterdam will host the biggest Vermeer exhibit ever produced in 2023, which makes this the perfect time to add Vermeer and the Art of Love to any well-rounded collection. This book captures the complexities of Vermeer's unparalleled portrayal of light and shadow.
Many view Vermeer's work as otherworldly and sometimes bleak, but this book shows it in another context: love. While it looks at romantic love in Vermeer's work, it also explores love in the context of spirituality as a juxtaposition to the assumed Protestant attitude towards a visible world. This book not only explores the love portrayed in the subjects of paintings, but also Vermeer's love of painting itself, reflected in each brushstroke.
Author Aneta Georgievska-Shine, a senior lecturer at the University of Maryland, explores Vermeer's dichotomy between "good" and "bad" love, and how these both relate to spirituality. She places these parallels in the context of Vermeer's contemporaries, adding a historical context that allows the reader to see each piece from multiple perspectives.
Takashi Murakami: Stepping on the Tail of a Rainbow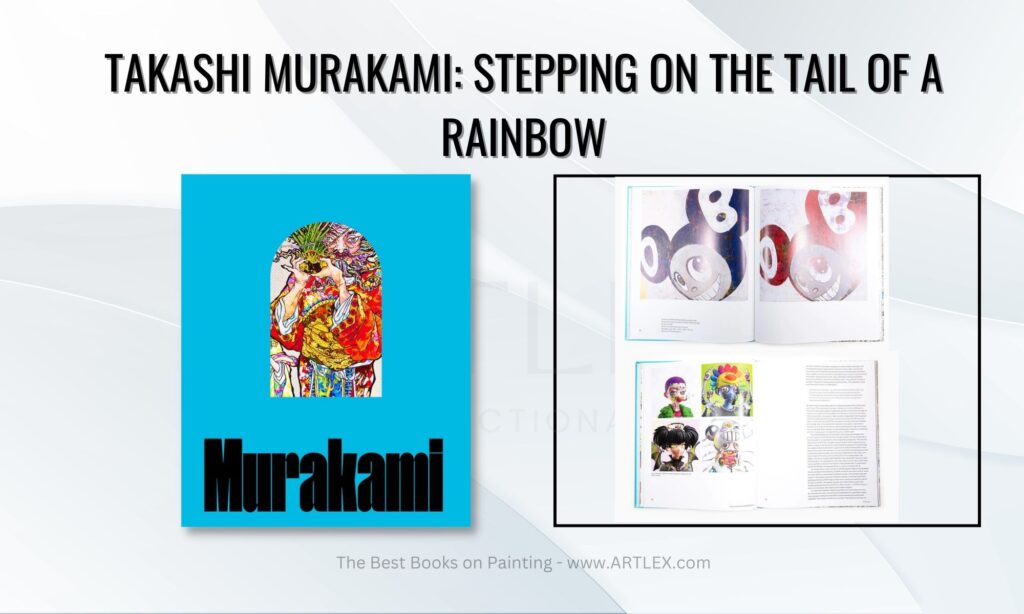 Distributed by: The Broad
Editor: Ed Schad
Foreword: Joanne Heyler
Text: Pico Iyer
Publisher: DelMonico Books
Release Date: June 7, 2022
Pages: 104
Takashi Murakami is a wonderfully varied and innovative contemporary artist whose work has been exhibited in museums around the world and is ubiquitous in Japan. Known for blurring the lines between high and low art, Murakami coined the term "superflat," a political and artistic term describing Japanese artistic tradition and the nature of postwar Japanese society.
Murakami's ideas about society and art are expressed alongside an overview of his practice. The book concentrates on twelve of his most famous pop art pieces from The Broad's collection in this beautifully presented book. The title comes from his largest and most important works, In the Land of the Dead, Stepping on the Tail of a Rainbow (2014), a work so storied it will capture any viewer.
The book also features an essay by famous art critic and curator Ed Shad, and his conversation with Murakami on making art during times of crisis, in the wake of global events like the 2011 Japanese tsunami and COVID-19. High-resolution photographs of the paintings are accompanied by archival material and illuminated illustrations.
Archive of the World: Art and Imagination in Spanish America, 1500–1800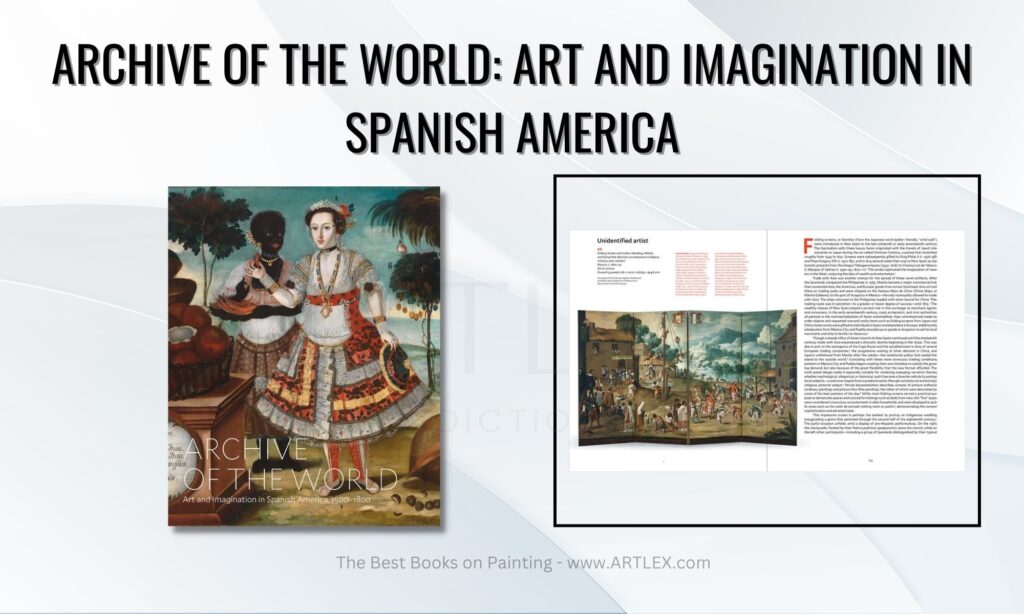 Editor: Ilona Katzew
Designers: Lorraine Wild and Xiaoqing Wang
Distributed by: The Los Angeles County Museum of Art (LACMA)
Publisher: DelMonico Books
Release Date: June 14, 2022
Pages: 392
After the Spaniards colonized the Americas in the 15th century, the region developed a complex artistic style that combined European, Indigenous, Asian, and African influence. Archive of the World is the first comprehensive study of LACMA's collection of Spanish art, primarily composed of paintings but also including textiles and decorative arts.
This volume is arranged in five thematic sections, highlighting the differences and connections between eras and styles. Each section contains beautifully rendered photographs accentuated by historical accounts that bring new insights into each piece, highlighting the aesthetic and narrative qualities.
The editor, Ilona Katzew is the curator and department head of Latin American art at LACMA, and brings her decades of experience and Mexican heritage to the accompanying text, providing valuable context to each painting. Her own writing is supplemented by a conversation with Edward J. Sullivan, the department chair of Art History at New York University.
Interested in some additional book options? Check out our guides on the Best Art History Books and the Best Biographies and Memoirs of Artists!
The Real and the Romantic: English Art Between Two World Wars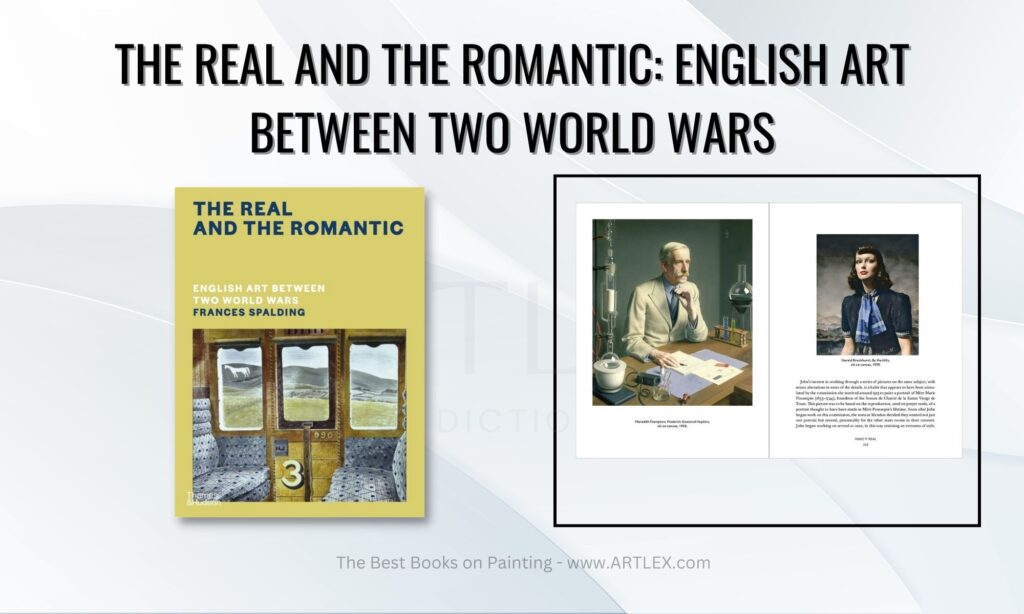 Author: Francis Spalding
Publisher: Thames & Hudson
Release Date: June 14, 2022
Pages: 384
Taking a historical approach to each painting, The Real and the Romantic recognizes that the interest in English art has surged in the past couple of decades. Historically famous British artists like Spencer and Ravilious have been placed in ever-higher value, but this volume shines a light on painters who have been overlooked, especially women, such as Winifred Knights and Evelyn Dunbar.
Each painting lovingly displaced in this book is contextualized by discussions of the dark and sinister mood surrounding the decades between the first and second World Wars. The book explores the era's emphasis on authenticity and realism while still harkening back to the romanticism of the past.
Author Francis Spalding is an art historian, critic, and the preeminent authority on 20th century British Art. She brings both her academic and practical experience to curate this book, applying accessible historical details with contemporary criticism of each painting. Spalding's thematic approach illuminates the connections between artists and the eras they took influence from.
Van Gogh in America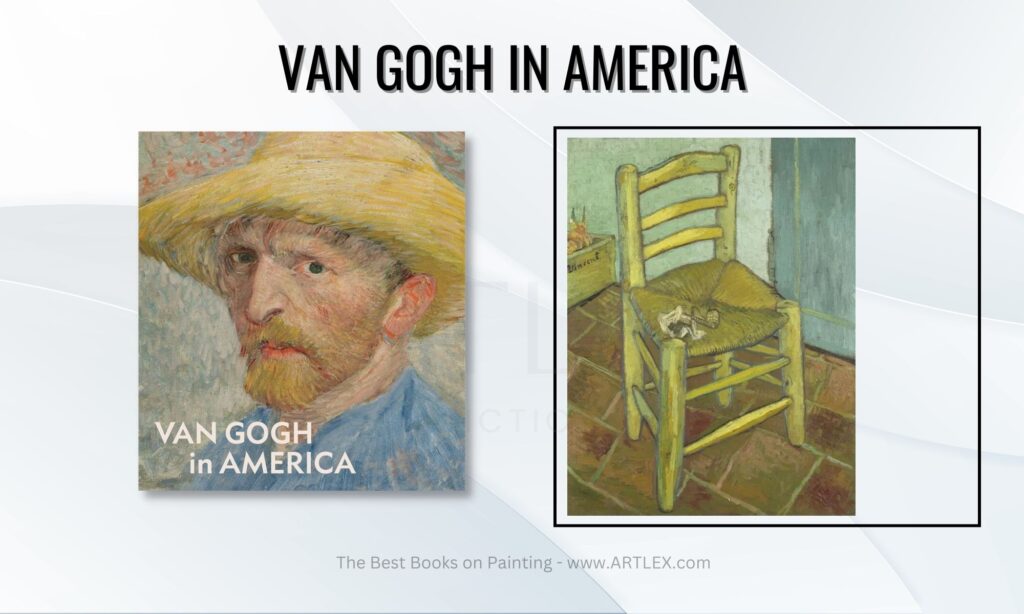 Distributed for: The Detroit Institute of Art
Editor: Jill Shaw
Essays by: Joost van der Hoeven, Chris Stolwijk, Jill Shaw, Rachel Esner, Julia Krikke, Susan Alyson Stein, and Roelie Zwikker
Chronology by: Dorota Chudzicka
Publisher: Yale University Press
Release Date: November 15, 2022
Pages: 256
Beloved and iconic for over 100 years, Van Gogh is seeing even greater acclaim and popularity since the show Van Gogh Alive has drawn thousands of viewers internationally. Although Van Gogh never stepped foot off the European Continent, he rose to fame first in the USA, and only reached international acclaim after being promoted by Americans.
Van Gogh in America explores Van Gogh's posthumous journey from an unknown name to ubiquitous icon across the United States through the efforts of New York private collectors, civic institutions, and the general public who first understood his genius. Part biography, part history, preeminent Van Gogh scholars contextualize the artist's life and legacy.
Jill Shaw edited this can't miss volume, offering her unique perspective as a curator at the Detroit Institute of Arts. Her unique perspective, combined with Yale's prestigious design, makes this volume essential reading for anyone interested in Van Gogh or American history.
Final Thoughts
Any art history student, practical advice seeker, or art collector will find their new favorite art books from the above list. With a combination of classic and temporary artists, you can be sure to find a book on painting that fits your aesthetic and may spark your creativity.
Pick out your favorite books from above, and be sure to preorder them if they haven't yet been released. Happy reading!