The art of crocheting has been passed down through the ages without the benefit of written or visual instructions. Yet, when classes aren't available in your area, you have to rely on other means to acquire this skill. Despite the widespread use and availability of online resources, actual crochet books continue to provide the best instruction for beginners and advanced crocheters alike. Even though it is easier to use your computer for information, it defeats the purpose of crocheting: it is your time to unplug and unwind. A good book and some quiet time away from the screen is an ideal way to do it.
Crochet books contain patterns, instructions, and information on the craft of crocheting. They are typically geared towards individuals who are interested in learning how to crochet or who are looking to expand their crochet skills and knowledge. They often include step-by-step instructions and illustrations to help you along the way and can also include helpful tips and advice for troubleshooting common problems.
In addition to pattern and instruction books, there are also crochet dictionaries, which provide a comprehensive guide to various crochet stitches, and crochet project books, which showcase a variety of crochet projects, from accessories and home décor items to clothing and stuffed toys.
With so many resources available nowadays, it can be difficult to know where to begin, especially when initially exploring a new craft. Choosing the right book might mean the difference between enjoying crocheting and feeling like you'll never be able to do it. The books listed below were chosen with beginners in mind and are based on convenience, visual aids, variety of patterns and stitches, clarity of directions, and an explanation of concepts and objects required to enjoy this art.
Top Product Recommendations for the Best Beginner Crochet Books 2023
A crochet book is an excellent resource for individuals who have never even taken up a hook before, who know only one or two stitches, or who haven't crocheted in years and need a refresher. Ultimately, the best crochet book for a beginner is one that meets your specific needs and interests, so take the time to find one that fits the bill. Have a look at our list below and pick the ones that most appeal to your specific needs.
Overall Top Crochet Book for Beginners: Ultimate Crochet Bible by Jane Crowfoot
Best Crochet Books to Learn Crochet Stitches: Crochet Stitch Dictionary by Sarah Hazell
Best Crochet Books for Minimal Crochet Patterns: Modern Crochet by DeBrosse and Paige Tate & Co.
Best Crochet Books for Tunisian Crochet: Beginner's Guide to Tunisian Crochet by Emma Guess
Best Crochet Books for Edging: Around the Corner Crochet Borders by Edie Eckman
Best Book for Troubleshooting Crochet Patterns: The Crochet Answer Book, 2nd Edition by Edie Eckman
1. Overall Top Crochet Book for Beginners—Ultimate Crochet Bible by Jane Crowfoot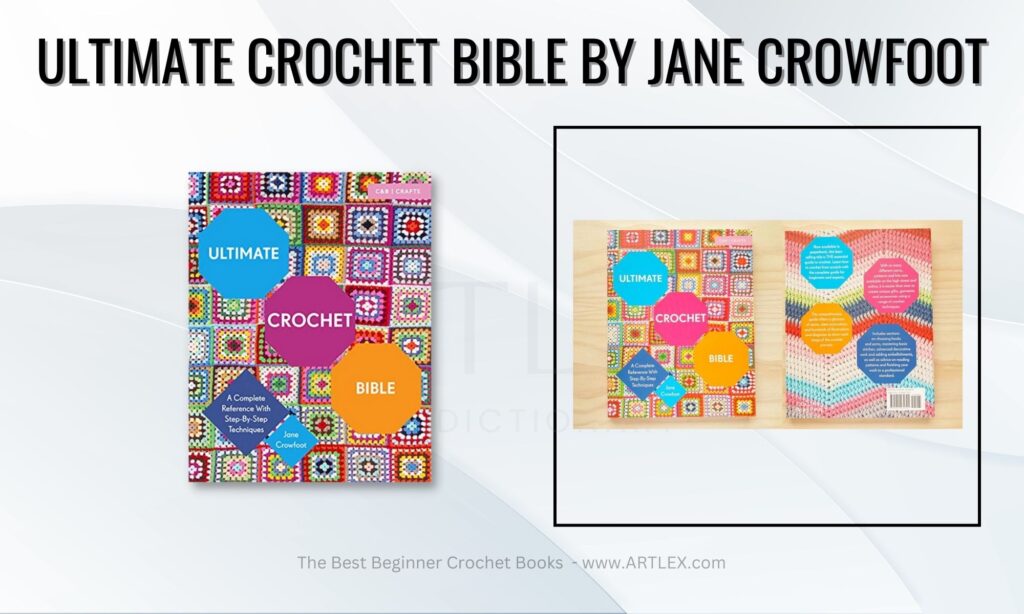 About The Ultimate Crochet Bible
This beginner's book is a good resource for anyone just starting with the craft. Jane Crowfoot learned to knit on her own after being inspired by her grandmother's blanket project. She then went on to study textile design at Winchester School of Art before becoming a design consultant for Rowan Yarns.
This book isn't so much a pattern collection as it is an in-depth look at a variety of crochet methods through text, illustrations, and photographs. Following a brief overview of the art, it delves into Tunisian and entrelac crochet, as well as the use of color, beads, and sequins, before concluding with a discussion of ornamentation and professional finishing techniques, so you know you will keep it as a reference book for years to come.
This is one of our favorite crochet books as it is one of the most cost-effective ways to learn quick crochet projects. It is less expensive than taking a crochet class since you can refer to it as frequently as you like, allowing you to get the most out of your investment. Starting with simple patterns, rather than sophisticated and intricate ones, will also build confidence in the craft. This will allow you to master the fundamentals before going on to more advanced stitches.
Pros:
Published in the UK; you may find stitch references in both US and UK names
Offers instructions for left-handers
Beginner-friendly patterns
Cons:
Too densely packed with information and images
2. Best Crochet Books to Learn Crochet Stitches—Crochet Stitch Dictionary by Sarah Hazell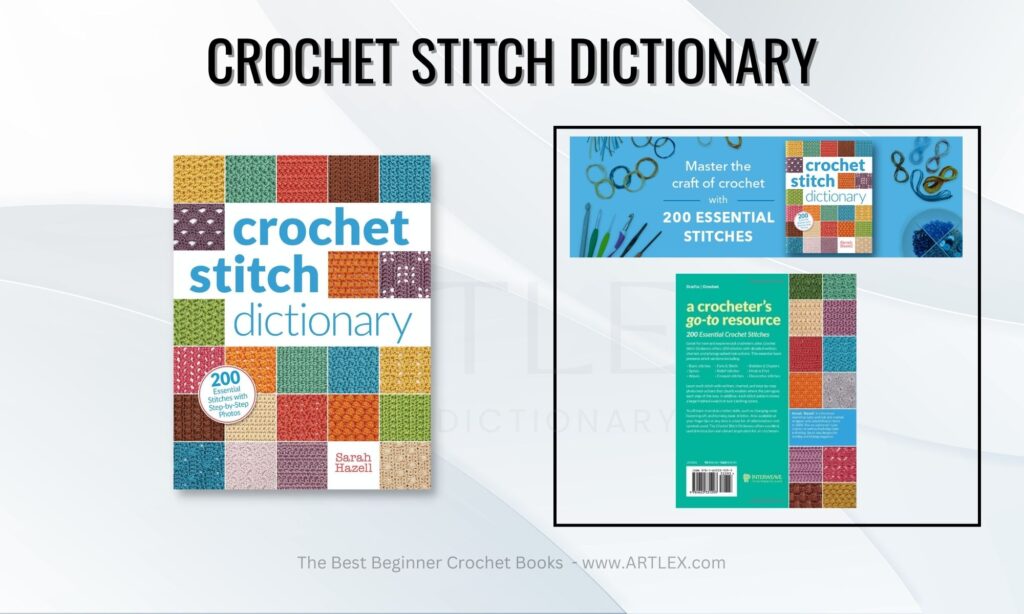 About The Crochet Stitch Dictionary
Finding a crochet project you enjoy and being encouraged to learn how to do it is a wonderful thing until you come across phrases like "arcade stitch" and "herringbone half double stitch," and everything becomes complicated. This dictionary is an excellent reference book that includes written, charted, and photographed instructions for 200 stitches and stitch patterns, allowing you to learn at your own pace and on your own time and finish your project the best manner you know how: your own.
When it comes to crocheting, there are several stitches to choose from, all of which are small variations of one another. Trying to keep up is a chore, so by keeping this book near your yarn supply, you are less likely to avoid a difficult design and more likely to produce great work. This crochet glossary can be quite useful for both beginners and advanced crocheters.
Pros:
Basic crochet stitches with illustrated instructions
Beginner to advanced, complete reference of various stitches
Cons:
Need to learn to read crochet first to be able to follow crochet pattern books
3. Best Crochet Books for Minimal Crochet Patterns—Modern Crochet by DeBrosse and Paige Tate & Co.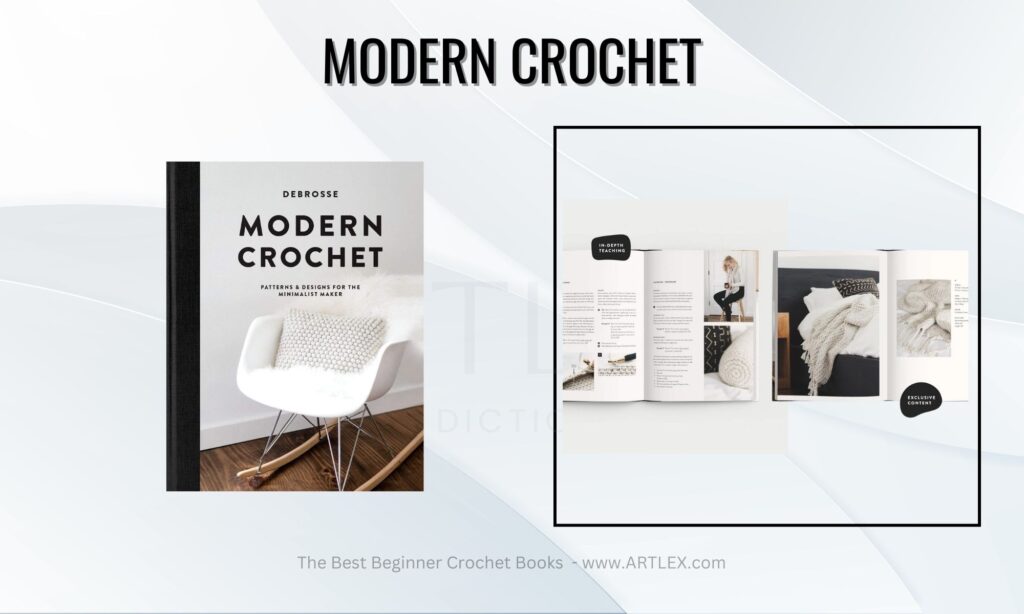 About Modern Crochet
Minimalism allows us to focus on our most important goals in life, and one of crochet's many benefits is the mental peace it provides. Moving in a repeating pattern, like conventional meditation, can be comforting. This book's written instructions, 150 illustrations, schematics, and step-by-step images can be especially useful for crochet beginners.
The 15 basic stitches, as well as 16 crochet motifs, are depicted in sufficient depth to aid in the understanding of the various crochet stitches and techniques, even for a complete beginner. On each project, you will receive video tutorials as well as access to the related online resource library with materials and support.
Overall, this is a good book for learning how to crochet products like beanies, scrunchies, and infinity scarves. This complete guide allows you to follow instructions, so the finished project will not disappoint.
Pros:
Good clarity of instructions
Video tutorials
Modern makers book of different stitches for minimal designs
Cons:
Small font can make it challenging for some crocheters to read
Lack of edging patterns
4. Best Crochet Books for Tunisian Crochet—Beginner's Guide to Tunisian Crochet by Emma Guess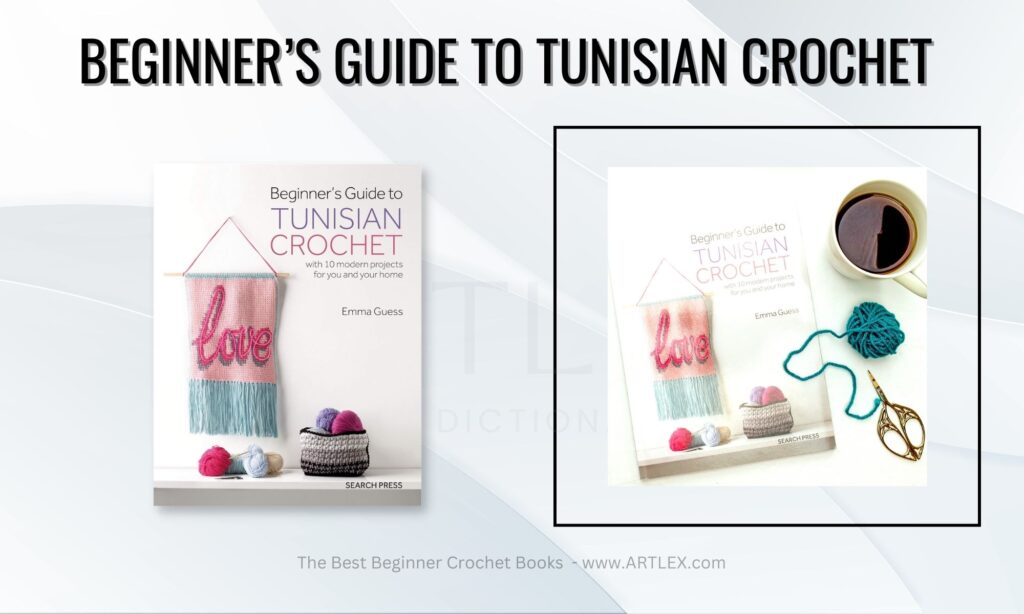 About The Beginner's Guide to Tunisian Crochet
Crochet stitch books include a wide range of topics, including granny squares, z crochet, filet crochet, and amigurumi books. All these are fresh ideas for timeless techniques, and Tunisian crochet stitches are one way to learn to crochet. You learn essential crocheting skills to be used across the board, however, with Tunisian crochet, the crochet hooks are replaced with a long cable with a stopper at the end.
This lovely stitch is the product of a deft blend of knitting methods, and as there aren't many how-to books on Tunisian crochet, mastering the basics might be challenging. This book serves as a complete reference to the many stitches that may be achieved with the proper yarn and tools, as well as techniques for full projects.
Emma Guess teaches you how to use the Tunisian crochet technique to create a wide range of attractive and functional items. This pattern book is an excellent resource for both the beginner and advanced crocheter, as it begins with the fundamentals of Tunisian crochet and then shows how to tweak those skills to create unique patterns and textures. Along the way, you learn about yarn substitutions that are best for each pattern and your overall tasks.
Emma starts by explaining the basic stitches with clear, step-by-step images, and then she shows how to mix stitches and color changes to create unique textures. There are three simple projects to get you started, followed by ten more complicated and current designs that you may construct using the principles you've learned in the book. Crocheted products include a thick blanket, matching mittens and scarf, a shoulder bag, a chevron pillow, and more. The range of projects is enough to pique a beginner's interest while still being valuable to seasoned crocheters, allowing you to increase your abilities and confidence as you proceed.
Pros:
Good mixture of crochet motifs
New stitches, even for a traditional crochet master
Detailed instructions for basic techniques and whimsical stitches
Cons:
Images are too small for some readers
5. Best Crochet Books for Edging—Around the Corner Crochet Borders by Edie Eckman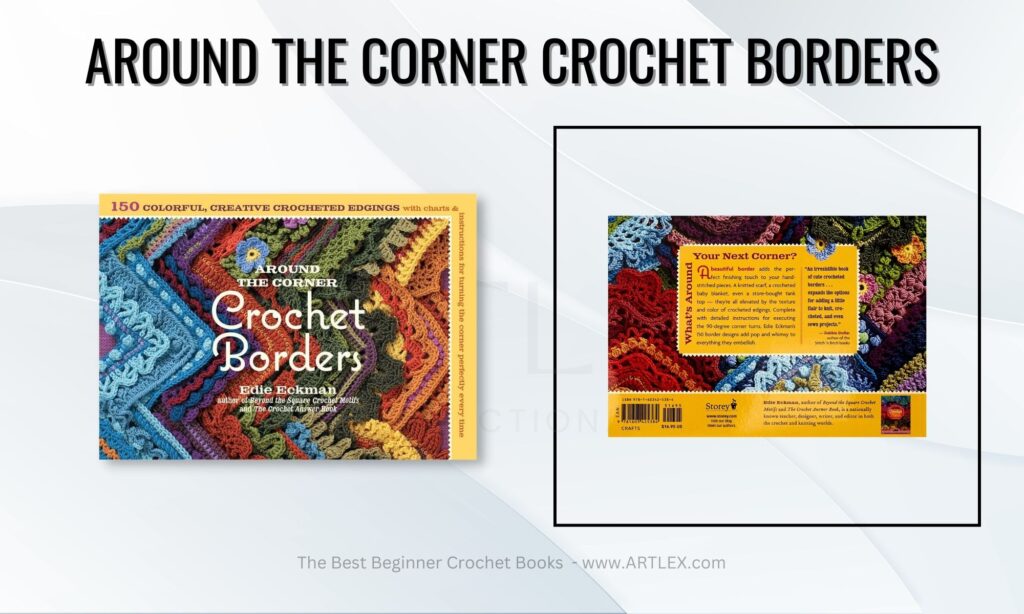 About Around the Corner Crochet Borders
One would think that all crochet books would include instructions on how to go about making the perfect border for your work, but this is not always the case. However, adding a crochet border to your project is the ideal approach to finish it off, but doing so usually means that you have a very good grasp of what you are doing, as you will need to work at an awkward angle with no room for error. Edie Eckman provides 150 alternative colorful crochet frames to fit any fabric project, and John Polak's color photographs bring out the fine intricacies of each method.
This is an awesome book with instructions for adding crochet edgings to knitting, fabric, and felt, as well as mathematical guidelines for creating the perfect corner edgings. This book, while specialized, provides a wide range of designs and techniques, allowing you to learn and try new things as your crochet journey progresses.
Pros:
All the patterns from the cover can be found in the book (and yes, this is not always the case with crochet books)
Wonderful patterns for a variety of crochet projects
Cons:
No photo index, so it is hard to locate the design you want to learn
6. Best Book for Troubleshooting Crochet Patterns—The Crochet Answer Book, 2nd Edition by Edie Eckman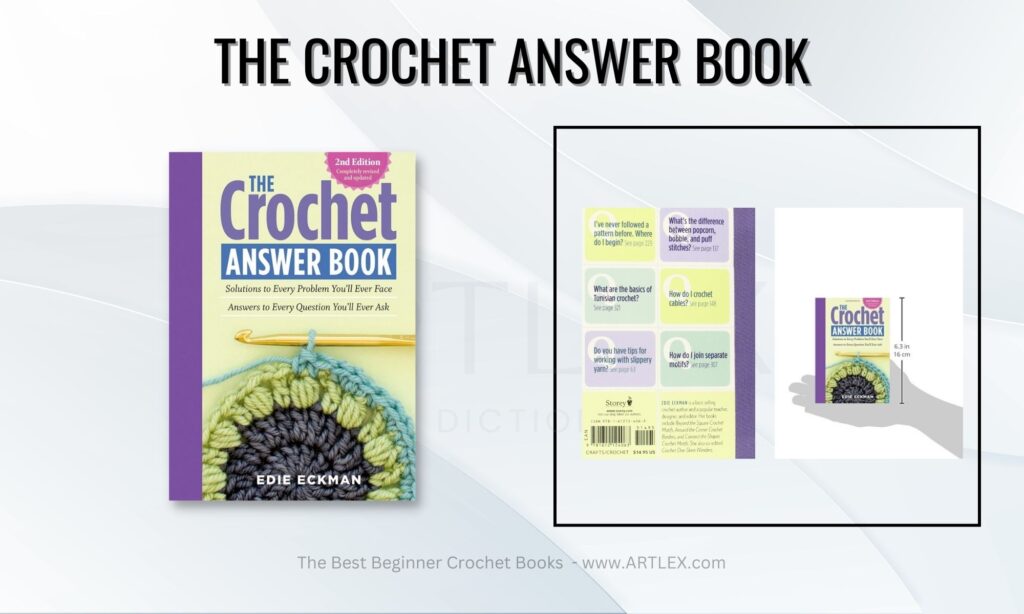 About The Crochet Answer Book
If you are looking for a crochet book that will help beginner crocheters and seasoned artists alike, you might want to look into the Crochet Answer Book by Edie Eckman. This iconic Q&A reference book has been revised with helpful answers to almost any pressing crochet question you can have. Only a few books can provide so much information, in such a compact size.
This book is so compact and portable, so you can easily take it with you on the go. This makes it easy to continue learning and practicing your crochet skills, even when you're away from home.
From introductory basics like yarn types, new stitches, and required tools to extensive sketches of more advanced methods, Eckman will provide clear guidance and plenty of encouragement. The Crochet Answer Book is packed with expert instruction on every page, with drawings for left-handed crocheters and suggestions for granny squares, the anatomy of patterns, buttonholes, and more.
Pros:
Crochet hook in-depth explanations
Step-by-step techniques for beginner crocheters
Textured stitches demonstrated in detail
Cons:
Images are not very clear, mostly due to the book's compact size
Conclusion—The Top Crochet Books for Beginners 2023
Overall, learning crochet from a book is a great option for those who are looking for a flexible and affordable way to learn this craft. Whether you're a beginner or an experienced crocheter looking to expand your skills, there is likely a crochet book out there to meet your needs. Yet, as a beginner, it can be overwhelming to choose the right crochet book.
If you are looking to crochet cute critters, you need to start with the basics, and the Ultimate Crochet Bible, by Jane Crowfoot, is a great place to start for beginner crocheters, as it holds all the information you need to understand how and why you use each tool and how to follow patterns.
Teaching crochet, on the other hand, should also explain how to add borders to your work. Around the Corner Crochet Borders, by Edie Eckman, does just that: it lets you finish your crochet stitch on a happy note.
We hope you found our analysis of the top crochet books for beginners of 2023 to be helpful. Consult our associated guides for further sources of comparable items for the artistic lifestyle.