The Encyclopedia of Origami Techniques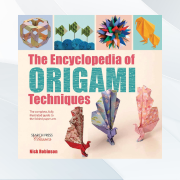 A comprehensive origami guide covering basic to advanced techniques, ideal for artists of all levels.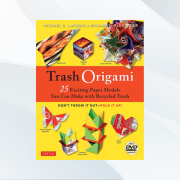 A unique guide combining origami with upcycling, perfect for those who want to turn everyday paper into art.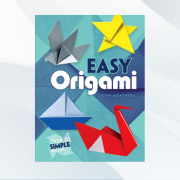 A beginner-friendly guide with a variety of projects, helping children explore origami from simple to complex levels.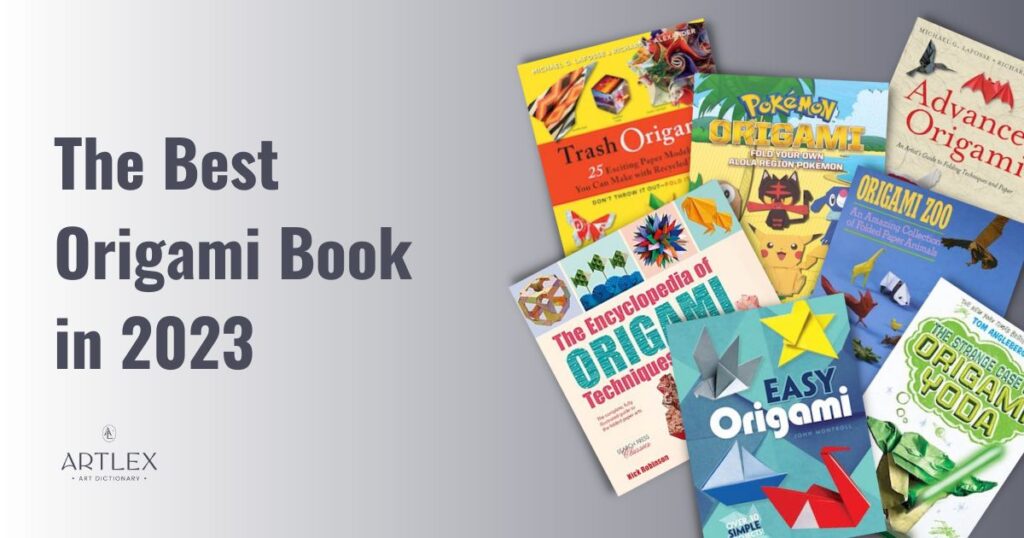 Origami, the Japanese art of paper folding, may be a soothing pastime or a frustrating one, depending on the intended result and years of practice.
Since paper deteriorates over time, pinpointing when origami was first created is difficult. Most historians agree that paper was first created by Cai Lun during the eastern Han dynasty. Around the sixth century, Japan was one of the earliest places in the world to begin using paper for pastime entertainment, and the art of paper folding was born.
Paper being a cheap craft item, people nowadays are interested in learning how to fold origami figures. However, origami was initially a hobby reserved for the wealthy.
As the price of paper dropped, more people were able to afford to make origami figures as presents or fold their own greeting cards and envelopes. Educators began using origami in their lesson plans because of the many mathematical ideas included in the folding process.
Sembazuru Orikata by Akisato Rito was the first book devoted to the art of origami and was released to the public in 1797. Rather than being a manual, this book focused on cultural norms.
Orikata was the original name for origami (folded shapes). However, the art was not dubbed "origami" until 1880. Originating in Japanese, the word "origami" combines the verb "oru" (to fold) with the noun " kami" (paper).
Yoshizawa developed the most specialized method of wet-folding origami, which entails spraying paper with a fine mist of water to produce folds with a rounder, more sculptural shape.
To this day, thousands of people all around the world continue to practice the ancient art of origami, which consists of folding and sculpting paper. It's a satisfying hobby that requires few resources, making it suitable for people of all ages and skill levels.
Nowadays, origami hobbyists and experts alike are often looking to expand their knowledge of basic and advanced techniques or simply searching for genuine origami books, but may be a little less familiar with finding the appropriate books with step by step instructions or more challenging figures.
Choosing the correct book can be difficult, as you can't always know the level of origami design included. In our guide, we will discuss the most appropriate choices for children, advanced techniques, and for those looking for challenging models, as they will require specific choices.
Selection Criteria for the Top Origami Book – Buying Guide
Consider whether you'll need origami paper in addition to the book before making a purchase. Check to see whether you'll need any others materials as well; many books will include everything you need, but some won't.
Level of Modern Paper Folding Methods
There are literally hundreds of origami books available, each one written for a certain audience and level of expertise. We have made sure to add something for everyone in our guide; some have step-by-step instructions and DVD video lessons for novice origami hobbyists, all the way to whole origami projects, multi-dimensional shapes and advanced paper folders for the seasoned origami expert.
Types of Origami Art:
The book you buy will make a difference depending on the school of thought you favor and the style of origami you want to see as the end product.
Action Origami:
Traditional origami models are usually static, but there are other designs for moving objects that fall under the action origami category. Flying origami, origami that needs inflation, and origami that, once folded, uses the kinetic energy of a person's hands are al examples of this category. Robert Lang's instrumentalists are an excellent illustration of this idea; when their heads are detached from their bodies, the figures' hands begin to move in a manner suggestive of making music.
Modular Origami:
In modular origami, multiple identical units are assembled into a larger whole. Modular origami differs from traditional origami in that the individual folds can be fastened together with thread or glue to create decorative folding balls like kusudama.
Wet Folding Origami:
Wet-folding is a method in origami for creating non-geometric, curved forms as opposed to those with flat, straight folds. When the paper is wet, it may be easily shaped, and the dried model retains its original form.
Strip Folding:
Strip folding is a hybrid of the folding and weaving techniques used with paper. The Lucky Star is a popular strip-folding example of this type of origami art.
Teabag Origami:
Teabag folding is thought to have been created in 1992; using square pieces of paper printed with symmetrical designs, the pieces are folded in such a way that they interlock to create a three-dimensional representation of the design. Using the same kite fold, you can make rosettes that are a three-dimensional take on the two-dimensional pattern.
Top Product Recommendations for the Best Origami Books in 2023
Overall Top Origami Book: The Encyclopedia of Origami Techniques
Top Origami Book for Everyday Origami Paper: Trash Origami
Top Origami Book for Children: Easy Origami
Top Book for Advanced Origami Techniques: Origami Zoo
Top Book for the Origami Expert: Advanced Origami: An Artist's Guide to Folding Techniques and Paper
Best Origami Book for Yoda: Strange Case of Origami Yoda
Best Pokemon Origami Book: Pokémon Origami
1. Overall Top Origami Book—The Encyclopedia of Origami Techniques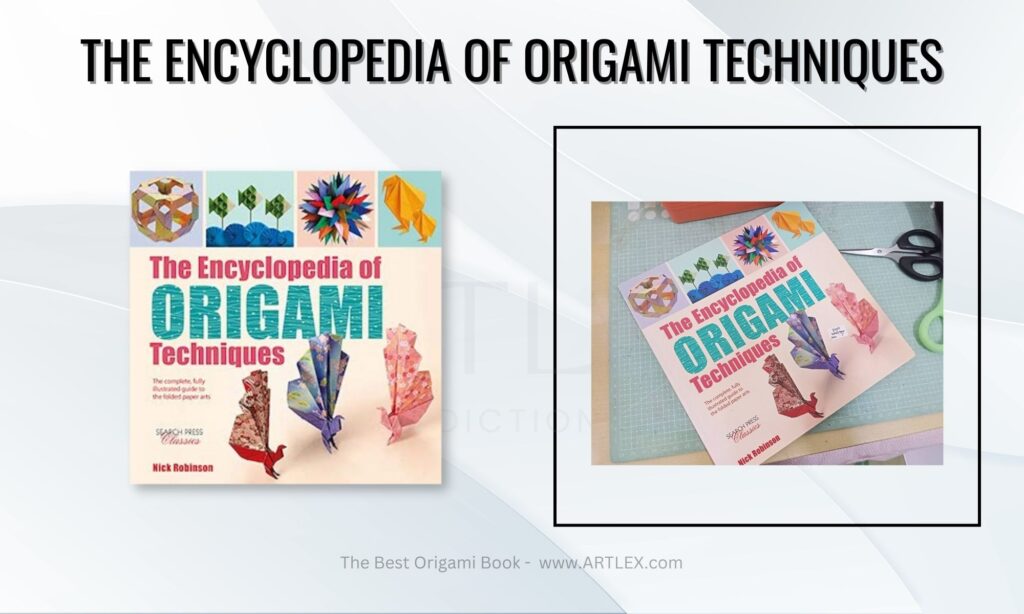 Origami Books Selection Criteria
Author – Nick Robinson
Level of origami art – Beginner, intermediate, expert
Type of origami art – Modular, strip folding, teabag
About The Encyclopedia of Origami Techniques
The Encyclopedia of Origami Techniques is a comprehensive reference on the art of paper folding, complete with illustrations and clear instructions for making your own origami sculptures. All the fundamental folds and foundations are covered, and more than 30 projects are provided, all of which are accessible to both novice and seasoned artists thanks to clear, easy-to-follow diagrams. By the course of this book, the reader will learn to master traditional shapes, such as the Printer's Hat and Masu Box, as well as new masterpieces, such as the Square Bear and Elias Figure Base.
Pros:
Wide variety of projects and levels
Clear instructions and diagrams
Cons:
No origami paper is provided
2. Top Origami Book for Everyday Origami Paper—Trash Origami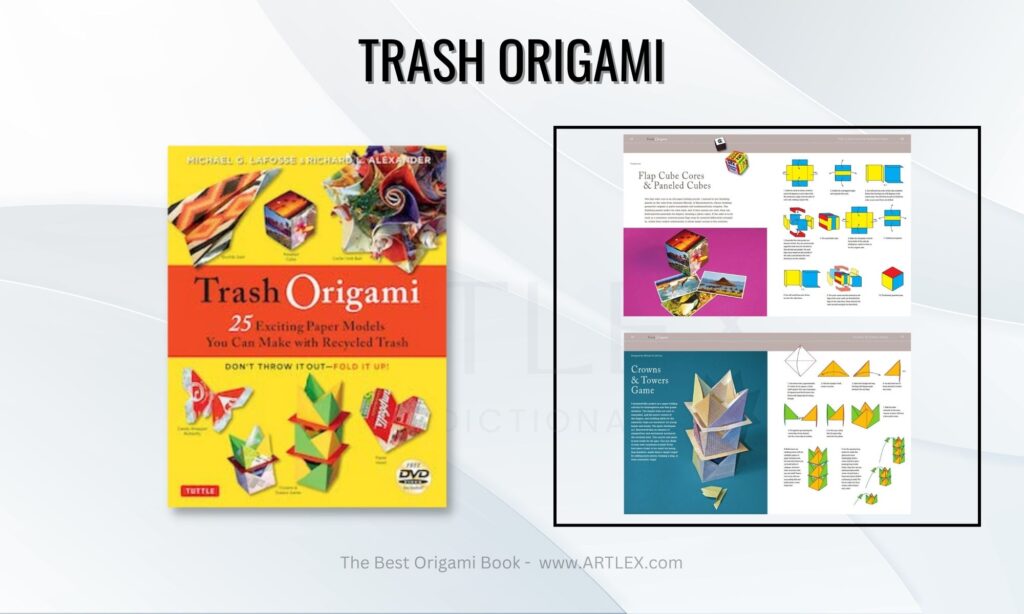 Origami Books Selection Criteria
Author – Michael G. LaFosse, Richard L. Alexander
Level of origami art – intermediate, expert
Type of origami art – Modular, teabag, action
About Trash Origami
This is a book that connects the past with the future: the art of paper folding with the art of upcycling. With the use of any trash paper that you can find, as long as it is somewhat unwrikled and can lay flat, the authors of this book guide you to create art. On top of teaching models, there is a wealth of data on the subject of the mental processes involved in the design of origami structures, as well as information on the use of a wide range of unconventional materials.
There are 25 different origami models presented in this 95-page book, several of which are LaFosses' own creations along with four other origami artists. Modular decorations and practical models like custom-bound books, snack bag wallets and flapping bird envelopes are all represented here. The accompanying DVD, which can also be downloaded or watched online, is a great touch as the harder models, such as the pinwheel envelopes, are somewhat complicated.
Pros:
Good use of junk mail paper
Zero cost for specialized paper
Cons:
Michael LaFosse usually gives more sophisticated ideas, than what is depicted in this book
Electronic origami book versions are not easy to follow
3. Top Origami Book for Children—Easy Origami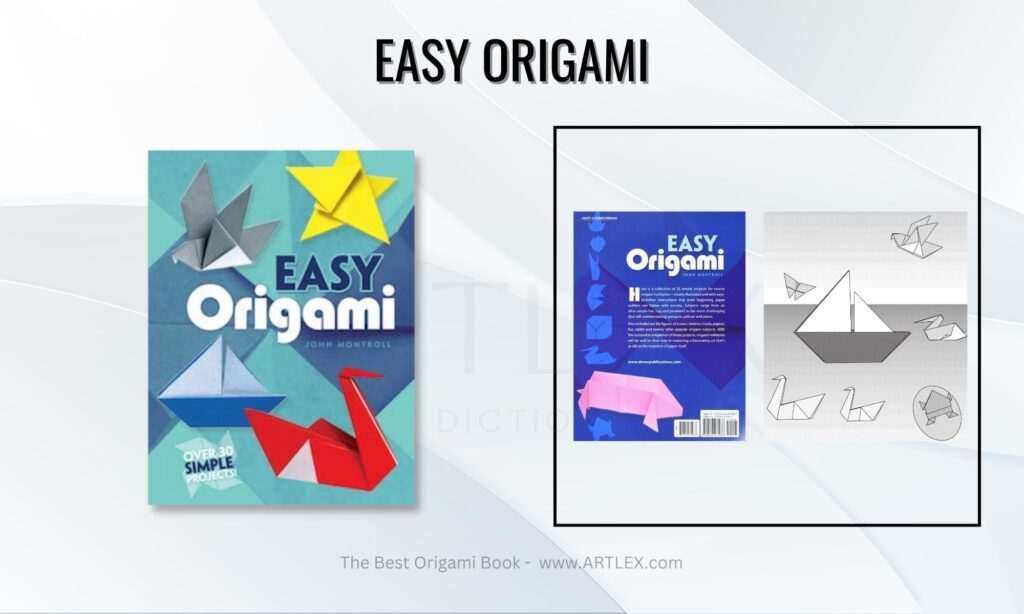 Origami Books Selection Criteria
Author – John Montroll
Level of origami art – Beginner
Type of origami art – Modular, teabag
About Easy Origami
You can explore abstract ideas from number sense to geometry with your students or children with the help of this book, written with origami beginners in mind. More than 30 projects, from the most simple to the most complex, are detailed and illustrated throughout the book's 48 pages. Basic folds will help children learn origami with the use of helpful diagrams. The easy to follow instructions along with bright colors will be sure to catch their attention for long time periods.
The inclusion of more complex models in a book aimed at beginners is a terrific approach to keep you interested in the art once you've mastered the basics. Among the many unusual subjects included in this book are a swan, a lantern, a pelican, and even a piano.
Pros:
Beginner-friendly, many steps and viewpoints to understand each move
Basic techniques to get you started
Includes some intermediate art as to stay interesting even after mastering the basics
Cons:
The book format is in black and white
4. Top Book for Advanced Origami Techniques—Origami Zoo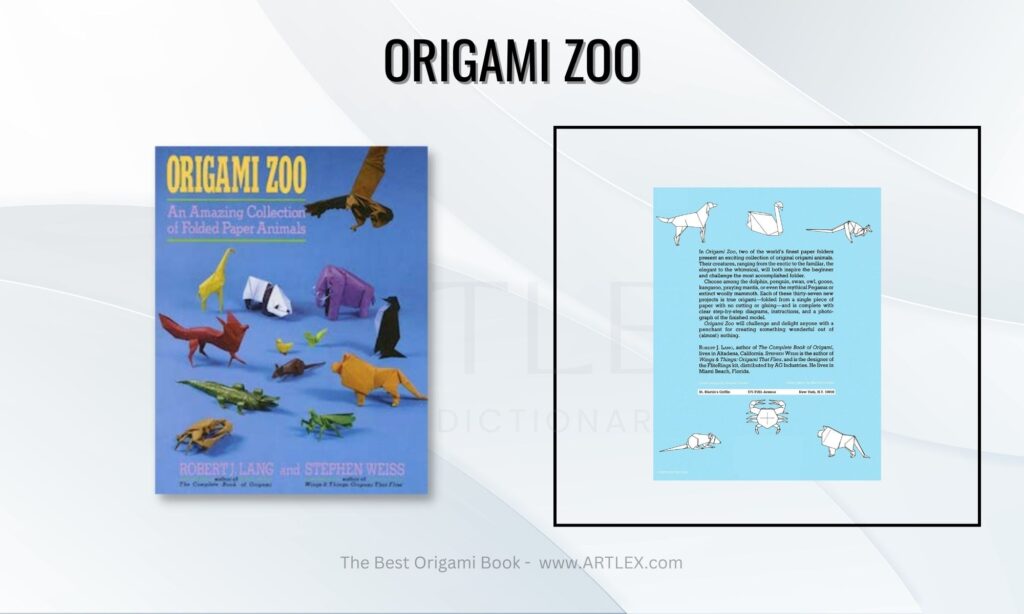 Origami Books Selection Criteria
Author – Robert Lang, Stephen Weiss
Level of origami art – Intermediate
Type of origami art – Action, modular, wet folding
About Origami Zoo
Invented by Stephen Weiss and Robert J. Lang, this book features 37 paper-folding animals. These advanced objects, follow a progression in the book, as the subjects range from detailed instructions for a variety of paper folding techniques all the way to advanced origami projects. This way, not only will you learn from the step-by-step diagrams to create an amazing collection of origami figures, but also learn clever routines on your way to become a true connoisseur of the art.
One of the best origami books for advanced paper folding artists, especially those looking to learn the 'wet origami' method, as you can make creations, folded from a single sheet of paper without the use of scissors or glue, just by wetting it. You can learn to make origami butterflies, koi fish, and a golden eagle in no time.
Pros:
Step by step instructions of advanced origami projects
Great collection of animal origami figures
Cons:
The diagrams do not show clearly front and back of the step by step instructions, making it hard to follow in advanced models
5. Top Book for the Origami Expert—Advanced Origami: An Artist's Guide to Folding Techniques and Paper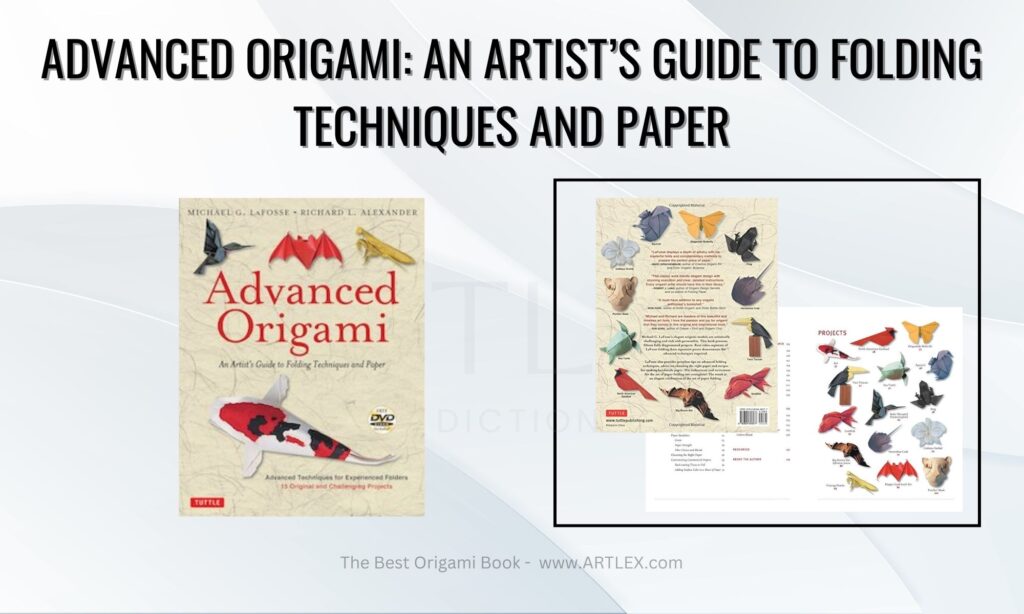 Origami Books Selection Criteria
Author – Michael G. LaFosse, Richard L. Alexander
Level of origami art – Expert
Type of origami art – Modular, teabag, strip folding, wet folding
About Advanced Origami
Fans of more complex paper folding techniques will like the original origami patterns, thorough instructions, as well as clear color images and diagrams. In addition to more complex folding methods like "wet folding," Advanced Origami covers the process of choosing and preparing paper as well as producing your custom-designed paper.
There are 15 difficult projects in this book, making it ideal solely for a master folder. Each of these elaborate designs—from a panther mask to the Cattleya orchid—is accompanied with high-quality illustrations, detailed instructions, and a DVD guide for all 15 projects.
Pros:
Step by step instructions for origami masters
One of the most recognized origami books
How to make custom designed paper illustrated in this book
In depth analysis of this ancient art
Cons:
Only for origami masters interested in making art, not just as a past time craft
6. Best Origami Book for Yoda—Strange Case of Origami Yoda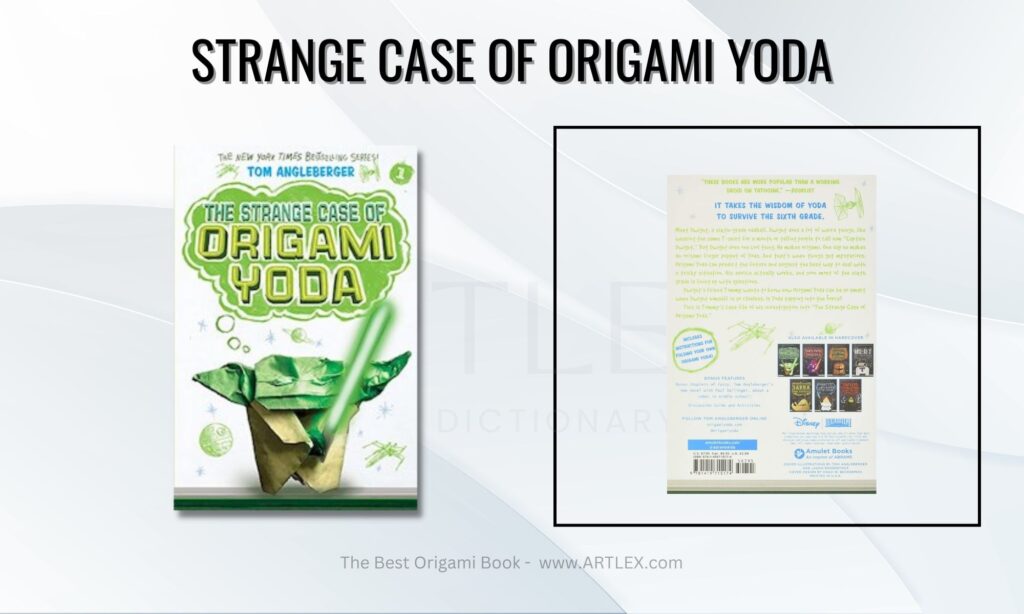 Origami Books Selection Criteria
Author – Tom Angleberger
Level of origami art – Beginner
Type of origami art – modular
About Strange Case of Origami Yoda
Origami Yoda is not exactly a book with paper folding instructions; it is a cross between a story and a simple-figures origami book. This book aims to explain the love and help this art can offer to people of all ages, making it one of our favorite books on the list. If you like Star Wars origami, and have a kid over the age of 12 that you would like to relate to your hobby, then this story with the star wars character and how origami made them popular may be for you.
Here we have Dwight, a misfit sixth grader. Dwight's eccentric habits include insisting that everyone address him as "Captain Dwight" while he is doing something quite neat. He's an origami artist. One day he decides to create an origami Yoda finger puppet, that predicts the future and gives good advice. His guidance is so effective that the entire sixth grade quickly lines up to ask him questions.
Tommy, a buddy of Dwight's, wonders how Origami Yoda can be so savvy when Dwight is not. Is Yoda using the Force to his advantage? Tommy has documented his inquiry into "The Strange Case of Origami Yoda" in this case file. Detailed instructions on how to fold your own Origami Yoda are provided, making this a good addition to origami gift boxes for kids.
Pros:
Often used in middle schools
Easy to read, short chapters
Good instructions on how to make a baby Yoda
Cons:
Contains objectionable language for kids
7. Best Pokemon Origami Book—Pokémon Origami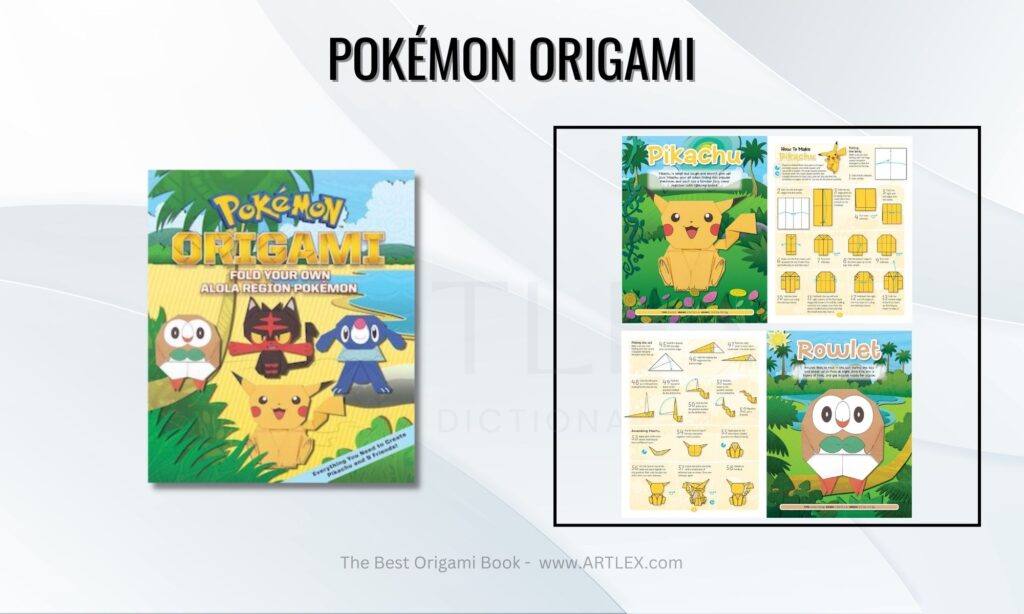 Origami Books Selection Criteria
Author – The Pokemon Company International
Level of origami art – Intermediate
Type of origami art – modular
About Pokemon Origami
Most origami books are about technique and understanding how to make mainstream origami models, such as fabulous origami boxes, modular origami, planar models, santa claus or even a cuckoo clock. This book focuses on the art of origami projects and the world of Pokemon.
Pikachu and nine other Pokémon companions from the islands of Alola, including Rowlet, Litten, and Popplio, have been transformed into origami forms, in this book. All the information you need to know is included in these comprehensive pages, such as instructions on how to fold origami models, along with ten sheets of specialty origami paper.
Color photos of completed origami Pokémon models are provided as a helpful reference. Be advised, however, that even though this book it is intended for children, it might as well be done with the help of origami masters.
The origami models of this delightful book can be a fun passtime for the whole family.
Pros:
Aimed at origami masters
Comes with its own paper
Cons:
Only one paper per character
Paper is too thick, while the book includes folds intended for thinner paper
Conclusion—The Top Origami Books 2023
We aimed to offer a wide range of origami books and origami models, for all levels of origami design, as well as encyclopedic work and history of the art itself.
If you are just now starting and are interested in a book that features simple origami design and step by step diagrams, you might want to consider Easy Origami, by John Montroll.
On the other hand, if you have read most origami books, and can easily make paper folders, origami boxes and a spiral snail shell, you can always look into Pokemon Origami, which is a book not many have completed.
We hope you found our analysis of the top origami books of 2023 to be helpful. Consult our associated guides for further sources of comparable items for the artistic lifestyle.