The Collins Big Book of Art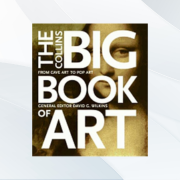 A comprehensive art history book featuring over 1200 works of art, covering various movements and styles.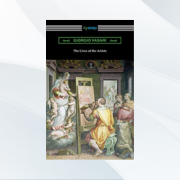 A classic book on Italian Renaissance artists, written by a contemporary of the artists, offering insights into their lives and works.
Mary Beard, John Henderson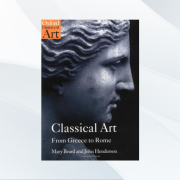 Explores the influence of Ancient Greek and Roman art on Western culture, examining classic sculpture, paintings, and architecture.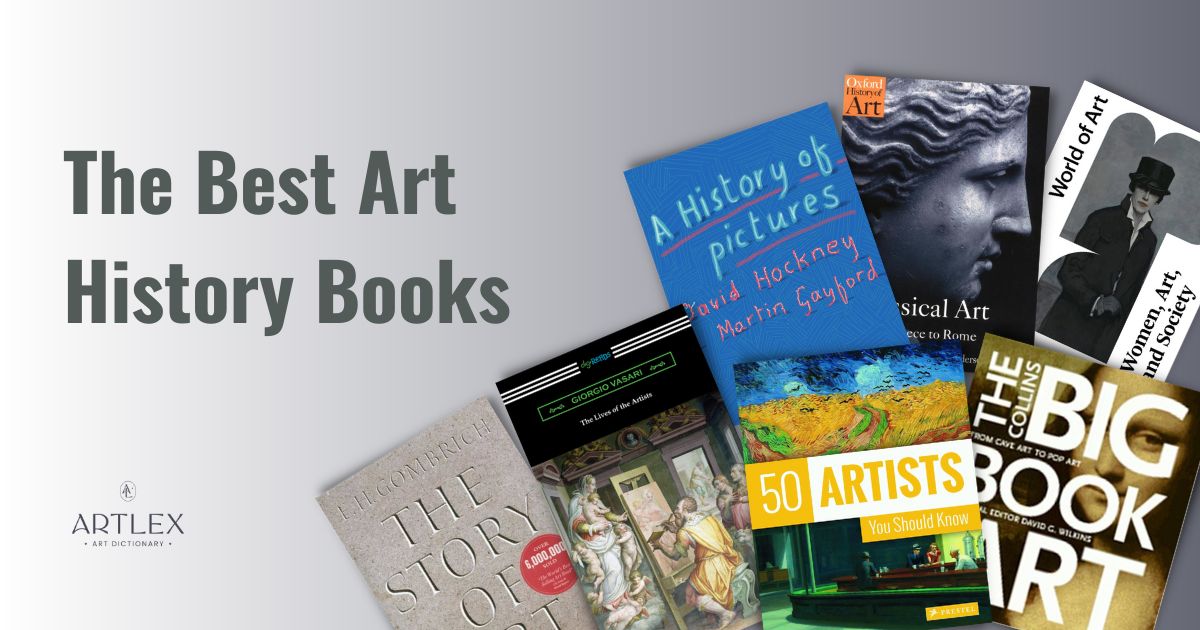 Art history, with its seemingly endless variety of movements, artists, and styles, is one of those subjects that can feel daunting to dive into on your own. Whether you are an art enthusiast, a novice looking to expand your knowledge, or an artist in your own right looking for inspiration, it can be hard to know what is important to educate yourself on and where to start.
I have compiled a list of the 10 best art history books that will help you develop a deeper understanding of modern and contemporary art, art movements, and the beloved and obscure artists that shaped art history as we understand it today.
50 Artists You Should Know – Thomas Koester, Lars Roeper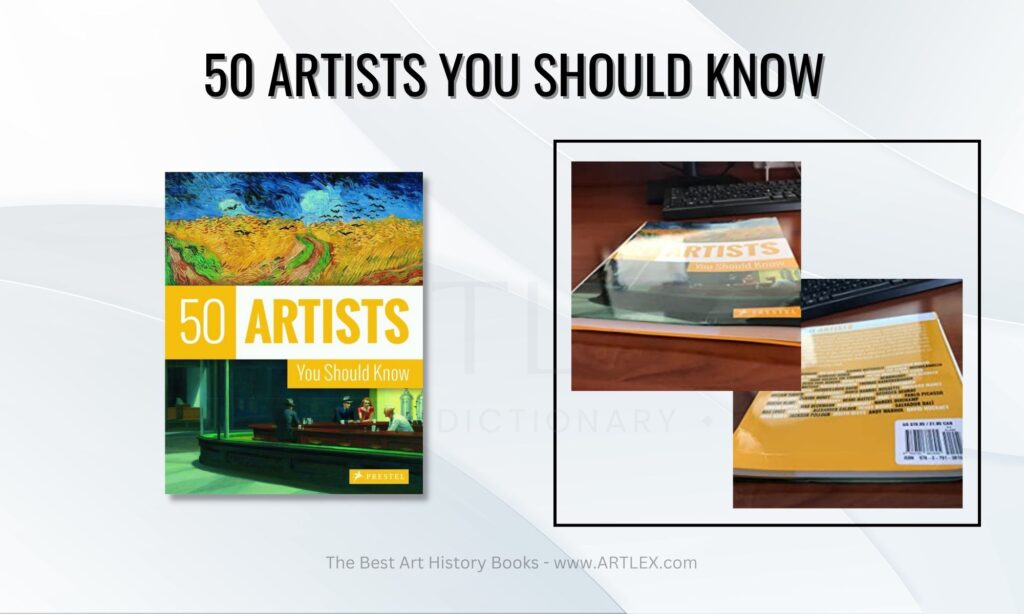 If you are a beginner looking to expand your knowledge on notable artists who have influenced our world with their work, I highly recommend this book as it is an excellent place to start.
This reference guide has a clean and modern layout that is pleasant to read. The information on each artist is broken up into 2-3 pages for easy reading and skimming. It also makes a lovely coffee table book that will impress your guests.
Interested in Artist Biographies? Check our our Buying Guide on the Best Biographies of Artists!
In addition to beautiful illustrations and eye-catching colors, the book features a helpful glossary that can help break down complex movements and styles for people of all levels of understanding. It is also brief, applying descriptions and history in an accessible format that won't bog down someone new to art.
The artists in this book are arranged in chronological order, going back as far as the Gothic period. Many of the featured artists are well-known names in the Western art world. There are memorable but brief biographies of each artist that highlight the influential aspects of their lives. The book includes high-quality reproductions of their most famous works of art and critical analyses of their pieces.
The Collins Big Book of Art: From Cave Art to Pop Art – David G. Wilkins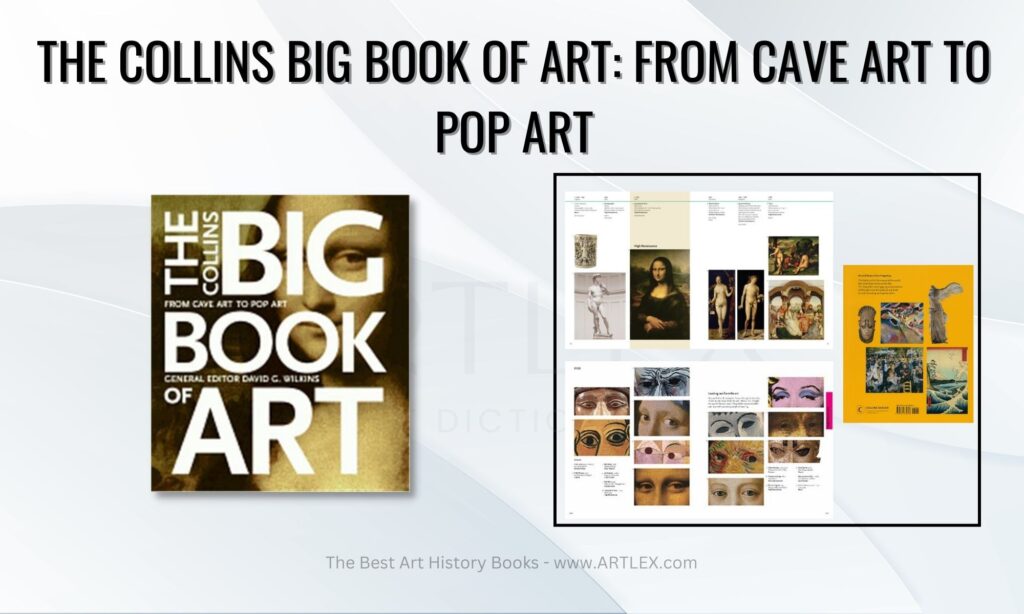 For a more complete look at art from around the world, this highly visual and engaging art history book will educate and inspire a new appreciation for art. It is accessible without being pedestrian and is perfect for artists and enthusiasts with a wide range of experiences.
This book was first released in November of 2005. The book features over 1200 works of art that cover movements and styles from classical art and the Renaissance to Impressionism, Pop Art, and modern art. The images are large, high-quality reproductions that allow you to get a good feel for the works of art.
The book is laid out chronologically, with examinations of works that start as far back as 38,000 BC. Each piece is laid out in a visual timeline, with historical context provided in addition to the important identifying information such as the title, date, artist name, and current location.
Overarching themes and movements are also represented throughout the book to give a broader understanding of art as a whole. Furthermore, the book details artist techniques throughout history, cultural, religious, and political happenings that helped influence paintings, and various analyses of styles through the decades.
The Lives of the Artists – Giorgio Vasari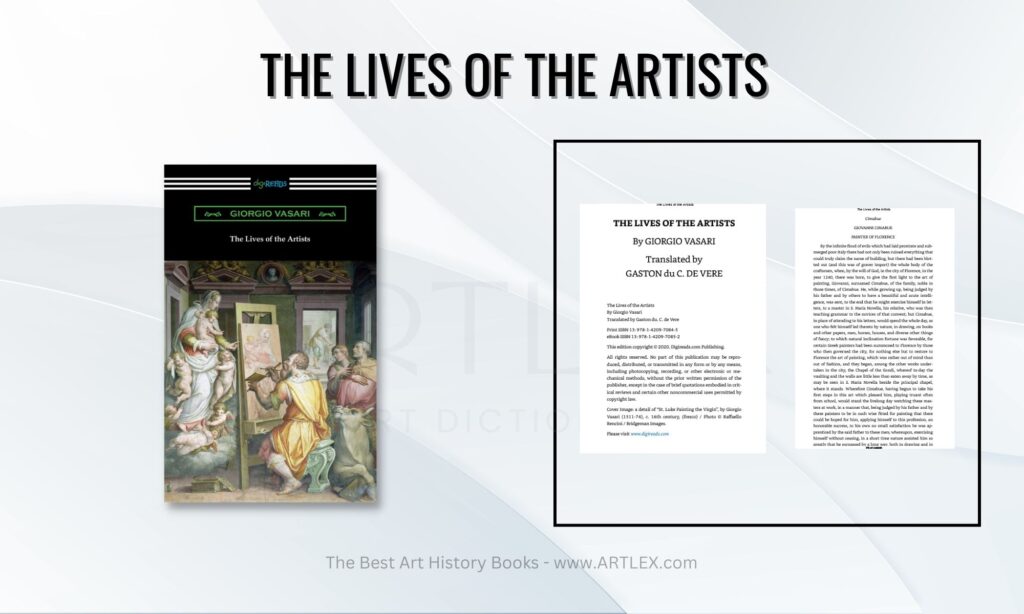 Giorgio Vasari, a painter, architect, historian, and writer, penned this classic book on Italian Renaissance artists. The book was written in the mid-sixteenth century. It takes a look at the lives, works, and habits of artists like Leonardo de Vinci, Filippo Brunelleschi, Michelangelo, and Fra Lippi.
What makes this book so unique is the fact that the author was a contemporary of many of the artists. He wrote their biographies from the perspective of someone who was there. He sheds light on their social standings, interactions with patrons, thoughts, and feelings.
Giorgio Vasari is considered the world's first real art historian. His artist portrayal and passion for making sure their work was remembered laid the foundation for modern art historians' work.
I would recommend this book for those who want to expand their art education on the old masters. It provides a more in-depth look at the lives of these famous artists and reads as though it were written yesterday rather than hundreds of years ago. However, if you are new to art history, this may go a bit over your head at times.
Classical Art: From Greece to Rome – Mary Beard, John Henderson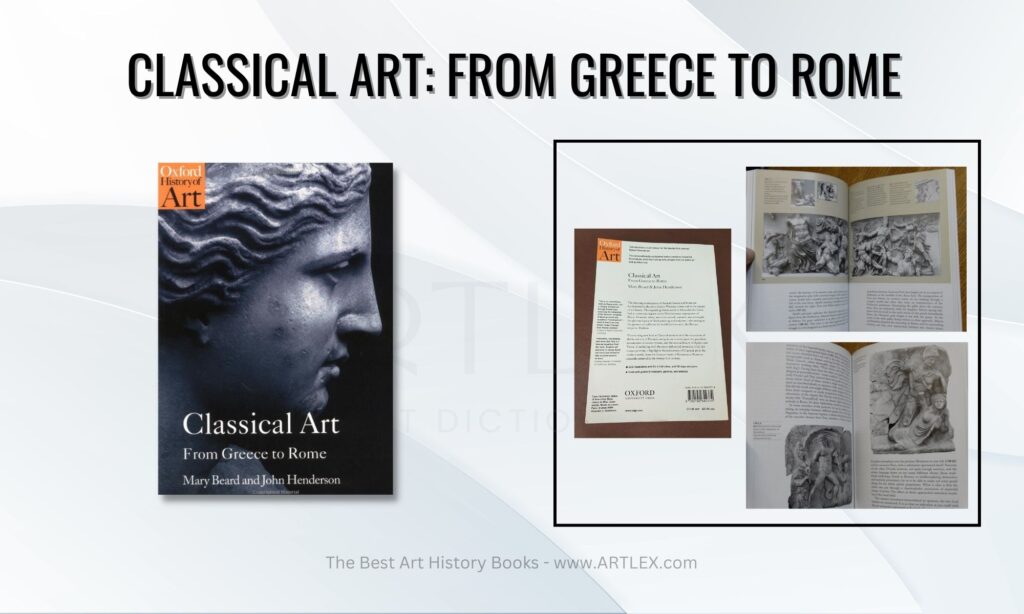 Western art and culture were largely influenced by the masterpieces from Ancient Greece and Rome. This text and its accompanying illustrations reinforce the idea that the ancient Romans reinterpreted and reinvented classic Greek art. It is as much a critique of historical Roman art as it is an educational look at what we consider classic sculpture, paintings, and architecture.
This book is not an easy read, by any means, but it is chock-full of incredibly detailed and complex information. It requires a base-level understanding of Roman and Greek art. The book would be a great addition to the personal reference libraries of art historians and archeologists alike.
The Story of Art – E.H. Gombrich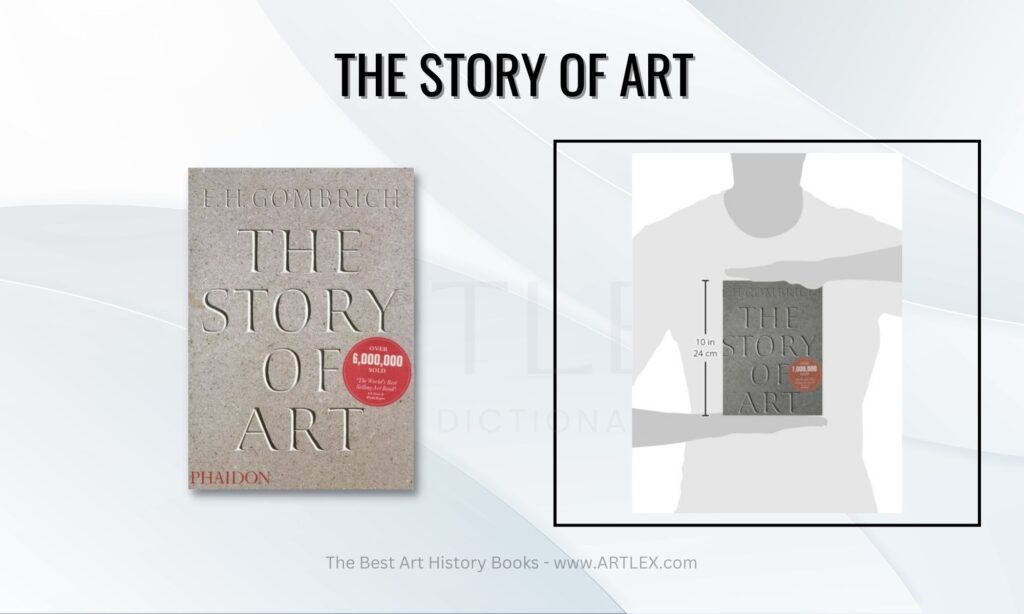 No art history library is complete without the classic book The Story of Art. This book is wildly popular and has been a bestseller for decades, even making it on Time Magazine's 100 best nonfiction book list.
First published in 1950, this book was intended to cater to beginners. As a result, it is informative while remaining accessible. It reads in a lively and conversational tone. The author has a passion for art history, and his enthusiasm makes this book an enjoyable read.
The content covers a wide range of periods and movements. It has 27 chapters that break down everything from the classical art of Greece and Rome all the way to early 19th-century art in Europe and America. There are extensive bibliographies on each artist as well as an impressive number of colored illustrations.
The book has 16 editions, the most recent of which was published in 1998. The newest edition covers several contemporary artists not included in the original text.
Pictures of Nothing: Abstract Art since Pollock – Kirk Varnedoe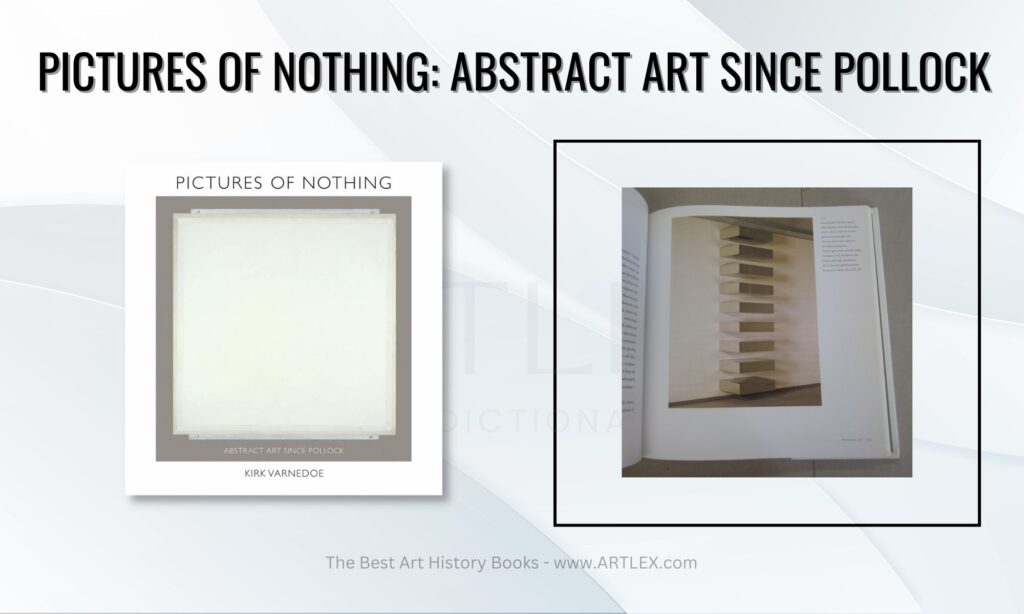 Although abstract art may feel like a newer concept to some and therefore lacking in history, it is an art style with a complex and detailed story that has colored both the art world and the everyday lives of modern man.
It was written by Kirk Varnedoe, an expert art historian who held the position of Chief Curator of Painting and Sculpture at the MOMA in New York City for over a decade. His writing is easy to read and comprehend, and he utilizes humor, wit, and years of experience to share his passion for the subject. It is both informative and philosophical.
This book makes the argument that abstract art has earned its place in the art world and has the reader question what abstract art is good for and who it serves. It addresses movements like postmodernism, pop art, and minimalism, as well as biographies of the movement's most famous artists.
Overall, this is a must-have book for anyone interested in art history and a desire to expand their knowledge on the importance of abstract art in modern life. It is not overly technical and would make an excellent gift for the art lover in your life.
What Great Paintings Say: 100 Masterpieces in Detail – Rainer Hagen and Rose-Marie Hagen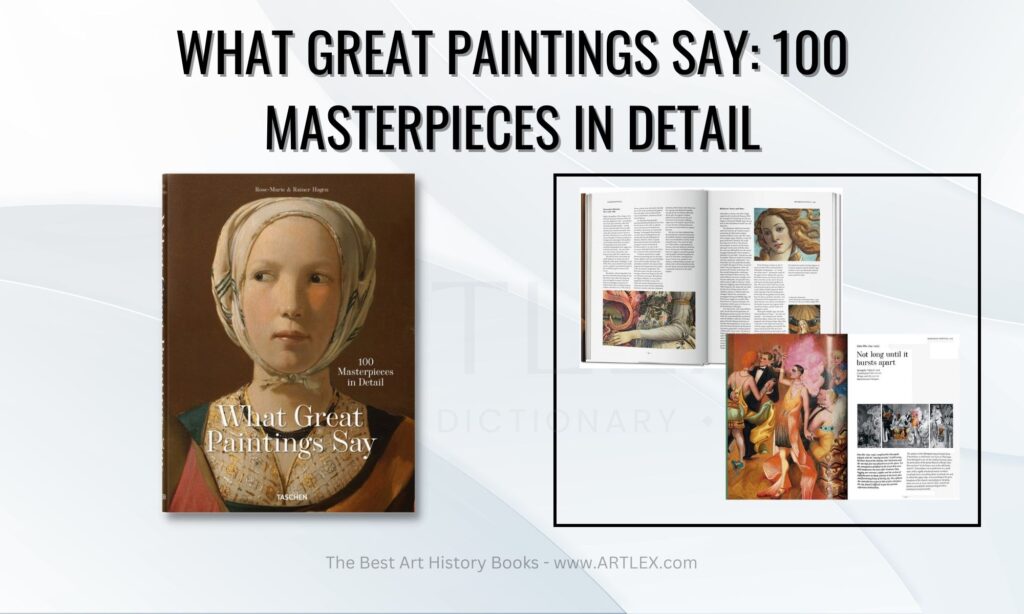 Both art students, artists, and enthusiasts will enjoy Hagen's analysis of symbolism and visual elements artists use when creating their works of art. Although the focus of this book is narrow, the content is intriguing while also being fun to read. If you like solving mysteries or putting together complex puzzles, this book is something you will want to add to your bookshelves.
Hint: This book also made our list for the Best Books on Paintings!
As the title suggests, the book covers one hundred familiar and unusual paintings and breaks them down into individual details. The authors essentially decode what the artist was trying to say or communicate historically with the choices and details of their painting and describe it to the reader in an accessible way.
The paintings and accompanying history span hundreds of years as well. From Ancient Egypt, all the way to art from 1920s America, the artists, and their subjects are scrutinized for historical events, fashion trends, and more.
Techniques of the Great Masters of Art – Waldemar Januszczak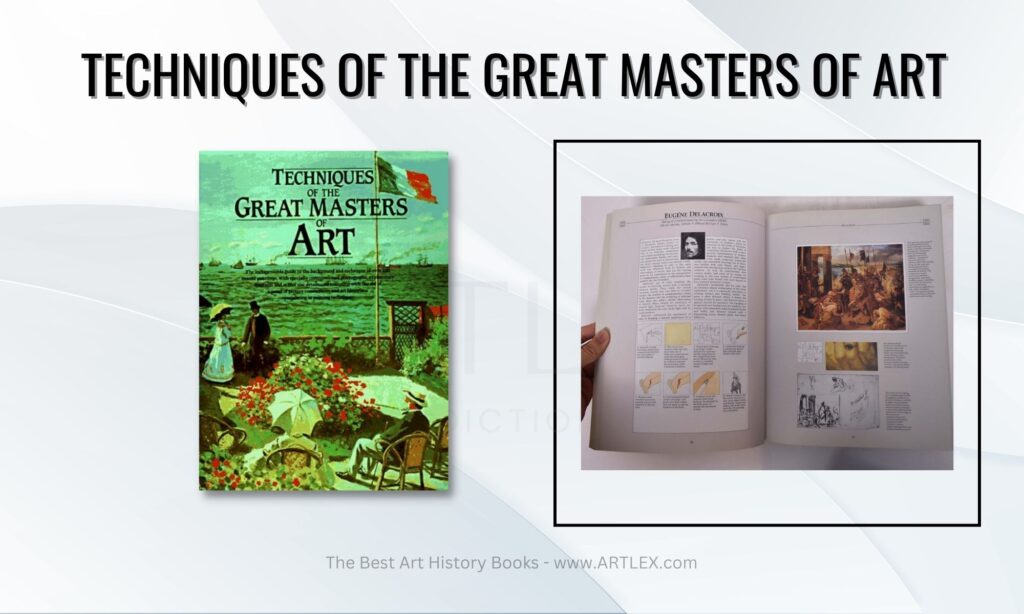 Museum curators, art restorers, and art specialists alike will find this technical book an important addition to their art history library. The author is an English art critic and former arts editor for The Guardian with a passion for art history.
There are over 400 color illustrations and reproductions throughout the 540-page book. I appreciated how the author covers works of art from the old masters to 20th-century artists and Impressionists like Manet and Degas.
Although biographies are included for each artist, the focus of the book is on their individual artistic techniques, materials, composition, and paint production. It tackles the often overlooked technical aspects of painting and includes large, detailed illustrations that help readers visualize the techniques being described.
It is a highly-technical read that may also serve as a reference guide or be used for research. It includes an expansive and detailed glossary of techniques as well.
A History of Pictures: From the Cave to the Computer Screen – David Hockney, Martin Gayford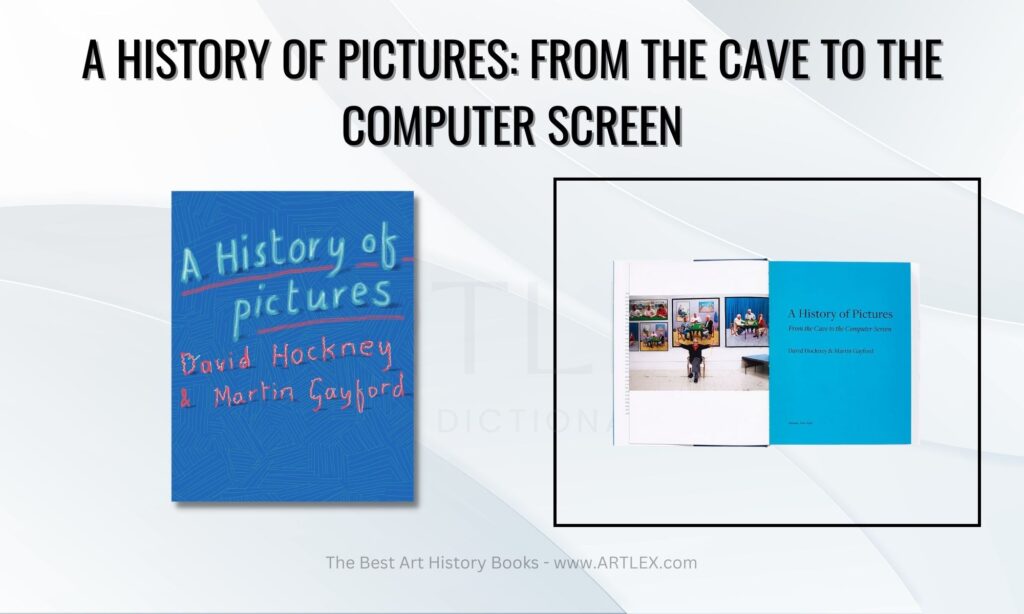 What do you get when you pair a famous artist and a famous art critic and have them write a book? A poignant, educational, and colorful collaboration that dives deep into the minds of artists throughout time.
David Hockney and Martin Gayford's book is a non-traditional take on art history. It explores art in a dialogue format, as though the reader were observing the pair give a lecture on the topic rather than reading it alone. The result is a bit unusual but succeeds in being a source of both information and entertainment that reads almost like a novel.
The book is made up of 360 pages with hundreds of gorgeous reproductions scattered throughout. The layout is clean and minimalistic which allows for greater emphasis to be placed on the artwork being discussed. It also highlights a wide variety of movements, styles, and methods.
I found this entire book to be a fresh and exciting way to learn about the history of art and would recommend it to young and emerging artists, students, and people who are simply passionate about art in all of its forms.
Women, Art, and Society (6th Edition) – Whitney Chadwick
It is no secret that historians have looked down upon women in art for centuries, ignoring their contributions and accomplishments in favor of famous male artists time and time again. Author Whitney Chadwick seeks to bring these overlooked women to the forefront in her book, Women, Art, and Society, originally published in 1996.
The book covers the experiences of female artists through the ages and addresses the misconception many historians have that women artists overcame their gender to produce great art. Themes of misogyny, feminism, race, class, and sexuality are explored through the lens of female artists.
There are over 300 colored illustrations and reproductions printed throughout the book's 560 pages. I had never heard of many of the artists featured in this book, which made it a refreshing read that helped expand my understanding of the role of women in art history. I believe this book is perfect for students and female artists seeking inspiration from the women that came before.
Conclusion
Although art history may seem like a complex topic to tackle through a book, there is no better way to immerse yourself in both historical artwork and critical analysis. The books on this list are comprehensive, well-researched, and will provide you with a thorough education no matter your skill level or previous familiarity with the topics at hand.