Yue Minjun is a Chinese contemporary painter and sculptor born in Daqing, China, in 1962. Yue started taking drawing lessons at age ten and showed a talent for art. After graduating high school in 1980, Yue worked as an electrician before moving to an oil rig off Tianjin. He was no stranger to the life as his parents were oil workers who often traveled to work in different plants.
At the Tian Jing National Company, where he worked, Yue Minjin would paint portraits of his coworkers. In 1990, Yue moved to the Summer Palace artists' village in Beijing, where many other Chinese artists resided. He enrolled at the Hebei Normal University to study art in 1995. At this point, Yue began to develop his style out of the portraits he had painted of his coworkers.
Yue Minjun rose to worldwide prominence in 2007 when his painting, Execution, sold for 2.9 million pounds at Sotheby's. Thirteen of his works sold for over a million dollars in the same year. His first museum show Yue Minjun and the Symbolic Smile, took place in 2007/2008 at the Queens Museum of Art in New York.
What Was Yue Minjin Known For?
Yue Minjin was known for his self-portraits depicting himself in various situations, cackling with laughter. For example, Yue painted himself with his eyes shut, frozen in laughter with slightly sweaty reddish skin. Though renowned for his oil paintings, Yue has also created his infamous smiley face in sculpture and print. In addition, he depicted political and societal issues using gradating colors in backgrounds and a constant character.
Who Was Yue Minjin Influenced By?
Yue Minjin was influenced by Geng Jianyi, a Chinese contemporary artist whose work he came across at an art show in Beijing. Jianyi's painting of his laughing face inspired Yue's style, which he then developed to its uniqueness.
Yue Minjin Artwork
Below are some of the artworks of Yue Minjin.
Backyard Garden

Execution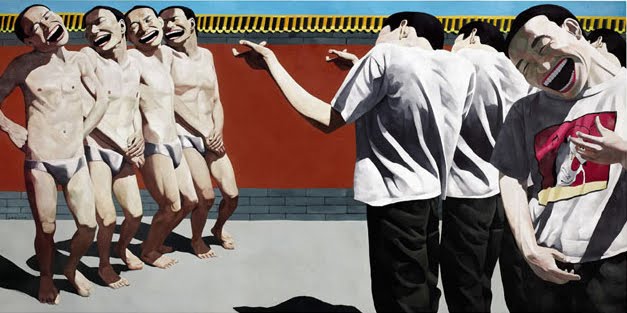 Free and Leisure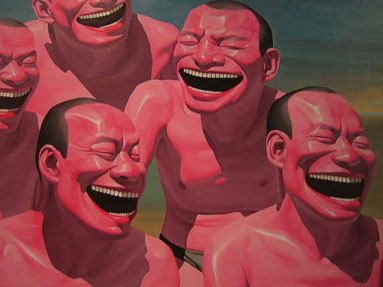 Free and Leisure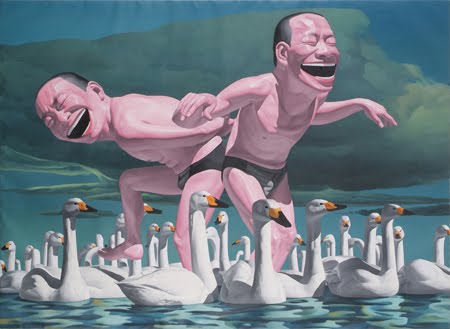 Massacre of Chio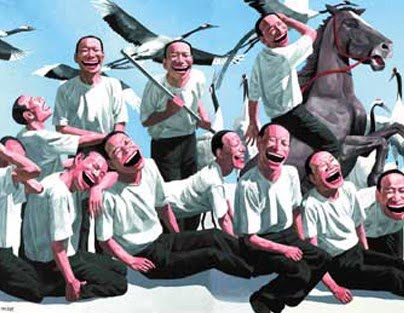 The Pope and Massacre at Chios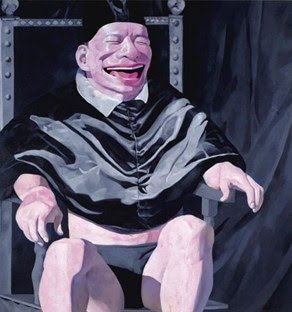 Between Men and Animal