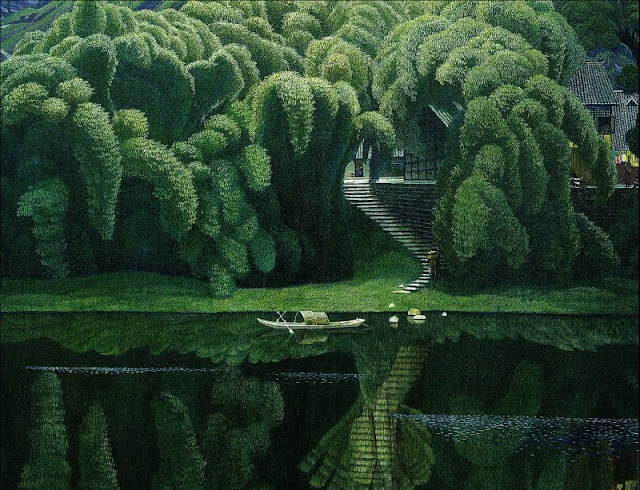 Jian Chong Min is a Chinese contemporary landscape painter who was born in China in 1947. Chong Min studied at the Art Middle School in Sichuan, a subsidiary of the Sichuan Academy of Art. Unfortunately, he was later expelled. After his expulsion, Jian Chong Min worked as an acrobat and later found employment as an artist, making artworks for an airline.
In 1983, Jian Chong Min enrolled at the Chengdu Academy of Art in Chengdu to further his education, studying painting. The decision would give him the breakthrough moment of his career, as he achieved recognition as an artist at the Academy. His captivating landscape paintings attracted interest from all over China.
Jian Chong Min has exhibited severally with the Chengdu Institute of Painting, of which he is an active member. His works are held and preserved by the Chengdu Art Museum and other prestigious museums in China and overseas. Jian Chong Min's artworks have appeared and sold at auctions in Berlin and London. His artwork – Autumn Music – created in 1989 was sold above the estimated price in April 2022.
What was Jian Chong Min Known For?
Jian Chong Min is known for his landscape paintings of fields, streams, and forests, usually in Chengdu. Jian Chong Min's preferred medium is oil on canvas, employing an array of vivid colors, especially green. His artworks also accurately depict light and reflections in water bodies. Jian's attention to detail makes his paintings photorealistic.
Who Was Jian Chong Min Influenced By?
Jian Chong Min was influenced by his environment and nature. Looking through Jian Chong Min's artworks confirms to the viewer the artist's love for nature.
What Art Movement is Jian Chong Min Associated With?
Jian Chong Min is associated with the Impressionism art movement.
Jian Chong Min Artwork
Below are some of the landscape paintings of Jian Chong Min.
Bottles Brush Trees

Unknown Title

Unknown Title

Unknown Title

Unknown Title

Unknown Title

Unknown Title

Unknown Title

Unknown Title

Unknown Title

Unknown Title

Unknown Title

Unknown Title

Unknown Title


Unknown Title

Unknown Title

Unknown Title

Unknown Title

Unknown Title