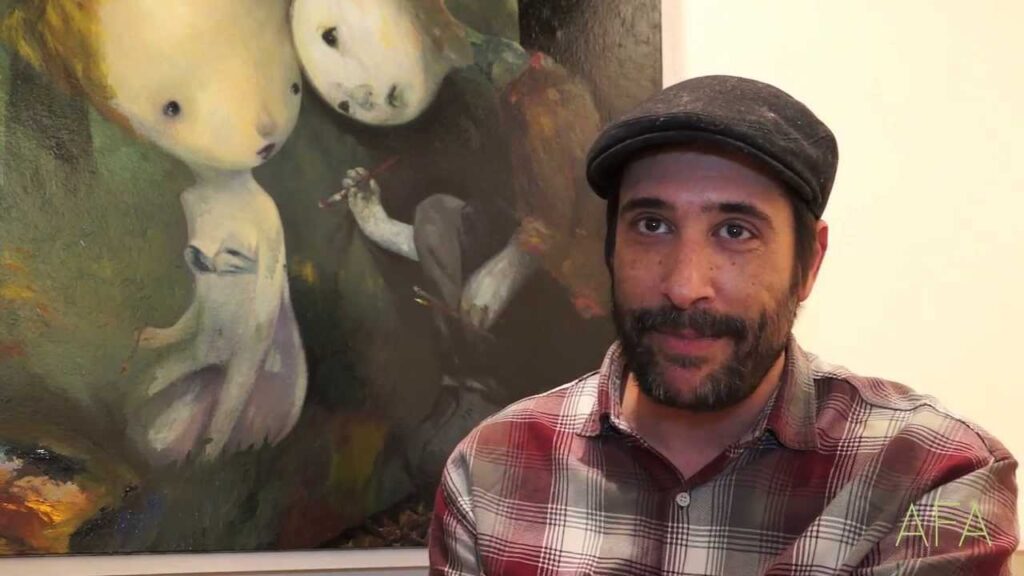 Joe Sorren is an American lowbrow artist and illustrator known for using cartoonish characters in a dreamy setting in his paintings and illustrations. Sorren was born in Chicago, Illinois, in 1970. Joe had his first art encounter at the Chicago Art Museum and started painting in 1991. Joe Sorren attended the North Arizona University, where he obtained a Bachelor of Fine Arts degree in 1993. Sorren also played as a drummer in a band known as Sparkleface.
In 1997, Joe Sorren won the gold medal in the Society of Illustrators of New York competition, and that was the moment he got worldwide recognition. Sorren had his first solo exhibition in 1995 and has since participated in various exhibitions in Los Angeles, New York, San Francisco, and Detroit.
In addition, Joe's illustrations have appeared in various publications like Rolling Stone and The Los Angeles Times. Warner Bros and Atlantic Records have also made use of Joe's illustrations.
What is Joe Sorren Known For?
Joe Sorren is known famously for his outstanding mural on an outdoor wall in Heritage Square, Flagstaff. Joe revealed that the massive artwork took nine months to complete.
Who influenced Joe Sorren?
Joe Sorren was influenced by early Impressionist painters, whom he emulated in his paintings. Joe also mentioned he draws inspiration from the local food mart and shiny objects he finds on the ground. His works reflect his personal experiences, imaginations, and desires. Sorren also revealed that he draws inspiration for some of his paintings from human behavior.
What Art Movement is Joe Sorren Associated With?
Joe Sorren is associated with the Pop Surrealism art movement, a variation of the Surrealism movement influenced by popular culture in the meantime 60s and 70s.
Joe Sorren Artwork
Joe Sorren currently lives with his wife, son, and daughter in Flagstaff, Arizona, and is still actively painting. Below are some of Joe Sorren's works:
All Hallows Eve

Auld Lang Syne

Because of Toast

Elliot's Attraction To All Things Uncertain

Filling Little Thoughts With Little Ears

In Her Silent Way

In the Morning In The Tide

Lound Sign The Hours of Eden

Mother And Child

Overture

Roger Meanie

The Mushroom Hunter

Thirty-Three

Unknown Title

Unknown Title

Unknown Title