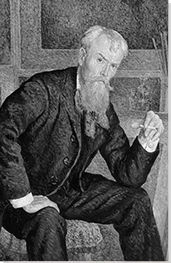 Henri Edmond Cross was a French painter and printmaker widely recognized as a master and principal exponent of Neo-Impressionism. Cross was born in Douai, Nord, in France on 20th May 1856; the only child of his parents. Cross grew up in Lille following his family's relocation in 1865.
Henri Edmond Cross studied at the Ecole des Beaux Arts, and later enrolled at the Écoles Académiques de Dessin et d'Architecture in 1878, studying in Alphonse Colas' studio. His art education then continued under Emile Dupont-Zipcy, a fellow Douai artist.
Henri-Edmond Cross's work had a significant influence on the group of artists that identified with the Fauvism style of painting. Cross's works are held in private collections in several museums in the United States and across Europe.
Henri-Edmond Cross died of cancer on May 16, 1910, in Saint-Clair.
Find Prints of Henri-Edmond Cross Artwork on Pictorem.
When did Henri Edmond Cross start painting?
Henri Edmond Cross began painting in earnest in 1881, and exhibited some of his pieces at the Salon des Artistes Français.
Early Cross's life his artistic talent was noticed by Dr. Auguste Soins. Dr. Soins later enrolled Cross as an apprentice under a realist painter named Carolus-Duran, where he studied for a year and learned how to draw. After a while, Henri Edmond Cross moved to France to acquire more knowledge under François Bonvin.
What did Henri Edmond Cross paint about?
Henri Edmond Cross painted portraits, landscapes and still lifes painted in the dark colors of realism, as well as brighter Impressionist colors.  Henri described his landscapes as "motifs embodying a lyrical sense of emotion".
What Art Movement is Henri Edmond Cross associated with?
Henri Edmond's is associated with Pointillism, Neo-Impressionism and Fauvism.
What Artists Influenced Henri Edmund Cross?
The following artists inspired Henri's artworks:
Paul Signac
Jules Bastian-LePage
Edouard Manet
Claude Monet
Camille Pissarro
Henri Edmund Cross Artwork
Henri's earlier works were realist paintings of portraits and still lifes with dark colors. However, this changed when he met Monet in 1883, and he began painting with brighter colors which marked the beginning of his interest in Impressionism. Below are some of the works of Henri Edmund Cross.