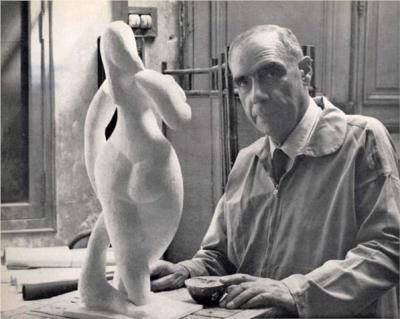 Henri Laurens was a French sculptor and Illustrator born on 18 February 1885 in Paris, France. After watching artists create the sculptural monuments at the Place de la Nation, Henri was determined to become a sculptor. In 1899, he enrolled at the École d'Art Industriel Bernard Palissy in Paris to study decorative and ornamental sculpture. Henri also took drawing classes from Jacques Perrin, an established sculptor.
In 1902, Henri Laurens moved to Montmartre, working as a stonemason. He became friends with Paco Durio, an associate of Paul Gaugin and Pablo Picasso. In 1911, Henri met Braque, who introduced him to the methods of Picasso and Juan Gris. He became fascinated and began studying Cubism, creating his first terracotta sculptures a year later. Henri signed with the dealer Daniel-Henry Kahnweiler, exhibiting in solo and group shows.
Henri Laurens' later artworks deviated from the Cubist principles as he introduced curved forms and representations of the female body. In 1937, he started working on a series of female nude sculptures called Sirenes. He held his first solo exhibition in America in 1938 at the Brummer Gallery and was part of the Art In Our Time exhibition of Modern Art. On 5 May 1954, he died of a heart attack while taking a walk.
What was Henri Laurens Known For?
Henri Laurens was known for his ability to merge classic and modern principles in creating three-dimensional sculptures. Henri made his earlier sculptures with terracotta before employing unconventional materials like sheet metal and plaster. He was also generous in his use of color.
Who was Henri Laurens Influenced By?
Henri Laurens was influenced by Auguste Rodin, Georges Braque and Pablo Picasso. Henri based his early works on Rodin's style, though he modified it to a unique approach. His association with the Cubist artists influenced the later sculptures that made him famous.
What Art Movement is Henri Laurens Associated With?
Henri Laurens is associated with the Cubism art movement.
Henri Laurens Artwork
Below are some of the aesthetically pleasing artworks of Henri Laurens.
Autumn

Bather (Fragment)

Eventide

Femme à L'Oiseau

Femme allongée au bras levé

Femme au compotier

Femme nue debout

Figura

Guitar

Head of a Boxer

Head of a young Girl

La Dormeuse

L'Aurore

Le Grand Adieu

Seated Woman

Seated Woman

Sirene

Untitled (from dialogues)

Woman with Drapery