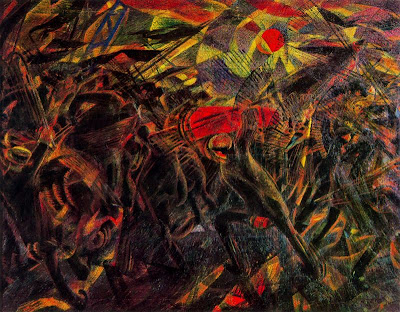 Carlo Carra was an Italian painter known for his work in the Metaphysical Painting and Futurist Painting Art movements. Born on February 11, 1881 in Quargnento, Italy, Carra began work as a mural decorate at age 12. In 1906 Carra enrolled at the Brera Academy in Milan, Italy, and studied under Italian painter Cesare Tallone.
In 1910, Carlo Carra was a signer of the Manifesto of Futurist Painters and the Technical Manifesto of Futurist Painters. These documents were written mostly by Umberto Boccioni, and signed by Carlo Carrà as well as Italian Artists Luigi Russolo, Giacomo Balla and Gino Severini.
The year 1910 was the beginning of Carlo Carra's Futurist phase. Carlo would make Futurist paintings from 1910 to around 1917. From 1917 to 1919 Carlo shifted to Metaphysical Painting and Anarchist Painting. In the 1920's and 1930's, Carra shifted to Landscape Painting.
Carlo Carra died on April 13, 1966, in Milan, Italy at the age of 85.
What is Carlo Carrà Known For?
Carlo Carra is known primarily for his Metaphysical Paintings from 1910 to 1920, which were a strong influence on the Surrealist movement of the 1920s.
Carlo Carra's most famous work is The Funeral of the Anarchist Galli (1911).
Who Was Carlo Carrà Influenced By?
Carlo Carra was largely influenced by Giorgio de Chirico, and they both founded the Metaphysical Painting style.
During his earliest still life periods Carra was inspired by Henri Rousseau. During Carra's Anarchist periods he drew inspiration from Italian Renaissance Painter Giotto.
What Art Movement is Carlo Carrà Associated With?
Carlo Carra is associated with the Metaphysical Art Movement, which he co-founded.
Carlo Carrà (1881—1966) was an important Italian painter, a leading figure of the Futurist movement in Italy in the beginning of the 20th century.
Carrà followed in his father's footsteps as a decorator and muralist, moving to Milan in 1895.
In 1899-1900, Carrà was in Paris decorating pavilions at the Exposition Universelle. He then spent a few months in London in contact with exiled Italian anarchists. In 1906 he studied at Brera Academy in Milan. Together with Boccioni and Russolo he drafted the Manifesto of Futurist Painters, and began a phase of painting that became his most popular and influential. During WWI Carro started creating still lifes in a style he called "metaphysical painting".
Carrà was indeed an anarchist as a young man but later held more reactionary political views, becoming ultra-nationalist and irredentist before and during the war. he joined the Strapaese group which was strongly influenced by fascism and responded to the neo-classical guidelines which had been set by the regime after 1937.
Carlo Carra Artwork