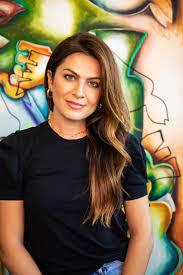 Alexandra Nechita is a Romanian painter and sculptor born on 27 August 1985 in Vaslui, Romania. Alexandra, a child prodigy, started drawing at two when she emigrated to the United States with her mother. She had her first solo exhibition at the Los Angeles Public Library in 1994. News of Alexandra's talent spread like wildfire, earning her the nickname little Picasso.
Over the next three years, Alexandra held sixteen solo exhibitions and gathered millions in painting sales. In 1997, the Recording Academy selected her as the leading artist for the Grammy Awards. In 1999, the World Federation of the United Nations Associations chose Alexandra to lead a Global Arts Initiative. In addition, the Orange Lutheran High School named its theatre after her in 2003.
Alexandra was indeed a child wonder, winning acclaim internationally at a young age. She was named the official artist at the 2004 World Peace Music Awards. Alexandra's love of public art is evident in the bronze sculptures she donated to Singapore in 2005 and California in 2021. Since she graduated from the Fine Arts department of UCLA in 2008, she has lived and worked in Los Angeles.
What was Alexandra Nechita Known For?
Alexandra Nechita was known for her accomplishments as an artist at a tender age. Having held successful exhibitions in Europe, Asia, Australia, and the USA at ten, the world became aware of the petit Picasso. Though she partly got her moniker because she painted in a similar style, Alexandra used a palette of brighter colors and worked on pacifist themes.
Who was Alexandra Nechita Influenced By?
Alexandra Nechita was influenced by Pablo Picasso. Alexandra also paints using geometrical forms and shapes in her abstractions, a style pioneered by the early Cubist artists.
What Art Movement is Alexandra Nechita Associated With?
Alexandra Nechita is associated with the Cubism art movement.
Alexandra Nechita Artwork
Below are some of the artworks of Alexandra Nechita
Adventurous Mind
Angel Dance
Angels Glow In The Dark
Artist Universe
Brave in the attempt
Buckets of Detangler
Caught between Love and Hate
Don't Cheat Yourself
Earthly Flower
Eternal Embrace
Faces of happiness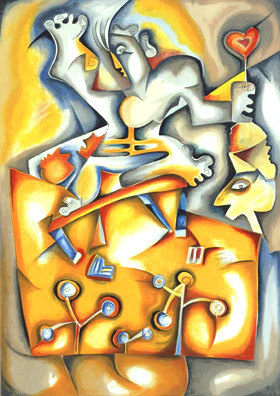 Forbidden Fruit

Forever Happy

Fragrance of  a Happy Home
Geometric Look

Hair Therapy

Hearts aren't meant to be Broken

Hearts to love, wings to fly

Irish Blessing

Ivory Legacy