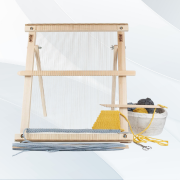 Beka 20″ Weaving Frame Loom with Stand. It has high construction quality, an adjustable stand, and is portable. The oversized wooden needle is a drawback.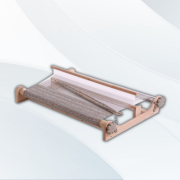 Ashford Rigid Heddle Loom. It is sturdy, adjustable, and can handle complex patterns and demanding fabrics. However, it requires regular maintenance.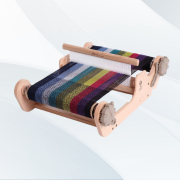 Ashford SampleIt Weaving Loom. It is portable, ideal for simple patterns, and ensures proper alignment. The unfinished wood structure requires additional finishing.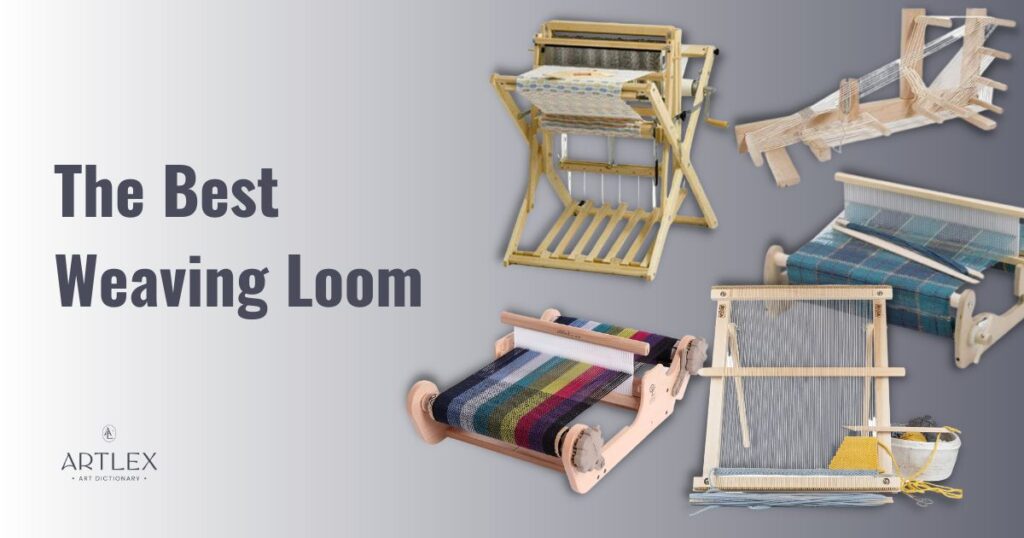 When starting your weaving journey, it may be for many different reasons. Some want to make beautiful and complex patterns to decorate their home, and others aim to follow this art professionally.
Cloth and tapestry are woven on looms. The tension created by the loom on the warp threads allows the weft threads to be woven together. The loom's primary function is consistent regardless of its particular form, workings, and how much space you can afford.
So, if you want to learn to weave, it is best to start considering which weaving looms match your needs and then settle on the one that feels more natural in your hands. However, if you are now beginning, investing in weaving looms may seem a critical step in the weaving process, as the options appear endless and the expense considerable. Choosing the correct loom can be difficult, however, we will discuss the best weaving looms based on the type of loom and the kind of craft you want to produce.
Selection Criteria for Weaving Loom 2023—Buying Guide
Types of Weaving Looms
Rigid Heddle Loom
Professional weavers can use a rigid heddle loom. Compared to the frame loom, this one has a little more challenging learning curve. But with a good manual or video, anyone who is eager to learn it, may do so on their own easily.
Weaving on a stiff heddle loom allows for greater weaving speed, greater weaving length, and the ability to master more complex weaving techniques. The skills you acquire with a stiff heddle loom will also serve you well when learning to weave on larger table and floor looms.
Backstrap Looms
Even though ancient civilizations perfected it, the backstrap loom is still widely used all over the world. Weaving is done by tying one end of the warp around a fixed object and the other end to the weaver. As the weaver moves, their body weight helps to maintain a taut warp. Beautiful, intricate designs can be woven on a backstrap loom by a skilled weaver.
Table Loom
Using a four-harness tabletop loom is a logical step for intermediate weavers. A four-harness desktop loom is more affordable than a full-size floor loom. However, its creative potential is constrained by its small weight and narrow width.
The table loom is the most sophisticated of the small looms, yet it is also the smallest and most portable ones. Although table looms with more than eight shafts are available, the vast majority of looms on the market have between four and eight shafts.
Tapestry Loom
This is the simplest type of loom. When weaving on a frame loom, your tapestry will be limited in size to the dimensions of the frame itself, as it lacks the ability to produce a shed. There are looms that can accommodate longer warps and provide options for constructing a shed, but they are not the only sorts of tapestry looms available.
Since a tapestry loom is merely a large frame loom mounted on a platform, it requires little in the way of training or experience to operate. Since a beginner is unlikely to make use of the entire width of a tapestry loom, they would be better off purchasing a smaller frame loom.
Floor Loom
Consider a floor loom if you have room for it. Although they take up significantly more room, traditional floor looms are substantially more robust than their tabletop counterparts. A floor loom provides a better shed than a jack-type loom and more room for innovation due to its larger width.
To weave thick, heavy fabrics like thick yarn wall hangings, rugs, and runners, you should use a hefty wooden loom. Remember that the loom will need to be set up and will take up room until the project is complete for the majority of weaving endeavors.
Inkle Loom
Inkle weaving is not recommended for novice weavers due to its increased complexity. For the shed to form, the cloth must be raised and lowered by hand. The cloth is held in place at regular intervals by wooden heddles, but the remainder of it can move freely.
The inkle weaving method is best suited to making narrow, long items like trims, straps, and belts. While weaving belts and stylish guitar straps may require some hand-eye coordination at first, once you get the hang of it, it will be worth it.
Top Product Recommendations for the Best Weaving Looms 2023
Overall Best Weaving Loom: Beka 20″ Weaving Frame Loom with Stand
Best Rigid Heddle Looms for Rugs: Ashford Rigid Heddle Loom
Best Weaving Looms for Scarves: Ashford SampleIt Weaving Loom
Best Inkle Looms for Belts: Beka Inkle Loom
Best Weaving Looms for Outdoor Use: Schacht Cricket Loom
Best Floor Looms for Large Volume Production: Schacht Wolf Pup LT Loom
1. Overall Best Weaving Loom—Beka 20″ Weaving Frame Loom with Stand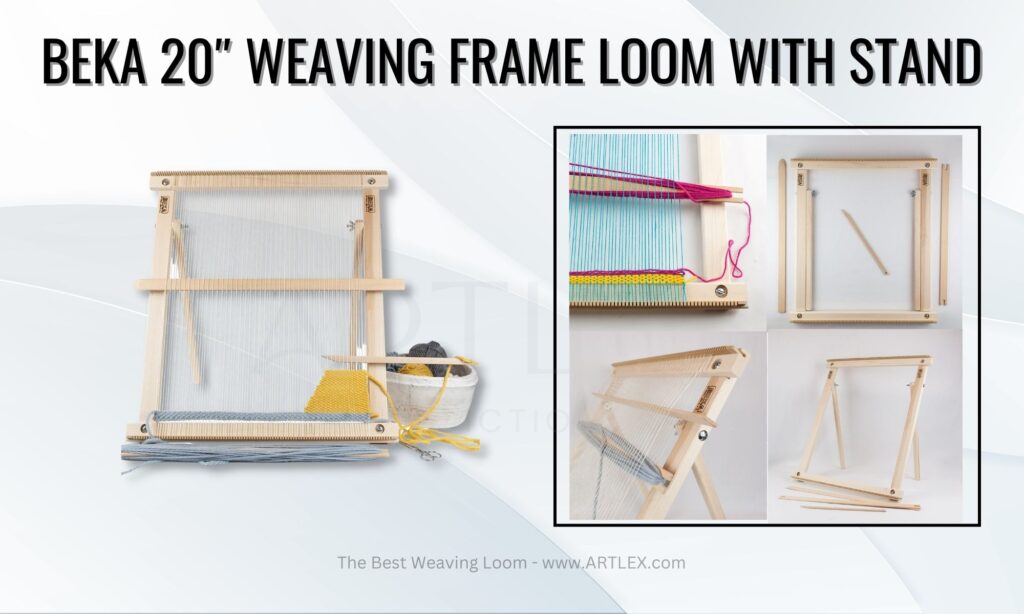 Weaving Loom Selection Criteria
Quality – 9/10
Type of Weaving Loom – Frame looms
About Beka 20″ Weaving Frame Loom with Stand
The Beka multi-craft weaving loom, our best overall option, is ideal for both the novice and experienced weaver. It sports high construction quality; the wood is splinter-free and will not damage your yarn while you work. Similarly, the pickup stick has no sharp corners or rough places and performs steadily. The Beka loom's components are made to last and can withstand being dropped, bumped, or otherwise mistreated, so people beginning to weave and those weaving with their children don't have to be concerned.
Beka's adjustable stand is one of the main reasons it ranks so high on our list. Artists can weave in a number of positions thanks to the accompanying stand, whether they want to sit at a table or on the floor. So working on this small loom makes for comfortable weaving, no matter where the mood strikes. This loom has a lot of great features, and it's also portable and easy to put up, so you won't be stuck indoors, either.
There is, however, a physical limit to what may be woven on this loom, but several pieces can be knitted together to produce bigger ones. It's not quite long enough for a larger project, but it's perfect for a 20 by 23-inch piece. On the other hand, the Beka loom comes with a set of simple instructions for installing the device, ensuring that you will never struggle with the weaving process.
Pros:
One of the most versatile looms
Gorgeous light wood finish
Sturdy construction
Cons:
2. Best Rigid Heddle Looms for Rugs—Ashford Rigid Heddle Loom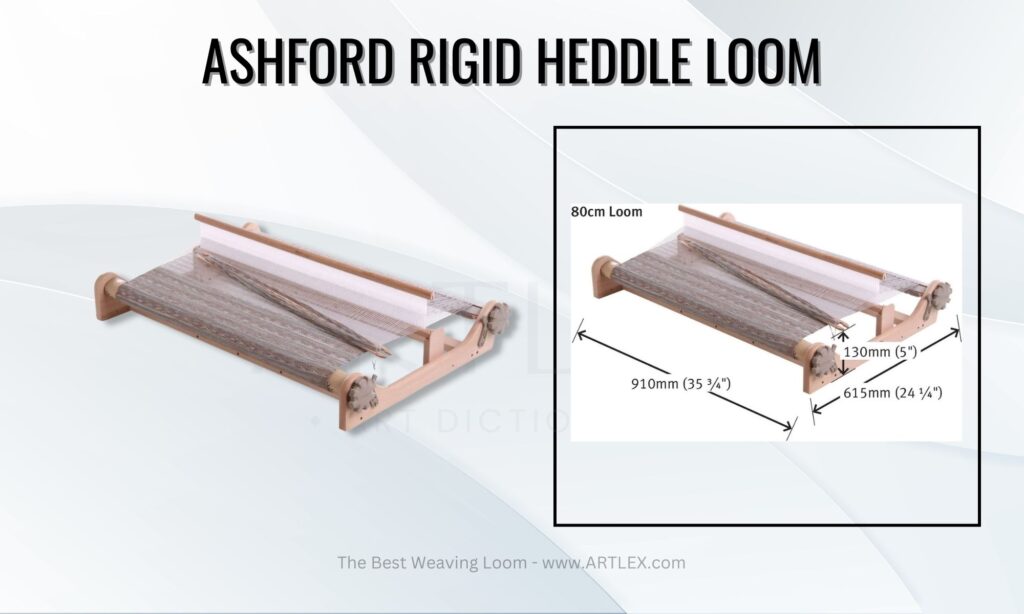 Weaving Loom Selection Criteria
Quality – 10/10
Type of Weaving Loom – Rigid Heddle Loom
About Ashford Rigid Heddle Loom
The Ashford sturdy heddle design is suitable for hand weaving and, when combined with the 7.5DPI nylon reed, it is the right weaving loom for rug weaving. The design is also adjustable, making this a multi-craft weaving loom.
Even better, you can upgrade this Ashford model with a second heddle weaving kit, letting you to weave with several shafts. This table loom is Ashford's largest model, with the ability to produce pieces up to 32 inches wide. It is also robust and long-lasting enough to handle demanding fabrics, complex patterns, and projects such as denim rugs created from old blue jeans.
The silver beech hardwood makes the loom pretty sturdy and capable of handling warp thread tension in terms of construction quality. The Ashford comes with nylon reeds as well as a warping peg with a clamp that can be attached to a table edge. The distance between the clamp and the peg on the loom controls the length of the warps and, thus, the size of the items you can make.
Pros:
A good number of weaving accessories
Can create complex patterns
Can use a variety of craft materials
Good for advanced weavers
Cons:
Regular maintenance can be time-consuming
3. Best Weaving Looms for Scarves—Ashford SampleIt Weaving Loom

Weaving Loom Selection Criteria
Quality – 10/10
Type of Weaving Loom – Rigid heddle loom
About Ashford SampleIt Weaving Loom
This portable workhorse loom, made from silver beech wood by Ashford Wheels and Looms, is perfect for weavers on the go, especially if you're interested in learning how to weave simple patterns like scarves. This 10-inch tool is the ideal size to start weaving a scarf, without worrying if you are doing it right or if your narrow strips are going to end up outside the design pattern.
It is a small, portable tool that can replicate the results of larger looms in terms of weave quality with stunning accuracy. The only thing that might stop you from weaving more intricate designs than scarves is the resolution of this tool. So if you are looking to weave very fine yarns, this might not be the best option after all.
The 7.5 dpi spacing on the reed guarantees that the strings will always be in tune. Alignment is essential when it comes to the correct creation of scarf designs on the yarn. However, with this loom, you don't have to put any effort into alignment, and it will move over to provide you with the most significant advantage when weaving.
Pros:
Ideal size for scarf weaving
Portable
Rigid heddle loom for beginners
Cons:
The wood structure is unfinished, so you need to smooth it with wax or another sealant
4. Best Inkle Looms for Belts—Beka Inkle Loom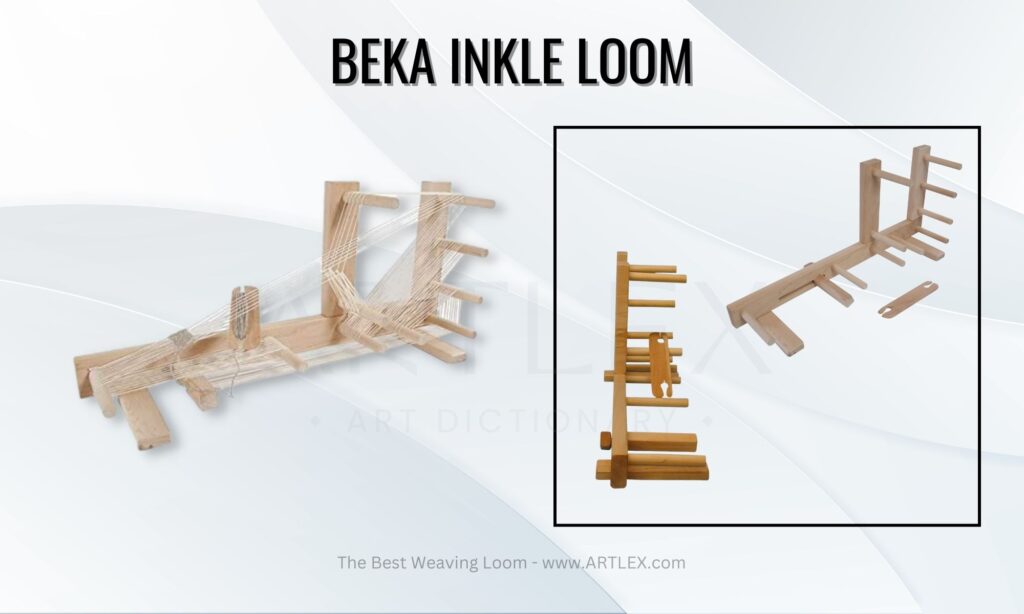 Weaving Loom Selection Criteria
Quality – 9/10
Type of Weaving Loom – Inkle Loom
About Beka Inkle Loom
Inkle weaving looms can be used to make warp bands for belts, purse straps, and other accessories. Not only that, but their usability is nearly unrivaled for long, thin crafts. These devices are not difficult to use or comprehend, and they can weave exquisite motifs out of thread. Furthermore, their slim shape makes them easy to store when not in use.
The Beka inkle loom is built of firm maple from Minnesota and Wisconsin, and it comes with a long strap and a fitting tensioner. This inkle loom can make crafts up to four inches broad and nine feet long.
However, the accompanying instructions are insufficient for beginners, so it may be a good idea to get a book ahead of time to learn how these looms function.
Pros:
It comes assembled, unlike other looms of its kind
A good option for novices and seasoned weavers
Cons:
Instructions are not very clear for novices
5. Best Weaving Looms for Outdoor Use—Schacht Cricket Loom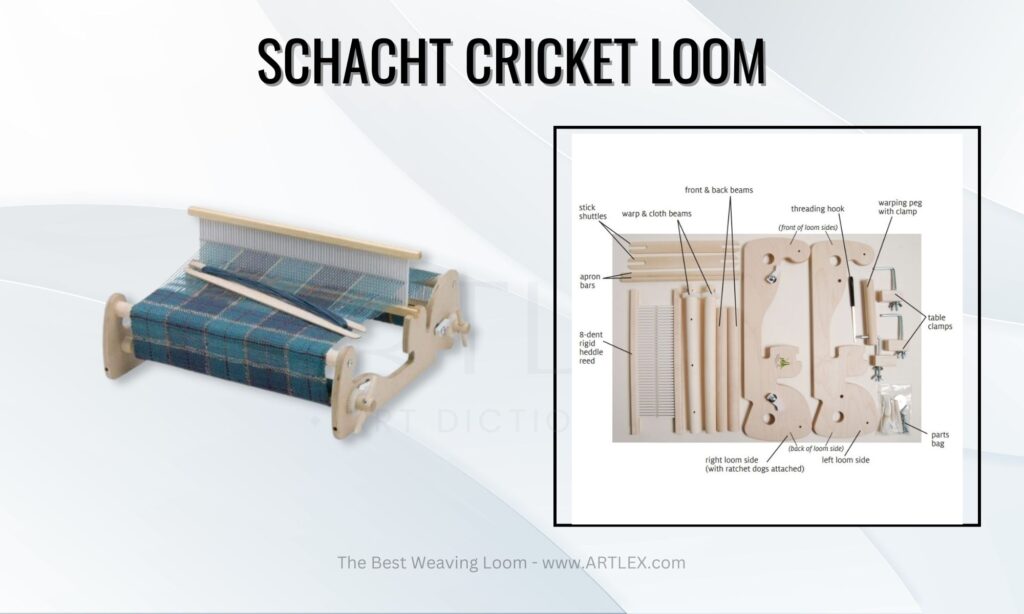 Weaving Loom Selection Criteria
Quality – 9/10
Type of Weaving Loom – Rigid heddle
About Schacht Cricket Loom
If the near-perfect Amazon rating from young artists and seasoned weavers is an indicator, this loom is a versatile option for adults and children alike, and its light weight of 5.79 pounds makes it an excellent choice for going wherever the mood takes you. It's made of high-quality maple – apple ply and hard maple – so it's durable enough to tote around without breaking.
The Schacht Spindle Company is well-known for its handweaving equipment, which are piece by piece manufactured in Colorado.
This 15-inch variant is a good compromise size that allows you to tackle a variety of weaving projects while remaining portable. It's quite user-friendly, and Schacht has an online lesson library where you can learn how to use this loom. Consider it a small investment that will help you enhance your weaving skills, no matter where you are in your journey.
Pros:
Portable table loom
Can warp eight threads
Lightweight but sturdy
Cons:
Unwaxed wood might hurt your yarn unless you smooth it on your own
Pricey option for this craft
6. Best Floor Looms for Large Volume Production—Schacht Wolf Pup LT Loom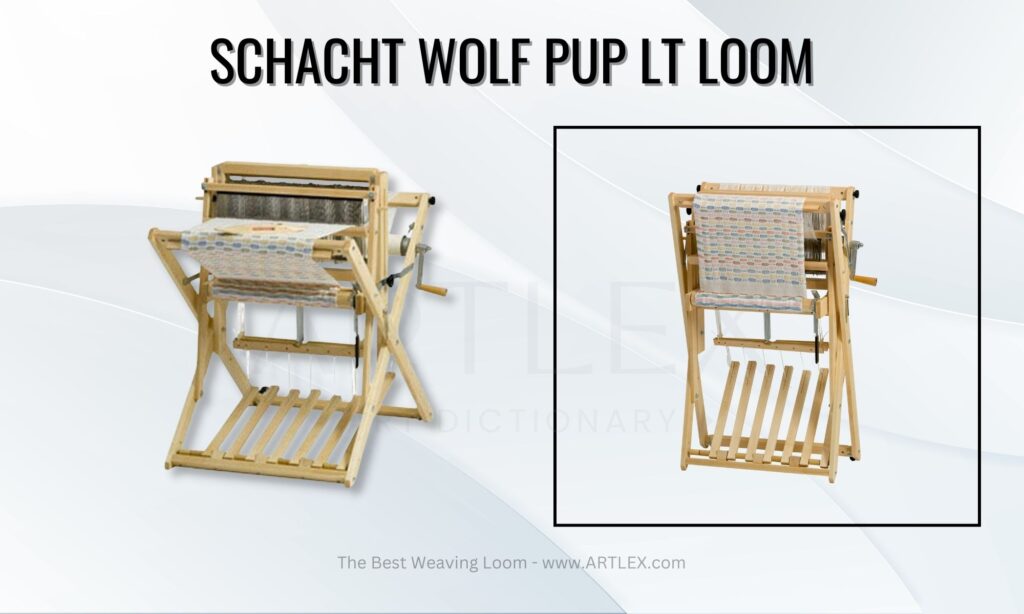 Weaving Loom Selection Criteria
Quality – 10/10
Type of Weaving Loom – Floor loom
About Schacht Wolf Pup LT Loom
The Schacht Wolf Pup LT Loom has been described as a workhorse for most professional studios. Although it is elegantly crafted, relatively lightweight, and quite compact when folded, it is a cutting-edge floor loom made to weave larger projects in volume.
A floor loom is an excellent investment if you have the room, the money, and the motivation to weave large production. For a good reason, these looms are considered the industry standard for weaving. They can generate both straightforward and intricate designs with equal ease. Because of their efficiency, you can produce a number of different things on a single warp. Quick to weave on, you can use both your hands and feet to make the process more efficient.
This 35-inch floor loom can create large fabrics with extra length and will last you for years to come, even for professional endeavors. Inevitably, dressing such a loom will take time, so getting it ready is a spot on your schedule on its own. However, producing numerous items on a single warp also reduces waste in each individual production run.
Pros:
Can create intricate weave patterns
Weaving larger projects
Best for experienced weavers
Cons:
This is a stationary object
One of the bigger looms
Conclusion—The Best Weaving Loom 2023
Irrespective of your weaving ability level, if you are looking for a holistic weaving loom that will accompany you in a large variety of projects, then the Beka 20″ Weaving Frame Loom with Stand is a good option to look into.
On the other hand, if you like to weave outside, the Schacht Cricket Loom 15 is an excellent choice as it is lightweight enough yet made of solid enough materials to carry with you without worry.
Finally, the Schacht Wolf Pup LT Loom will allow you to produce the most projects, such as woven mats and pillow covers, in production numbers.
We hope you found our analysis of the top weaving loom of 2023 to be helpful. Consult our associated guides for further sources of comparable items for the artistic lifestyle.