Spellbinders Platinum 6. It offers quality, portability, and versatility in both cutting and embossing tasks.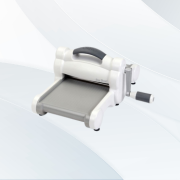 Sizzix Big Shot. It provides a powerful cutting strength, compatibility with third-party accessories, and a sturdy design.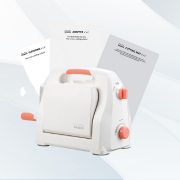 Bira Craft. It is compact, portable, beginner-friendly, and delivers excellent embossing results for small projects.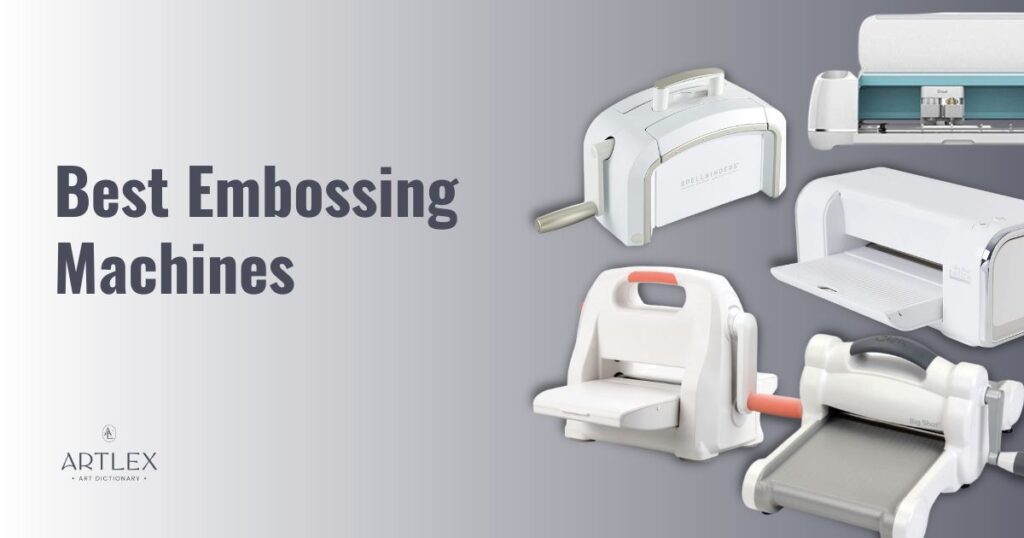 Have you ever run your fingers over a beautifully embossed card and marveled at the texture beneath your fingertips? There's something undeniably magical about embossing, the art of creating raised designs or patterns on paper or cardstock.
With roots tracing back to the time of the Gutenberg press, embossing has journeyed through centuries, adding an extra touch of elegance to everything from ancient scripts to modern-day greeting and wedding cards.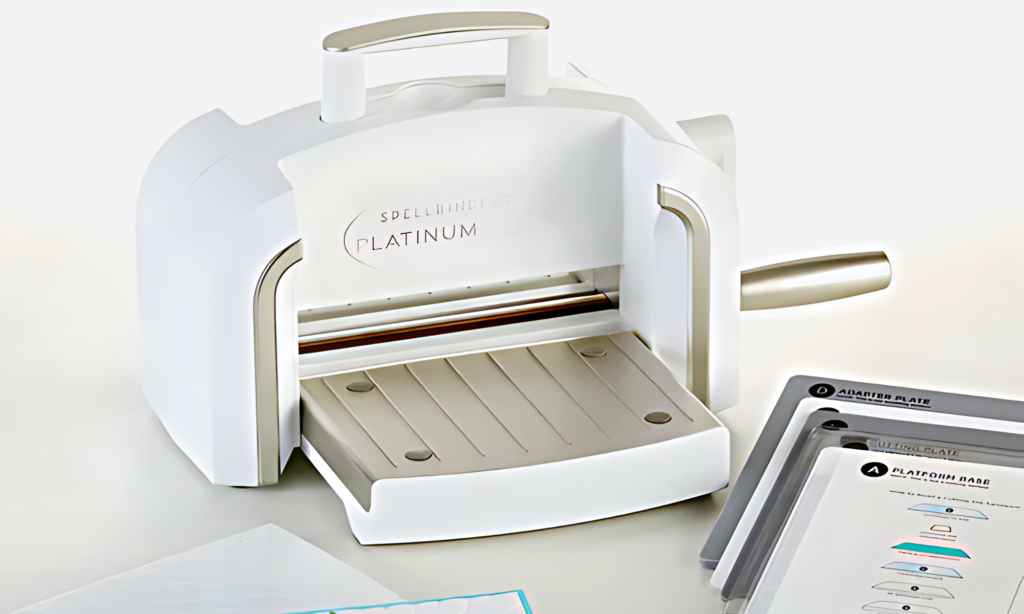 Fast forward to today, and we have technology that puts the power of embossing right at your fingertips – yes, we're talking about embossing machines! Gone are the days when embossing was a laborious process. With modern embossing machines, you can now bring your designs to life with depth and dimension, adding that special touch to your cards, scrapbooks, or any paper craft project that your heart desires.
But here's the catch: with so many embossing machines available in the market, how do you choose the one that's right for you? Don't fret, crafty friends, because we're here to help! Welcome to our guide to the best embossing machines for crafting and cardmaking. Together, we'll navigate through the vast sea of options and find the perfect machine that matches your creative visions, your needs, and of course, your budget.
The 6 Best Embossing Machines in 2023
Best Embossing Machine Overall –Spellbinders Platinum 6
Second Best Embossing Machine – Sizzix Big Shot
Best Embossing Machine for Beginners –Bira Craft
Best Electric Die-Cutting and Embossing Machine – Sizzix Big Shot SWITCH Plus!
Best Price-Value Electric Embossing Machine – The Empress from Anna Griffin
Best Electronic Cutting Machine for Embossing – Cricut Maker 3
1. Best Embossing Machine Overall – Spellbinders Platinum 6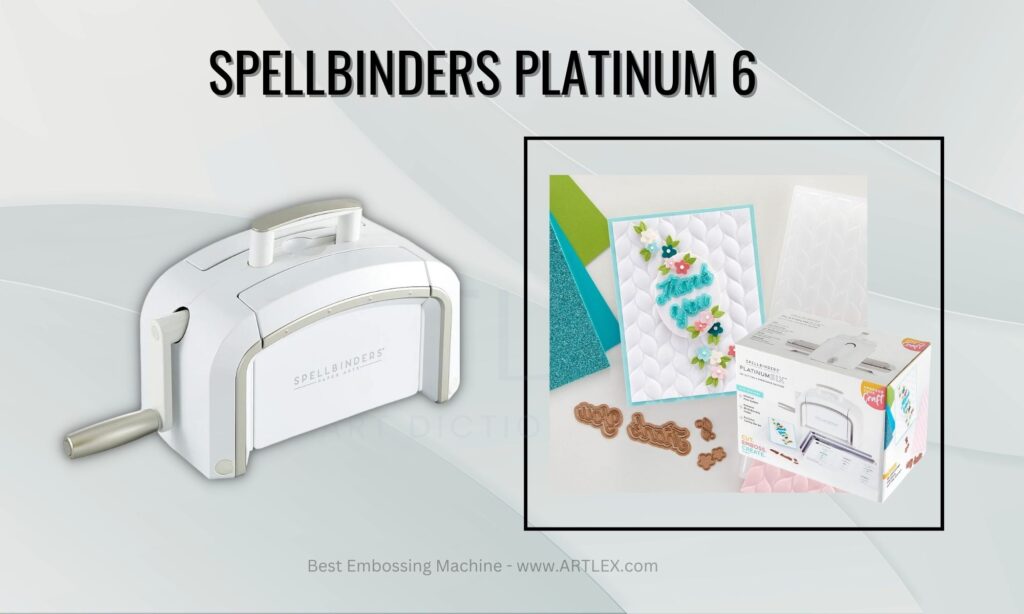 Selection Criteria
Machine Type: Manual Die Cutting Machine
Our Score – 9/10
Working Size: 6 inches
Our Score – 8/10
Versatility: Cutting and Embossing
Our Score – 9/10
Portability: Yes
Our Score – 9/10
Price: $159.99
Our Score – 8/10
About the Spellbinders Platinum 6
The Spellbinders Platinum 6 is a practical choice for your crafting needs, and the top selection of our list offering quality and portability as standout features.
Designed with small workspaces in mind, its 6-inch cutting platform is handy yet effective. Its ability to fold also contributes enormously to storage and transportation, which could be quite useful for those who attend craft workshops or events.
This machine doesn't compromise on functionality either. It is equipped to handle both die-cutting and embossing tasks. One important thing to note is its compatibility; the Platinum 6 can work with a variety of embossing folders and thin metal dies, making it a versatile tool in your craft kit.
However, remember to account for the expense of additional supplies like extra cutting plates and embossing mats. Although the Spellbinders is well-known for the quality and lasting of its accessories, these are, in the end, consumables that will need replacing over time.
Pros
Reasonable Price Point
Can work with numerous brands of dies.
Durable and sturdy design.
Cons
Manual operation might be a bit strenuous for some.
Not the lightest model for transport.
2. Second Best Embossing Machine – Sizzix Big Shot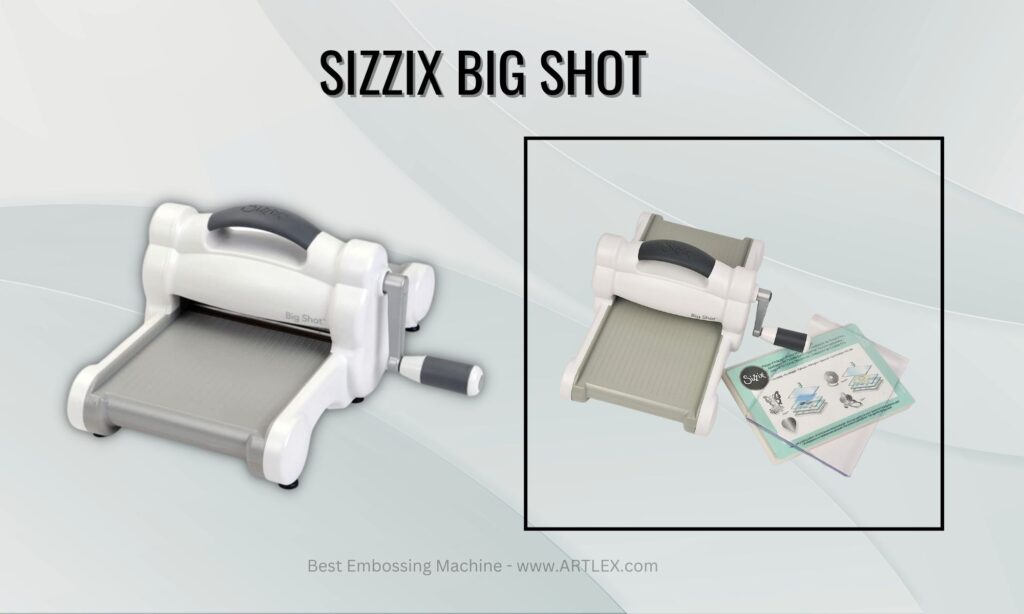 Selection Criteria
Machine Type: Manual Die Cutting Machine
Our Score – 10/10
Working Size: 6 inches
Our Score – 10/10
Versatility: Cutting and Embossing
Our Score – 9/10
Portability: No
Our Score – 6/10
Price: $95.85
Our Score – 9/10
About the Sizzix Big Shot
The Sizzix Big Shot is one of the best die-cutting machines on the market. Small but mighty, it packs a punch with its ability to both die-cut and emboss. It also has a high level of compatibility with third-party accessories, dies, and embossing folders, giving you more freedom to experiment.
Sizzix is also a well-known and trusted brand, so you'll have some peace of mind knowing this machine will last you years if not decades. It's very beginner friendly since it has the sandwich instructions printed on the main cutting platform, and it has a superior cutting strength due to its stationary design.
On the downside, despite its 6-inches feeding slot, this machine will have a significant footprint in your crafting table or studio, since it's not foldable nor portable at all.
Pros
Very sturdy and high quality.
Can handle a variety of material types.
Durable and long-lasting.
Cons
Manual operation.
Stationary (not foldable)
3. Best Embossing Machine for Beginners – Bira Craft
Selection Criteria
Machine Type: Manual Die Cutting Machine
Our Score – 10/10
Working Size: 6 inches
Our Score – 10/10
Versatility: Cutting and Embossing
Our Score – 9/10
Portability: Yes
Our Score – 9/10
Price: $89.99
Our Score – 8/10
About the Bira Craft
The Bira Craft is the perfect machine to begin your carting journey without making a hefty investment or having to learn complicated techniques. This handy machine is smaller than its counterparts, making it a portable and space-saving option that fits perfectly on any crafting table. Its user-friendly design simplifies the embossing process, making it a great pick for beginners.
Despite being a compact machine, it doesn't compromise performance. The Bira Craft delivers excellent embossing results consistently, providing crisp, clear designs that can rival the quality produced by larger machines. Whether you're crafting delicate cards or creating intricate scrapbook pages, this little gem can handle it all.
The only downside would be the size, since it has a small feeding slot, it will only allow for small dies, hence small projects, however, due to its size and foldable design it's also extremely portable and easy to carry around.
Pros
Compact size, ideal for small working spaces.
Good for beginners.
Affordable price point.
Cons
May not be as durable as some other models.
Limited cutting and embossing size.
4. Best Electric Die-Cutting and Embossing Machine – Sizzix Big Shot SWITCH Plus!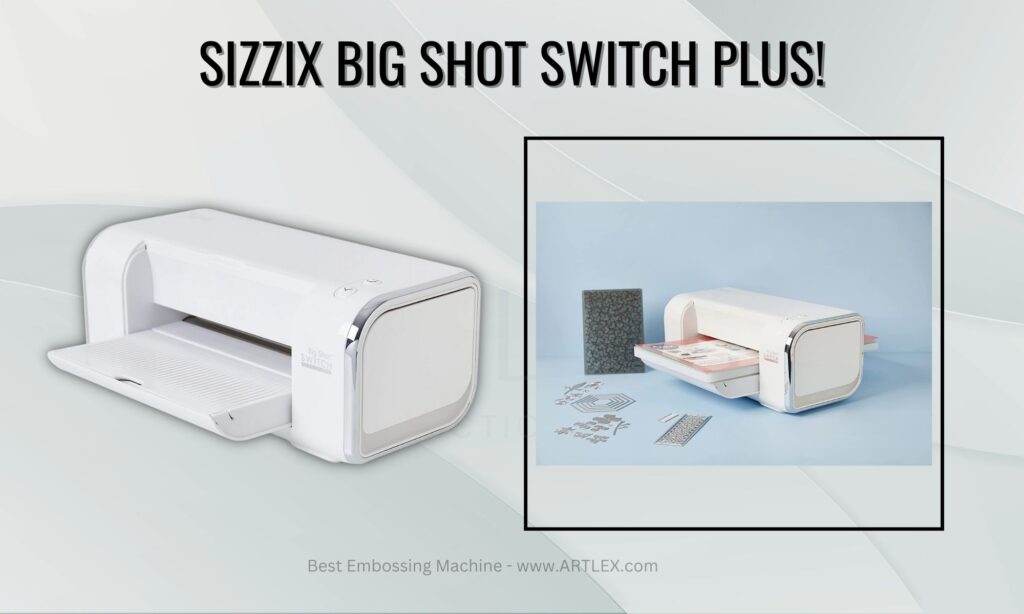 Selection Criteria
Machine Type: Electric Die Cutting Machine
Our Score – 10/10
Working Size: 9 inches
Our Score – 10/10
Versatility: Cutting and Embossing
Our Score – 9/10
Portability: Limited
Our Score – 9/10
Price: $329.99
Our Score – 8/10
About the Sizzix Big Shot SWITCH Plus
The Sizzix Big Shot SWITCH is a well-rounded embossing machine that balances utility with convenience, making it a solid contender in the world of crafting. It's designed for versatility, offering both cutting and embossing capabilities, and accommodating materials from Sizzix and other brands as well.
This machine has a 9-inch feeding slot and despite its compact size is quite powerful, and even includes an integrated slot for die storage. Its switch (or reverse) button is perfect for those intricate dies or thicker materials and although it's quite heavy, that only ensures strong cutting power and stability.
In the package, it comes included a 3D embossing folder and 24 dies for you to start crafting out of the box.
Pros
Electric operation allows for easier and more efficient use.
Compatible with various dies and embossing folders.
Cons
More expensive than other models and brands.
Might take up more space due to its larger size.
5. Best Price-Value Electric Embossing Machine – The Empress from Anna Griffin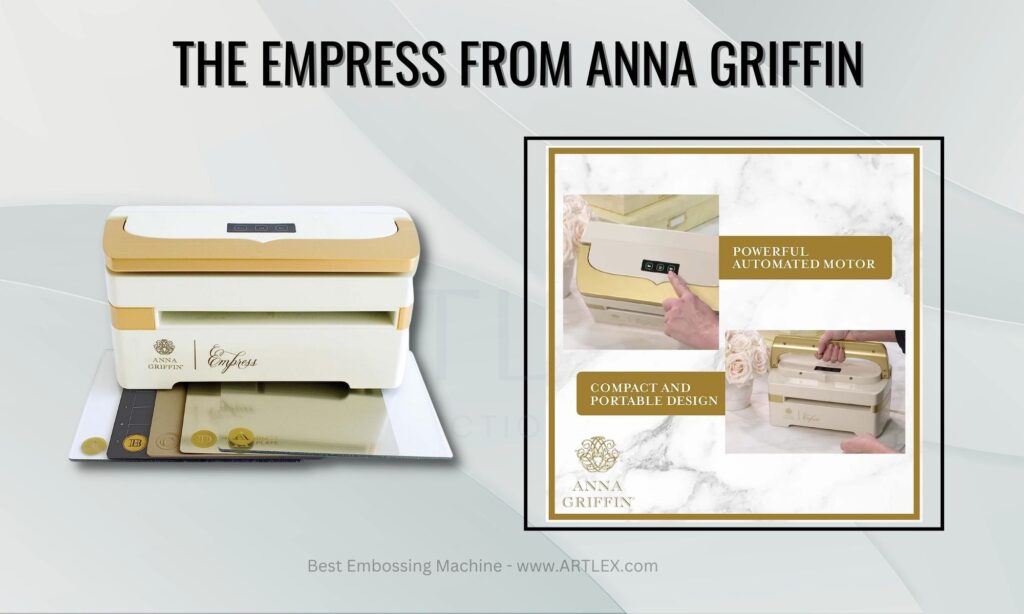 Selection Criteria
Machine Type: Electric Die Cutting Machine
Our Score – 10/10
Working Size: 7 inches
Our Score – 10/10
Versatility: Cutting and Embossing
Our Score – 9/10
Portability: Yes
Our Score – 9/10
Price: $279.99
Our Score – 8/10
About The Empress from Anna Griffin
The Empress from Anna Griffin is an excellent choice when we talk about die-cutting, and embossing, it's one of the highest quality and could be considered the best die-cutting machine on our list if it weren't for the price of the cutting plates and mats replacements.
This machine is also smaller than the Sizzix, it has a 7-inch feeding slot which is not conventional, but it works wonderfully. The cutting plates and pad replacements might be on the expensive side, however, they are also the most durable and less prone to warping from all the brands.
Included with your purchase you'll find two cutting plates (clear) a magnetic mat, an embossing mat (for dry embossing), and a metal shim for those intricate designs. You'll also receive 4 cutting dies and a very high-quality 3D embossing folder.
Pros
Electric operation, saving effort and time.
High-quality performance for both cutting and embossing.
Foldable, easy to store and transport
Cons
Higher price point.
Consumables are on the expensive side
6. Best Electronic Cutting Machine for Embossing – Cricut Maker 3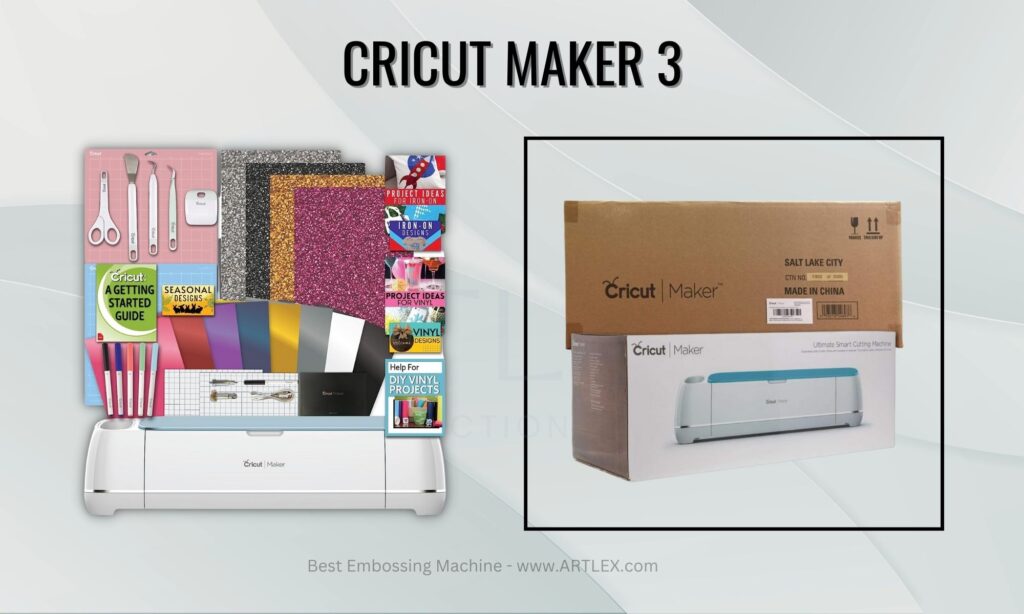 Selection Criteria
Machine Type: Electronic Cutting Machine
Our Score – 10/10
Working Size: 12 inches
Our Score – 10/10
Versatility: Cutting, Embossing, Engraving, Debossing, etc
Our Score – 9/10
Portability: No
Our Score – 9/10
Price: $349.99
Our Score – 8/10
About the Cricut Maker 3
Who doesn't remember the Cricut Cuttlebug Machine? this was one of the original cutting and embossing machines. Sadly it's no longer available, however, Cricut has come a long way after the Cuttlebug.
The Cricut Maker 3 is the best Cricut machine at the moment, it's fast, quiet, and precise. This machine doesn't only deliver great cuts but is also capable of flat embossing with the right tools and techniques.
This machine is compatible with the scoring stylus, scoring wheel, and debossing tool, which are perfect for thinner materials and difficult designs. This machine is also incredibly versatile since it doesn't just work with dies but cut designs you can take from the internet, etc.
The downside of this machine is the price since it has a quite high price point plus the accessories it needs to do the embossing. The machine is also capable of doing one design in a few minutes, while you can make multiple designs (of embossing folders) in a few minutes whit a manual or electric embossing machine.
Pros
Advanced cutting technology.
Can handle a large variety of materials.
Connects to the internet for access to numerous designs.
Cons
Requires a learning curve for those new to digital cutting machines.
Higher price point compared to other models.
Some features may require additional purchases (software, accessories).
How Does an Embossing Machine Work?
An embossing machine (Or die-cutting machine) primarily consists of rollers, a handle (or a start button in the case of electronic ones), and a slot to feed the "sandwich" (don't worry, we'll talk more about this "sandwich" in a bit).
Accompanying the machine, you'll often find two important accessories – Cutting dies and embossing folders.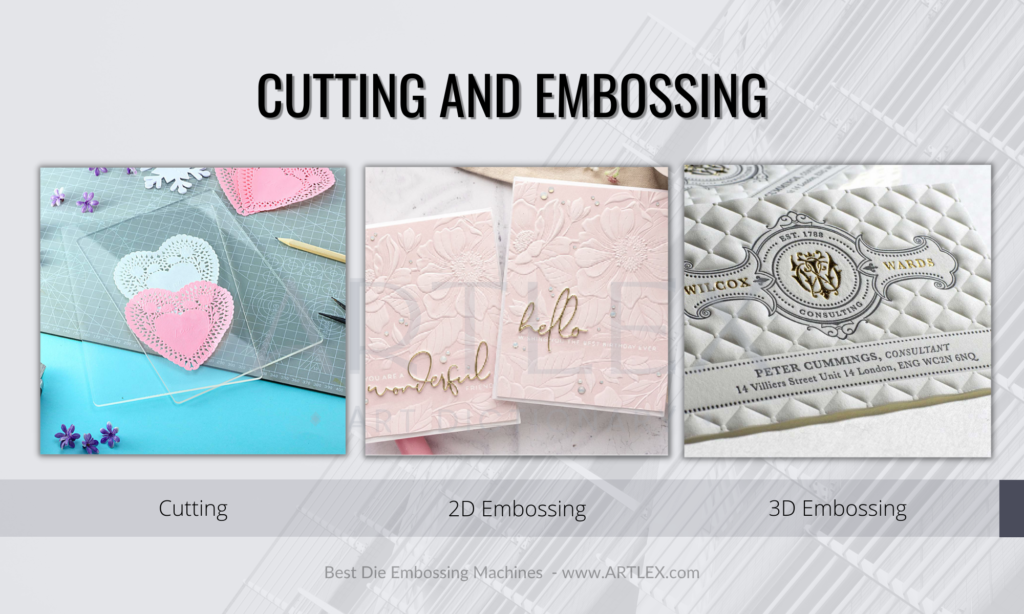 – Cutting Dies (can also be used for embossing): These are metal shapes that cut and/or emboss your paper when pressure is applied. They come in all sorts of wonderful designs – flowers, animals, geometric patterns, etc.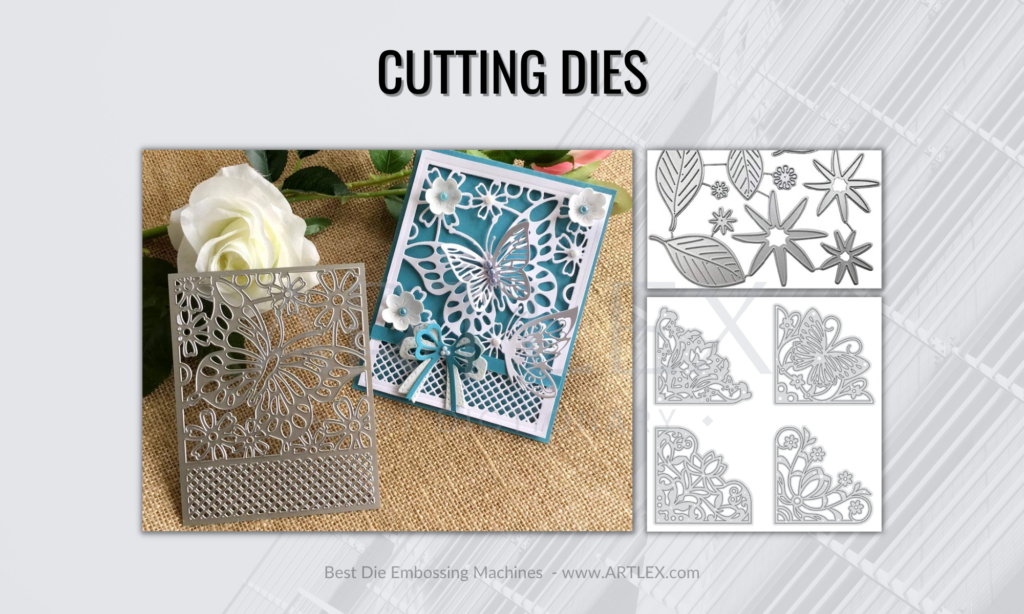 – Embossing Folders: These are plastic folders with a design engraved into them. When paper is placed inside and run through the machine, the design is transferred onto the paper, creating a stunning raised effect.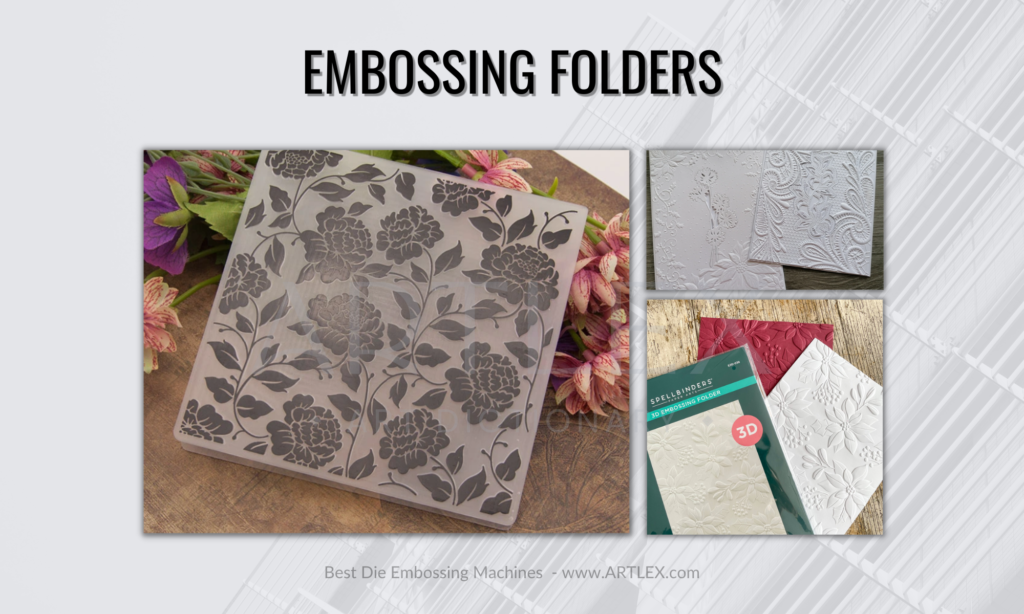 Making the Sandwich
To use the embossing machine, you start by creating a 'sandwich'. But this is not the kind of sandwich you'd pack for lunch! It's a layering of different plates, your paper or cardstock, and the embossing folder or die.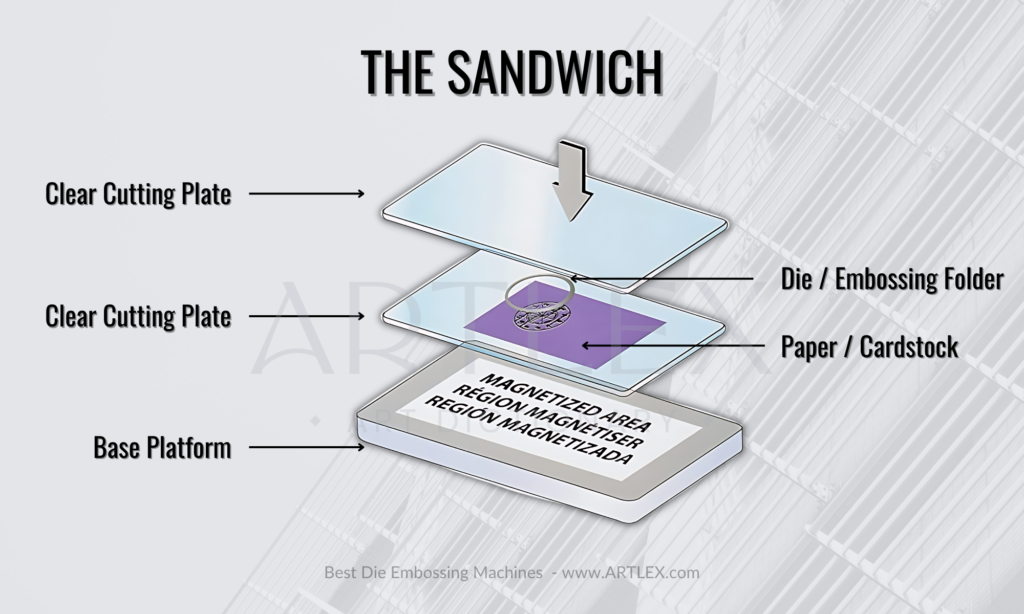 The specific order can vary slightly depending on your machine and whether you're using a die or folder, but generally, it involves a base platform, a special flexible pad for embossing, your embossing folder or die with the paper inside, and then a clear cutting pad on top.
The Transformation
Once your sandwich is assembled, it's ready to be fed into the machine. With a manual machine, you do this by turning the handle, which moves the sandwich between the rollers. The pressure from the rollers presses the design from the die or folder onto the paper, creating an embossed effect.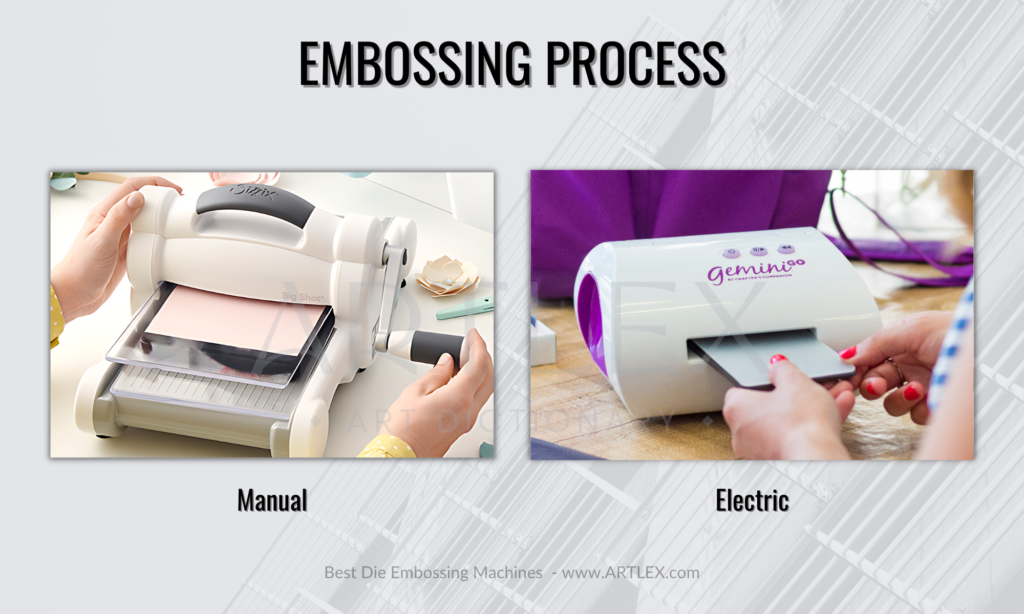 For electronic machines, you simply feed the sandwich into the feeding slot, press a button, and the machine does the rest!
Voila, Embossed Perfection!
Embossing Tips and Techniques to Test with Your New Machine!
1. Using Embossing Folders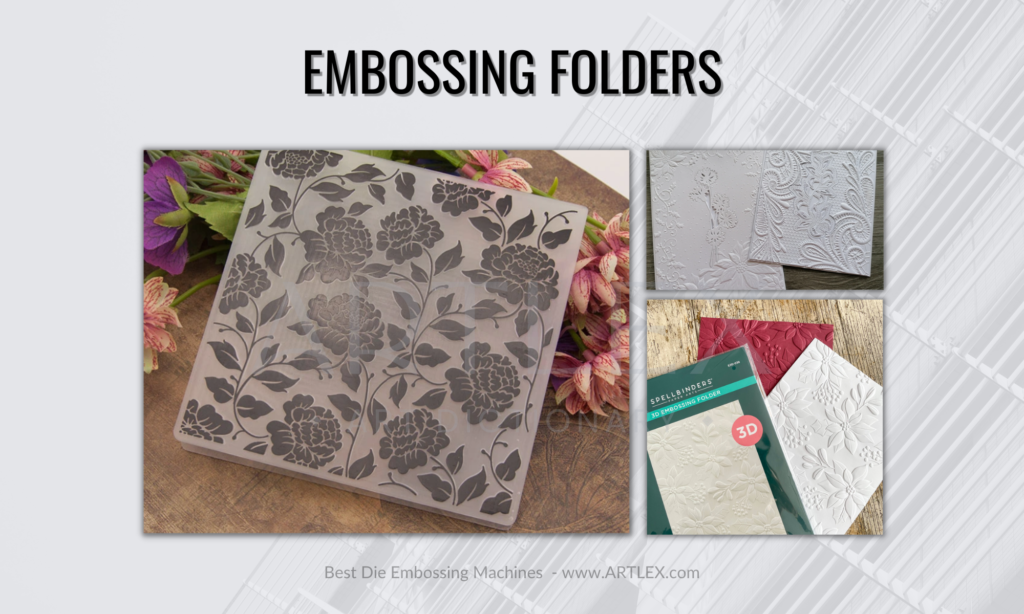 Usually, included with the purchase of most embossing machines you'll receive a couple of dies and embossing folders for you to try on these techniques. These are your starter tools to experiment with the various techniques we've explored. Begin by trying each die and embossing folder with different types of paper or cardstock to observe the results.
Try also different sandwich combinations according to the instructions on your folders and die cut machine. Use this hands-on exploration to become comfortable with your machine's operation and familiarize yourself with the embossing process.
2. Dry Embossing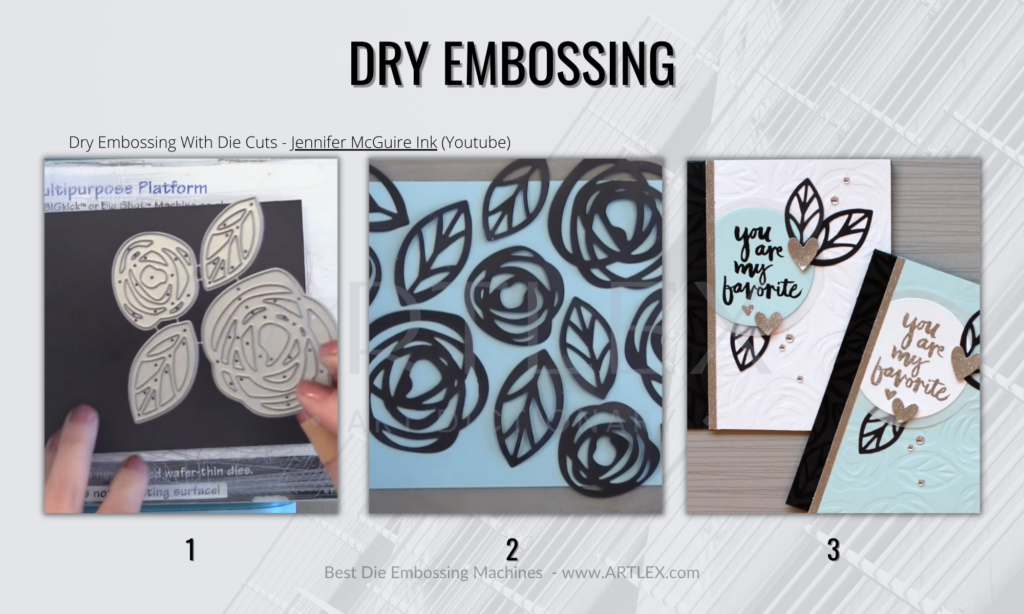 Many cutting dies also have embossing features, allowing you to cut and emboss in one step. If your die set doesn't have this feature, you can experiment with embossing after cutting: simply leave the cut pieces in the die, place a silicone or rubber mat under the die, and run it through your machine again. This should press the die's design into the paper or cardstock without cutting it.
You can also use your thin metal dies for embossing using the special flexible embossing pad your machine includes (you can get it separately if it doesn't come in the box). This flexible pad will make the dies press lightly enough to make the design instead of cutting it, and it's a great way to get the most out of your dies.
3. Double Embossing
This involves embossing a design, then re-embossing it with another design, creating an overlaid pattern. You'll need two different embossing folders for this technique, one with a simple pattern and another one with a center design or a contrasting shape. Just be careful to align your paper correctly for the second emboss.
4. Embossing with Stencils
This technique involves using a stencil instead of a folder. Tape your stencil over your paper, place a mat underneath, spray it lightly with some water, sandwich it between your cutting pads and run it through your machine. This method can give you more flexibility in your design placement and can make use of your stencils that can't be found as embossing folders.
Can a Cricut Also Emboss?
A Cricut machine is an impressive machine, celebrated for its cutting capabilities. But you might be asking: can it also emboss? The answer is a resounding yes!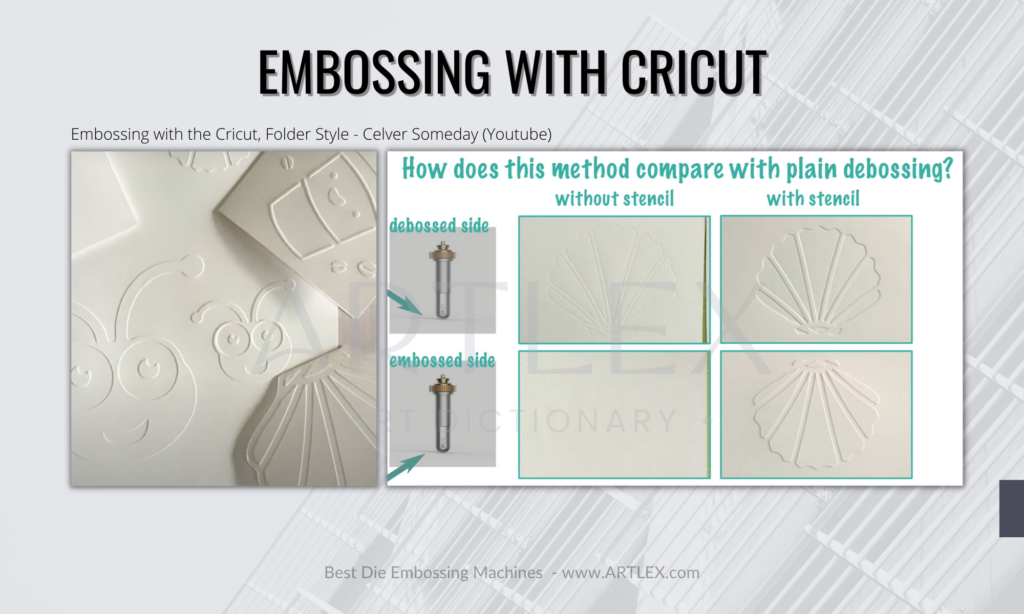 Though not designed specifically for embossing, with a few tricks and the right tools, your Cricut can be transformed into an embossing tool, expanding your crafting possibilities. Here's a quick guide on how to emboss with a Cricut:
– Set Up Your Project: Design your project using the Cricut Design Space. You can select images and patterns available in the software or upload your own design.
– Cut it: Yes, cut your design, for this step, we're going to use the thickest cardstock we can find (that is compatible with our machine of course) and cut our design in it, creating a "stencil" to emboss on.
– Choose the Right Tool: If you're using a Cricut Explore series machine, you can use the Cricut Scoring Stylus. For Cricut Maker users, you can opt for the more advanced Scoring Wheel.
– Prepare Your Machine: Insert the Scoring Stylus or Scoring Wheel into your Cricut machine, then, load your material onto a Cricut cutting mat with your stencil below (yes, below. The tool will need something to "push" down to create the embossing effect) and feed it into the machine. Cue, start the embossing process.
Your machine will use the Scoring Stylus or Scoring Wheel to create embossed lines based on your design.
– Finish Your Project: Once your machine has completed the embossing, unload your material. Depending on your project, you might then fold along the embossed lines or simply leave the embossed design as is.
Things to Keep in Mind
While a Cricut can create basic embossed effects, it's important to remember that it may not achieve the same depth and intricacy of design as dedicated embossing machines. This is because Cricut machines are primarily designed for cutting, with scoring and embossing being secondary features.
How to Find the Best Embossing Machine
Type of Machine
There are three types of machines that can be used for the embossing technique: manual die-cutting machines, electric die-cutting machines, and electronic cutting machines. To better understand the differences between these machines, let's delve into their workings.
Manual die-cutting machines employ a lever to move the two metallic rolles and exert pressure on the die and the material sandwiched between two rigid acrylic plates known as cutting plates. These plates rest atop a cutting surface and sometimes special cutting plates are used for embossing techniques and intricate design cuts.
A manual die-cutting machine can be a bit costly depending on its size. You can find compact machines as well as industrial ones. Smaller machines typically range between $50 and $100, while medium-sized machines can cost anywhere from $100 to $300.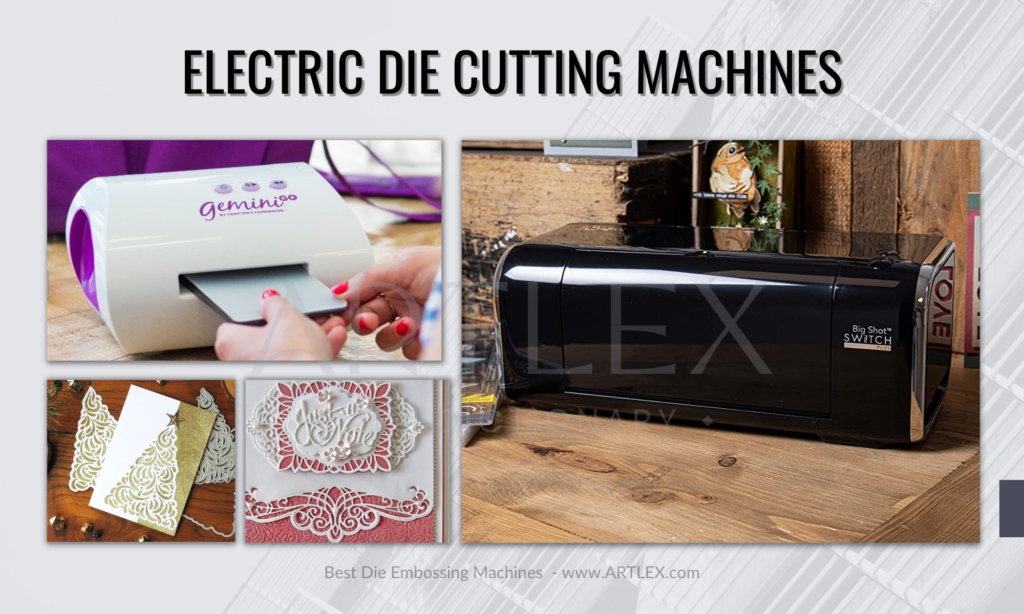 Electric die-cutting machines work similarly but without the need for manual effort or movement. Simply position your sandwich into the machine's feeding slot and let the machine do the rest.
Electric machines start at a slightly higher price point. There are no electric machines below $200, and these machines usually have a maximum feeding slot width of 9 inches.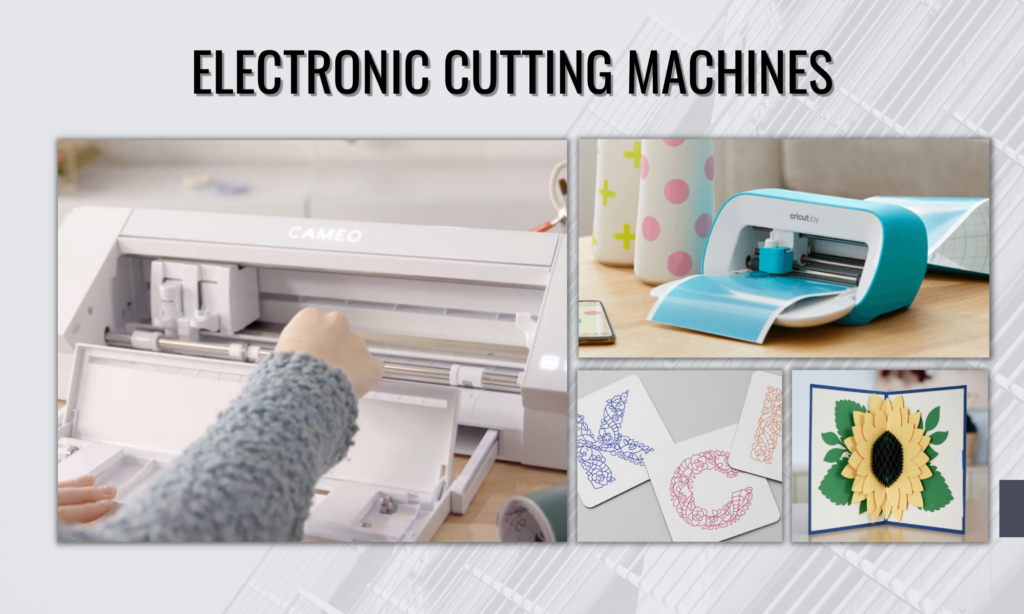 The last type is electronic cutting machines. Brands like Cricut, Silhouette, and Brother are the most popular in the market. However, of these three brands, only two can perform the embossing technique correctly, still being limited to an extent.
The type of machine will determine the work you do with it. While manual machines have limited versatility, creating a design on these machines can be done in a matter of seconds. In contrast, using electronic machines, that same design would take many minutes, which would be detrimental to card manufacturers and craft professionals who need to produce cards or designs in bulk.
Working Size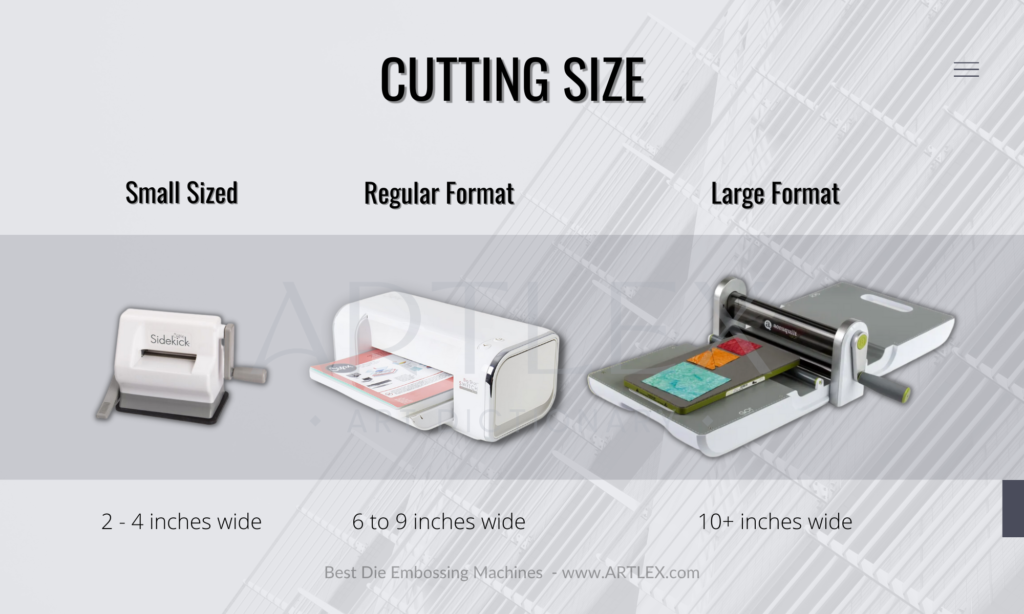 Die-cutting and embossing machines come in various sizes. You can find machines with feed slots from 2.5 inches to machines of 14 or 16 inches. These machines rely on plates or cutting surfaces. With the purchase of your machine, you will generally be included several cutting surfaces to perform cuts and embossing generally with a 2:3 ratio.
While these machines are limited to the width of the feeding slot, the length can vary. However, the number of cutting plates compatible with the sizes of these machines is limited according to the brand and model of the machine.
Before buying a cutting and embossing machine, I recommend you look at the size of the feeding slot and the compatible plates. Machines with large feed slots tend to be much more expensive, and machines with small feed slots tend to limit their usability significantly.
Regarding electronic cutting machines like Cricut or Brother, we can say that these are the machines that have the widest working limit of all embossing machines. However, these machines can only perform a flat embossing technique since textured embossing or curved and voluminous shapes can only be done with embossing folders.
Versatility
Versatility is also an important factor, as there are some machines that can only be used for die-cutting due to the cutting plates and accessory compatibility they have.
In this case, the most versatile machines would be the electronic cutting machines like Cricut or Brother, as not only can you perform embossing, but you can also perform cuts in multiple materials and many other crafting techniques that will be useful for making various projects.
If you are interested in having an electronic cutting machine, you should know that while these machines are very versatile, they are also slow compared to manual cutting and embossing machines, as they tend to take longer by design and require special techniques that the other machines don't.
Portability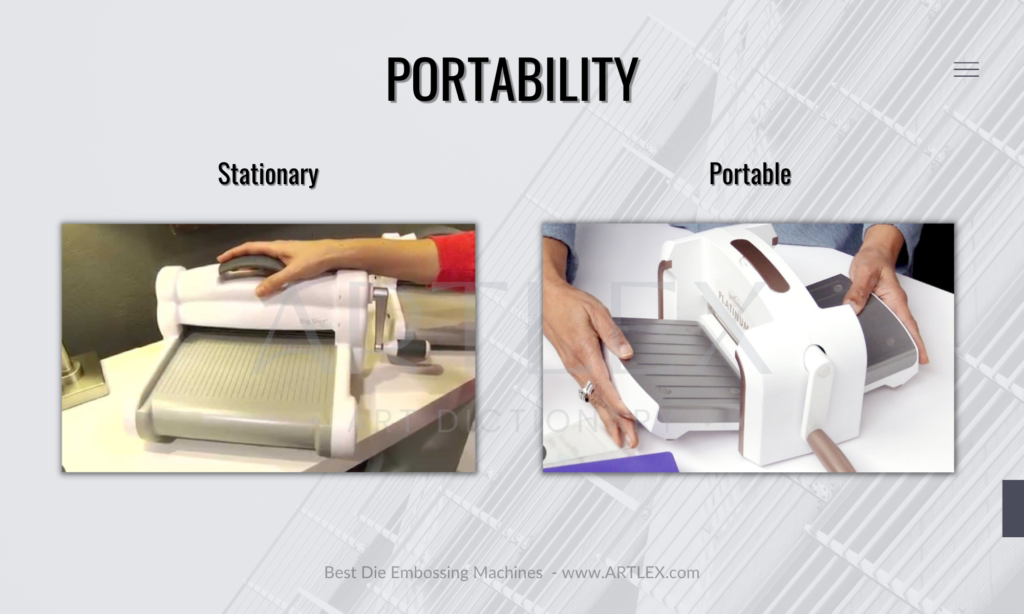 The portability and size of a machine is also important, as many craft professionals, artists, and card creators take or teach courses, so sometimes they need to take their machines with them. Machines like the Sisix Big Shot are not considered portable, as they have a high footprint because they cannot be stored or folded.
Machines like the Spellbinders Platinum Six are roughly the same size, however, this machine can be easily folded, stored, and transported, making it perfect to take and create from anywhere, be it the other room or other city. This machine also occupies less space, which is something important for those who don't have a large craft studio.
Electric die-cutting machines have limited portability due to their size and the fact that they need electricity to operate. While these machines are great for people with mobility limitations, chronic pain, or diseases that prevent them from exerting force with their hands, to use this machine will always require a power source within reach of the power cable, which usually ranges from 1 to 2 meters in length.
Consumables and Accessories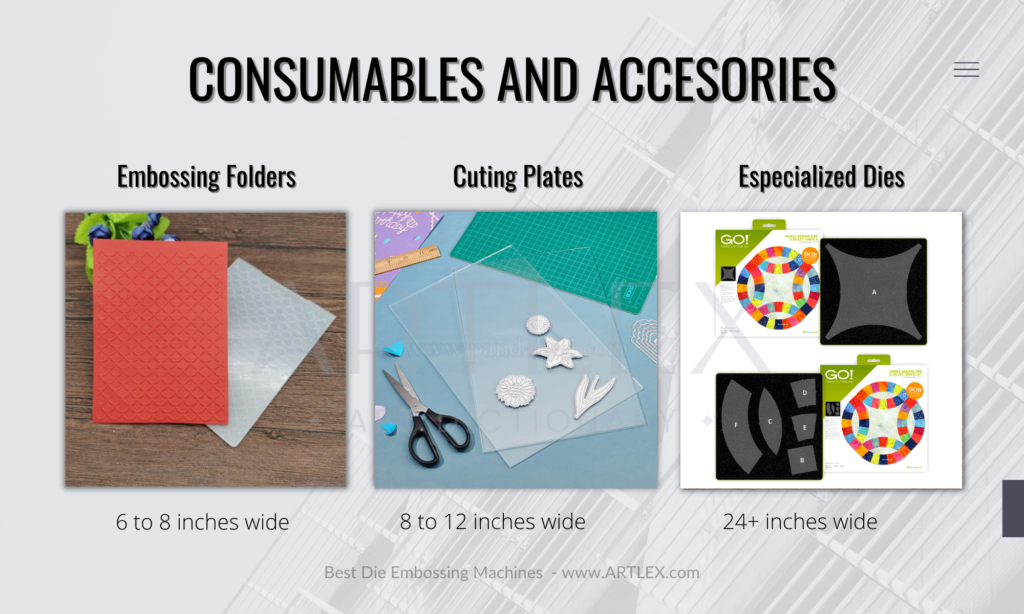 While these machines are great and do wonderful things, it is well known that they cannot work on their own. Generally included with your purchase, you'll receive a few dies and embossing folders to test your machine and make your first projects.
However, if you want to make more designs, you will need to acquire more of them at a craft store. These embossing folders and dies can be quite expensive on the long run, specially if you want to have a decent collection.
In addition to this, it is also well known that the metal cutting platform and cutting plates that come included with your machine tend to wear out over time, warp, and stop working properly due to usage, so it is advisable to acquire a few spare parts at the time of your machine purchase, specially cutting plates.
Adding these extra items to your shopping basket can push up the overall cost of your machine. Honestly, it might give your budget a little shake, especially if you're not prepared for a hefty investment right off the bat.
Price
Machine pricing varies rather significantly, largely depending on their dimensions and intended uses. Simple-to-operate manual die-cutting machines are more affordable, whereas electric cutting machines usually double their price tag. Indeed, these can even align in cost with electronic cutting machines such as a Cricut, Silhouette, or Brother.
But let's not forget the extra costs we've talked about earlier. If your vision involves making all sorts of designs, remember to factor in the cost of die-cuts and embossing folders when making your purchase.
If these machines are crucial to your business or job, the investment might be well worth it. But if you're merely dipping a toe into this crafty pool, consider starting with smaller models, or build your collection gradually to ensure your budget doesn't suffer a lot.
Furthermore, to create embossed cards and other goods, you'll typically need other materials and equipment. Don't forget to consider these in your budget if you're planning to immerse yourself more deeply into this craft.
Embossing Machine FAQ
What is an embossing machine?
An embossing machine is a useful little gadget that adds textures and patterns to paper or cardstock. It presses designs into paper or cardstock, creating a beautiful 3D effect.
What is this 'die cutting' you keep mentioning?
Die cutting is like using a cookie cutter, but for paper, fabric, and other materials. Dies are templates with sharp edges that you press into your material using the machine. They let you cut out shapes, words, or even intricate designs in a second.
Can all embossing machines do die cutting too?
Most embossing machines are quite the multitaskers! They can usually do die-cutting as well. But remember, you'll need to check each machine's specs to make sure which embossing folders they are compatible with.
Is a manual machine better, or should I go for an electric one?
Depends on your needs! Manual machines are budget-friendly and great for beginners, while electric ones offer more ease of use but are more expensive.
Can I use any brand of dies and embossing folders in my machine?
Many machines, like Sizzix, play nicely with different brands, but it's a good idea to check the manufacturer's compatibility guide just in case.
Are embossing machines easy to use?
Absolutely! With a bit of practice, you'll be embossing like a pro in no time. Plus, most machines come with a user manual to guide you through your first few projects.
How can I maintain my embossing machine?
Keep it clean and dust-free, and be sure to store it in a dry place. Don't force materials or dies that don't fit, and always follow the manufacturer's guidelines.
[/faq_question]