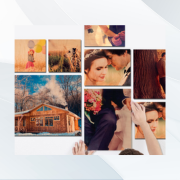 Customizable photo gifts from wooden plaques to yoga mats.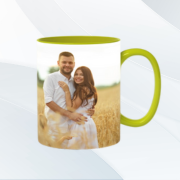 Personalized mugs for coffee lovers with customizable styles, colors, and texts.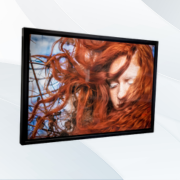 High-quality metal prints with varied framing and size options.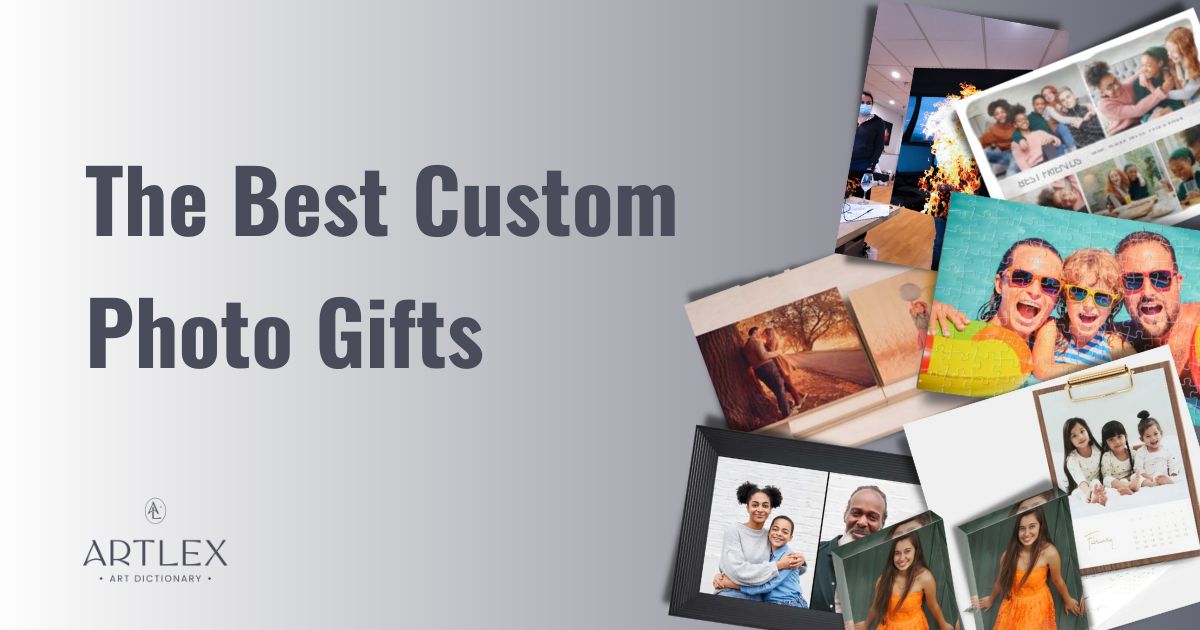 Highlight your favorite memories this holiday season with a personalized gift for that special family member or special someone. Family photos or pictures that feature the last vacation you took with friends are some of the best gifts to give this Christmas.
Photos are not only memories to treasure forever but also links to the people we love. They can emphasize our most cherished memories on cards, puzzles, a yoga mat, pillows, or useful calendars.
Review our wide selection below of personalized gift ideas and shop through our gift guide to find the ideal gift this holiday season or for a special upcoming event.
Our Recommendations for the Best Custom Photo Gifts
1. Best Custom Photo Gift Overall – Personalized Wood Photo Print – Canvas Champ Company
Take your favorite photo and turn it into a gorgeous and unique wooden plaque, lamp, magnets, ornaments, or a number of other unique gifts with Canvas Champ. Personalized gifts have a special touch to them and can highlight a favorite family memory, holiday, or beautiful family photos.
Additional options offered through Canvas Champ besides the more common photo mugs include image tote bags, pillows, cutting boards, Rubik's Cube, calendars, mouse pads, bookmarks, and even a yoga mat with a personalized image on the surface for the favorite yogi in your life.
This company specializes in photo gifts and its website offers an idea gallery for customers to share their unique ideas and get $10 off their order. What's more, it might spark creative ideas for your next photo gift or photo project.
Users can customize the thickness of the frame, finish, and mounting options available from the links directly on the Canvas Champ site. Sets of three and four-piece wood prints can also be given as gifts. The site offers dozens of coupon options for everything including 10% off, discounts on bulk orders, and special holiday discounts for Thanksgiving, a birthday, Mother's, and Father's day, among others.
2. Best Custom Present for A Coffee Lover – Custom-Photo Mug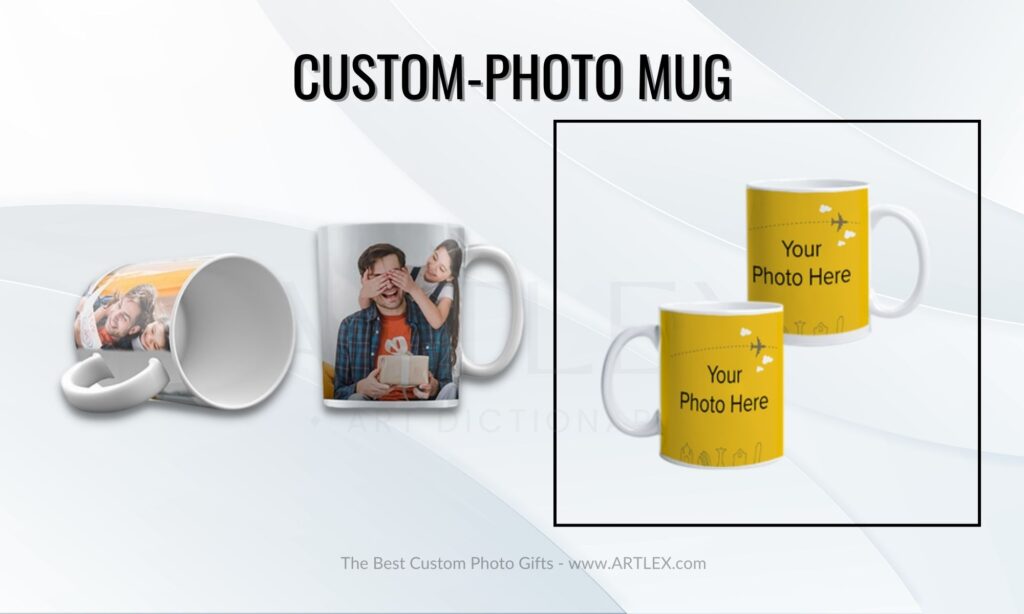 Personalized coffee mugs make great gifts for grandparents or close friends. A range of styles is available with seven handles and internal colors to choose from to highlight the photo image that is on the outside of the mug.
Optional color highlight choices do cost more than a regular white mug and there is one 11-ounce size ceramic mug to choose from.
The seven highlight colors range from pink, green, yellow, and orange. Shoppers can also choose different shapes for their images from a rectangle, circle, or square. Text can also be added to the mug for an added unique and personalized gift option.
All mugs are dishwasher and microwave-safe. In addition, these cups are specially designed to hold hot beverages.
3. Best Personalized Custom Gift – Tailor-Made Metal Photo Pictorem Company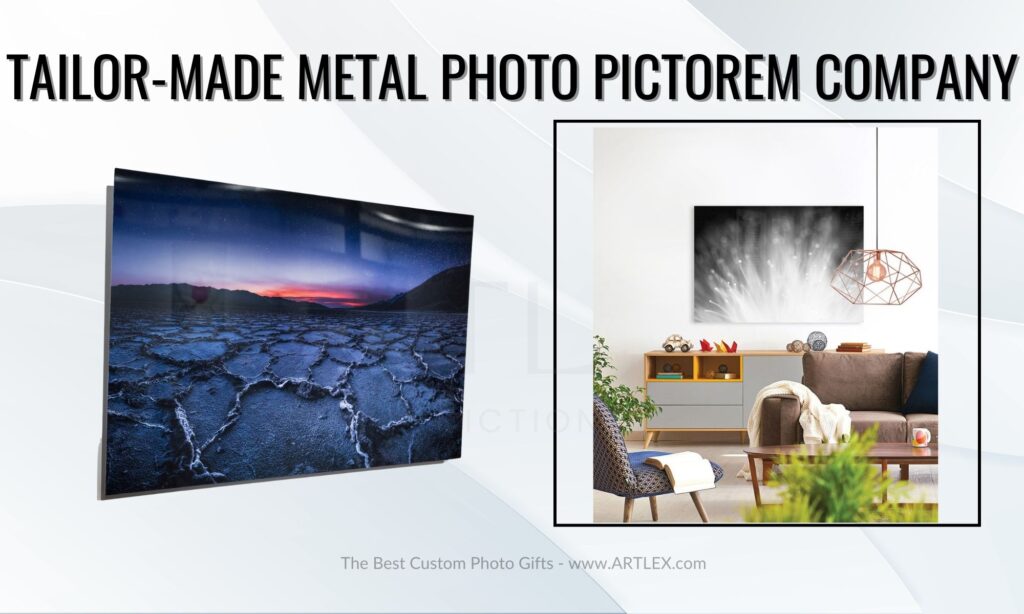 Framed metal prints make a statement and bring a special photo to life like these superior quality prints from Pictorem. They are a great gift for a happy couple, a father's day gift, or even a classy home office. High-definition images are printed using ChromaLuxe panels with state-of-the-art technology, one of the few that uses this high-end printing.
Gift ideas include dozens of framing options from float mounts, a frame box, or traditional frames in various colors, metallic shades, and styles, including contemporary, rustic, or oblique. The list of materials ranges from wood, polystyrene, and fotiou, among others.
Pictorem is one of the few companies that offers dozens of different sizing options from a large landscape of 60×40 inches to a small 10×30 portrait. Limited custom sizes are also available depending on image quality and customers should check with the company to see if their unique sizing request is available.
Metal prints are lightweight, waterproof, durable, and can last for over 60 years. What better way to showcase favorite photos in a gift that's meant to last.
4. Best Thoughtful Gift – Specially Made Photo Book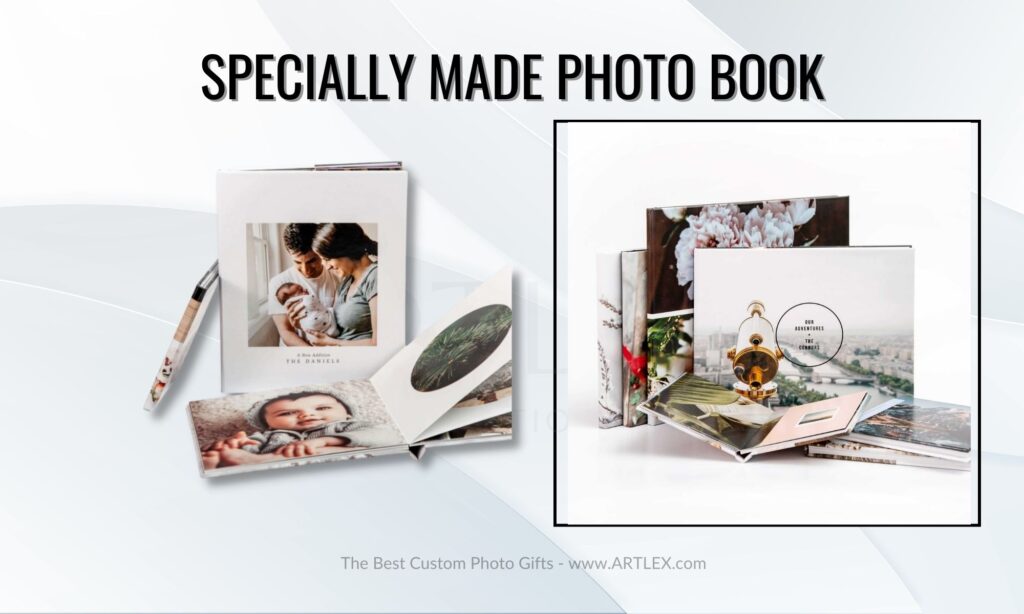 Photo books are personalized gifts that offer a more modern take on traditional photo albums. Share your favorite images with family members or close friends in a photo book and have fun creating a personal photo collection of a baby's first Christmas, a trip through Southeast Asia, and other special memories.
Personalize each photo image to highlight the occasion, from your favorite travel destination to pictures of your dad for father's day. There are four different size books available with each size offering various options from 6×6 to a large 12×12 for a square-shaped book.
Customers can choose a maximum of 100 pages and a minimum of 10 pages. Unique paper types include linen, pebble, and the usual deep matte, glossy, or luster. The site provides its own cover styles with over 80 different texts for the less design-inclined shoppers.
Printique offers a variety of different books from hardcover, leather-bound, fabric, or softcover albums. What's more, there are about a dozen gift themes to choose from, such as holiday, children, wedding, family, or love styles. The book comes with 20 pages and is an additional $2.20 per page.
5. Best Gift for A Minimalist – Digital Photo Frame from Aura Company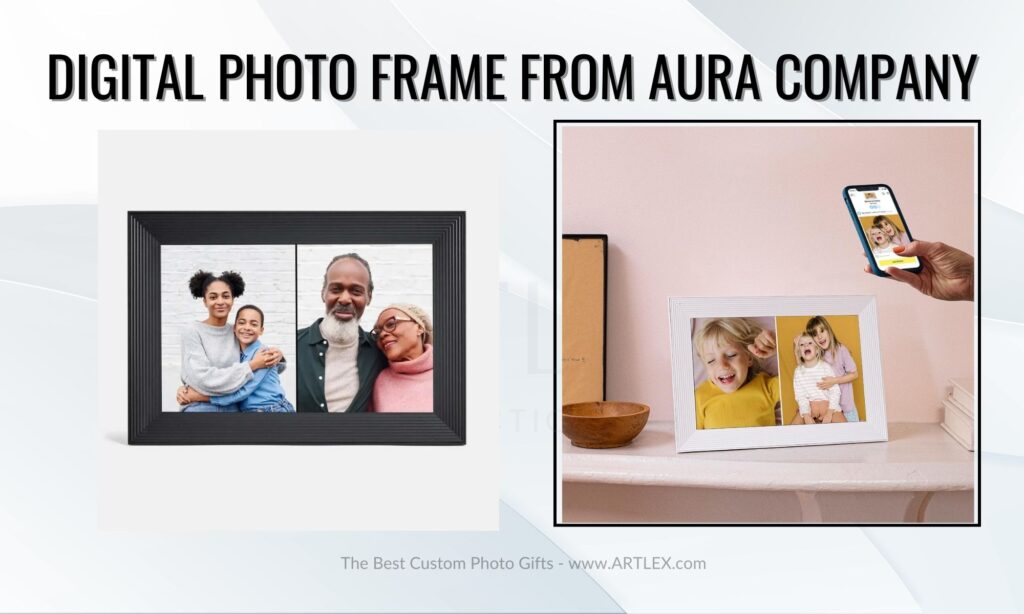 A minimalist best friend or relative who doesn't like to clutter walls with photos will appreciate this digital frame from Aura.
The HD image display is rather large at 10.1 inches and will automatically display similar images next to each other, or users can customize their own display order.
This digital frame can hold an infinite number of photos, have different viewing speeds, and even display videos with the sound handily played from the built-in speaker.
Setup is simple once the Aura app is downloaded, where photos can be added from a smartphone camera directly to the Aura digital frame.
6. Best Custom Puzzle Photo – Create Jigsaw Puzzles Company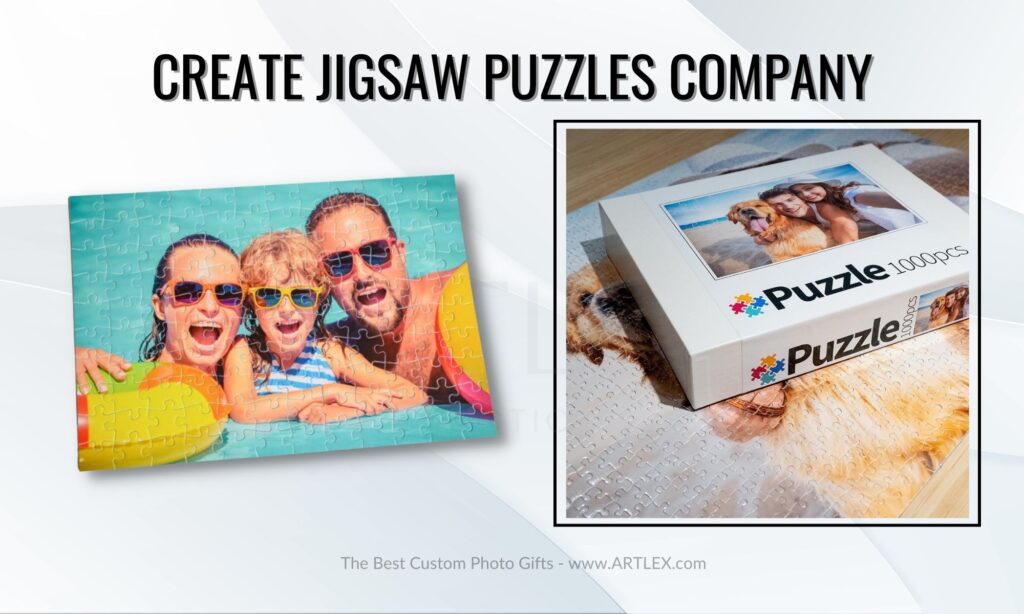 Personalized gifts will never be the same as with this custom photo puzzle. This tailor-made puzzle makes the perfect gift for kids, grandparents, or anyone special in your life. Capture a personalized photo and transform your favorite memories into a puzzle.
Family members who love games will appreciate their favorite photos immortalized in an interactive puzzle.
7. Best Custom Photo Present for Kids – Playing Cards Shutterfly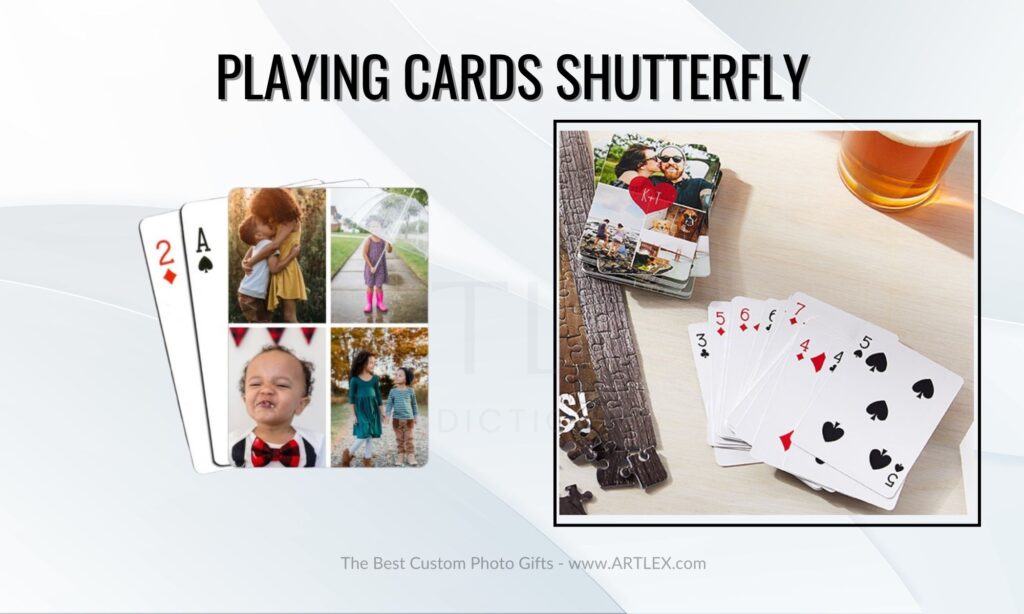 Kids will love to see their favorite photos on a set of personalized playing cards. Pictures can include a collection with a special friend, family members, or a year of their life. Other options include photos of pets, vacations, or your favorite Thanksgiving, Halloween, or Christmas holidays.
Some gifts include up to nine photos, with each deck of cards providing dozens of different styles to choose from, including some with black or white borders, collage photos, framed images, and monogrammed.
The site also offers special occasion themes for a wedding, cards with photos of pets on them, stocking stuffers, kid-friendly themes, and an "anything" theme that includes any in-between photos.
When you sign up using your phone number you immediately get 20% off. Shutterfly has year-round discounts that can be as high as 50% off card sets with an additional 20% off the entire order.
8. Best Present for a New Home – Tailor-Made Picture Pillow Shutterfly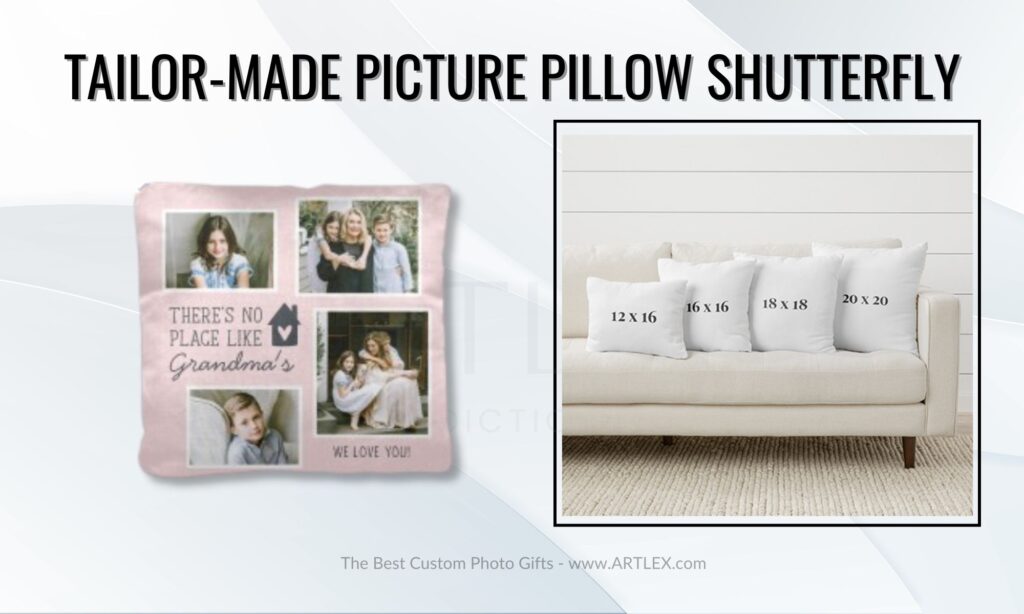 Throw pillows that have a customized image on the front and are created with love are the perfect gifts for a new home, to celebrate a first Christmas together, or for the birth of a new family member.
Each pillow comes in four different sizes and dozens of various styles. All pillows have the option to be customized on both sides. Colors include either black or white backgrounds in a poly weave. The sherpa pillow fabric offers a luxurious touch to cold winter nights.
Simply upload your favorite picture or search for an image on your smartphone, choose a color, style, size, and the type of surface wanted, and your pillow will be on its way. It's that simple.
The cover is machine washable and each pillow comes with a synthetic pillow insert. Picture quality is excellent and text can be added for that extra personal touch.
9. Best Unique Photo Gift – Acrylic Photo Block from Bay Photo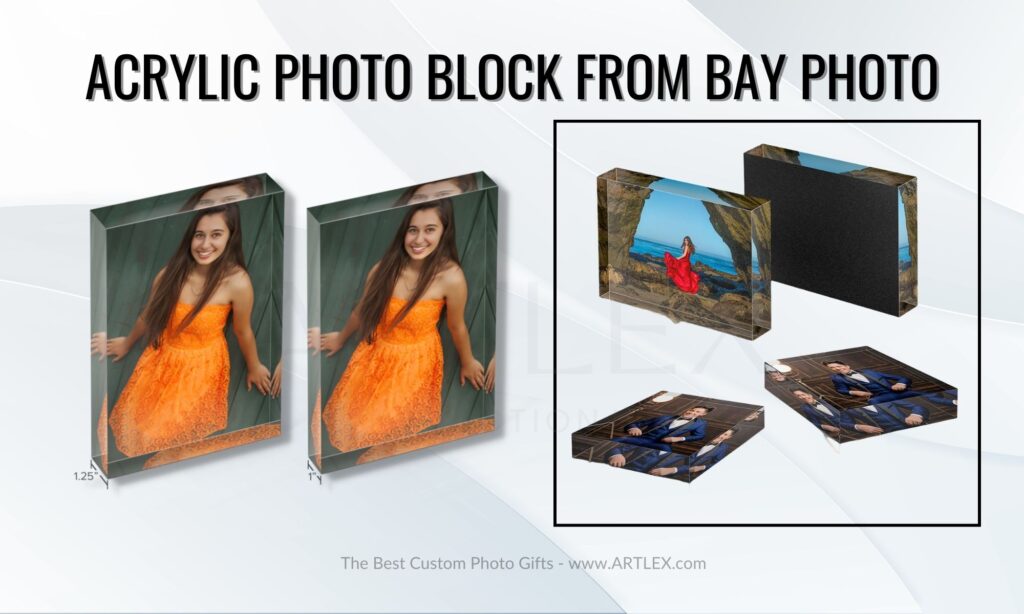 Acrylic photos are a creative way to enhance a favorite picture and make wonderful gifts this holiday season. Photo blocks can be hung up as wall art or displayed on a desk or other surface.
Bay Photo offers a variety of acrylic block options, including 1–1 ¼-inch thick blocks and eight sizes for the one-inch block from 2×8 -inches up to 8×10-inches or five sizes in the 1 ¼-inch block from 5×7 to 10×10 inches.
Two surfaces are available, from metallic to vivid, that can enhance the vibrancy of colors in a photo. Features include pictures that are printed on plexiglass with a soft black backing.
Acrylic blocks are waterproof and highly light-resistant and can last decades with the proper care. They require a light dusting with a soft cloth and soap only. Avoid cleaning acrylic with caustic chemicals as they will destroy the surface.
10. Best Custom Office Gift – Personalized Photo Calendar Artifact Uprising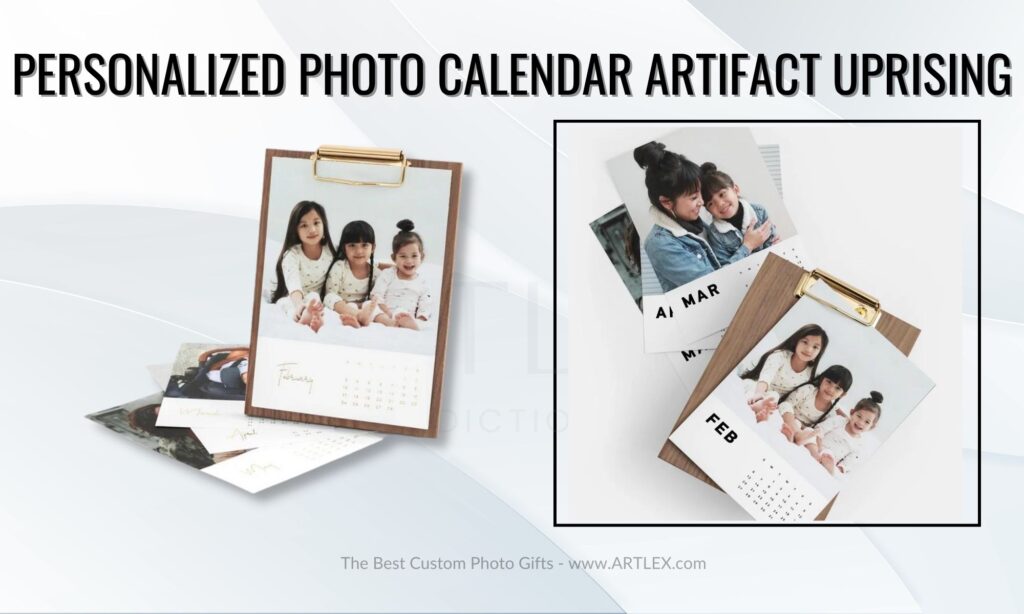 This beautiful walnut calendar makes a statement on any desk or counter. Features of this hand-made calendar include a backing made of reclaimed walnut, a brass-coated holder, and six text options that range from foil serif to foil script for a more hand-written design type.
Users can customize each picture and even decide which calendar month will start the year. Pages are easily removed from the clipboard without needing to be ripped off like traditional spiral-bound calendars.
Calendars are printed on 5×7-inch acid-free archival, matte paper with an eggshell color. Wall calendars can also be purchased without the walnut backing and are 19.5 x 9.5- inches.
The company offers year-round promotions with higher discounts around the holidays. Shipping times and rates vary depending on the number of calendars ordered and shipping location.
Conclusion
We hope our shopping tips to buy the best custom-made photo gift have been helpful. We've covered the different types of photo presents available along with our recommendations in various contexts.
We've discussed how you can choose the best custom photo present with different themes, styles, or fonts that are sure to bring a smile to a loved one's face. Lastly, we've combined our recommendations for those photo book companies that offer a variety of gift options, shipping options, and offer discounts whether buying bulk orders of pillows, cards, a custom photo jigsaw puzzle, or a photo mug for a coffee-lover.
Thanks for reading; we hope our suggestions help you choose the best custom-made photo gifts, whether given as a gift for a special holiday, event, or celebrating a momentous time with loved ones.