Uni Posca Paint Markers: Vibrant and versatile paint pens with a wide nib range, loved by creatives for consistent quality across multiple surfaces.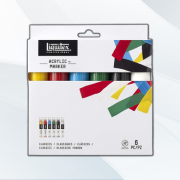 Liquitex Markers: Archival-quality, mixable acrylic markers from a trusted brand, offering vibrant colors and a range of tip sizes for artistic flexibility.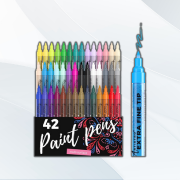 Artistro Acrylic Paint Markers: Budget-friendly, user-friendly paint pens with bold pigmentation; a favorite for DIY enthusiasts and emerging artists.
So, you're scrolling through social media, and there they are, those amazing art pieces on mirrors, rocks, glass, and wood that make you stop and think, "How did they do that?"
The answer might be simpler than you think: Acrylic Paint Pens.
Now, we're not saying these pens are the secret to instant talent, but when it comes to line control or adding those extra details to your work, these pens are hard to beat.
The versatility of acrylic paints is truly unmatched, they can be used for drawing, painting, illustrations, muralism, mixed media art, fabric art, signage, lettering… There are a few art mediums that have that many uses, that's why they're the favorite of pros and beginners alike.
So whether you're a beginner looking for an easy-to-use supply or an experienced artist who wants to expand their collection, stick around.
In this article, we'll teach you all you need to know about acrylic paint pens, how to use them, how to activate them store them, and how to choose the best ones for you. We'll also present you with a curated list of the best acrylic paint pens in the market so you can take your pick from the best of the best without worrying about getting scammed or buying low-quality products online. Let's get started!
What are Acrylic Paint Pens?
Acrylic paint pens are essentially markers filled with acrylic paint. Unlike traditional acrylics, these pens offer the finesse of fine-tip markers, making them ideal for specific types of art projects. They're excellent for intricate detailing, outlining, and filling in small areas. While they may not replace brushes for larger works, they're incredibly useful for adding finishing touches or working on smaller, more detailed pieces.
Anatomy of Acrylic Paint Pens
Understanding the anatomy of an acrylic paint pen can help you use it more effectively. The basic components include: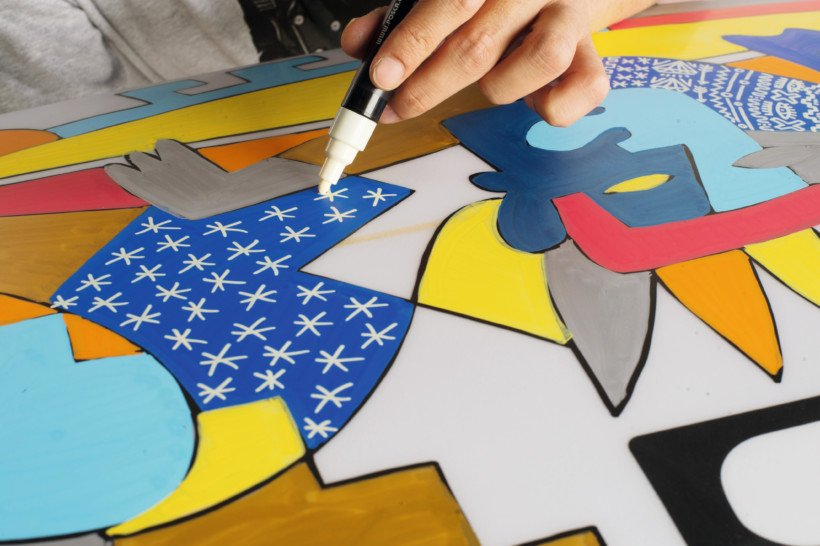 Tip: This is the part that touches your canvas or work surface. Tips can be fine, medium, or broad.
Barrel: This is the body of the pen, usually cylindrical, that holds the paint.
Cap: The cap keeps the paint from drying out when not in use.
Pump Mechanism: Some pens come with a pump mechanism to control the flow of the paint.
Different Tips and Uses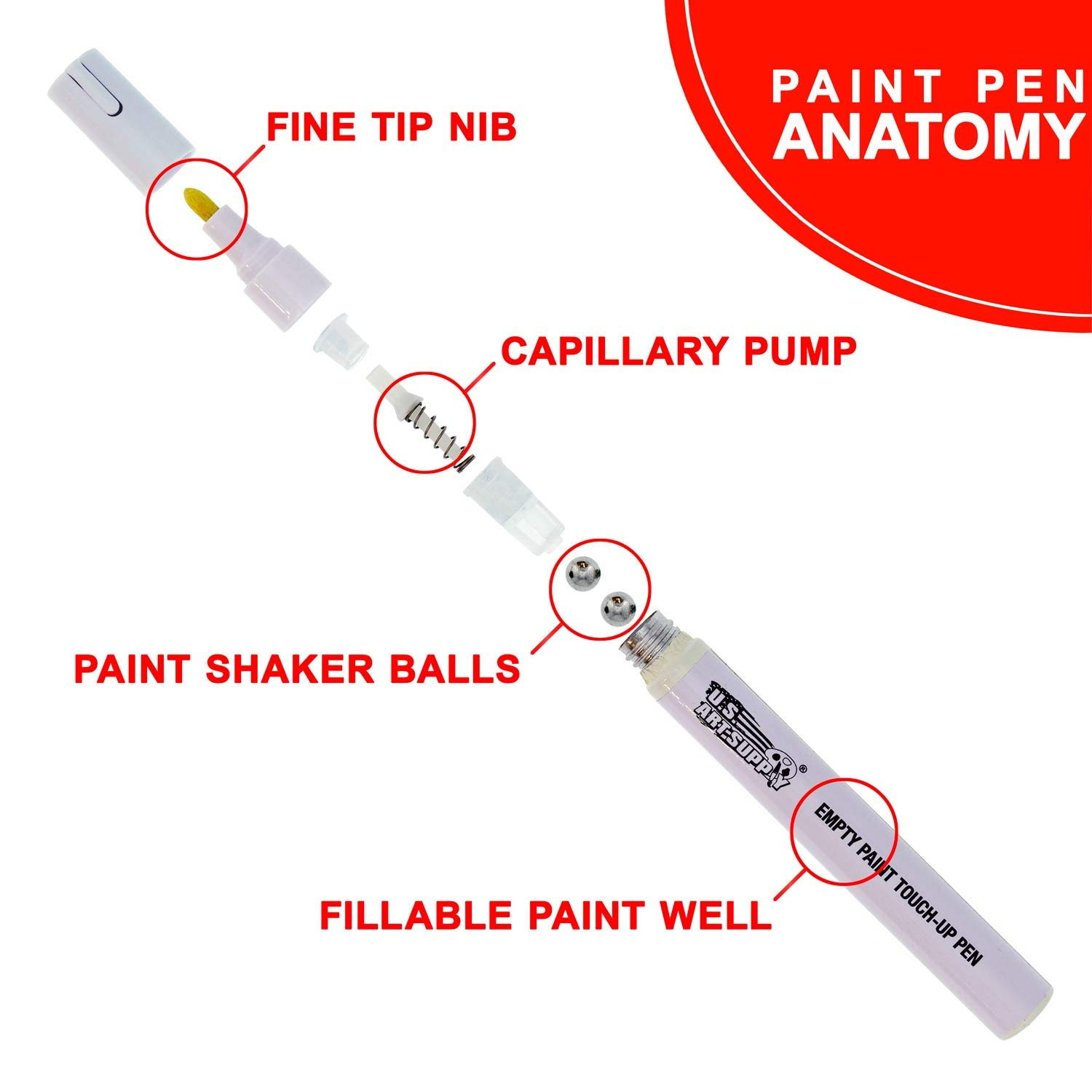 How to Activate Acrylic Paint Pens
Before you can start creating art with your new pen, you'll need to activate it. Make sure to follow these steps:
Ensure the cap is on, then shake the pen vigorously for a few seconds to mix the paint inside.
Press the tip down on a piece of scrap paper until the paint begins to flow, this is called "priming the tip".
Scribble a little on the scrap paper to make sure the paint flows evenly, but be careful with splatters and overflows!
How to Care and Store Acrylic Paint Pens
Being realistic, your acrylic paint pens are not gonna last forever but that doesn't mean we shouldn't care for them. They can last you for a couple of years or more with the proper care if you follow these recommendations:
Cap Tightly: Always replace the cap immediately after use to prevent the pen from drying out.

Use Them Regularly: Use your markers from time to time to shake the paint inside and avoid clogging the valve.

Store Horizontally: This ensures an even flow of paint for future use.

Clean Tips: If your pen has a removable tip, occasional cleaning in warm, soapy water can prevent clogs.

Avoid High Temperatures: Store your pens in a cool, dry place away from direct sunlight.
What To Look For In Acrylic Paint Pens
Tip Sizes
When buying acrylic paint makers, one of the first questions you must ask yourself is what am I going to use them for? What kind of project am I making?
Different tips offer different lines and levels of control as well as paint flow. If you're going to make cards, practice lettering, or use them for your journal, then smaller markers with fine, brushes and small chisel tips are ideal while if you're going for signage, muralism, and fine art, you're better off with larger tips. If you're doubtful about what kind of tip you need or the sizes that exist in the market, then check the previous section for more information.
Color Range
The color range of acrylic paint is unmatched, however acrylic paint pens don't have that much color range freedom, since they come in small containers so it's always good to check which colors come in the set you're purchasing and if the brand sells separate units of the colors.
Some brands might offer basic sets and specialized ones with neon, metallic, and pastel colors, some also sell refills and empty markers that you can mix your own colors on with high-flow acrylic paint.
Pigment Quality
The quality of the pigment is another vital factor to consider when purchasing acrylic paint pens, especially if you're creating art that you want to last for years. The term "lightfastness" in art refers to how well a pigment retains its original hue and intensity over time, resisting fading when exposed to light, air, or other environmental factors.
For artists working on projects meant for public display or for sale, the pigment quality and lightfastness can directly impact the artwork's longevity and value. Although there are a few brands that offer true archival pigment and paint, it's always safe to double-check before purchasing.
Price
And lastly, the price. While getting the most value for your money is nice, when talking about art supplies, you often get what you pay for, even if we find you the best deals, there will always be a solid price difference between your average paint markers and archival quality, professional markers.
If you're working on art that is to be exhibited, you wouldn't like to see your colors go from yay to nay in a couple of years, the same principle applies to the art you plan on selling or value too much.
But hey, if you're just starting out or doodling for fun, there are budget-friendly options that do the trick. Just read some reviews or test a couple of brands before diving wallet-first into a big purchase.
Best Acrylic Paint Pens
#1. Best Overall Best Acrylic Paint Pens — Uni Posca Paint Markers.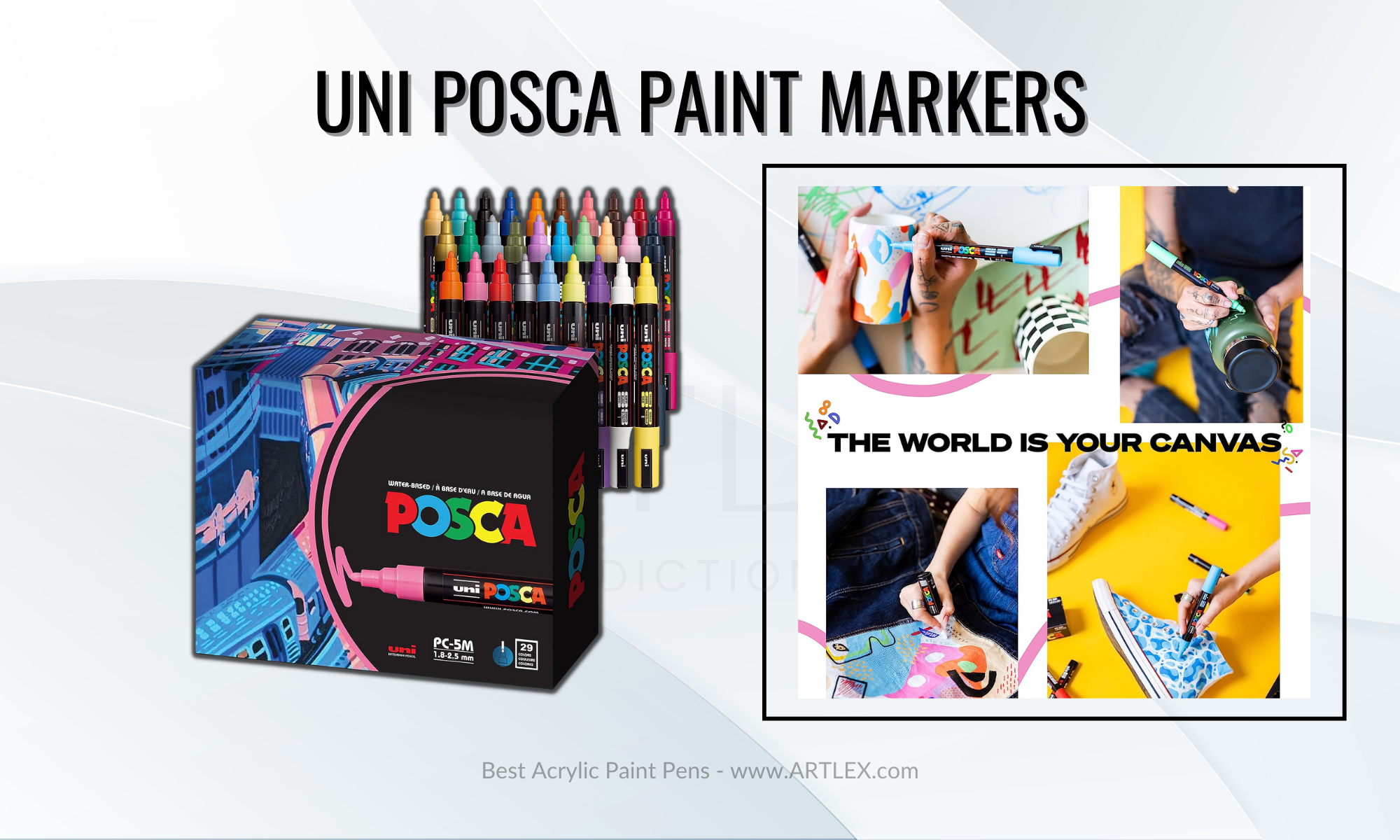 Selection Criteria
Tip Type and Size: Bullet Tip (1,8 mm; 2,5 mm).
Pigment Quality: Water-Based, Average Lightfastness.
About the Uni Posca Paint Markers.
Uni Posca markers are the most popular markers when talking about paint pens, they have a great color variety, and one of the widest nib ranges. They are highly regarded in the creative community and the safest option when looking for quality consistency.
Beginner and professional artists affirm that Posca markers are easy to use, easy to activate, and can last for years without drying, they also can be used on a variety of surfaces making them an excellent choice for artists and crafters alike.
They are quite opaque and quick drying, and although they might not be made with pigments of archival quality, they are still a solid choice for those who want a high-quality product without breaking the bank.
Pros
Vibrant Colors

Easy Control

Water-Based
Cons
2. Best Premium Acrylic Paint Pens — Molotow Paint Markers.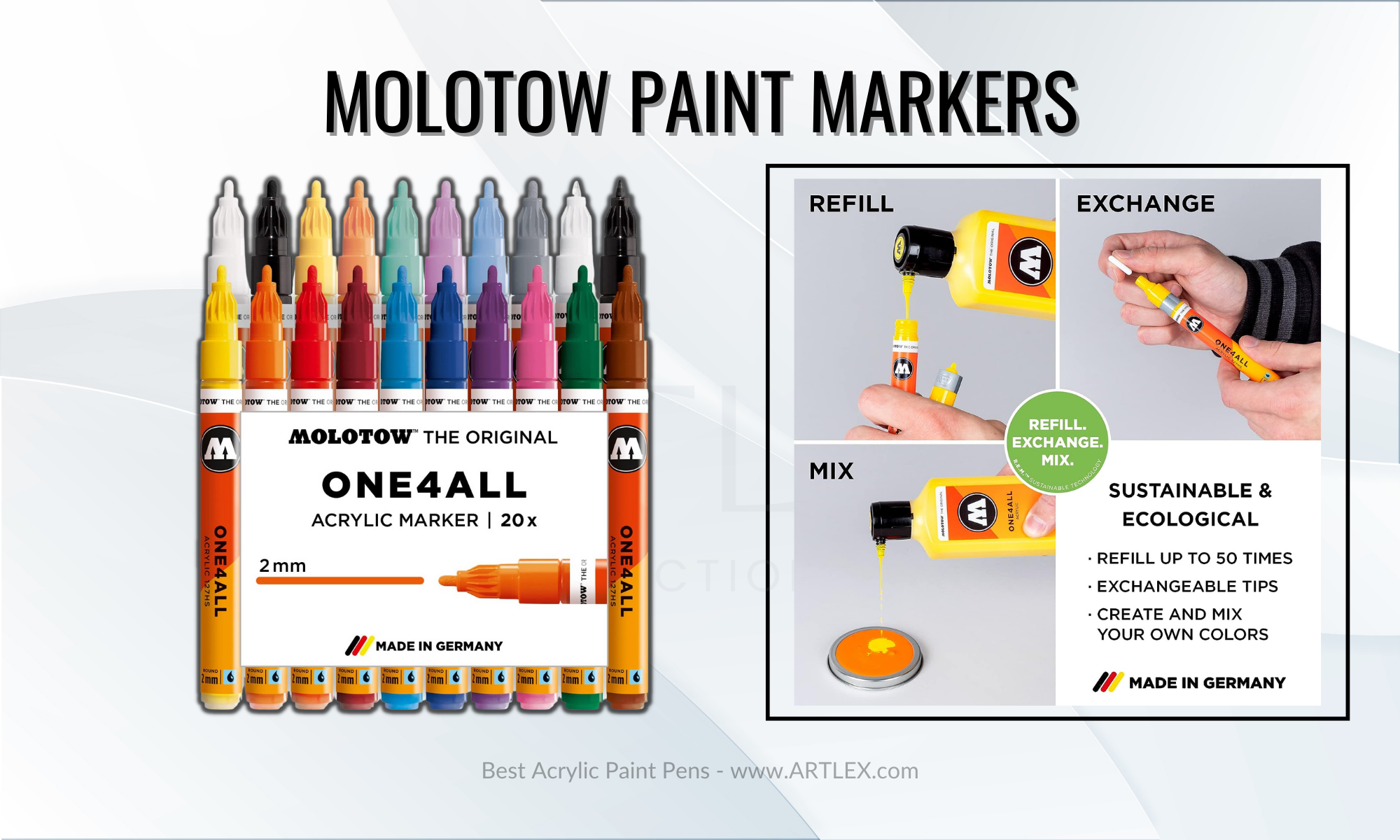 Selection Criteria
Tip Type and Size: Medium Tip (2 mm).
Pigment Quality: Acrylic-based pigment paint, High Lightfastness, UV and weather-resistant.
About the Molotow Paint Markers
Molotow is a well-known brand in the world of graffiti because of its spray paint line, however, its paint markers line is also popular among artists, illustrators, and DIYers. These markers are muralists' and street artists' favorites, and since they are made with them in mind, they use high-quality, highly pigmented paint that provides excellent coverage and vibrant colors while being also UV and weather-resistant.
These markers are quite expensive but also refillable, which adds to the price but makes them more affordable in the long run for those who use them constantly.
Pros
Highly Pigmented

Refillable

Various Tips
Cons
3. Best Acrylic Paint Pens for Professional — Liquitex Markers.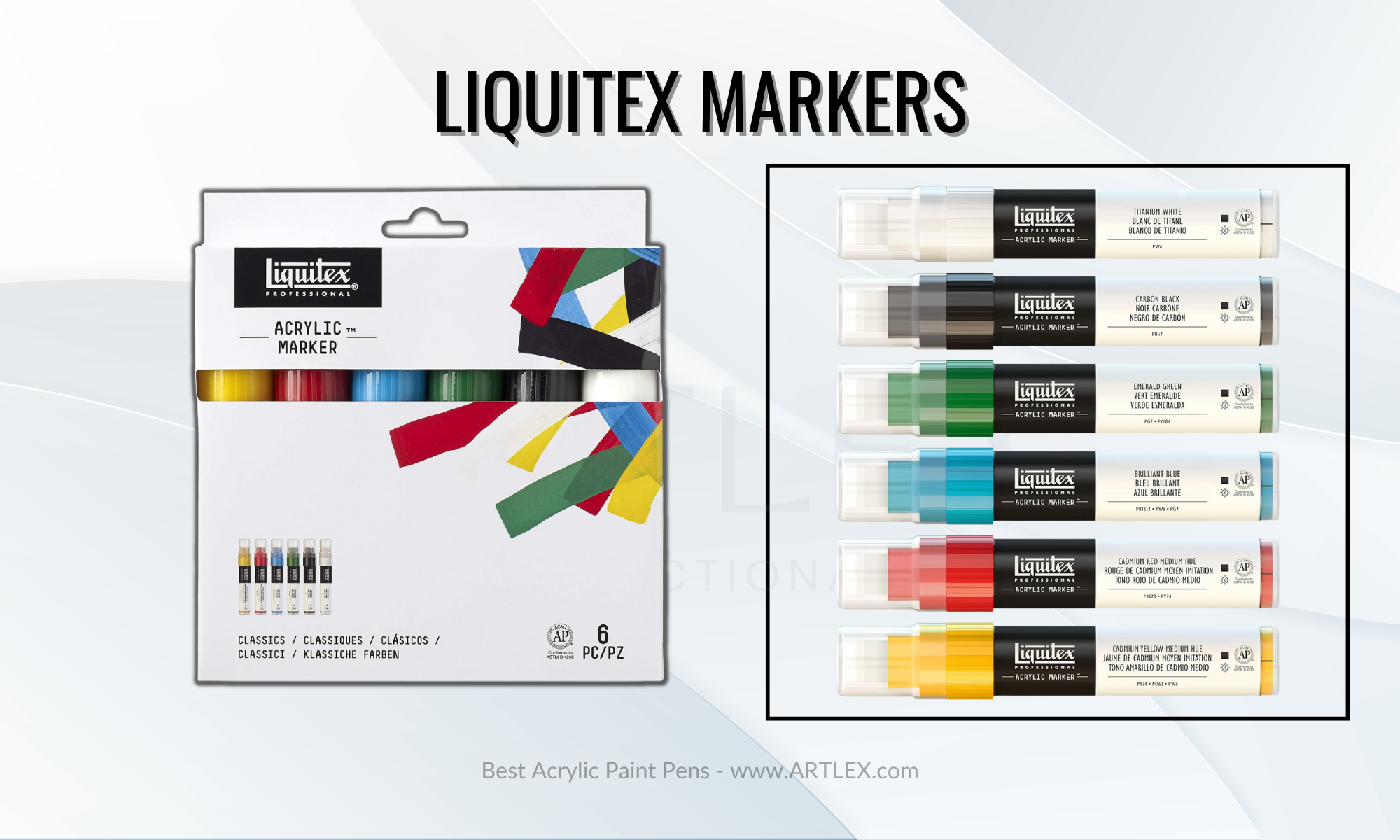 Selection Criteria
Tip Type and Size: Broad Tip (15 mm).
Pigment Quality: Archival Quality, Very High Lightfastness.
About the Liquitex Markers
Liquitex is a highly regarded brand in the acrylic painting community, their variety of paints, mediums, and other art supplies have made them a favorite among artists of all levels. Their markers are no exception and live up to the brand's reputation for high-quality, versatile art tools. If you're someone who's always on the lookout for markers that offer vibrant, long-lasting color, then Liquitex has got you covered.
Not only do these markers come packed with archival-quality acrylic-based high-flow paint but they're also available in a range of tip sizes. Plus, they are mixable which means you're not just stuck with the colors in the pack; you can blend them to create your own shades, just like you would with regular paint.
Pros
Professional Grade

Wide Color Range

Replaceable Nibs
Cons
Expensive

Not For Beginners
4. Best Value Acrylic Paint Pens — Artistro Acrylic Paint Markers.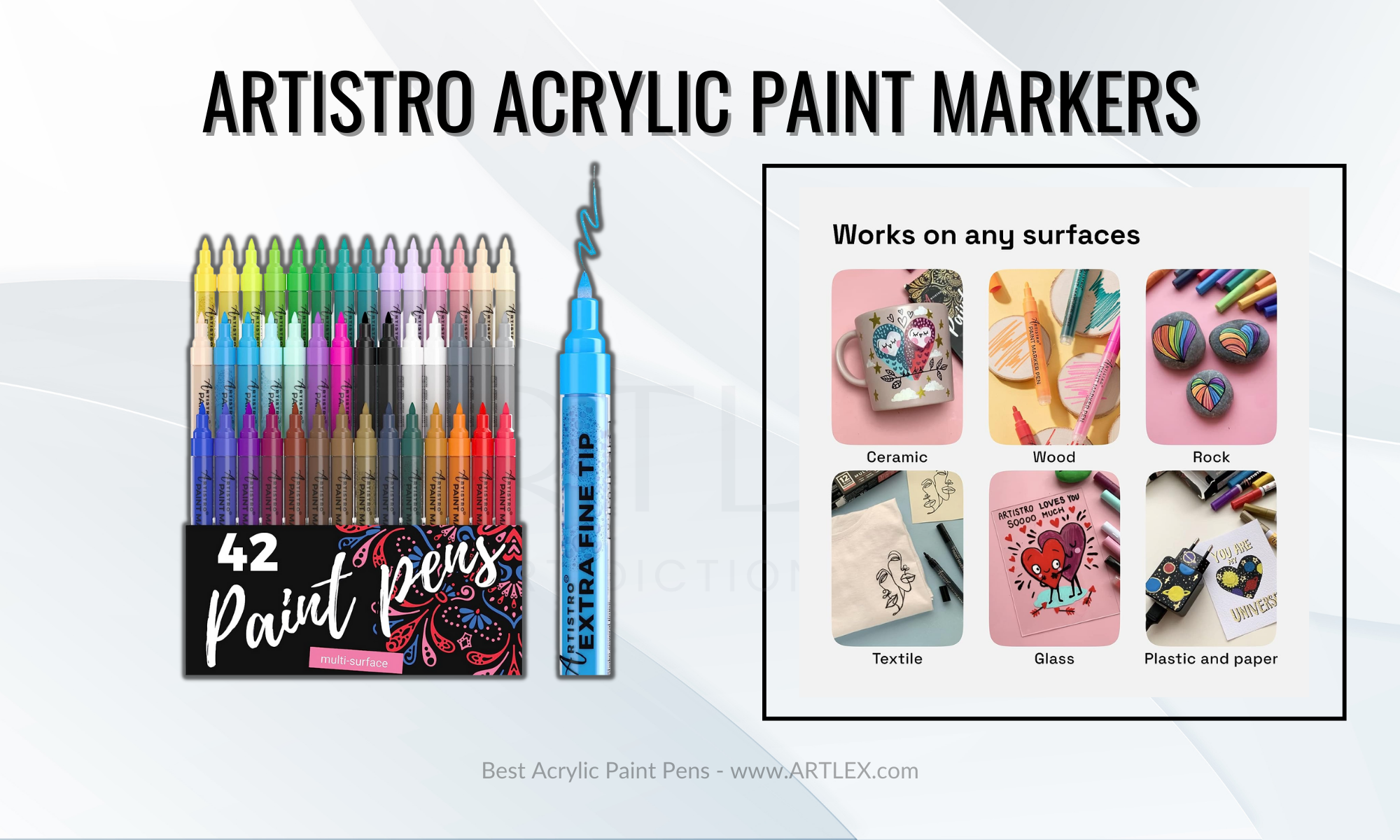 Selection Criteria
Tip Type and Size: Extra Fine Tip (0,7 mm).
Pigment Quality: Acrylic Based, Average Lightfastness.
About the Artistro Acrylic Paint Markers.
Artistro is another brand that's been making waves in the art community, especially for those who love the control of a pen but the pop of paint. These acrylic paint markers are a godsend for DIY lovers, crafters, and artists who want something a little different from traditional mediums but who don't want to spend a small fortune to get a wide color variety or multiple tip sizes.
One of the best things about these markers is how user-friendly they are, the easy activation mechanism and paint flow control make them perfect for those who are just starting in the medium. Plus the pigmentation of the Artistro Paint markers is seriously impressive, giving you bold and vibrant colors that dry quickly and last long. Despite not being archival quality or having the highest lightfastness, they're surprisingly budget-friendly, especially considering the quality you get.
Pros
Affordable

Easy Use

Quick-Drying
Cons
5. Best Metallics Acrylic Paint Pens — Sakura Pen-touch Paint Markers.

Selection Criteria
Tip Type and Size: Medium Tip(2 mm).
Pigment Quality: Archival Quality, Very High Lightfastness.
About the Sakura Pen-touch Paint Markers.
Finding good metallic paint pens is like searching for a needle in a haystack, some are just mica with some binder, some are mustard-ish looking not shiny at all paint pens, and some even lose that metallic effect in a couple of days. That's not the case for the Sakura Pen-touch Pait markers
These markers are a dream come true for artists craving that 'wow factor.' With vibrant hues like gold and silver, they add instant glamour to any piece. Plus, they're easy to use and versatile great for both fine lines and broad strokes. While they're a bit pricier, the stunning, luminous finish makes it all worth it. So if you're in the market for that extra sparkle, these markers are your go-to golden ticket.
Pros
Metallic Shine

Fine Tips

Fast-Drying
Cons
Limited Palette

May Smear
6. Best Acrylic Paint Pens — Montana Cans Acrylic Marker Set

Selection Criteria
Tip Type and Size: Medium Tip (2 mm).
Pigment Quality: Water-based, High Lightfastness, Water resistant, and Abrasion Proof.
About the Montana Cans Acrylic Marker Set A.
The Montana Cans Acrylic Marker Set is a great option for artists looking for a wide range of colors in one package. These markers offer high-quality ink that adheres well to various surfaces which makes them suitable for both art projects and graffiti use.
They glide effortlessly across various surfaces, laying down pigments that are both vivid and long-lasting, they might be a bit more of an investment, but given their quality, they're a steal. We must say that despite being abrasion-proof, their tips may wear out faster than expected when used on rough surfaces like walls and wood so if you plan on doing wall art or graffiti, make sure to grab some replacement nibs as well.
Pros
Versatile Tips

Highly Opaque

Smooth Flow
Cons
Can Be Pricey

Limited Colors