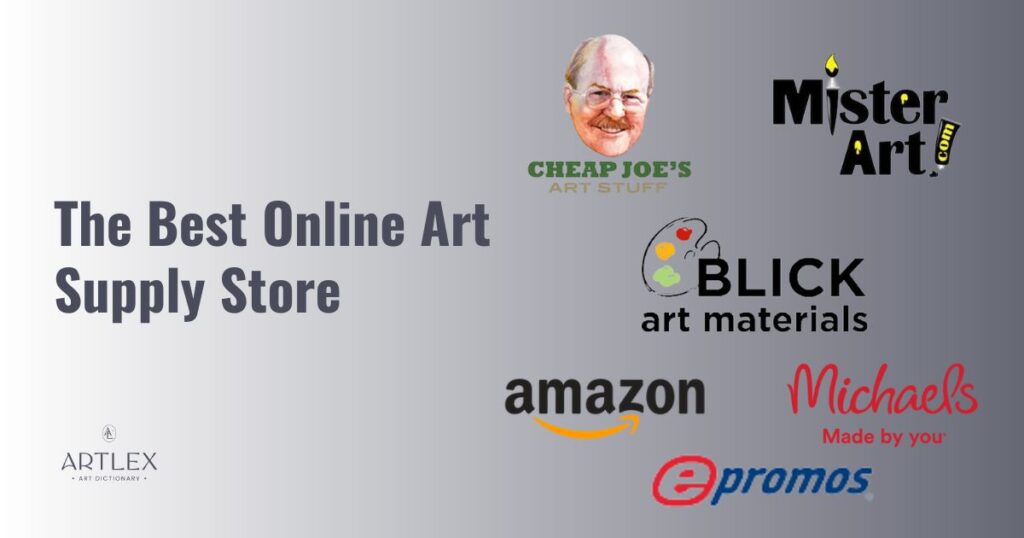 In a world where creativity is not just appreciated, but celebrated and actively pursued, the value of high-quality art materials cannot be overstated. From canvas and paint to brushes and sketchbooks, having access to the right materials can make all the difference in the success and satisfaction of one's artistic endeavors.
Our world heavily relies on technology as well, leading to a shift in how we buy and consume goods. Shopping online has become the norm, with a vast selection available at our fingertips. Yet, in the age of the internet, finding the best art supplies can, at times, feel like a daunting task. With countless options available at our fingertips, it can be hard to know where to turn for quality products, reliable service, and competitive prices.
It's enough to make any artist's head spin, but fear not- we've done the searching for you. In this article, we'll highlight some of the top online art supply stores currently available, analyzing each based on factors such as price transparency, product selection, and customer service.
Selection Criteria for Buying Art Supplies Online 2023—Buying Guide
Are you feeling stuck in a creative rut? Are you tired of using the same old art materials?
As children, we all had the desire to create using colors and shapes that reflected our unique perspectives. However, as we grew up, access to the right tools became more difficult, leading us to lose interest in our inner artists.
Fortunately, in this digital era, online art supplies have emerged as a solution, catering to every art form, from professional to amateur. These art supplies are easily accessible, from sketchpads to canvases, oil paint sets to watercolor pigments.
With an immense range of brands and options, online art supplies offer convenience and unmatched variety. Prices and reviews can be compared, and orders can be made from the comfort of your home.
However, there are various elements to consider when picking which online site to buy art materials from to ensure a great purchasing experience.
Product Variety and Quality:
A reputable online art supplies company should have a diverse selection of products from various brands and materials. Look for stores that carry well-known, high-quality products. Reading customer reviews or ratings might help you determine the quality of the products supplied by the shop.
Pricing and Discounts:
Compare prices across multiple online businesses to ensure you're getting a fair deal. Look for stores that provide discounts, promotions, or loyalty programs, as they might help you save money over time. However, be wary of drastically reduced costs that appear to be too good to be true, since they may imply counterfeit or lesser-quality products.
Navigation Experience:
A well-designed website with simple navigation can improve your purchasing experience. Look for stores with clear product descriptions, high-quality photographs, and simple search filters to help you quickly find the correct art supplies. Individual product user reviews and ratings can also be useful in making educated judgments.
Shipping Costs:
Consider the shipping charges and projected delivery timeframes provided by the store. Reliable online art supply retailers should provide a variety of shipping options, including expedited ones, if you require your items immediately. Check to see if they provide tracking information so you can track the progress of your shipment and whether they have a solid reputation for fast and secure deliveries.
Customer Service:
Determine whether the online store offers accessible and responsive customer service. To address any questions, problems, or issues you may have with your purchase, look for options such as live chat, email, or phone assistance. Customer service that is prompt and friendly can make a major difference in your overall satisfaction.
Return Policy:
Review the store's return policy to verify that any damaged or unsatisfactory items may be easily returned or exchanged. Look for stores that have flexible return periods, acceptable return policies, and a simple return process. When making online purchases, a customer-friendly return policy can bring peace of mind.
Top Product Recommendations for the Best Online Art Supply Store 2023
Overall Best Online Art Supply Store: BLICK Art Material
Most Diverse Online Art Supply Store: Amazon
Best Online Crafting Art Supply Store: Michaels
Best Art Supplies Store with Affordable Prices: Cheap Joe's
Best Art Supplies Online with a Membership Discount Option: MisterArt
Best Online Art Supply Stores for Promotional Goods: ePromos
1. Overall Best Online Art Supply Store—BLICK Art
Material

Art Supply Stores Selection Criteria
Product Variety and Quality – 10/10
Pricing and Discounts – 10/10
Navigation Experience – 10/10
Shipping Costs – 9/10
Customer Service – 10/10
Return Policy – Up to one year
About Blick Art Materials
Finding the appropriate art supplies, whether you're a beginner or a seasoned professional, may make or break your artistic journey. Blick Art Materials is our top pick for the best overall online store for buying art materials, with a wide selection of products, excellent customer service, and a reputation for quality.
Blick Art Materials has a large range of art supplies that caters to artists of all levels and mediums. If you're a painter, sculptor, artist, or graphic designer, their website has a wide selection of supplies for you to choose from, including paints, brushes, canvases, pencils, markers, sketchbooks, and much more. You can simply locate everything you need to bring your artistic vision to life with their extensive variety.
The website of Blick Art Materials is developed with artists in mind. Their large library is easy to navigate because of their intuitive search filters and classified categories. To make informed purchasing decisions, you may easily browse numerous art supplies, compare options, and read thorough descriptions. The website also contains helpful resources like product evaluations, tips, and instructional videos to help you improve your artistic abilities and expertise.
When it comes to art supplies, quality is everything, and this company recognizes this notion instinctively. They've established a reputation for supplying high-quality products from well-known brands and producers. Blick ensures that every item they offer meets the highest standards, from well-known names like Winsor & Newton and Faber-Castell to smaller brands beloved by experts. This dedication to quality assures that your artistic masterpieces will last.
This supplier offers not only high-quality items but also cheap pricing. Their commitment to low prices guarantees that artists on all budgets can receive the supplies they need. Furthermore, the site offers frequent specials, discounts, and promotions, allowing you to save money while stocking up on your favorite materials; this way, you can create without breaking the bank using Dick Blick.
Pros:
Best art supply company to shop online due to the huge selection of products
Very clear descriptions for every product, along with suggestions and the ability to mix and match
Frequent sales and promotions
You can always find a Blick store near you
Clear data on health concerns for their products
Cons:
Minimum for free shipping is $59
2. Most Diverse Online Art Supply Store—Amazon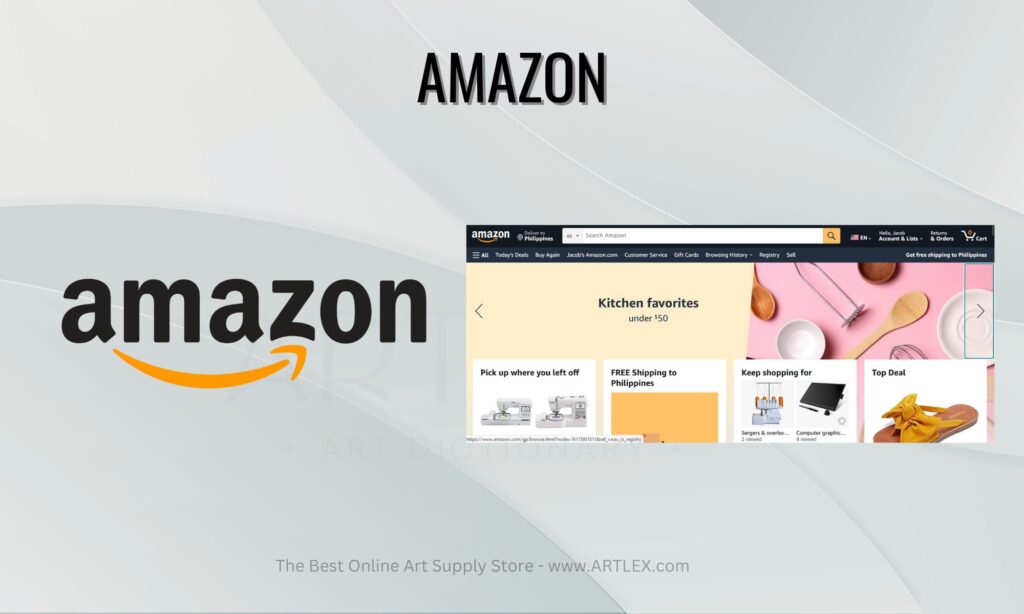 Art Supply Stores Selection Criteria
Product Variety and Quality – 10/10
Pricing and Discounts – 9/10
Navigation Experience – 9/10
Shipping Costs – 10/10, for Prime members
Customer Service – 8/10
Return Policy – Depends on each product
About Amazon
When it comes to online shopping, Amazon may not be a dedicated art store, but it has established itself as the go-to site for a wide range of things. Amazon is the best online store for art materials because of its unrivaled variety. Whether you're looking for mainstream art supplies or specialist items, Amazon has a large range to suit artists of all mediums and ability levels.
As it has an unrivaled inventory that covers countless brands and categories, artists may find practically any art product imaginable, from watercolor paints, brushes, sketchbooks, and canvases to specialized tools and equipment. Whether you're a painter, sculptor, calligrapher, or mixed-media artist, Amazon's huge assortment guarantees that you have the tools and resources you need to further your artistic aspirations.
Also, its ability to cater to niche artistic communities and specialist techniques is one of its primary strengths. The marketplace is home to a diverse selection of independent sellers and small businesses that offer one-of-a-kind and difficult-to-find art supplies. Whether you're seeking specialized pigments, uncommon brushes, handcrafted papers, or specialty inks, Amazon provides a handy platform for artists to explore and purchase these niche products.
One of the best parts about purchasing on Amazon is the abundance of customer reviews and ratings for each product. These reviews offer useful information about the quality, performance, and use of art supplies, allowing you to make more informed purchasing selections. You can learn from the experiences of other artists, understand the potential downsides or benefits of a product, and select art equipment that meets your needs.
Finally, Amazon's user-friendly layout and intuitive search capabilities make it simple to browse and buy art materials. The website has filters and categories dedicated to art materials, allowing you to narrow down your search and locate exactly what you're looking for. Furthermore, Amazon's speedy shipping options and dependable delivery services ensure that your art supplies reach you on time.
Pros:
Wide variety of artist and painting supplies
Range of price points, with many affordable art supplies
Good inspiration for gift ideas for artists
Low shipping costs and overall great prices
Cons:
The vast number of products can make it hard to decide on what you actually need
3. Best Online Crafting Art Supply Store—Michaels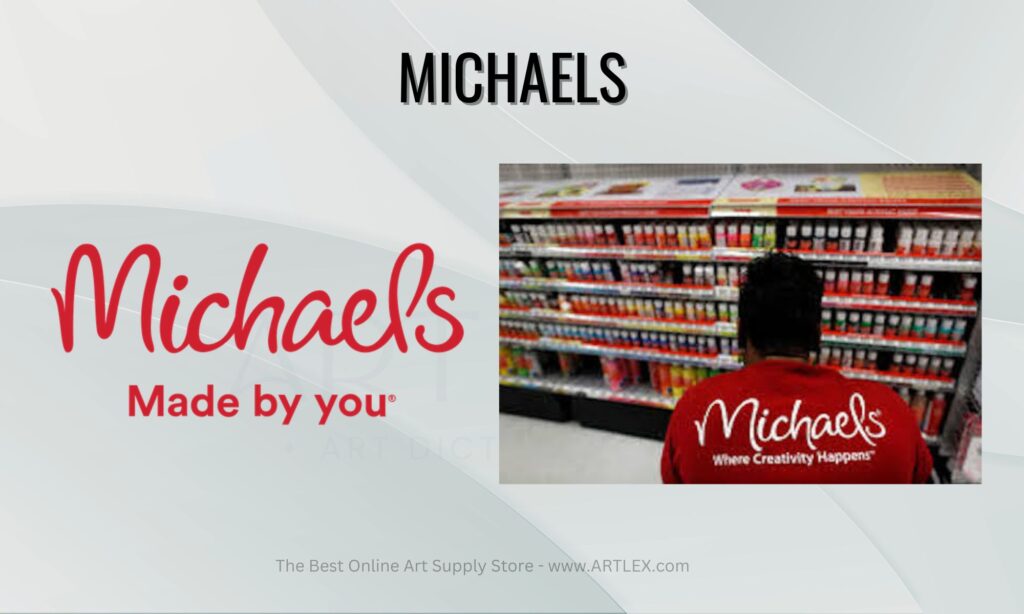 Art Supply Stores Selection Criteria
Product Variety and Quality – 10/10
Pricing and Discounts – 10/10
Navigation Experience – 10/10
Shipping Costs – 9/10
Customer Service – 9/10
Return Policy – Up to 2 months
About Michaels
Michaels stands out as the premier online store for all your art supply needs for artists who enjoy exploring the world of crafts. It has gained its reputation as the top online store for selling art supplies due to its concentrated focus on providing a wide selection of materials and instruments for artistic projects.
As it holds a large selection of crafting art materials for artists of all skill levels and interests, Michaels has you covered for everything from painting and drawing to scrapbooking, jewelry making, and DIY projects. Their inventory includes a diverse array of materials, as this company understands the demands of artists and has adapted its assortment accordingly. The company offers a wide variety of art products that are tailored to the specific needs of artistic undertakings.
When it comes to crafting especially, inspirational project ideas and tutorials can make all the difference when shopping for art supplies. Michaels gives a plethora of inspiration and assistance to help you unleash your creativity. Their website features a treasure trove of project ideas, step-by-step tutorials, and creative tips. This store has the resources to support your artistic journey, whether you're looking for new techniques, project ideas, or guidance to bring your vision to life.
Michaels collaborates with recognized art supply brands and also offers proprietary product lines, giving customers access to unique and inventive materials. You'll find trusted brands such as Cricut, Prismacolor, Liquitex, and more, ensuring the highest quality for your crafting projects. Michaels' exclusive product lines frequently include curated selections and specialized tools, providing you with access to distinctive supplies that add a touch of individuality to your artwork.
Finally, Michaels' loyal clients are rewarded with a sophisticated rewards program. By signing up, you can enjoy special perks such as member discounts, personalized offers, and early access to sales. Additionally, you can find frequent special promotions, seasonal discounts, and coupons, enabling you to make your crafting supplies more affordable.
Pros:
Great selection of standard and custom products, including printmaking materials
Offers free online classes and events for inspiration and teaching techniques
Great deals for top brands allow for the best prices
Cons:
Return of items might prove more complicated than expected
4. Best Art Supplies Store with Affordable Prices—Cheap Joe's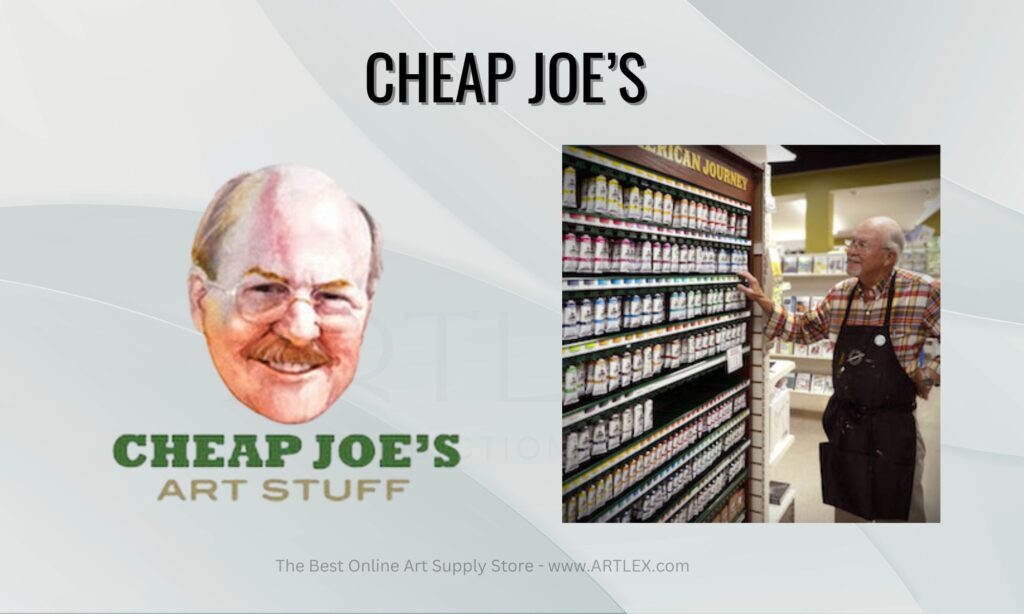 Art Supply Stores Selection Criteria
Product Variety and Quality – 9/10
Pricing and Discounts – 10/10
Navigation Experience – 9/10
Shipping Costs – 9/10
Customer Service – 9/10
Return Policy – Up to one year, fee applies for substitution shipping
About Cheap Joe's
Cheap Joe's is the best online store for artists looking for high-quality art supplies at low pricing. Cheap Joe's has earned a stellar reputation among artists worldwide for its commitment to providing affordable supplies without sacrificing quality.
This online site lives up to its name by recognizing the significance of making art materials affordable to artists of all financial backgrounds. Cheap Joe's assures that you may get quality art materials at inexpensive costs by procuring products directly from manufacturers and delivering discounts, allowing you to pursue your artistic passion without breaking the bank.
Despite its low prices, Cheap Joe's does not skimp on the variety and quality of its art supplies. Their online store stocks a wide range of materials, including acrylic paints, oil paints, spray paint options, colored pencils, canvases, papers, drawing tools, as well as studio equipment and art accessories.
This low-cost site goes above and above to give artists additional savings. They have value packs and bulk purchasing options so that you can stock up on your favorite supplies at a discount. This method is extremely useful for artists who need vast quantities of materials or who want to experiment with and explore numerous mediums without breaking the bank.
Cheap Joe's takes pride in its knowledgeable and friendly customer service team. If you have any questions about specific products, need recommendations, or need assistance with your order, their dedicated support staff is here to assist you. Their dedication to customer satisfaction ensures a pleasant and pleasurable shopping experience, especially over live chat.
Pros:
Great place to buy art supplies online of different brands at the lowest price
Live chat feature helps with the shopping experience
Often offers good deals for bulk orders
Imaginative ideas for gifts
Fast shipping, with less than $5 minimum for free shipping charges
Cons:
Coordination between online store and physical stores may be somewhat lacking
5. Best Art Supplies Online with a Membership Discount Option— MisterArt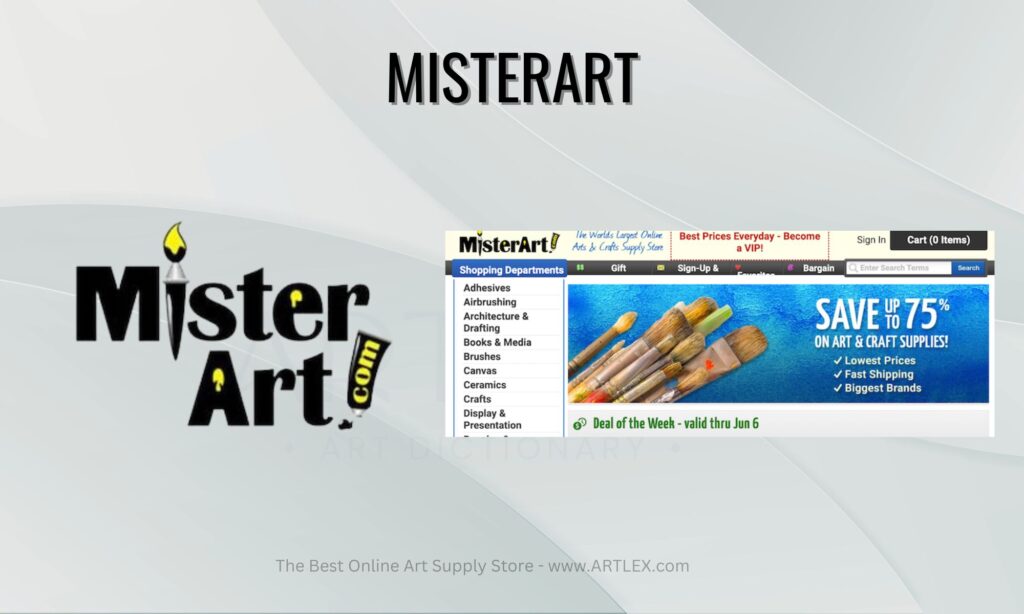 Art Supply Stores Selection Criteria
Product Variety and Quality – 10/10
Pricing and Discounts – 10/10
Navigation Experience – 8/10
Shipping Costs – 9/10
Customer Service – 9/10
Return Policy – 30 days
About MisterArt
Mister Art has a large collection of art supplies for artists of all mediums and ability levels. They provide everything you need to fuel your artistic ambitions, while their catalog contains high-quality products from well-known companies, ensuring that you have access to dependable materials that fit your creative requirements.
One of Mister Art's distinguishing features is its membership discount program. By joining, you will have access to sizable discounts and savings on a wide variety of art supplies. Lower rates, special promotions, and further discounts on already competitive prices may be included as membership advantages, as more perks are added all the time. However, keep in mind that this site offers extremely competitive pricing even without the membership discount. They work hard to provide economical solutions for artists, making high-quality materials available to everyone.
Mister Art is proud of its competent and devoted customer support team. If you have any questions, need advice, or need assistance with your order, their helpful staff is standing by to assist you. Their knowledge goes beyond simple customer service, as they can give recommendations, advocate alternative items, and provide insights to assist you in making informed purchasing decisions.
Pros:
Membership lowers costs drastically, and includes everything, even the good stuff on the site
High-quality materials, with a vast number of options
Artists overseas can buy art supplies online from this store
Cons:
Like most online art supply stores, this one's website is crammed with images and information, making it hard to focus on one thing
6. Best Online Art Supply Stores for Promotional Goods—ePromos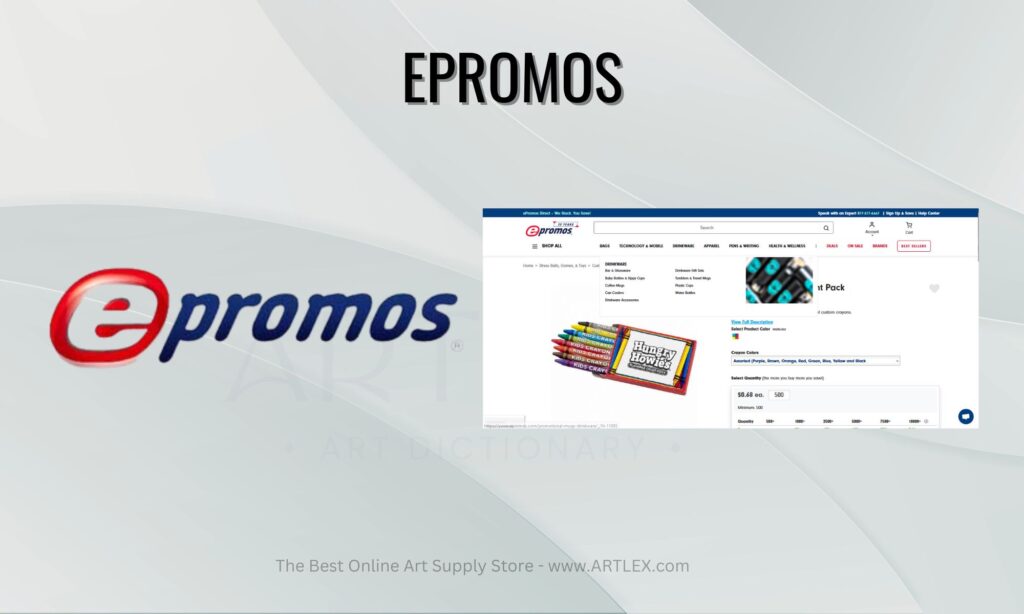 Art Supply Stores Selection Criteria
Product Variety and Quality – 9/10
Pricing and Discounts – 9/10
Navigation Experience – 10/10
Shipping Costs – 9/10
Customer Service – 10/10
Return Policy – N/A
About ePromos
ePromos is a great option to explore if you are interested in promoting your work as an artist through promotional art supply items. This site is well-known as the go-to place for artists to advertise their work due to the huge variety of customizable promotional products available specifically for artistic reasons.
ePromos provides an extensive variety of promotional art supplies, from pens and pencils to sketchbooks and art kits. With this site's wide variety of options, you're sure to find the promotional items that best represent your creative spirit.
This art store places extreme emphasis on personalization options, as they offer a wide range of personalization choices, such as stamping your artwork, logo, or brand onto promotional art supplies. You may now make one-of-a-kind, custom products that accurately reflect your artistic vision and efficiently advertise your work to a wider audience.
When it comes to marketing materials, ePromos knows the value of a guarantee of quality. They only work with reliable producers so that you know you're getting high-quality goods from them. The high quality of the materials, printing, and assembly of your promotional art supplies and goods ensures that they will have an impact on the recipients.
Finally, budget-friendly solutions for artist promotion are available through ePromos, as are possibilities for bulk ordering. You can get the most out of your advertising budget with their affordable prices, especially for larger purchases. Promoting your work to a wider audience has never been easier or more cost-effective than with ePromos.
Pros:
This art store offers a huge selection of printmaking supplies, that many artists can use to advertise their work
Best deals on bulk orders, but also good prices on smaller batches
Also offers paper products, for painting
Best service provider, as they can also give you custom ideas
Cons:
Promotional ideas might not be the highest quality of art supplies
Conclusion—The Best Online Art Supply Stores 2023
The art world is now simpler and more exciting than ever, thanks to online art supply stores. Whether you're a beginner or a pro, we have everything you need to get started on your creative journey.
In our complete art supply buying guide, Blick Art Materials ranked as the top overall online business. Their large assortment of high-quality goods, user-friendly website, low price, and outstanding customer service make them a popular destination for artists all around the world.
On the other hand, Amazon shines as the top online store due to its unequaled product diversity. Amazon's vast assortment of art supplies, which includes both mainstream staples and specialist options, provides artists with a one-stop platform for exploring, comparing, and purchasing the items they require. The platform's dedication to customer reviews, wide range of brands and price points, and easy-to-use buying experience strengthen its place as a great art supply hub.
With our list of online retailers for art supplies by your side, the sky is the limit. So go ahead, unleash your inner artist, and let your creativity soar!
We hope you found our analysis of the top sites to buy art supplies in 2023 to be helpful. Consult our associated guides for further sources of comparable items for the artistic lifestyle.
Other Buying Guides Articles
The Best Custom Photo Blankets in 2023
The Best Printer for Art Prints in 2023
The Best Printer for Cricut in 2023
The Best Printer for Heat Transfer in 2023
The Best Printer for Stickers in 2023