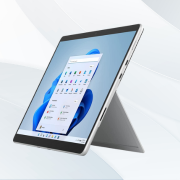 A versatile and high-performance tablet capable of running the full version of Adobe Illustrator.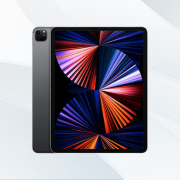 Combining a high-quality display with the powerful M1 chip, perfect for Apple ecosystem lovers who use Adobe Illustrator on the go.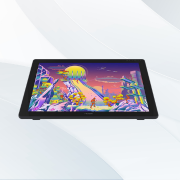 A large graphic tablet offering a high-quality display, advanced stylus sensitivity, and customizable shortcut keys.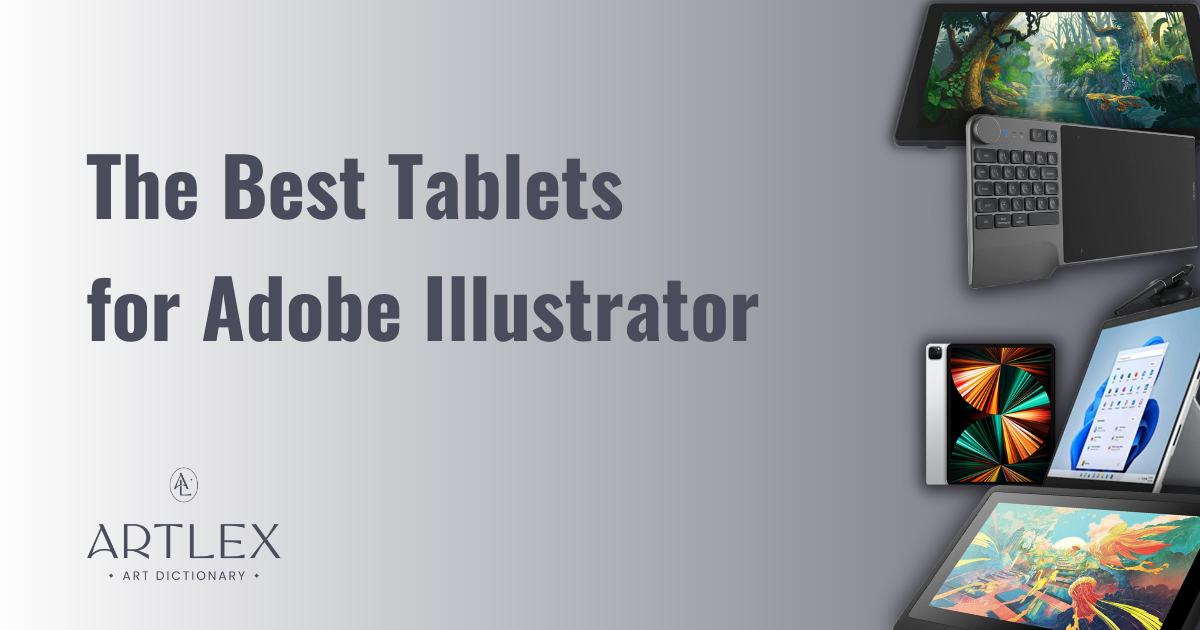 For many years, Adobe Illustrator has been the industry standard for design work. And not without a good reason, though many software can be used to create, illustrate and design, the biggest problem has always been the practical use of said creative works. When upscaled or downscaled, pixelation and quality loss was the cause of many disadvantages and extra work, however with the integration of vector graphics that rely on mathematic operations more than rasterized pixels the possibilities became endless. Within the software that can work with vector graphics, Adobe Illustrator is considered the most complete software, making design work easy and relatively accessible for anyone.
Most laptops and personal computers can run Adobe Illustrator on some level, however, it is very hard to create or design with a mouse and a keyboard, that's why the introduction of graphic tablets to the market is supposed a great advantage for creatives. The integration of a pressure-sensitive stylus also with a high-resolution display improved significantly the workflow of many artists and designers and the latest models of tablets like the iPad with the Apple Pencil represented a huge leap in portability and spontaneity in creative work.
Having access to Adobe Illustrator on portable devices with touch support and a stylus with pressure sensitivity is a great advantage but it doesn't run without some limitations, though many prefer to use the software with a PC and graphic tablet in all its extensions instead.
Sometimes it is very hard to choose the perfect tablet for Adobe Illustrator since some might not fit our needs or our budget. That's why we've made this list, to ensure you get the best option for you, however before jumping to buying let's go over a few criteria that will help us make a better decision.
Types of tablets
Stand-alone tablets
In this category, we can find the tablets we are used to, like android tablets and the different types of iPads. These tablets are usually for streaming and browsing only, however, some of the latest models can run design software and can be used for other purposes.
For Adobe Illustrator, the iPad and Microsoft models would be the only options since even though other android tablets can run professional software there is not a compatible version of Adobe Illustrator for Android.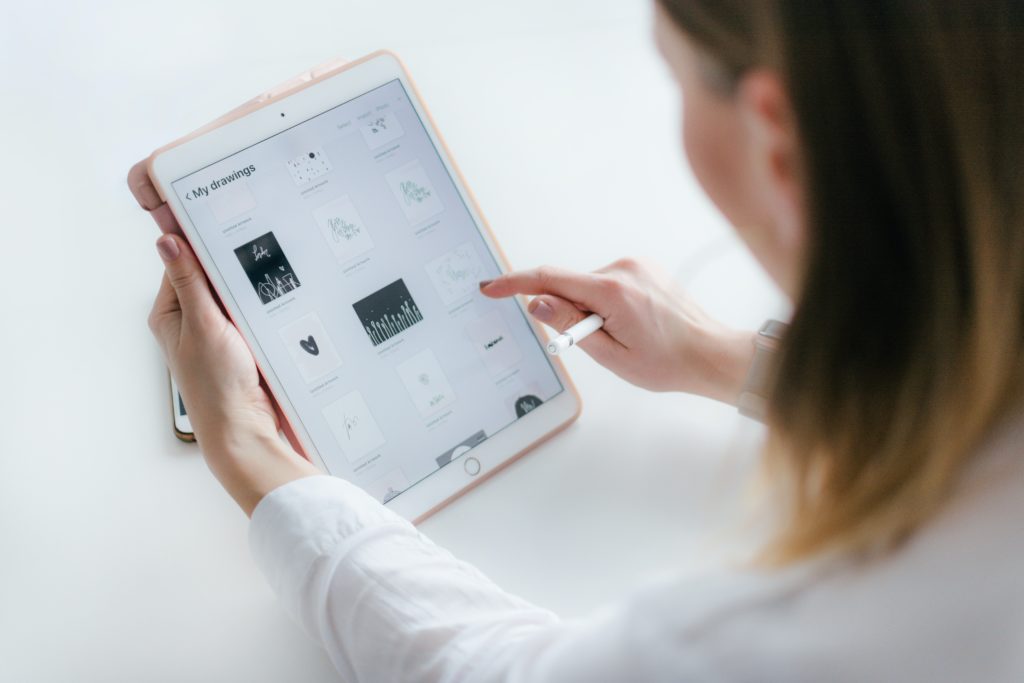 Pen tablets
Here we can find the most accessible and basic graphic tablets, these models need a laptop or a computer to work, including a stylus with high levels of pressure sensitivity and quick access keys in some cases. The downside would be that these models don't include a screen, so an additional monitor would be a necessity.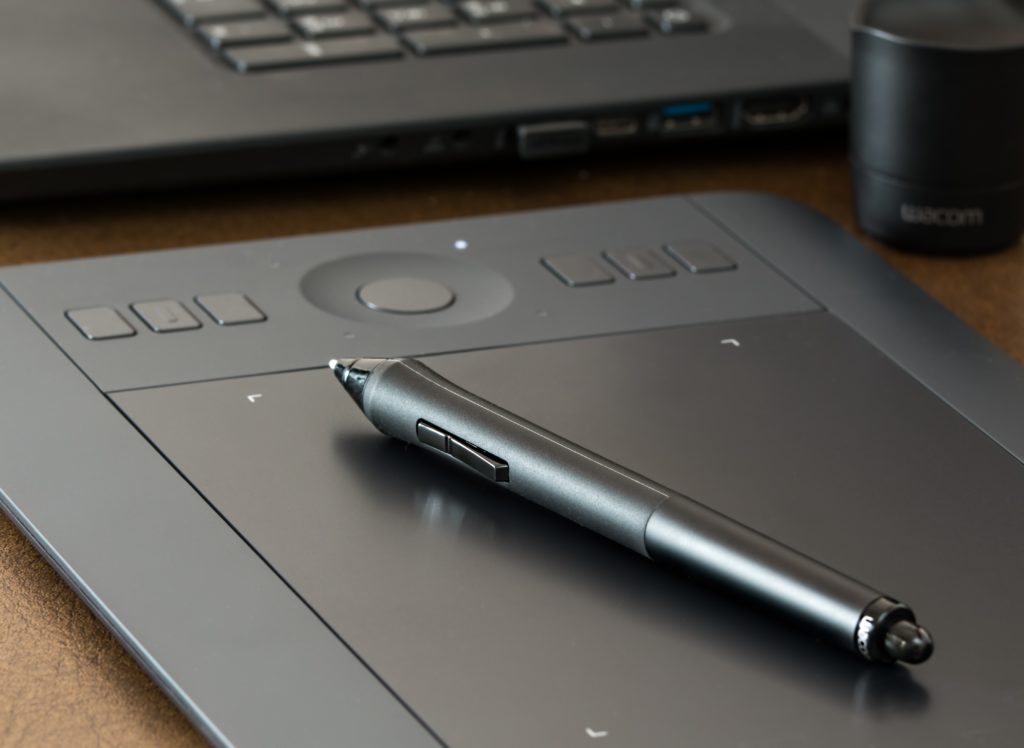 Pen displays
Working with the same technology as pen tablets but with the advantage of an included interactive monitor, pen displays are the favorite option of many artists and designers due to the optimized displays, that are not only of a higher quality than laptops and PCs but are also enhanced for creative work and have been adapted for long hours working in front of a screen.
They do need a computer or a laptop to work and are not as accessible as pen tablets, however, they are made to last a very long time and will considerably improve your working experience.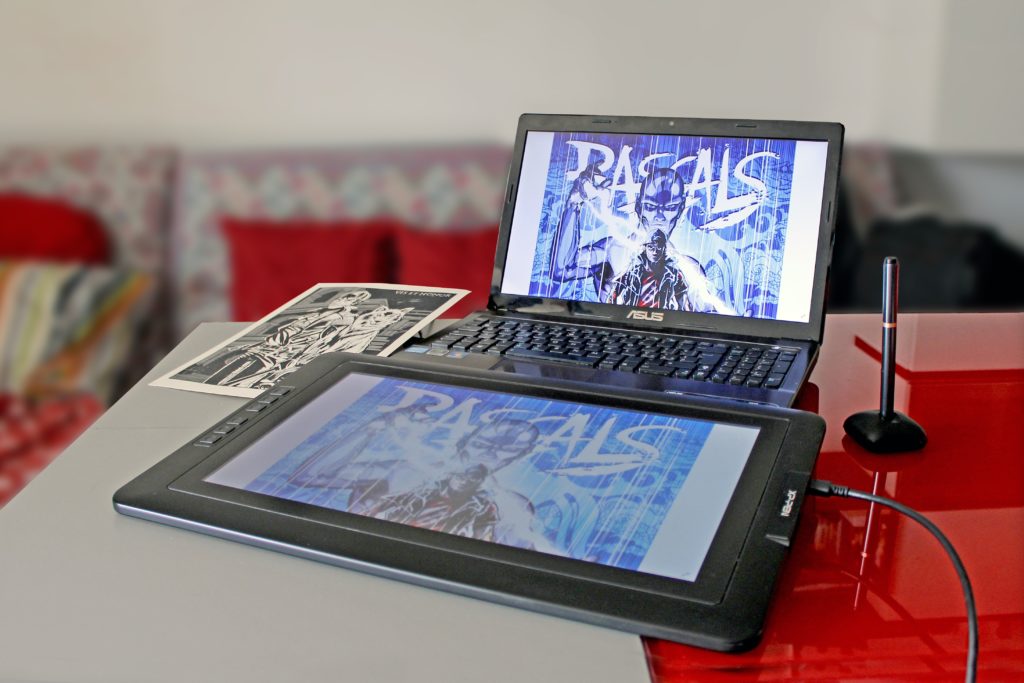 Pen computer
Pen computers are basically an all-in-one but with a special display that works with a pressure-sensitive stylus these devices are also enhanced for creative work, with high resolution and color accurate displays, shortcut keys, and scratch-resistant screens. Powered usually by high-end processors and with upgradable RAM capacity as well as the usual Windows operative system, and even an integrated battery sometimes the downsides would be the lack of graphic processors and options since there are only a few models available in the market and of course the high prices that come with these models.
How to choose the best tablet for Adobe Illustrator
Size and Display
When looking for a pen tablet, the size is what matters the most, since not all pen tablets have the same active drawing area and some of the space is taken by shortcut keys. Going for around 10" of active drawing area will guarantee comfort and portability at the same time.
For pen displays and pen computers the sizes can go from 12" to 32", so choosing the best pen display for you will highly depend on your needs. If what you need is portability, going for tablets from 12" to 16" would be the best choice, since you can carry them anywhere as long as you have a laptop to plug them in, however, if you're looking for a more permanent workstation, then going for bigger models from 16″ to 24″ will work great. For larger models up to 32″ an ergonomic arm stand might be a necessity, so making an additional budget for it is advisable.
Color accuracy is everything in graphic design, so looking for tablets with more than 98% of sRGB gamut coverage is a must.
Regarding the quality of display, the recommendation for any design software is FHD (1920×1080), however, owning a better quality display will represent a huge advantage for any kind of creative work. Most 4K displays have very elevated prices, and if you're planning on buying a large tablet the price will only go higher, going for 2.5K displays is always an option that won't hurt your pockets as much as the 4K options.
Another important quality to look for is the anti-glare screen, since graphic design requires you to spend long periods staring at a screen, going for an anti-glare screen won't hurt your eyes nearly as much as the normal screens would.
Stylus and Pressure Sensitivity
One of the most important factors for creative work is being able to effectively use all tools, and though some tools only need a mouse and a keyboard, the precision and speed of a pressure-sensitive stylus are unmatched. When looking for pen tablets or pen displays the pressure sensitivity shouldn't go lower than 8192 levels of pressure, since only very old models have fewer levels of pressure. On the other hand, when looking for a tablet stylus, we need to know that we won't get more than around 4096 levels of pressure, and we should also think about our budget since these styluses are almost always sold apart.
Software Compatibility
It would be nice to say that all tablets are compatible with Adobe Illustrator but sadly that is far from the truth. Even though some years ago there was an Adobe Illustrator Draw app available for Android it has been replaced by Adobe Fresco which is great for raster graphics but not for vector.
There is an option for the iPad models, however, the app has some limitations and that would suppose an issue for experienced graphic designers and artists that are used to the desktop version of Adobe Illustrator.
For pen tablets, pen displays, and pen computers there wouldn't be a major issue other than downloading and using the drivers correctly.
CPU and GPU
Adobe Illustrator has very specific recommendations regarding the specifications needed to smoothly run the software, most pen computers fulfill all the requirements as well as most laptops so it shouldn't be an issue for pen tablets or pen displays, however for tablets that support the app version of Adobe Illustrator, it's recommendable going for the higher end models (M1) or your app will be crashing constantly and won't be able to handle heavier tasks.
The only tablet that can fully run Adobe Illustrator is the Microsoft Surface with SSE 4.2 support.
Storage and RAM
Having enough storage and virtual memory is key to using any design software and app, so going for +8GB of RAM and +256GB of storage is what will guarantee a smooth performance not only for Adobe Illustrator but for any other app you might need to use while working.
Price
One of the most important matters to consider when buying a new tablet is price, if you're on a tight budget and already own a laptop, getting a pen tablet would be the best since they're quite cheap and you can always upgrade to a pen display. If you have already set a budget for a tablet and you don't want to miss on any function of Adobe Illustrator, getting a 16" pen display won't hurt your pockets as much and will grat you some levels of portability. If you're already a seasoned professional looking for a high-end workstation, getting the bigger pen display models is the best option for you, however, you will need to have a decent budget the bigger models are way more expensive.
If you're planning on using Adobe Illustrator mildly and also use your device for note-taking or to work on the go, going for a tablet like the iPad Pro or the Surface is what would fit your need the best, however, the prices of said tablets are usually on the expensive side and I will only recommend them if you're going to take advantage of all of its perks.
Our Recommended Tablets for Adobe Illustrator

#1. Best Tablet for Adobe Illustrator Overall – Microsoft Surface Pro 8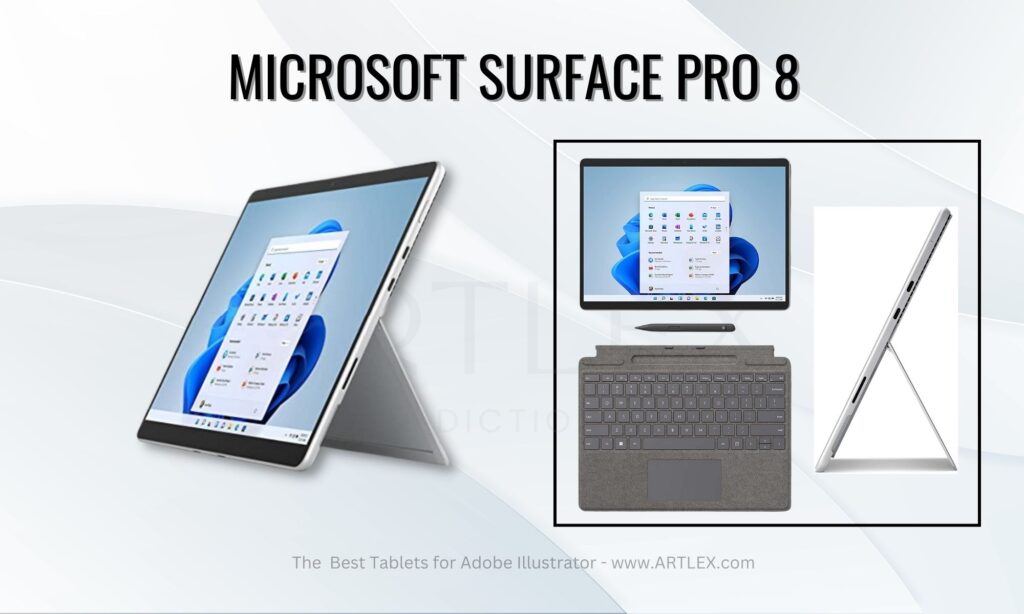 Selection Criteria:
Size and Display: Portable 13" PixelSense Display 2880×1920 100% sRGB coverage.

Stylus and Pressure sensitivity: Sold apart, 4096 Levels of pressure

Software compatibility: Capable of full version Illustrator.

CPU & GPU: Intel Core i7 1185G7 3GHz, Intel Iris Xe

Storage and RAM: 512 GB SSD 16GB of RAM

Price: $1879
About the Microsoft Surface Pro 8
The Surface Pro 8 is the only tablet in the market capable of running the full version of Adobe Illustrator. The lack of apps optimization make the tablet experience not as good as other tablets, nevertheless, the advantage of portability, pressure sensitivity, long battery, and the great specs this tablet has along with the capacity of running any professional software makes the Surface Pro 8 the best option for Illustrator.
Pros
Can run most professional software

Has a great processor

Hass full sRGB coverage
Cons
It is quite expensive

The pen is sold separately
#2. Best Apple Tablet for Adobe Illustrator – iPad Pro 12.9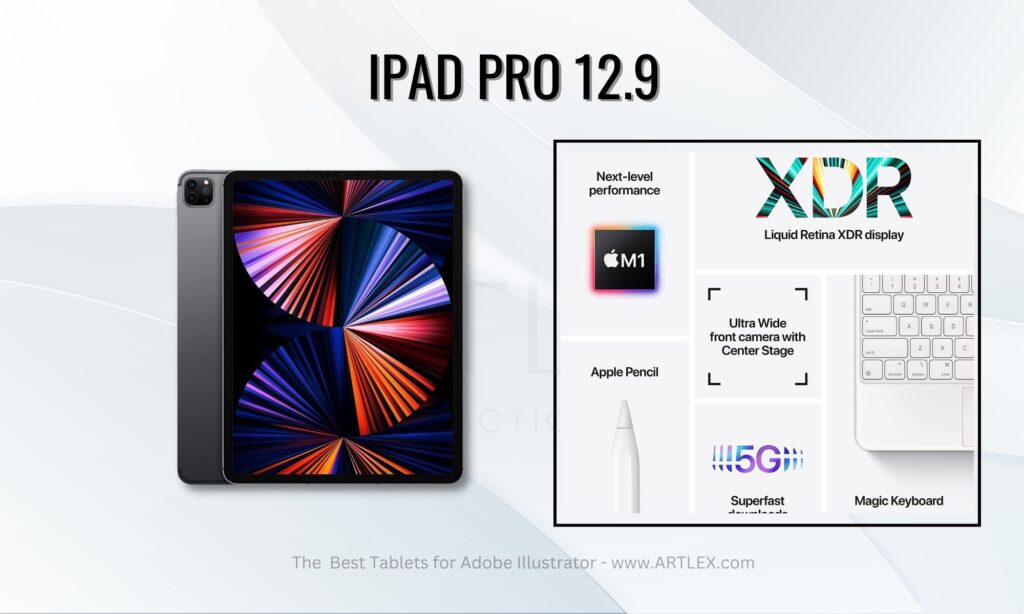 Selection Criteria:
Size and Display: Liquid Retina XDR Display 2732×2048 100% sRGB coverage.

Stylus and Pressure sensitivity: Sold apart, +4096 Levels of pressure

Software compatibility: Capable of a limited version of Illustrator.

CPU & GPU: M1 Chipset and GPU

Storage and RAM: 256 GB SSD 8GB of RAM

Price: $1199
About the iPad Pro 12.9
Since the launch of the Illustrator app, working on the go has become much more attractive to freelancers, professional graphic designers, and digital nomads. The iPad Pro then became the perfect option since the Illustrator app that runs only for iPadOS is the closest version to the desktop version. The high-quality display and the powerful M1 chip will ensure smooth performance as well as accuracy in your designs. In combination with the Apple Pencil, this tablet becomes the ultimate tool for creatives that enjoy the Apple ecosystem.
Pros
Has a great display and processor.

The battery lasts up to 10 hours of continued use.

Hass full sRGB coverage
Cons
The Illustrator app is a bit limited in comparison to the desktop version.

It is quite expensive

The pen is sold separately
#3. Best Large Pen Display
for Adobe Illustrator
– Huion Kamvas Pro 24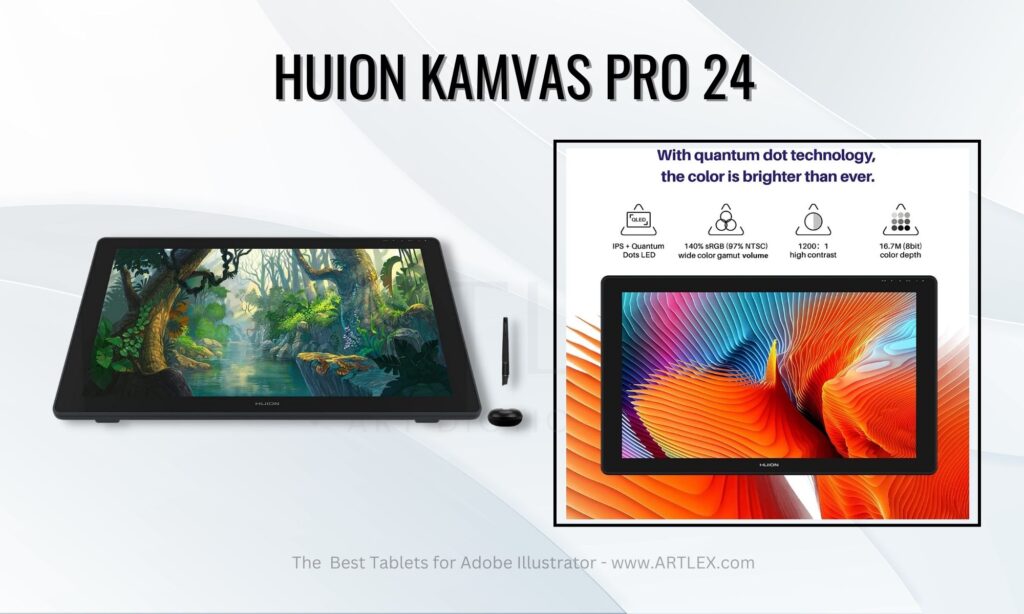 Selection Criteria:
Size and Display: 24" QHD Display 2560×1440 120% sRGB coverage.

Stylus and Pressure sensitivity: Included, 8192 Levels of pressure

Price: $899
About the Huion Kamvas Pro 24
This graphic tablet has not only a high-quality display, one of the best sRGB gamut coverage of the market, and a great stylus with the highest levels of pressure and tilt recognition, but also includes 10 customizable shortcut keys on both sides and a slide bar that can be of many uses.
The screen is also anti-glare and scratch-resistant, making it a very durable device that goes easy on the eyes. It includes an adjustable stand that will allow you to work comfortably without adding more to the price.
The reason this tablet made it to our list is the amazing characteristics and low price since similar devices run for much more but perform poorly.
Pros
The display quality is great.

Includes a stand and 10 shortcut keys.

Hass full sRGB coverage
Cons
It needs a computer to run.
#4. Best Pen Display for
Adobe Illustrator for
Freelancers – Wacom Cintiq 16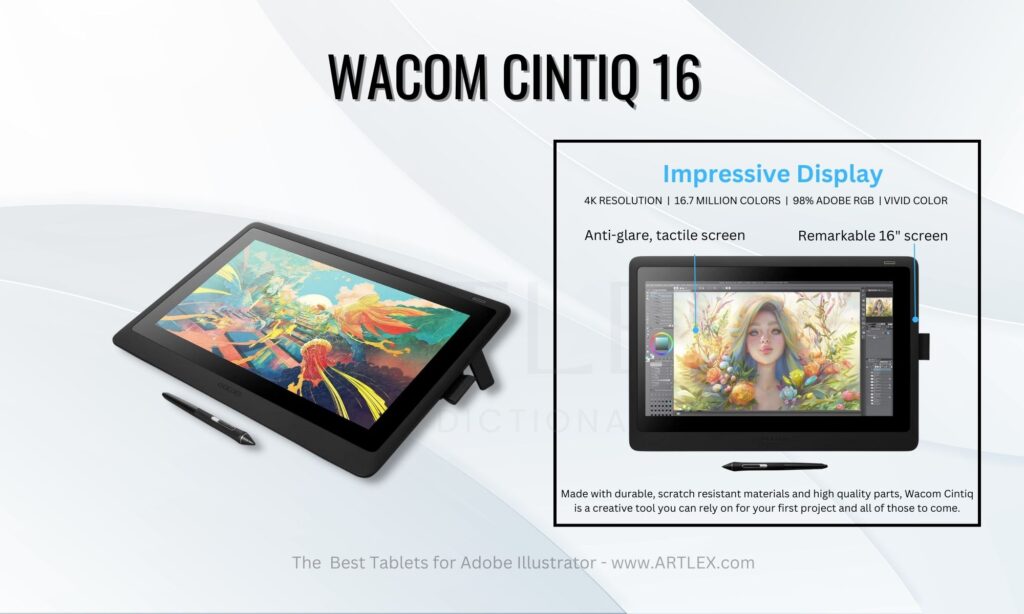 Selection Criteria:
Size and Display: 16" FHD Display 1920×1080 98% sRGB coverage.

Stylus and Pressure sensitivity: Included, 8192 Levels of pressure

Price: $649
About the Wacom Cintiq 16
Wacom has been the leader of the graphics tablet market and though recently the quality of their displays has been passed by better and more accessible brands, Wacom remains a well-loved brand for many artists and designers. The Wacom Cintiq 16 is the most accessible tablet of the brand, making it perfect for students and freelancers that are upgrading their pen tablets to pen displays.
Pros
It's very portable and of high quality.

Hass full sRGB coverage.
Cons
The display could be better.

It needs a computer to run.
#5. Best Budget Tablet for Adobe Illustrator – Huion Inspiroy KeyDial

Selection Criteria:
Size and Display: 10.5″ of Active drawing area.

Stylus and Pressure sensitivity: Included, 8192 Levels of pressure

Price: $136
About the Huion Inspiroy KeyDial
There are many pen tablets in the market, and some go for prices even lower than the Inspiroy KeyDial, however, the main reason this tablet made it to the list is that it includes a set of programmable shortcut keys that are much valued when using Adobe Illustrator and other design software. The levels of pressure that this pen tablet offers are the same as high-end tablets and pen displays, it also includes a dial that can be used for zooming in, out and other tools. Buying this tablet means you won't need secondary keyboards that run for about the same price as the Inspiroy Dial.
Pros
It is quite cheap

Includes many shortcut keys
Cons
It needs a computer to run.
Conclusions
Investing our budgets in a reliable tool can mark a big difference in our work life, and we understand that choosing the right tablet will mostly depend on the use we intend to give it, we know that there are many kinds of tablets we can choose from and the list presented has not only the best options regarding specs but the best price-value tablets that are in the market at the moment.
There will be many articles mentioning some Android tablets, but being completely honest, though android tablets (especially Samsung) have come a long way there is not yet an Android tablet that can run Adobe Illustrator so don't waste your money on a device that will end up being useless to you and your career.
I hope this article has made your decision a bit easier! Thank you for reading, until next time!