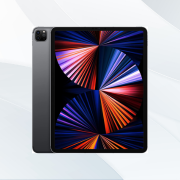 Best overall drawing tablet for Mac, seamless integration with MacOS, powerful M1 chip, high-quality Liquid Retina XDR display, compatible with Apple Pencil, premium price point.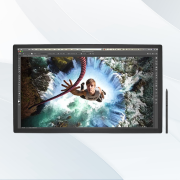 Best professional drawing tablet for Mac, large 27-inch display, exceptional pressure sensitivity, high color accuracy, direct drawing on the screen, high price point.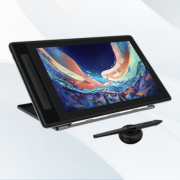 Best portable drawing tablet for Mac, affordable price, good display quality, high pressure sensitivity, compatibility with MacOS, suitable for those on a budget.
When it comes to digital artwork and graphic design, having the right tools can significantly impact your process and final product. For Mac users, the combination of Apple's intuitive interface with a high-quality drawing tablet can serve as the perfect toolkit to bring your artistic visions to life. However, finding the right drawing tablet that matches Apple's Mac specifications and your creative needs can sometimes be a bit challenging.
That's why we've crafted this article —to help you navigate the wide range of options and find the best drawing tablet for your Mac. We'll explore different drawing tablets across various price points, each with unique features and capabilities.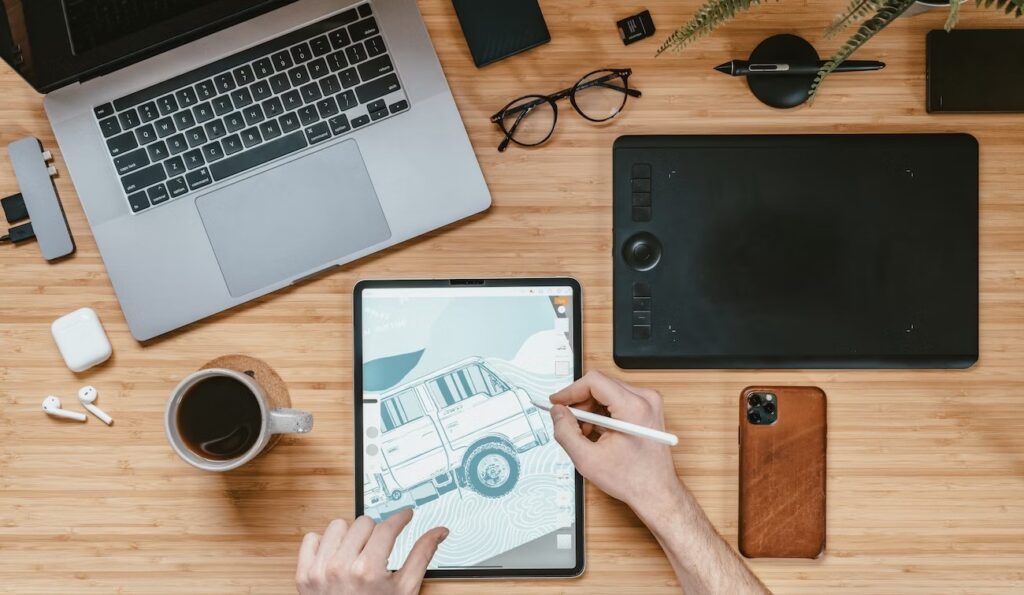 Whether you're a seasoned digital artist, a graphic designer, or a beginner just starting your digital art journey, this article will help you identify the best drawing tablet to complement your Mac and enhance your creative workflow.
Let's dive in!
How to Find the Best Drawing Tablet for Mac
Compatibility with MacOS
The first and most important factor to consider is whether the drawing tablet is compatible with your Mac. Not all drawing tablets work seamlessly with MacOS, and some may require additional drivers or software to function correctly.
Therefore, always check the manufacturer's specifications to ensure the tablet you want is fully compatible with your Mac's operating system version. Newer models generally offer better support for the latest versions of MacOS, but don't assume this is always the case. Make sure you've done your research beforehand to avoid any compatibility issues down the line.
Pressure Sensitivity
This is one of the most critical aspects of a drawing tablet. Pressure sensitivity determines how responsive a tablet is to the pressure you apply with the stylus. It affects how thick or thin lines appear based on how hard or softly you press.
A higher level of pressure sensitivity allows for a wider variety of brush strokes, enhancing the natural drawing experience. Tablets with 2048 levels of pressure sensitivity are considered adequate for most users, but some high-end tablets offer up to 8192 levels for more precise control.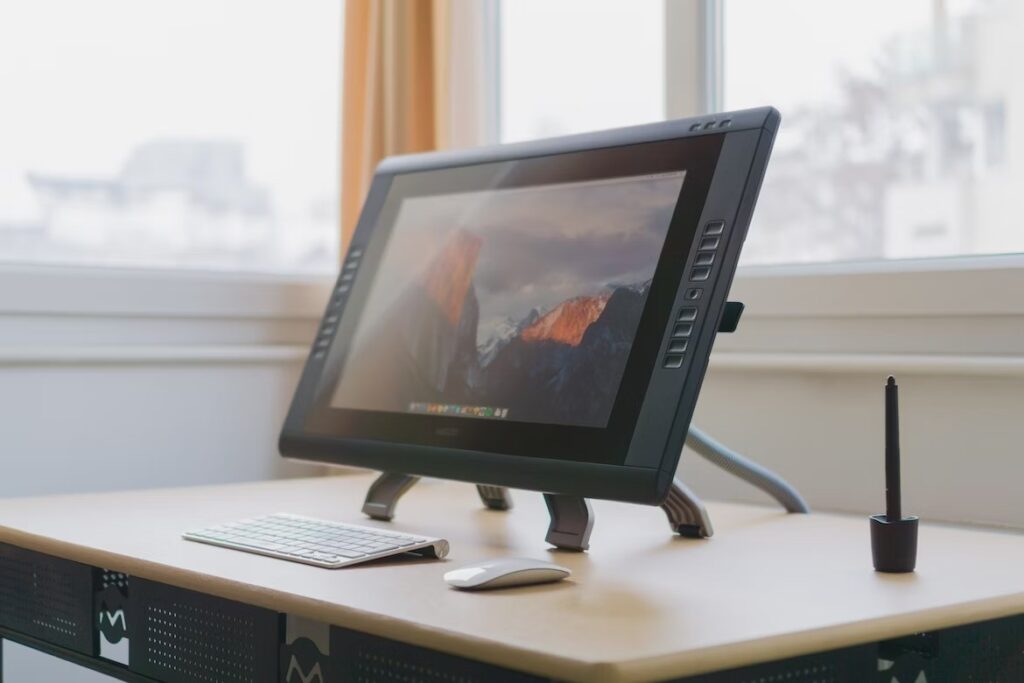 Tablet Size and Resolution
The tablet's resolution, measured in lines per inch (LPI), indicates the level of detail you can achieve in your artwork. A higher resolution means a more detailed, sharper image. For professional artists who require fine detail in their work, a higher resolution is recommended.
The size of the drawing tablet and its active area (the area where the stylus interacts with the tablet) can affect your drawing comfort. Larger tablets provide more room to draw and are ideal for detailed, large-scale work, while smaller tablets are more portable and convenient for travel. The best choice depends on your workspace, the scale at which you typically work, and personal preference.
Updates and Drivers
Drawing tablets require drivers to function properly, and these drivers need to be updated regularly to maintain compatibility with your Mac, especially when Apple updates MacOS. Check whether the tablet manufacturer provides regular driver updates and how easy it is to download and install these updates.
Multi Touch Capabilities and Hotkeys
Some tablets offer multitouch functionality, allowing you to use your fingers to zoom, rotate, and navigate your artwork, similar to a smartphone or trackpad. This feature can speed up your workflow and provide a more intuitive drawing experience.
Also , some tablets come with physical hotkeys, also known as express keys. These are customizable buttons on the tablet that you can program to perform specific actions or commands, such as undo, copy, paste, etc. They can increase your efficiency by minimizing the need to switch back and forth between your tablet and keyboard.
Price
Drawing tablets come in a wide range of prices, from budget-friendly options under $100 to high-end tablets that can cost over $1000. Your budget will likely influence your choice of tablet. However, remember that the most expensive tablet isn't necessarily the best one for your needs. Even budget tablets can offer an excellent drawing experience, especially for beginners or hobbyists.
Best Drawing Tablets For Mac in the Market Today
1. Best Drawing Tablet for Mac Overall — iPad Pro 5th Gen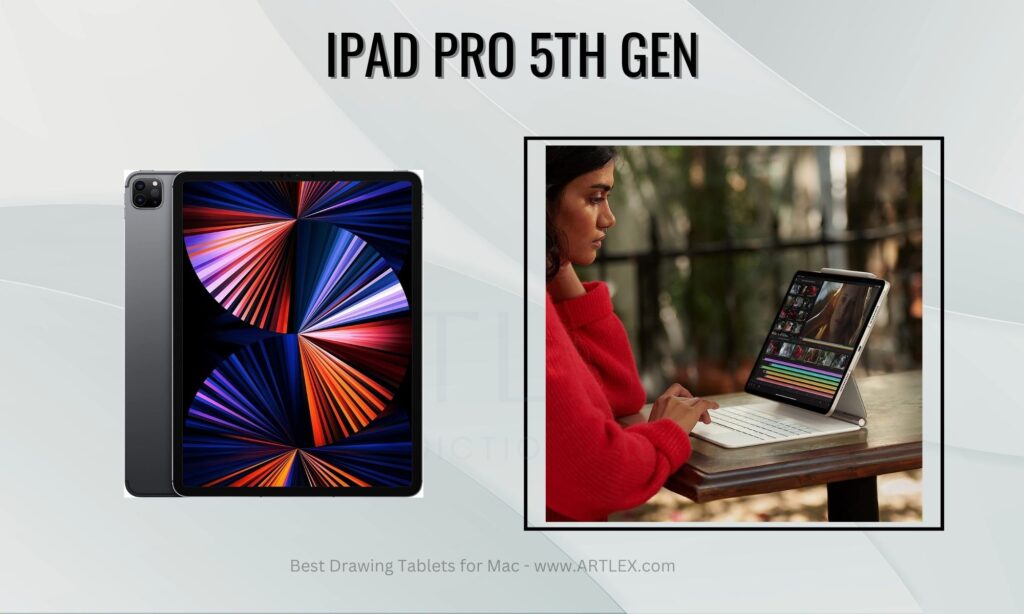 Selection Criteria:
Compatibility with MacOS: Full integration with MacOS.
Pressure Sensitivity: Apple Pencil 2, 4096 levels of pressure sensitivity.
Color Accuracy : 100% P3 Coverage.
Tablet Size and Resolution: 12.9 Inches Liquid Retina XDR Display, 2732 x 2048 pixels resolution.
Price: $1,049.00
About the iPad Pro 6th Gen
The iPad Pro 6th Gen is not just a tablet, it's a revolution in the world of digital art. Perfect as a standalone device or as an extension of your Mac. With the powerful M1 chip at its core, it handles demanding tasks and graphic-intensive applications effortlessly. The 12.9-inch Liquid Retina XDR display provides an immersive visual experience and ensures highly accurate color representation with its 100% P3 color coverage, which is a critical factor for digital artists.
The iPad Pro integrates seamlessly with the Apple Pencil, providing a natural, precise drawing experience with its 4096 levels of pressure sensitivity. Although Mac has the sidecar feature which allows you to use your iPad as a second interactive monitor, it's quite limited and honestly, very frustrating for actual creative software, however with the help of apps like Duet Display and Astropad, you can change that and turn your iPad on the best drawing tablet for your Mac.
Despite its premium experience and amazing features, the high initial cost and the added expenses like the Apple Pencil are quite the financial hurdle, however if you already own a Mac or have the budget for one of these tablets, you'll come to find that, the file sharing, customized experience, license sharing and apple ecosystem overall make it worth the price
Pros:
Powerful M1 chip.
Seamless integration with Mac OS.
High-quality display and high color accuracy.
Cons:
On the expensive side.
Full experience depending on third-party apps.
Apple Pencil sold separately.
2. Best Professional Drawing Tablet for Mac — Wacom Cintiq Pro 27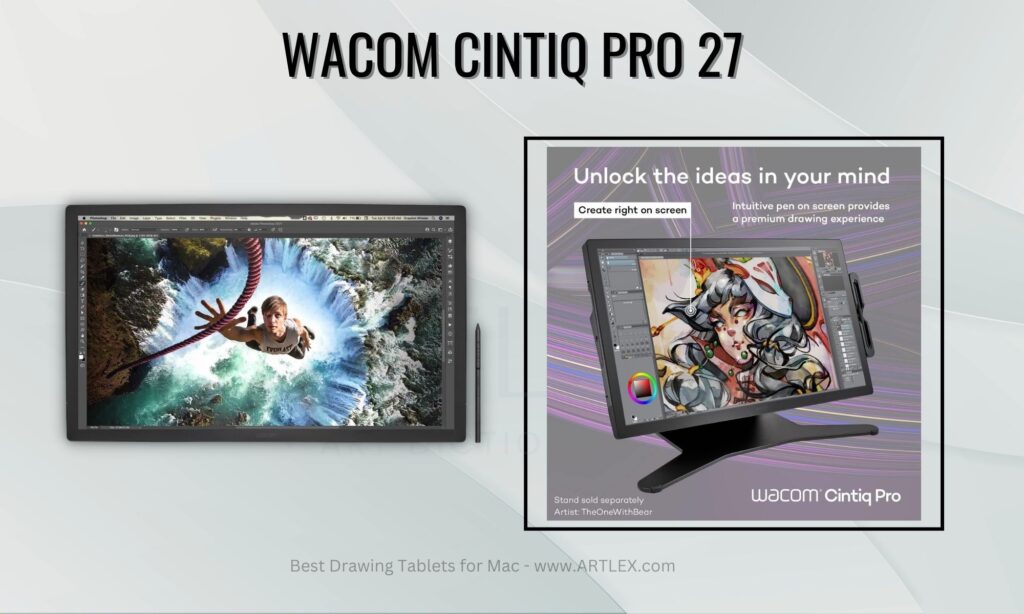 Selection Criteria:
Compatibility with MacOS: Windows, macOS/OS X.
Pressure Sensitivity: Interactive pen, 8192 levels of pressure sensitivity.
Color Accuracy : 99% Adobe RGB Coverage.
Tablet Size and Resolution: 27 Inches, 3840 x 2160 pixels resolution.
Price: High: $3,499.95
About the Wacom Cintiq Pro 27
The Wacom Cintiq Pro range is a favorite among professional digital artists for a reason. With 8192 levels of pressure sensitivity and a resolution of 5080 LPI, it provides an unparalleled drawing experience.
The Cintiq Pro's standout feature is its high-quality display, which allows you to draw directly on the screen, creating an intuitive and natural feel. Its compatibility with MacOS is excellent, and the Pro Pen 3 offers barrel rotation and tilt recognition and virtually lag-free tracking. It's an investment, but the smooth, responsive drawing experience, as well as the customizable pen and overall quality is well worth the cost for professionals.
Pros:
Professional tablet.
Amazing display.
Great responsiveness and drawing experience.
Pen customization for ergonomics.
Cons:
Very expensive.
Shortcut Keys are on the back.
Doesn't include an adjustable stand.
3. Best Portable Drawing Tablet for Mac — Huion Kamvas Pro 13"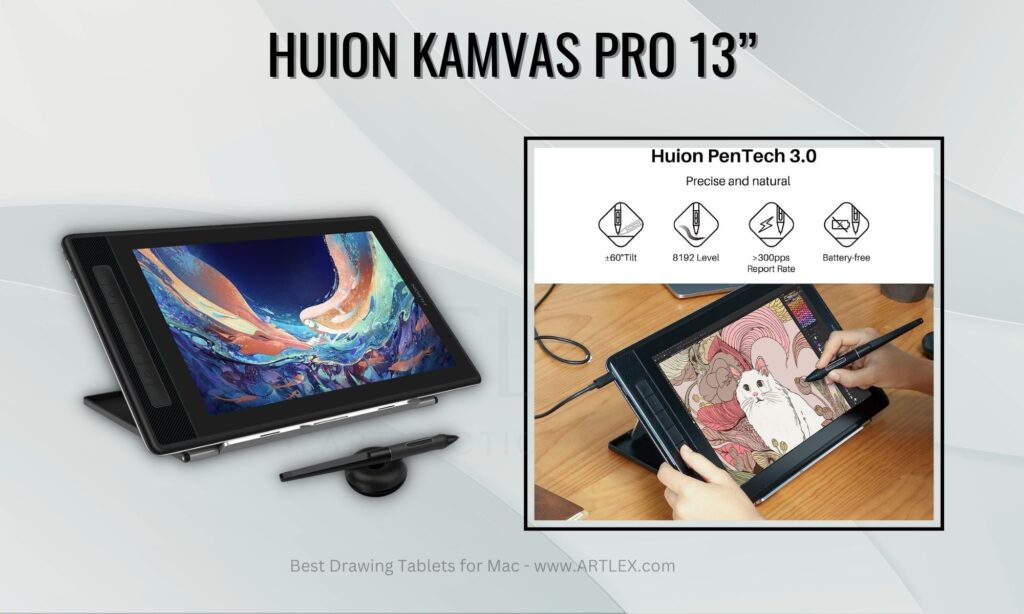 Selection Criteria:
Compatibility with MacOS: Compatible with Chromebook,Windows,Mac OS.
Pressure Sensitivity: Pencil PW507, 8192 levels of pressure sensitivity.
Color Accuracy : 120% sRGB.
Tablet Size and Resolution: 13.3 Inches, 2732 x 2048 pixels resolution.
Price: High: $299.00
About the Huion KAMVAS Pro 13"
The Huion KAMVAS Pro range offers an impressive balance between price and performance and has been one of the best Wacom alternatives for those on a tighter budget that still want to have the best of the best.
The Kamvas Pro 13" is about the same size as the Wacom One, however much more affordable and with better characteristics.With an excellent screen, 8192 levels of pressure sensitivity, and a comfortable, battery-free stylus, it rivals much more expensive models. Its compatibility with MacOS and a wide variety of drawing software makes it a flexible choice for Mac users.
Pros:
Quite affordable.
Great Display.
Very portable.
Cons:
Drawing area might not be enough for some.
Portable stand isn't of the best quality.
4. Best Large Pen Display on a Budget For Mac — XP-PEN Artist Pro 24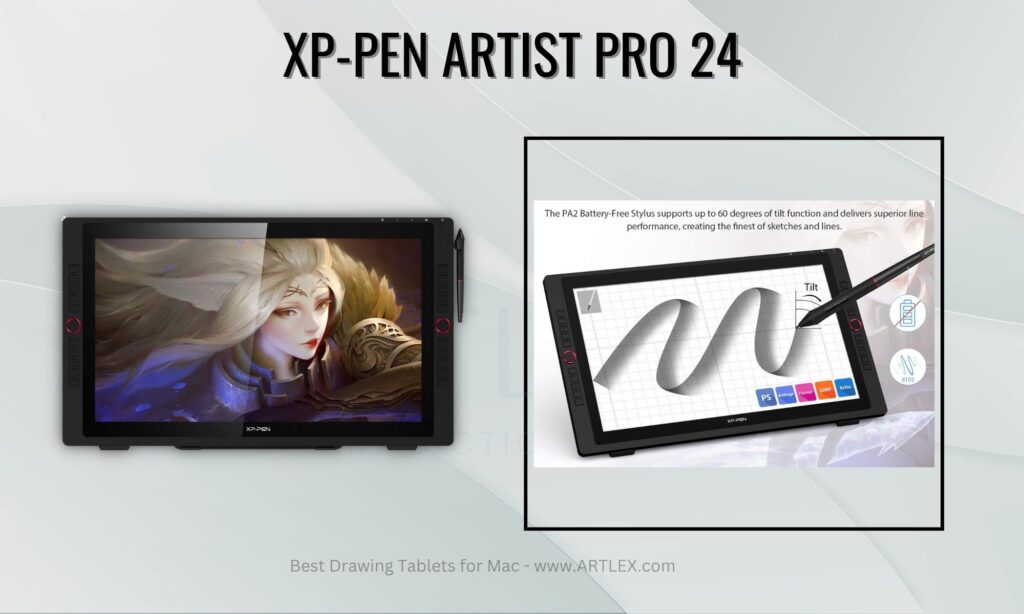 Selection Criteria:
Compatibility with MacOS: Windows, Android, Linux, Chrome OS, Mac OS.
Pressure Sensitivity: XP Pen, 1024 Levels of pressure sensitivity.
Color Accuracy : 90% Adobe RGB.
Tablet Size and Resolution: 23.8 Inches, 2K, 2560 x 1440 pixels resolution.
Price: High: $899.99
About the XP-PEN Artist Pro 24
The XP-PEN Artist Pro 24" offers a 2K (2560 x 1440 px) display, a battery-free stylus with 8192 levels of pressure sensitivity, and 20 customizable shortcut keys. It doesn't skimp on features, including a fully adjustable stand and radial mеnu for quick access to your favorite tools. It's a robust and affordable tablet that works well with MacOS and many other OS, allowing you to switch from one to another with ease.
This tablеt is not only highly functional, but also has a grеat color coverage for its price, boasting 92% of the Adobe RGB color space and featuring two additional ports that allow you to charge your devicеs on the back. This tablet also includes a second stylus with your purchase, a pen holder and a stylus case with 8 replacement nibs, which is more than enough to last for several years.
Pros:
High-resolution display.
Great color coverage.
Cons:
5. Best Budget Drawing Tablet For Mac — HUION Inspiroy H1060P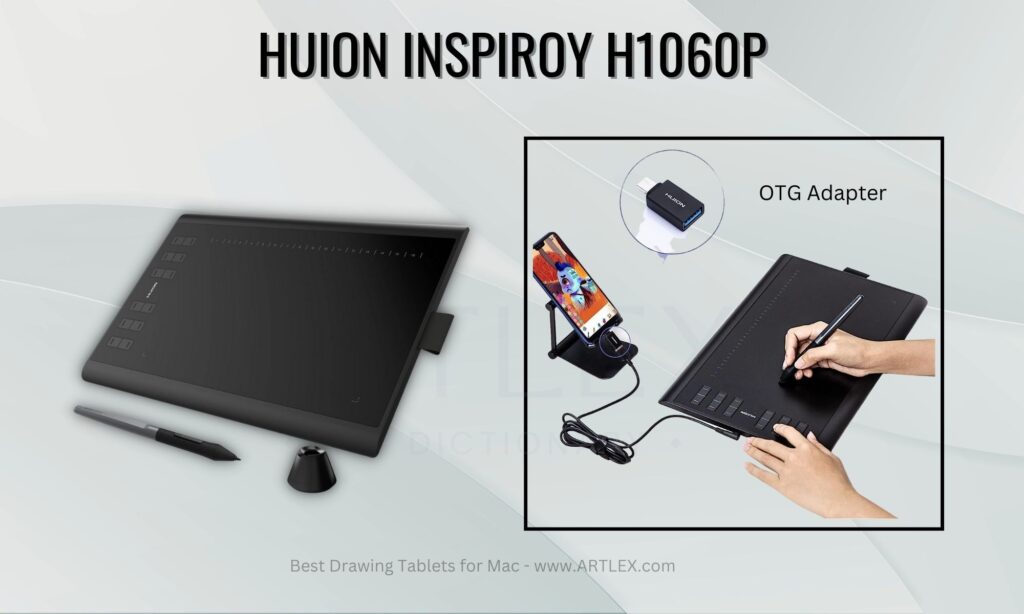 Selection Criteria:
Compatibility with MacOS: Mac OS, Android, Linux(Ubuntu), Windows.
Pressure Sensitivity: Pencil PW100, 8192 Levels of pressure sensitivity.
Color Accuracy : – –
Tablet Size and Resolution: 6.3×3.9 inches.
Price: High: $59.99
About the HUION Inspiroy H1060P
This tablet is a favorite among artists and illustrators that are mindful of budget but still want the functionality. It offers a large drawing area, 8192 levels of pressure sensitivity, and 12 customizable express keys (plus 16 soft press keys) which take the functionality of this tablet to another level.
It's fully compatible with MacOS and pretty much all of the popular drawing software, it's light and portable, and combined with its affordable price point, makes it a solid choice for beginners and hobbyists or for those who are on a very tight budget.
Pros:
Budget Friendly.
Large Drawing Are.
Customizable Keys.
Cons:
Initial learning curve.
Doesn't have a display.
Conclusions
In a nutshell, if you're a Mac user and an art enthusiast, the perfect drawing tablet can totally transform your digital art game. It's like adding a magic touch to your creativity and trust me, it's worth it!
Remember that you need to consider a few things like compatibility, pressure sensitivity, size, and resolution. And, oh! Don't forget to check for features like multitouch, pen customization and hotkeys.
If budget's no issue, the iPad Pro 5th Gen is a dream-come-true! It pairs perfectly with MacOS and transferring files and data is super easy. For professional artists, the Wacom Cintiq Pro 27 is a real winner. It's a bit pricey, but worth every penny (for professionals).
Always on-the-go? The Huion Kamvas Pro 13" is compact and budget-friendly. On a tight budget but need a large display? The XP-PEN Artist Pro 24 has your back. Just starting out and don't want to break the bank? The HUION Inspiroy H1060P is a steal!
FAQ
Q: Can I use a drawing tablet for things other than drawing?
A: Absolutely. While drawing tablets are designed primarily for digital art, they can also be used for photo editing, 3D modeling, graphic design, animation, and even for online teaching, and general computing tasks, such as web browsing or document editing, providing a more hands-on and interactive experience.
Q: Do I need a drawing tablet with a scréen?
A: It depends on your personal preference. Some artists prefer drawing tablets with screens (pen displays) becаuse they allow you to draw directly onto the image, creating a more intuitive and natural drawing experience. On the other hand, non-display tablets (also known as graphics tablets) require you to draw on the tablet while looking at your computer screen, which can take some getting used to. However, graphics tablets are typically much more affordable.
Q: How do I connect my drawing tablet to my Mac?
A: Most drawing tablets connect to your Mac via a USB cable, although some newer models offer Bluetooth connectivity (Graphics Tablets only). Once connеcted, you'll usually need to install the necessary drivers, which can be downloaded from the manufacturer's website. Always refer to the specific instructions provided by the manufacturer.
Q: What is the best drawing tablet for beginners?
A: The "bеst" tablet can vary greatly based on personal needs and budget. However, for beginners, a good starting point might bе budget-friendly tablets with good sensitivity and responsiveness, such as the Wacom Intuos S or the Huion H610 Pro V2. These tablets offer excellent functionality at a lower cost, making them ideal for those who are just starting to explore digital art.
Q: Can I use an iPad as a drawing tablet for my Mac?
A: Yes, with Apple's Sidecar feature, you can usе your iPad as a second display for your Mac, effectively turning it into a drawing tablet. This functionality is especially useful if you have the Apple Pencil, which can be used as a stylus on the iPad.
Q: Is a more expensive tablet always better?
A: Not necessarily. While more expensive tablets often come with more features and better spеcifications, they may not always be the best choice for everyone. It's important to consider what features you actually need for your artwork. A professional artist may benefit from a high-end tablеt, but if you're a hobbyist or bеginner, a budget or mid-range tablet may be more than sufficient.