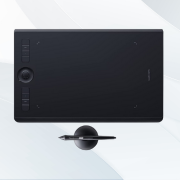 Best overall pen drawing tablet with multi-touch, wireless connectivity, and high compatibility, but it's expensive and has a smaller active drawing area.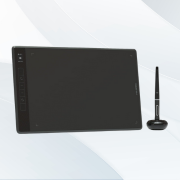 Second-best pen tablet with a larger size, excellent pressure sensitivity, and good connectivity, but it's less portable and has fewer shortcut keys.
Xencelabs Pen Tablet [Medium]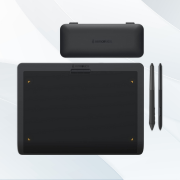 Best price-value drawing tablet with a premium design, two styluses, and good connectivity, but it's relatively expensive and may have driver issues.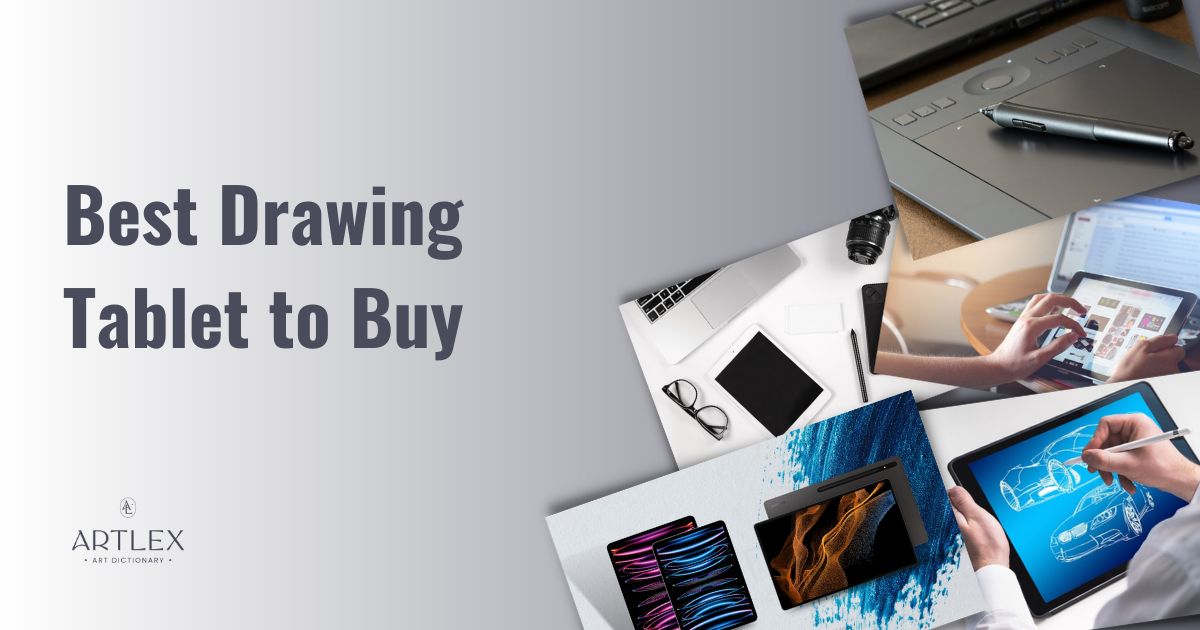 It's almost 2023, and the digital art world is getting more significant than ever. People from all over the world are joining the digital art community from their iPads, phones, and PCs while not only drawing and painting but designing, animating, creating experiences, and even using AI.
With the right software, it's possible to jump from drawing and painting to 3D modeling and to animate. However, in most cases, it all depends on your computer's or laptop's characteristics.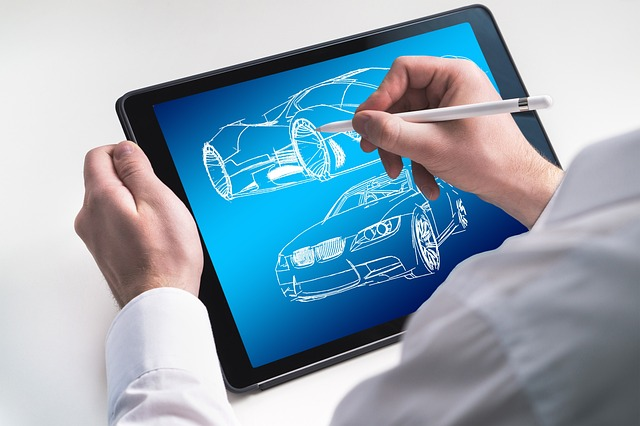 If you're a part of the creative professionals' community, a freelancer, a designer, an architect, an animation student, or a hobbyist, and you don't have a drawing tablet, then now is the time to get one.
But which one? There are so many options, sizes, brands, and types that choosing one is already hard. Now, if we add the technicalities we need to know before buying a drawing tablet, it only worsens.
Whether you're already a seasoned professional, a beginner, or a loving family member looking for the best gift, we can assure you there is a tablet that will fit your needs and budget.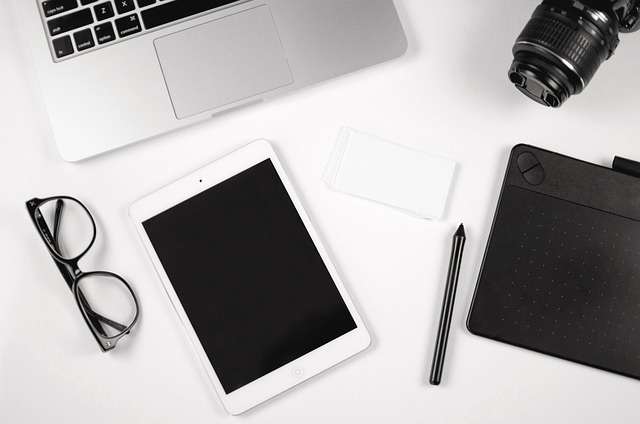 Our job, as always, is to bring you only the best options, but not without first solving all your doubts and guiding you through an informed purchase. Before jumping to the list of the best devices we've prepared for you, let's answer some frequent questions and get some basic information.
What is a Graphics Tablet?
A Graphics Tablet is an input device that allows us to translate hand traces made with a stylus into information later displayed on the screen. It works almost the same as a mouse, except the stylus and the tablet can detect the amount of pressure we use on our traces, allowing the user to work with the stylus as a pencil, pen, paintbrush, etc.
It was first created in 1957 (Grafacon) for handwriting recognition purposes, then shortly followed the graphics tablets for domestic use with the release of the Koala Pad in 1983.
Nowadays, we have three types of Drawing Tablets with the same purpose but for different users.
Drawing Pen Tablet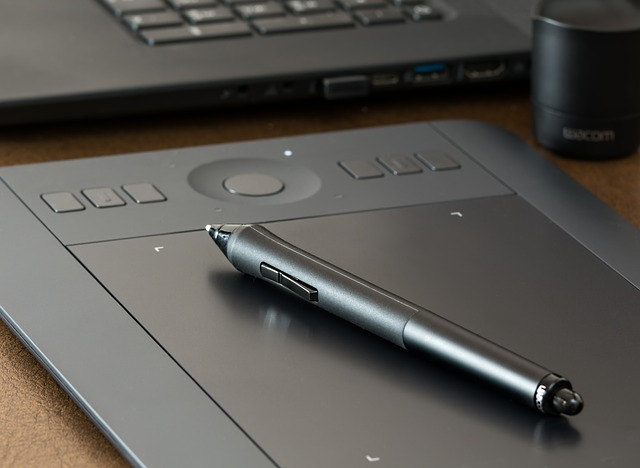 A Pen drawing tablet is one of the most common and less expensive graphics tablets. These tablets are the ones that don't have a screen but a flat surface to draw on with a stylus as if it were paper.
They connect to the phone/computer/tablet with a USB cable or via Bluetooth in some cases, just like a mouse or keyboard. Some computers recognize them as a second mouse or a basic stylus. However, once the drivers are set up, you'll be able to configure the pressure sensitivity settings and shortcut keys.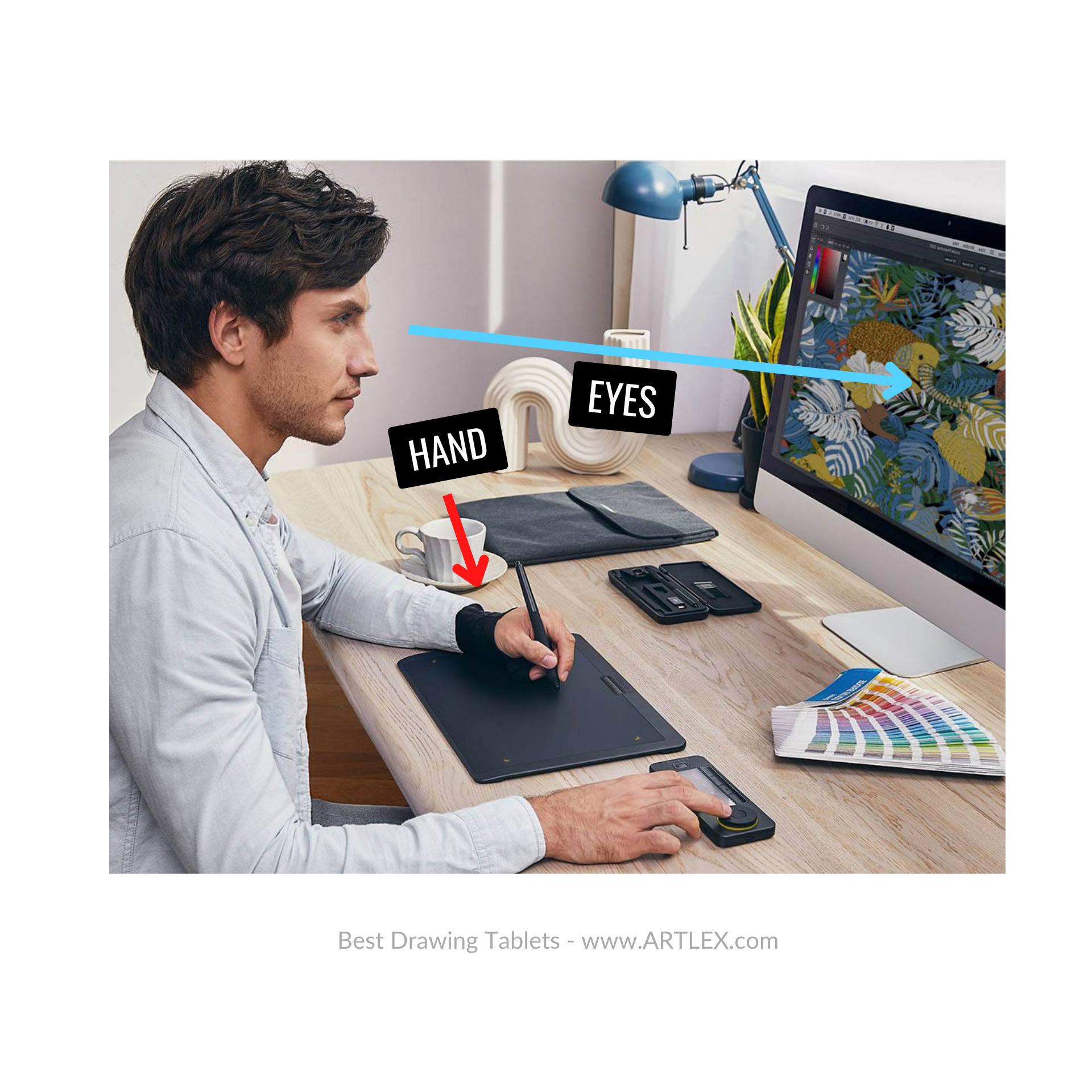 The disadvantage of this tablet is that you need a monitor to use it since you won't be able to see what you draw without it. Some artists (especially traditional artists that join the digital community for the first time) find them less intuitive and hard to use at the beginning due to the disconnect between hand and eyes.
Drawing Pen Display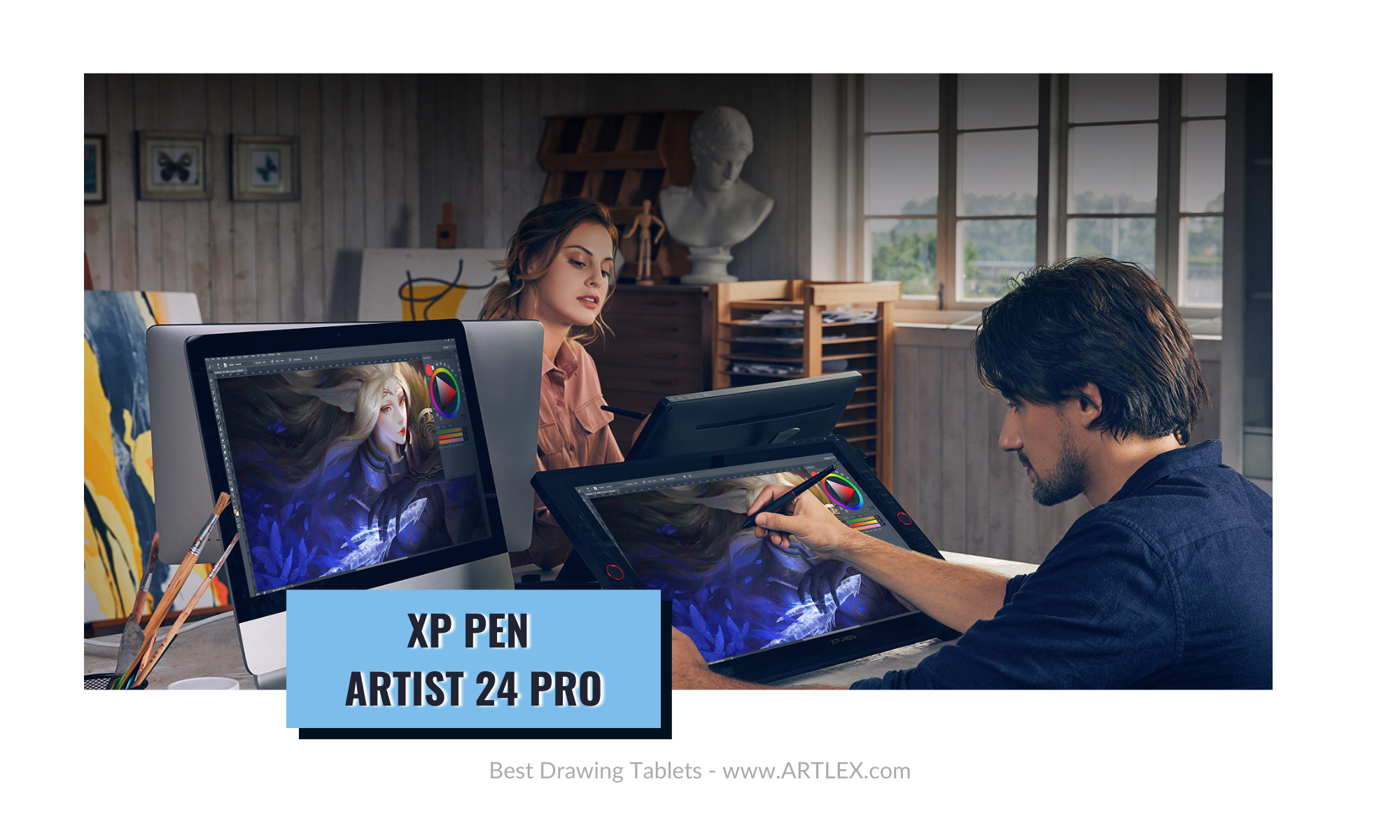 A Drawing Pen Display, also called Screen Tablet, is a more advanced device that merges a screen with a drawing tablet. It's a more expensive yet intuitive device to draw and work on.
In some cases, it also has more levels of pressure sensitivity, although the most significant advantage of a drawing pen display is the screen. These tablets have specially designed high-resolution screens with higher color accuracy, specially made for creative professionals, artists, and graphic designers.
They also connect to the computer/laptop via USB and HDMI. You can use a separate monitor if you want to. However, some of these tablets include an adjustable stand allowing you to use them as a drawing tablet and a monitor simultaneously.
Standalone Drawing Tablet
A standalone drawing tablet is a Drawing Tablet that doesn't require a computer/PC/Laptop to work on. These are the most expensive drawing tablets on the market and the rarest.
Please think of the All-in-One computer concept we all were introduced years ago, the big monitor with the computer in the back that didn't need a case for the computer components but had everything integrated into the back of the monitor.
A standalone drawing tablet has the same concept but replaces the monitor with a professional drawing pen display.
The few you can find in the market are either excessively overpriced or not powerful enough to handle professional software. These tablets' components are usually very outdated and not as well-performing as an average desktop PC or Laptop, so we are not including any of them in our list.
Other Tablets
But what about iPads and Android tablets?
The most popular android tablet nowadays is the Samsung Galaxy Tab S8 Ultra, which comes with the S Pen included. Apple has the latest iPad Pro as their most popular tablet, but it requires an optional apple pencil to be used as a drawing tablet, which is sold apart.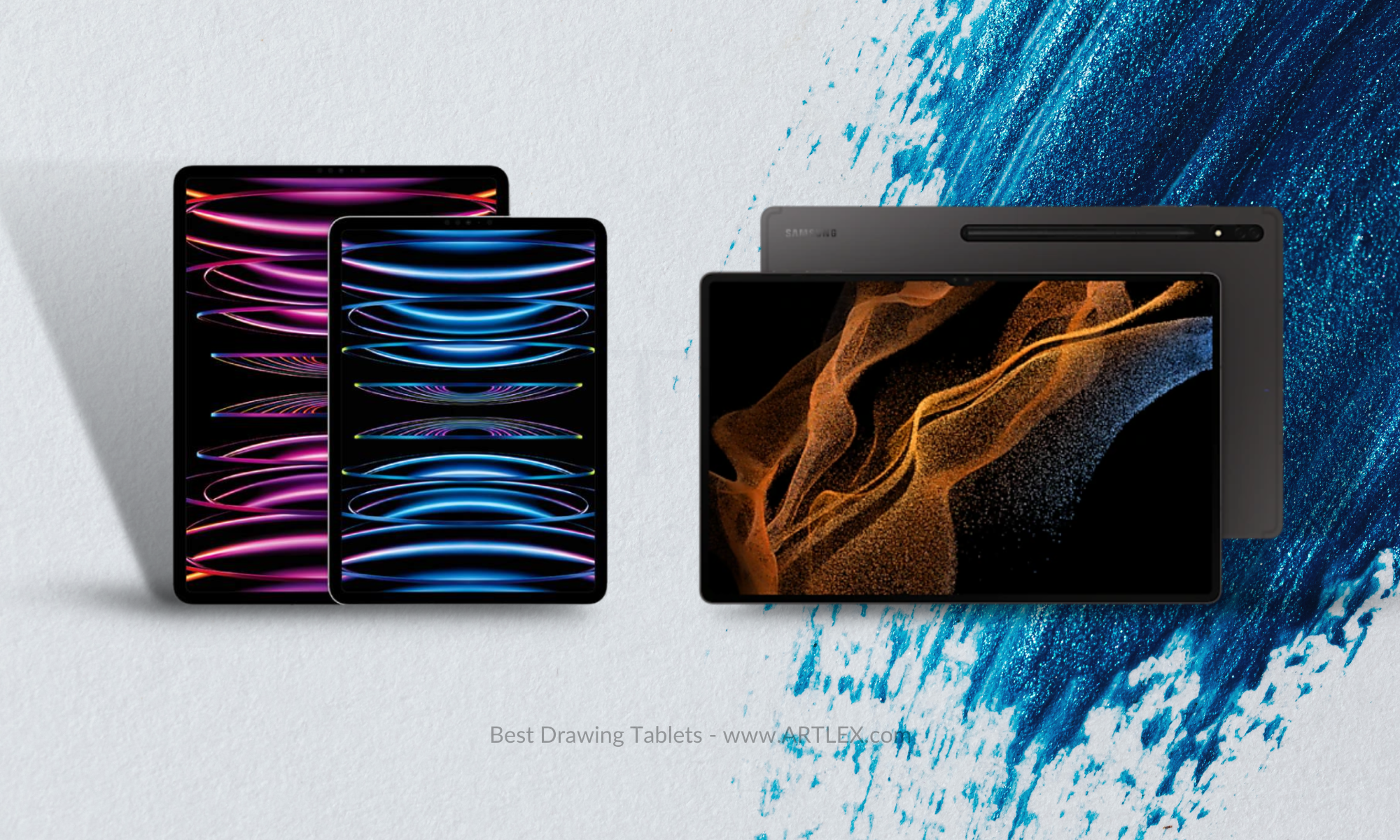 Both of them are fantastic devices. However, none of them can support professional software or are powerful enough to handle 3D modeling and animation on a bigger scale.
Since they don't fall directly under the category of "Drawing Tablets" but "Tablets with a Stylus," we haven't included them in this article. Nonetheless, thanks to the touch support, OS, and app compatibility, they are also suitable for creating digital art, drawing on the go, multitasking, and sharing your art.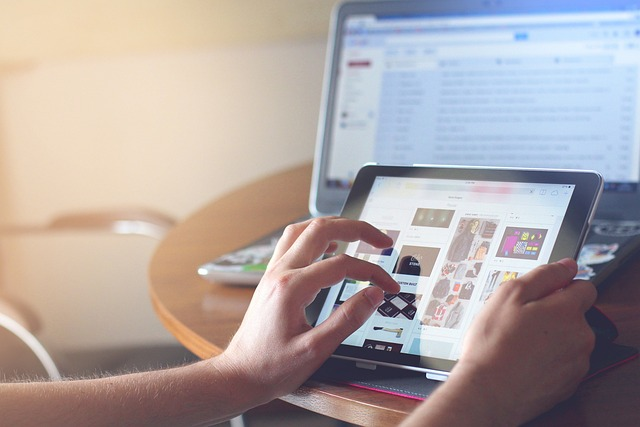 Best Drawing Tablets to Buy in 2023
As you can see, our list has a mix of pen tablets and pen displays for all budgets and needs. You might've also noticed we haven't included any Standalone Drawing Tablets. That is because after in-depth research, we've come to We've made an in-depth article on choosing the best device for you, separating the items in the list into two main groups: Pen Tablets and Pen Displays.
How to choose the Best Pen Tablet
Pen tablets are the most basic graphics tablets and have been around forever. There are many models, sizes, and options aimed at different types of users. Pen drawing tablets can be used for drawing, painting, animating, teaching, and even gaming.
Fully knowing the use, you want to give this tablet will make choosing much easier, however. in order to determine which one is the best for you, you need to consider the following criteria:
Size and portability
Pen tablets are not big and voluminous devices. They can weigh three pounds at most, making them easy to carry around even for the most significant models; however, the size factor is crucial for the user.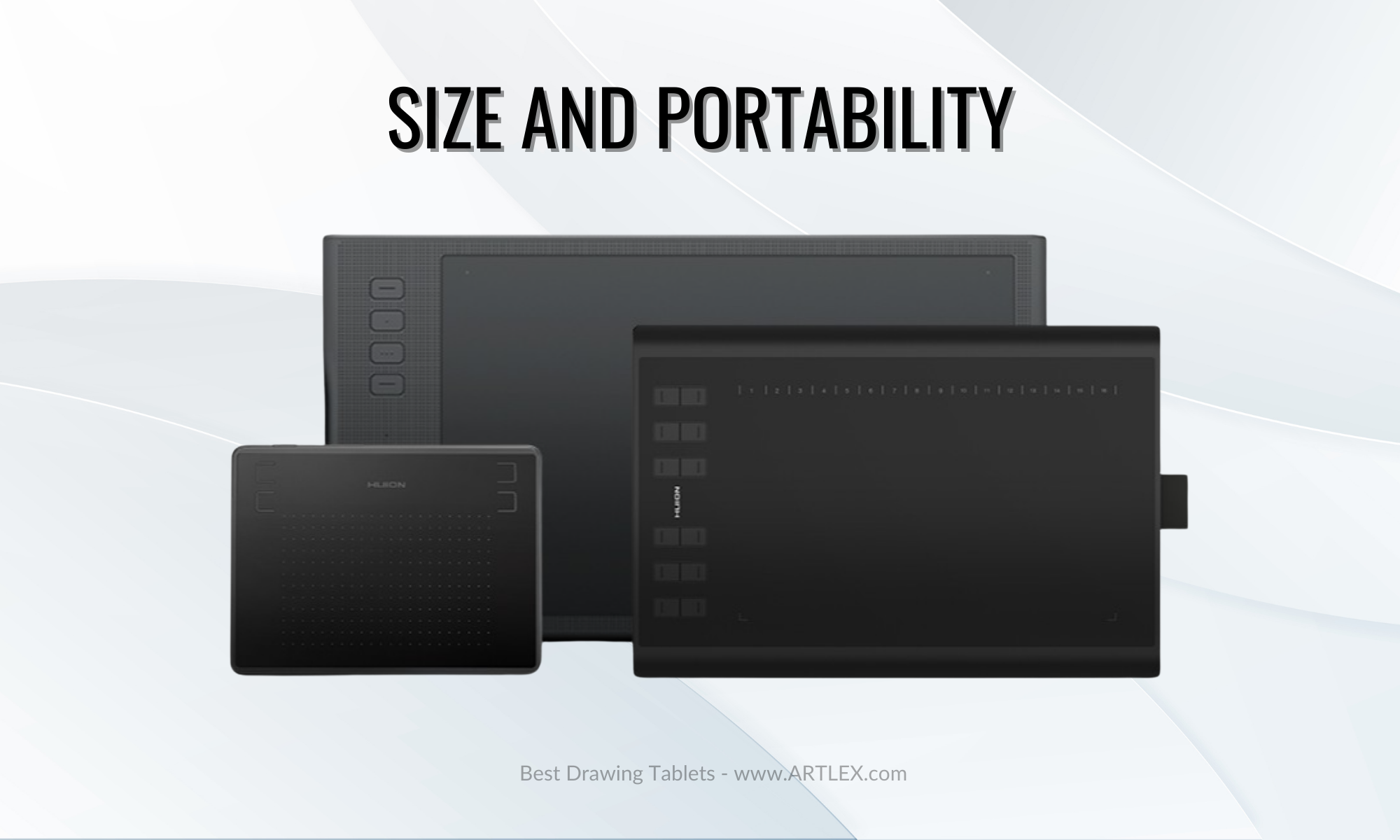 Small tablets can go from 4×6 inches. These tablets are great to carry around, draw on mobile devices like small tablets or phones, and game and are an excellent start for many beginners who don't want to spend too much on a device they might not use. These tablets are the less expensive drawing tablets
Medium tablets go from 5×8 inches. These tablets are great to carry around as well. They fit in many bags and backpacks, don't take too much deskspace, and are the best of both worlds, being comfortable to draw and paint on yet still portable. Although if you are a big-handed person, we wouldn't recommend them since they would feel like a small tablet.
Large tablets go from 9×14 inches. These tablets give the most comfort to draw on. However, they also take up the most desk space and are not as portable since they tend o be thicker and larger.
The greatest benefit is that they fit larger monitors, are great for lines and gestural drawing, they also allow you to multitask and feel more natural than a small or medium tablet.
Pressure sensitivity and LPI Resolution
Pressure sensitivity is a characteristic of a graphics tablet that allows you to control the amount of pressure you apply with the stylus and the thickness of your lines. Most drawing tablets (if not all of them) include a stylus that interacts with your tablet's pressure sensors. It starts at 2048 levels of pen pressure sensitivity, although nowadays, most tablets run at 8192 levels of pressure sensitivity by default.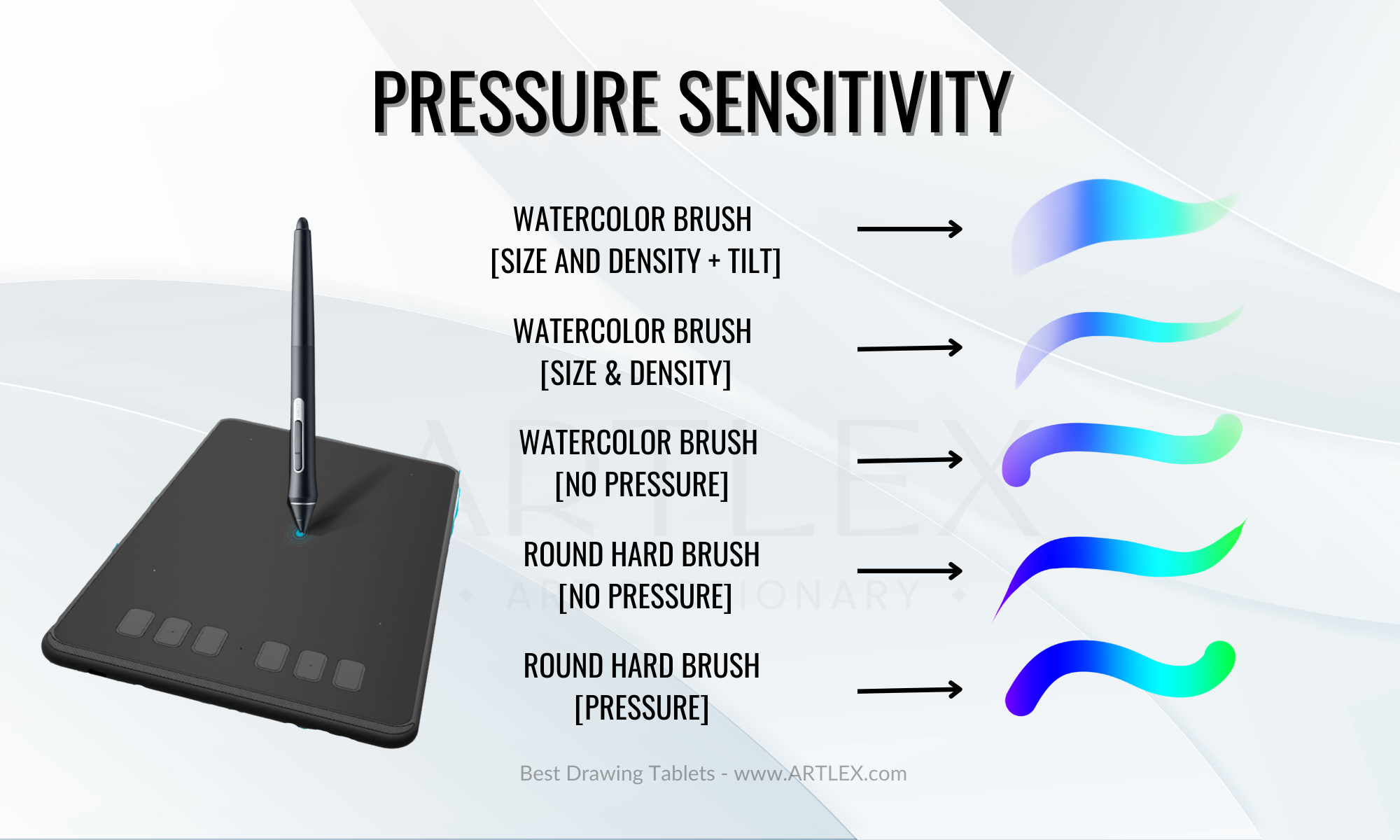 With pressure sensitivity, higher means better, so we recommend not settling for less than 8192 levels of pressure sensitivity.
LPI stands for Lines Per Inch, which is the number of receptors on the tablet that interact with your stylus. As before, the higher the number, the better the tablet will be. A tablet with more LPI resolution will be more accurate and responsive, causing fewer issues and a better drawing experience.
Active drawing area
The active drawing area is the portion of the tablet surface that can receive input from the stylus and has pressure sensitivity.
Some tablets appear to be the perfect size when the active drawing area is much smaller in reality. Some tablets have small margins, giving insufficient comfort to the hand when drawing. Some have buttons, dials, touch-bars, etc, making the drawing surface even smaller.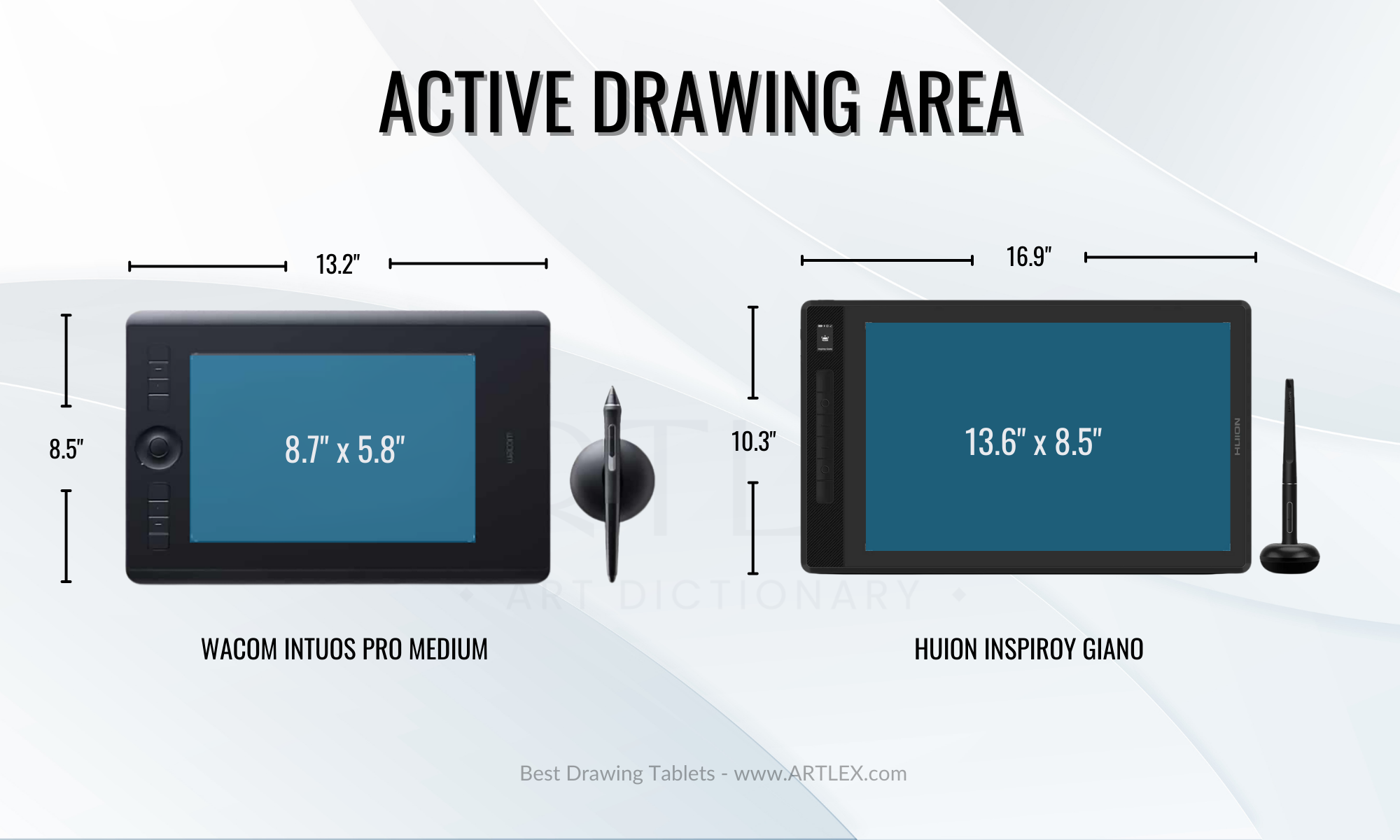 Also, make sure to check your monitor's resolution and size since a smaller active drawing area will be quite limiting for bigger monitors.
Shortcut keys
This characteristic isn't present in every tablet model, nor is it the same across brands. Some models include from 2 to 16 shortcut keys. Some include a dial, and a Touch Bar, and some even include an integrated keyboard.
But what are these shortcut keys?
The shortcut keys are programmable buttons that can be set as your preferred tool or keyboard route, allowing you to change your brush, program, screen, etc.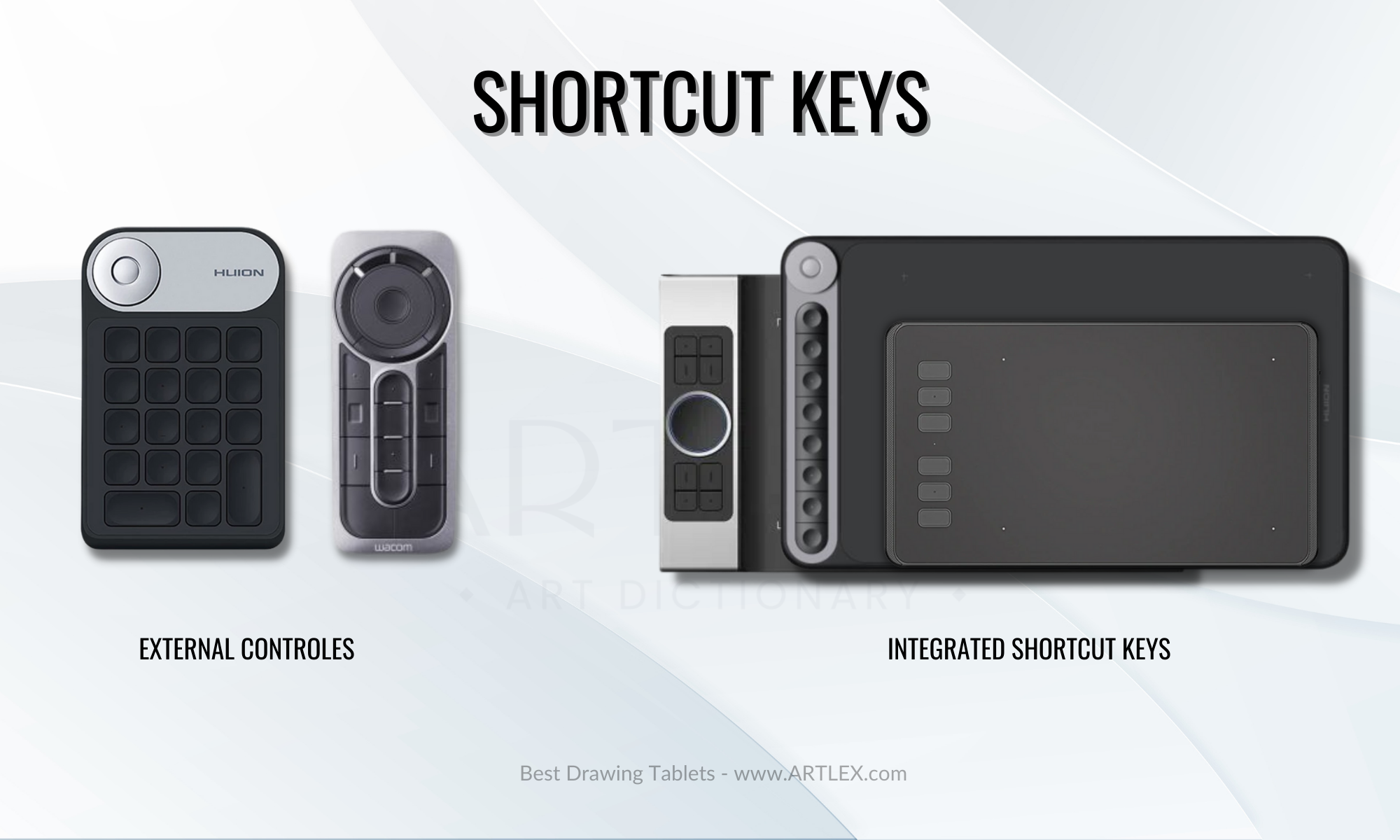 These "buttons" can be press keys, soft keys, dials, wheels, touch bars, etc., and vary with new models. If you're a digital artist, you might find having a few buttons on your side more than helpful. A wheel or a dial might be the best for programs like Illustrator or Photoshop if you're a designer. If you're a video editor or an animator, having an integrated keyboard might be a lifesaver, but it's always all up to you and your needs.
Stylus
The stylus is the pen that comes included with your tablet. This pen has a unique sensor that works along with your drawing tablet and helps you regulate the pressure and, in some cases, stabilize your lines.
This pen tends to have a thick body, mimicking a paintbrush. It usually has at least one button on the side, which is also programmable to a shortcut. Some brands, like Huion and Gaomon, include a battery-free pen with two programmable buttons, ten replacement tips, and a pen holder. Some brands like Wacom have the Wacom pro pen which has two programmable buttons and an eraser on the end but only includes two replacement tips.
Regarding stylus recommendations, the best advice would be to go for the tablets that come with at least two programmable buttons and a battery-free stylus since the ones that include a battery tend to be heavy and outdated.
Connectivity
Most drawing tablets connect to a computer via a USB cable, and although some new models offer 2.4 and 5.0 Bluetooth connectivity, USB is always the safest choice. The issue lies in the type of cable that is included in the tablet.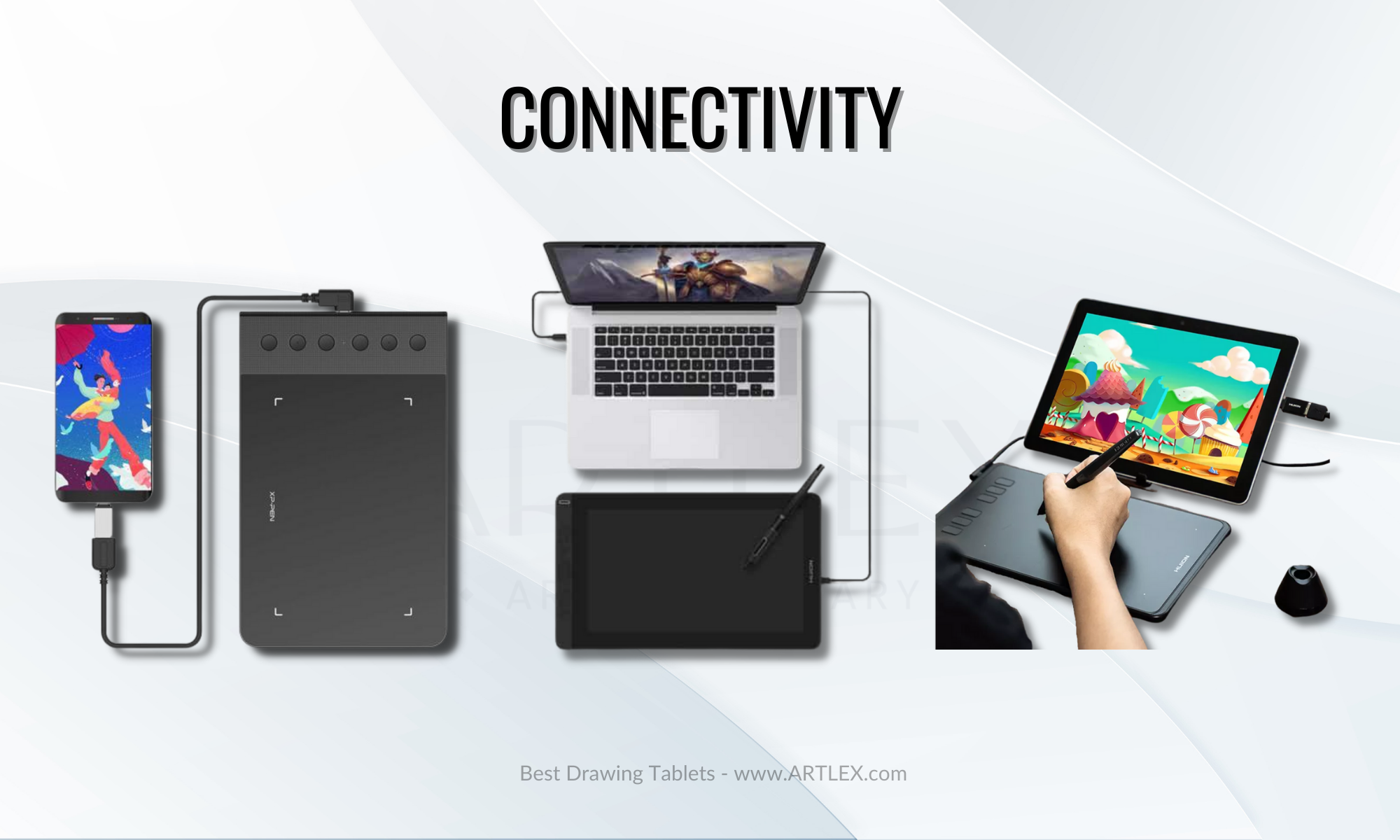 Tablets with mini USB cables or ports tend to be the oldest models. Brands will include adaptors to sell these models. However, we don't recommend them since there could be connectivity issues.
Micro USB ports are partially on our no-list since they tend to deteriorate quickly. USB-C provides the best connectivity to USB-C cables since you can connect them directly to your phone/tablet and use a small adapter to connect it to your laptop or computer.
How to choose the best Pen Display
A pen display is like a pen tablet with a screen to draw on, and although it is not as ergonomic, feels more natural since it is what we are used to doing with pencil and paper.
Wacom used to be the to-go brand for Pen Displays, and at some point, it became the industry standard. However, due to the excessive price increase, new brands came along with the same quality, even better features, and less than half the price.
Choosing a pen display will depend mainly on your professional needs, creative style, and budget; nonetheless, there are still certain features you need to consider and learn about.
Size and portability
Pen displays can be classified into two groups: the portable ones (from 12 to 16 inches) and the non-portable ones (from 20 to 32 inches).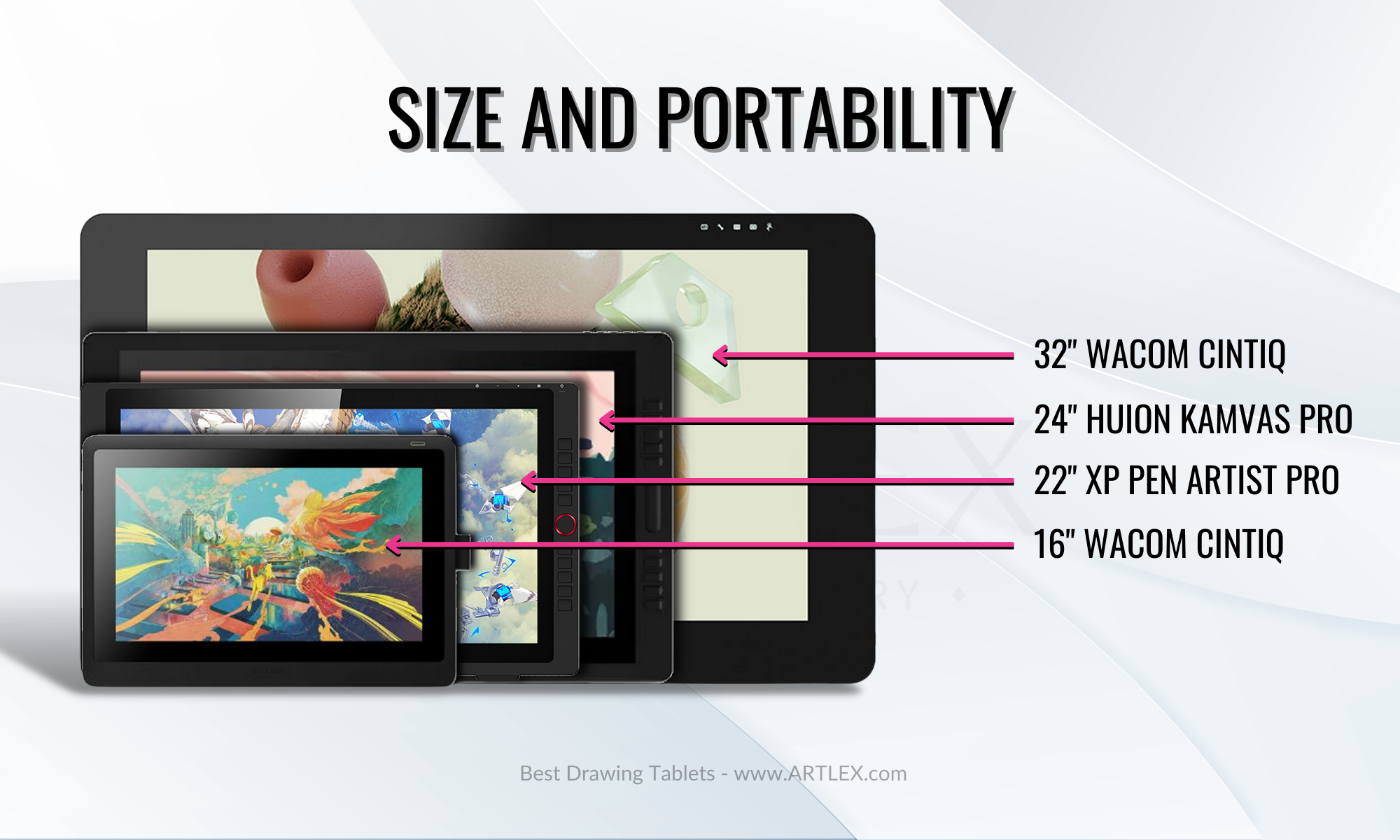 The portability factor is tied to the fact that a computer/laptop/PC is needed for these devices to work. You can easily carry around and travel with a laptop and tablets under 16″ since they are pretty thin and light. However, it is much more troublesome to take with you and travel with tablets over 20″ since those are bulkier, much more heavy and also much more delicate than the small ones.
Let's not forget sometimes these tablets come with shortcut keys on the sides that make the device even larger than the screen size, so a 20″ would end up being a 23″ large tablet, and if that's not the case, you'll probably need a secondary keyboard that will also take space in your desk or workstation.
Another factor to consider is your desk space. Do you have a big, sturdy desk for a big tablet and its stand/arm? Because some of these big drawing tablets need special arms for ergonomics and comfort, even the not-so-big (20-24 inches) have stands that extend behind the tablet and take even more space than the tablet itself.
Also, you can easily work with a 12-16 inches tablet on your couch, on the floor, or your bed, but the bigger models will have you tied to your desk.
Screen Resolution
Choosing the best screen resolution will be one of the most decisive aspects to consider when buying a pen display since a considerable part of being a creative professional is being able to see our work at its best. The usual resolutions we'll find in the market of drawing tablets are:
FHD: Full High Definition (1920×1080)
QHD: Quad High Definition (2650×1440)
UHD: Ultra High Defniniton (3840×2160)
As expected, higher resolutions and bigger screens mean higher prices, and we know that Wacom has the biggest screen on the market (with the highest prices as well), however for tablets under 24 inches, we don't need to break the bank in order get a professional-grade device with the highest resolution and best qualities like screen lamination, etched glass, and optimized viewing angle.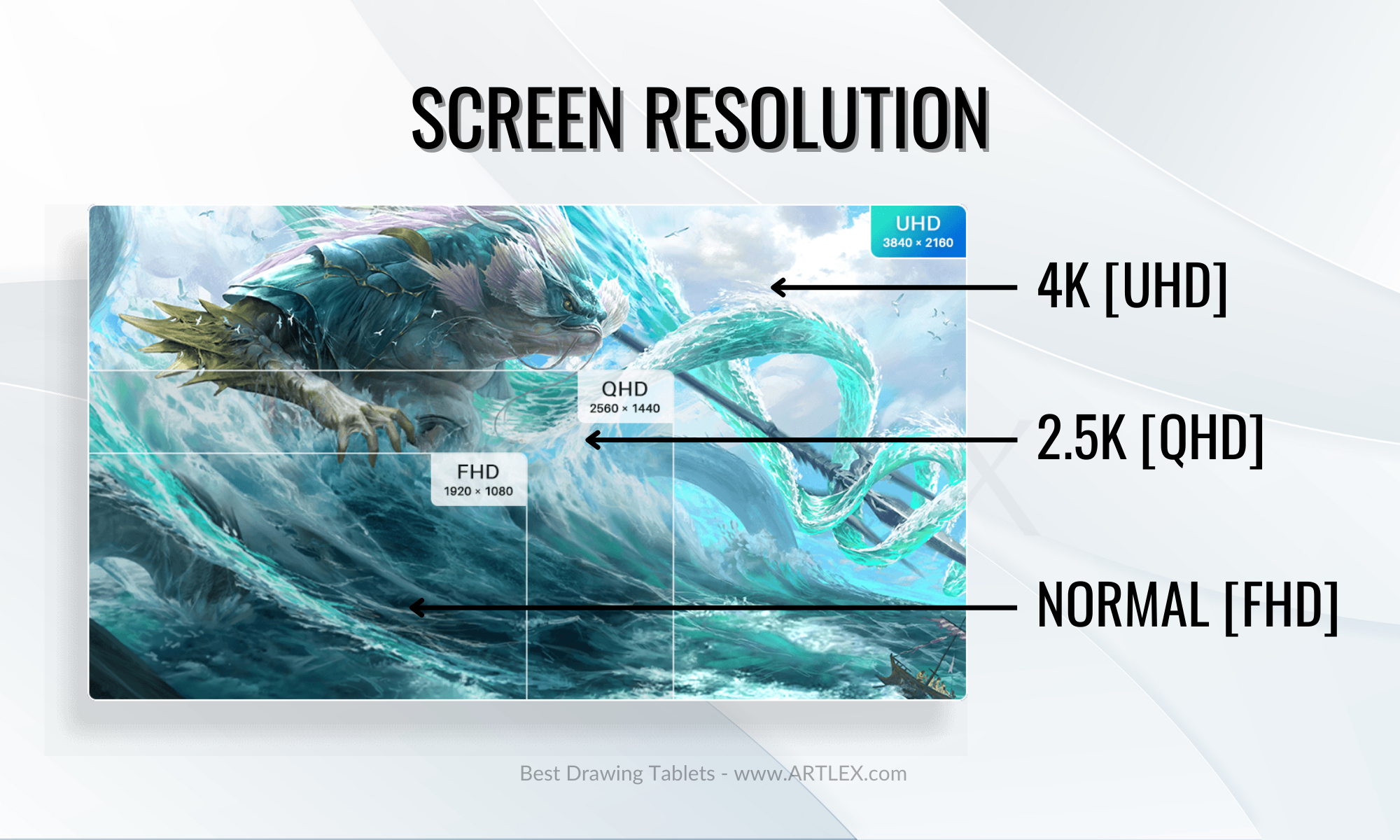 Wacom tablets are tools for professionals willing to invest in high-end devices. Although nowadays you can find the same characteristics on much less expensive brands, Wacom remains the favorite of many artists and creators. Not so long ago, they released a more accessible line of products. However, the line proved to be the "bare minimum" when it comes to graphic tablets with a screen; we guarantee you there are products with better characteristics and quality for the same price.
So, unless your budget is not an issue for you, we recommend going with Wacom, neither for the professional tablets nor the non-professional ones.
Color Accuracy
Color accuracy is one of the most important characteristics that a professional artist needs in a drawing tablet, and is usually overlooked due to the confusion between the different color gamuts: NTSC, sRGB, and Adobe RGB
Many brands and tablets will advertise 100%, 120%, and 140% sRGB coverage, which is not really that much when we see the graphic below.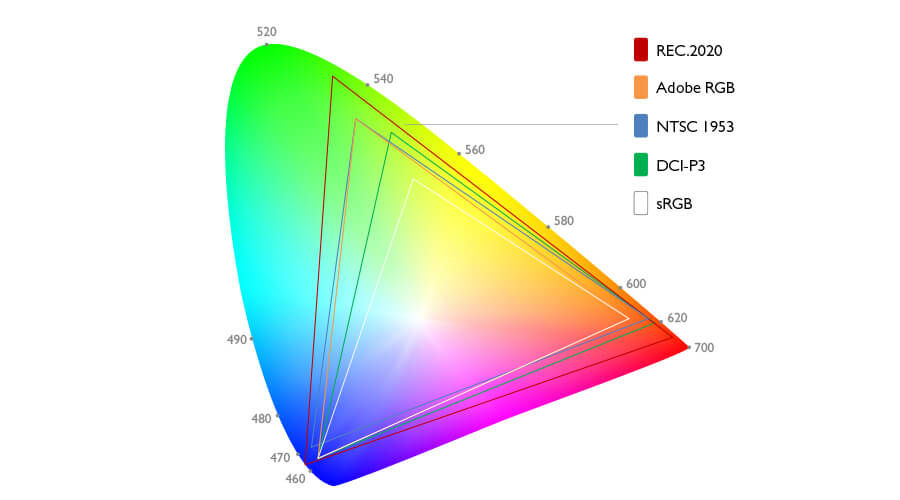 The human eye is capable of seeing all the colors in the graphic, and the highlighted areas correspond to each color space. sRGB stands for Standard RGB, the most commonly used in devices with a screen, and it only represents around 70% of the visible spectrum.
Then we have NTSC, the National Television System Committee, a system developed to create a standard color system for US television. It's wider than sRGB; however, it's not universal and is on the greener side.
Lastly, we have Adobe RBG, the broadest and most complete color gamut and the one we should pay attention to when buying a drawing tablet. Being able to see the right colors and have uniformity in our work is essential. In this case, Wacom has the advantage since the Adobe RGB coverage on the Pro models goes up to 98%. However, Pro models from other brands offer you up to 96% Adobe RGB Gamut coverage, so it'll be up to your budget and preferences whether you want to spend a few hundred more for 2-3% more color.
For more information on this subject, check this article by UPerfectMonitor.com
Pressure sensitivity
Just like in the Pen Drawing Tablet section, our recommendation is that you don't go for less than 8192 levels of pressure sensitivity.
As we mentioned previously, most brands like XP Pen, Gaomon, and Huion offer 8192 levels of pressure sensitivity even in their most basic models. Wacom, on the other side, launched the Wacom One line with a more accessible price but less pressure sensitivity, less color coverage, and less resolution.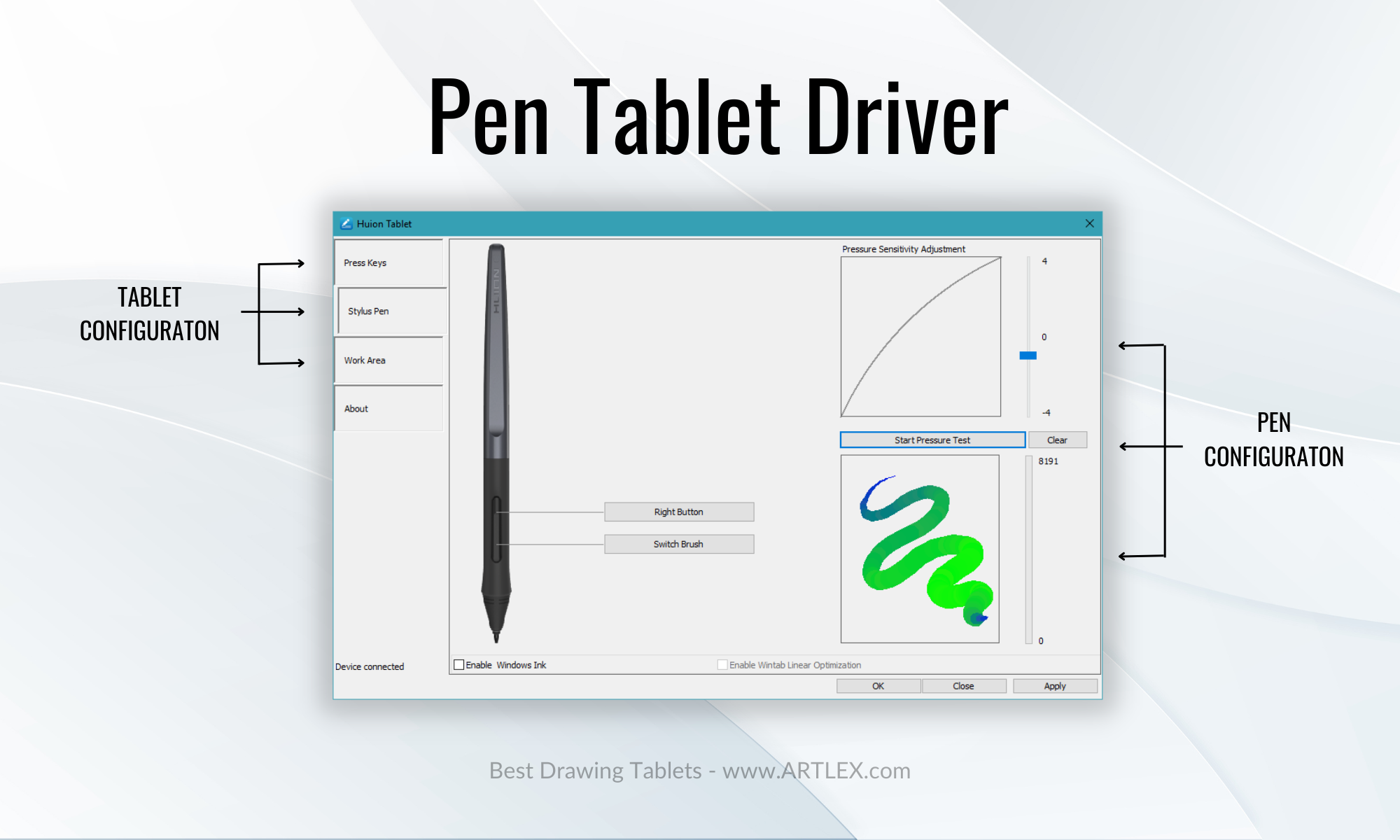 On the other side, on the Pro models, the pressure sensitivity is not only great but the Wacom Pen is known for being of higher quality and more functional than other styluses.
Shortcut keys
The shortcut keys are a fantastic way to improve our workflow and enhance our creative process. Although it was common to see tablets with eight to ten shortcut keys on the side, it's now a trend to have flat screens with no shortcut keys but an external programmable keyboard/controller.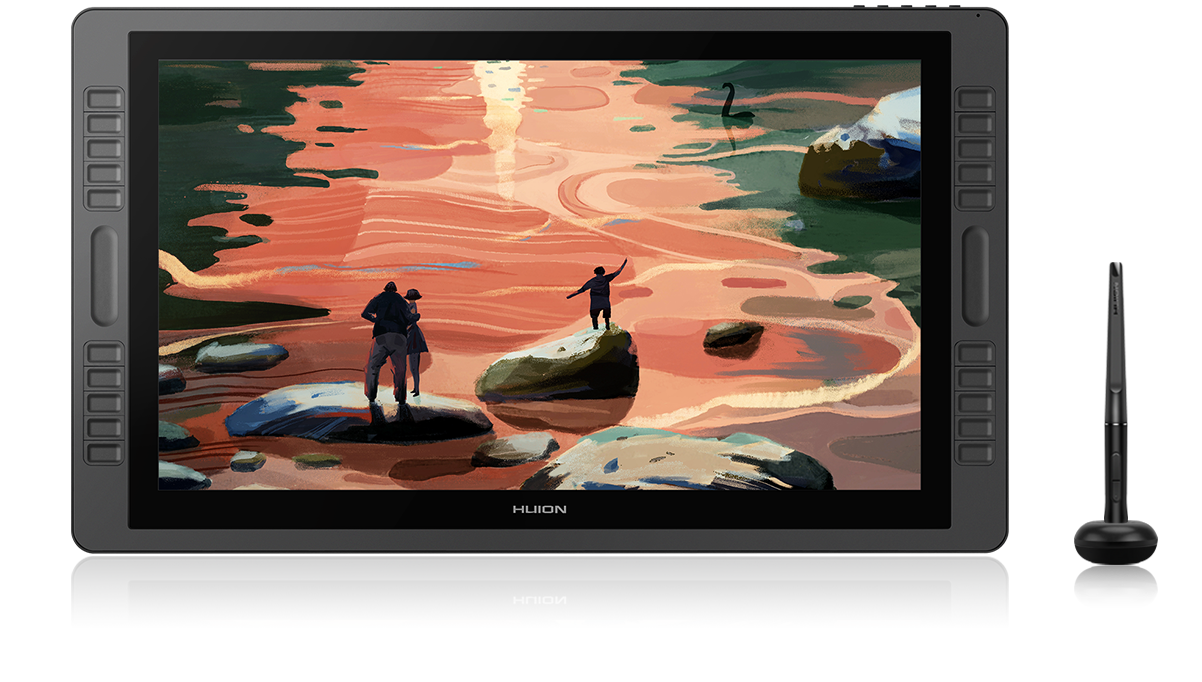 There has been some backlash from the artist's community since the shortcut keys on the tablet's sides were appreciated by many, and the additional space also provided more arm support on the sides. However, this design trend only affected the larger models.
The medium tablets still keep the shortcut keys on brands like Huion and Gaomon and dials in the case of XP Pen on the side. Unfortunately, we can already see some brands adopting minimalistic designs.
It'll be up to you and your comfort and esthetic preferences whether you choose a tablet with shortcut keys or not. We do recommend them since they are quite handy. However, you can always get a controller or a small wireless keyboard instead.
Stylus
When you get a Pen Display, you know a stylus is included in the box, so unless you're buying a separate stylus, there's not much of a choice on what stylus you get. If we're being sincere, most styluses feature the same qualities, differing only in the design and number of press keys. However, there have been some improvements through the years.
For example, we have the Wacom Art Pen, with barrel rotation detection, tilt and pressure sensitivity (compatible only with Pro models), the Wacom Pro Pen 2, which is one of the best digital pens in the market, compatible with both Pen Tablets and Pen Displays, and the Wacom Pro 3D Pen, a stylus released a few years ago aimed at 3D modeling and animating community, with an additional button that allows more straightforward navigation and that can be programmed as we see fit (Note: This pen will only work with new devices)
We also have the Huion PW517, the latest Stylus model, calibrated for a better experience and that includes felt tips for a more realistic drawing feeling. We also have the Scribo PW310, a pen that works as a gel pen (you can use it on paper), and that is also compatible with some Pen tablets and Pen Displays.
The XP Pen Elite and Elite Plus have the most stable tip, improved design, apparently lag-free, and two programmable buttons plus an eraser. This pen is included with some models and has proven to be a high-quality and very durable digital pen.
As we mentioned, some of these pens are sold separately, and some only come with the Pro Tablet models (the more expensive ones), so it's really up to your budget and preferences if you prefer to buy an additional stylus separately.
Adjustable stand
Another budget-related deal breaker would be whether the tablet includes an adjustable stand or needs a special arm/separate stand to adjust to more comfortable and ergonomic drawing angles.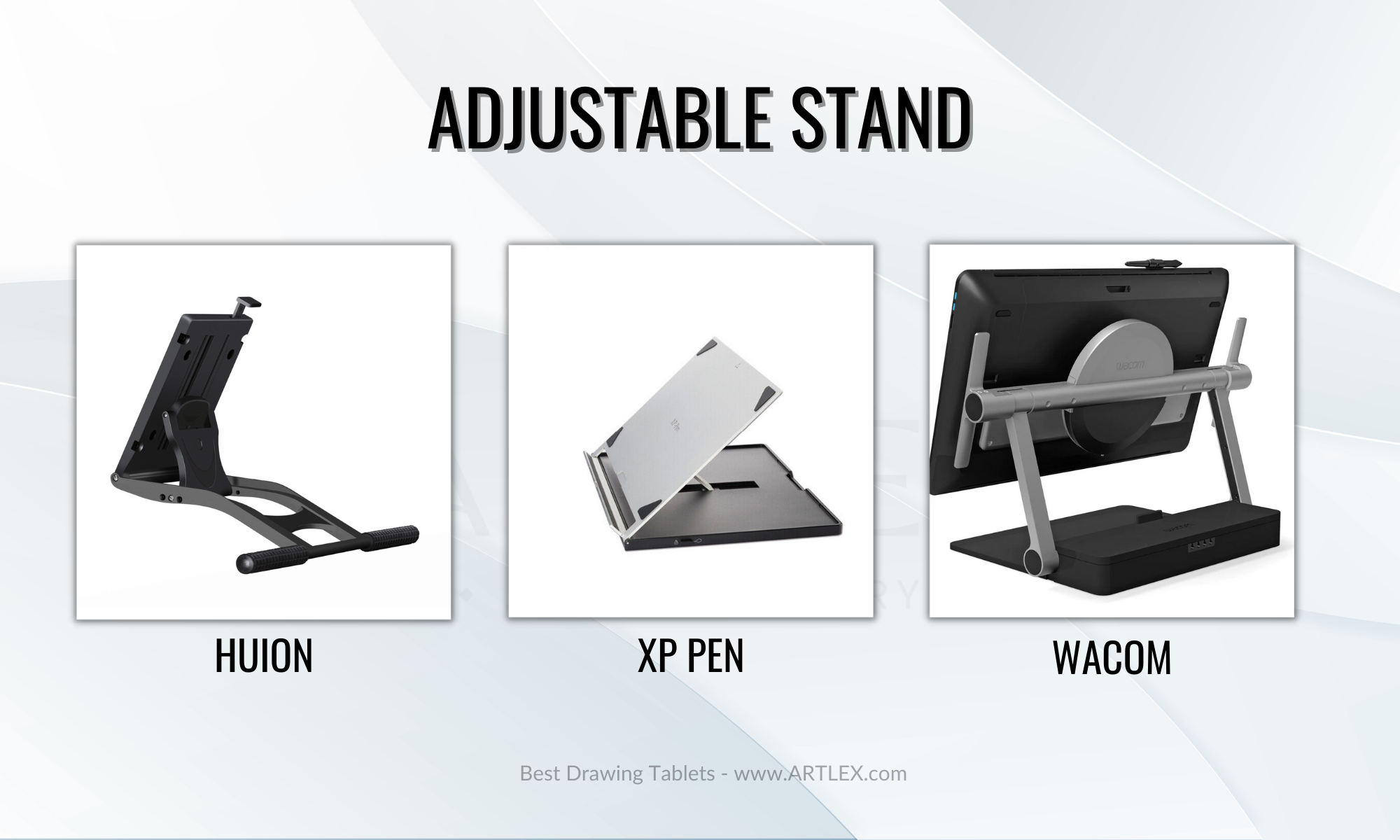 Most tablets from brands like Huion, Gaomon, and XP Pen include an adjustable stand with their medium and large models at no cost. They also have VESA mount orifices on the back, making them compatible with any low-price arm and adjustable stand.
Wacom only includes a stand with the Mobile Studio Pro line, the larger models need a Wacom-designed stand or arm, and a special VESA mount adapter ($80)is needed to make them compatible with VESA arms.
Although Huion didn't include an adjustable stand on the new 4K Kamvas Pro 24, the separate stand costs only $40 USD, while any Wacom stand for a 20+" tablet costs around $500 USD
1. Best Pen Drawing Tablet Overall — Wacom Intuos Pro Medium
Selection Criteria:
Size and Portability: 13.14 x 8.54 in, 1.54lb, Very portable
Pressure Sensitivity and LPI Resolution: 8192 Pen Pressure Levels, 5080 LPI
Active Drawing Area: 8.7 x 5.8 in
Shortcut Keys: 8 ExpressKeys/1 Touch ring/Multi-touch
Stylus: Wacom Pro Pen 2
Connectivity: USB and Bluetooth (10 Hours Battery)
Price: $299
About the Wacom Intuos Pro Medium
The Wacom Intuos Pro is on the expensive side, the model hasn't been updated in years, and it's not the largest pen tablet on the market. However, this tablet made it to the top of our list and became the best drawing tablet without a screen solely because of a single feature: the multi-touch surface.
Many tablet models and brands have included dials, touch wheels, and even touch bars to help artists, designers, and users, in general, improve their experiences and speed up their creative process. Despite that, nothing could come as close as the multi-touch function of the Wacom Intuos Pro. Being able to resize, move and control our canvas with our hands is much more intuitive than using the mouse, keyboard, or shortcut keys.
Besides this, the long-lasting battery, wireless connectivity, and high compatibility are some of the qualities that make this tablet worth the price.
An extra that makes this tablet the best drawing tablet is the fact that the Wacom Art Pen (sold apart) can be used on this model, making it more enticing for digital painters, calligraphers, and design professionals.
Pros:
Multi-touch feature
Very portable
High-end device
Includes art software subscriptions
Cons:
The active Drawing Area is on the small side
It's on the expensive side.
2. Second Best Pen Tablet — Huion Inspiroy Giano
Selection Criteria:
Size and Portability: 16.89 x 10.27 in, 2.54lb, Not as portable
Pressure Sensitivity and LPI Resolution: 8192 Pen Pressure Levels, 5080 LPI
Active Drawing Area: 13.6 x 8.5 in
Shortcut Keys: 6 Press Keys
Stylus: PW517
Connectivity: USB and Bluetooth (12 Hours Battery)
Price: $199
About the Huion Inspiroy Giano
This model is one of the Premium models of Huion's Pen Tablet selection. The larger size of this tablet will provide you with more comfort while drawing, especially if you plan on doing gesture drawing or if line art is an essential part of your workflow.
The pen included with the tablet is the latest pen released by Huion, which promises you a lag-free drawing experience and includes felt tips for a more paper-like feeling.
The connectivity and OS compatibility (Windows, Mac, Android, and Chrome OS) are also excellent. Having both wireless and wired connectivity and being able to charge the device while using it is a nice perp.
This tablet is not as portable as others due to its size. However, it is much more comfortable to draw on it, and the minimalistic design looks fantastic on any desk and workstation.
The only downside would be the few programmable press keys, but the size and price make everything worth it.
Pros:
High compatibility
Large size and great design
Great price
Cons:
Not as portable
Few shortcut keys
3. Best Price-Value Drawing Tablet — Xencelabs Pen Tablet [Medium]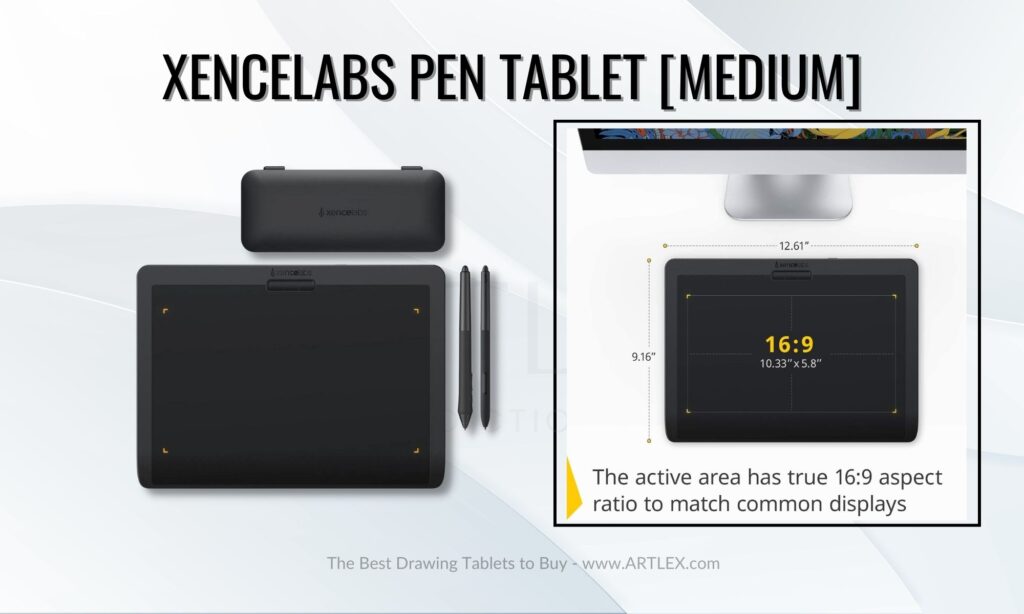 Selection Criteria:
Size and Portability: 12.5 x 9.1 in, 1.9 lb. Very Portable
Pressure Sensitivity and LPI Resolution: 8192 Pen Pressure Levels, 5080 LPI
Active Drawing Area: 10.3 x 5.8 in
Shortcut Keys: 3 Press Keys, Quick Keys controller sold separately
Stylus: 3-Button Thin and Normal Pen
Connectivity: USB and Bluetooth (16 Hours battery)
Price: $287
About the Xencelabs Pen Tablet [Medium]
Xencelabs is a new brand on the market that came in strong. Their tablets have a very premium finish, are high quality, and were co-designed by several professional artists and designers to fit the expectations of drawing tablet users.
The Xencelabs Medium comes with two styluses, a thin one and a regular (thick) one. The thicker pen has three press buttons, while the thin pen only has two. It also includes ten replacement nibs, and USB-C adapter, and a Dongle for wireless connectivity.
This is one of the best drawing tablets, so the reasons this tablet didn't make it to the top are the price and the low compatibility with Chrome OS and Android. Users have also reported driver and pointer issues, which might be fixed following driver updates.
Pros:
It comes with two pens
Very Premium design and feeling
Long battery and BT adapter included.
Cons:
On the expensive side
Driver issues might occur
Not compatible with some painting software
4. Best Budget Drawing Tablet — Huion HS 610
Selection Criteria:
Size and Portability: 13.7 x 8.34 in, 1.32 lb. Very portable
Pressure Sensitivity and LPI Resolution: 8192 Pen Pressure Levels, 5080 LPI
Active Drawing Area: 10 x 6.25 in
Shortcut Keys: 12 press keys + Touch ring
Stylus: PW100
Connectivity: USB cable
Price: $48 (with coupon)
About the Huion HS610
This drawing tablet's price is not the lowest in the market, so you might be wondering why we've placed it as the best budget drawing tablet.
The answer is simple: Less expensive tablets tend to be smaller in size, and while that might be great for gaming and teaching and a portable option for more experienced users, the best drawing experience will always happen in a medium to a large drawing tablet, getting used to the hand-eye disconnect is already hard, and working on a small surface makes it even harder.
The Huion HS610 has a perfect size, is comfortable enough to draw on, and is still portable. It has many press keys and a touch ring, just like the Wacom Intuos Pro, and is compatible with every drawing software and Windows, Mac, Android, and Chrome OS, making it the best drawing tablet for those on a budget.
Pros:
Very affordable tablet
Perfect size
High compatibility
Cons:
5. Best Pen Display Overall — Huion Kamvas Pro 24″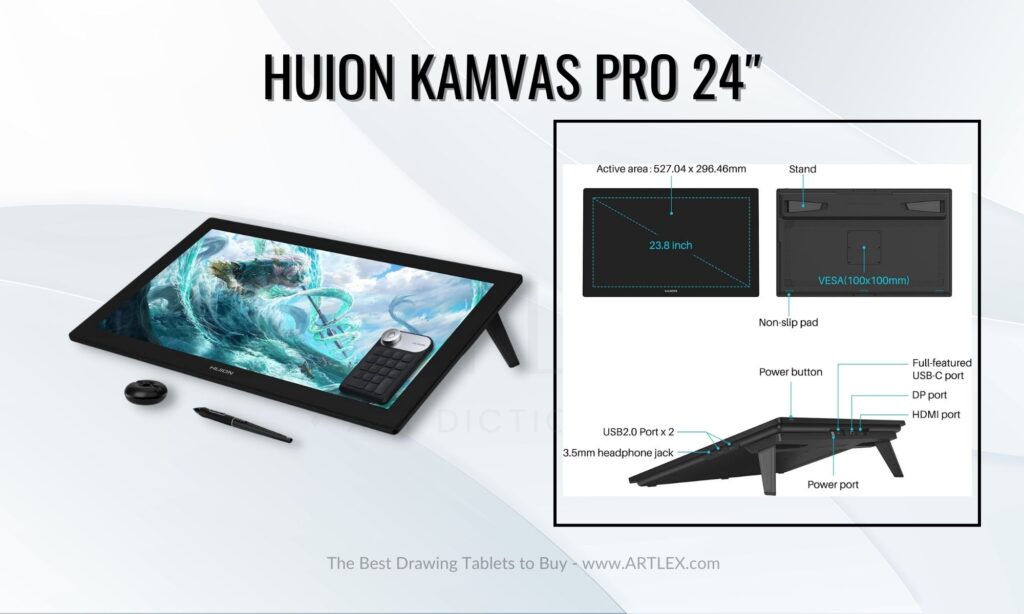 Selection Criteria:
Size and Portability: 25.2 x 15.4 in. Not Portable
Screen Resolution: 4K UHD 16:9 (3840 x 2160)
Color Accuracy: 96% Adobe RGB, 140%sRGB
Shortcut Keys: KD100 Wireless Express Keys Included
Pressure Sensitivity: 8192 Levels of Pressure Sensitivity
Stylus: PW517 [3.0]
Adjustable Stand: Standing legs, Adjustable stand sold separately ($49)
Price: $1189
About the Huion Kamvas Pro 24″
The Huion Kamvas Pro 24 is the best drawing tablet on this list simply because there is no superior alternative in the market regarding quality, characteristics, and price.
Wacom has led the market in professional displays for years. However, the price of a Wacom Cintiq of similar characteristics is way higher without counting the additional Vesa-mount and Adjustable stand accessories needed to use this device properly.
With the best resolution in the market, a great screen, fully laminated etched glass, and an amazing contrast ratio, the Huion Kamvas Pro 24 also includes a USB-C connection, additional USB ports, and a 3.5 mm jack for headphones.
This tablet is also compatible with Windows, Mac, Linux, Chrome OS, and Android, making it the most versatile tablet in the market as well.
Pros:
Not as expensive as similar devices
High color coverage and resolution
High compatibility
Cons:
6. Best Large Pen Display — Wacom Cintiq Pro 32″

Selection Criteria:
Size and Portability: 36.6 x 19.1 in. Not Portable at all
Screen Resolution: 4K UHD (3840 x 2160) Multi-touch support
Color Accuracy: 98% Adobe RGB (Calibration needed)
Shortcut Keys: Express Keys Remote Included
Pressure Sensitivity: 8192 levels of pressure sensitivity
Stylus: Wacom Pro Pen 2
Adjustable Stand: Standing legs, adjustable stand sold separately ($499)
Price: $4299
About the Wacom Cintiq Pro 32″
The largest tablet on the market (and also one of the best drawing tablets) has to be the Wacom Cintiq Pro 32″.
This tablet is catered to professional artists, content creators, designers, and illustrators who need a display big enough to draw, work, have their references, and multitask. This giant is the ultimate workflow improver for professionals; however, it's worth mentioning that it will have you tied to your desk since, due to its size and weight, it's not portable at all.
Plus, the additional weight of the Special arm/stand will require a sturdy desk with enough space to support this tablet.
The major downside: The price. Not everybody can afford this tablet and the arm/stand it needs, so even though it is one of the best drawing tablets on the market and the only one of that size, sometimes it's just not worth the money.
Pros:
Gigantic 4K Display
Very high quality
Cons:
Extremely expensive
It needs a $499 special arm/stand
Multi-Touch compatibility has reported some issues
Low OS Compatibility
Low Stock.
7. Best Pen Display for Beginners — Huion Kamvas 13″

Selection Criteria:
Size and Portability: 14.4 x 8.6 in, 2.2 lb. Very Portable
Screen Resolution: 1920 x 1080 UHD
Color Accuracy: 85% Adobe RGB, 127% sRGB coverage
Shortcut Keys: 8 Press keys
Pressure Sensitivity: 8192 levels of pressure sensitivity
Stylus: PW517 [3.0]
Adjustable Stand: Yes, Adjustable Stand Included
Price: $259
About the Huion Kamvas 13
The Huion Kmavas 13 is the best drawing tablet for beginners due to its portable size, high screen resolution, low price, and high color coverage, overtaking competitor brands like Wacom and XP Pen.
This tablet is also compatible with Windows, Mac, Linux, Chrome OS, and Android, making it the most compatible tablet in that price range.
The shortcut keys on the side can be used for left- and right-handed users. The PW517, the last-generation Huion stylus, is included, making it perfect for beginners looking for quality, comfort, and affordability.
Pros:
Very affordable
High OS compatibility
Cons:
Some might find it too small
8. Best Price-Value Pen Display — XP Pen Artist Pro 16″ TP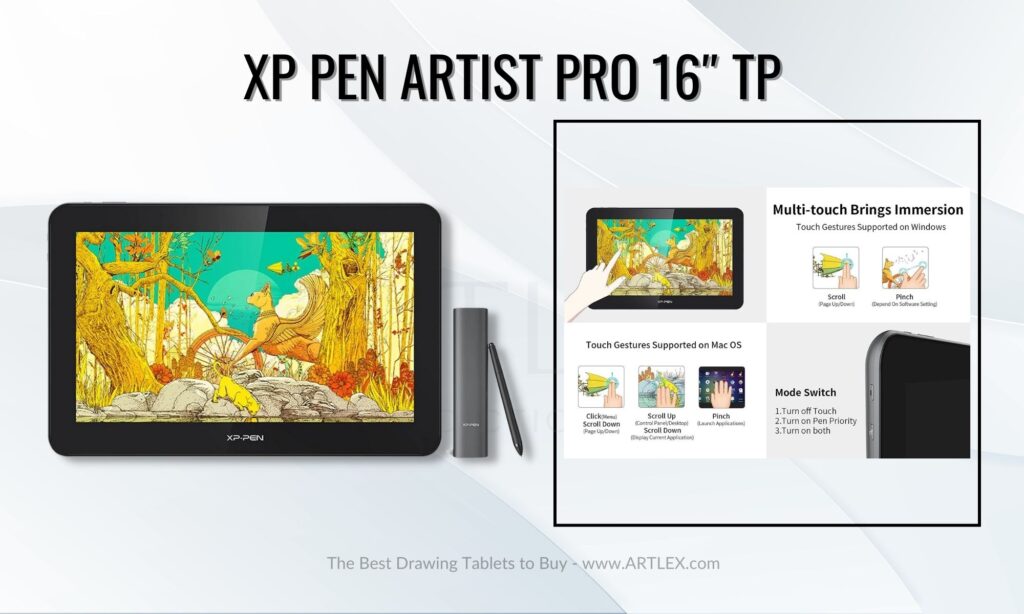 Selection Criteria:
Size and Portability: 15.8 x 10.4 in. Very portable
Screen Resolution: 4K UHD 16:9 (3840 x 2160)
Color Accuracy: 92% Adobe RGB, 124% sRGB
Shortcut Keys: None, Multi-touch surface.
Pressure Sensitivity: 8192 levels of pressure sensitivity
Stylus: X3 Elite Plus, 2 Button + Eraser stylus Included,
Adjustable Stand: Sold Separately ($48)
Price: $714
About the XP Pen Artist Pro 16″ TP
The 16″ XP Pen Artist tablet screen is the best pen display of its size. It has a beautiful 4K display. It has multi-touch support and is compatible with Android, Chrome OS, Windows, and Mac.
The new X3 Elite Plus pen guarantees a lag-free drawing experience, supports tilt recognition, and has two press buttons + an eraser (two on the side and an eraser with pressure sensitivity on the back). The 16″ size is perfect for carrying around and traveling while also being a professional device of the highest quality.
The major downside would be the non-etched glass screen, where the colors look more vivid and accurate, but the reflection can be a real bother.
Pros:
Its amazing Display with multi-touch support
Very affordable price
Great Color Coverage
Cons:
It doesn't include a stand
Reflection might be bothersome
Best Budget Pen Display — UGEE U1200 Drawing Monitor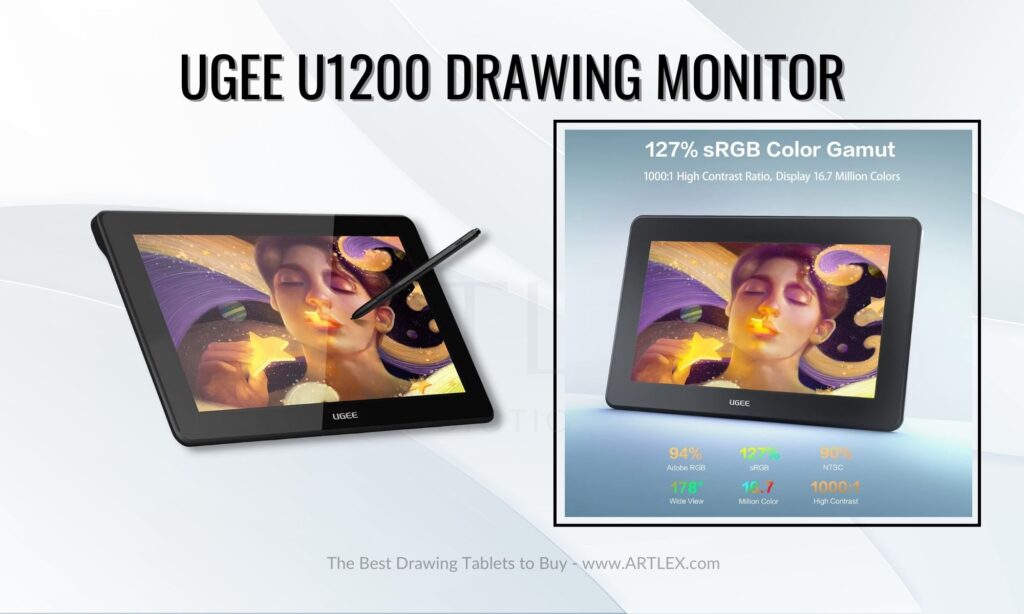 Selection Criteria:
Size and Portability: 12.75 x 8.21 in. Very portable
Screen Resolution: 1920 x 1080 FHD
Color Accuracy: 127% sRGB coverage, 94% Adobe RGB
Shortcut Keys: None
Pressure Sensitivity: 8192 levels of pressure sensitivity
Stylus: 2 Button Stylus + Eraser
Adjustable Stand: Not Included
Price: $185
About the UGEE U1200 Drawing Monitor
This tablet might not be the less expensive of them all; however, it is the one that has the best characteristics, fewer issues, and the highest compatibility for the price and tablet size.
This small tablet has a great range of viewing angles, a very high Adobe RGB gamut coverage, and a laminated screen. The design is beautiful, and the stylus comes with two press buttons and an eraser which is excellent compared to brands like Wacom and Huion.
It doesn't include a stand; however, the tablet is small enough to be used with any cheap laptop/tablet stand. This tablet is also compatible with Windows, Mac, Linux, Chrome OS, and Android, making it quite versatile and better than more expensive models.
Pros:
Portable and versatile.
Great color coverage.
Very affordable
Cons:
Some might find it too small
It doesn't have any shortcut keys.
Conclusion
Modern graphics tablets have replaced the multiple materials artists use and have simplified the creative process of many professional artists. They have become an essential tool for any artist who wants to work in the media, for graphic designers, photographers, and even architects and engineers who work on industrial design.
To find the best tablet for you, it's essential to consider the device's intended use. Whether you're looking to experiment, have fun, or need a reliable tool for your work, choose a tablet that fits your needs and avoid making an impulsive purchase that could end up causing you financial strain.
We hope this guide helped you find what's best for you!