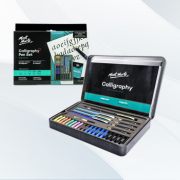 Best Overall Set with 32 pieces, 5 nibs, and multiple ink colors. Ideal for beginners but instructions are not easy to understand.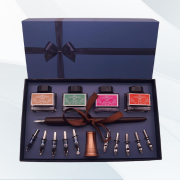 Best Beginner Set, with 17 pieces and 11 nibs. Includes inkwells and works well for left-handed people, but lacks black or blue ink.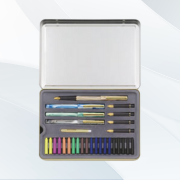 Best for Basic Strokes, with 33 pieces, 5 nibs, and both blue and black inks. Ideal for learning cursive and italic letters, with less scratching on paper.
Calligraphy sets include all materials needed for beginners to practice the ancient art of calligraphy writing. Most calligraphy sets come with different types of pen tips such as dip pens, fountain pens, or brush pens. When purchasing a set, look for the following criteria such as the types of pen tips included with the set, if it includes ink cartridges, the number of pieces in the kit and if an instruction book is included.
Fun fact: The word "calligraphy" comes from the Greek "kaligrafia or καλλιγραφία," which combines the words "kallos" meaning beauty and "graphein" to write.
In some cases, a pen holder must be purchased separately, especially if using a dip pen where the ink must remain upright to flow properly. What's more, bottled ink may also need to be bought in addition to the other calligraphy art supplies, but they are nominally priced and well worth the additional cost for serious calligraphy artists.
Types of Calligraphy Pens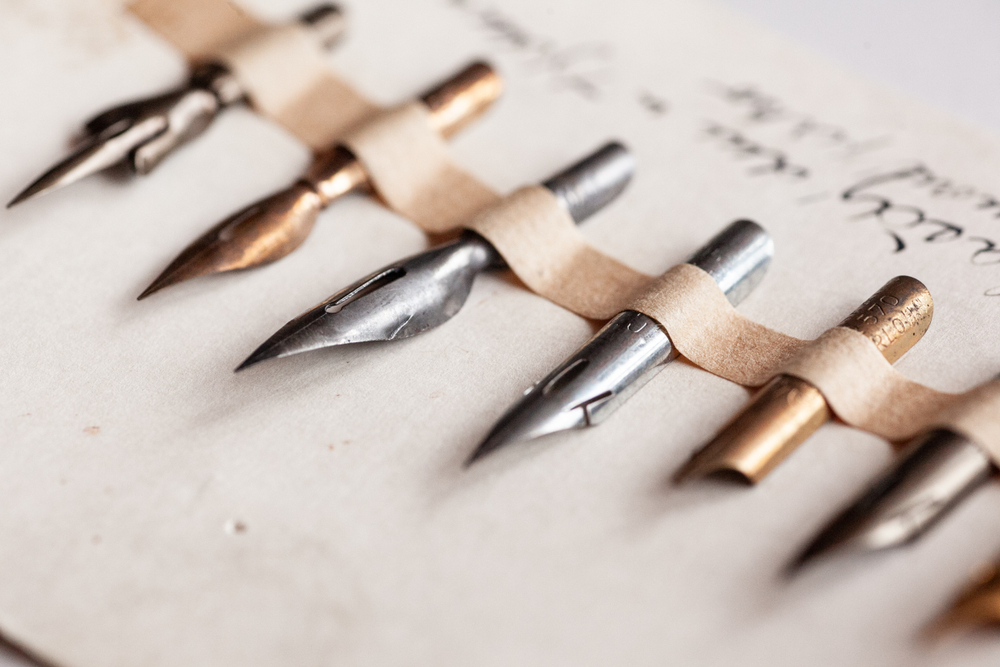 A calligraphy set is the perfect way to buy all the tools necessary to start practicing calligraphy. Each set includes different types of nibs, including fountain pens, which are one of the easier tips for beginners, and pen bodies.
Some kits even include a nib holder, practice paper, and instructions on hand lettering. Some kits don't come with a booklet, but there are many videos on how to start writing calligraphy. These videos can also be used in addition to the instructions that might come with the set.
Beginner calligraphy artists who want to invest in a calligraphy starter kit that has a large number of ink color varieties could start with the Pilot Parallel Pen, which is one of the best calligraphy pens to create fine lines. Refills can also be purchased separately.
Most calligraphy sets come with a pen holder and a tin that can hold all your supplies in a handy and travel-convenient box. Below we've covered the different types of calligraphy pens and their main uses.
Fountain Pens
Fountain pens are one of the best calligraphy pens for beginners since the pen has its own ink supply and doesn't require beginners to constantly dip their pen in an inkwell.
A fountain pen is usually included in the best calligraphy starter kits since it's a great starter pen for calligraphy practice. It also produces excellent ink quality to practice modern hand lettering.
Dip Pens
A dip calligraphy pen is one of the oldest calligraphy tools. It requires writers to dip the pen in ink bottles to refresh the ink.
A dip pen usually comes with standard nibs but dip style pens can also come in an oblique calligraphy pen nib.
Oblique pens are one of the easier calligraphy tools to use for beginners. Note that right-handed users may find it difficult to master applying the right pressure to help ink flow in the beginning. Some dip pens come with a pen holder nib for each separate tip making them easier to keep organized.
Calligraphy Markers
Calligraphy markers have broad nibs and shouldn't be used for fine lettering. They also aren't great calligraphy pens for beginners to learn techniques like how to hold the pen and to learn certain scripts.
Chisel Tip
A chisel tip pen has a triangular shape with pointed nibs and a wide body and is useful to expand calligraphy skills like more pronounced hand lettering or italic calligraphy.
A good calligraphy kit will usually include a chisel tip to introduce artists to different calligraphy styles.
These nibs scratch the paper if held at any other angle other than a 45° angle. While this brush tip isn't the best calligraphy pen for beginners, it does allow pen holders to learn calligraphy styles used on wedding invitations and other formal applications.
Round Pens
This pen-type is the easiest and most commonly used for beginners. Basic strokes can be mastered with these pens as they don't require artists to maintain a specific angle to help ink flow.
Ballpoint pens are some of the most well-known round pens that are widely available. They come in dozens of colors, even with metallic and glitter ink and although they can't create the fine styles associated with calligraphy, they are a good option for beginners.
Brush Calligraphy Pens
Brush pens are commonly used in Asian or Middle Eastern calligraphy due to their flexible nibs. Many pens may leak ink thereby ruining a work of art, but brush pens hold black ink and even colored inks similarly to a paintbrush.
Beginners should always use practice paper when learning how much ink to use for each different tip. As mentioned above, excess ink can ruin a perfectly good piece of art.
Our Picks for the Best Calligraphy Set for Beginners
Best Calligraphy Set Overall: Mont Marte Calligraphy Set
Best Beginner Calligraphy Kit: Plotube Calligraphy Pen Set
Best Beginners Calligraphy Starter Kit: STAEDTLER Calligraphy Set
Best Calligraphy Pen Set for Basic Strokes: Faber-Castell Modern Calligraphy Set
Best Hand Lettering Calligraphy Set: Pilot Enso Parallel Pen Hand Lettering Calligraphy Set
1. Best Calligraphy Pen Set Overall – Mont Marte Calligraphy Pen Set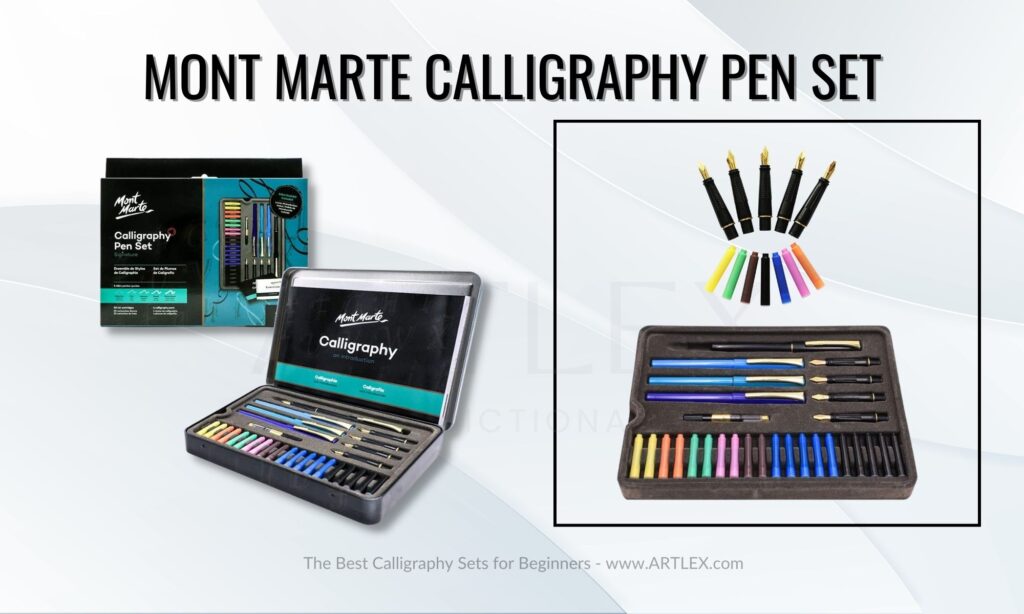 Price – ~$24.95 – Our score: 9/10
Pen type – Five nibs – Our score: 8/10
Includes ink cartridges – Yes – Our score: 9/10
Pieces – 32 – Our score: 9/10
Instruction book included – Yes – Our score: 8/10
Beginners who would like to invest in a complete calligraphy set will value the 32 pieces that come with this Mont Marte calligraphy set. The five nibs include an extra-fine, fine, medium, broad, and extra broad shape to learn a wide range of calligraphy styles.
The 20 ink cartridges include blue and black ink along with pink, orange, green, brown, and yellow for ultimate creativity when making invitations or cards.
The ink flows nicely on each of the replaceable nibs and this versatile set comes with a pump for use with bottled ink. While the instructions can be a bit difficult for beginners to understand, the included practice journal helps guide novices on hand writing and style techniques.
Pros
Includes enough ink to create cards, invitations, and other formal uses
Ink dries quickly
Excellent variety of tips to learn with
Comes with a sturdy tin to hold all pieces
Cons
Instructions are difficult to understand as they are poorly translated
2. Best Beginner Calligraphy Pen Set – Plotube Wooden Pen Calligraphy Sets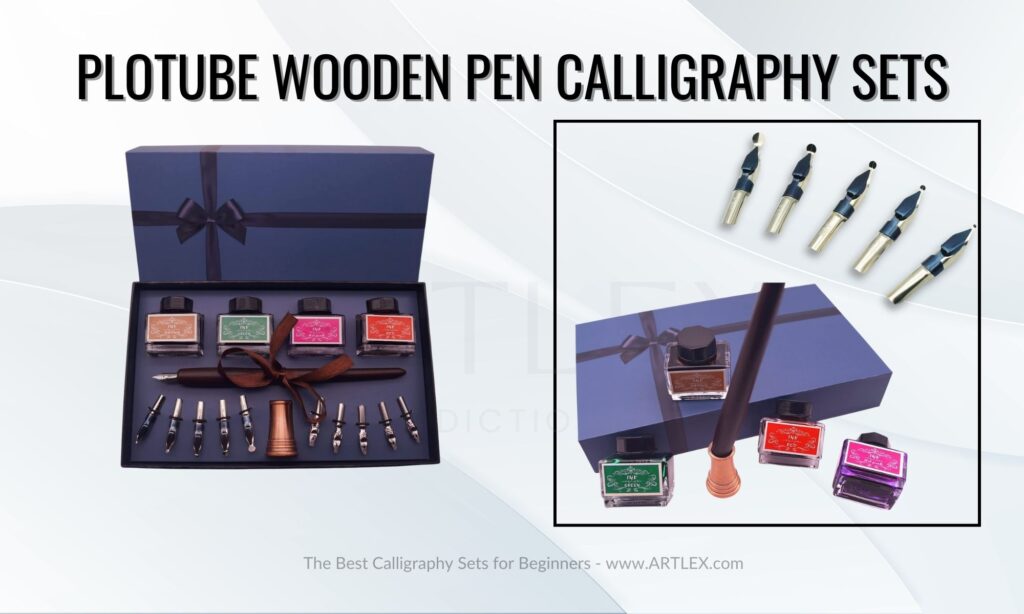 ​​
Price – ~$25.95 – Our score: 9/10
Pen type – 11 Nibs – Our score: 9/10
Includes ink cartridges – Yes – Our score: 8/10
Pieces – 17 – Our score: 7/10
Instruction book included – No – Our score: 7/10
This Plotube wooden pen calligraphy set is a great calligraphy set for those beginning or proficient at writing calligraphy. Each dip pen must be dipped in the inkwell to retain a small ink reservoir to write. Four inkwells are included with this set and come in brown, green, red, and pink colors.
Using each calligraphy pen depends on the nib inserted such as a pointed or flat nib, which determines the angle that activates ink flow.
This set comes with a pen holder and the box has a separate area for each nib holder to keep this set organized and ready for each use.
Pros
The fountain pen functions as a standard fountain pen for ease of use
Includes a dip pen holder
Works well for left-handed people
A small booklet with penmanship examples is included
Cons
Does not include blue or black ink
3. Best Calligraphy Kit for Basic Strokes – STAEDTLER Calligraphy Pen Sets
Price – ~$17.25 – Our score: 9/10
Pen type – Five Nibs – Our score: 8/10
Includes ink cartridges – Yes – Our score: 8/10
Pieces – 33 – Our score: 9/10
Instruction booklet included – Yes – Our score: 9/10
This versatile and complete calligraphy set comes with everything necessary to get started learning most types of cursive and italic letters.
While most pens aren't versatile enough to help understand angle and style, these pens help users learn basic strokes with each labeled tip and the included easy-to-read instructions.
The set includes 20 ink cartridges with five blue and black inks, a converter if using bottled ink, practice paper, and four pen bodies. The instructions also describe the best pen for different styles of calligraphy and the smooth ink flow on these pens makes this the perfect gift for crafters as well.
Pros
Excellent set for absolute beginners to enter the world of calligraphy before investing in a more expensive set
Includes fountain pen tip
Tips don't scratch paper as much as other stainless steel nibs
Cons
Ink bleeds if the right pressure isn't added
4. Best Calligraphy Sets for Hand Lettering – Faber-Castell Modern Calligraphy Kits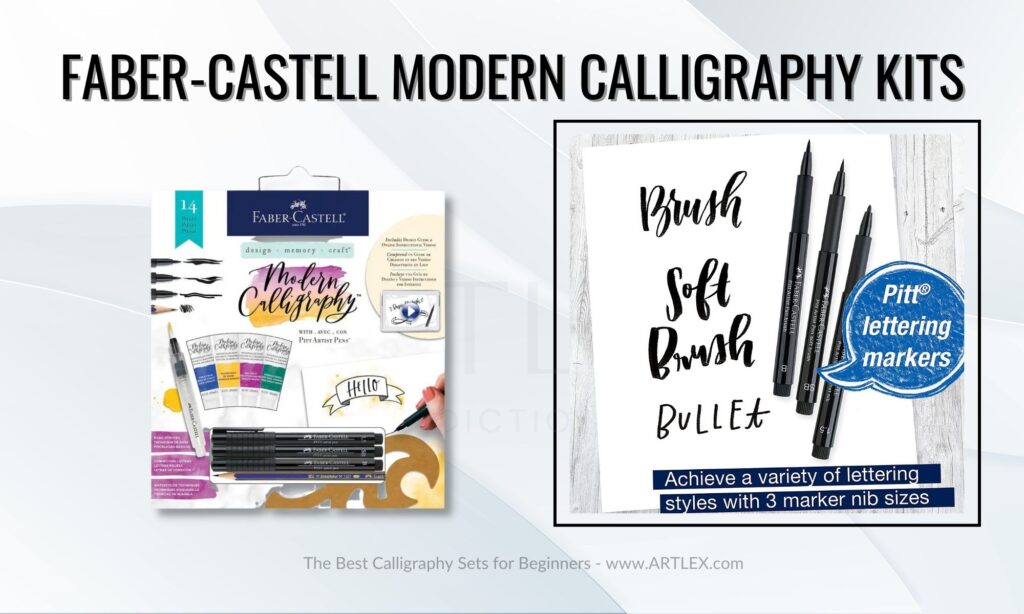 Price – ~$31.99 – Our score: 9/10
Pen type – 3 Nibs – Our score: 9/10
Includes ink cartridges – Yes – Our score: 9/10
Pieces – 14 – Our score: 7/10
Instruction booklet included – Yes – Our score: 9/10
One of the few sets that include brush pens, this Faber-Castell calligraphy pens set is good for beginners who want to learn more modern calligraphy techniques. The set includes a fountain pen nib, dip pens, and a bullet nib.
The brush nib and water brush allow calligraphers to learn brush strokes for specific hand lettering used in Asian or Arabic writing styles.
It also includes a graphite pencil, ruler, paper, instructions, and ink in green, blue, yellow, and violet colors.
Pros
Calligraphy pens for beginners learning modern techniques
Water-based inks are excellent to learn watercolor calligraphy styles
The booklet even teaches beginners how to embellish their letters
Includes an envelope
Comes with special access to 10 videos and styles for absolute beginners to grasp the basics
Cons
A box or tin isn't included
5. Best Calligraphy Starter Kits – Pilot Enso Parallel Pen Calligraphy Set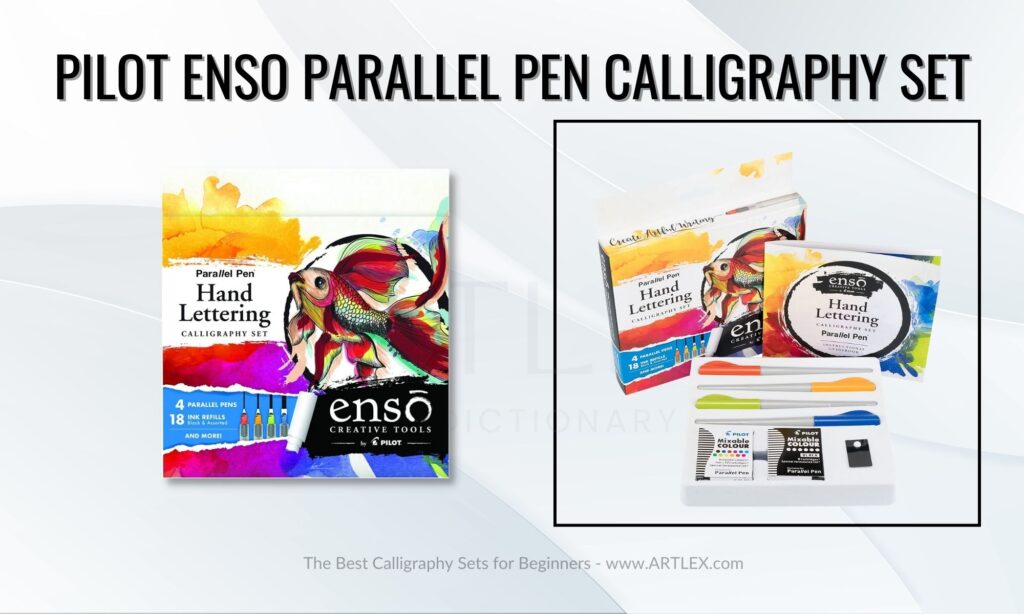 Price – ~$27.05 – Our score: 9/10
Pen type – 4 stand-alone pens – Our score: 7/10
Includes ink cartridges – Yes – Our score: 9/10
Pieces – 22 – Our score: 7/10
Instruction booklet included – Yes – Our score: 9/10
Unlike other calligraphy sets, the calligraphy pens included with this set from Pilot Enso are stand-alone pens. The brush tip and fountain pens tips aren't removable and cannot be used like dip pens. The four pens come with 1.5, 2.4, 3.8, and 6 mm tips for fine or thicker writing.
The 18 ink refills come in the one of most versatile and creative colors available on a calligraphy set and some colors include navy, turquoise, purple, and light green.
An instruction manual, nib cleaner, and pipette are also included with this quality set.
Pros
Versatile color palette
Contains one of the more comprehensive calligraphy books
Colors can be combined for more variation
Cons
Does not include a dip pen for more traditional calligraphers
Conclusion
We hope you found our guide to the best calligraphy set for beginners was helpful. We've covered the different types of calligraphy pens available along with our recommendations in various contexts.
We've discussed how you can choose the best calligraphy set with different calligraphy pens, from dip pens, fountain pens, or brush pens, along with instructions that make creating invitations, cards, or envelopes simpler for beginners.
Lastly, we've combined our recommendations for calligraphy kits for calligraphy beginners who would like to eventually master calligraphy and those just practicing calligraphy.
Thanks for reading; we hope our suggestions help you choose the best calligraphy sets, whether purchasing a calligraphy start kit or a calligraphy pen set to master your calligraphy style and hand lettering to produce beautiful and customized formal projects.