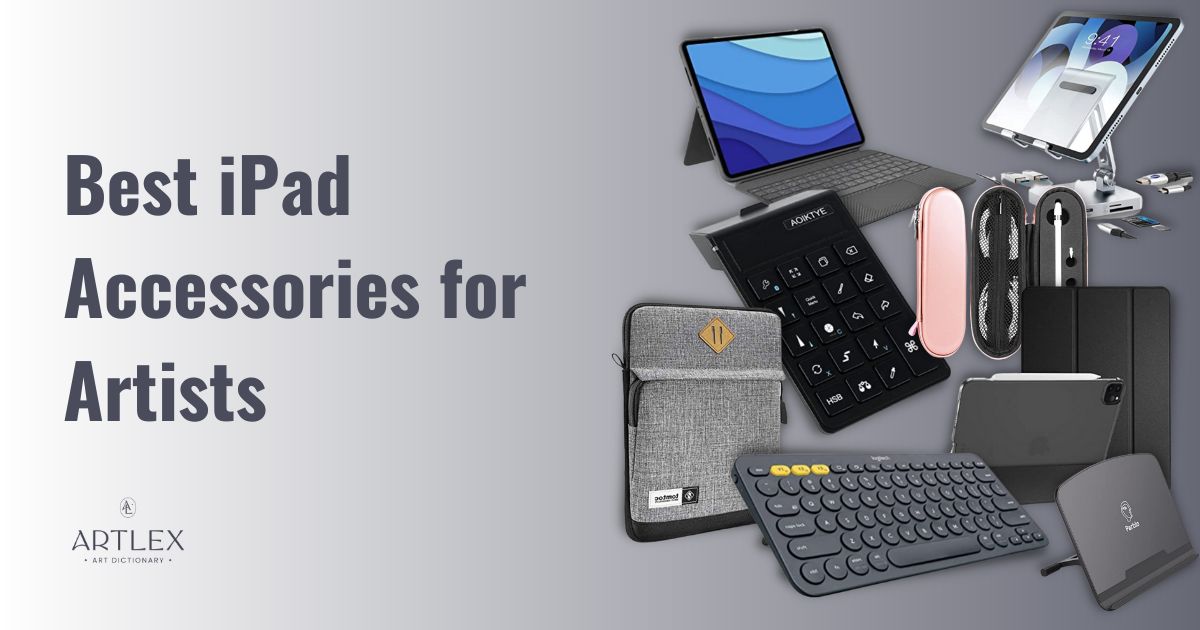 Welcome to our roundup of the best iPad accessories! As an avid iPad user and an artist myself, I know just how useful and convenient these accessories can be in enhancing your tablet experience. Whether you're a seasoned artist looking to take your digital creations to the next level with Procreate or Clip Studio Paint or simply someone who loves to stay connected and productive on the go, there's an iPad accessory out there for you.
From stands, keyboards, and cases to styluses and chargers, we've compiled a list of the top iPad accessories that will help you make the most of your device. From boosting productivity to boosting creativity, these accessories will take your iPad experience to the next level. So let's not take any longer and explore the best iPad accessories currently available on the market. Whether you're looking for something practical or just want to add a touch of personal style to your iPad, we've got you covered. Let's get started!
Let's answer the most difficult question first.
Are Native Apple Accessories the Best?
Honestly… No.
Not all of them, I mean.
The greatest accessory to your iPad as an artist is definitely the Apple Pencil. It has the best compatibility (Obviously) and will take your art to another level; however, it is expensive, and we wouldn't be recommending it if it weren't a must-have.
Then we have the Magic Keyboard. And yes, it's a great keyboard and has a charging port on the side; however, after trying it and comparing it with other keyboard cases and setups, we can honestly tell it's not worth the price.
The Keyboard Folio is an interesting option since, after many months of use, it's the most versatile and easy-to-use apple accessory that allows me to work, draw and stream my favorite series with a single extra accessory. However, it is also a bit pricey, not as comfortable as other dedicated stands and the quality of the cover is not the best (It ripped after months of use).
The apple keyboard accessories are also a magnet for oily fingerprints and stains, which are quite hard to remove. If that bothers you, then you should consider other options. Then we have other native apple accessories like the AirPods or the Apple Watch, which are not a necessity and can be replaced by much cheaper options.
Suppose you plan on getting a full Apple setup for your iPad. In that case, I suggest you invest that money instead and get a better iPad model like the 12.9 inch iPad Pro that will provide you with the most comfort while drawing, will have more RAM, a better processor, and more storage space.
Why do you need accessories for your iPad?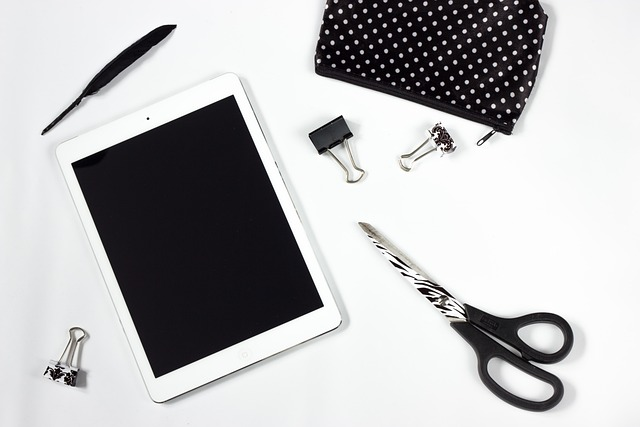 An iPad is a great device, it has a beautiful design, and you can do multiple activities like streaming your favorite shows, note-taking in class, studying, writing, and drawing; however, you can't do all that with the iPad alone.
First, you definitely need a cover. Although Apple native accessories are designed to work with the iPad directly, I must say they don't offer the most significant level of protection. Without the proper care, you can drop and break your brand-new iPad in a second.
iPads are on the expensive side of the tablet market, and simply thinking of scratching, bumping, or damaging the screen or structure makes my heart cry and my pockets hurt. In order to avoid that, you definitely need a screen protector, and if you're an artist, you need one that doesn't affect the Apple Pencil sensitivity and that has some grip to it so your stylus won't slide on the screen like jelly.
Besides that, if you want to use your iPad as a definite art tool, you are going to need a stylus. Apple here has the advantage since you won't find any stylus that works better than the Apple Pencil; however, speaking from experience, sometimes the Apple Pencil alone is not enough.
You'll probably need a keyboard if you want to make the most of your iPad. Be it a keyboard case, an external keyboard, or the magic keyboard Apple sells, having something to type on can really boost your productivity and turn your iPad into a complete workstation.
We can't forget the digital nomads that love to travel and carry their workstations around. An iPad is the perfect choice in terms of portability and usefulness; however, you'll definitely need a travel bag that will keep your iPad safe and sound and your accessories organized.
Also, your iPad won't have the same ports and features as a desktop computer or laptop, so you're probably going to need a hub of any kind to connect your peripherals, especially if you plan on using external monitors, SSD Drives, SD cards, etc.
Lastly, there are many interesting other accessories that can help you build an aesthetic setup or make your life easier and get the most out of your iPad.
Best iPad Cover/Case — ESR Hybrid Case
Let's start with one of the less expensive yet valuable iPad Covers in the market. The ESR hybrid cover has to be the best option Price-Value-Quality that exists. Now you might be wondering why I am hyping this cover so much.
Simple: It keeps your iPad's borders protected, and it's detachable in case you want to grab your iPad alone for gaming, video calling, or taking photos. The magnetic cover quality is excellent and allows you to use your iPad in landscape and portrait mode while still keeping it protected on all sides, it has a magnetic protective clasp to keep your Apple Pencil secure and attached to your iPad, and the price is just fantastic.
Pros:
Protects all four borders
It's magnetic and detachable
Cons:
It doesn't offer multiple viewing angles
Best Budget iPad Case — ProCase Smart Cover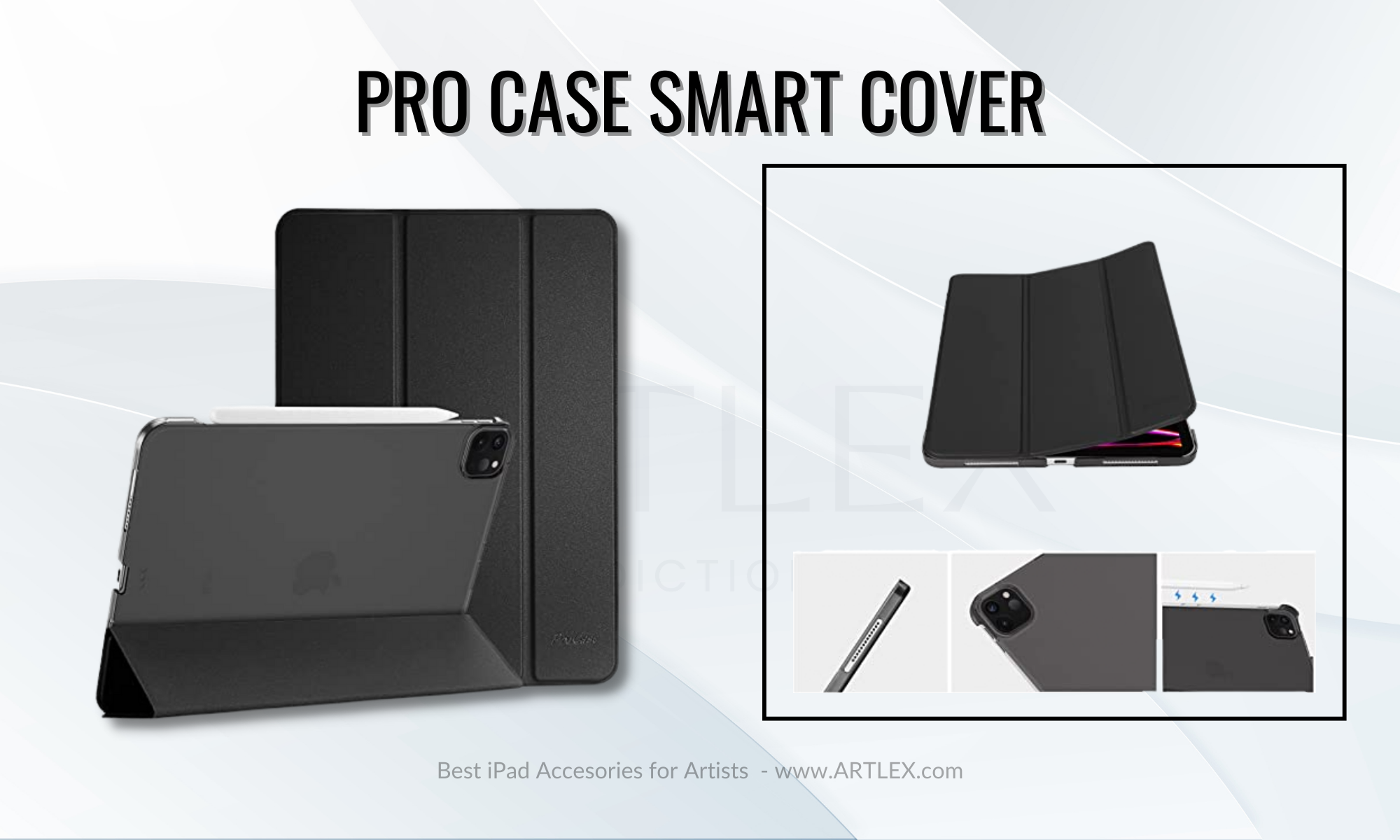 Now, as the runner-up, we have the ProCase Slim stand. This is a great case and cover. It's extremely cheap and comes in nice colors. It's not designed for extreme use, and it doesn't protect all the borders of your iPad, but it does the job.
Pros:
Super cheap and usable
Apple Smart Folio replacement
Cons:
It doesn't protect all the borders of the iPad
Best iPad Cover/Case With Multiple Viewing Angles — ZUGU Slim Protective Case
Finally, we have the ZUGU Case, which protects your iPad's borders, offers multiple viewing angles, and is also great for multiple drawing positions, it has a pocket for the Apple Pencil in the back, so it won't get lost in your bag and has pretty strong magnets that will keep your iPad on the same position and its military drop certified.
Pros:
Multiple viewing angles
Full border protection
Apple Pencil pocket
Cons:
Feels bulky
Apple Pencil might have issues charging.
Best Apple Brand iPad Cover — Apple Smart Folio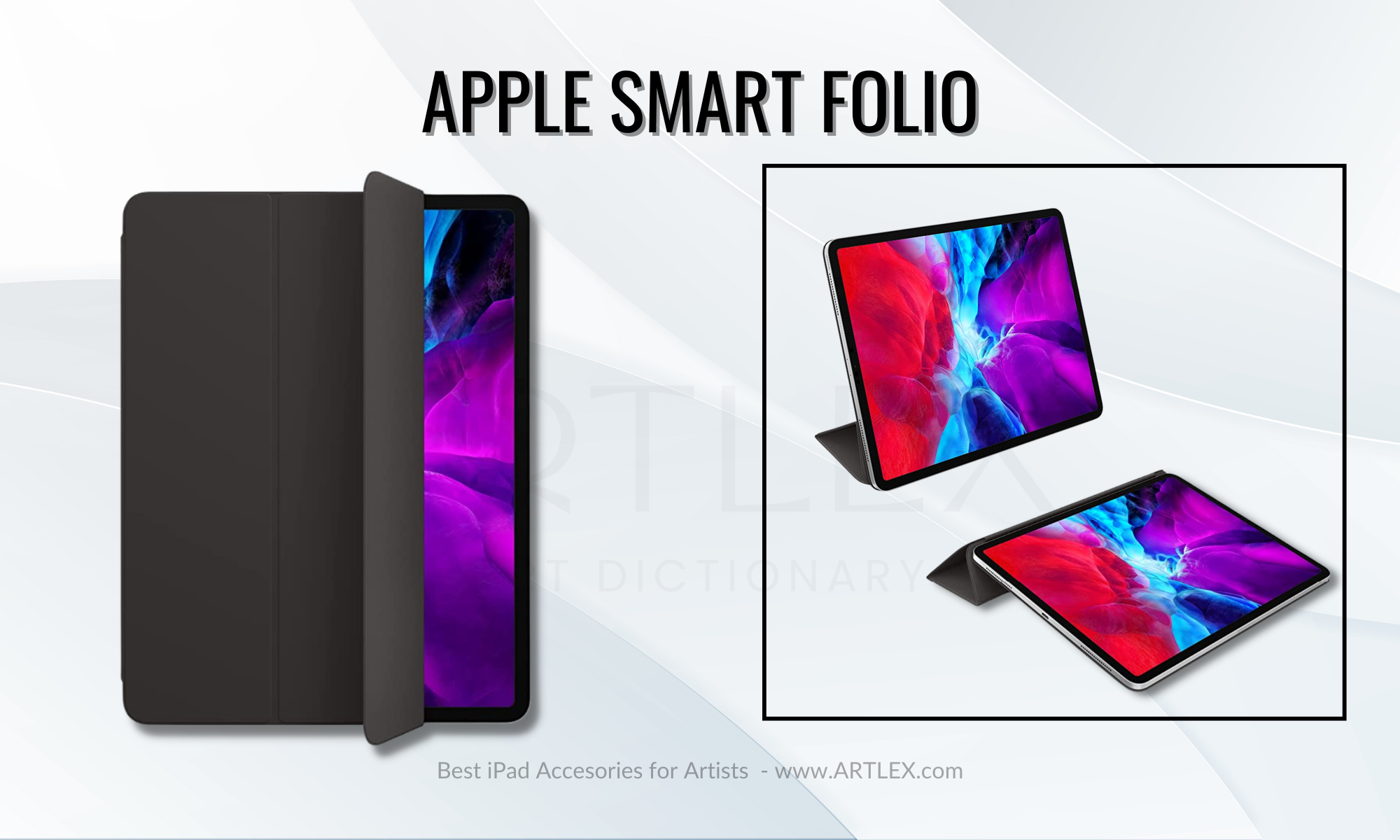 Many will tell you that the best cover that exists for the iPad is the Apple Smart Folio, but they're wrong!
Especially if you're an artist or a student that needs to carry their iPad around, the amount of times my iPad has slipped from the cover due to the pressure I apply while drawing and when I tipped it in the wrong direction made me stop using the folio almost as soon as I got it. It also doesn't offer any other layer of protection to the sides, so if you bump your iPad too hard, it's going to get scratched.
If you have your Apple Pencil with you, it's even worse. The magnetic charging feature is quite nice and strong when you want to charge your stylus or have it near you on your desk; however, it doesn't have the strongest hold, and if you place your iPad on your bag or backpack, then it's going to slip and get lost. And if, by any chance, you carry your iPad on your arm and bump into a person accidentally, your Apple Pencil will slide, fall, scratch, and even lose the tip.
Pros:
Apple Premium finish
Light and portable
Cons:
It doesn't protect the borders
Apple Pencil falls easily
Quite expensive
Best Keyboard iPad Cover — Logitech Combo Touch
Nothing can boost your productivity more than a keyboard, especially if you write, blog, create content or use your iPad as a small workstation. The Logitech Combo Touch is the perfect combination that will give your iPad protection, versatility, and portability.
This keyboard cover is pretty light, detachable, and has an adjustable kickstand to use your iPad from multiple viewing angles. It has backlit keys and connects through Apple's Smart Connector in the back for instant power and pairing.
Pros:
Lightweight and versatile
Detachable keyboard and adjustable kickstand
Touchpad included
Multiple viewing angles
Cons:
Apple Pencil is not protected
On the expensive side
Second Best Keyboard Cover — Apple Smart Keyboard Folio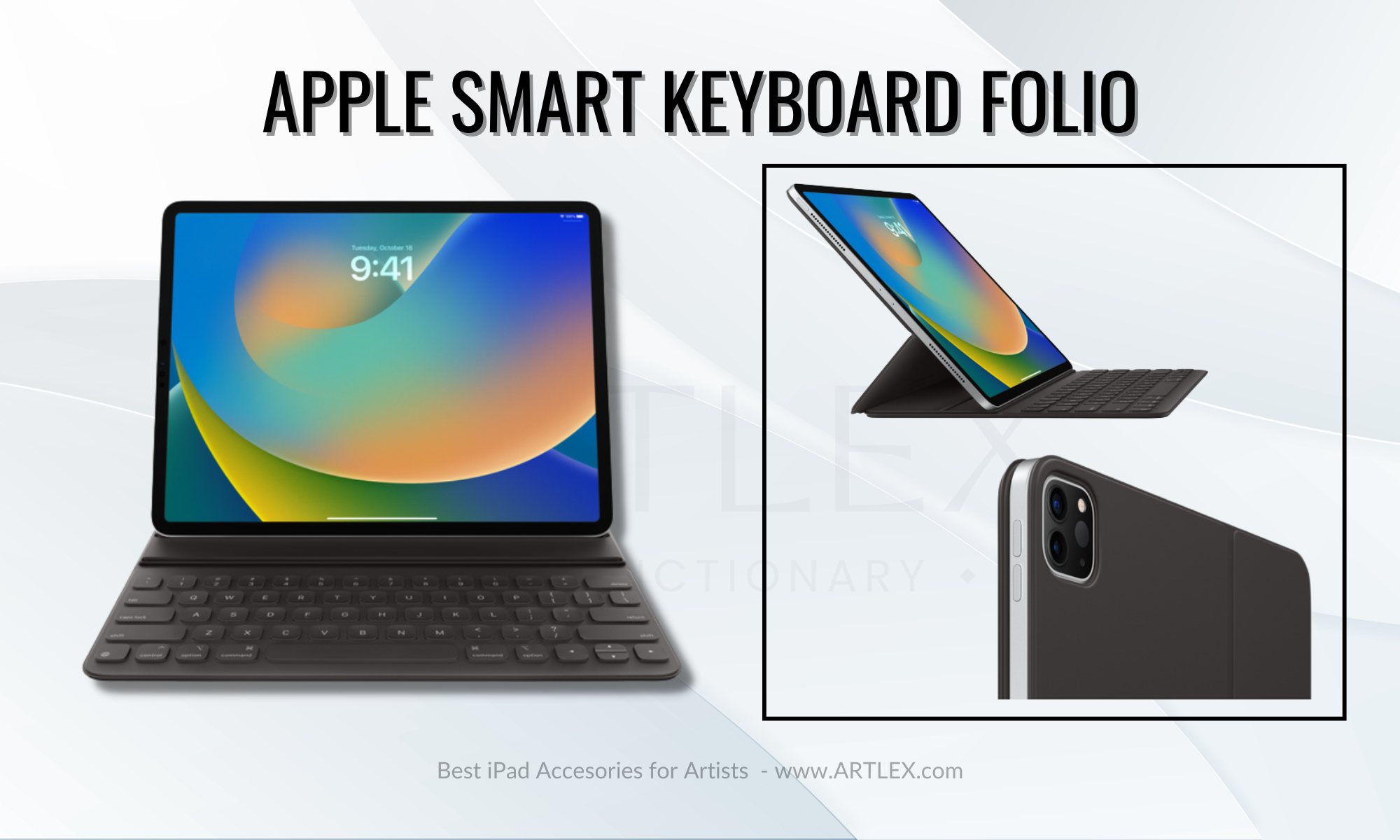 The Smart Keyboard Folio is an interesting alternative for those who love Apple's instant pairing and premium products but don't want something heavy and bulky. This cover is light and thin. It has two main typing angles and four viewing angles that can also be useful for drawing. The keys won't be to everybody's liking, but they are soft and easy to use, and there is a special version for the iPad mini.
Major downside? It deteriorates easily and doesn't offer protection to the iPad's borders or the Apple Pencil
Pros:
Premium finish and smart connectivity
Comfortable drawing angle when turned
Cons:
Deteriorates easily
It doesn't have a touchpad
On the expensive side
Best Premium Keyboard Cover — Apple Magic Keyboard
We couldn't forget about the Magic Keyboard. This is the ultimate keyboard for any iPad, with the best compatibility and aesthetics and its greatest addition, the charging port on the side of the hinge. This keyboard will allow you a somewhat better viewing angle, will let you charge your iPad with the cable flat on the desk, and will leave the charging port available for other functions like external connections or hubs.
The major downside? The price. It is really expensive, and although it looks and feels very nice, it's not versatile at all, it doesn't have a position for comfortable drawing, and it doesn't lift the iPad that high, so your neck will strain anyways.
It also feels a bit thick and heavy, and it doesn't offer any level of protection to the sides or to the Apple Pencil. Plus is only compatible with the 11-inch iPad Pro and the iPad Air.
Pros:
Soft and nice keys and touchpad included
Charging port on the side
Best compatibility
Cons:
Quite expensive
Not versatile
Not useful for drawing.
Best Budget Keyboard Cover — iWalk Keyboard Case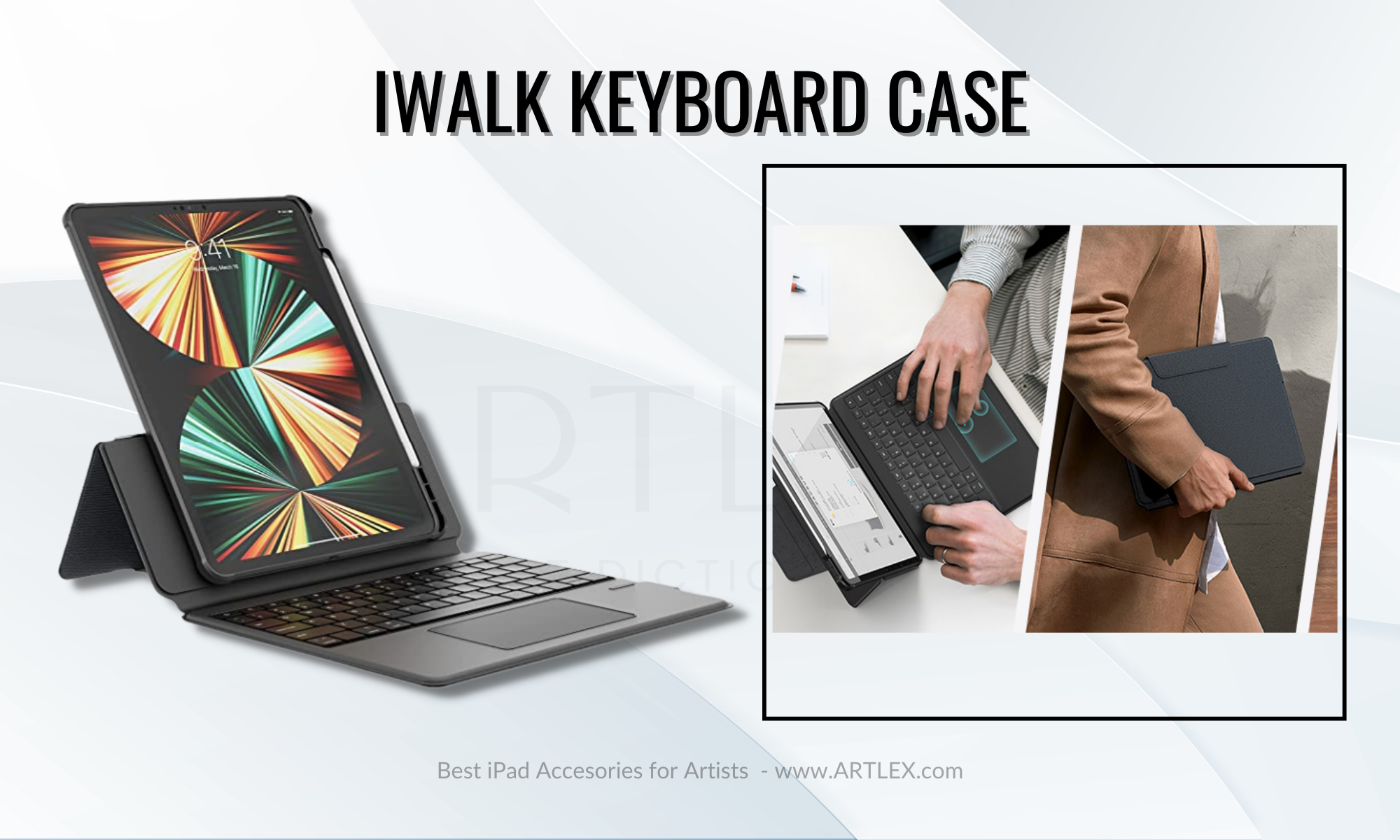 Finally, this budget option will give you the same functionality as all the previous options, plus a fully covered iPad and Apple Pencil. It connects through Bluetooth and attaches magnetically to the back of the cover, allowing you to use the iPad alone or use it with the keyboard in both landscape and portrait mode.
The downside? It's not a premium product, the keys are not that nice, and taking the Apple Pencil out of the cover is a bit of a hassle.
Pros:
Versatile and functional
Touchpad included
Full iPad and Apple Pencil protection
Very affordable
Cons:
Not the highest quality
It might be too thick for some
Occupies too much desk space
Best Shortcut Keyboard for iPad — AOIKTYE Keyboard
There are too many external keyboards that you can buy and wirelessly connect to your iPad, from mechanical keyboards to full-fledged design tools, so making a list with the best keyboards wouldn't make that much sense; however, we do have a couple of worth mentioning options that will help you as an artist, especially if you use Procreate.
The AOIKTYE Keyboard is a great addition for digital artists and designers that use procreate or any app with customizable shortcuts. It gives you space to work on a wider canvas since your hand won't be touching the screen that much, it improves dramatically your workflow, it connects via Bluetooth, it has +20 shortcut functions, and it comes in three colors.
Pros:
Small and portable
A powerful tool for digital artists
Compatible with multiple apps
Cons:
It is a bit expensive
It's not backlit
Second Best Shortcut Keyboard for iPad — Frunsi Wireless Keyboard
This upgraded design is an excellent keyboard to improve your drawing efficiency since it has more than 30 shortcut key functions. It's backlit, which means you'll be able to use it in the dark. It's compatible with multiple devices, and although it is a bit larger than the AOIKTYE keyboard, more experienced artists might find an advantage in that.
Pros:
More shortcut keys
Backlit keyboard
Compatible with multiple apps and devices
Cons:
It is a bit expensive
It's on the larger side
Honorary Mention iPad Keyboard — Logitech K380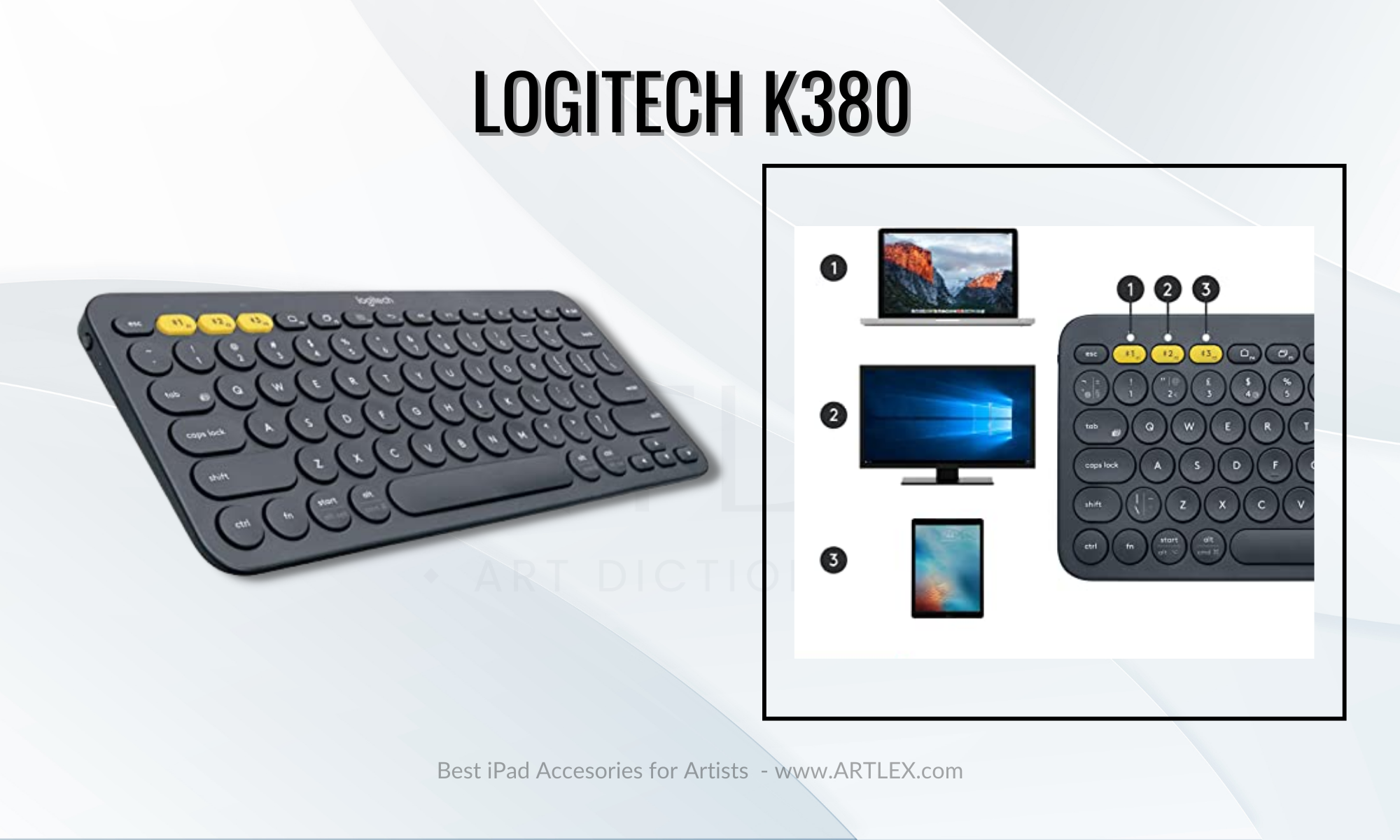 This is not a small and portable keyboard, but if you come from a bigger digital art setup, you might still be used to the traditional shortcuts and key combinations. This keyboard is the perfect solution since it's not expensive at all, it comes in various nice-looking colors, and you can connect it with up to three devices, switching quickly with the press of a button.
The keys feel nice when typing. It's not sturdy and won't occupy too much desk space. Perfect to combine with your phone, desktop computer, laptop, and iPad.
Pros:
Not expensive at all
Compatible with multiple devices
Variety of colors
Cons:
How to Choose a Screen Protector for iPad
The iPad screen is generally quite durable and can withstand everyday use and handling. However, it is not entirely immune to damage. For example, if you take your iPad to the beach or expose it to sand, it is possible for the screen to scratch; besides, if your iPad has a laminated screen, replacing it can be pretty costly.
Besides that, if you're an artist, you for sure know that the iPad glass screen is not the best drawing and painting surface. The Apple Pencil slides easily through the glass screen, making it difficult to achieve the desired level of control and precision. The presence of fingerprints and smudges on the screen can also affect the drawing experience, as they can make the surface feel slippery and obscure the view of the artwork.
To address these issues, some people have turned to screen protectors like Paperlike, which claims to provide a more paper-like drawing surface. While these protectors may be some of the best iPad and iPad Pro accessories, it is essential to know that they are not without drawbacks.
Here we selected the best screen protectors for artists and creatives, considering prices, reviews, and overall opinions of the artistic community.
Best Matte Screen Protector for iPad — Supershieldz Mate
This screen protector might not be as popular as Paperlike; however, it's one of the best (if not the best) mate screen protectors on the market. It provides a glare and fingerprint-free experience. They hold very well, are easy to install, the texture doesn't affect the screen quality, and they are super cheap!
Pros:
Super affordable
Screen Protection besides textured feel
Anti-glare and anti-fingerprint
Cons:
It scratches with the use
Some might find it hard to install
Best Paper-like Screen Protector Overall — Bersem Paperfeel
This screen protector is particularly good for a single reason. It's super thin!
And yes, it might not fully "protect" your screen from impacts. However, for artists and creatives, it's a perfect choice. The Apple Pencil's sensitivity and responsiveness suffer with thick screen protectors made of ceramic and glass. Even with some paper-like and matte screen protectors, you might get wobbly lines.
It also has an anti-fingerprint coating and anti-glare effect. The Bersem screen protector is textured and offers enough friction to comfortably draw on without sanding down your Apple Pencil tips.
Pros:
Very affordable
Apple Pencil's responsiveness maximized
Paper-like and anti-glare
Cons:
Some might find it hard to install
The iPad screen might lose quality
Best Premium Paper-like Screen Protector — Paperlike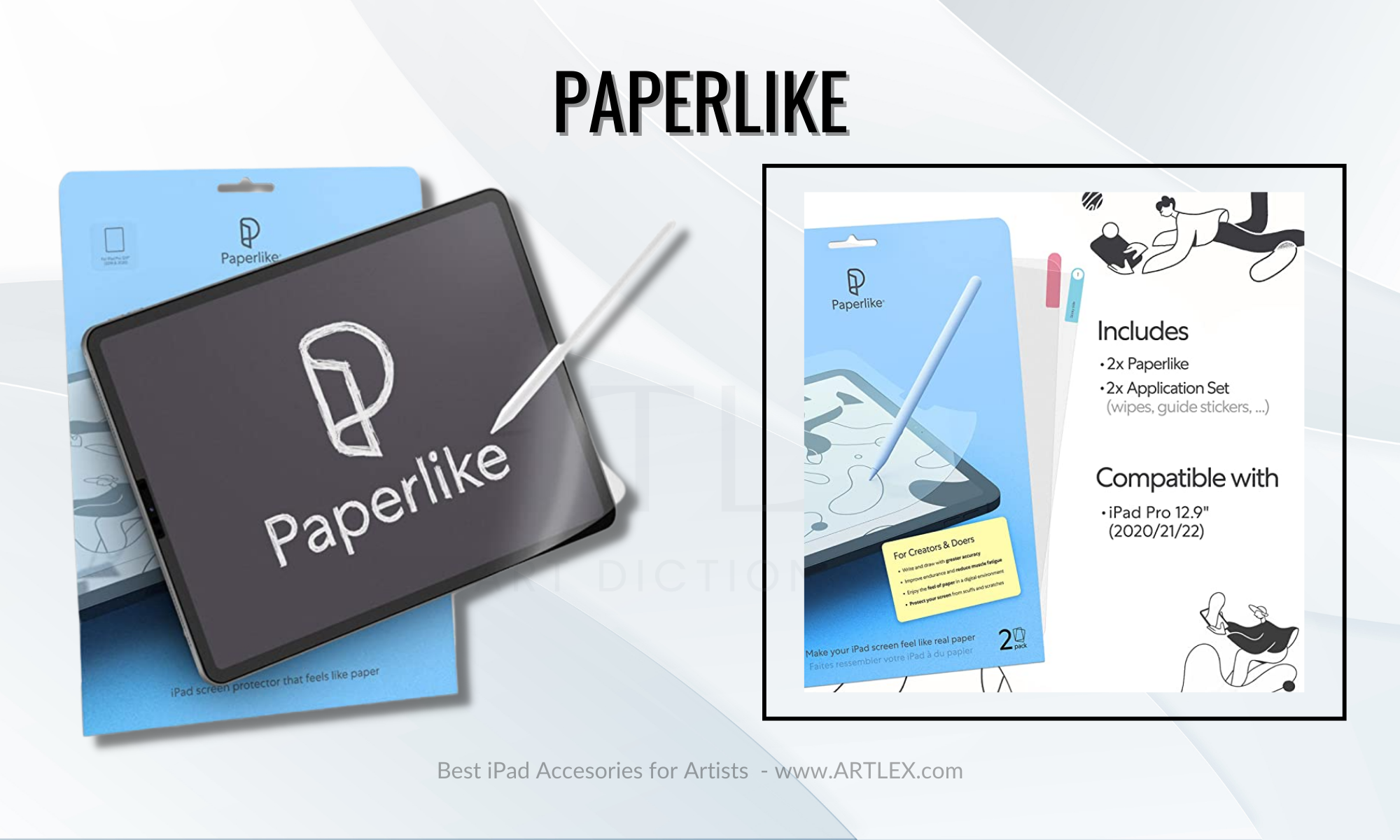 As soon as the iPad Pro launched, Paperlike came into the market with their paper-feel screen protectors that promised an authentic drawing experience. They managed to lure many artists and creatives since there weren't really that many options; however, after some disastrous reviews where it was revealed how Paperlike destroyed the Apple Pencil tips and scratched easily, the hype died down.
This screen protector is quite expensive. In fact, it is the most expensive of all, so why include it? Simple:
After the disaster that caused its reputation to go down the drain, Paperlike reinvented its product, making it much better than the previous version. So far is one of the screen protectors that keep the screen quality semi-intact, offer a great drawing experience, and apparently do not damage your Apple Pencil tips anymore.
Pros:
Easy installation
iPad screen doesn't lose as much quality
Anti-glare
Cons:
Best iPad Stylus
The best stylus for any iPad model has to be the Apple Pencil. Whether it's the first or second generation, the Apple Pencil has the best compatibility, pressure sensitivity, and responsiveness of all the "iPad Styluses" in the market. So, yes. The best stylus for the iPad is the Apple Pencil.
I'm sure most of you know this, but before buying an Apple Pencil, please check the compatibility with your iPad since the 1st and 2nd Gen Apple Pencils are incompatible with the same iPad models and generations. Check the list below to see which Apple Pencil is compatible with your iPad:
First-generation Apple Pencil is compatible with:

iPad Pro 12.9-inch (1st and 2nd generation)
iPad Pro 10.5-inch
iPad (6th to 9th generation)
iPad Air (3rd generation)
iPad mini (5th generation)

Second-generation Apple Pencil is compatible with:

iPad Pro 12.9-inch (6th, 5th and 4th generation)
iPad Pro 11-inch (1st to 4th generation)
iPad Air (4th and 5th generation)
iPad Mini (6th generation)
How to Choose Apple Pencil Accessories
Sometimes the Apple Pencil alone is not enough. The Apple Pencil is relatively thin and somewhat slippery, so if you're used to the Wacom and Huion thick pens, you'll probably miss the friction and ergonomics.
The Apple Pencil is quite sturdy; however, it scratches easily and can even scratch your iPad if you're not careful enough (and I don't mean the screen). The magnetic snap is quite strong, so if you attach your Apple Pencil constantly to your iPad, minor scratches will appear in the magnets' place.
Also, the Apple Pencil is quite small and easy to lose. Some of us have gone through the horrible experience of leaving our Apple Pencil unattended and then finding it all chewed up by our pets or losing it entirely on the couch or bed, only to send it flying when looking for it.
What to do to avoid all these situations? Get some accessories for your Apple Pencil that will keep it safe and make the overall drawing experience more enjoyable for you.
Best Apple Pencil Cover Overall — AhaStyle Duotone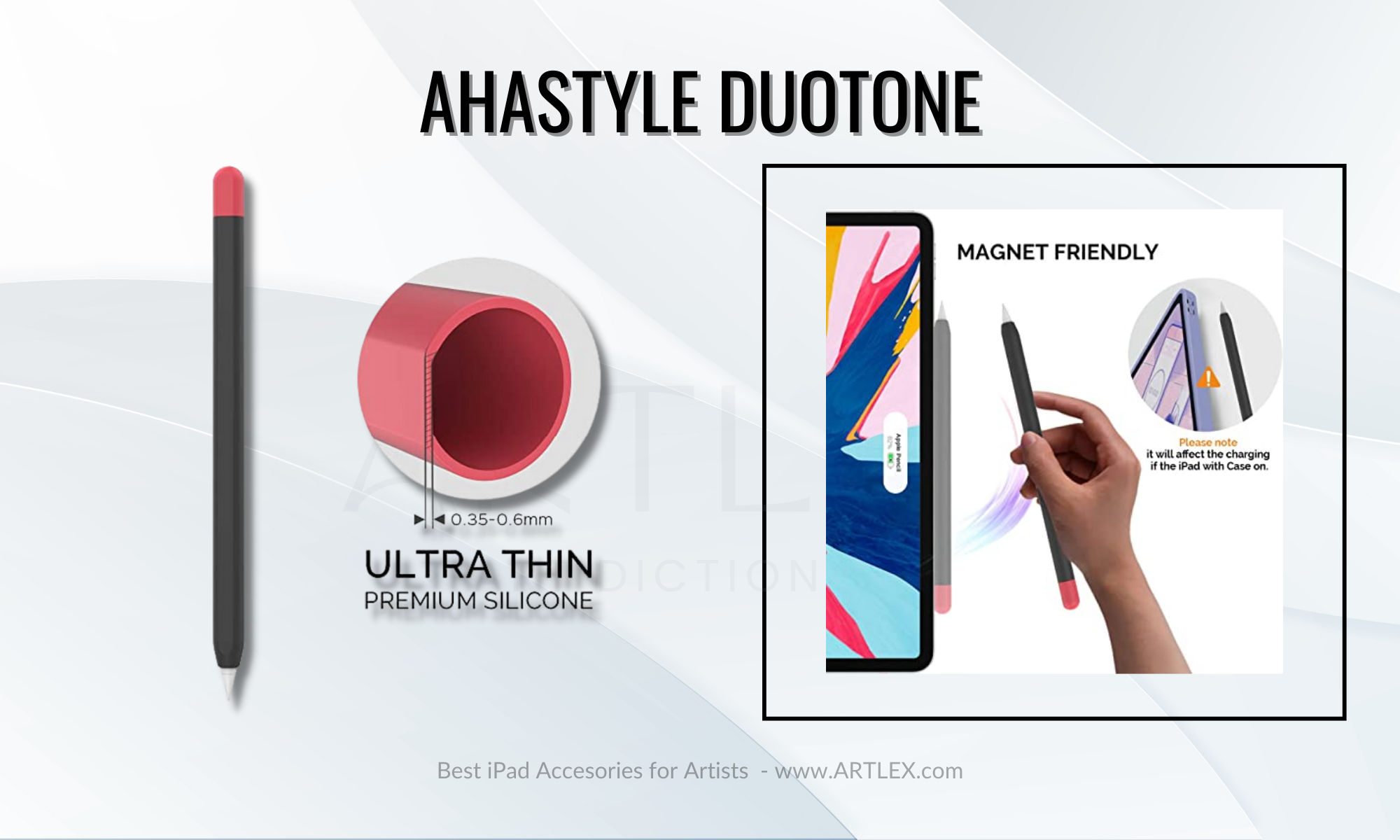 This cover is just like any other silicone cover, it's easy to apply, looks and feels nice, and it comes in multiple colors; nonetheless, the main reason we've placed it as the best Apple Pencil Cover is that it doesn't affect the Apple Pencil magnetic charge at all nor the double-tap function.
Pros:
Ultra-thin and fits perfectly
Many color combinations
Very affordable
Cons:
The grip might loosen with time, and use
Won't fit perfectly in some iPad cases
Best Thick Apple Pencil Cover — MoKo Holder Case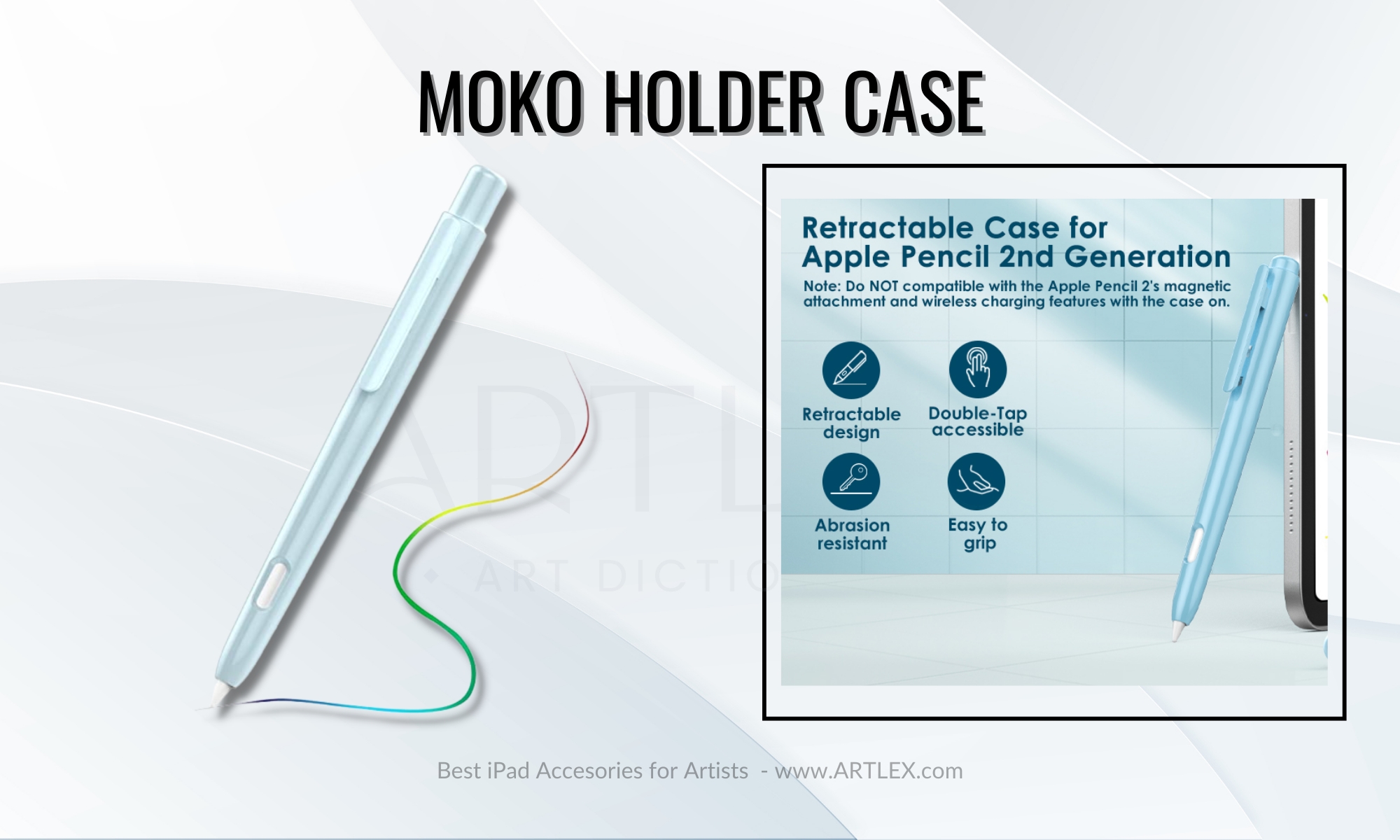 If you're a fan of the thicker Wacom Pens and love a reliable full cover for your Apple Pencil, this is for you. The MoKo holder case is very thick and solid, protects your Apple Pencil entirely, and is retractable. It has an opening for the double-tap function and comes in many different colors.
The major downside is that you need to take the Apple Pencil out of the case in order to charge it; however, the ergonomics of a thicker stylus reduce hand cramps and make it all worth it.
Pros:
Fully protective cover
Retractable function
Very affordable
Cons:
Not compatible with magnetic charge
Some might find it too thick or heavy
Best 2nd Gen Apple Pencil Grip — Slim iPencil Grip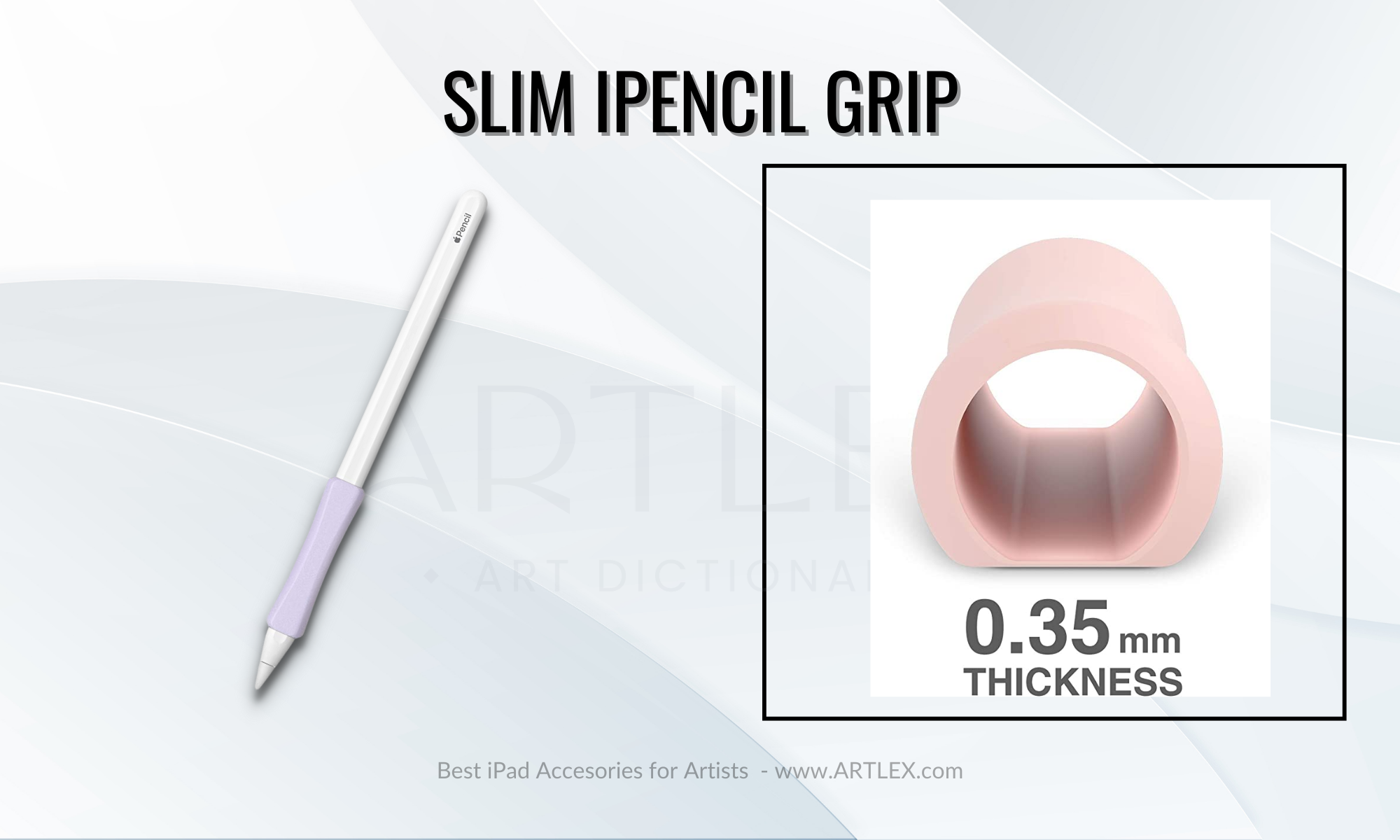 In case you prefer having your Apple Pencil as it is and using a grip for ergonomics instead, then here we have the two perfect options for both the first and second-generation apple pencil.
The Slim iPencil Grip is perfect for the 2nd generation Apple Pencil because it doesn't obstruct the double tap function, is compatible with magnetic charge, and is still thick and comfortable in our hands. It's also very affordable and comes in a pack of three different colors.
Pros:
Very affordable
Magnetic charge compatibility
Very comfortable
Cons:
Apple Pencil might get stuck in the grip
Best 1st Gen Apple Pencil Grip — Uppercase Nimble Grip
This grip is just excellent. Although we labeled it as a grip for the 1st gen Apple Pencil, it obviously also fits the second-gen, so if you're one of those artists who like to deactivate the double tap function and like a thick uniform grip, then this product is perfect for you.
It's not the most affordable grip out there, but it's very high quality and durable.
Pros:
Very comfortable to use
High-quality tested grip
Cons:
A bit expensive
Not compatible with magnetic charge and double tap
Best Apple Pencil Case Overall — Titacute Carrying Case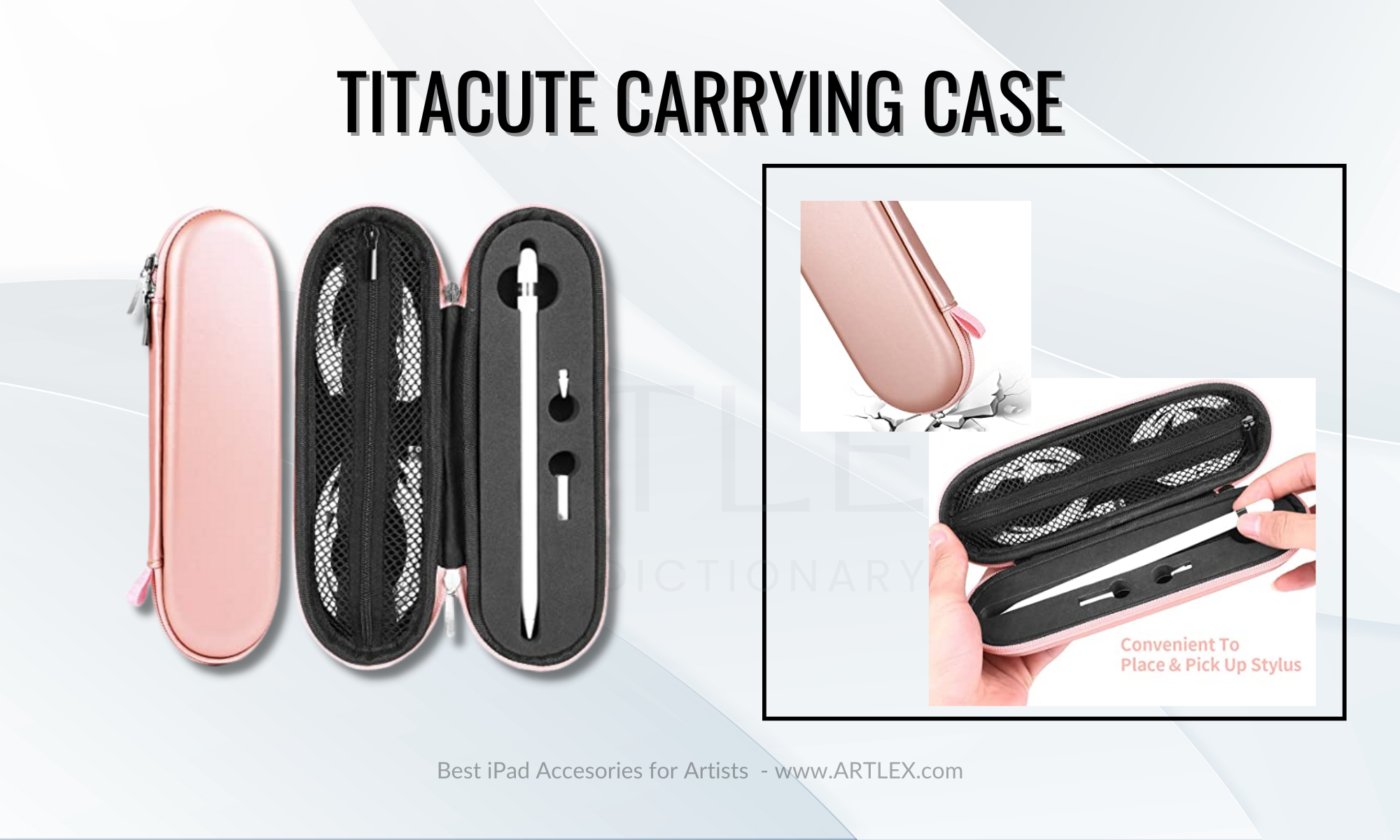 This case will protect your Apple Pencil at all costs, and if you have a first-generation Apple Pencil, it will keep its accessories in place and give you extra storage for your charger, watch, etc.
Pros:
Very sturdy and resistant
Extra storage for chargers and cables
Very affordable
Cons:
Best Apple Pencil Alternative Overall — ZAGG Pro Stylus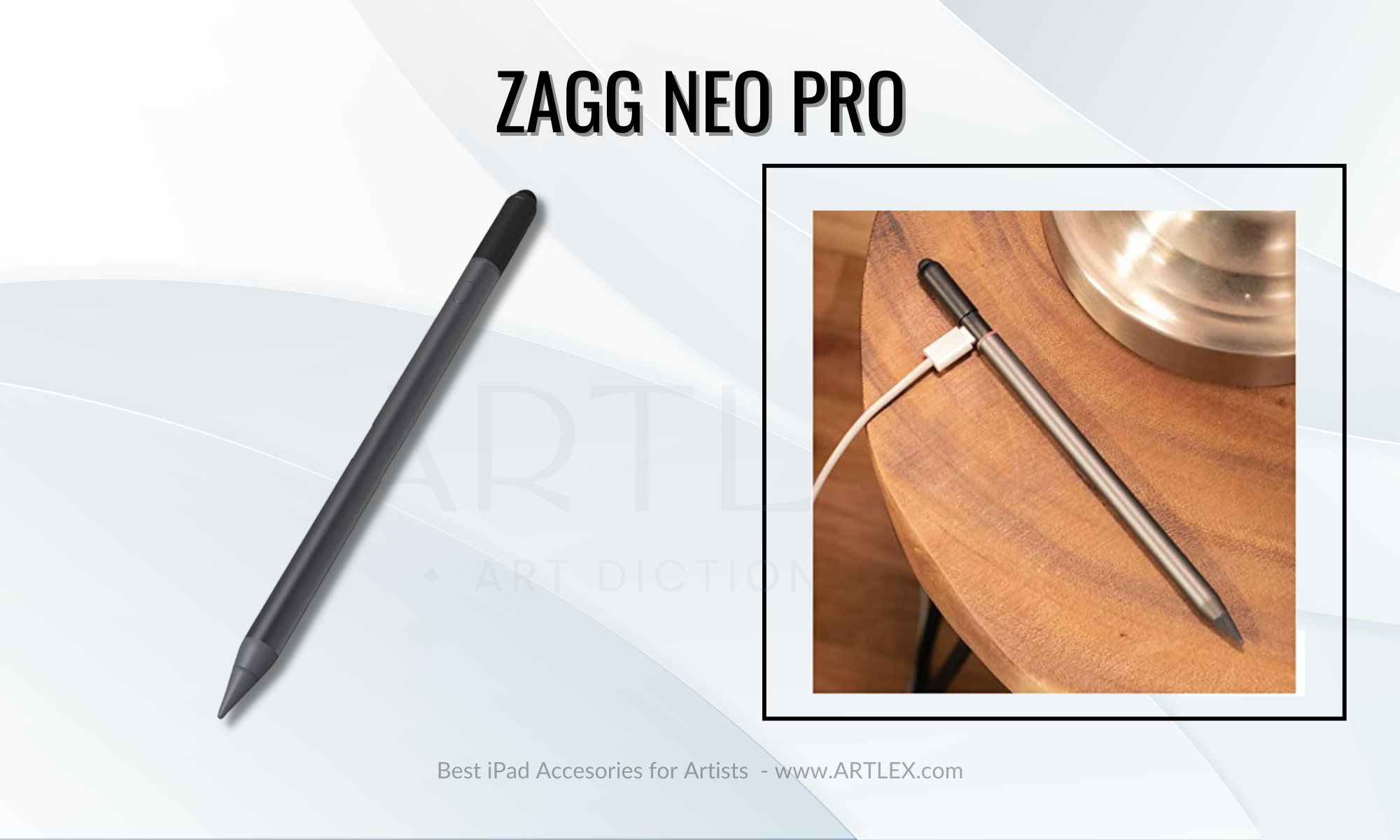 There is no better stylus for the iPad than the Apple Pencil, however if I had to recommend you any less expensive stylus, this would be the first choice: The ZAGG Neo Pro Stylus is not an Apple Pencil, yet it does support tilt sensitivity, offers palm rejection, and is supported through most digital art apps plus notes apps and native apple software. It has a sleek look, charges via USB-C, and attaches magnetically to your iPad. Perfect for conferences, note-taking, and regular use.
It has a dual tip, a capacitative one for navigation, and an active one for writing and drawing.
Pros:
Tilt recognition and palm rejection
It's quite affordable
Double tip
Cons:
It doesn't offer pressure sensitivity
The charge lasts 8 hours
Best Alternative Stylus for Writing — Logitech Crayon Digital Pencil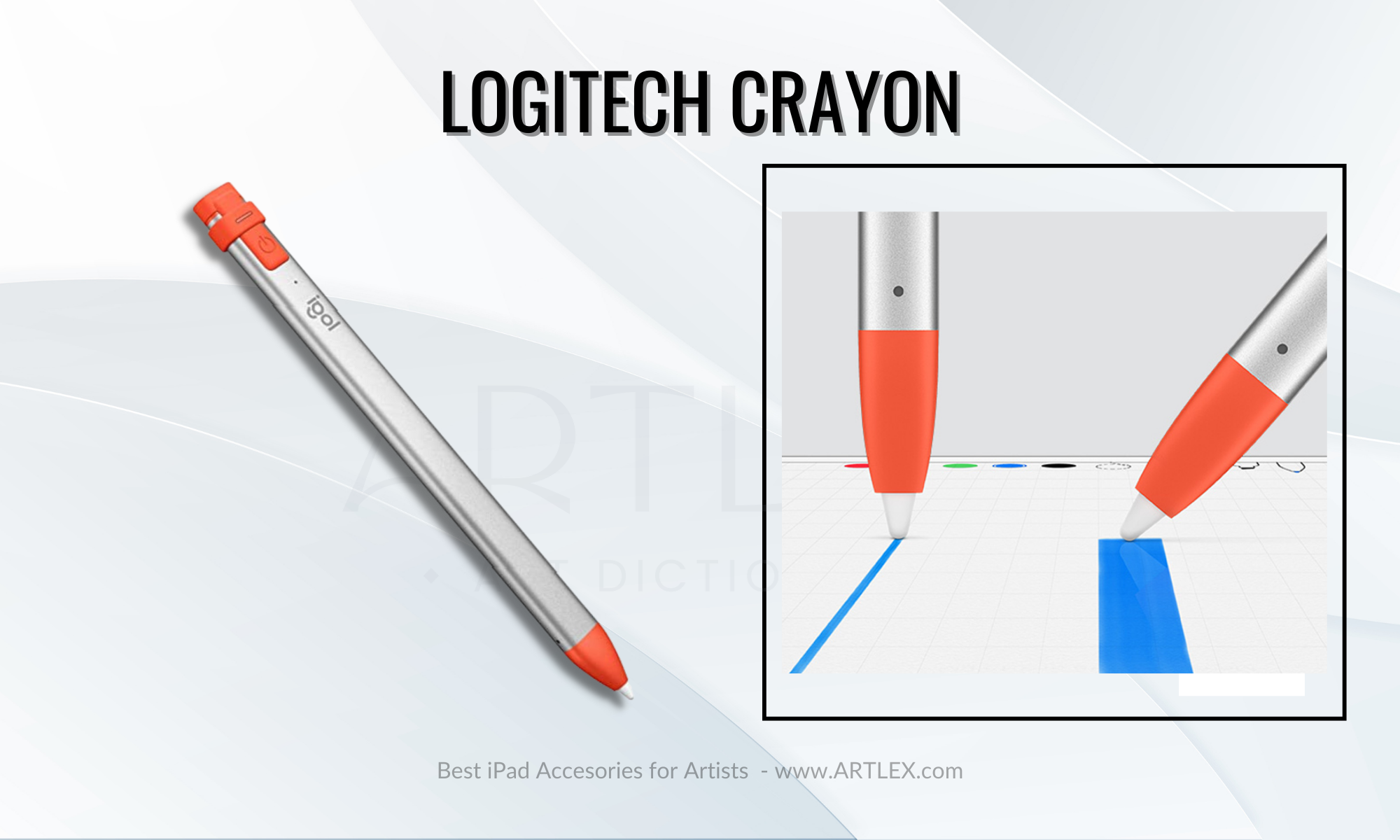 This stylus is on the expensive side, however, is proved to be one of the best alternatives for the Apple Pencil in regards to writing, note-taking, and even drawing. It doesn't need to charge long periods of time in order to work, pairs automatically, and has a very ergonomic shape.
It also offers palm rejection and tilt sensitivity and has a simple yet nice design.
Pros:
Offers tilt and palm rejection
A great option for older iPad models
Cons:
Charges with the lighting cable
It doesn't offer pressure sensitivity
Best iPad Accessories For Ergonomics
Now we get to one of the most important sections, especially for artists. Drawing in an uncomfortable position can have serious consequences. You can get neck strain since you may have to tilt your head down to see the screen clearly.
You can get back pain if you're sitting for long periods of time while drawing on the iPad. This is especially true if you're not sitting in an ergonomically correct position or if you're using a chair that doesn't provide proper support.
Using a stylus on an iPad can put a strain on your wrist, especially if you're using it for long periods of time, and since there is no rest for your arm while drawing, it gets even worse. This can lead to wrist pain and possibly even carpal tunnel syndrome.
To help mitigate these issues, taking breaks and stretching regularly while drawing on the iPad is important as trying to maintain good posture and an ergonomically correct workspace. It may also be helpful to invest in a stand or case that allows you to adjust the angle of the iPad, which leads us to recommend you the following accessories:
Best iPad Stand for Artists — Sketchboard Pro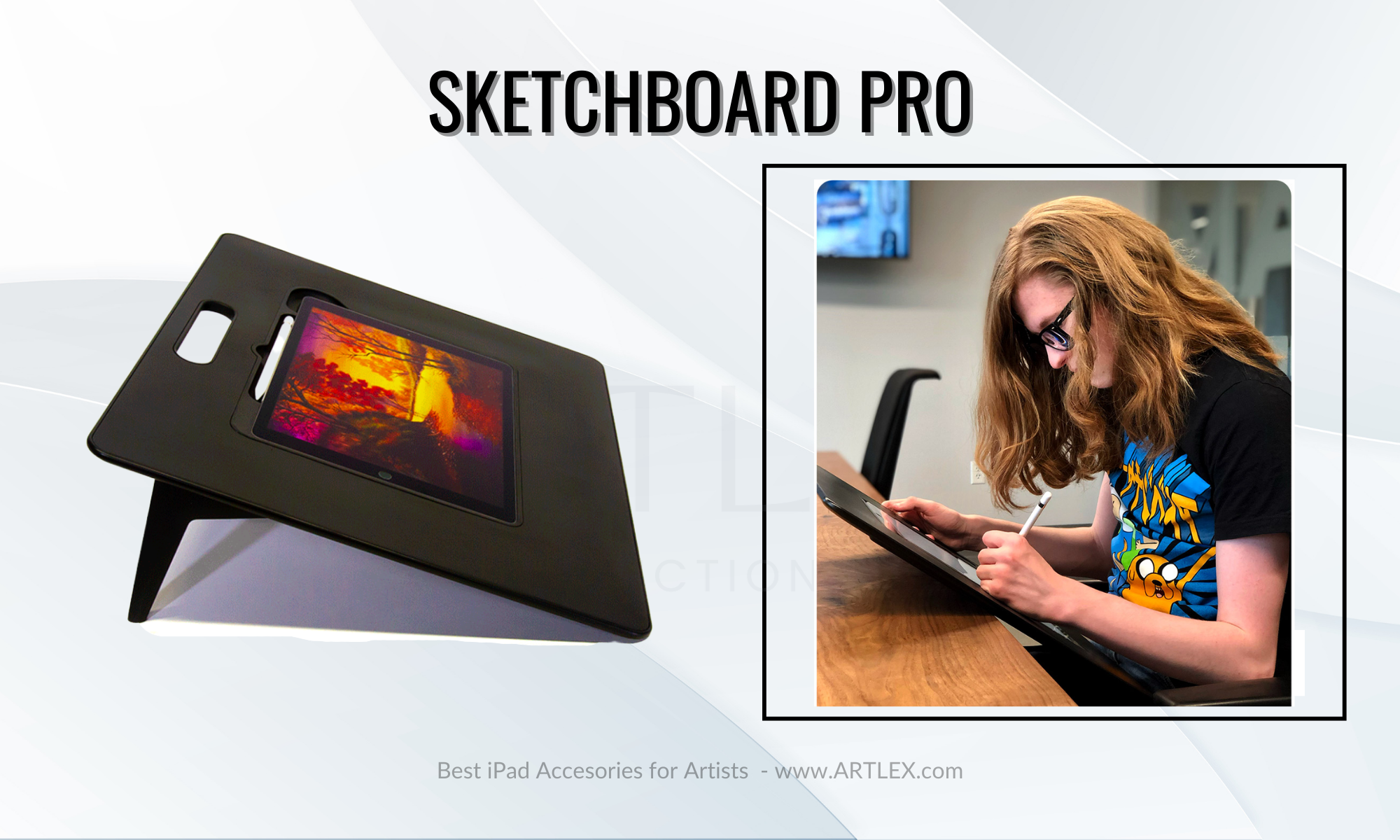 This has to be one of the best accessories for iPad artists ever. The Sketchboard Pro is designed to be comfortable enough to draw for hours and give your wrist and arm a surface to rest on and more real state for gestural drawing or traces that requires you to use your whole arm.
This stand will also be the best companion for those who are transitioning from big bulky digital tablets to iPads since it offers the same levels of comfort and ergonomics.
It comes in a flawless design, specially designed to fit any iPad model, and allows you to keep your iPad connected without having to worry about the cable since it falls right below the stand. It has a compartment for the Apple Pencil, and it's easy to carry around.
Pros:
Very comfortable to draw on
Tested and approved by many artists
Cons:
Only two viewing angles
It is a bit expensive
Best iPad Support for Artists — Astropad Dark Board
This is a new product that is still in the Kickstarter stage. However, we include it because there is nothing similar in the market yet. The Darkboard is a product designed for those who love to draw on the bed, the couch, the floor, etc. It provides you with an extra level of comfort; it's incredibly light and soft to the touch. Although it doesn't have standing legs nor multiple viewing angles, it was designed while consulting multiple artists and designers, and all of them have given their approval.
Pros:
Very light and comfortable
Easy to grip and protects the iPad from falling
Cons:
No multiple viewing angles
Only compatible with newer iPad models
No standing legs
Best Tablet Stand for iPad — Parblo PR100 Tablet Stand
Here we also have the Parblo PR100 Stand. This is a portable option that won't take away much desk space. It has a significant number of viewing angles since it uses the same adjustable mechanism many professional graphic tablets do and can hold tablets from 8 to 16 inches.
It's quite sturdy and although it doesn't offer arm and wrist support, it is not as expensive as the two previous options.
Pros:
Very portable
It has multiple viewing angles
Very affordable
Cons:
Best Ergonomic Tablet Holder — KABCON Tablet Stand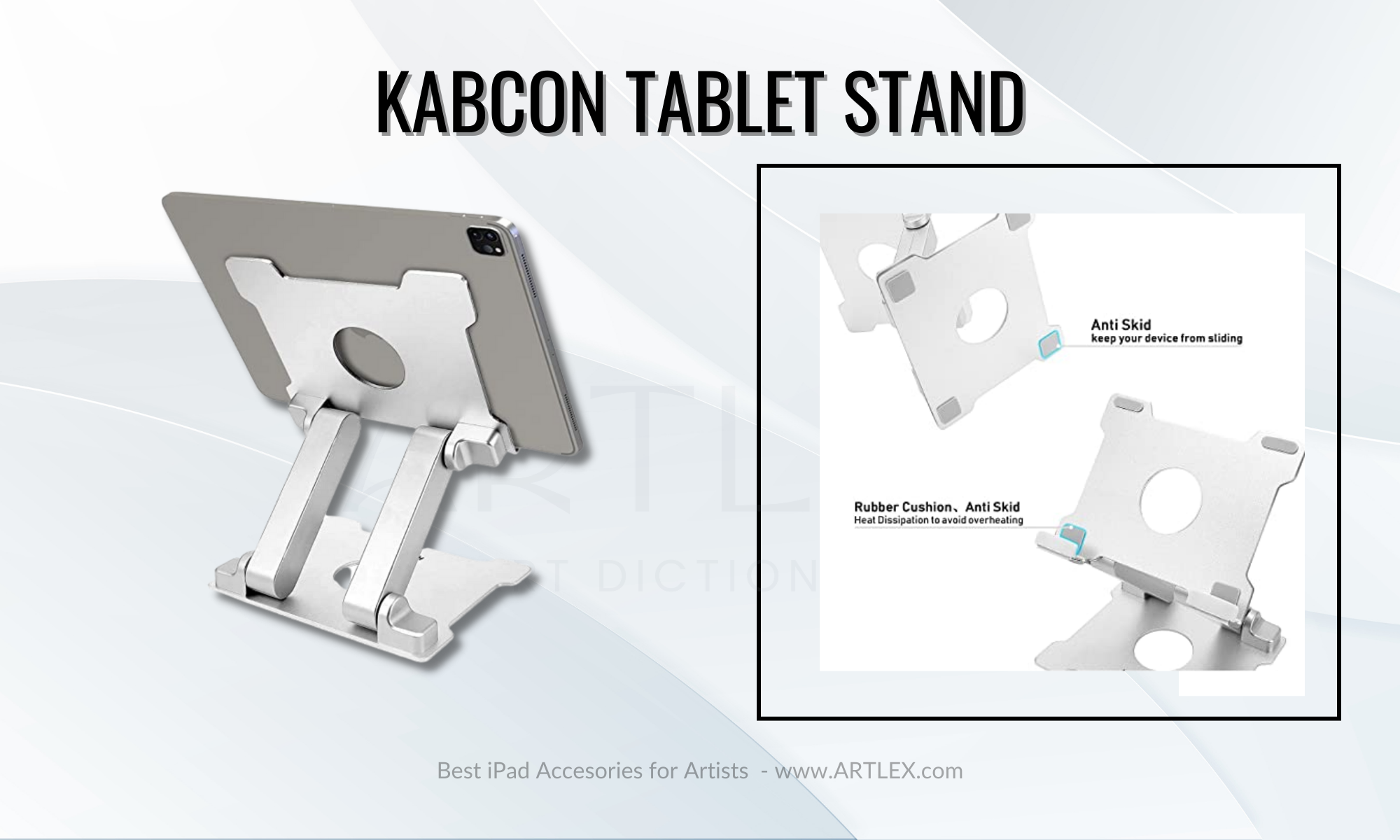 The last option on our list is not a tablet stand for drawing but for more ergonomic writing and viewing experience, especially for those who plan on using their iPads as a second monitor for video calling or content creation. This stand is quite solid, it won't let your iPad tip or fall, and it has multiple viewing angles as well.
Pros:
Solid stand
Multiple viewing angles
Cons:
Best Accessories for Storage
iPads have limited storage capacity, which sadly cannot be expanded, with capacities ranging from 64GB to 2TB. If you plan on going for the less expensive versions (the ones with less storage), keep in mind that the actual amount of available storage may be less than the stated capacity due to the operating system and pre-installed apps. iPad Pro models, which offer more storage, advanced features, and performance, come with a higher price tag compared to other iPad models.
Illustrations, animations, and photographs take up lots of space. That's why we've brought you this small section with our recommendation for the best portable storage solution that will give you all the space you need and won't take up too much space in your bag or desk.
Best SSD Drive — SanDisk 2TB Portable SSD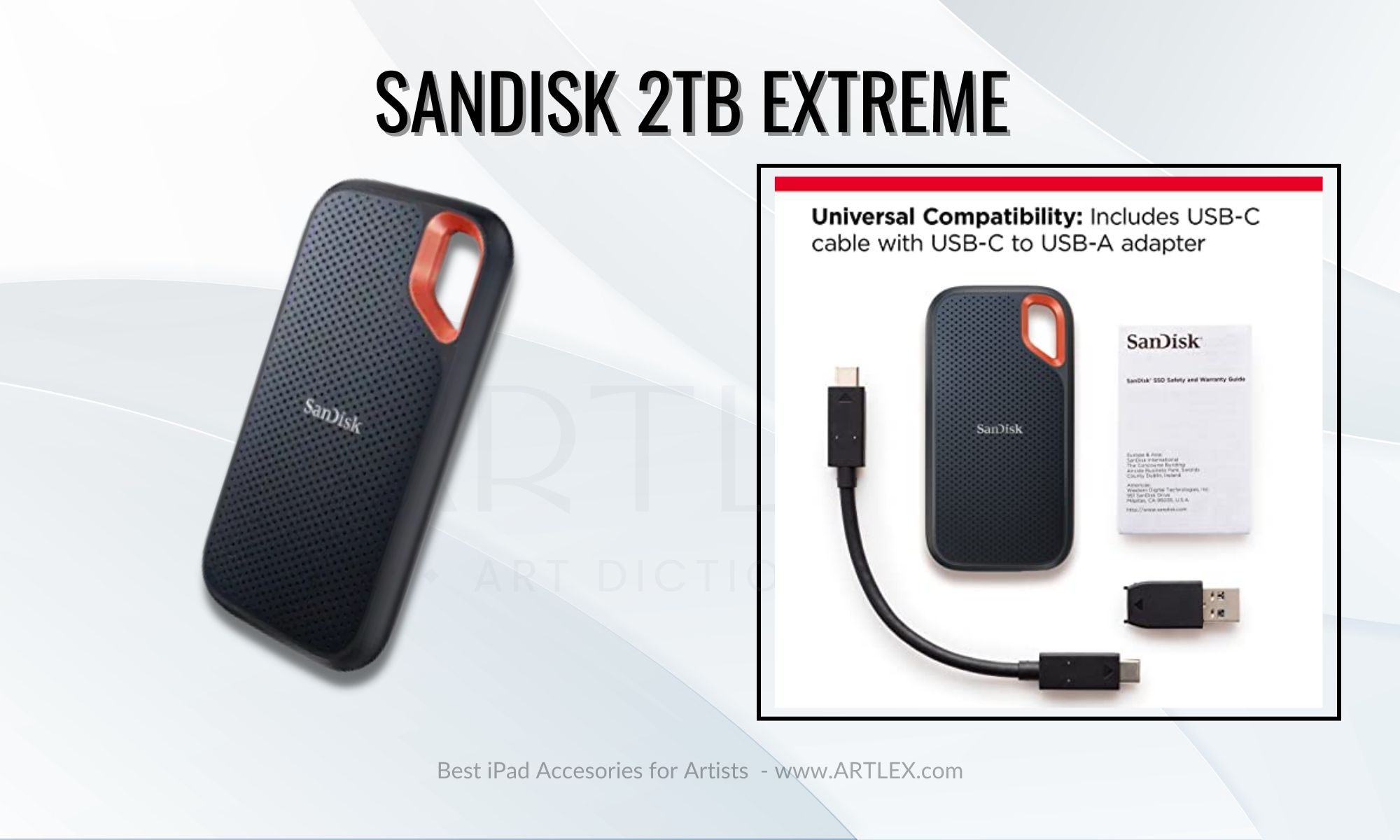 There are many external drives in the market, and we can't really tell you which one you should get, but we are recommending this one due to its resistance and portability. This SSD will keep your files safe and well-stored. It uses a USB-C connector which will make the transfer easier, especially with the latest iPad Pro and also includes and USB-A adaptor.
Pros:
Very resistant and portable
Very affordable
Cons:
Best Accessories for Connectivity
If you're also a content creator who wants to use your iPad as a small workstation but has the limitation most of us have (only one port), then this is for you.
We all know that in order to get the most out of our work, we need multiple ports to stay connected to our storage units, to see the photos in our cameras, and sometimes to have an extra monitor and visualize our work better so the best HUB has to have all the right ports and connectors and be more than an accessory.
Best Base Hub — BYEASY iPad Hub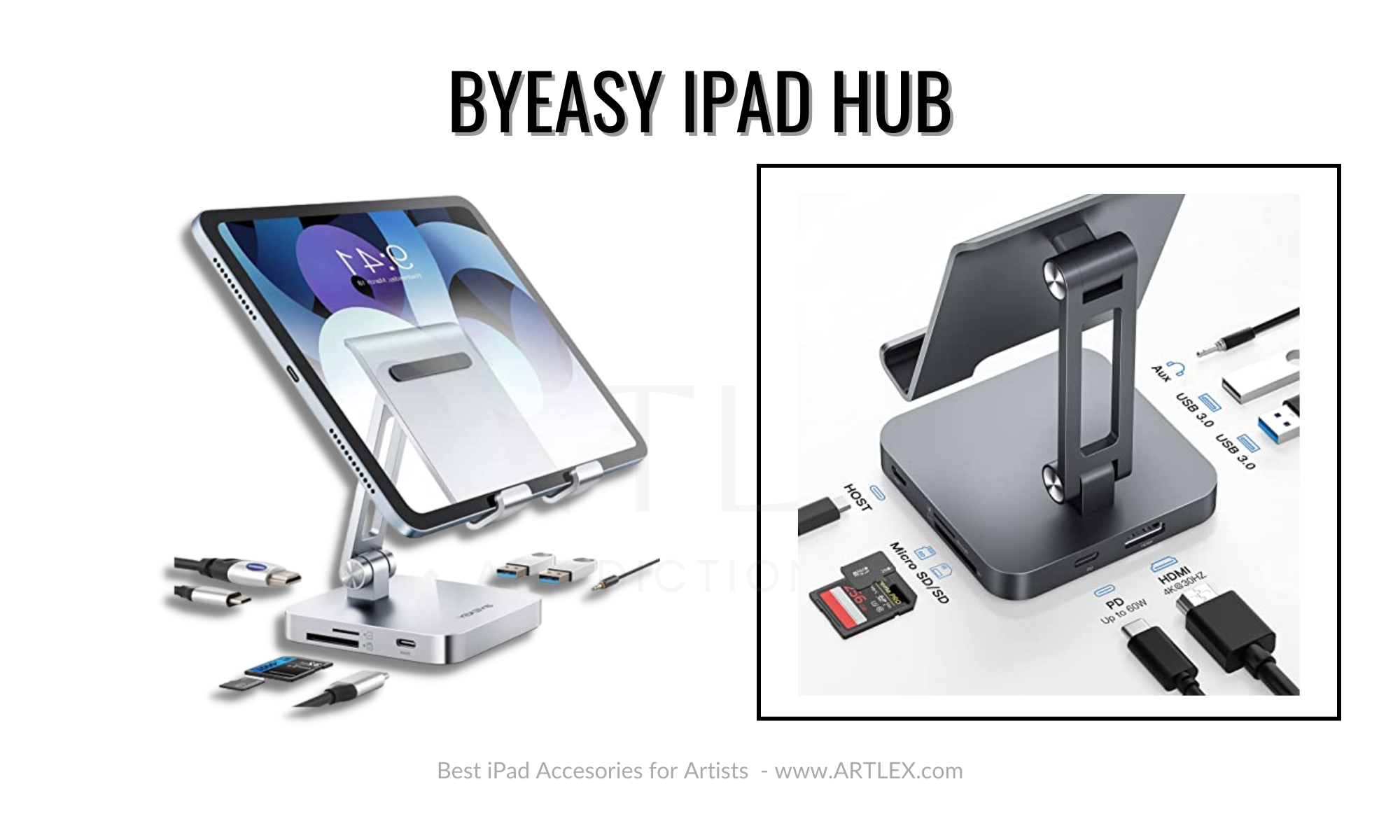 This base hub is also an iPad stand, which will allow you to stay connected and work on your desk while keeping it all organized. It's solid and heavy, your iPad won't tip and fall, and the weight of the hub won't rest on your USB c connector.
It's also quite portable and folds easily in case though want to take it with you.
Pros:
It works as an iPad stand
Optimizes organization
HDMI, USB-C, USB-A, SD Card Reader & Earphone Jack
Cons:
It's a bit heavy
Not the most portable option
Best Hub —Satechi USB-C Adapter
This hub has it all. Satechi has been in the market for ages, and they never disappoint with their products. This portable adapter has everything a person would need. Although it is on the expensive side, it's compatible with multiple devices like a MacBook air and desktop computers and has everything you would need as a content creator and artist.
It's small and portable. You'll be able to take it anywhere with you and stay connected while charging your iPad.
Pros:
Very Portable
HDMI, VGA, USB-C, USB-A, SD Card Reader & LAN
Cons:
Best iPad Sleeve Overall — Tomtoc Tablet Sleeve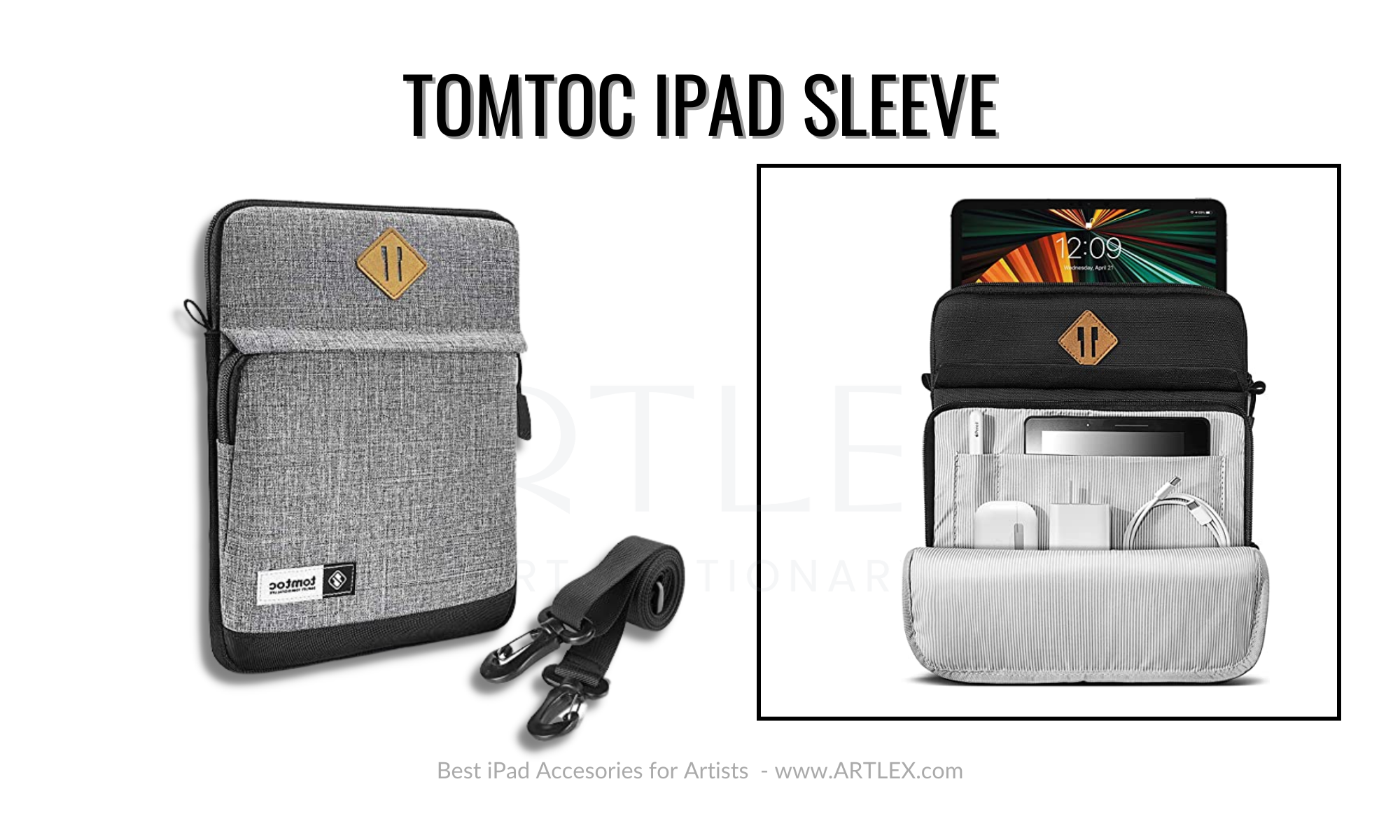 Ok, now you have the iPad, the case, the keyboard, the stand, and the hub. But how are you going to carry it all? You can use your backpack, of course, or your bag, whichever you prefer. However, with all the movement and things we usually carry around (especially is you're a student or a traveler), nothing guarantees you your iPad and your accessories will be safe and won't get lost or damaged.
Here we present you two options, very minimalistic choices to carry your iPad and some of your accessories in the same place while keeping it all safe and organized.
This iPad sleeve is relatively thin and will fit in any bag, it has enough padding to keep your iPad or tablets safe from bumps and crashes, and it has a single pocket with enough compartments to keep your charger, apple pencils, and other accessories in hand.
You can turn it into an over-the-shoulder bag with the adjustable strap that comes included if you prefer to do so.
Pros:
Extra corner protection
Soft padding
Slim and lightweight
Cons:
The design might not appeal to everybody
Second Best Carrying Bag — FINPAC Tablet Sleeve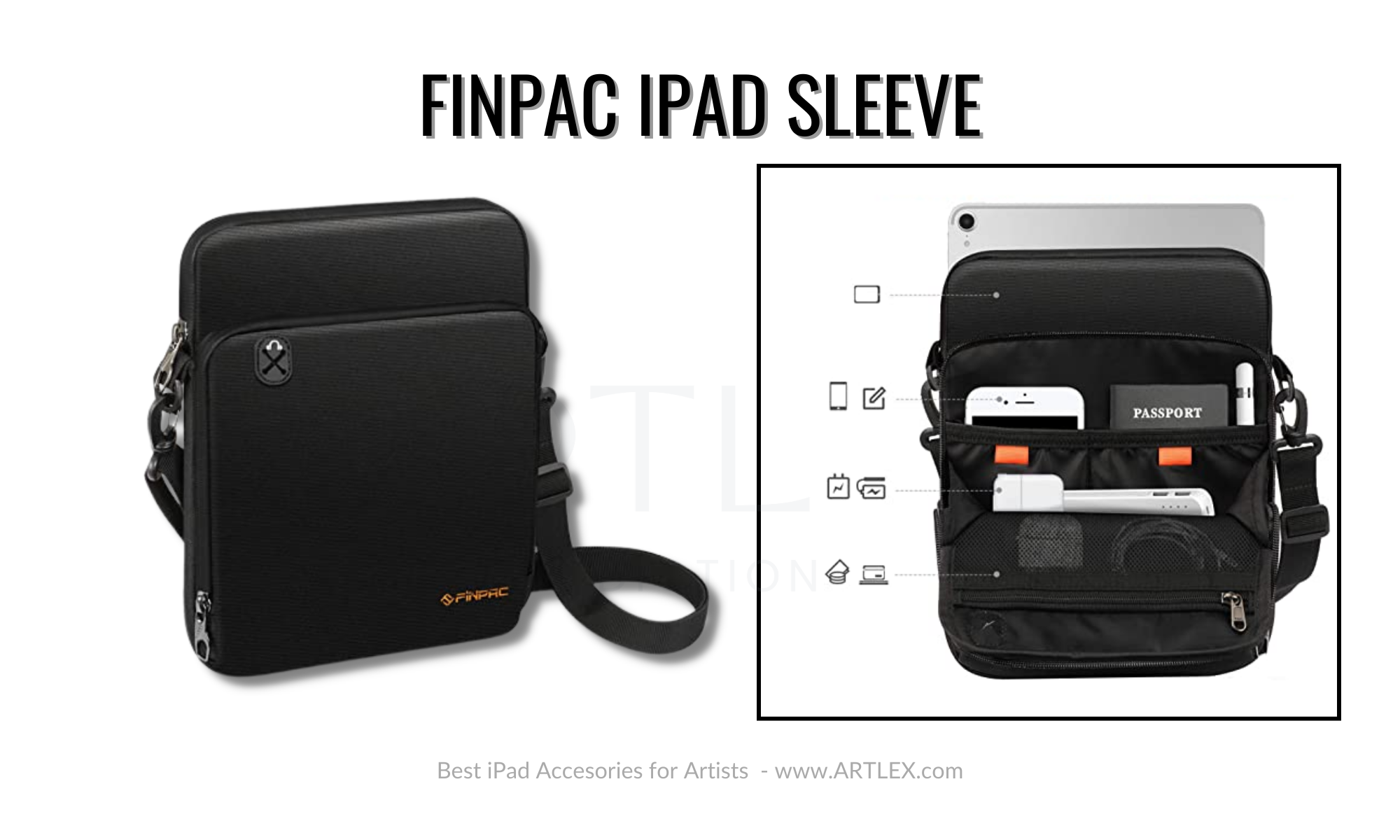 This sleeve is not as slim as the previous one, which makes it perfect to use as a bag as well, it has a bit more storage space and extra padding. It's made with high-quality materials and an extendable pocket to store and carry your accessories.
It comes in many colors, and it's also stain and water-resistant.
Pros:
Very affordable
Corner protection
Extra storage space
Cons:
Some might find it too bulky
Best Artist Glove for iPad – Huion Artist Glove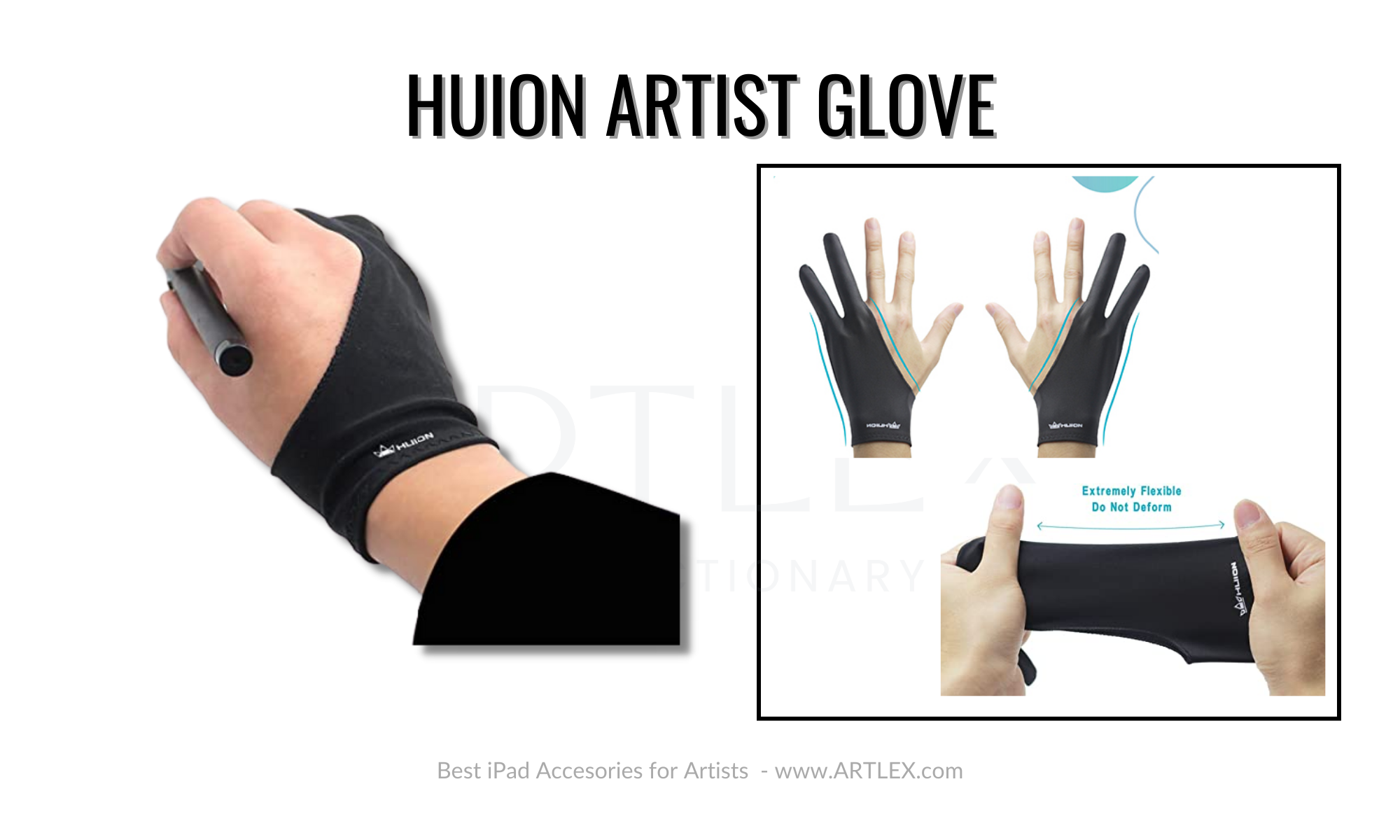 This last section is for all digital artists, but especially for those whose hands keep getting stuck on the screen or who hate the fingerprint marks on their iPads.
Artists' gloves have been the companions of multiple digital artists through the years, and honestly, they look very cool. We've selected two very affordable options since, like most clothing items, you'll probably need to replace them after a period of time, and it's not worth spending $30 on a single-hand glove.
The HUION artist glove is simple, elastic, and of great quality. It holds its shape after years of use and is good for both right and left-handed artists. It is $7.
Best Drawing Glove for Size Variety – Articka Drawing Glove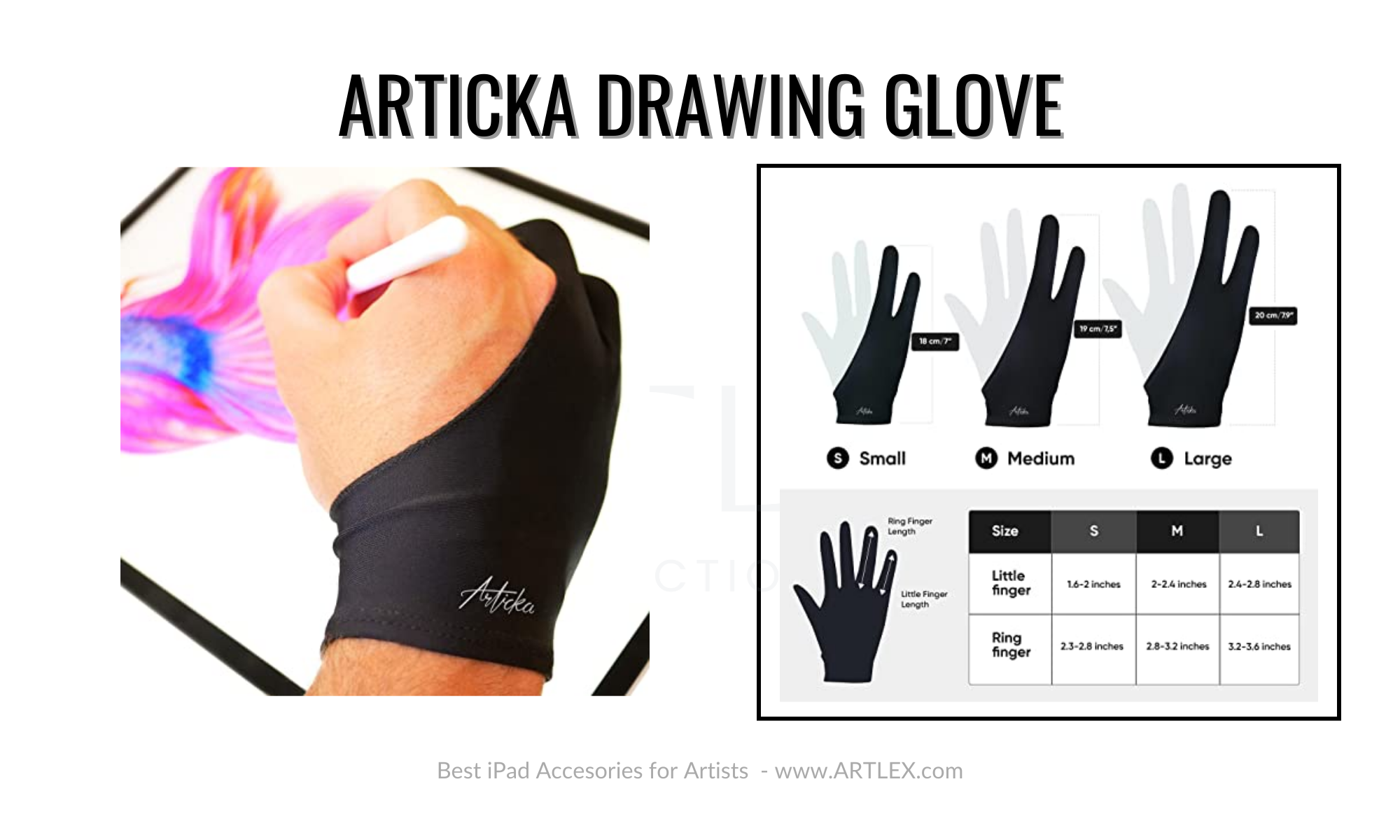 We have included this glove due to the fact it comes in sizes. Yes, most gloves can fit everybody, but some people have really big or small hands, and this brand gives you three options and two colors to choose from.
It also fits left and right-handed artists, and it's quite affordable.
Conclusions
As an artist, having the right tools can make all the difference in your creative process. Whether you are a professional artist looking to take your work to the next level, or a hobbyist looking to explore new creative avenues, the iPad offers a wide range of accessories that can enhance your experience and help you achieve your goals. From styluses and pens that allow for precise drawing and writing to stands and keyboards that provide a comfortable and ergonomic workspace, there is an accessory out there for every artist's needs.
So don't be afraid to invest in some new accessories for your iPad. With the right tools at your disposal, you'll be amazed at the creative possibilities that open up before you!