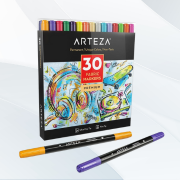 Acrylic based, dual-tip markers offering vibrant colors with minimal bleed-through.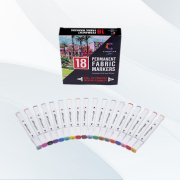 Dual-tip markers with excellent performance on light fabrics like linen or cotton, including unique silver and gold options.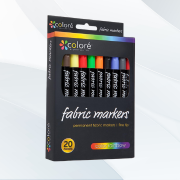 A set of 20 fine-tip markers, perfect for detailed work on delicate fabrics, and great for gift-giving.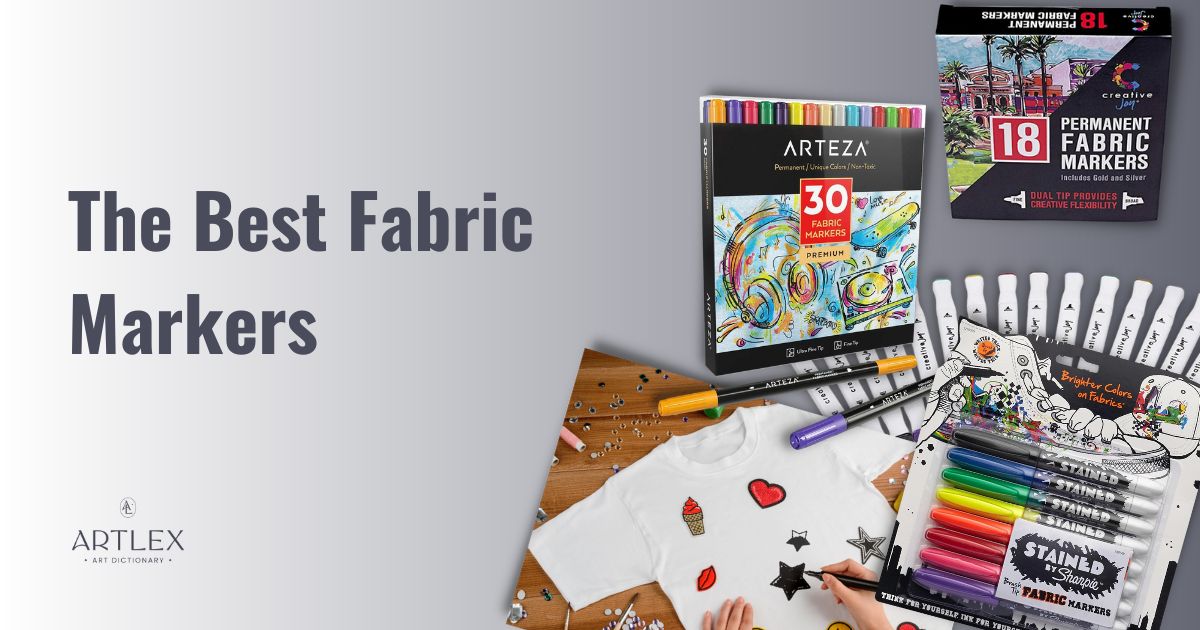 Fabric markers offer unlimited creativity to spruce up most fabrics from cotton to canvas shoes. A permanent fabric marker helps adults and kids alike draw on t-shirts, baby clothes, and different fabrics to personalize items for gift-giving or to wear yourself. The best fabric markers resist fading, have permanent ink, are non-toxic, and work on different fabric surfaces.
Some markers even come with dual tips that help create thin lines with a fine bullet tip or draw bold lines with a thick brush tip.
Below we have covered our top choices for the best fabric markers and the top criteria when choosing and buying fabric markers.
Fun fact: The first marker pens had a glass container to store ink that was connected to a wick tip.
There are a few differences between fabric markers, fabric marker pens, and other types of permanent markers that we have covered below.
Before starting to design your fabrics we suggest washing them first if there's a possibility that it will shrink after being washed. We also advise letting the design dry for 24 hours before washing and drying.
To remove permanent fabric markers from fabric it's imperative to apply a stain remover or peroxide with a damp cloth to the ink while it's still wet. If the ink dries then your fabric art will remain permanently.
The ink quality in fabric markers is meant to be fade resistant and not come out of fabric once dried. Fabric markers require a surface that easily absorbs the ink such as cotton, linen or canvas.
To store cloth markers, keep them upright and if the ink dries, simply dip the fine tips or brush tips in water to revive.
Types of Fabric Markers, Pens, and Paints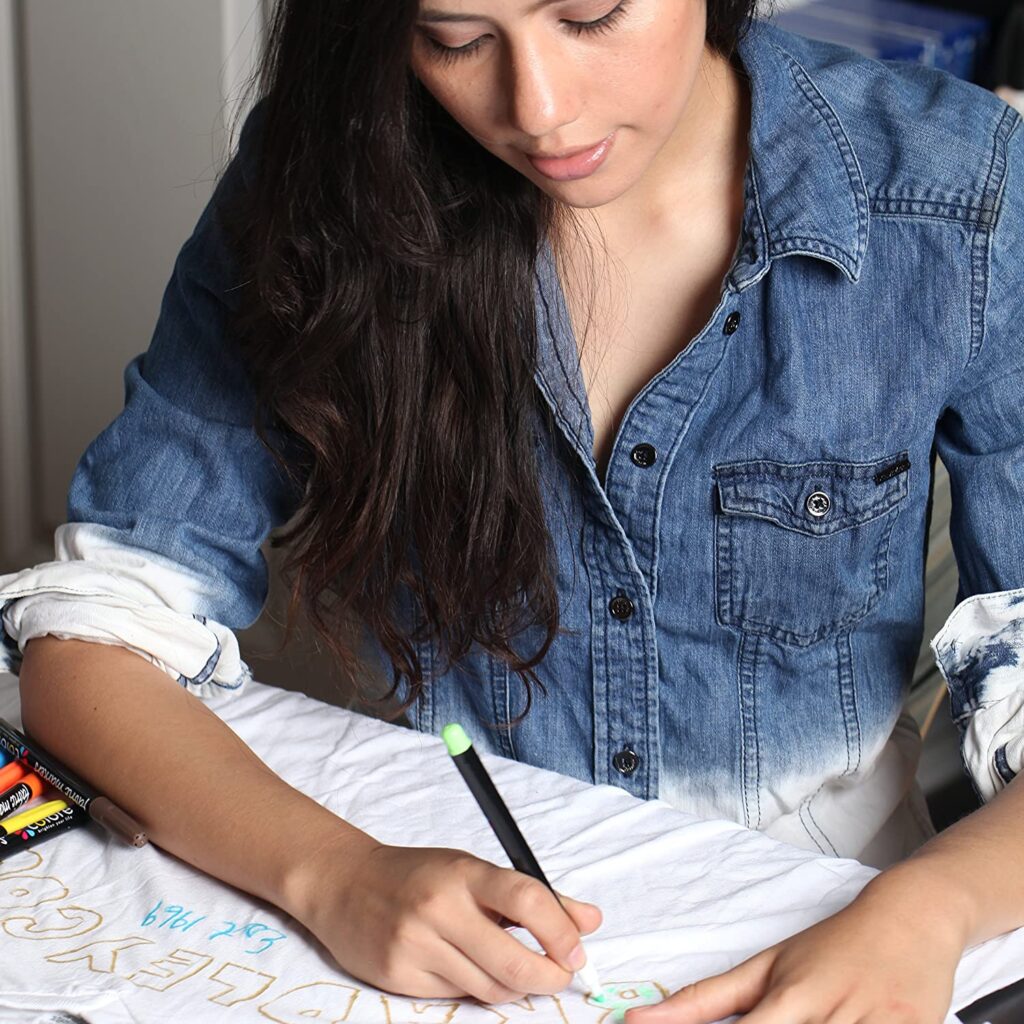 There are a variety of markers, paints, and pens that can be used to draw on clothing. The difference is that some non-permanent fabric markers wash off and require a heat setting to set the drawings, whereas permanent markers cannot be removed.
Fabric Markers
A fabric marker is a permanent marker with ink designed to permanently adhere to fabrics. Their tip is also designed to not catch on thicker materials unlike non-permanent markers that are used on paper, porcelain, or other smooth surfaces.
What's more, fabric marker colors were designed and developed for use on light fabrics with their vibrant colors. To draw on dark fabrics we recommend using fabric paints or neon markers.
Choosing the type of tip to use for a fabric marker depends on the design and fabric material. Fine or thick lines can be created with dual-tip fabric markers. There are even bullet tips for very fine, thin lines and detailed work.
Fabric Pens
Fabric paint pens generally come with a bullet tip as opposed to fabric markers that come with a fine tip. They are also fade-proof and are meant to draw thin lines on different surfaces.
Fabric pens have a finer tip that can be as small as 0.8mm or finer. They are ideal for thin fabrics like silks, taffeta, or satins. Some polyester blends may not work well with some fabric pens.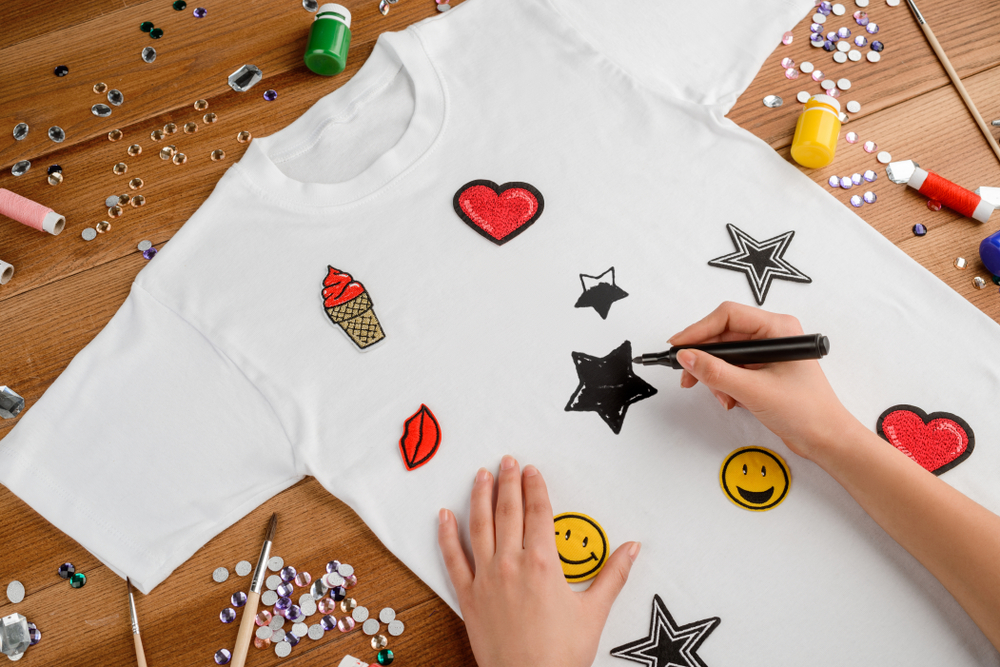 Marker Pens
Marker paint pens are similar to a fabric pen except that most have a paint reservoir inside the marker that can be refilled.
Marker pens come in metallic markers and a variety of different application types to create designs using vibrant colors for gorgeous fabric artwork.
Marker pens can be used on different surfaces from fabric, metal, plastic, wood, or even rocks. They're one of the more versatile painting tools available and require less clean-up than paint brushes or exposed paint.
Fabric Paints
Fabric paint markers are also called opaque markers. They are the best fabric paint pens for dark fabric on t-shirts or canvas shoes.
Sharpie Markers
Sharpie markers are a brand of permanent markers that offer brighter colors and go on easier, darker, and smoother than some other brands.
The Sharpie Stained Fabric Markers below are specially designed for a range of different fabrics from t-shirts to canvas hats and tend to last longer than some other less expensive brands.
The Best Fabric Markers on the Market Today

1. Best Fabric Markers Overall – Arteza Premium Acrylic Based Fabric Markers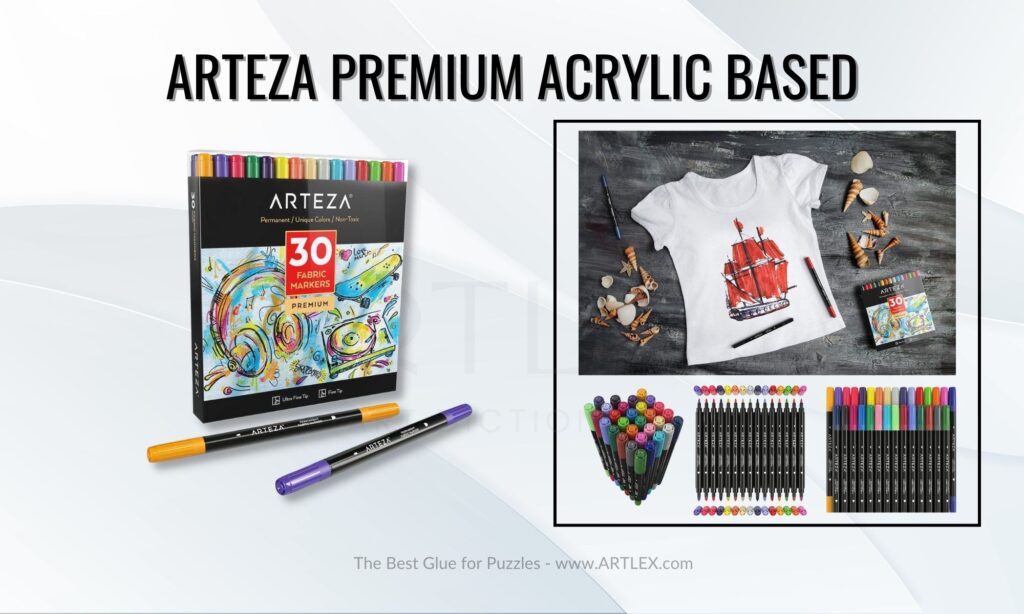 Selection Criteria
Price – ~$29.99 – Our score: 8/10
Fade Resistant – Yes – Our score: 9/10
Permanent Ink – Yes – Our score: 9/10
Non-Toxic – Yes – Our score: 9/10
Different Fabrics – Yes – Our score: 9/10
About Arteza Fabric Paint Markers
Most fabric markers aren't dual tip markers like these 30 Arteza Premium markers. They are the best fabric markers for their thin and thicker tips, vibrant color selection, and very little bleed-through.
These permanent acrylic markers suitable for fabric makers who like to spruce up a pair of leggings, a shirt, or create unique designs on a simple dress.
The thick brush tip markers can be used for heavier fabrics while the smaller tip fabric markers work well on lighter fabrics like silks.
They require a heat setting and don't work well on dark fabric even though the colors are rich and deep. Remember to securely replace the lid after each use to avoid the dual tip fabric markers from drying out.
Pros
Acrylic permanent colors
Best fabric marker for its dual tips
Easy to apply
Very little bleed-through on lighter fabrics
Cons
Ink is used up rather quickly
2. Best Permanent Fabric Markers – Creative Joy Fabric Markers
Selection Criteria
Price – ~$8.99 (Was $19.99) – Our score: 9/10
Fade Resistant – Yes – Our score: 8/10
Permanent Ink – Yes – Our score: 8/10
Non-Toxic – Yes – Our score: 9/10
Different Fabrics – Yes – Our score: 8/10
About Creative Joy Fabric Markers
Another option for dual tip markers, these 18 Creative Joy fabric markers are excellent for lighter fabrics like linen or cotton.
Like most fabric markers they will not show through on darker fabrics, but their dual tips save money with their thick, wide tip and fine almost bullet tips.
This set includes a silver and gold color option, primary colors, pastels, and browns for maximum creativity. We suggest using cardboard or thick paper underneath the fabric to avoid bleeding through.
Each good fabric marker meets ASTM standards, and they require a heat setting to secure colors to materials. We suggest washing the finished product in cold water for the first wash regardless of the color of the fabric.
Pros
The thinner tip is excellent for outlining
Good for beginners and professional artists
Good color variety
Work well for many different types of clothing
Cons
Some bleed through
Younger artists may have difficulty closing the caps
3. Best Fine Tip Fabric Markers – Colore Premium Fabric Markers

Selection Criteria
Price – ~$12 – Our score: 7/10
Fade Resistant – Somewhat – Our score: 7/10
Permanent Ink – Yes – Our score: 9/10
Non-Toxic – Yes – Our score: 9/10
Different Fabrics – Light and Thin – Our score: 8/10
About Colore Premium Fabric Markers
Each fabric marker in this set of 20 fine tip Colore Premium markers is excellent for smaller drawings. Similar to fabric marker pens, they are fade resistant, have vibrant colors and the bullet tips can be used for anything from outlining, calligraphy, or sketching.
This set of markers makes the perfect gift for creative teens, adults, or younger children. They are also thin enough at 0.8mm to be used on satins, silks, and other thin, delicate fabrics.
Like fabric pens, they will work on darker colors like denim or thicker fabrics like burlap or linen. They also don't require heat settings like other fabric markers.
When coloring thinner cotton, silks, or linens place a thick paper underneath to protect the below fabric. This set is excellent for younger children or even older adults to create beautiful and interesting creations.
Pros
Best for detailed work with the fine bullet tips
Can be blended easily
Great gift for younger artists
Good for ribbons, satins, and pieces of cotton
Doesn't fade so much in the wash
Cons
Dries out quickly if the cap isn't replaced properly
4. Best Brush Tip Fabric Markers – Sharpie Permanent Fabric Markers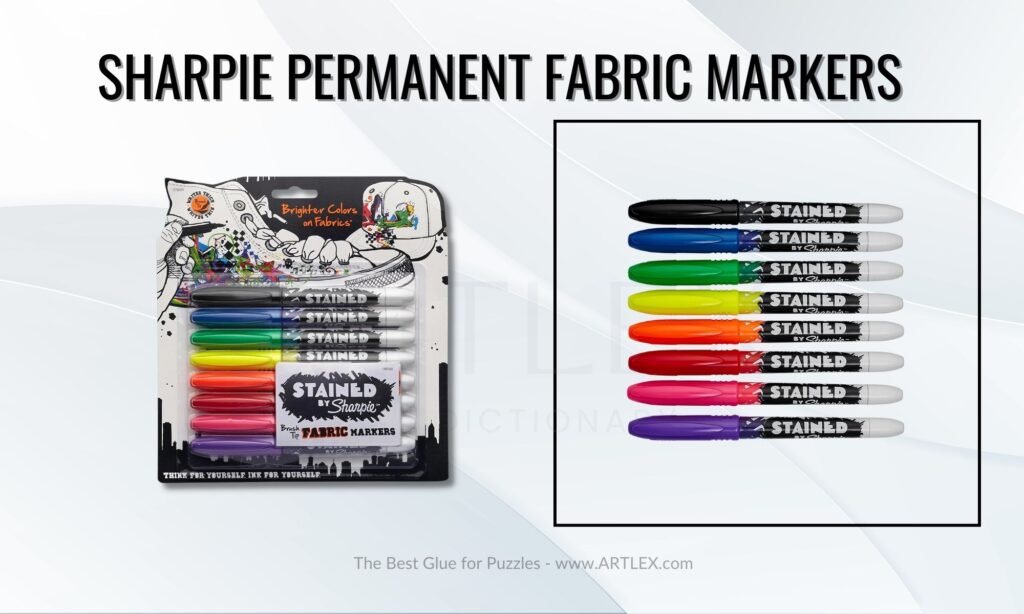 Selection Criteria
Price – ~$15.49 – Our score: 8/10
Fade Resistant – Yes – Our score: 9/10
Permanent Ink – Yes – Our score: 9/10
Non-Toxic – Yes – Our score: 7/10
Different Fabrics – No – Our score: 7/10
About Stained by Sharpie Fabric Markers
Many fabric markers aren't as fade-resistant as these 8 bright and bold Sharpie fabric markers that can remain bright after years and many washes. Their brush tips work well for blending colors or touching up specific fabrics.
Fabrics include any material that can absorb the pigments easily and for lighter-colored materials that will allow the colors to really pop.
These water-based colors work well for blending, offer little to no bleed-through, and don't require ironing or drying to set the colors.
For more detailed work, we suggest buying the fine tip Colore markers above. Note that satin, silks, or polyesters will have bleed-through due to their thin weight.
Pros
Designed specifically for use on fabrics
Dries immediately
Does not require heat to set
This brand sells fluorescent fabric pens for darker-colored fabrics
Cons
The ink doesn't last very long
5. Best Kids Fabric Markers – Crayola Fabric Pens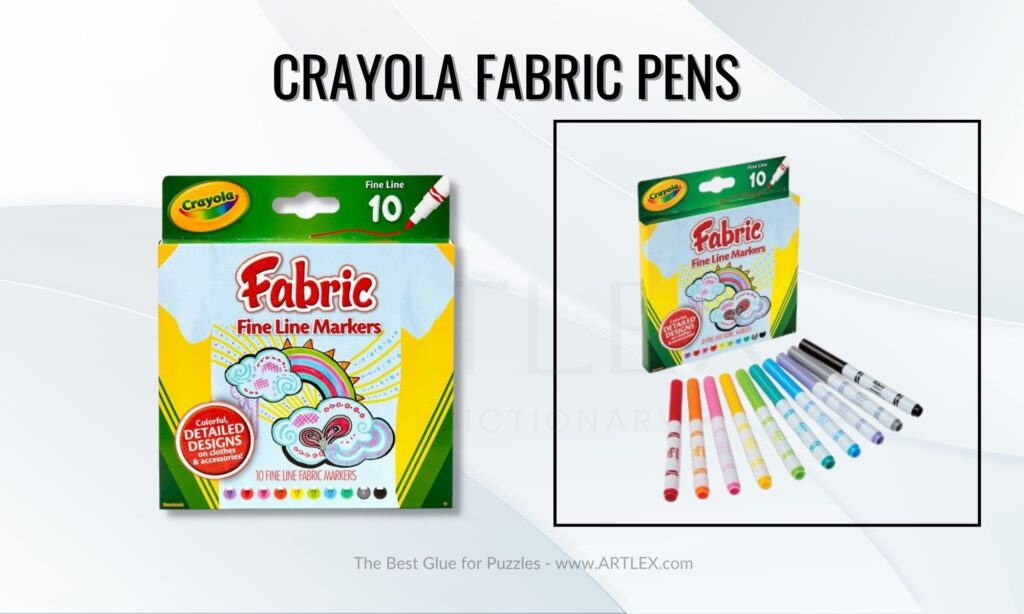 Selection Criteria
Price – ~$6.30 – Our score: 9/10
Fade Resistant – Somewhat – Our score: 7/10
Permanent Ink – Yes – Our score: 9/10
Non-Toxic – Yes – Our score: 9/10
Different Fabrics – No – Our score: 7/10
About Crayola Fabric Markers
One of the more affordable brands of fabric markers, these Crayola fabric pens offer vivid colors that would be expected of a much more expensive marker. Their fine tip is ideal for detailed work but the thicker part of the tip can easily be used to fill in colors.
The 10 colors include mostly pastels, but also dark red, orange, and black colors. Unlike some other fabric markers, these work well on polyester blended fabrics with little to no bleed-through.
To set the colors simply dry them on high heat or iron the colors to help them set and prevent fading. After several washes, there will be some fading, but the bolder colors will remain clear and strong.
These fabric marker pens are recommended for ages three and up, they're easy to use, and work best on cotton or polyester blended fabrics.
Pros
Perfect for group projects like drawing onesies or at a kids' birthday party
Good for use with stencils
Excellent as a gift for young crafters
Cons
Colors don't stay as vivid and bright after many washes
Conclusion
We hope you found our guide to the best fabric markers helpful. We've covered the different types of fabric markers available along with our recommendations in various contexts.
We've discussed how you can choose the best fabric markers that don't fade, don't require heat settings, and remain vibrant even after years of washing. Lastly, we've combined our recommendations for those fabric markers that are excellent for younger artists, to create fine detail work, or for older artists that would like dual-tipped markers for added flexibility and versatility.
Thanks for reading; we hope our suggestions help you choose the best fabric markers, whether coloring your own clothes, using them as a fun and creative crafting project at a kids' birthday party, or for a professional business.